Vegan trail mix recipe for munching on-the-go whilst exploring outside
---
A foolproof way to get some tasty nutrients in your system whilst getting grubby outside is a generous handful of healthy trail mix. It's packed with slow-release energy and thanks to being easy to gobble down on the move, trail mix has long been a top snack for hikers and adventurers alike.
Vegan trail mix is ideal for outdoor pursuits as it's packed with goodness and is real high in energy but it's easy to transport, stores well and is super simple to prepare. Basically, you can't go wrong with making a big batch to fling in your bag for future adventures, whether it's for today or next week.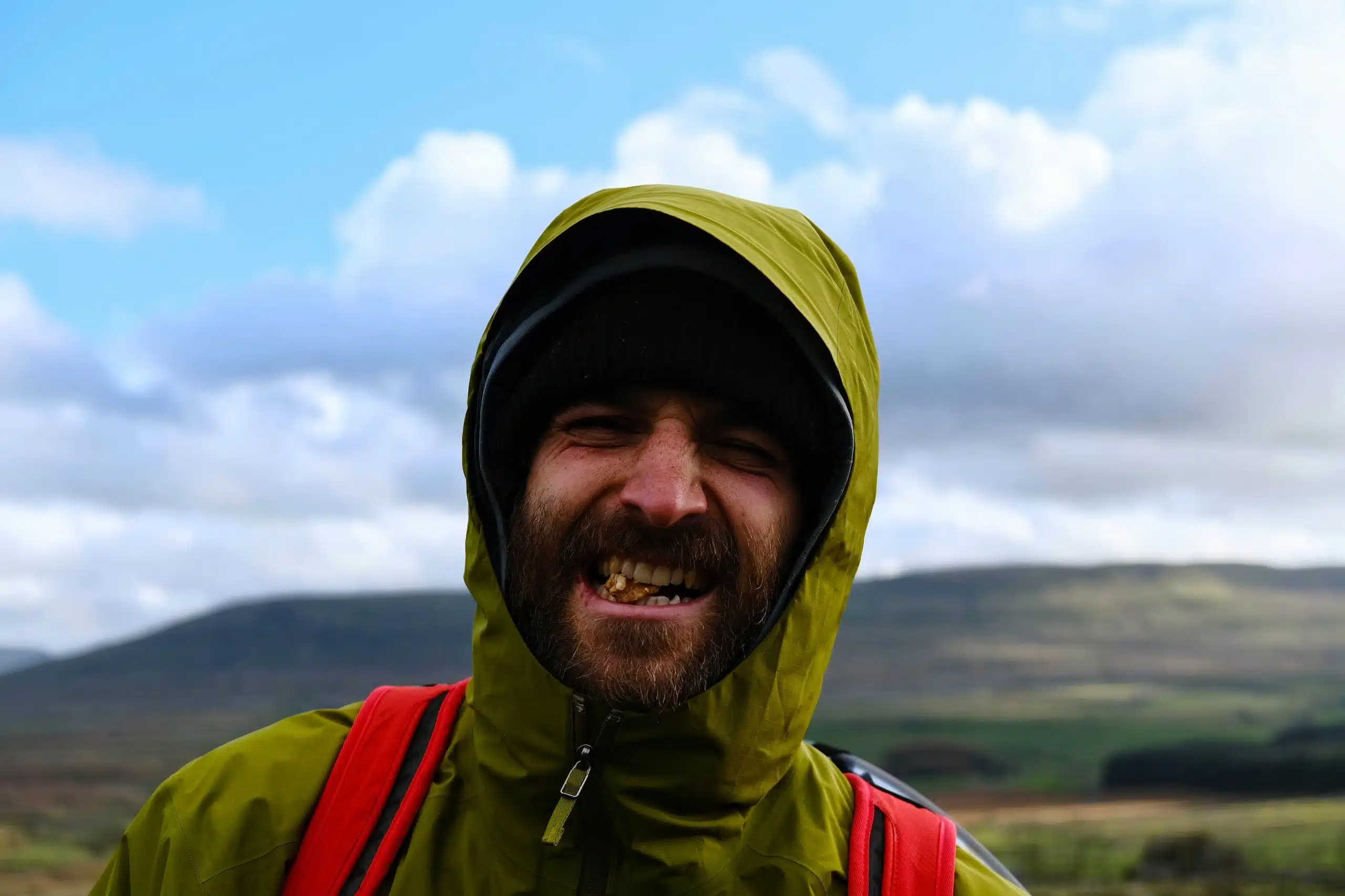 Although picnics at the summit are the highlight of any hike, there are times when you just need to shovel down some fuel whilst you're still on foot. You might need a little boost to get you to the summit or to your resting spot for the day, so having easy to eat snacks are essential for any outdoors trip.
The perfect on-the-go slow-release energy
It may be tempting to reach for things like sweets or biscuits, which do have there place for a sugar boost, but in the long run, you want to be consuming some slow-release energy foods. The stuff that will keep your energy levels topped up over a few hours, rather than a few minutes, with a sugar crash that soon follows.
Raw nuts are a great source of slow-release energy, combined with dry fruit to make a healthy trail mix that will keep you pushing forward all day.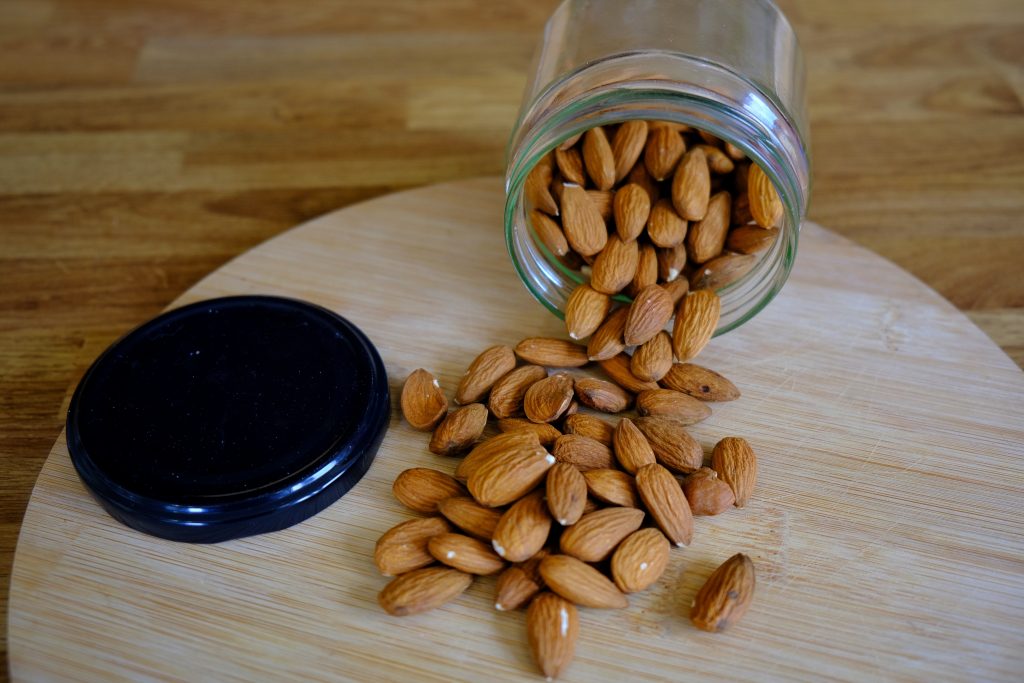 All the vegan protein you need
Nuts and seeds are also top sources of vegan protein to help repair your weary muscles so be sure to include generous helpings in your vegan trail mix. As well as protein, they also dose you up on iron, magnesium, plus tons of other vitamins and minerals which you'll need replenishing.
WARNING: When choosing nuts and seeds try to avoid any that are roasted or salted, as they're often high in hydrogenated oil and salt which isn't good for you, especially whilst sweating on mountainsides. You can, of course, roast them at home by simply toasting them on a low heat in the oven for about 15 minutes if you like the roasted flavour.
Don't be stingy with the dried fruit!
No trail mix recipe is complete without dried fruit. Not only for a bit of sweetness and texture against the crunchy nuts but for its high sugar content, which helps to boost your blood sugar when putting your body through its paces.
We often love to use raisins, dried apricots, prunes and dates. This selection is ideal because they're all packed with nutrients, cheap and are more commonly found all over the world (you can mix and match some of your favourites to create a winning combo!). Try to opt for fruits that have been sundried and are unsulfured, sometimes a little costlier but better for you.
If you looking for another way to bring dried fruit to the trail, these berry fruit leathers are ideal for outdoor trips
For more vegan outdoor recipes and advice straight to your inbox, be sure to sign up for our newsletter below!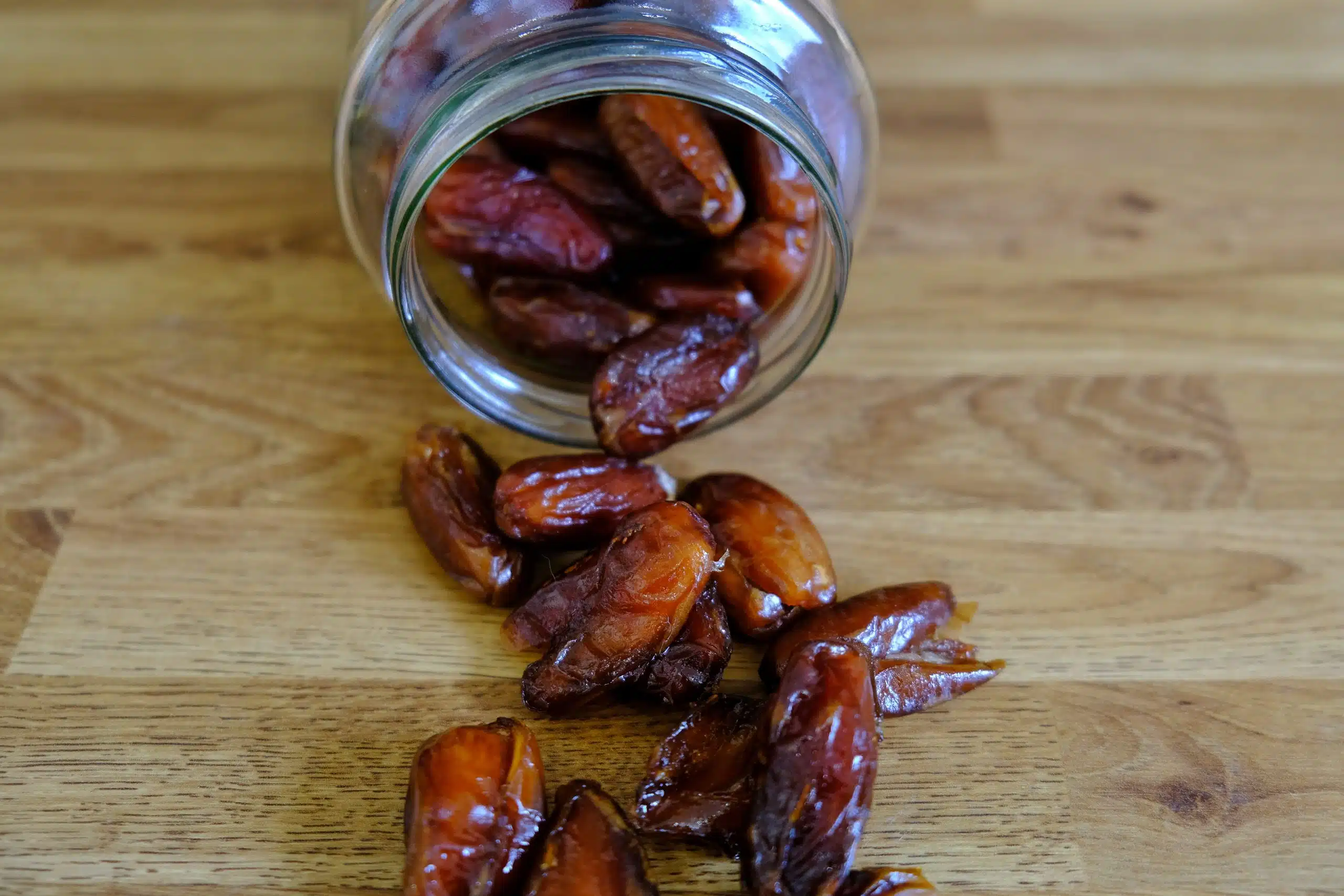 A super vegan trail mix foundation
We find this the best trail mix recipe to use as a baseline because it contains everything you need but is still simple, easy to put together and cost-effective. The beauty of trail mix, however, is that it's completely customisable.
If you're feeling indulgent, why not add something like dark chocolate chips or chocolate covered raisins? This will give your trail mix an extra dose of sugar for some instant energy and make it super tasty. If you're getting out in the heat or want to keep your trail mix recipe lighter, you can opt for more raw elements.
To create your own DIY trail mix, use this recipe as a template and then mix and match to your tastebud's content with these tried and tested alternatives below:
Nuts: almonds, cashews, peanuts, pecans, walnuts, hazelnuts
Seeds: flaxseeds, sunflower seeds, pumpkin seeds, chia seeds, hemp seed
Fruit: raisins, sultanas, dried apricot, prunes, dates, figs, strawberries, apples, peaches
Extras: dark chocolate, chocolate-covered raisins, dedicated coconut, popcorn, cereal
Once you've made your trail mix creation…
Once you've got your own recipe, you can take them straight to the trail in a lightweight, reusable container or store a big batch at home to last for the coming weeks. We've found, as long as they're air-tight, it will last for a good few weeks. Just try not to eat it all at once!
Try this vegan trail mix for yourself and let us know what adventures it fuels you for in the comments below.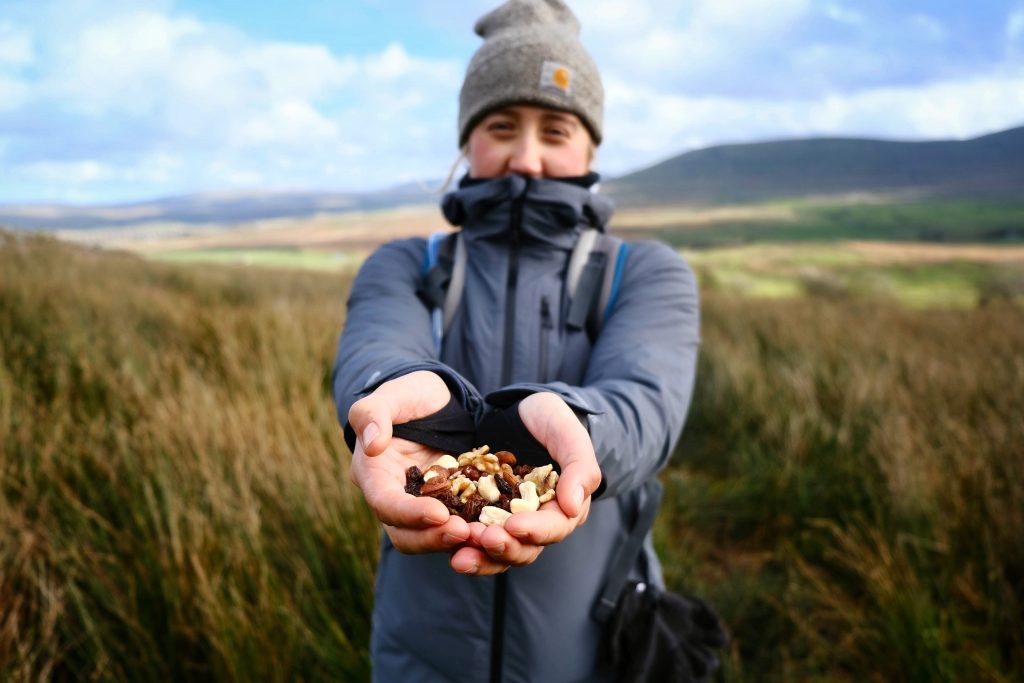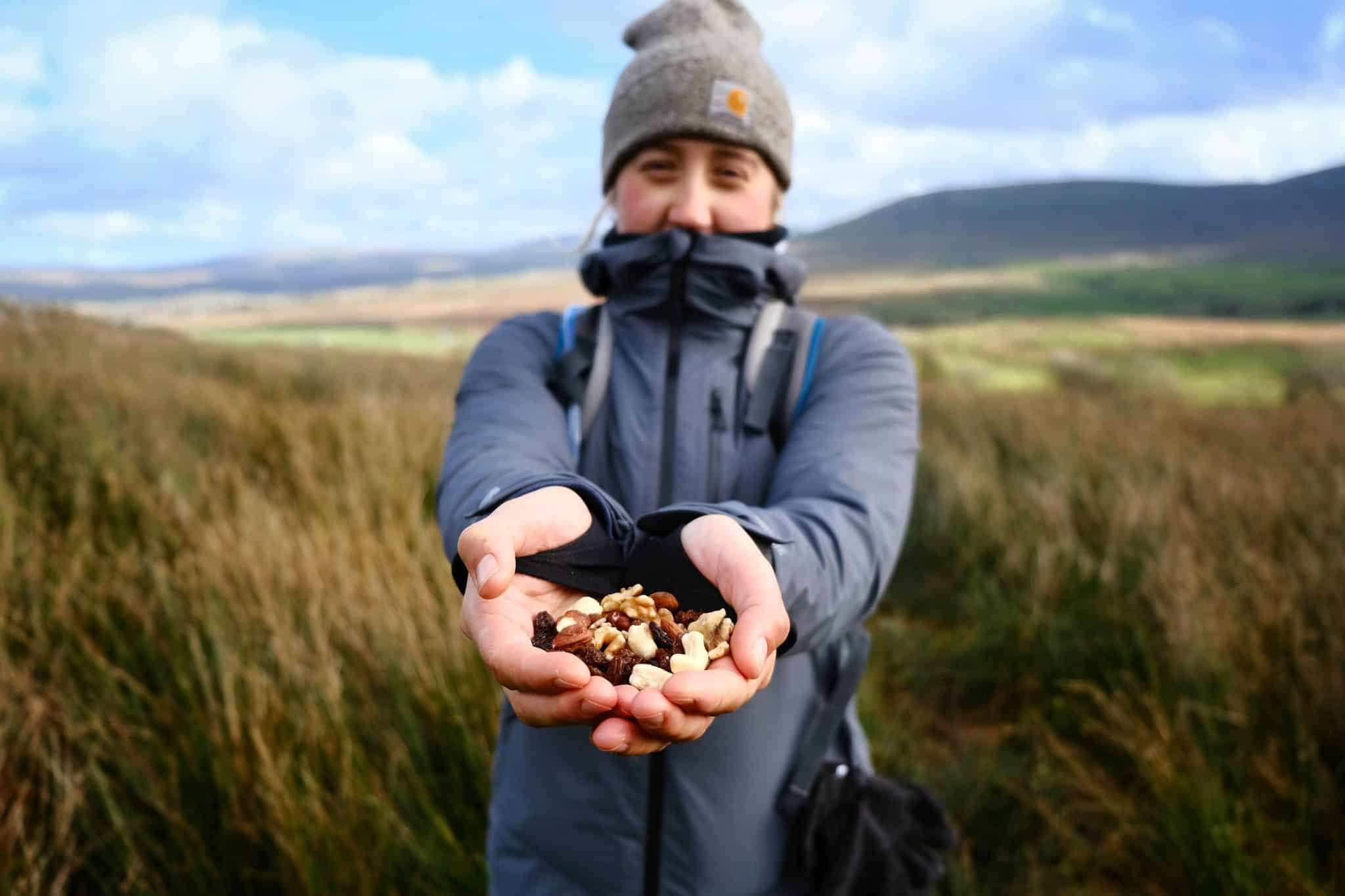 Vegan Trail Mix
Easy and healthy vegan trail mix recipe for the outdoors
Ingredients
¾

cup

raw almonds

¾

cup

raw cashews

¾

cup

raw walnuts

¾

cup

hazelnuts

½

cup

sultanas

½

cup

dried apricots

½

cup

flax seeds

½

cup

sunflower seeds

¼

cup

dessicated coconut
Instructions
Combine all of the ingredients in a large bowl.

Store in an air-tight container.

You can then take it with you for a multi-day trip, or pour some into a reuseable container for a day in the outdoors.
Nutrition
Calories:
729
kcal
Carbohydrates:
44
g
Protein:
21
g
Fat:
58
g
Saturated Fat:
8
g
Trans Fat:
1
g
Sodium:
14
mg
Potassium:
984
mg
Fiber:
14
g
Sugar:
20
g
Vitamin A:
483
IU
Vitamin C:
2
mg
Calcium:
171
mg
Iron:
6
mg