Are vegan trail running shoes the best all-round option for the outdoors? Check out this guide to see if they're perfect for you and which vegan-friendly choice is the right fit
---
Ever felt weighed down by big bulky hiking boots? Or found yourself slipping all over the place trying to run off-road in standard running shoes? Well, trail running shoes might well be your answer.
And I've got good news: vegan trail running shoes are in their plenty!
It's not so easy to be certain what's 100% vegan and so, like usual, we contacted all the trail running brands to double-check.
Keep reading or jump ahead to find out:
This article may contain affiliate links, they will never cost you more money but helps Veggie Vagabonds keep making content like this – thank you!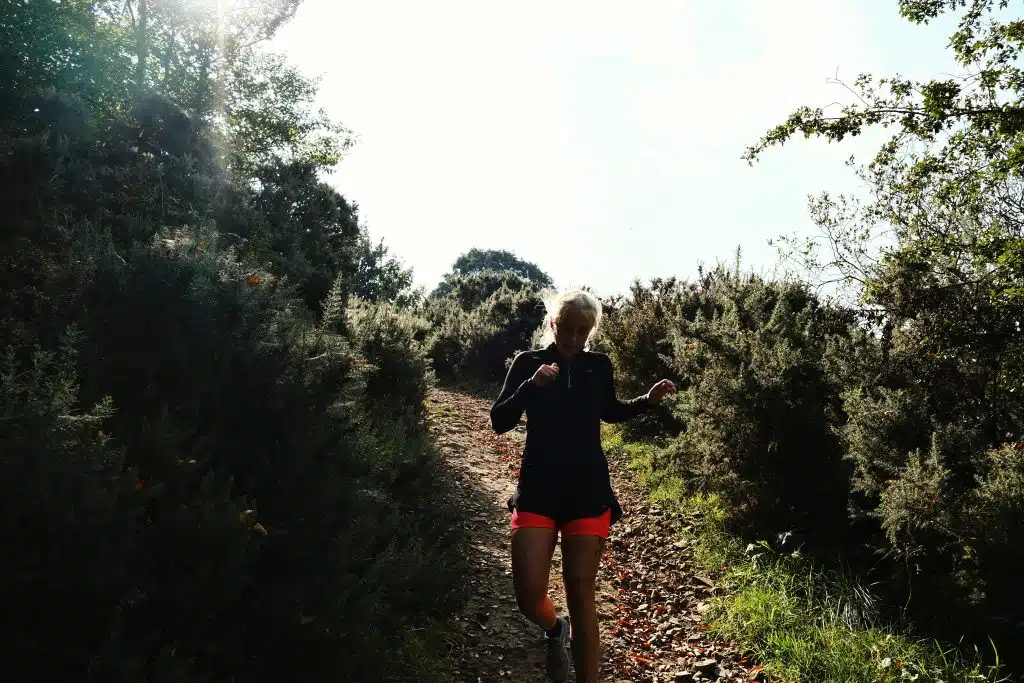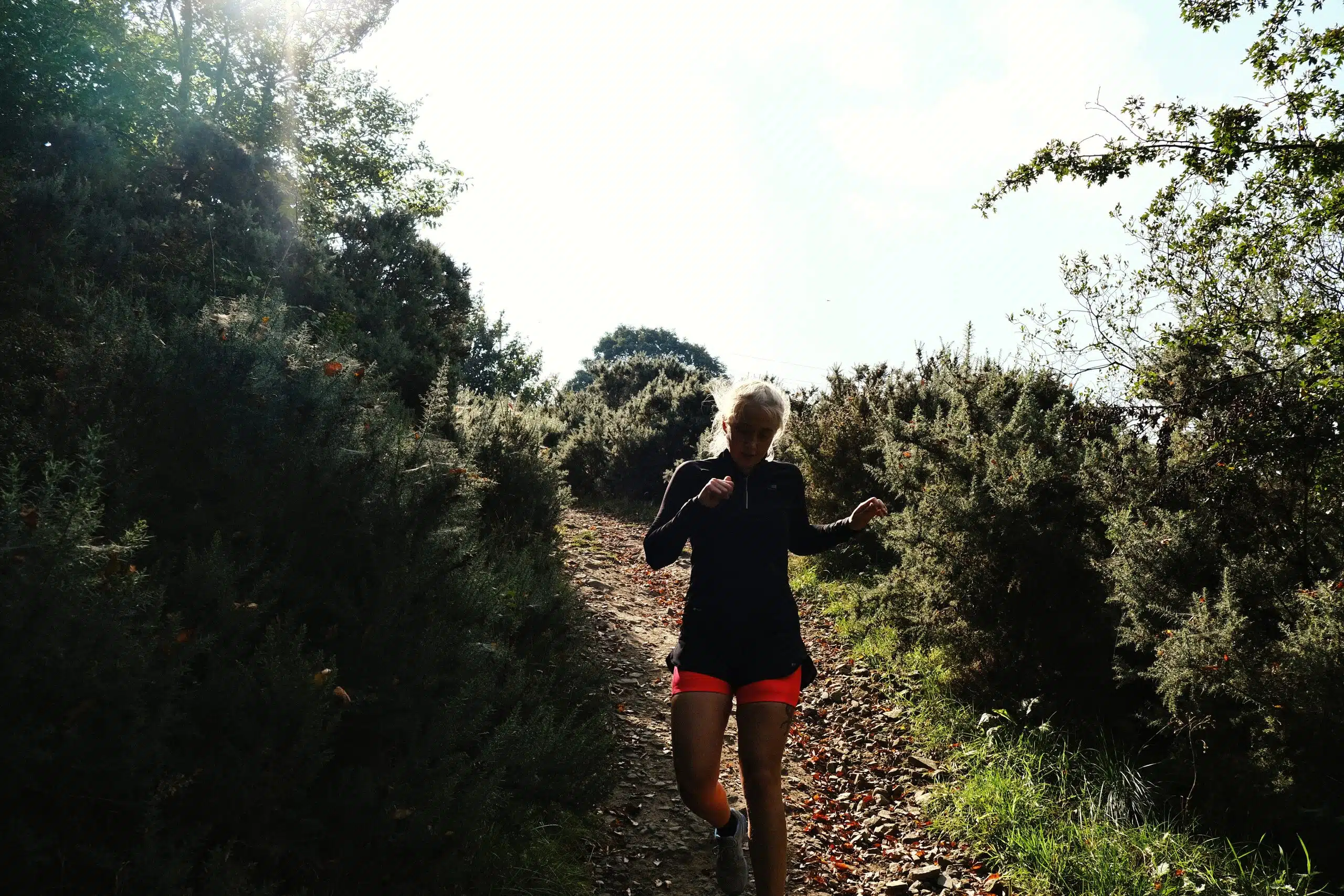 1. Finding Vegan Trail Shoes
Like I mentioned, there are lots of vegan-friendly trail running options but it's not 100% clear sailing.
Trail runners are generally made from synthetic materials (vegan), compared to things like hiking boots which are often made from leather.
Unfortunately, some brands still use animal products in the glue or the dye. This means you can get synthetic trail runners which are still not vegan.
As is the case with a lot of outdoor gear, some brands have a vegan certification whilst others don't. With large supply chains, it's expensive to officially certify them 100% safe and most don't bother – what a shame!
For this reason, a number of brands state something along the lines of: "the shoes do not contain any animal-based materials but we haven't had an outside body certify this".
All the options listed below are labelled whether they are a) vegan-certified with vegan info available on their website b) vegan-certified but information is not available online c) don't contain animal products but haven't been certified.
We contacted all the major trail running brands for confirmation so you don't have to 🙂
Find more vegan outdoor gear and get expert ethical adventure tips by signing up to our mailing list below!
2. Vegan Trail Running Shoes & Sustainability
Unlike some other pieces of outdoor gear, it's not common to find trail runners made from recycled materials or other sustainable certifications.
As most trail runners are synthetic anyway, going for vegan options will not really make much of a change environmentally.
To go eco-friendly, your best bet is to shop responsibly and care for the shoes! You'll find plenty more tips in our Guide to Ethical Outdoor Gear.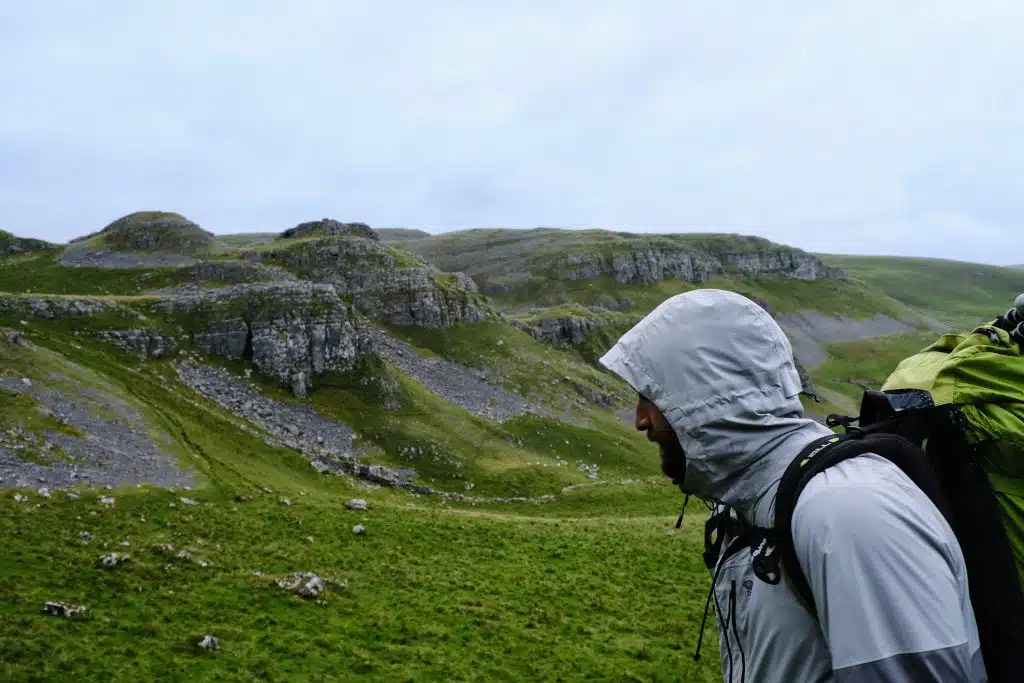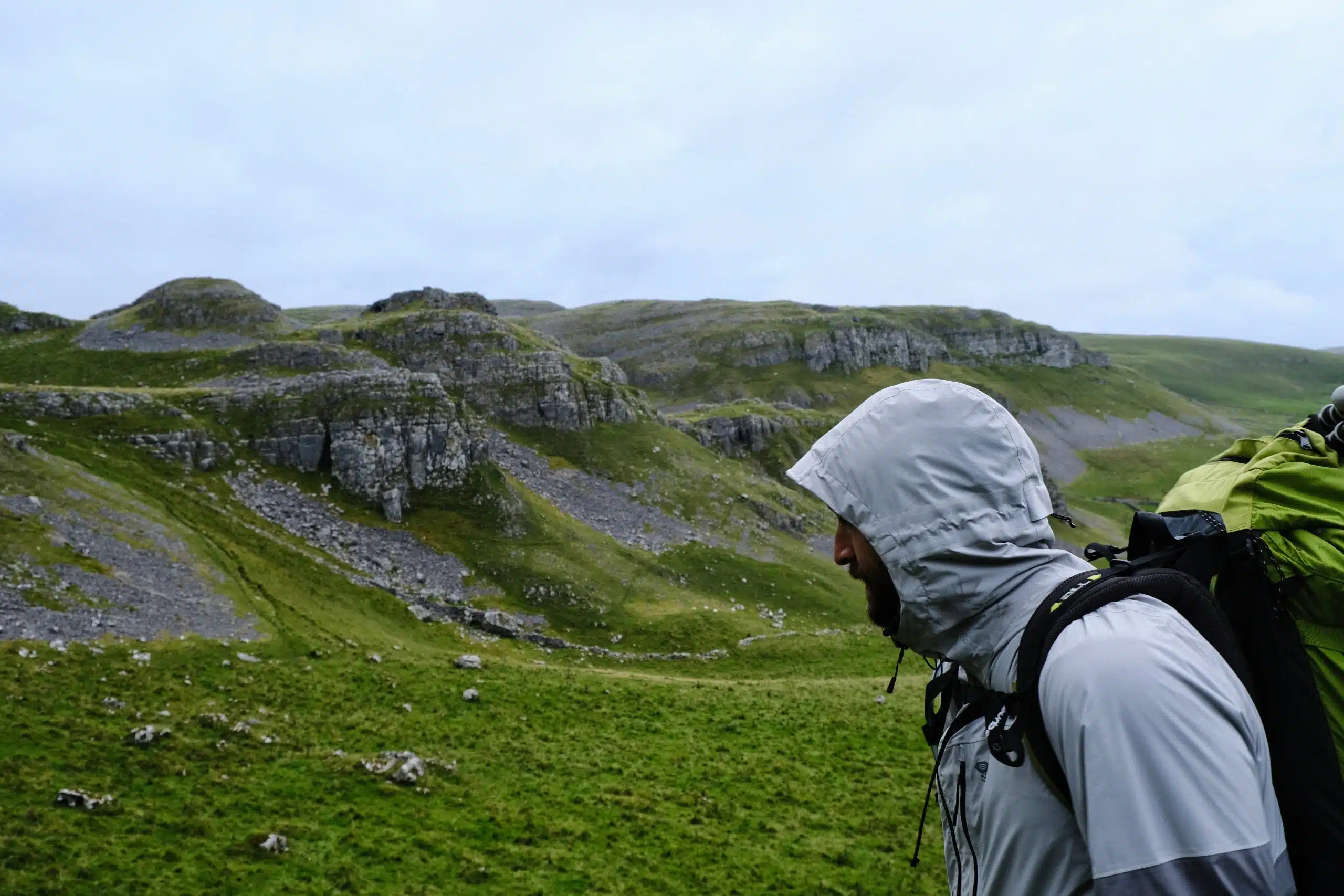 3. Why Wear Trail Running Shoes?
Trail running shoes are effectively running shoes that have much tougher tread patterns, are firmer, with more protection and ankle support.
In action, this means you'll have much better grip on off-road terrain, stronger stability and less chance of injury moving fast over dodgy surfaces.
These guys are designed for running along mountains, hills and tracks in changeable conditions so they're typically low-ankle, light and robust. For ultra runners this is the shoe of choice because they're real comfortable over super long distances.
4. Trail Runners vs. Hiking Boots
Trail runners are obviously good for trail running but they're also stiff competition for hiking boots.
As long-distance trail runs are basically faster-paced hikes, many people use trail running shoes for hiking. And I'm one of them.
They're far lighter, more comfortable and take pretty much no time to break in. However, they're less suited to cold conditions and you do have less ankle support than hiking boots.
Think boots might be better for you? Check out our guide to vegan hiking boots
5. Trail Runners vs. Road Running Shoes
Pretty much, if you're going to be running on concrete and concrete alone then standard vegan running shoes are best.
If you're going to be running all over the place then you'll find running shoes offer very little traction on worse surfaces. This is where the trail runner shines.
You can run comfortably on roads, though they are heavier, and I did this regularly for 10-15+ mile runs wearing my Agility Peak Flex.
6. Why I Love Trail Running Shoes
They're the perfect all-rounder. The easiest and most comfortable shoes for hiking 90% of the time AND you can run in them.
With toe caps you can use them for cycling and touring, they're brilliant approach shoes, nice for scrambling, camping, assault courses… basically, they're pretty sound choices for most land-based adventures.
Why buy two or three pairs of shoes when one can do it all? It's cheaper and more environmentally friendly!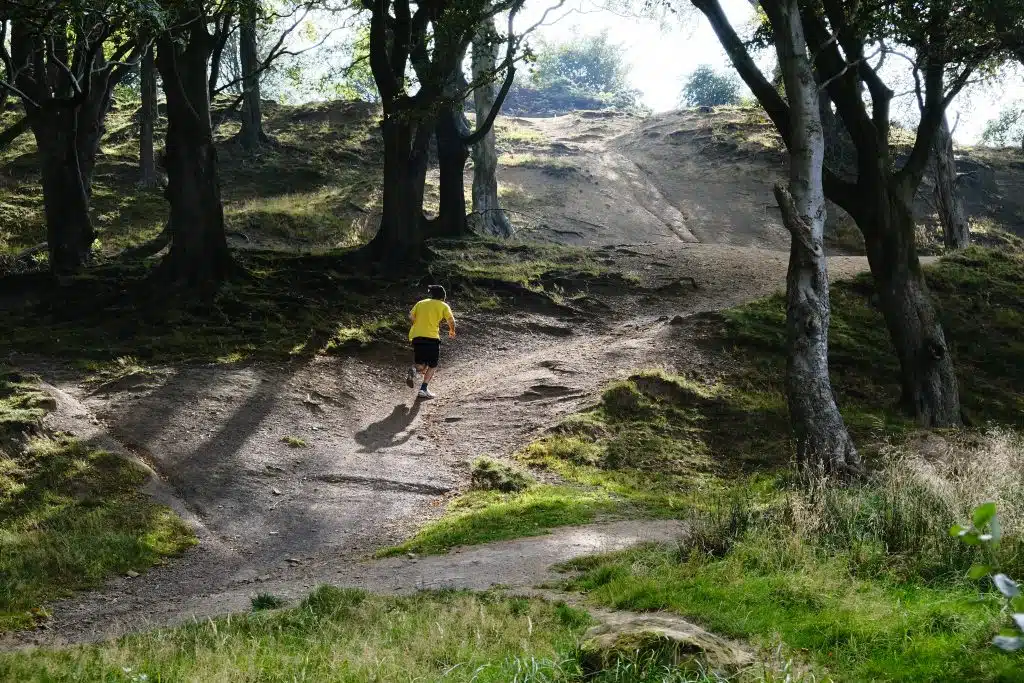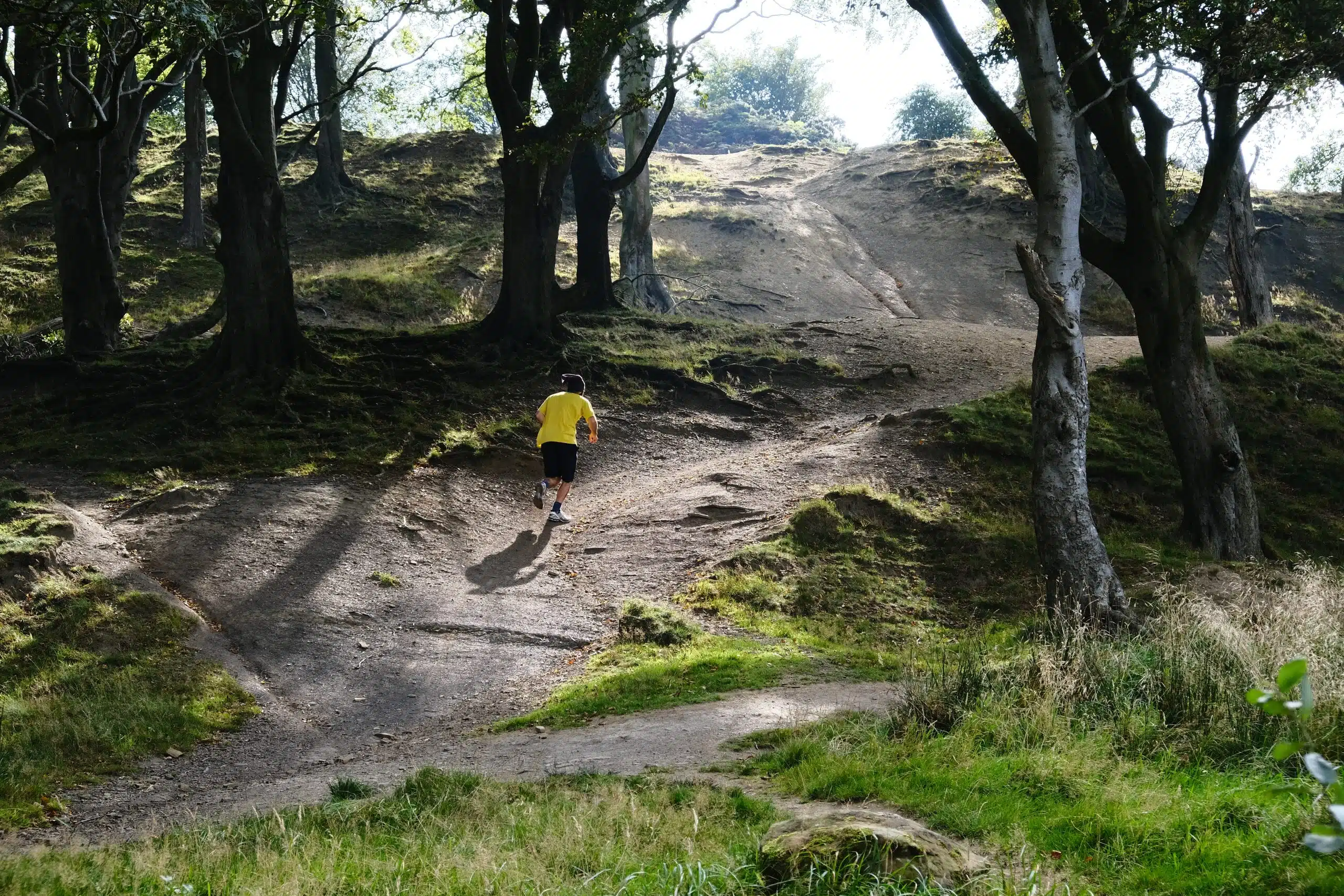 7. How to Pick the Best Vegan Trail Running Shoes for YOU
Think about the type of trail running you'll be doing – if you're aiming to run long and fast then go for lighter shoes. Going to be really muddy? Pick trail runners with bigger lugs (grips on the sole). Rocky and technical? Go for options with more support and protection.
Waterproof isn't always good – waterproof or Gore Tex trail runners are good for very wet and cold/snowy conditions but these shoes have will have worse ventilation. If you are going to be running in warmer or drier climates then perhaps you don't need it?
What are your feet like? Are they wide or thin? Long or short toes? Weak muscles or strong muscles? Keep reading to find options for every foot!
Oh, and remember: synthetic materials don't stretch very much so try and get the right fit first time!
---
Looking for more vegan adventure content?
---
8. What's a Trail Running 'Drop'?
A trail running 'drop' refers to the difference in height between your heel and toes.
A lower drop encourages you to run with each pace landing closer to the balls of your feet. This promotes faster running and puts less strain on your body. HOWEVER, most of us are used to shoes with big drops, so are our bodies and so have become our muscles. For this reason, low drop running shoes are recommended for more experienced runners.
Typically 8-11mm is advised for beginners and 4-8mm for more experienced trail runners.
You can also get zero-drop running shoes, sometimes called barefoot, minimalist or flat shoes. These are designed to allow your foot to run in its natural form but are not advised for beginners as the average foot's muscles may not be strong enough.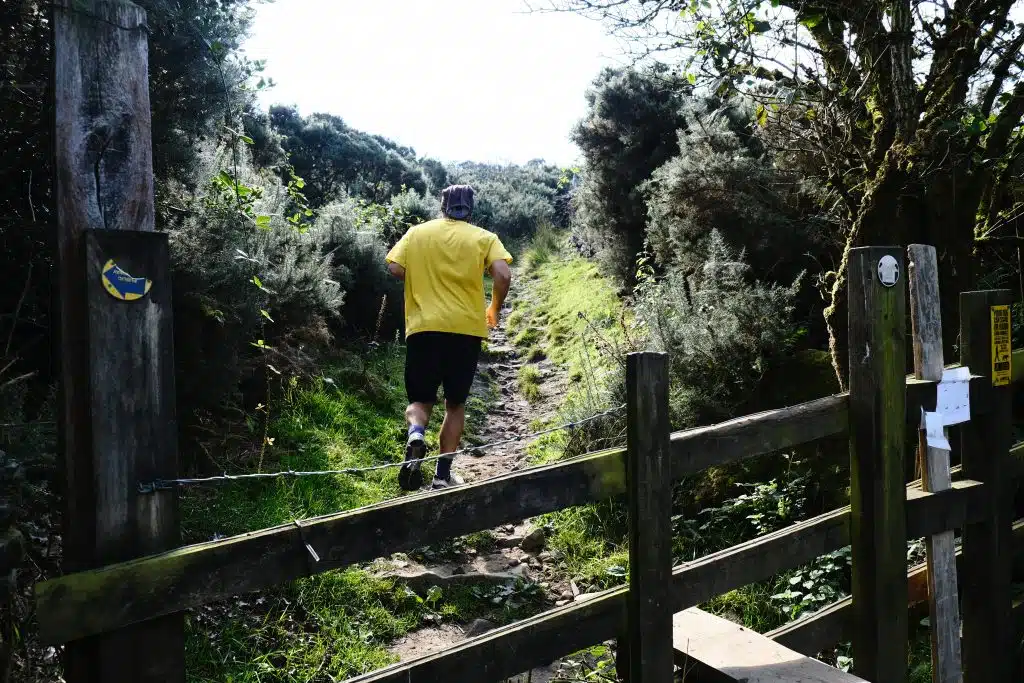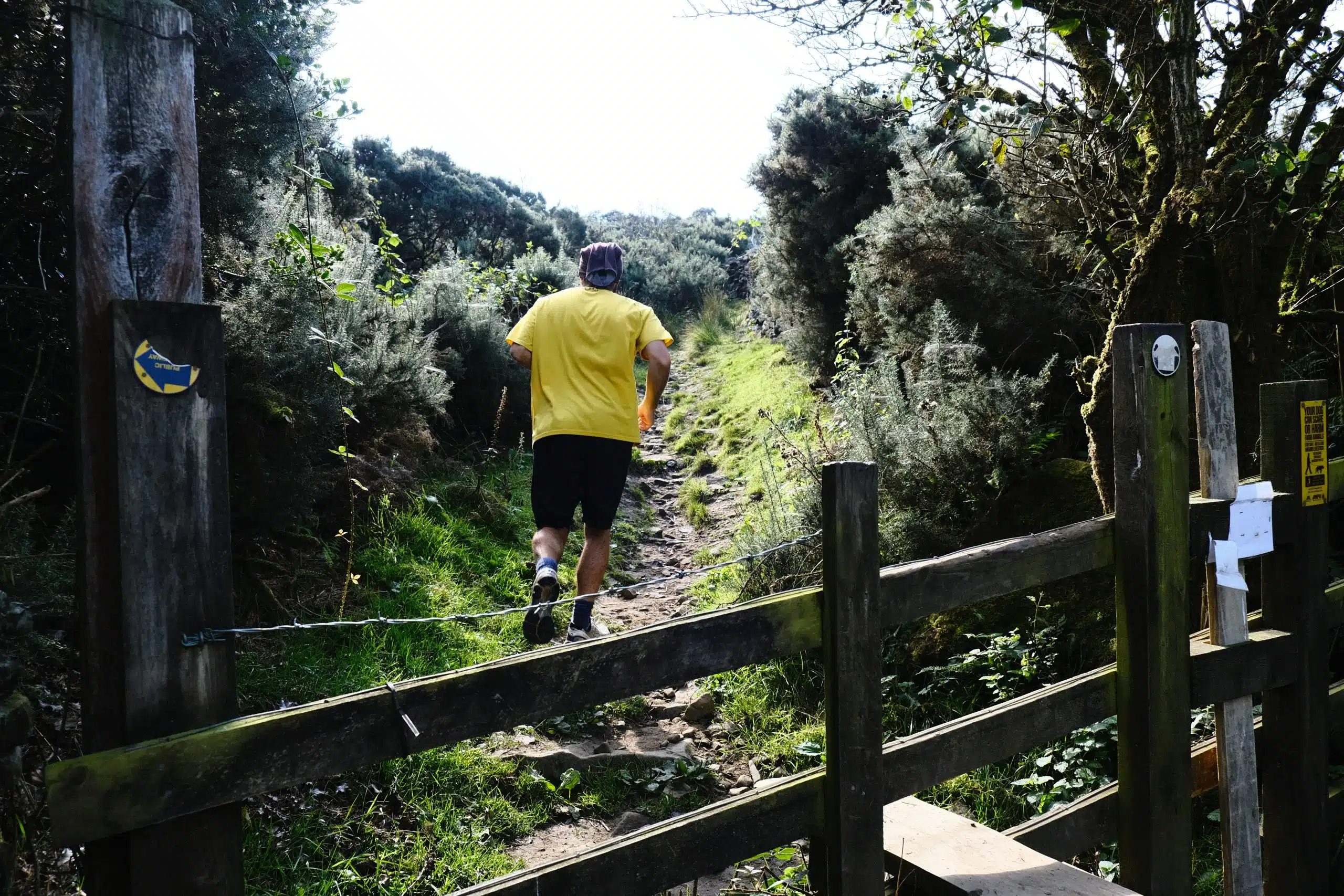 9. Trail Running Q&A
Q. Can I use trail running shoes to run on roads? Yes, though some will be better suited to it. You'll find a variety listed below that are best for both.
Q. Are trail running shoes good for cycling? They can be but if shoes have rigid soles you may find they slide off the pedals. I find them the perfect touring/adventure shoe if you use toe clips to stop the sliding.
Q. Which trail running shoes are best for wide feet? Shoes from Altra, Hoka One and Inov-8 typically are more accommodating for wide feet and even have wider models you can select.
Q. Are trail running shoes good for hiking? Yes, they definitely are.
Q. Can women wear men's trail running shoes and vice versa? Yes, it's more than fine for men to wear women's trail running shoes and the other way around. Women's shoes have less volume, typically at the top of the shoe, they may be narrower and have different colour schemes too but at the end of the day it's just the fit that matters!
10. The Best Trail Running Shoes for Vegans
As we mentioned above, all these awesome options were checked with the manufacturer and we've added their vegan certification.
La Sportiva Vegan Trail Running Shoes
An awesome brand with a wide range of products, vegan certification, easily accessible vegan information and also good environmental standards.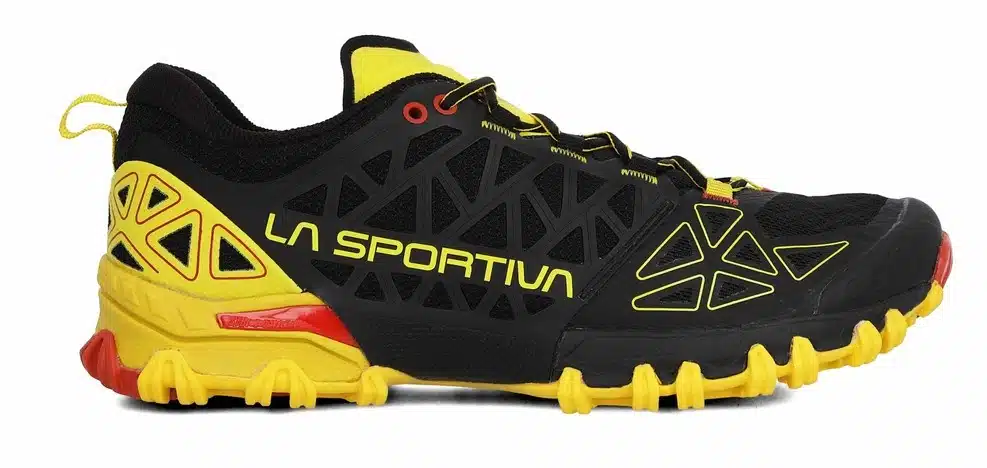 La Sportiva Bushido 2
"A seriously popular competition-level trail running shoe for hard runners"
Weight: 610g
Cost: £120
Drop: 6mm
Cushioning: moderate
Designed for: competitive mountain runners and skyracers
Cons: heavy
The Bushido 2 is the second edition of the already seriously popular Bushido. These trail shoes are designed for sky running (mountain running over 2,000m) meaning they can handle series off-road terrain.
Because of the high stability and aggressive design, they're also pretty great for long-distance hiking too.
Buy on:
---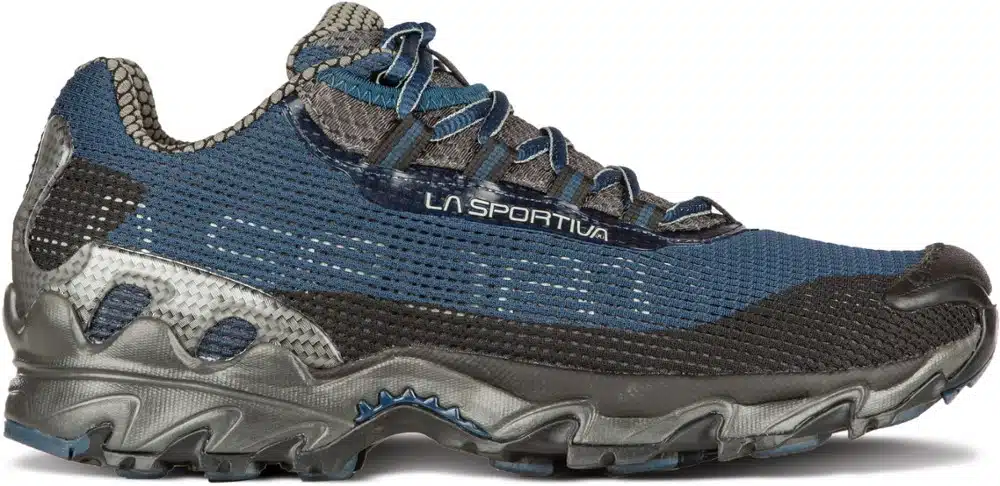 La Sportiva Wildcat
"Massive traction and cushioning for great protection running or hiking"
Weight: 630g
Cost: £110
Drop: 12mm
Cushioning: generous
Designed for: comfort on medium trail runs or long hiking trails
Cons: clumpy fitting, less suited for running, heavy
With a 12mm drop and maximal cushioning, the Wildcat offer amazing protection along long trails or off-road runs.
The aggressive sole will have you feeling confident on all terrain and the additional cushioning makes it ideal for heavy-clad hikers or beginner trail runners.
Buy on:
---
More vegan trail running shoes from La Sportiva
---
Hoka One Vegan Trail Running Shoes
Hoka One are a very cool brand that offer a wide variety of vegan shoes that are certified and clearly labelled as vegan-friendly.
Their shoes typically offer a lot of cushioning with options to buy many models in a standard or wide fit and for men or women.
Hoka One Speedgoat 4
"An exceedingly comfortable shoe with wide, narrow & Gore Tex options"
Weight: 520g
Cost: £115
Drop: 4mm
Cushioning: generous
Designed for: comfortable trail running
Cons: pretty stiff with slight energy loss in cushioning
This shoe has lots of midfoot and arch support combined with ample cushioning, making the Speedgoat 4 an awesome choice for ultrarunning on and off-road.
The newer model also has increased breathability, a larger toe box and tougher soles for better traction running uphill and downhill.
Buy on:
Men's & Women's Alpine Trek UK // Men's & Women's USA
---
Hoka One Challenger ATR 5 GTX
"Award-winning and a seriously popular option for long-distance runners"
Weight: 500g
Cost: £100
Drop: 5mm
Cushioning: generous
Designed for: all-terrain, all-round trail runner that can go onto concrete too
Cons: Not strong on heavy mud
These guys have a stellar reputation for being awesome all-round options, shining for both long-distance running on and off-road. They're Gore Tex and have been designed for a famously comfortable ride.
A brilliant pair of vegan trainers for the all-round vegan runner.
Buy on:
Men's & Women's Alpine Trek UK // Men's & Women's REI USA
---
More vegan trail running shoes from Hoka One
Hoka One Evo Jaws – stripped-down performance with 3mm drop – UK
Hoka One Torrent – lightweight (420g) off-road racer with 5mm drop – UK Men's & Women's // USA Men's & Women's
---
Inov-8 Vegan Trail Running Shoes
Inov-8 set the bar high with their exceptional-quality synthetic trail running shoes. They're worn by many pros and have been used for lots of record-breaking trail and mountain runs, like Paul Tiernay breaking the 214-peak Wainwright record.
Their shoes are vegan-certified and they've also got a good environmental ethos too.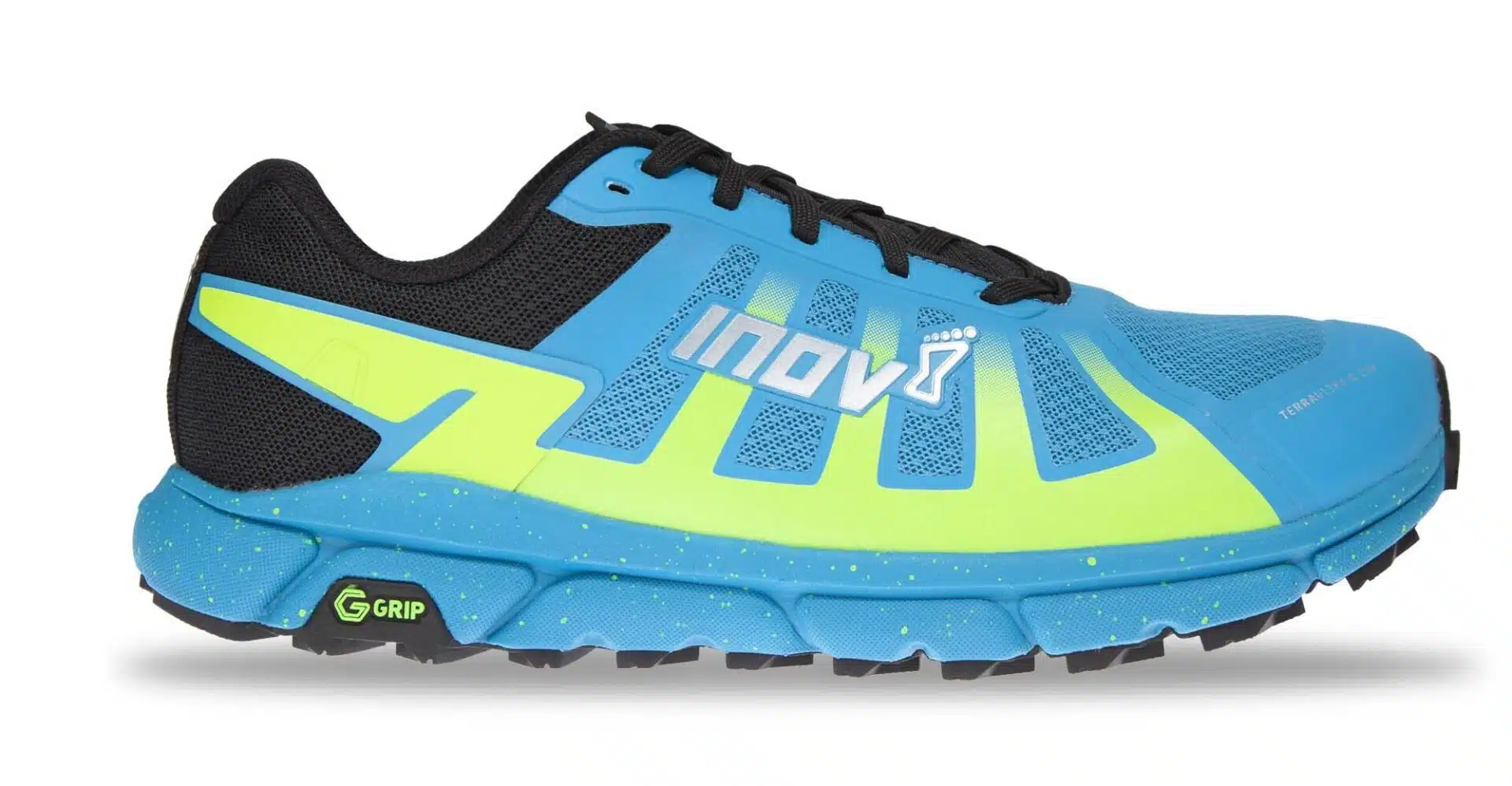 Inov-8 Terraultra G 270
"Award-winning zero-drop trail running shoe that can handle anything you throw at it"
Weight: 540g
Cost: £130
Drop: 0mm
Cushioning: moderate
Designed for: long, hard off-road running on varied terrain
Cons: pretty expensive and not as good on thick mud
If you're looking for a hard-wearing pair of trail runners for tackling everything but seriously muddy routes, the Terraultra is likely a wise choice.
The shoes give fairly unrivalled traction with its Graphene sole whilst still being amazingly comfortable, perfect for long, hard runs. The zero-drop shoes encourage a very natural running style and are perfect for anyone wanting to push out the mileage in almost any conditions. You can find our full review here.
Buy on:
Men's & Women's Alpine Trek UK
---
Inov-8 Roclite G 275
"Hotly-tipped as the best trail running shoes for comfort and protection over unpredictable terrain"
Weight: 550g
Cost: £100
Drop: 8mm
Cushioning: moderate
Designed for: sturdier support for trail and hiking
Cons: not good for road running
The Roclite takes a lot of the technology from the Terraultra but places more emphasis on protection over tricky terrain in terrible conditions.
These are a pretty sweet option for anyone with mid-width feet and can be used to tear up trails or for fast hiking.
Buy on:
Men's & Women's Alpine Trek UK // REI USA
---
Inov-8 Mudclaw G 260
"If you're going to be running on mud then look no further"
Weight: 520g
Cost: £90
Drop: 4mm
Cushioning: modest
Designed for: wet, muddy conditions
Cons: not designed for drier conditions
Specifically designed for wet, boggy, muddy, swampy terrain, the Mudclaw gives traction when most other shoes can't.
The 8mm lugs make light work of the wet and wild, with it becoming a favourite amongst competition obstacle course runners too.
Buy on:
Alpine Trek UK // Backcountry USA
---
More vegan-friendly Inov-8 trail shoes
Inov-8 XTalon G 235 – lightweight shoe for muddy conditions with 6mm drop – UK Men's & Women's // USA
---
Merrell Vegan Trail Running Shoes
Merrel vegan shoes are seriously popular and now come with a clear vegan certification which is really handy.
The brand has a wide range of vegan boots and standard shoes but also an impressive range of barefoot and trail options.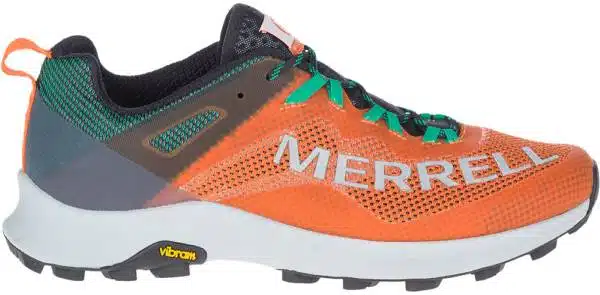 Merrell MTL Long Sky
"Super popular runner-designed shoe for LONG stints in wet and dry weather"
Weight: 560g
Cost: £110
Drop: 8mm
Cushioning: moderate/generous
Designed for: ultra runs on tough terrain
Cons: not the most supportive
These guys have big lugs on a Vibram Megagrip sole for serious traction across wet or dry weather and tricky terrain. Combined with soft cushioning and durable design, they're tough but a pleasure to wear.
Designed by record-breaking ultrarunner Anna Frost and designed for long races and competitions in changeable conditions.
Check out the full MTL review or buy on:
Men's & Women's Alpine Trek UK // REI USA
---
Merrell Trail Glove 5
"Merrell's trademark zero-drop shoe for minimalist running at almost no weight and a low cost"
Weight: 392g
Cost: £60
Drop: zero drop
Cushioning: minimal
Designed for: minimalists and barefoot aficionados
Cons: specialist shoe for strengthened feet
At less than 400g, these are seriously lightweight running shoes!
Zero-drop or minimal running shoes are designed to promote a more natural running position for your feet and body. The Trail Glove will help to strengthen your feet but will take some getting used to.
Don't try smashing any PBs on the first outing!
Buy on:
Men's & Women's Alpine Trek UK // Men's & Women's REI USA
---
More vegan-friendly Merrell trail shoes
---
Salomon Vegan Trail Running Shoes
Up until recently Salomon vegan shoes were almost non-existent but fortunately that has changed.
Sadly there is no obvious information about this online but the options below were confirmed to be 100% vegan-friendly by their product specialists.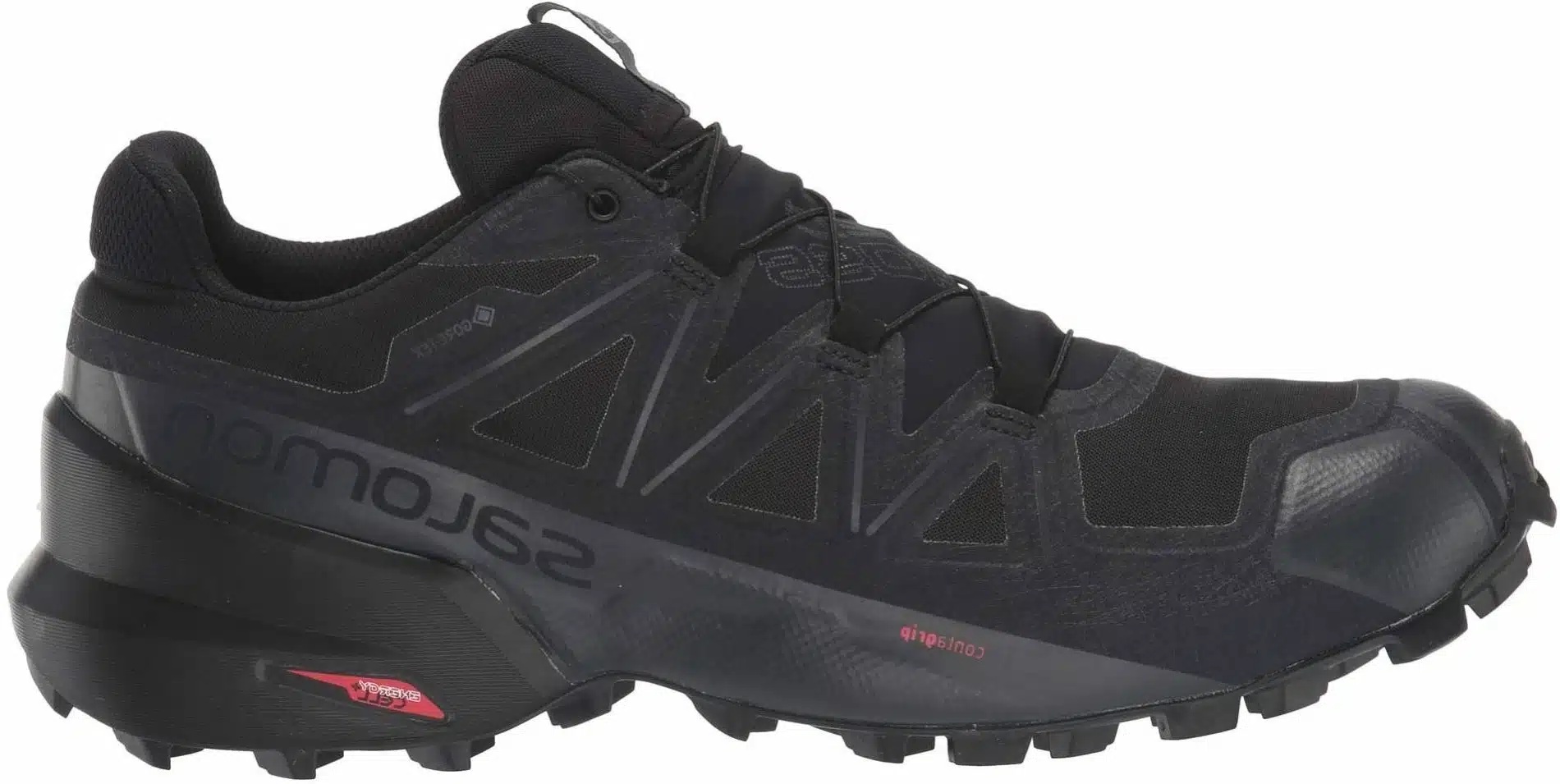 Salomon Speedcross 5
"A nicely flexible long-distance trail runner with speed-lacing system"
Weight: 540g
Cost: £100
Drop: 8mm
Cushioning: moderate
Designed for: comfort on varied conditions
Cons: not great for heavy mud
As one of Salomons most popular vegan running shoes, these guys have pretty awesome reviews from off-road runners to hikers and backpackers.
The speed-lacing system makes them really easy to get on and off, with enough stability and traction for confidence on all but icy trails. Then it's time for some microspikes!
Buy on:
Men's & Women's Alpine Trek UK // Men's & Women's REI USA
---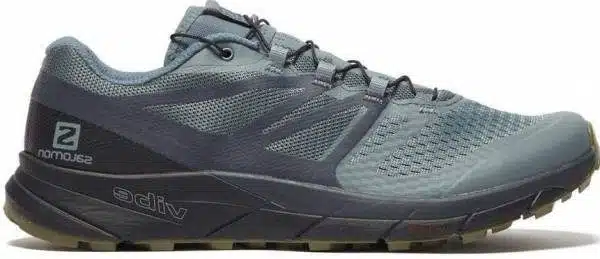 Salomon Sense Ride 2
"Lightweight, fairly priced, on and off road… pretty solid all-rounders!"
Weight: 480g
Cost: £80
Drop: 8mm
Cushioning: moderate
Designed for: lightweight on and off road, good for beginners
Cons: not the best cushioning for rocky runs
If you're looking for an all-round box-ticker that won't hurt the bank, the Sense Ride 2 is a great option.
These guys will hold their ground in all seasons, wet or dry, steep or flat, gravel or concrete. With the moderate cushioning and larger drop they're also a solid choice for beginner trail runners or comfortable hiking shoes.
Buy on:
---
More vegan-friendly Salomon trail shoes
---
---
Altra Vegan Trail Running Shoes
Altra have a large range of vegan trainers and vegan running shoes but unfortunately there is no information about this online. The models below were confirmed by their product team.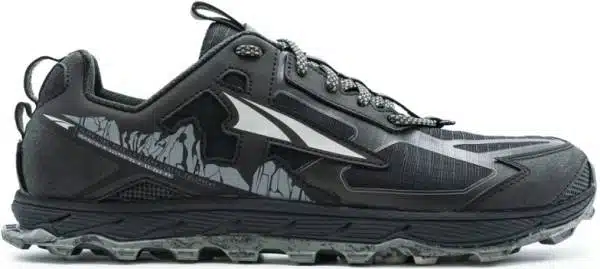 Altra Lone Peak 4.5
"One of the most popular trail shoes for hikers and backpackers"
Weight: 600g
Cost: £100
Drop: zero drop
Cushioning: moderate
Designed for: fast hiking
Cons: heavy, not so comfortable
The Altra Lone Peak has been the go-to trail shoe for many long-distance and thru-hikers. It offers seriously good stability and protection whilst being nicely durable: ticking boxes for backpackers.
These guys are pretty heavy and some readers have mentioned newer models are less comfortable.
Buy on:
Men's & Women's Alpine Trek UK // Men's & Women's REI USA
---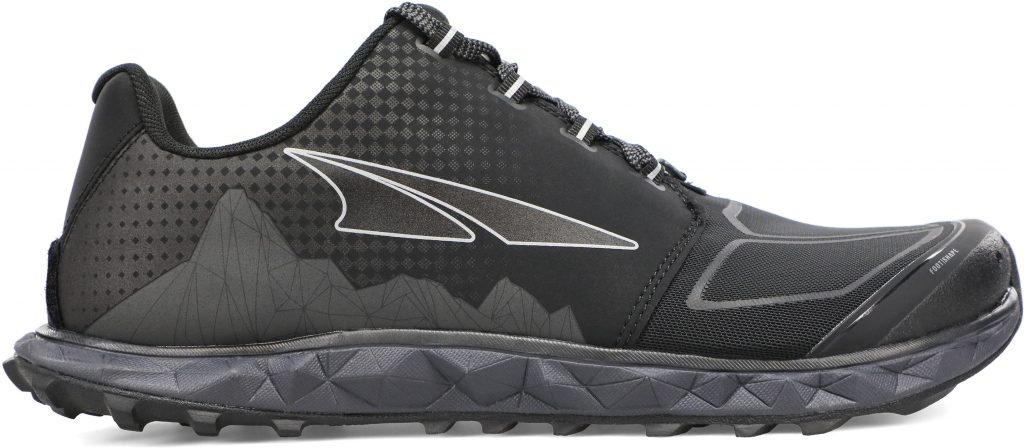 Altra Superior 4.5
"Interested in barefoot shoes but not 100% sure? These are the perfect compromise"
Weight: 500g
Cost: £100
Drop: zero drop
Cushioning: moderate
Designed for: almost minimal feel
Cons: not best for seriously rocky terrain
The Superior 4.5 have a loyal following as they offer the attractions of a barefoot shoe but with added protection and comfort.
With a zero drop and less cushioning, you're still encouraged to run on your forefoot with a natural style. Now Altra has added better protection and stability to better suit them to varied terrain. The 4.5 also comes with an additional StoneGuard insole for protection.
Buy on:
Alpine Trek UK // Men's & Women's REI USA
---
Arc'teryx Vegan Trail Running Shoes
Arc'teryx are a very reliable brand who design high-functioning outdoor and mountain products. They offer a number of vegan trail options but don't have vegan info online.
Arc'teryx Norvan SL
"The lightest shoes on this list that still give traction and protection"
Weight: 370g
Cost: £140
Drop: moderate
Cushioning: moderate
Designed for: super light in better conditions
Cons: not great for mud or protection, expensive
At 370g, the Norvan SL is mighty light which makes you feel like you're running on clouds with the added cushioning.
With its low weight, the lugs are fairly small so it's not suited to overly muddy or slippy terrain.
Buy on:
Men's & Women's Alpine Trek UK // Men's & Women's Backcountry USA
---
Arc'teryx Norvan VT 2
"For technical mountain running and fast scrambling, the Norvan VT 2 has everything you need"
Weight: 640g
Cost: £110
Drop: moderate
Cushioning: moderate
Designed for: scrambling, mountain runs
Cons: heavy, fairly narrow
Compared to the Norvan SL, the Norvan VT 2 is intended for verticle or steep mountain terrain. This means it's ideally suited for technical runs on changeable surfaces and gives all the protection you'll need.
This also means, if you're going to be running on steadier surfaces then you might not need the features which do come with additional weight.
Buy on:
Men's & Women's Alpine Trek UK // Backcountry USA
---
Brooks Vegan Trail Running Shoes
Like a number of the other trail running brands on this list, Brooks offers a number of options but doesn't display any vegan information. The shoes models below are 100% safe!
Brooks Cascadia 15
"Top comfort and protection but not so responsive"
Weight: 620g
Cost: £105
Drop: 8mm
Cushioning: moderate
Designed for: high protection and comfort
Cons: heavy, not very springy
Brooks trail runners are known to be solid, comfortable and protective, but those qualities come with additional weight. This also means it's a good option for newbie off-road runners or for general outdoor footwear.
Buy on:
---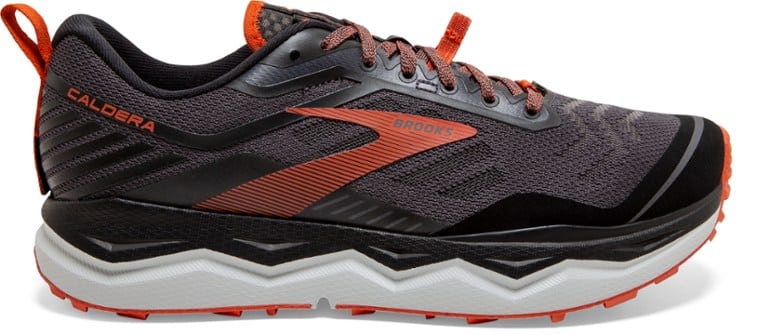 Brooks Caldera 4
"A sweet all-round option at a respectable weight, capable to manage all conditions"
Weight: 500g
Cost: £115
Drop: 4mm
Cushioning: generous
Designed for: door to trail, varied conditions
Cons: not good on mud
The Caldera comes at a fairly lightweight but still keeps it's strong protection and stability over varied terrain. Though, it's not the strongest on thicker mud.
With a generously cushioned midsole, these guys can handle rocky trails and keep your feet happy over longer, difficult distances.
Buy on:
---
Any vegan trail shoes you love but we missed out? Tell us in the comments!