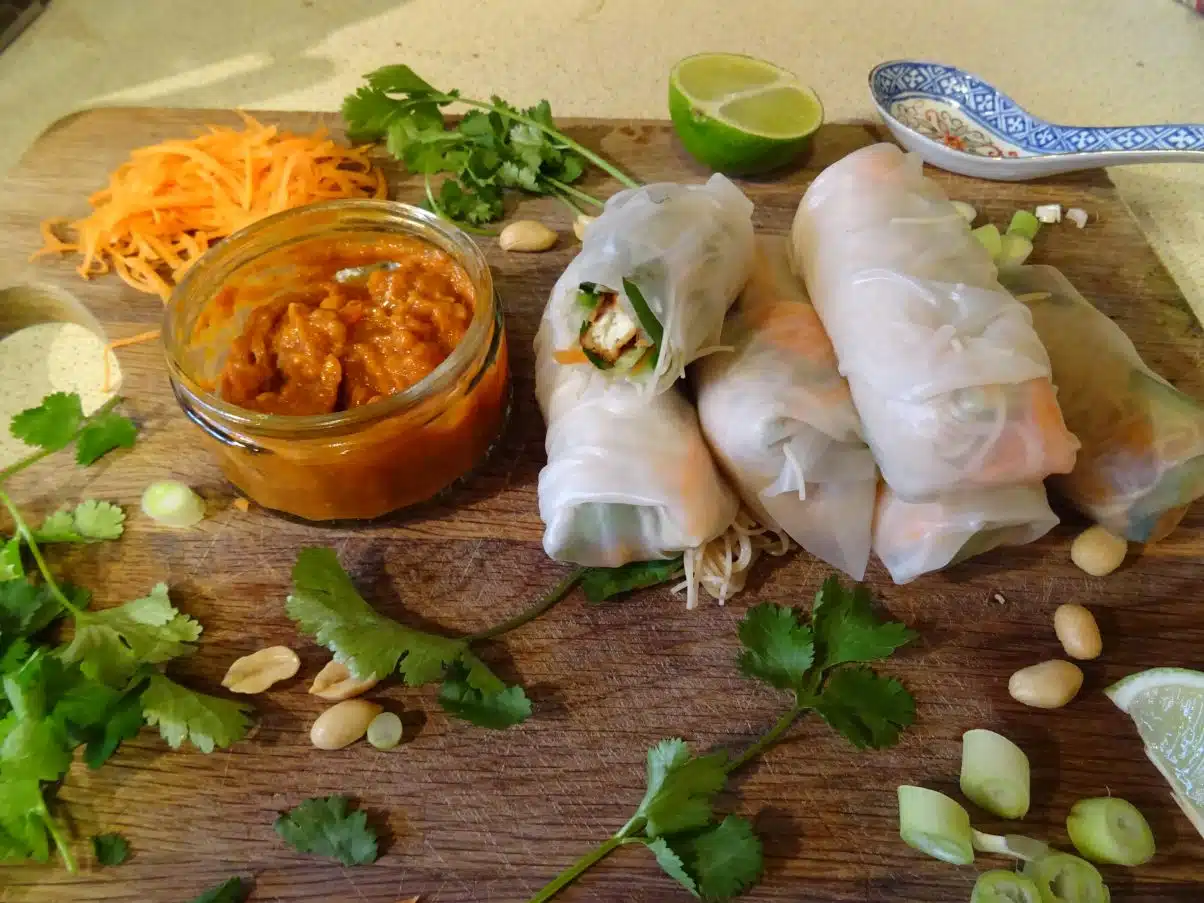 Vietnamese food is notoriously meat based and can be problematic for us ethical eaters. With such a varied diet the Vietnamese aren't afraid to try anything and when they eat meat they eat it in abundance. Literally no part of the animal goes to waste. This means it's hard to find a dish that doesn't have and animal products in it.
We've created this Vegan Vietnamese Summer Rolls Recipe so you can enjoy the famous national dish in all it's glory whilst keeping it vegan. This dish is flavoursome, fresh and authentic and can be enjoyed all year round. 
Take a peep at all of our vegan adventures
Vietnamese food has long been influenced by different cultures and countries which has given its dishes an eclectic and distinct flavour. In the 10th century the region was invaded by Mongolia and with them they brought cows. The Vietnamese would use the cows to harvest rice and the wealthy would eat them as they were expensive.
Vietnam's food history has not always been so flourishing. Historically and still in parts today people live off the land. This can be problematic as conditions are not always favourable and can result in food shortages and famine. When the American and Vietnam War ended in 1975 rice production in the country was at an all-time low.
A change in the structure of farming meant people lacked motivation, coupled with land damage due to mines and agent orange resulted in widespread food shortages. As a result Vietnam was listed as one of the poorest countries in the world in 1980. Although some parts of Vietnam are still very poor, today the countries' economy is on the rise and it's now the 5th largest rice exporter in the world.
Food is a massive part of Vietnamese culture and they are very proud of their cuisine. Rice is a staple ingredient and is used to make rice wine, rice noodles, rice paper and much more! Northern Vietnam being close to China has more culinary similarities,  using soy sauce, black pepper and frying as a method of cooking. In contrast the south predominantly uses fish sauce and simmers food instead of frying.
Summer Rolls
Gỏi cuốn, or summer rolls in English, began as a humble meal for coastal fishermen. The exact origin of summer rolls is unknown although they are often linked to Chinese egg rolls as both have a similar appearance and fillings. Chinese egg rolls however are wrapped with a wheat wrapper as it's more commonly sourced in China. Summer rolls are made with a rice wrapper, which is grown all over the country and one of their major exports.
Going camping? Make sure you've got the right vegan sleeping bag!
Summer rolls have since evolved from peasant food to being part of mainstream cuisine and are eaten in fine dining restaurants across Vietnam.
Summer rolls are eaten in Vietnam all year round but are traditionally eaten at Thất Tịch festival that is celebrated on the seventh day of the seventh month of the Luna calendar. As well as Thất Tịch festival, summer rolls have been traditionally eaten at TET, which is the Luna New Year. Eating summer rolls at the Luna New Year is believed to bring good luck so they are particularly popular at this time.  Summer rolls can be found all year round now in Vietnam and are commonly found street food for locals and tourists.
Are these the ultimate vegan outdoors shoes?
The exact ingredients of summer rolls are not fixed and recipes can differ from family to family. They often are made with bean sprouts, vermicelli noodles, carrots, cucumber, coriander, basil and most frequently pork or shrimp sometimes snails if you're in the North.Of course we've opted to leave out the shrimps, pork and snails and have created a "chay" version of summer rolls. "Chay" is a term derived from Buddhism which basically means avoiding harm to animal and plant lives. People who eat chay food avoid eating animals and sometimes root vegetables.
Vietnam is believed to be one of the least religious countries in the world partly due to their communist political system. 12% of the population is Buddhist and 73% are not religious or follow Vietnamese folk religion. Despite a low proportion of the population not being religious or vegetarian you can still find a lot of chay restaurants and places with a predominantly veggie and vegan menu.
Click here to read all about the best ethical eats in Hanoi.
These summer rolls are fresh and full of flavor. Using fresh veggies makes these rolls vibrant and crunchy. Being wrapped in rice paper and the addition of noodles gives them a bit of cushioning and including fresh coriander and mint makes them beautifully herby. This recipe is easy to source and simple for you to try out at home, although maybe slightly fiddly at times. The satay style dip is flavorsome with just the right amount of kick. Full of rich flavor it's the perfect accompaniment for these vibrant rolls.
The key is to not over fill. This was a challenge for me at first because my bellies desires took over and I tried to pack in as much as I could. Don't do this. The rolls will become difficult to roll and will probably split. Less is more with this recipe allowing you to roll the rice paper easily avoiding a summer roll rupture catastrophe.
Take a look at our recipe for vegan energy balls
Another tip is to soak the rice paper for just the right amount of time. Too long and the paper will become soggy, not long enough and it's not malleable.  Different people have different methods but I found the best way it to cover them in almost boiling water for about 10 seconds give them a little wiggle in the water then their good to go.
We kept the recipe authentic using traditional ingredients based on the tasty summer rolls we sampled across Vietnam during our time there. Vietnamese cuisine is unique and steeped in history and as always we try to reflect this in our recipes.
This recipe makes about 7 rolls and all the measurements are just a guideline so don't worry if you go a bit over or under. If there are certain ingredients  you prefer over other feel free to pay around with what suits your taste.
For more Vietnamese recipes check out our pho recipe and read more about our adventures in Vietnam from our year in Hanoi. 
Vegan Vietnamese Summer Rolls Recipe
Serves: 2 people 
Preparation time: 45 minutes  
Ingredients:
Rice paper
2 carrots – grated or shredded in a food processor
Cucumber – finely sliced in to strips
1 nest of vermicelli noodles
Fresh mint
Fresh coriander
Spring onions – about 3 sprigs finely sliced
Oil for frying – I used coconut oil
Tofu roughly 200g
4 cloves of fresh garlic
6 cherry tomatoes or one medium sized tomato
Soy sauce
Fresh ginger, about thumb length, or ginger puree
Salt and pepper to taste
Satay sauce:
Nut butter – I used peanut butter but feel free to use your preferred choice
1 ½ teaspoons of brown sugar
Fresh lime
Chili garlic sauce – about 2 tablespoons
Soy sauce
Method:
Start by preparing the tofu:
1. Heat some oil in a pan.
2. Once the pan is hot add the crushed garlic stirring frequently for about 1 minute.
3. Chop the tomatoes in to quarters and add to pan stirring occasionally.
4. Finely slice the ginger and add to the pan. Cook for about 7 minutes.
5. Add about 5 tablespoons of soy sauce, salt and pepper. Stir to combine.
6. Then add the chunks of tofu and cover. Flip to tofu occasionally allowing it to cook on all sides.
7. After about 10 minutes of cooking leave the lid off the pan to allow the tofu to become crispy.
8. Add soy sauce, salt and pepper to taste.
Meanwhile prepare the satay sauce:
1. Mix the nut butter, brown sugar, about 5 tablespoons of soy sauce, half the juice of a fresh lime and the chili garlic sauce.
2. Feel free to add more or less to your taste.
Add hot water to thin.
Construct the summer rolls:
1. Prepare the rolls by soaking a piece of rice paper in almost boiling water for roughly 10 seconds. Give it a wiggle around until it's no longer rigid but flexible.
2. Lay the paper on a damp chopping board and construct.
3. Add a small pinch of vermicelli noodles, carrots, 3 slithers of cucumber, a few slices of spring onions, about 3 pieces of tofu, some coriander and mint leaves.
4. Place the ingredients to one side of the rice paper.
5. Begin to roll the paper by first tucking in the side closest to the filling. Then tuck in the top and bottom of the roll. Roll the paper being sure to keep the ingredients closely tucked in.
6. Complete this method to use up all the ingredients.
These rolls are best eaten fresh so serve with the satay sauce and enjoy!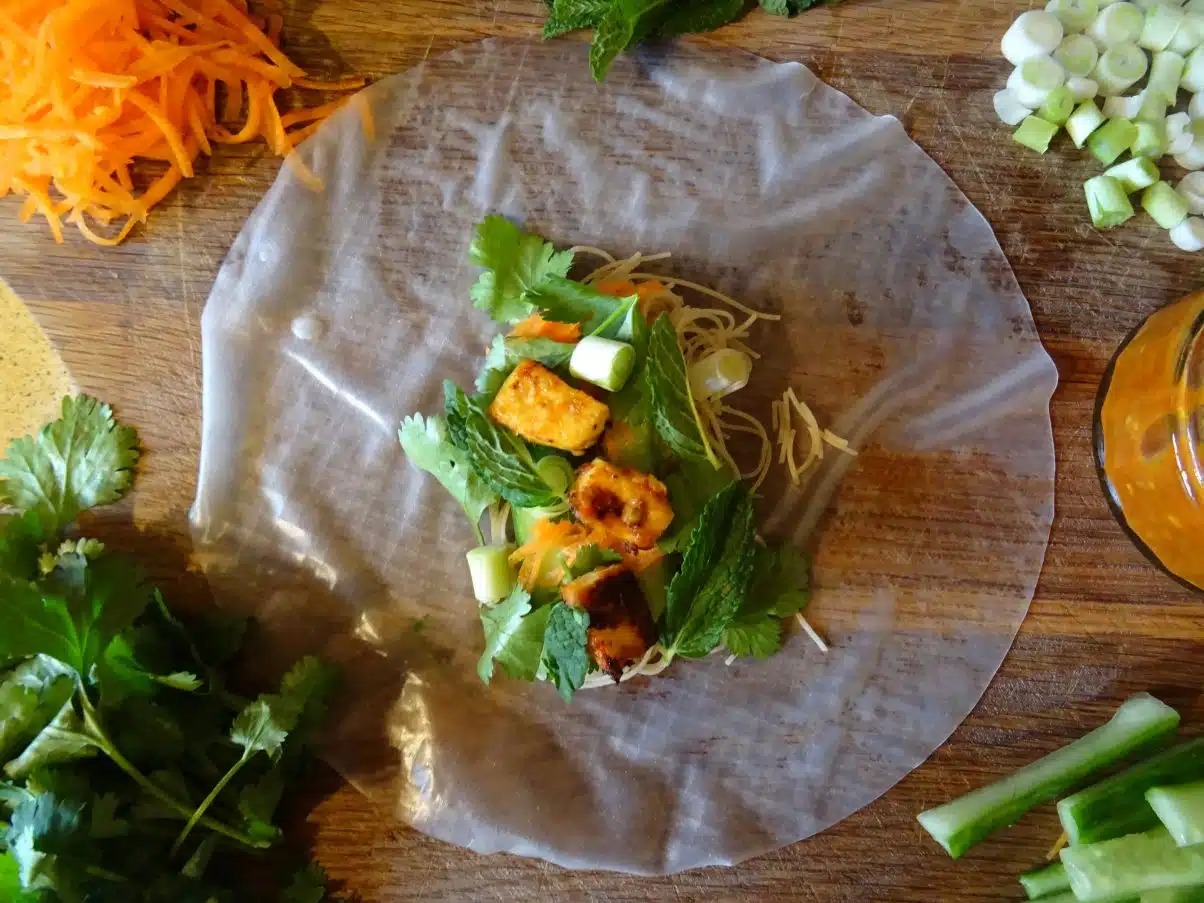 Review: Vegan Protein Bars for Outdoors Energy
Share me!
Outdoor fanatic? Vegan adventurer? Nature lover? Sign up for our mailing list and you'll also get the Ethical Adventure Planning Guide!