Helping you take on the cold months with the perfect vegan winter boots or snow options
---
When it comes to winter adventures, footwear can make or break your time outside.
On a cold day and with the wrong shoes, the chill comes straight up through your soles. If you're even considering hiking in the snow or wet winter conditions, the moment freezing moisture hits your foot can be panic-inducing.
The right vegan snow boots or winter footwear will keep you warm, dry and stable, so you can embrace the season.
But, finding cruelty-free winter footwear is tough.
It's pretty easy to find vegan trail runners, running shoes, vegan climbing shoes etc. but winter boots have a way to go.
On our ethical adventure mission, we've scoured the web and contacted the manufacturers to find all the vegan-friendly winter boots and snow boots available.
Keep reading to find some of the best outdoor options and how to pick the perfect boot for you
In this guide you'll find: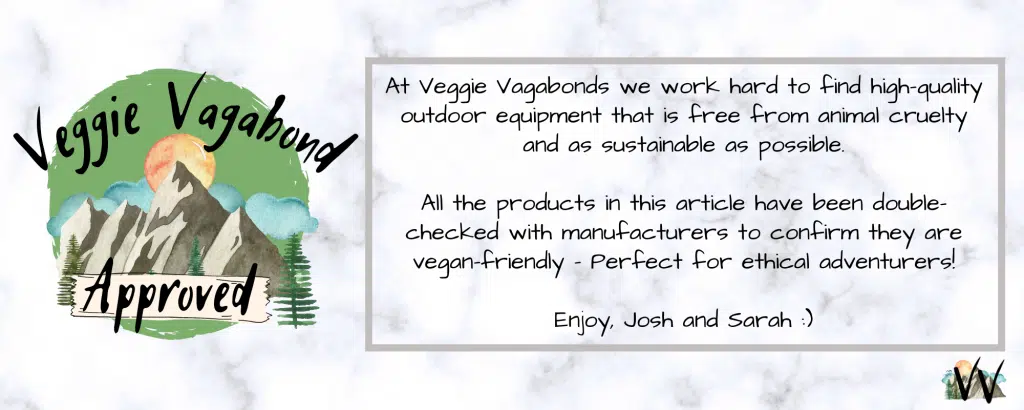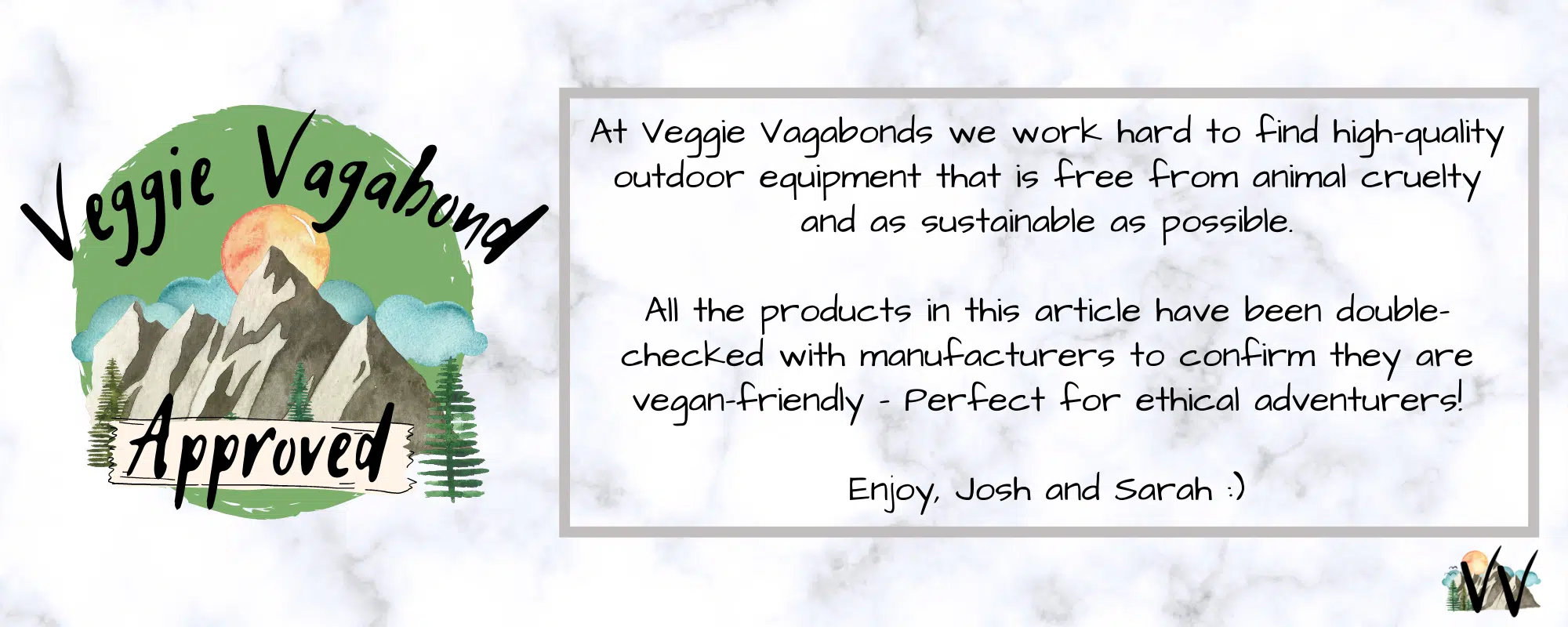 This article may contain affiliate links, they will never cost you more money but helps Veggie Vagabonds keep making content like this – thank you!
Before we get into things, if you're a vegan outdoor lover, we'll bet you'll dig our mailing list. We update you with the latest vegan gear, plant-based trail foods and share lots of ethical adventure advice!
The Best Vegan Winter Boots and Snowboots
Below are awesome options from completely vegan clothing companies and outdoor brands that could confirm their boots were 100% cruelty-free!
*Disclaimer* all images have been taken from the manufacturer's website
Will's WVSport Insulated Vegan Hiking Boots (Unisex)
Style: insulated winter boots
Pros: tough, warm and comfortable for longer distances
Cons: longer breaking-in time than some other snow boot options
Cost: around £125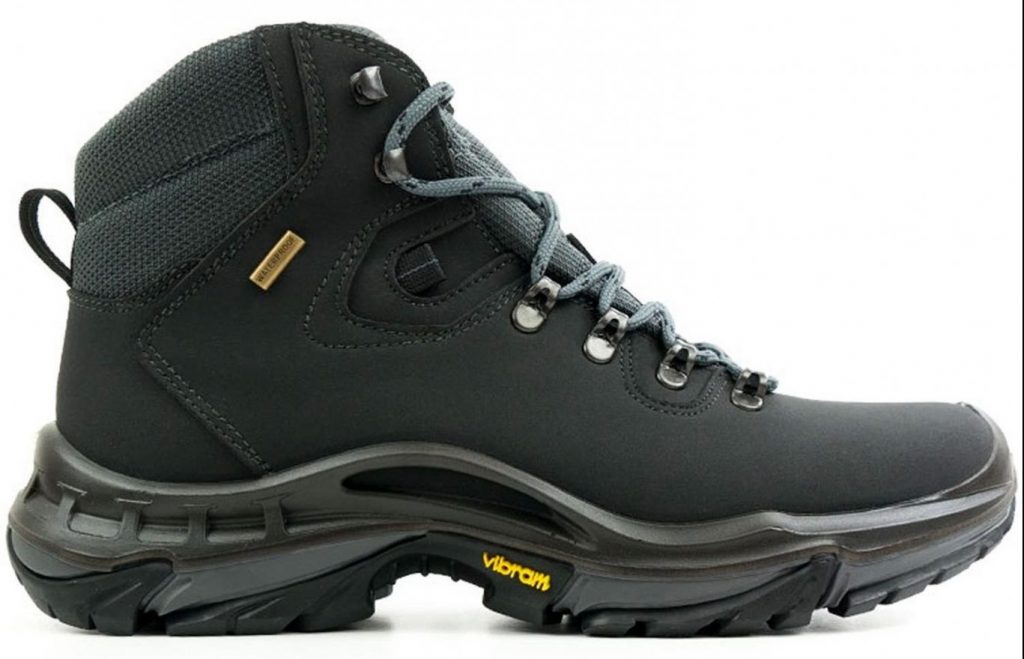 We were absolutely huge fans of the WVSport Hiking boots from Will's (check out the review here) and were really glad to see an insulated version come out.
You've got a really tough hiking boot with durable soles, supportive uppers and impressive weather protection. Now, with the insulation, they can be used in temperatures down to -22C! That's seriously cold.
We love that Will's has combined a comfortable all-day vegan walking boot and turned it into the perfect winter option.
As with all Will's Vegan Shoes, they're super sustainable, carbon-neutral and delivered plastic free!
Check latest prices here
---
Will's WVSport Waterproof Country Boots (Unisex)
Style: comfortable winter wellies
Pros: Good compromise between comfort, practicality and weather protection
Cons: Wellie design isn't great for serious cold
Cost: around £115
If you want to go for some Will's vegan winter boots and know comfort is your priority, their WVSport Waterproof Country Boots could be ideal.
These high-ankle wellies are more than just waterproof and weather resistant. The stretchy knitted back panel, comfortable soles and insulation will keep your feet feeling kushty, even if you do start covering longer distances.
Plus, with the wellie design, they're super easy to slip on and off, so you can easily leave the mud-laden boots by the door without strain.
Check latest prices here
---
Wills Insulated Dock Boots (Unisex)
Style: vegan dock boots
Pros: casual style and versatile
Cons: not waterproof or suited to high activity
Cost: around £100
Cool-looking vegan leather boots that are best suited to more casual escapades.
Impressively, the dock boots have Primaloft synthetic insulation (that's 90% recycled!), vegan fur lining to keep you warm way below into the minuses and vegan suede outers.
They've got a slightly wider fit and deep lugs for good traction. A sweet choice for afternoon winter strolls and dog walks in cold temperatures.
Check prices for Wills dock boots
---
Will's WVSport Snow Boots (Unisex)
Style: vegan pac boots
Pros: ankle support, comfort, gaiter/spike friendly
Cons: only water-resistant
Cost: around £125
As a 100% vegan company, Will's are super sustainable and fan-favourites.
Their WVSport Snow Boots are one of our top picks for higher-intensity winter adventures.
These guys are tough, with ballistic welded construction, rubber injection outsoles and a vegan wool collar to lock in warmth.
Designed to keep you warm and dry, they can go down to -22°C and work with gaiters or ice spikes.
Adventure-ready vegan outdoor shoes that are ethically made and delivered plastic-free!
---
Women's North Face Thermoball Lace-Up Boots
Style: Lace-up vegan boots
Pros: Comfortable, recycled insulation
Cons: Not durable or ideal for technical walks
Cost: around £100
After a long period of trying to contact The North Face, they have finally been able to confirm they use vegan-friendly glue – winning!
These women's vegan winter boots are supremely comfortable, with a cushioned sole and fleece collar for insulation. They'll feel more like slippers than boots.
However, the Ortholite footbed is antimicrobial and great for moisture management, so, if you do go for a long hike, it'll help to stop clammy, stinky feet.
Your feet will be kept warm with Thermoball Eco insulation, made from recycled materials, and the upper is also made from recycled PET.
---
Vegetarian Shoes Ice Patrol MK2 (Unisex)
Style: vegan work boots
Pros: brilliant in icy condition, hard-wearing
Cons: not waterproof, slow to get on and off
Cost: around £100
Vegetarian Shoes are an all-vegan company that have been creating vegan-friendly footwear for more than 30 years.
The Ice Patrol boots are specifically designed for winter conditions, with great comfort and durability. Deep lugs make it brill in snow or ice and they even come with integrated ice spikes that can be folded in or out.
Tough boots for warmth and security in winter and frozen conditions. They run large, so opt for a size down.
Check out the latest Ice Patrol price here
---
Kamik Momentum Hi (Women)
Style: snow boots
Pros: fully waterproof, 3m insulated lining, super warm
Cons: heavy
Cost: around £90
Kamik are a regular outdoor footwear company that have an impressive variety of vegan options. They label their products as vegan-friendly too, which is mighty helpful!
First up, we've got the Momentum: one of the best vegan snow boots around. They come in high options (like the photo) and also mid-height.
These women's winter boots are seem-sealed, completely waterproof and are built for the cold (down to -40°C!). The faux fur and bungee lacing will help you keep the warmth in too.
Perfect for alpine conditions and snowshoeing but too bulky for fast-paced adventures.
---
Kamik Greenbay (Men & Women)
Style: Serious winter snow boots
Pros: really warm and waterproof, great for snow
Cons: heavy
Cost: around £95
Kamik also have a neat vegan snow boot for men and women: the Greenbay!
These guys are also completely waterproof and suitable down to -40°C but have a slightly different lacing system, making them easier to get on and off.
You get an adjustable snow collar, its unique sole is super light and it's 100% recyclable too.
*Note. On Amazon, it shows the lining material to be fur. BUT, checking on Kamik's website and they are labelled as vegan. Kamik representatives have also confirmed this and it may be a listing error on Amazon's side.
Check Kamik Greenbay prices
---
NAE Etna (Unisex)
Style: vegan timberland boots
Pros: cool style
Cons: better for casual adventures
Cost: around £100
NAE (standing for No Animals Exploited) are a Portuguese footwear brand that makes only vegan-friendly shoes. Though most are more casual-styled, the Etnas are a cool everyday option for the winter months.
These Timberland-style boots have a durable sole and thick uppers to keep you warm, so if you do fancy some winter walking, they'll hold up fine.
They come in a range of colours too, take a peep at the link below.
---
Native/Save the Duck Lhotse Boot (Unisex)
Style: casual snow boot
Pros: super comfy and warm
Cons: little ankle support or fastening
Cost: around £120
Native, the all-vegan shoe company, teamed up with Save the Duck, the vegan clothing company that helped the first 100% vegan summit of Everest. Together they made this awesome vegan ugg boot come snowshoe which could be perfect if you're looking for trendy comfort and warmth.
It's a seriously plush option, with warm faux fur lining and water-resistant outer material. Their slip-on design makes them handy for short trips and they're comfortable straight from the box.
Oh, and they also come in an amazing electric yellow version too!
Check Native/Save the Duck Lhotse Prices
---
Hunter Insulated Snow Boots (Men & Women)
Style: mobile snow boots
Pros: super versatile, comfy and warm
Cons: not designed for hard/technical hiking
Cost: around £115
Despite the name, Hunter has a massive range of vegan-friendly winter boots and wellies.
These boots are handmade, 100% waterproof and certified vegan. For winter adventures, they'll kick ass on ice or snow down to almost arctic temperatures. They also hold their own in rain.
The design makes them easy to get on and off but the drawstring topline will help you trap in warmth.
Click on the link for both men's and women's boots, as well as lower and taller ankle options.
Check Hunter Insulated Winter Boot Prices
---
Bogs Whiteout Fleck (Women)
Style: vegan wellies
Pros: perfect for seriously mucky walks
Cons: not great for long distances or serious cold
Cost: around £125
Bogs are famous for cool-looking and reliable outdoor work boots.
Their Whiteout Flecks are the perfect vegan rain boots – 100% waterproof and with good insulating.
They've got a tough, grippy sole for traction and would work a treat for seriously wet and boggy strolls in muddy conditions.
---
Bogs Workman 17″ Comp Toe
Style: tough vegan work boots w. steel toe
Pros: super hardy and protective
Cons: not so comfortable
Cost: around £150
The Workman are one bad-ass pair of boots with composite toes, keeping your tootsies safe in case of any heavy drops. They're 100% waterproof and surprisingly light too.
If you're looking for a hardy vegan work boot, this could be your ticket. For wintery farm work or countryside maintenance, they have everything you'd need.
---
Vegan Snow Boots and Winter Options Buyer's Guide
1. Why go for winter boots over hiking boots?
Winter and snow boots are best when it's important to stay warm and dry, whether that's in winter or other seasons, and you're not looking to travel particularly far or fast.
Most options are well-insulated, highly waterproof and have thick soles so they're ace for wet, snowy and cold conditions, like:
Ski/winter sports trips
Winter dog walking
Winter outdoor work
Easier winter hikes
Snowshoeing
Snowball fights
Warm throw-around shoes for winter
Typically, they're designed with comfort in mind and work well for more casual adventures. If you're planning on covering longer distances or need something technical for the mountains, vegan hiking boots or synthetic mountaineering options might be better.
OUR CHOICE: If it's snowy or very cold and we're going to be hiking less than 10 miles, we opt for snowshoes/pac boots. For faster or longer adventures, we go with waterproof hiking boots.
If you're new to cold-weather adventures, I'd advise checking out our Winter Hiking Guide too. It's got all the info you need to stay safe out in the snow!
2. The different styles of vegan winter boots (and which is best for you)
These are heaps of different boot options. For vegans, some are easier to find than others. Take a read through the styles below and see which works best for you.
Snow boots – designed specifically for snowy conditions. Generally high-ankle, waterproof, with thick soles, thermal lining and easy to get on/off. Not as comfortable over distance or suited to technical terrain. Might not work with gaiters/crampons. Snow boots for vegans can be difficult to find as many brands use fur, down or wool as insulation.
Pac Boots – like a more technical snowboot, that's heavier, more durable and with better grip. Might not work with gaiters/crampons either.
Winter hiking boots/mountaineering boots – typically mid to high ankle, and with more ankle support and mobility. Not as much insulation but the best option for technical or longer stints. Well-suited to crampons and gaiters but can be expensive.
Wellies – up to knee-height waterproof boots, designed for wet weather but not great for bitter cold as lots of air gets. Super easy to get on/off and normally the most affordable.
Work/Timberland-style boots – comfortable and hard-wearing, designed to be worn for long periods of time in winter conditions.
3. Finding winter boots for vegans
As with most footwear, leather winter boots are still the most common.
Any shoes made with leather, nubuck leather, suede or anything similar uses animal materials – are not vegan-friendly.
Some boots may also use fur, down or wool in the thermal lining, which can be from a variety of different animals – also not vegan-friendly.
Normally, both leather and fur are clearly stated on boots as it's considered a 'luxury' material (I'm sure the animals thought so too…).
As with most footwear, it's easy to find fur and leather-free boots but lots of companies use animal products in things like glues and dyes. 100% vegan-friendly winter boots are much harder to find, which sucks.
4. Tips for finding cruelty-free winter boots
Whether you're looking online or in-store, most companies clearly label leather and fur in the product materials.
To find winter boots that use vegan glues and dyes is tricky and normally requires contacting the manufacturers to check.
In our experience, many did not know the origin of the smaller materials or could not confirm it.
---
---
6. Winter Boots FAQ
Do you need waterproof winter boots?
It depends on the conditions you'll be in. If you're going to be in very wintery conditions, it would be sensible to go for waterproof options.
What's the difference between PU leather and real leather
Real leather is typically taken from cows. PU leather is made from polyurethane, a synthetic material that is cruelty-free.
Are Sorel boots vegan?
Though a number of other online sources recommend Sorel vegan boots, when we contacted them, they couldn't confirm all their materials were cruelty-free. We'd love to find some vegan Sorel boots and will update this article if we hear of any changes.
Is there a difference between vegan winter boots for men and women?
Typically, vegan winter boots for women have less volume and space for the top of the foot. They may be narrower and have different colour schemes. As always, opt for the best fitting pair of boots and don't worry about the sex.
Can you wear snowshoes for hiking long distances?
You can, however, they are not as well fitted as hiking boots. Over long distances, they may rub and become uncomfortable.
7. Brands with no vegan footwear options
First off, this is not meant as a smear to the companies listed below. This is so you can save yourself some time if you're looking for other vegan boots in the future.
At the time of publishing this article, these are the vegan companies who didn't have vegan options:
Sorel
Columbia
Trespass
Jack Wolfskin
Decathlon
Keen
Salomon
Oboz – did not respond
Adidas – did not respond
Do you know of any other outdoor vegan boots for winter? Share in the comments below!