When the colder months come around, you need something to protect you from the elements. These vegan winter coats will do just that and they're completely cruelty-free!
---
Winter brings some of the most exciting outdoor experiences, but, without the right gear, it's easy to feel put off by harsh weather. The solution is simple: get yourself a good vegan winter coat and embrace the colder months!
Unfortunately, that can be easier said than done as lots of warmer outdoor coats use animal materials. We put this guide together to showcase some of the best options available which are 100% vegan-friendly and we think you'll love.
Whether it's for snowy hikes, wintery camping or just a warm option for an active lifestyle, this guide is all about finding the warmest vegan winter coat possible, that completely fits the bill when adventure calls.
In this guide you'll find: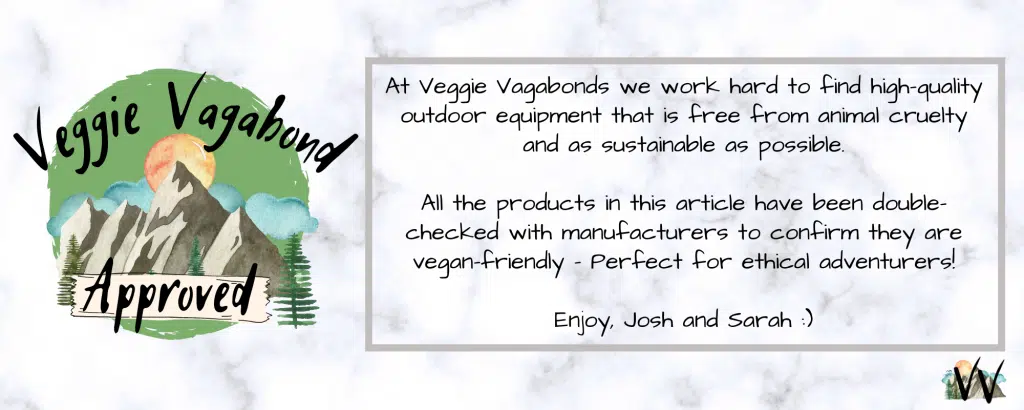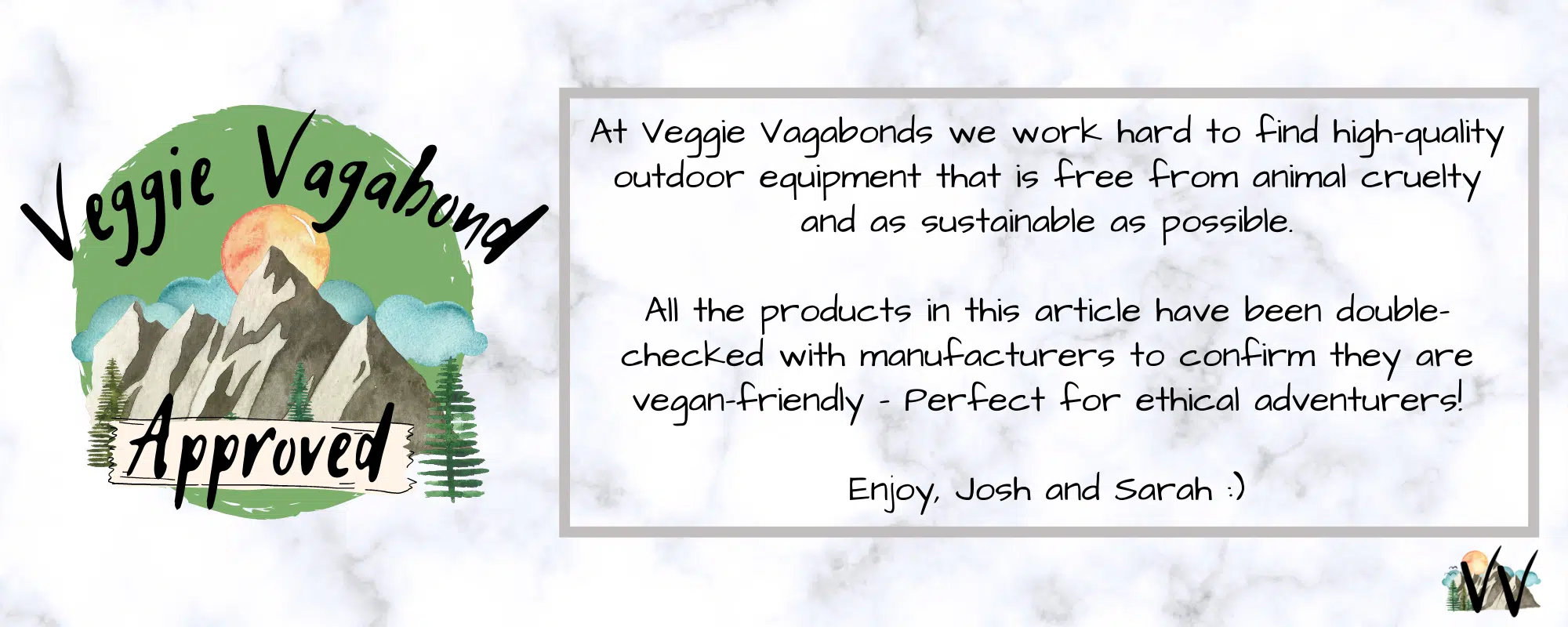 This article may contain affiliate links, they will never cost you more money but helps Veggie Vagabonds keep making content like this – thank you!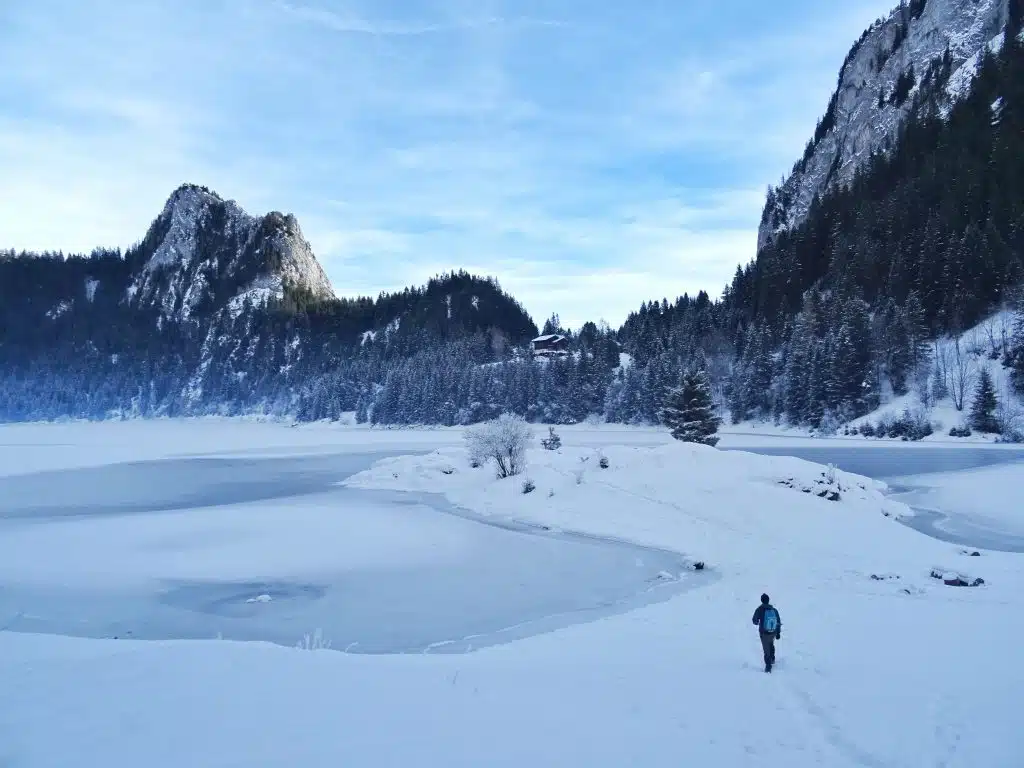 1. What type of coats did we included?
There are lots of different coat choices out there but this guide is specifically for outdoor options that have enough weather protection to wear as an outer layer in winter.
We're talking vegan puffer jackets, 3-in-1 jackets, parkas, ski jackets and larger insulated jackets you can use for snowshoeing trips, hiking in the winter, snowy walks or any other cold-weather fun.
Basically, anything that's warm enough to keep you toasty through the coldest months but is still good for outdoorsy lifestyles. Oh, and they're all vegan-friendly.
If you're looking for regular vegan insulated jackets (better for milder weather or as a middle layer) you can check out our full guide here.
2. Why go for a vegan-friendly coat and what to look out for
Just in case you need any convincing, here's the lowdown…
Insulated winter coats can use a variety of animal products. The most common material is down feathers. This is under-plumage taken from birds, sometimes once they're dead but sometimes it's live-plucked down, causing a lot of stress and cruelty.
Nowadays, there are lots of brilliant vegan alternatives to down which are just as good and even keep you warm once wet. Winter coats without down are now in abundance, aren't any more expensive and don't lack in quality – there's no reason not to go for them!
The second thing you need to watch out for when looking for vegan winter jackets is wool. Once again, wool farming can be a very cruel process so it's great that you'll find lots of brilliant vegan alternatives.
Finally, be cautious of fur linings. Though this isn't as common, if you're looking for something like a vegan parka, many non-vegan options might have a fur-lined hood. Lots of different types of animals suffer to provide this fur but a notorious example is Canada Goose coats who use coyote fur.
Fur is by far worse than down and wool. Both wool and down can be taken without killing animals whereas fur will result in certain death.
As the cold months come around, go for a vegan-friendly winter coat so you can still enjoy the great outdoors but skip the cruelty.
3. How to tell if a coat is actually vegan?
One of the frustrating things about finding vegan outdoor gear is that it can be quite hard to tell.
There are a few vegan outdoor brands selling only vegan products which obviously make things really easy (you'll find them highlighted below).
Buying a coat from regular outdoor brands can be much harder. Fortunately, as down and fur are considered premium materials they are generally clearly marked.
Whether you're shopping online or in-store, look at the product details for the main materials or insulation type. Anything which says something along the lines of down, down-fill, down/synthetic blend, 700-fill down, wool or fur is NOT VEGAN-FRIENDLY.
Vegan-friendly options might be listed as things like synthetic insulated coat, down alternative coat, polyester etc. In the materials, coats might also show the specific type of synthetic insulation, like Primaloft, Polartec, Climashield, Thermal R, Omni-heat, 3m or other synthetic materials.
Searching for this will help you tell if the coat's main materials are vegan friendly. Unfortunately, this still doesn't mean it's 100% vegan as smaller materials like glue and dyes might use animal products.
To find 100% vegan-friendly winter coats can be much harder (particularly from outdoor brands) so we've done all the hard work for you and listed them below!
For even more vegan adventure resources, tips and inspiration, make sure you're signed up to the Veggie Vagabonds mailing list 🙂
4. Different styles of coat to pick from
We've listed a variety of different coat options, all with their different pros and cons.
Vegan puffer jackets/insulated jackets/bomber jackets – generally good if you're going to be active as they allow more flexibility and are cut shorter. Well insulated but rarely waterproof (not good for wet conditions).
Vegan parka jackets – typically good warmth and protection from elements, finishing below the waist and sometimes waterproof. Not as good for mobility and won't offer much breathability.
Vegan ski jackets/3-in-1 jackets – ski and vegan 3-in-1 jackets offer insulation and a waterproof layer on the outside (with 3-in-1 coats you can unzip the layers and wear separately). Designed for winter sports so can have the best weather protection, mobility and breathability.
The secret to staying warm in the cold is by layering properly. You'll lots of tips in our Winter Hiking Guide.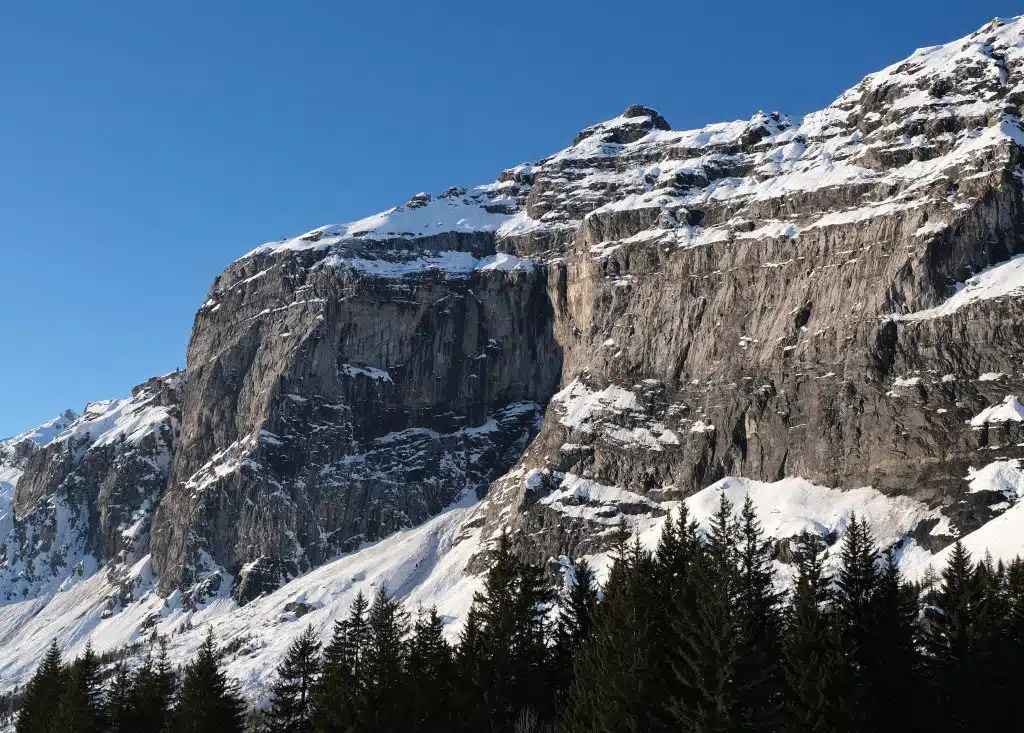 5. Q&A – useful questions answered!
Q. How come there aren't options from North Face or many major outdoor brands? Most of the bigger brands sell synthetic winter coats but they can't confirm all materials are 100% vegan friendly.
Q. Do you get specific men's and women's winter coats? Yes, all options below are clearly labelled.
Q. Is a down alternative jacket worse than real down? There are pros and cons. A down jacket has a better weight-to-warmth ratio but a synthetic jacket is typically cheaper and also maintains insulation once wet.
Q. Can you wear a waterproof jacket over these coats? Yes, and this is often our preferred choice as it gives you more flexibility. Just make sure your waterproof coat is big enough to go over them!
The best vegan winter coats for women and men
Check out the awesome list below and find your perfect winter layer for wrapping up outside. There are a variety of different style coats perfectly suited to different outdoor lifestyles so you can take a browse or jump ahead to some of our favourites with the links below.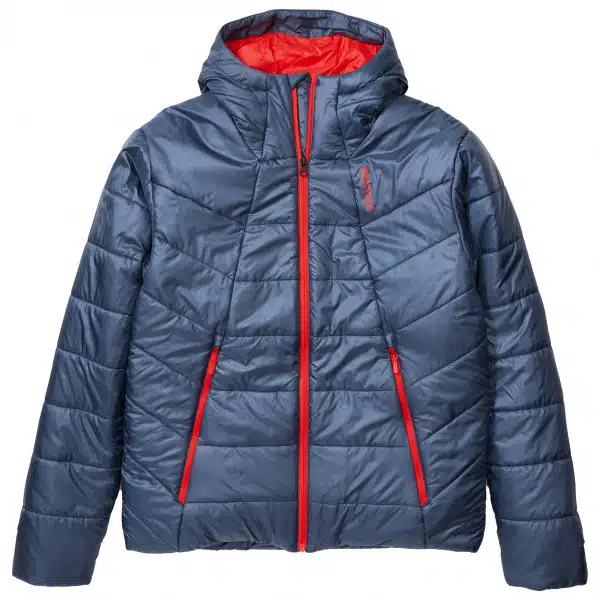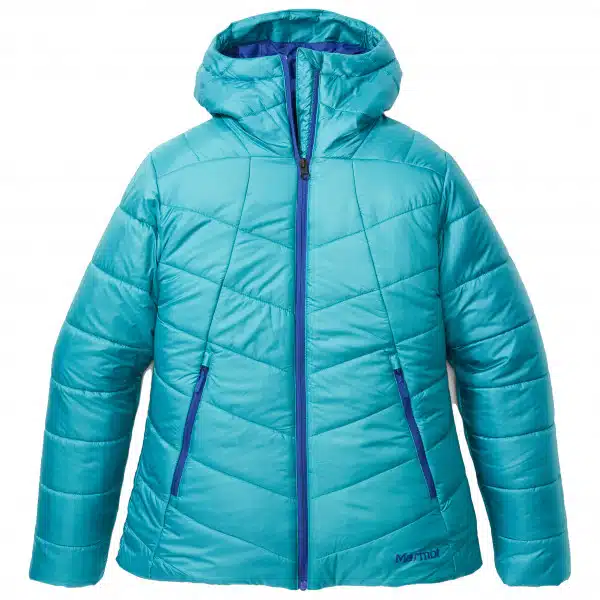 Marmot Warmcube Featherless (Men & Women)
"A super warm vegan climbing coat for belaying or winter hiking trails"
Cost: £320 / Weight: 500g / Waterproof: Durable Water Repellant (DWR) / 3m Thinsulate Featherless & Primaloft Silver insulation
The whole Marmot Featherless range is awesome and completely vegan but the Warmcube is our choice because it's the warmest option!
This vegan insulated coat has a down-like feel and is as warm as 700-fill power down (basically, really warm!). Outside, the Pertex outer shell is made from 100% recycled ripstop nylon which is treated to be water and wind resistant, protecting you from the elements whilst staying eco-friendly.
Though it's super warm, the Warmcube still allows good mobility and breathability, making it a sweet vegan hiking coat or perfect for belaying in cold temperatures/at altitude.
Check out the links for additional size and colour options for both men and women.
Find here
---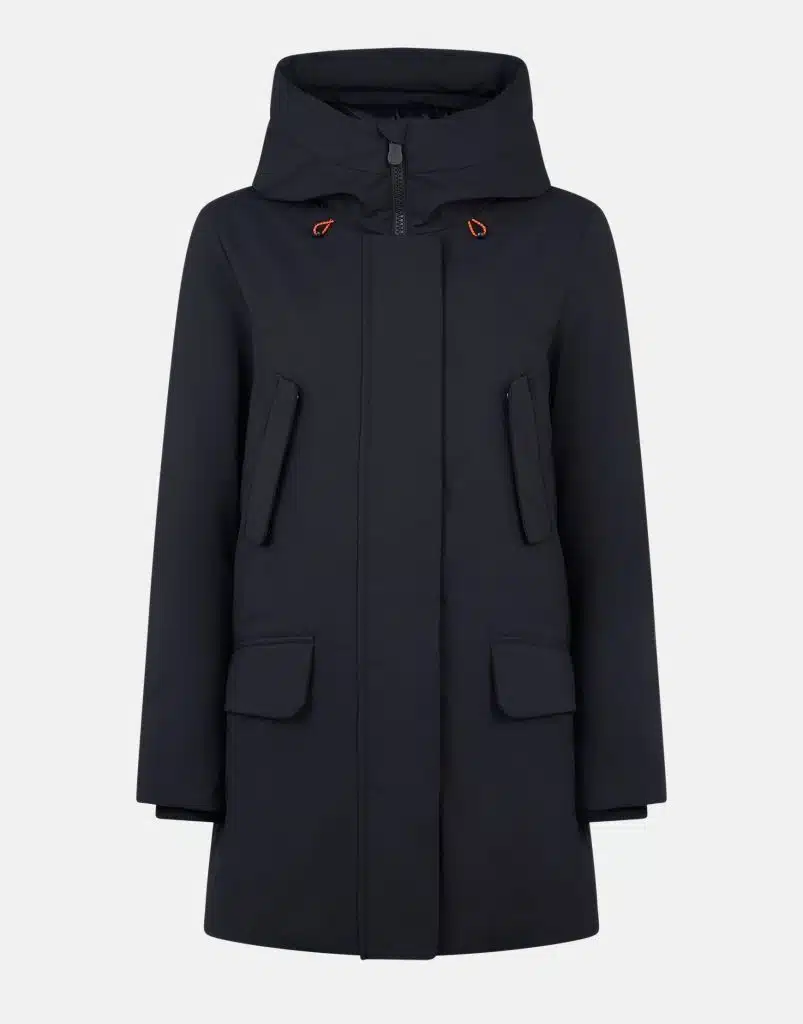 Save the Duck Matty Vegan Parka Coat (Men & Women)
"Designed for weather protection in the wild or urban environments, from a 100% vegan company"
Cost: £400 / Weight: 900g / Waterproof: Yes / Polyester Insulation
Save the Duck are a brilliant brand to support as they're 100% vegan and a B-Corporation, making coats that are good for animals, workers and the environment.
The Smegy coats have men's and women's designs that are both waterproof and windproof, with lots of handy pockets and a foldable hood.
With the long parka design, you'll be kept nice and warm, whilst also being smart enough for casual uses too. Think walks through the snow or frosty morning walks to work.
More styles and colour options can be found on the links.
Find here
---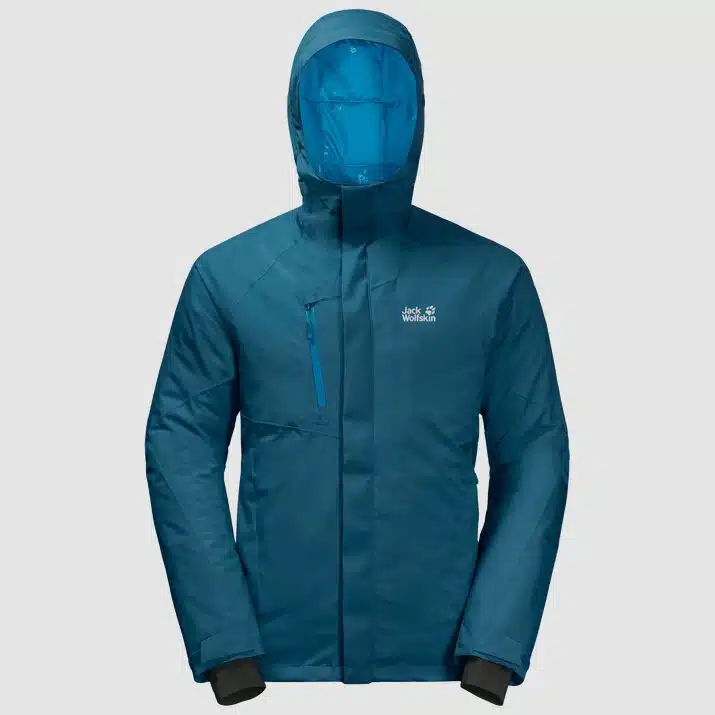 Jack Wolfskin Troposphere (Men & Women)
"One of the best vegan winter coats for hiking and eco-friendly adventures!"
Cost: £150 / Weight: 960g / Waterproof: Yes / Microguard Superloft insulation
The Troposphere is quite a box-ticker: it's waterproof and windproof, has thermal insulation, is stretchy for mobility and still has good breathability. On top of that, it's PFC-free, Bluesign-approved and nice to the environment!
A wicked coat for higher-energy winter adventures, keeping you warm and protected from the elements but still allowing the freedom to move and breathe.
Lots of extra colour options available with women's designs too!
Find here
---
Jack Wolfskin Madison Avenue (Women)
"A versatile winter hardshell coat for women, made with recycled materials"
Cost: £150 / Weight: 1kg / Waterproof: Yes / Microguard Ecosphere insulation
This vegan women's coat from Jack Wolfskin uses recycled synthetic insulation to keep you warm and waterproof materials to keep you dry, giving all the protection you'd need in the great outdoors but still smart enough for town.
Don't be fooled looking at the materials, the Twilsuede and Heather are completely synthetic and vegan-friendly. It's also another good choice for the environment, with no nasty chemicals, recycled materials and Bluesign approval. You can enjoy with a clear conscience.
Find here
---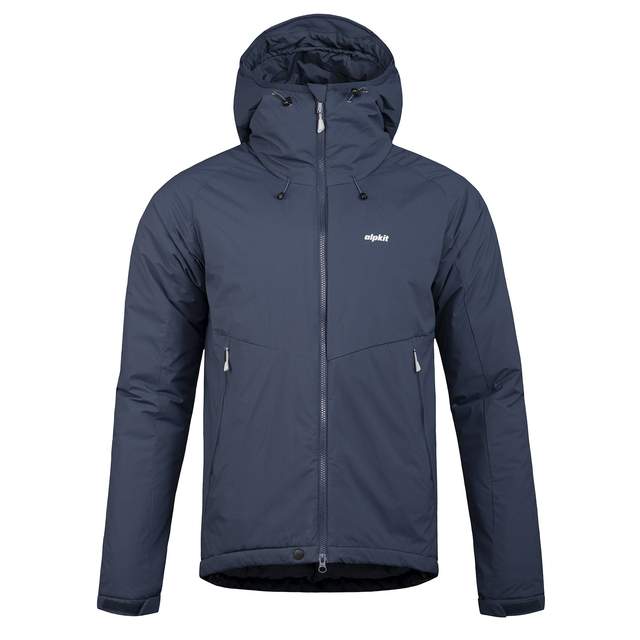 Alpkit Ohiro (Men & Women)
"A powerful coat in a small package – awesome winter warmth and weather protection"
Cost: £150 / Weight: 690g (Men) / Waterproof: Yes / Primaloft® Silver Hi-Loft Ultra insulation
If you're looking for a lightweight winter coat that will still keep you warm and dry in the harshest of weather, the Ohiro is a super choice.
The thick outer shell is waterproof and tough against rips or tears whilst the lining is filled with thick insulation to retain heat even when wet. With its light weight, if the weather picks up, you can easily stash it in your rucksack.
It would be great for winter hiking, backpacking or camping trips and it's also a sustainable choice. Alpkit is a B-Corp, the coat uses recycled materials AND it's one of the cheapest options on this list – winner!
Find here
---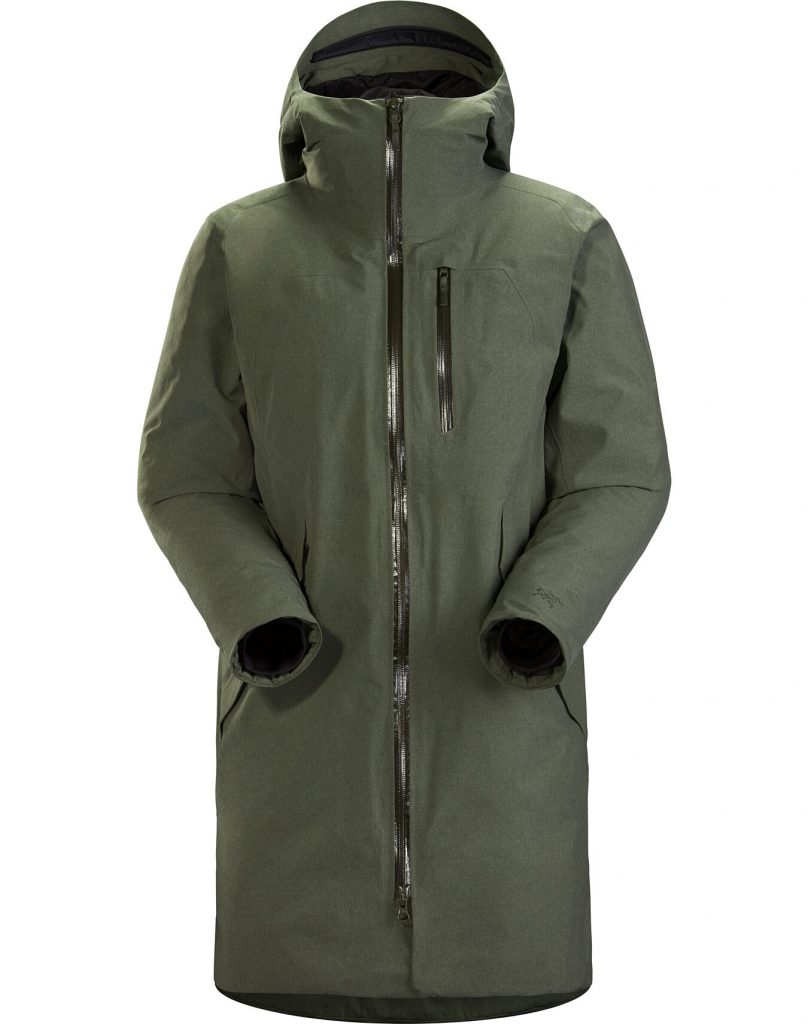 Arc'teryx Radstan and Sensa (Men & Women)
"A sleek mountain-to-town coat with double the waterproofing"
Cost: £500 / Weight: 745g (Men) / Waterproof: Yes / Coreloft Synthetic Insulation
Arc'teryx are known for producing seriously high-quality outdoor gear and their Radstan and Sensa coats are the transition between mountain and city life. It's also great to see them using recycled and Bluesign-approved materials!
Both synthetic winter coats have the sleek and minimal design the company is famous for, and you'll also have 2 layers of Goretex waterproof lining for extra protection in wet weather.
One of the more expensive coats but could be ideal if you're looking for a versatile adventure-ready option.
Find here
---
Outdoor Research Blackpowder ii (Men & Women)
"A tough vegan ski jacket that excells with all snow sports"
Cost: £200 / Weight: 909g / Waterproof: Yes / Adrenaloft synthetic insulation
The Blackpowder ii are massively popular ski jackets that are made from 100% synthetic and completely vegan-friendly materials.
You'll get a really high level of weather-resistance to hold up in mountains, regardless of the temperature or conditions. To suit winter outdoor pursuits, the coats still allow good mobility and breathability, ideal if you're manoeuvring snowy mountains.
More colours available on the links.
Find here
---
Finisterre Nebulas (Men & Women)
"A warm vegan puffer coat with simple designs, wintery colours and an ethical conscience"
Cost: £180 / Weight: 740g / Waterproof: DWR / C-Form synthetic insulation
Our favourite eco-friendly vegan winter coats for women or men!
Finisterre are a B-Corp, the coat's outer shell is made from 100% recycled polyester with a PFC-free DWR finish and the insulation is also completely recycled.
The soft colours are real nice and it's thick enough for seriously cold temperatures. It's not waterproof so it could also be combined with a raincoat if the heavens open but would still be ace for winter hikes and strolls.
Loads of different colour options to choose from.
Find here
---
Craghopper Pember (Men)
"An underdog of a coat which ticks all the boxes and uses recycled plastic bottles!"
Cost: £200 / Weight: 1.5 kg / Waterproof: Yes / Thermopro insulation
The Pember is a BIG coat, weighing in at 1.5 kg it would make a seriously good choice for wrapping up for the coldest walks when you're wanting to move slow.
Because of the size, it's not ideal for high-energy action but if you're thinking wintery walks and wandering through the snow, it's a dream.
The AquaDry membrane is waterproof but breathable, and, impressively, the coat uses 110 recycled plastic bottle in the production process – pretty neat!
It's also got 10 pockets, brilliant for organisation but just remember which one has your phone!
Find here
---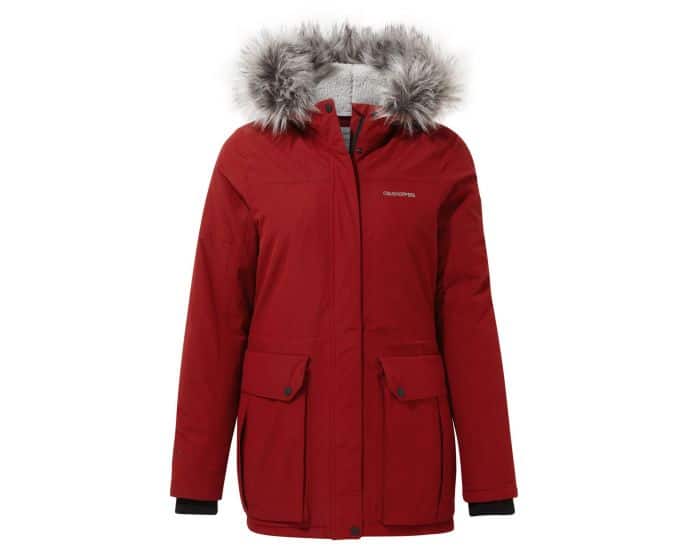 Craghopper Elison (Women)
"The perfect parka jacket to keep you toasty and organised on a winter's day out"
Cost: £180 / Weight: 1.3 kg / Waterproof: Yes / Synthetic insulation
Fairly similar to the Pember, just with a lighter weight and the addition of a faux fur hood trimming.
You still get amazing warmth and waterproofing with the small difference that the Elison uses 95 recycled plastic bottles and only 9 pockets. Would you miss the tenth pocket…?
Find here
---
Obermeyer Foundation (Men)
"A vegan coat expertly designed for skiing and snowy slopes"
Cost: £215 / Waterproof: Yes / Thermore insulation
Heading off to do some snow sports? The foundation is your vegan ticket.
It's the cheapest ski jacket option but still has everything you need. It's flexible and lightweight, has great waterproofing and useful pockets for a day on the snow.
This coat doesn't have great amounts of insulation and would work well with a synthetic thermal layer underneath.
Find here
---
Obermeyer Tuscany II (Women)
"The dream sustainable ski jacket for women"
Cost: £240 / Waterproof: Yes / Thermore insulation
The Tuscany has all the elements you'll need for skiing or snowboarding and tops it off by using materials made from recycled plastics.
It has a faux fur hood to keep you warm and has plenty of different colour options too. This is a great alternative to traditional-style women's ski jackets, that has all the same looks and features just without the cruelty.
Find here
---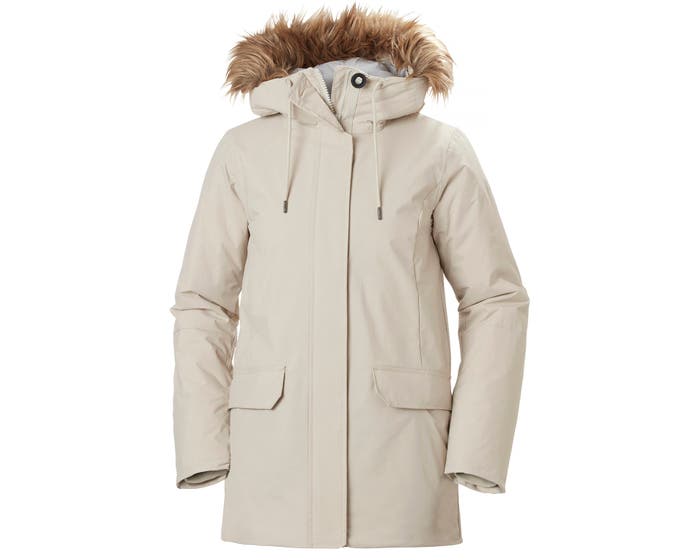 Helly Hansen Classic Parka (Men & Women)
"The ultimate old-school parka, just vegan-friendly!"
Cost: £200 / Waterproof: Yes / Helly Tech insulation
The Classic Parka features light synthetic insulation, a faux fur hood and wrist gaiters for extra warmth. It's a great option to compliment your outdoorsy lifestyle and brilliant that traditional coat favourites are now available to us vegans.
Find here
---
The coats that got away…
To put this guide together, we contacted dozens of outdoor brands to see what vegan coats for winter they could offer. Unfortunately, many companies couldn't confirm their materials, don't currently offer any cruelty-free coat options or didn't respond. We've listed them below to save you searching!
North Face – no vegan coats available
Patagonia – can't confirm materials
Vaude – non-vegan materials used
Mammut – no vegan options
Mountain Hardwear – can't confirm materials
Black Diamond – no response
Montane – can't confirm materials
Rab – can't confirm materials
Picture Organics – can't confirm materials
Haglofs – can't confirm materials
Do you know of any other outdoor winter coats for vegans? Tell us in the comments at the bottom!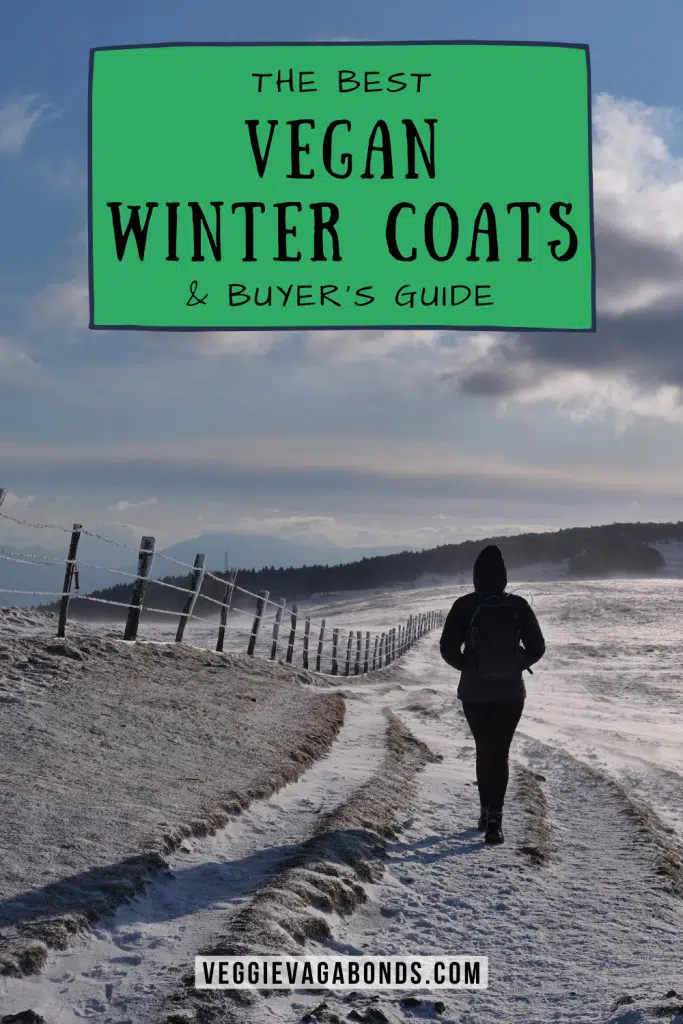 The Best Vegan Winter Coats for Outdoor Lifestyles
Nowadays, there are SO many brilliant vegan options for insulated jackets, parkas, bomber jackets, ski jackets, 3-in-1 jackets, you name it. Get the boots ready, pull on your hat and vegan gloves, then get out the door.
Regardless of your outdoor persuasion, it's beyond time we said bye-bye to the fur, down and wool, and opted for ethical adventures instead!