Keep warm with this guide to winter hiking gear and cold-weather layering – featuring all ethical clothing options!
---
When the days are cold and nights even colder, your winter hiking gear is there to keep you warm and dry. Staying insulated really can be the difference between having a blast in the mountains or a really hairy situation.
Whether it's for winter camping, snowshoeing, ski touring or snowy hiking, it's your clothing and cold weather layering system that will keep you toasty and safe. And that's exactly what we're going to go over in this article.
But, not so long ago, all this winter gear relied on animal products: down, wool and fur. Fortunately, this is no longer needed!
Keep reading to find out how to prepare for the low temperatures of winter with vegan-friendly and ethical gear!
And remember: your hiking season doesn't have to end with the leaves turning colours or the first signs of snow.
Get kitted out, get and outside and make the most of it!
Contents:
This article may contain affiliate links, they will never cost you more money but helps Veggie Vagabonds keep making content like this – thank you!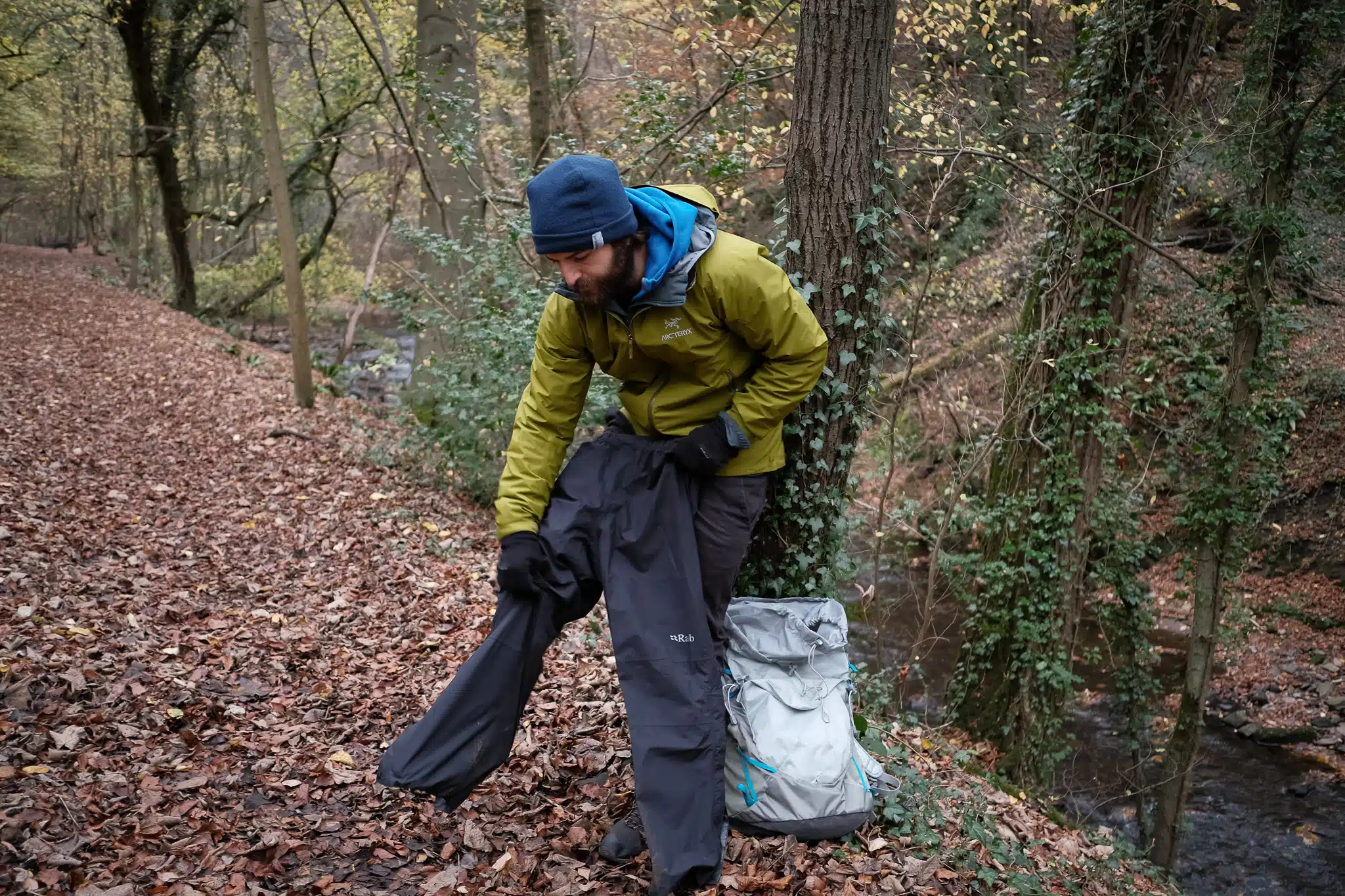 Where to find Vegan Winter Hiking Gear?
When living a sustainable lifestyle, it can be hard to find the right vegan options when it comes to cold-weather gear. But, it is becoming much easier.
Sustainable outdoor brands like Patagonia make lots of great winter clothing. Also, big brands like Arc'teryx, La Sportiva and Inov-8 have started producing lots of vegan options, confirming any wool, down and fur-free products are 100% vegan-friendly.
Outdoor retailers are also making it easier too. Both Alpine Trek in Europe and REI in North America have handy search functions. Just type in vegan in the search bar and you'll find lots of plenty of choices.
Not all products will be marked as vegan, but you can also search for the clothing materials and opt for synthetic items instead.
Not sure how to avoid animal materials? These vegan alternatives can keep you warm cruelty-free:
Instead of wool baselayers or socks, choose thermal synthetic options
Instead of down, choose synthetic insulation like PrimaLoft, Polartec or Omni-Heat
Instead of fur, opt for faux fur
Instead of leather boots, choose a synthetic alternative like Vegetan or microfibres
Instead of leather or suede waterproofing, go for options like Gore-Tex, B-Dry or Pertex
Keep reading below to find a full list of vegan-friendly winter hiking clothes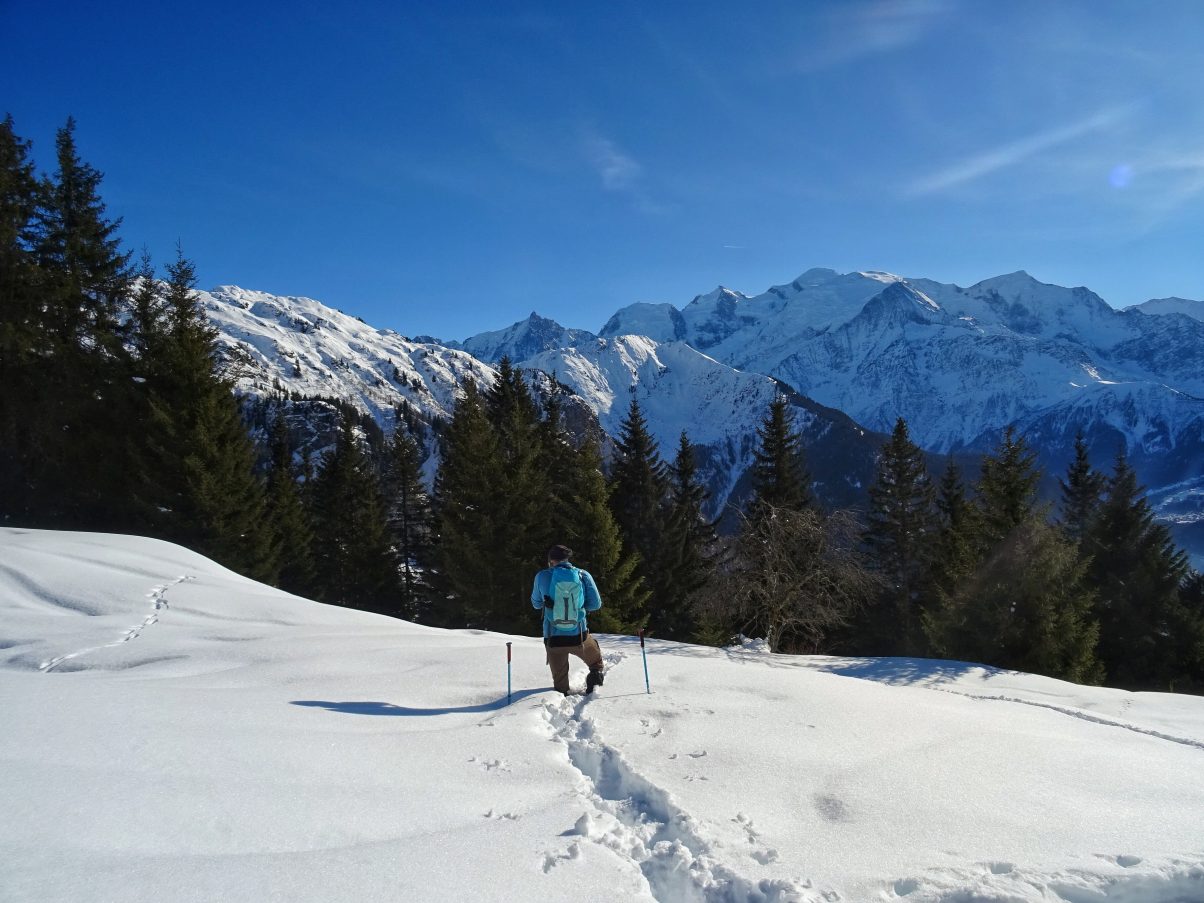 Our Complete Winter Hiking Gear List
Before you head out into the snow, make sure you're packing winter hiking clothes you can rely on to do the job.
No region and trail are the same so you might not need everything off this list. Or, if you're heading into serious cold, maybe you'll need to double up and take more. Think about YOUR adventure ahead and plan accordingly.
Remember, in real cold, the key is to balance your temperature so you DON'T sweat. Make sure to pack enough layers but a rucksack is equally important so you can strip off if things warms up.
Winter Clothing (tops, bottoms and extremities!)
First, let's look at your clothes for hiking in cold weather, from head to toe:
Beanie or hat: Most of your body heat is lost through you head, so a good synthetic beanie or hat should be on your gear list at all times, regardless of the outside temperature.
Headband or balaclava: If you want to keep your ears or neck warm in cold weather, opt for a vegan headband or balaclava/neck gaiter option. I really like the waterproof head gaiter from Sealskinz (don't mind the name, it's vegan!)
Neckscarf: a neckscarf, bandana or buff will help to stop warm air escaping from your neck line. A warm buff pulled over your mouth will also warm you from your breath.
Gloves

: We recommend having at least two sets of gloves when heading out for a winter hike. These include synthetic base layer gloves that insulate your hands and keep them warm. The other pair should be waterproof and keep your hands dry when touching snow and offer wind protection. Therefore, the best option is thin liner gloves, then mitten shell gloves with insulation.
A note on gloves: mittens or three-finger gloves are perfect when warmth is your priority. However, they do make your hands less functional. If you're only going to be in mild temperatures, perhaps 5-finger waterproof gloves with lighter insulation would be better. You can also look for options with 'touch' fingers, so you can still use electronic screens.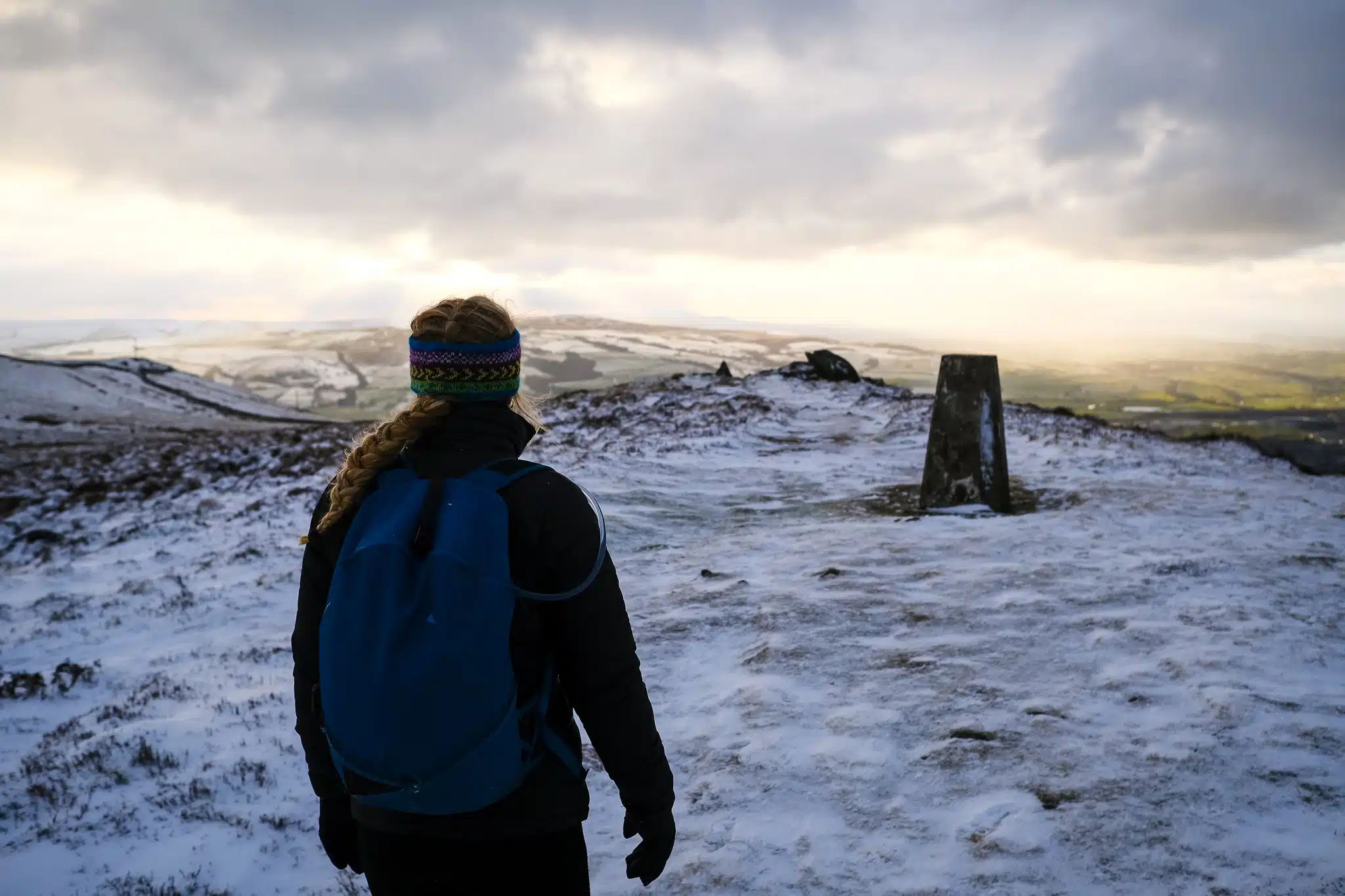 Top Winter Layers
Optional thermal baselayer: if it's really cold, you can wear a synthetic thermal baselayer underneath your activewear shirt. We like Sub Sports thermal compression tops and bottoms. Beware, they are HOT, so make sure you don't get too sweaty.
Activewear shirt

: If you sweat a lot, especially under all those layers when hiking, the easiest way to remain dry is to wear an activewear shirt made of synthetic fabric. Since your goal is to stay dry, change shirts often and after you're done moving.

Top base layer: Opt for a fleece or other synthetic base layer option to keep your upper body warm while hiking. Sarah really likes her Patagonia Better Sweater which is made from recycled materials. I like my Mountain Equipment Micro hooded fleece for more active adventures.
Sports bra: A sports bra will give you extra warmth under your base layer. Just don't forget to wear one without cotton.
Top mid-layer: The mid-layer is an intergral part of your insulation strategy. With today's technology, synthetic insulation mid-layers are the awesome and completely cruelty-free. Choose PrimaLoft, Polartec or Omni-Heat jackets, vests, body warmers, hoodies, or sweaters.
Top outer layer: Your outer layer should keep you dry whilst being breathable. If it does not breathe, condensation will form on the inside and leave you wet and cold even without rain or snow. Therefore, the outer layer shouldn't just be waterproof but weatherproof and breathable, too. Many factors make the best outer layer, from zippers, ventilation methods, and membranes. Look for jackets with Gore-Tex, eVent, Dry-Edge, B-Dry, and Pertex waterproof membranes. A waterproof hard shell jacket (I wear an Arc'Teryx Zeta SL) is good if you're going to be more active OR a 3-in-1 jacket will provide better weather protection and insulation but is less mobile.
Want to find more vegan adventure content? Sign up to our mailing list for all the latest at Veggie Vagabonds
Bottom Winter Layers
Base layer leggings: Long Johns, base layer tights or pants are great options to keep you warm, but make sure they are not cotton. Again, for serious cold, we like to use Sub Sports Thermal Compression pants.
Mid-layer trousers of leggings: Regular hiking trousers or leggings can be worn over your baselayers. I like my Montane Terra Pants and Sarah often wears thermal Fabletics leggings. If it's really cold, you can go for fleece-lined hiking pants too.
Outer layer pants: Your outer winter hiking trousers should be at least water and wind-resistant. If it's not going to be wet, you can look at softshell options which are a water repellent and allow more flexibility. If it is going to be wet, hardshell waterproof trousers are a must.
Socks: Thick wool socks are a thing of the past, but finding the perfect synthetic socks still isn't easy. When buying socks for winter hiking, choose a hardwearing option that wicks moisture from your feet. Don't be tempted to wear more than two pairs at a time as this can restrict warm air being trapped. Instead, prioritise the correct hiking footwear to provide warmth and insulation. Oh, and always take a spare pair of socks incase yours get wet!
Winter hiking boots: A waterproof coating and breathable membrane are musts in snow or wet conditions. Thicker soles and insulated uppers will help to keep your feet warm too, just make sure they are well-maintained and don't have any wet spots where moisture leaks through. Depending on how cold it is, you can pick:

Vegan hiking boots – the most breathable and lightest but might be lacking in insulation. You can always booster this with a thermal insole.
Vegan snow boots/winter options – great options for warmth and insulation however they are heavy, less breathable and not ideal for technical hiking.
Vegan mountaineering boots – the perfect compromise between the two would be synthetic mountaineering boots, however, they are more expensive and may be more technical than needed.
---
---
Other Bits of Snow Hiking Gear
Once you have all the clothes ready, if you're going to be heading into the extremes, these extras pieces of equipment will help to keep you warm and dry.
Sunglasses or ski goggles: Snow glares the sun's rays right into your eyes, which makes them red and teary. Bringing a pair of sunglasses or ski googles is a must on any winter trip.
Water bottle or flask: when it's really cold, water bladder tubes can freeze. This means water bottles are better options for freezing conditions. Bringing a flask is also a great shout – who wouldn't love a cup of tea on that summit?
Gaiters: Keeping water and snow away from your socks is crucial for staying warm. Opt for waterproof gaiters that are as high as the snowfall. We use simple ones from Decathlon.
Crampons: If the trail is icy, bring fitting crampons or microspikes. Kahtoola make some of the best microspikes for hiking and general winter outdoor use.
Ice axe: If things are getting really serious, an ice axe can be essential for mountain use.
Backpack: Most backpacks are waterproof or have a waterproof bag cover. Still, to stay on the safe side, put your insulating gear in a waterproof bag. Choose an ergonomic backpack that will allow you to move whilst being big enough to carry all those warm layers. We are currently using the Vango Ozone 40 litre backpack.
Cold Weather Layering Guide
With that big ol' list of things to bring on a cold-weather trip, the next step is learning how to layer your clothes. The right winter layering will minimise sweating but also keep you dry and warm, even during the harshest conditions.
Here's an optimal cold-weather layering system below. You can add or take away layers depending on your adventure.
Optional base layer 1:

If it's really cold, a thermal base layer top and bottom is good, like long johns or a compression

clothing. This needs to be warm and wick moisture away from the skin once you get sweaty.
Base layer 2: A long-sleeved activewear top. Choose synthetics such as polypropylene or polyester and avoid cotton as it holds onto moisture and will give you a chill.
Mid-layer 1: A sufficiently warm mid-layer fleece.
Mid-layer 2: A synthetic insulated jacket.
Mid-later bottoms: Hiking leggings or trousers.
Outer layer top: A outer shell resistant to wind, rain and snow, like a waterproof or 3-in-1 jacket.
Outer layer bottoms: Waterproof trousers, either hardshell or softshell depending on how wet it will get.
Extremeties

: cold-weather hats, gloves, socks, googles, buffs, gaiters, correct footwear etc.
Once you're at the summit, taking a break or finished with your hike, switch out any layers that are wet with sweat. Then you can add further mid-layers to keep you warm.
Stay Warm!
How long you make your winter hiking gear list is up to you, the conditions and your desired trip. We hope our article helped you choose the right pieces of sustainable and vegan outdoor gear you need!
Remember, never put yourself in danger and stay warm at all times. Cold weather layering is there to help but you still need to make sure you've got the right equipment in the first place. Plan properly and base your packing list around your environment – then tuck into plenty of winter adventures!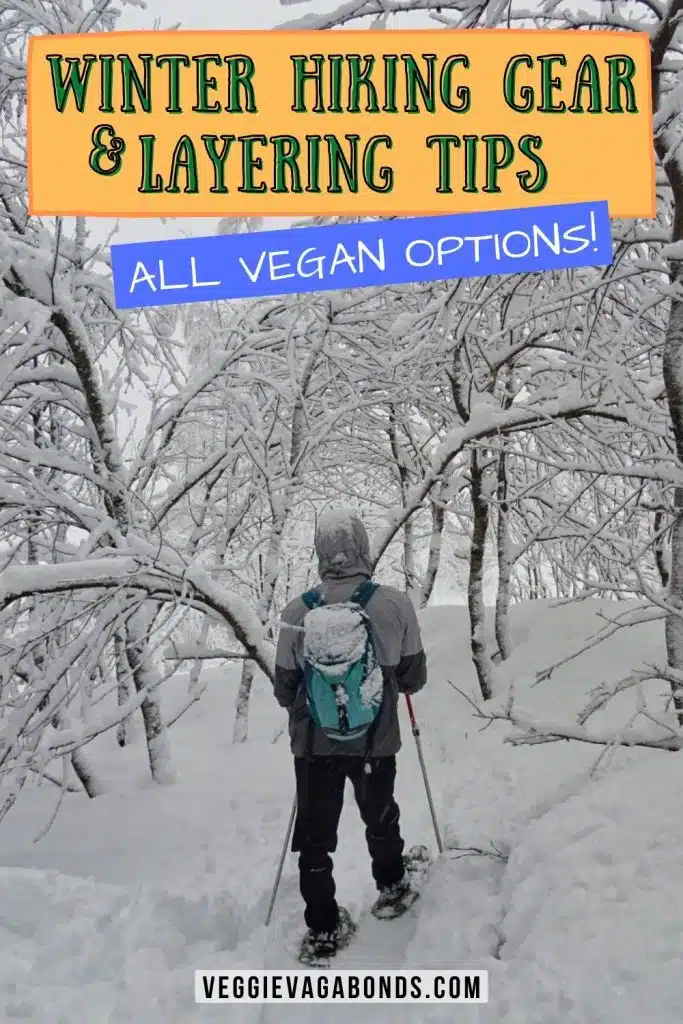 Outdoor fanatic? Vegan adventurer? Nature lover? Sign up for our mailing list and you'll also get the Ethical Adventure Planning Guide!