A complete guide to backpacking Sri Lanka, with all the information you need to plan your coming adventure!
---
This little island may be small it size but it ain't small in character and will most definitely capture your heart. Whether you're searching for wildlife, a quiet beach getaway, a culinary tour or temple hopping and curry munching, Sri Lanka will not fail to impress.
With the warmest of locals, great transport system and amazing value for money Sri Lanka ticks all the boxes and the whole country is ripe for exploring. This go-to guide gives you everything you need to start planning your very own Sri Lankan adventure.
In a hurry? Jump to one of the follow sections below:
Country: Sri Lanka
Capital: Colombo
Population: 21.2 million
Language: Sinhala (main language), Tamil, English widely spoken
Currency: Sri Lankan Rupee (LKR) £1 = 230lkr, €1 = 202lkr, $1 = 176lkr
Why go: Curry, temples, elephants and leopards, locals… more curry?
When to go: It's always sunny somewhere – find out more below!
Sri Lanka Itinerary Ideas
With such an easy transport system you can travel from one end of the country to the other within a day. This makes backpacking Sri Lanka nice and flexible with the option of hopping to different locations on a whim. Nonetheless it can be quite nice to have an idea of your itinerary, especially if you're travelling for a shorter amount of time.
Below we've got two suggested Sri Lanka itineraries; one following the most popular sights and famous destinations and the other sticking to fantastic off-the-beaten track spots. The suggested time needed is for your average traveller, you may like/need to travel quicker or a hella lot slower (like us!).
On the Trail (15 – 30 days)
Skip the capital and go straight to Negombo, 4.5km from the airport (1-3 days)
Catch a wave or see the turtles on the beaches of Hikkaduwa (2-4 days)
Wander the Dutch fort in Galle (2-4 days)
Elephant and leopard spot in the famous Yala National Park (1-2 days)
Get your walking boots on in Ella (2-4 days)
Temple hop and sit by the lake in Kandy (2-4 days)
Catch a wave in Arugam Bay (2-4 days)
Climb to the top of Sigiriya but watch out for those hornets! (day trip)
Discover the ancient city of Polonnaruwa (1-3 days)

Visit the rock temples of

Dambulla

(day trip)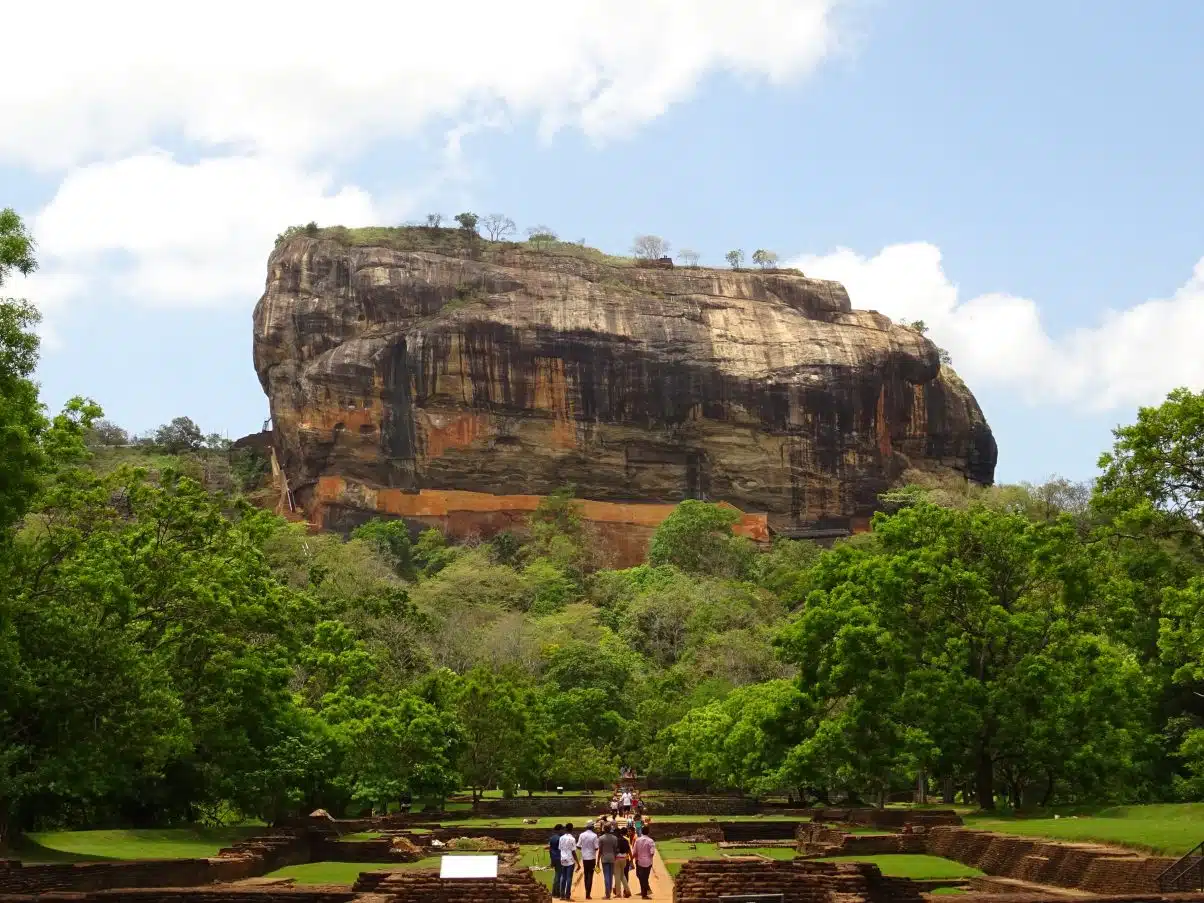 Off the Trail (17 to 28 days)
Watch the sunrise from Adam's Peak during pilgrimage season (2-3 days)
Join thousands of Buddhist and Hindus celebrating together at Kataragama (1-2 days)
Hike tea plantations to Sir. Thomas Lipton (2-4 days)
Join an evening puja in one of Jaffna's many temples (3-5 days)
Walk through the forest temple in Ritigala (1 day)
Spot dolphins, flamingos and wild horses in Sri Lanka's Northern Province (3-5 days)
Explore the ruins of Mannar fort (2-3 days)
Swim with sharks at Pigeon Island (day trip)
Rent a motorbike and make your own safari at Ruhuna National Park (1-3 days)
Canoe around the mangroves in Tangalle (1 day)
Check out some more things to do in Sri Lanka here
People and Culture in Sri Lanka
You'll quickly notice how incredibly hospitable and welcoming the locals are within a day of backpacking Sri Lanka. Proud of their country and curious of others, many locals will simply want to stop and chat or show you something of interest. This makes backpacking Sri Lanka alone a pleasant experience as you'll be quick to make local friends.
The main ethnicities in Sri Lanka are split into three groups. Buddhists make up over 70% of the population and generally live in the south west and central parts of the country. Over 10% are Tamils (Hindu) who live predominantly in the north and the Moors or Muslim population make up another 10%.
These 3 groups now generally live in peace (although they have a famously wobbly history) and create a culturally fascinating country to explore. Although the economy is improving there is still a lot of poverty to be seen and in touristy areas you may come across the typical overcharging taxi or milk-powder style scam. All easily avoidable and nothing to concern you.

Everything You Need to Know About Climbing Adam's Peak, Sri Lanka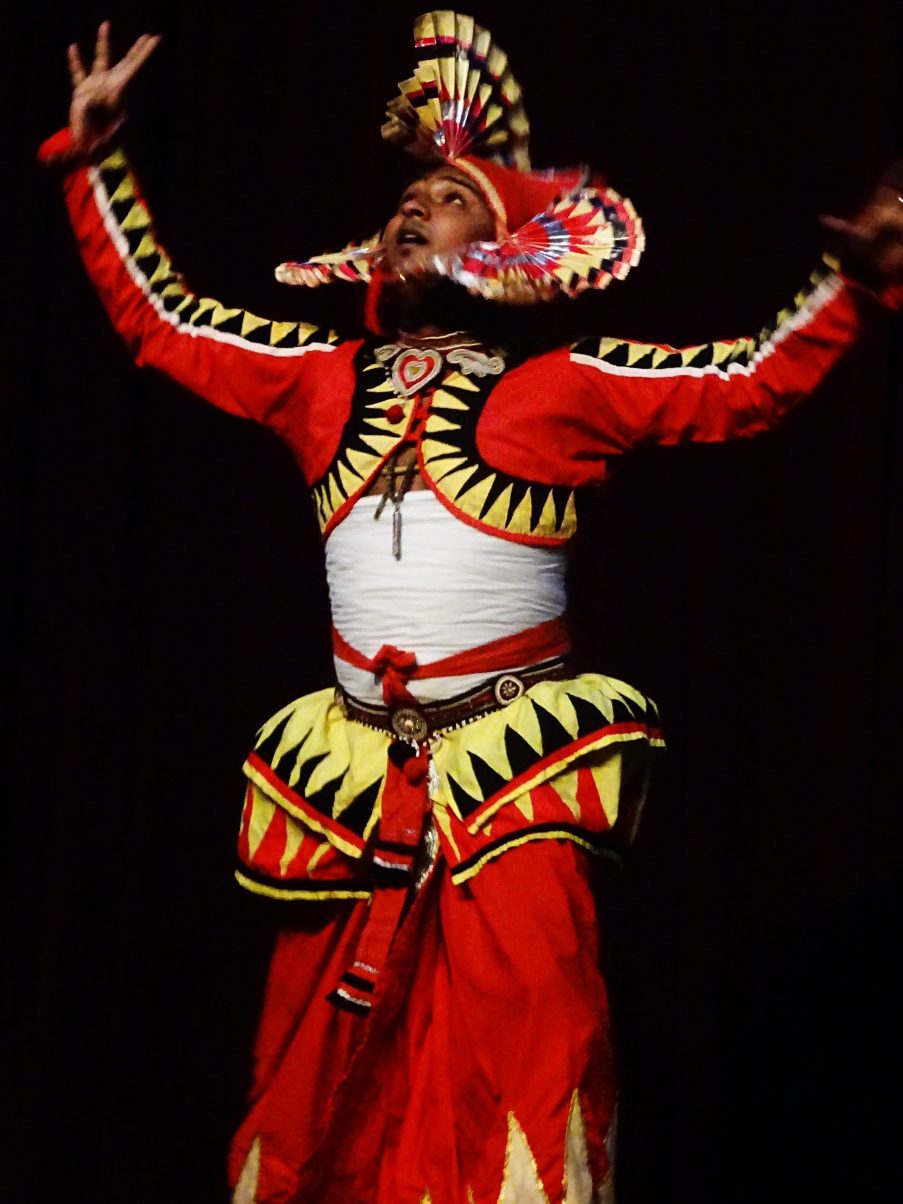 Vegan Travel in Sri Lanka
If there's one part of backpacking Sri Lanka you'll surely never forget it's the food – it's bloody delicious! And not only is the food delicious it's vegan heaven! From road side snacks to fruit filled markets and fiery curries, this small island is filled from coast to coast with exciting new foods to try.
Rice and curry is the staple, with an unbelievable variety of mouth watering vegan specialities all fresh and vegetable based. There really is a bewildering variety so it's a slim chance you'll be able to try them all. Some of the favourites you should look out for are pumpkin, green bean and jackfruit and to top it off they're cheap as chips!
Curries aside you'll come across plenty of delicious breads and short eats like kottu, roti and idly which are often served with different chutneys and sambal. Sri Lankan food is also strongly influenced by Tamil culture and Southern India so expect to see plenty of foods similar to Sri Lanka's northern neighbour.
If you're wanting something lighter and more refreshing then you're in luck. Exotic fruits are bountiful and dead cheap, so you can easily fill up on a with a few ££ by visiting one of the many fruit markets.
Check out our vegan travel guide to Sri Lanka if you'd like some more information.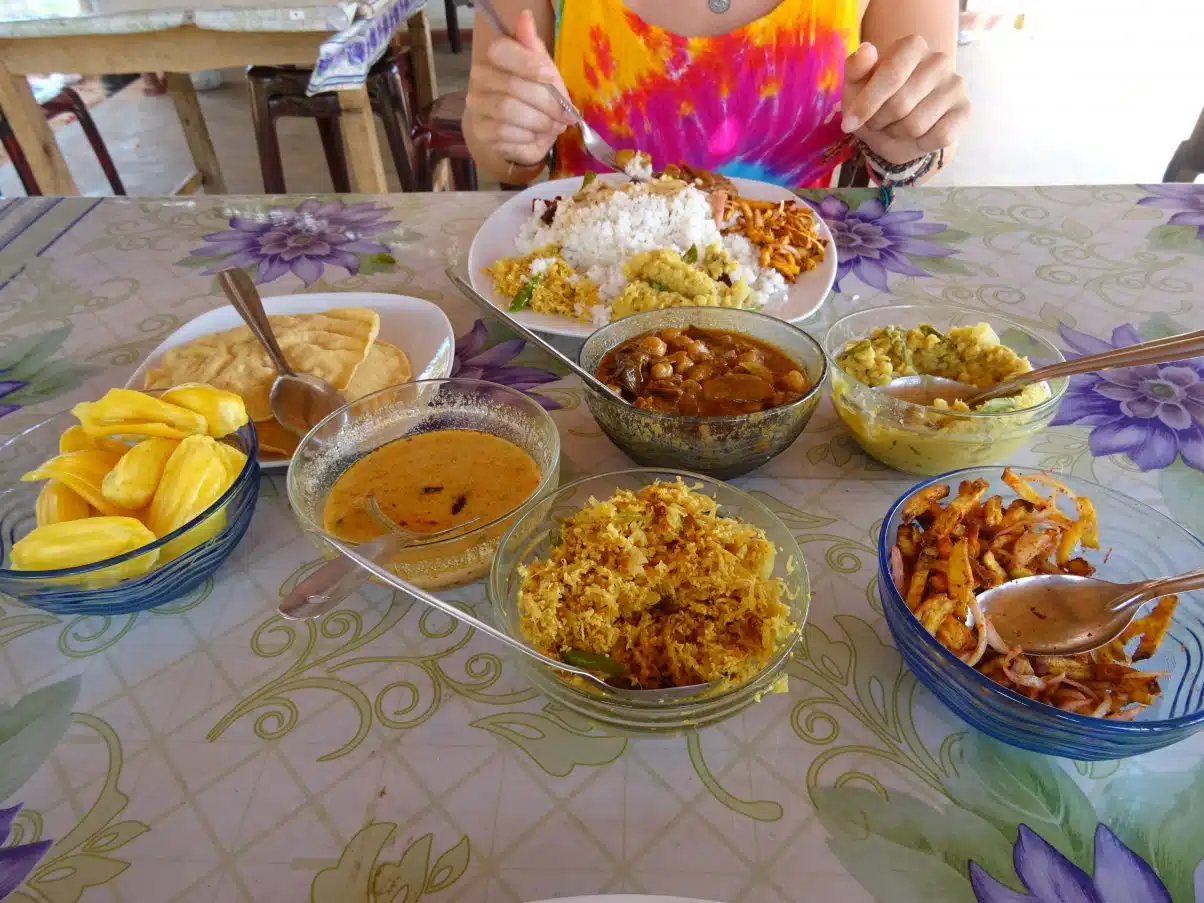 Transport in Sri Lanka
In complete honesty, transport is not predictable or reliable BUT it's definitely filled with character and excitement. For this reason you should embrace the pros and the cons and it will probably end up being one of your favourite experiences when backpacking Sri Lanka.
Although the roads are often not more than dirt tracks there is a very well connected bus service spread throughout the country. They're an absolutely bargain and blast along nearly 80% of the roads in the country: a very good option for the budget conscious backpacker. The buses themselves are often brightly decorated, full to the brim and worryingly fast (just close your eyes and hope for the best).
Originally created by the British to transport tea around the country the Sri Lankan railways offer a slower paced but awesome travel experience. Most major areas are connected by train routes and it's definitely worth fitting in at least one journey as they are an unmissable part of any trip to the island. Forget about 1st class, get a 2nd or 3rd class ticket and meet some unforgettable local characters.
Tuk tuks are popular and you'll see them shooting up and down the road, used by locals and travellers alike. These are pretty exciting but make sure you agree a price beforehand.
Whilst hitchhiking is possible it is not well recognised and with such a good local transport it's often more practical to just jump on a bus.
It's also very easy to rent drivers. This option is affordable by global standards but very expensive compared with the rest of transport on the island.
Check out these sweet tips for travelling Sri Lanka
Accommodation in Sri Lanka
Accommodation in Sri Lanka really comes in all shapes, sizes and qualities but overall it's very good value. All over the country you'll find family-run guesthouses which are great budget options and an amazing insight into local life. You can spend time with the family, learn to cook with them and let them show you around
On the backpacker trail hostels are common with no frills options all the way to flash packer paradise. Hotels are found along the coastline and whilst not an accurate representation of the country are available for those who want to splash their cash. For the biggest selection of accommodation Booking.com is your best bet whilst Hostel World has some great budget options.
You can also find Airbnb properties which can be unique and in some incredible locations (if you do go with Airbnb click here to save £35 off your first booking!). Accommodation is pretty varied, some are incredible value and others can be pricey for the quality. We always take a look on TripAdvisor before we book anything to see what other travellers think.
'Eco-accommodation' has become very popular. Be careful when picking as some truly are very environmentally friendly whereas other have adopted the label purely for £££.
With conditions varying from blistering heat to torrential rainfall, camping is not common but is possible. There are a few campsites dotted along the country, particularly around National Parks. Some beach-side hostels also have tents to hire. Because of the friendliness of locals, wild camping is an option but choose your spots well and watch out for elephants and snakes!
With over 6,000 hosts, Couchsurfing can be found fairly easily with many well referenced hosts.
During busier seasons it may be recommended to book accommodation in advance if you're looking for something in particular.
Sri Lanka Budget & Money
A little money can go a long way when backpacking Sri Lanka and average travel costs are very low.
As an example, over the course of 3 months we averaged around £16 a day for two people and we lived VERY well. The beauty is, there are LOADS of free things to do in Sri Lanka and you don't need to spend money to have an amazing trip. There are more temples, curry houses and culture than you'll know what to do with so it's enjoyable just wandering around for free.
Entry to some of the temples like the Temple of the Tooth Relic in Kandy, national parks and the bigger historical sites can be surprisingly expensive but there are generally cheaper alternatives for the budget traveller. As with most countries there are expensive options for food, drink, accommodation, transport etc. but in most cases your experiences will be more rewarding and memorable living on the cheaper side of life.
Note* All prices are an average for budget travel throughout the country. Generally touristy areas will be more expensive whilst rural or more northern areas will be cheaper. As of February 2019 £1 = 230lkr)
Rice and curry for one – £1-2.50

Kotthu/hopper/breads meal for one – £1-2

Bottle of local beer – £1-2

Basic/mid/high price accommodation – £7/20/40+

Regular bus travel (per hour) – 50p

Regular train travel (per hour) – 50p

Small/medium/large entrance fee – £free/7/15
Outdoor Travel in Sri Lanka
World famous national parks and a variety of different ecosystems make backpacking Sri Lanka a beautiful choice for the outdoors enthusiasts. Elephants and leopards normally steal the spotlight but there's far more to be seen; Sloth bears, whales, monkeys, turtles and an abundance of snakes are just a few of the other animals which can be spotted. Sri Lanka's wildlife is very seasonal, so if you know what you're looking for make sure you're in the right place at the right time of the year!
Marked hiking trails are not spread throughout the country but the areas around Ella and Haputale have a number of good day hikes. The Knuckles Range and Horton Planes give a much bigger area to explore and Adam's Peak has many fantastic routes to discover.
In the water surfing is very popular and consistent winds in the North make windsurfing a possibility. There are also many options for scuba diving and snorkelling which are great value.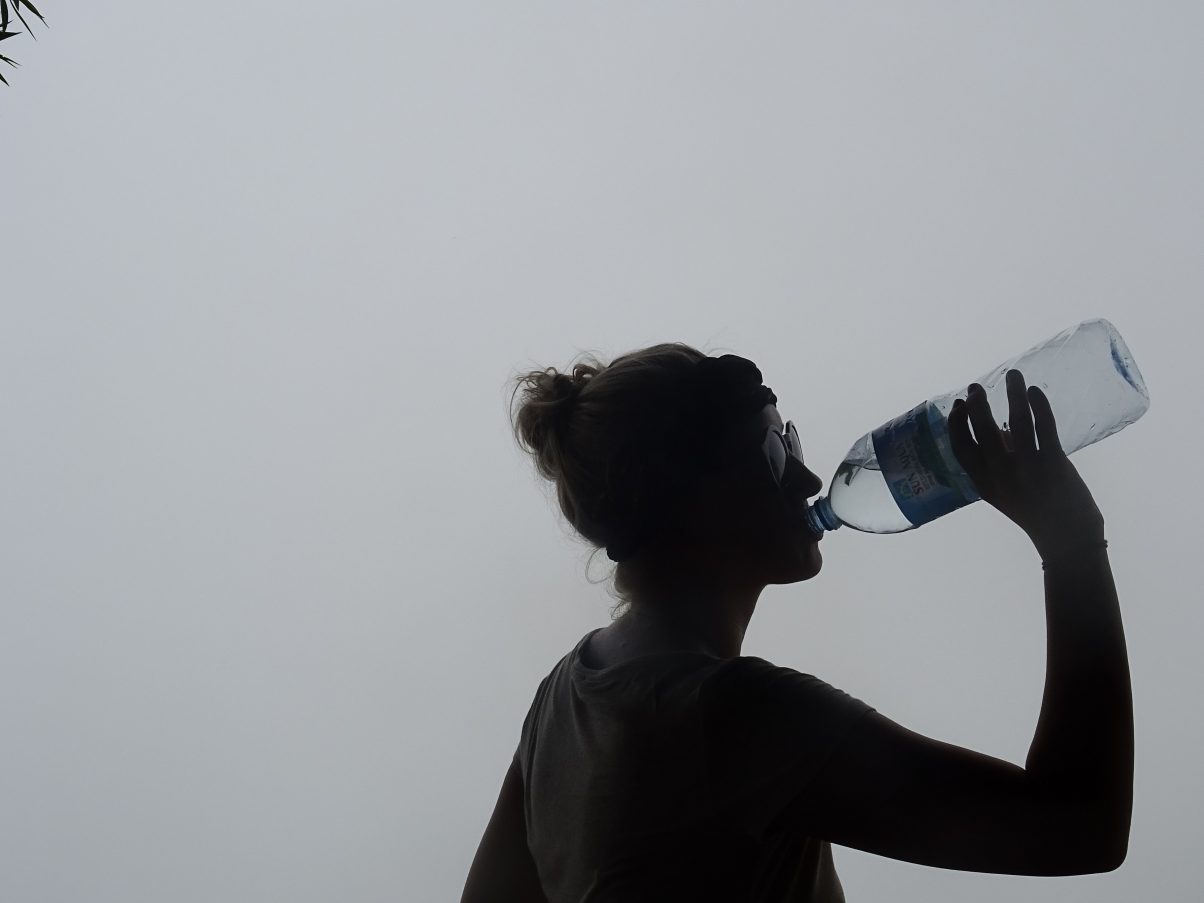 Sri Lankan Weather & When to go
It's always sunny somewhere on the island (and raining somewhere else). There are two monsoon seasons; The South-West monsoon from May-July and the North-East monsoon from October to January which both have extremely high levels of rainfall. Travelling during the monsoons is possible but rainfall is incredibly high with landslides common in hilly areas and seas are stormy.
This makes travelling during monsoons possible but it does dramatically cut your activities. Many hikes or national parks will not be available and this also make watersports (surfing, diving etc.) also less likely. Outside of the monsoons weather can be blisteringly hot particularly in the North.
Because of the many cultures on the island there's a pretty crazy amount of national holidays and celebrations, the biggest being the Vesak Poya (Buddha's birthday) in May and Sinhalese New Year, April 13th & 14th.
Another key consideration is wildlife as many animals migrate across country depending on the seasons. If, for example, you are hoping to spot elephants in the wild do some research before and find out where herds are likely to be at which points of the year.
Sri Lankan Visas and Getting There
Bandaranaike International Airport (Sri Lanka's main international airport) is 35 km from the capital Colombo. Buses and taxis are available, the bus being slower but cheaper. Taxis will take around 1 hour whilst buses can take up to 1.5 hours. Alternatively the beach town Negombo is only 4.5 km from the airport and can be easily be reached by bus, taxi or tuk tuk (at 4.5 km why not walk?).
The Sri Lankan visa system is relatively straight forward. Most nationalities can apply online for a 30 day ETA tourist visa (official government website here) before arriving. Visas can be extended for up to 6 months.
Health and Vaccinations in Sri Lanka
Most travellers are advised to have tetanus and typhoid vaccination along with a yellow fever certificate (although we were never asked for ours). You're safe from malaria and there is a pretty low chance of rabies but we won't be held liable if you get bitten by an angry monkey!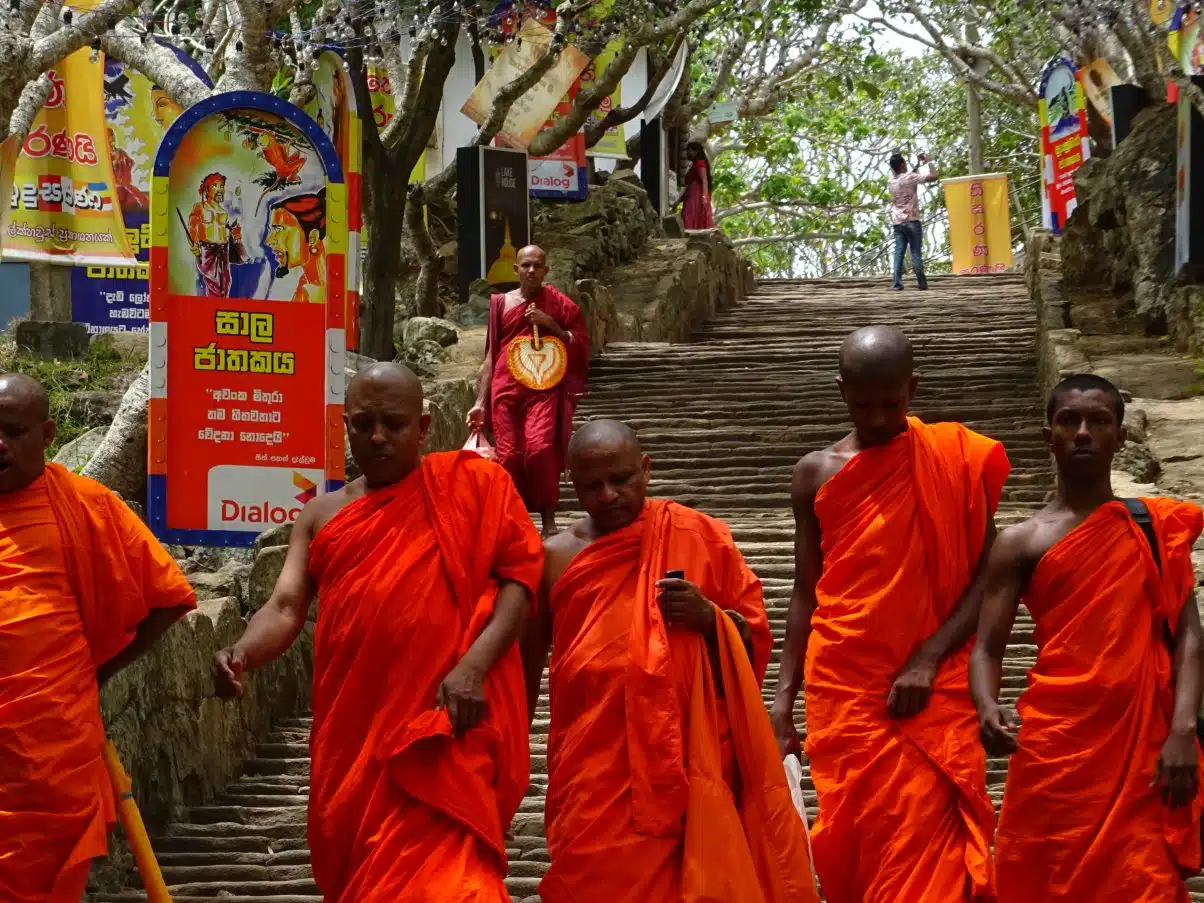 Sustainable Travel in Sri Lanka
On the whole Sri Lanka manages tourism far more successfully than other regions of Asia. Tourism is big business but for a lot of regions the developments are done with some consideration of the wildlife. It's not perfect but much better than areas of Thailand or the Philippines. Even on the south coast where tourist infrastructure is at it's highest it's still possible to get off the beaten track and experience tradition culture.
Sri Lanka has become a hotbed for eco-tourism because of it's natural wonders and it lives up to it's reputation. There are many successful conservation projects protecting the environment and wildlife with plenty of volunteer opportunities available.
Elephants are a big tourist draw and a number of sanctuaries have sprung up over the country but approach with caution. Remember that these are wild animals so if you see them chained up then question who is really benefiting. Like with all animals, elephants are best seen in the wild and in Sri Lanka you're surrounded by national parks to do just that.
On the whole the environment is treated with respect and most Sri Lankans understand the importance of conservation. Tourism has not had such a huge impact as other parts of South East Asia so whilst some coastal areas and landmark sites may be loosing their charm, it's still easy to get away from it all and see the real side of the island.
Your Complete Guide to Backpacking Sri Lanka
Sri Lanka is a country we're sure you're going to fall in love with. When you're sitting and talking with other travellers it's one of those destinations EVERYONE has amazing stories and experiences to tell. Time to start making your own stories, ey?
Keep exploring…
Hiking 101: The Complete Guide to Hiking for Beginners
A First Timer's Guide to Bouldering in Fontainebleau