Thinking about climbing Adam's Peak? This guide has everything you need to know!
---
Located in Southern Sri Lanka, Sri Pada is a 2,243m high pilgrimage site, located 40km from Ratnapura and 32km from Hatton.
Revered as a holy site by Buddhists, Hindus, Christians and Muslims, each year approximately 20,000 pilgrims climb the peak and visit the Adam's Peak footprint at the top.
Buddhists believe the footprint belongs to Buddha, Hindus believe it belongs to Lord Shiva and Muslims and Christians believe it's Adam's first step after Eden. Regardless of their faith, all pilgrims climb in harmony and pay their respects at the top.
What: Climb Sri Lanka's 2,243m peak, Sri Pada (Adam's Peak) a famous pilgrimage site
Why: Watch the sunrise with thousands of Buddhist, Hindu, Muslim and Christian pilgrims in a strenuously humbling experience
When: Pilgrimage season is from December to April due to the best weather conditions
Where: Southern Sri Lanka, 40km from Ratnapura and 32km from Hatton
How: 6 routes available, Hatton is most popular route; 5km, 3hrs one way, well connected by public transport
Who: Moderate, short but powerful. Reasonable level of fitness or determination needed

Routes to Adam's Peak
There are many possible hiking routes to take. The longer hikes available; The Kuruwita Erathna, Ihala-Maliboda and Ratnapura routes are harder and are not as commonly hiked, particularly not by travellers. All requiring good levels of fitness, planning and navigating (More information can be found on at sripada.org).
The most popular option is from Hatton. With this route you'll have the bonus of making the climb with thousands of pilgrims. Whilst this means you won't have the place to yourself, it's a truly magical experience walking alongside the white dressed worshippers on the way to the top (many of them complete the hike in bare feet!).
Climbing Adam's Peak via the Hatton Route
Trail Start: Dalhousie (30km from Hatton)
Trail Distance: 5km one way
Elevation gain: 1000m
Climb Time: 3 hours
Hiking Season: December to April (very busy during weekends and full moons)
The Hatton route is short and steep, with a largely paved path and lighting for the majority of the climb. It also has many rest spots with drinking water and snacks and a variety of smaller temples along the way, including the Japanese Peace Temple.
The trail begins North East of Adam's Peak in a small town called Dalhousie, a one hour tuk tuk journey from Hatton. It's the most popular route and you'll really get a full experience of the locals and other pilgrims. Despite the popularity the route is by no means easy, the 5,500 steps to its peak are uneven and unforgiving. Even experienced hikers will be sure to feel it in their legs on the way down.
When to climb Adam's Peak
Hikers typical make the ascent during the pilgrimage season, starting on the Unduvap Poya Day, this changes each year but is generally at the end of December (December 3 2017) and finishes on the Vesak Poya Day (May 29 2018), the exact days are here. This period has the best weather but also has thousands of pilgrims making the climb which can cause congestion towards the top. The busiest periods for climbing Adam's Peak are January and February and on weekends or holidays. If you're wanting a quieter climb it would be best to go midweek and at the very end of the pilgrimage season. Note that the later in the year you climb the less predictable the weather conditions will be. You can find more details on Sri Lankan weather and seasons here.
If you're planning on watching the sunrise from the peak then leave early! It can get very busy and congested during busier periods. The trail starts a one hour drive from Hatton and the hike takes roughly 2-5 hours to reach the peak. With the sun rising at roughly 6 am (depending on what month you go) aim to be at the peak by at least 4.30/5.00 am to get a good spot.
We got a Tuk Tuk from Hatton at Midnight and arrived to the trail point just after 1 am. Climbing the peak quicker than expected we arrived at the summit just after 3 am. In my opinion this was a good time as the trail was quieter and gave us time to relax at the top and take in the temples. If you plan to arrive early, make sure you take some extra layers so you can change from your sweaty ones (and they will be sweaty), as it gets bitterly cold at the top no matter the time of year.
Accommodation for climbing Adam's Peak
You have two options for accommodation: Hatton or Delhousie. Delhousie is a small village right at the trail start whilst Hatton is a well connected town 30km away. Whilst Delhousie is closer, it's not as well connected (particularly outside of pilgrimage season) and has limited services. Hatton has the advantage of being easy to reach, with more accommodation options and amenities but you will then need to travel 30km to start the trail.
Delhousie has a number of guesthouses and hotels (many along the main road) very close to the trail varying from as low as 1000rs a night for budget options. If you're planning on going during peak season it's possible to book ahead however with lower priced guesthouses you can turn up and take your pick. If you're completing the hike outside of pilgrimage season then you don't need to worry about booking, just look when you arrive and you'll be able to get much cheaper rates.
Hatton's tourist infrastructure is not so built up but for budget options there are a few guesthouse dotted through town with a few close to the train and bus station. For you culinary wanderers, Hatton has some cracking local restaurants. There are a number of dosa shops (don't be expecting anything fancy) which are cheap as chips and very vegan friendly (check for ghee!). There is also an amazing curry buffet for 100 rupees, opposite the bus station, with a guesthouse just above it. We went there everyday during our stay!
Climbing Adam's Peak has become much more popular for travellers and in recent years the accommodation options have really grown. We found our accommodation through Booking.com but you'll also find a number of choices on Hostel World and Cozycozy. If you're not sure which accommodation to pick it's helpful to read through other travellers' reviews on TripAdvisor.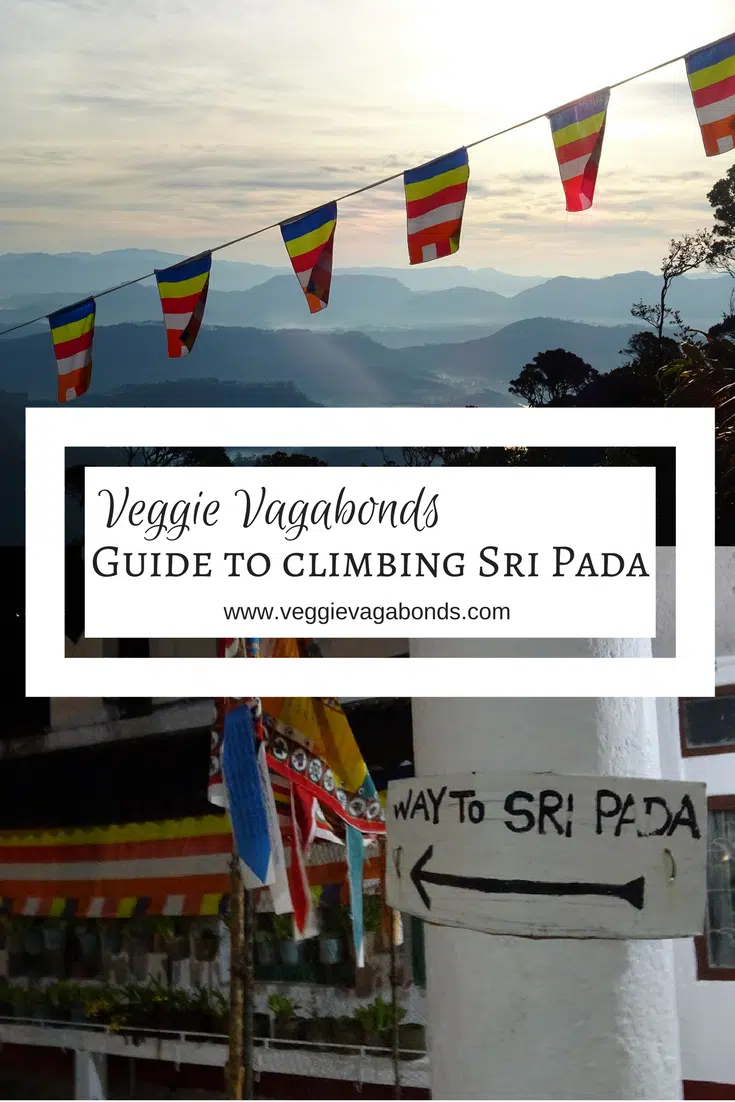 How to get to Adam's Peak
Throughout the year buses connect Hatton with Colombo, Kandy and Nuwara Eliya along with many other small stations. During pilgrimage season there are direct buses to Dalhousie from Kandy, Nuwara Eliya and Colombo, however these are very busy during peak times and do not run out of season.
Hatton is also connected by trains which run year round. From Kandy the journey is roughly 2.5/3 hours and from Colombo it's 5/6 hours with 5 daily trains. This article has more information about connecting train times and prices.
To reach Delhousie from Hatton buses run every 30 minutes through pilgrimage season, these buses go via Maskeliya and take about 2 hours. Alternatively you can take a tuk tuk which can be arranged through your accommodation or speaking with the drivers in Hatton. Taking only an hour this is the quicker option but make sure you negotiate and confirm a price before you leave. It should be 2000 – 3000rs depending on your negotiating skills. It's a beautiful experience driving along in darkness and seeing Sri Pada lit up in the distance!
Have you taken this tuk tuk journey recently? We'd love to know how much you paid so we can keep everything up-to-date. Tell us in the comments below!
What you need for climbing Adam's Peak
Although the route to the top is not particularly long you DO need warm outdoors clothes and shoes. The stairs are uneven and slippery so you need good traction and it goes from cold to extremely cold at the peak depending on the time of year. We highly recommend these guys for a good all-round travel and hiking shoe, plus they're vegan!
Make sure you take warm layers and and change of base layers for the top. A hat, gloves and a blanket along with a good coat will keep you feeling cosy. Temperatures rise with the sun and the way back down can get hot. Bring enough to keep you warm at the top but not too much to weigh you down as you'll likely take the layers off later on in the morning.
We spent nearly 12 hours on Sri Pada from start to finish and if you're like us you'll build up a brutal appetite! To save money and make sure we had lots of vegan hiking snacks we took everything in our backpacks. Alternately you can buy tea and drinks, traditional snacks and sundries from the trail-side shops. We took bananas, sweets and cakes for energy, fruit, nuts and coconut roti for breakfast and plenty of water just to be sure (all bought from Hatton). The shops on the trail are far more expensive than regular Sri Lankan shops, so if you're wanting to save some money pick up your grub before you go. If you're wanting a lighter bag than buy as you need along the path.
An ideal packing list for climbing Adam's Peak would be;
Clothes
Hiking boots

Thick outdoors socks

Lycra cycle trousers (warm, lightweight and quick to dry. Great for hiking)

Zip-off hiking trousers

Base layer

T-shirt

Outdoors fleece

Waterproof

Hat, gloves (plus a blanket for the top if you want to be extra comfortable)
Food and Extras
Nuts & Urunda (sweet coconut balls)

Banana & salak (snake fruit, doesn't bruise and good for energy)

Coconut roti & Vadai (easy to carry and lots of calories)

head torch (some parts are not well lit)

1 x 1.5lr bottle of water

Plastic bags for rubbish
*DON'T FORGET* take small change for temple offerings, toilets, teas etc. Don't be trying to pay for a cup of tea or the toilet with a 500 rupee note!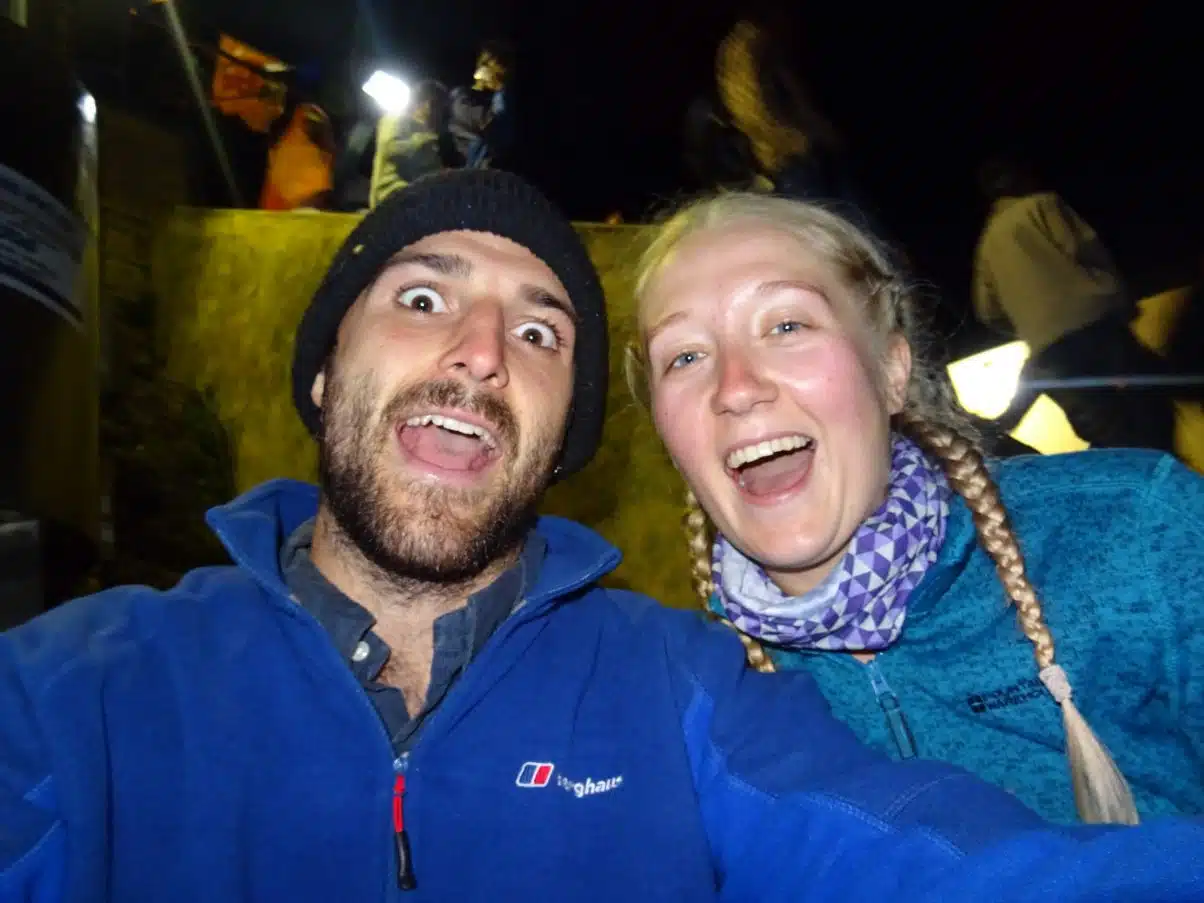 Suggested Adam's Peak climbing itinerary
The climb is best done in 2/3 days. Our rough itinerary from Hatton would be;
Day 1
Arrive to Hatton and find accommodation

Get supplies, arrange transport to Dalhouse and get a good dinner (Dosa or buffet?)
Day 2
12 am Taxi from Hatton to Dalhousie

1.15 am Start trail from Dalhousie

3-5 am a

rrive to peak for sunrise

7 am Start trail back down

Get a bus back to Hatton (1 hr Dalhousie to Hatton)
Day 3?
Our advice for climbing Adam's Peak
It is possible to make the trip quickly by climbing the day you arrive and moving on to your next destination as soon as you finish the hike. For fast hikers it's possible to get to the peak and back in less than 4 hours if it's not busy, not allowing time to watch the sunrise. Although you'll save on a nights accommodation I would NOT suggest this as it will be extremely tiring, you'll have to climb with your backpack and you won't take in the full experience, especially during pilgrimage season.
The accommodation in Hatton is not expensive and it's worth paying for 2 nights. Nobody wants to be climbing 5,500 steps with all of their stuff on their back. If you're staying in Delhousie, it is easily done to arrive and climb the same day, as the trail is on your doorstep, but don't be planning anything strenuous the next day!
Make sure you go green when climbing
As Sri Pada is a pilgrimage destination it has over 20,000 visitors each season and unfortunately an unprecedented amount of litter along the paths and on the sides the trail. Don't be part of the problem. Normal hiking etiquette should apply and although many pilgrims drop litter, bio-degradable or not, make sure you take a plastic bag with you to keep your rubbish. Better yet, take two bags and bring some extra rubbish with you (why not three or four…).
The route that leads to Sri Pada is an important habitat particularly for birds, mammals and insects. Limit your volume and if you're using a headtorch then keep the beams to the path.
Although it's now common for travellers to climb Sri Pada remember it's still a pilgrimage site. Although it might look great on Instagram, remember that the not everyone will appreciate you taking photos of them, particularly when they're climbing 5,500 steps!
---
Everything You Need to Know About Climbing Adam's Peak (Sri Pada), Sri Lanka
Have you climbed Sri Pada? What did you think? Do you have any tips or advice for the climb? Let us know in the comments box!
Keep exploring…
The Best Vegan Hiking Foods for Adventure-Driver Herbivores
Everything You Need to Know About Backpacking Sri Lanka
The Ultimate Sri Lanka Bucket List