Waterfalls and Wild Camping Along the Via Rhona
---
Despite loving our time in Lyon, when it came to leaving we were itching to get back on the road. It was amazing exploring all the cool and quirky sights Lyon has to offer but the adventure of life on the road was calling. J particularly relished the first day back on the road, he found it exhilarating and nothing could dampen his spirits. On the other hand my body was taking a bit of a battering and when we reached our hosts for the night, just outside Pérouges, I was happy to be out of the saddle and standing on two feet. When cycle touring the aches and pains come in waves, one day you're fine and the next you wonder how you ever cycled comfortably. This wave wasn't that bad but I was certainly glad to be back off the saddle after our first day.
We stayed with Sophie and her family through Warm Showers which turned out to be incredible luck, for so many reasons. As cyclists themselves they told us about the Via Rhona cycle route which stretches from the south of France all the way to Geneva. Turns out we could have been following it all the way from Lyon but we just had no idea. Josh is never keen on the idea of straying off course from Ruth's routes (our ruthless GPS). I've never been a fan of Ruth and really liked the idea of following a cycle route so I championed the idea and the following morning we pedalled north to join the Via Rhona.
Cycling the Via Rhona
As soon as we joined the 500 mile cycle route we were instantly memorised. On the left side were towering chalk cliffs with stretches of farmers fields at their base and on the right the meandering Rhône river glistened under the sun's rays in a turquoise green. It's like we had instantly been transported to another dimension, light years away from the busy main road we had just been on.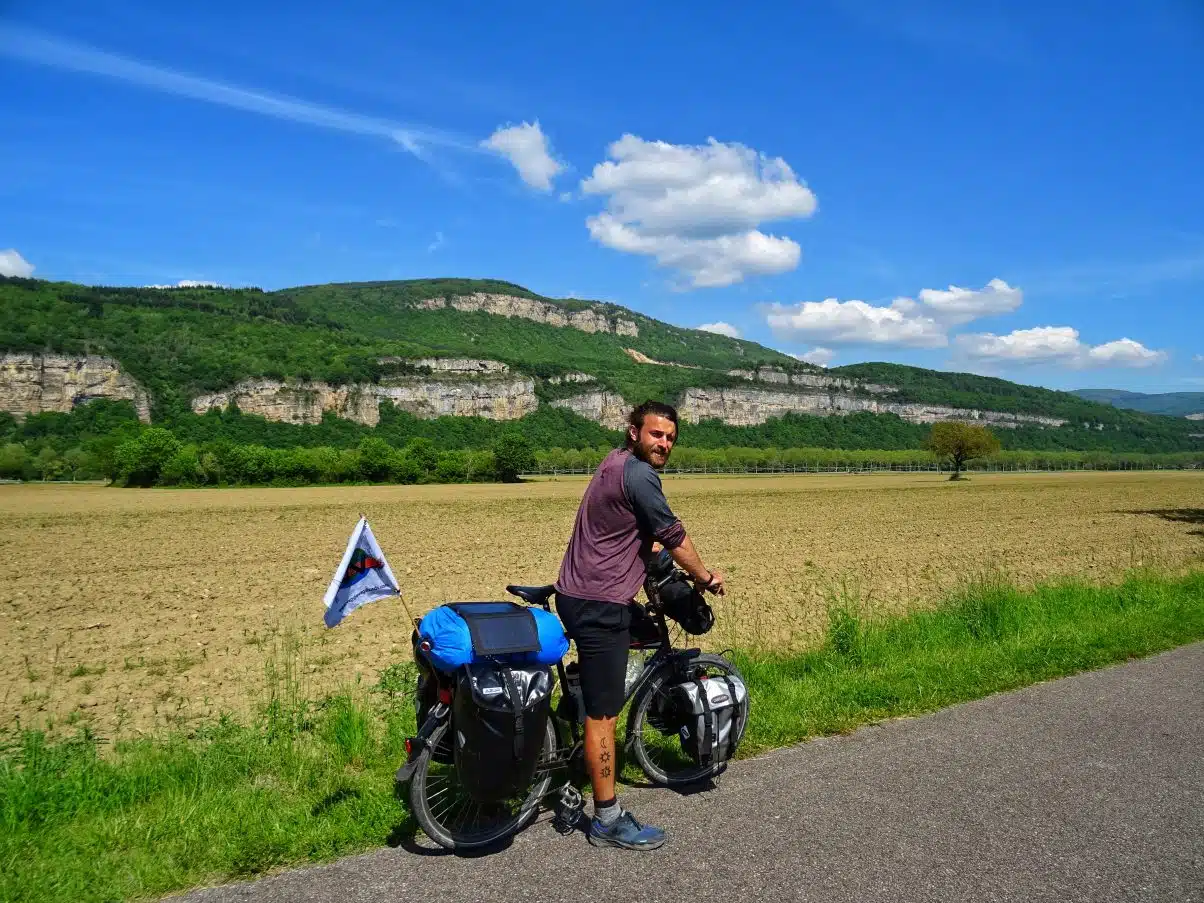 Just before joining the route we'd stuffed our panniers full of supplies for lunch in preparation for a scenic picnic spot. It wasn't long before we found the perfect patch perched right by the river with a magnificent chateau in the distance. It's moments like these that we decided to cycle around the world. The opportunity to really see and experience a country as you travel, rather than razzing pass in a bus or completely blanking out whole continents in an aeroplane. With only the sounds of the flowing river and small creatures around us, we truly took our time feasting on baguette with mushroom pâté under the warmth of the sun and with not a care in the world.
Much of the journey cycling along the route consisted of the same glorious countryside in the heat of the sun. Dominated by nature-gazing and stopping to take too many photos which slowed us down significantly but was so worth it. I could harp on about how incredible this route was but I'll save that for another day.
Mother Nature's glory
Wild camping has proven a bit more difficult than expected in France. In the North most of the countryside is sprawls of farmers land which isn't ideal for camping. Waking up to an angry farmer waving his pitch fork, demanding you to get off his land isn't our idea of a wake up call. As we travelled further southeast we found camping spots a little easier to come by. Our next night was spent camped in a buttercup field just outside Morestel. The tent was pitched just as the sun was setting and within no time at all we had cooked up a camp stove feast and zipped up our sleeping bags for the night. It wasn't a quiet sleep as the sounds of wildlife in the woods were bellowing long into the night. However loud, we'll always cherish nodding off to the sounds of nature.
In the morning we rose with the sun and soaked up every bit of the sunrise over the golden and green fields. After packing up all our worldly belongings and being sure to leave no trace (except for a patch of trodden down grass where we pitched our tent) we continued to follow the Via Rhona.
The beauty of rising with the sun means you're up early and able to squeeze a whole lot more into your day. This meant when we saw a sign for a waterfall 3 km away we didn't hesitate to take a diversion. Not sure what awaited us we questioned whether it would even been worth it as there hadn't been much rain. Boy oh boy were we wrong. There before us was one of the most magnificent waterfalls, and we've been chasing waterfalls for some years. Gushing and flowing, full of algae and jagged rocks we were left in astonishment. For about an hour we sat at the base, getting splattered with droplets whilst we gazed at each of the unique streams tumbling from top to bottom. We were surprised to be the only ones there the whole time and felt like we could of sat there all day. Unfortunately we couldn't as the route ahead was calling and the next section brought a whole new meaning to the word incline.
Switzerland in our sights
We rejoined the Via Rhona for the relentless hills and pouring rain part of the route. We cycled uphill for three hours to be met with panoramic views of the rolling mountains that were full of flourishing foliage. Views like this make it all worth while, plus then comes the downhill section. Despite the 3 hours climb it lasted for all of about 20 minutes, with raindrops falling, we zigzagged down the mountain side overwhelmed with feelings of elation.
We made it to the Swiss border and had planned to wild camp again for the night but then realised how close we were to our final destination. Although the Via Rhona ends in Geneva we were wanting to go a little further, cycling through Switzerland and back into France to stay with an old friend. Contemplating whether to call it a day, we were pretty pooped, or whether we should push through. We decided to go for the push as it meant being with our friend that much sooner, avoiding the hassle of finding somewhere to camp and the potential rain.
For energy we brought a packet of cookies, gobbled them down for fuel and set off in search of the Swiss boarder. Whilst pedalling we wondered how long it would take to cross the Swiss border and contemplated whether this would slow us down. If you've never crossed from France into Switzerland let me tell you it's not like other boarder crossings. We didn't even realise we had crossed over until noticing all the number plates had changed. There were no officials waiting to check our passports, no dogs sniffing out illegal organic goods and no import declarations – it was a piece of cake!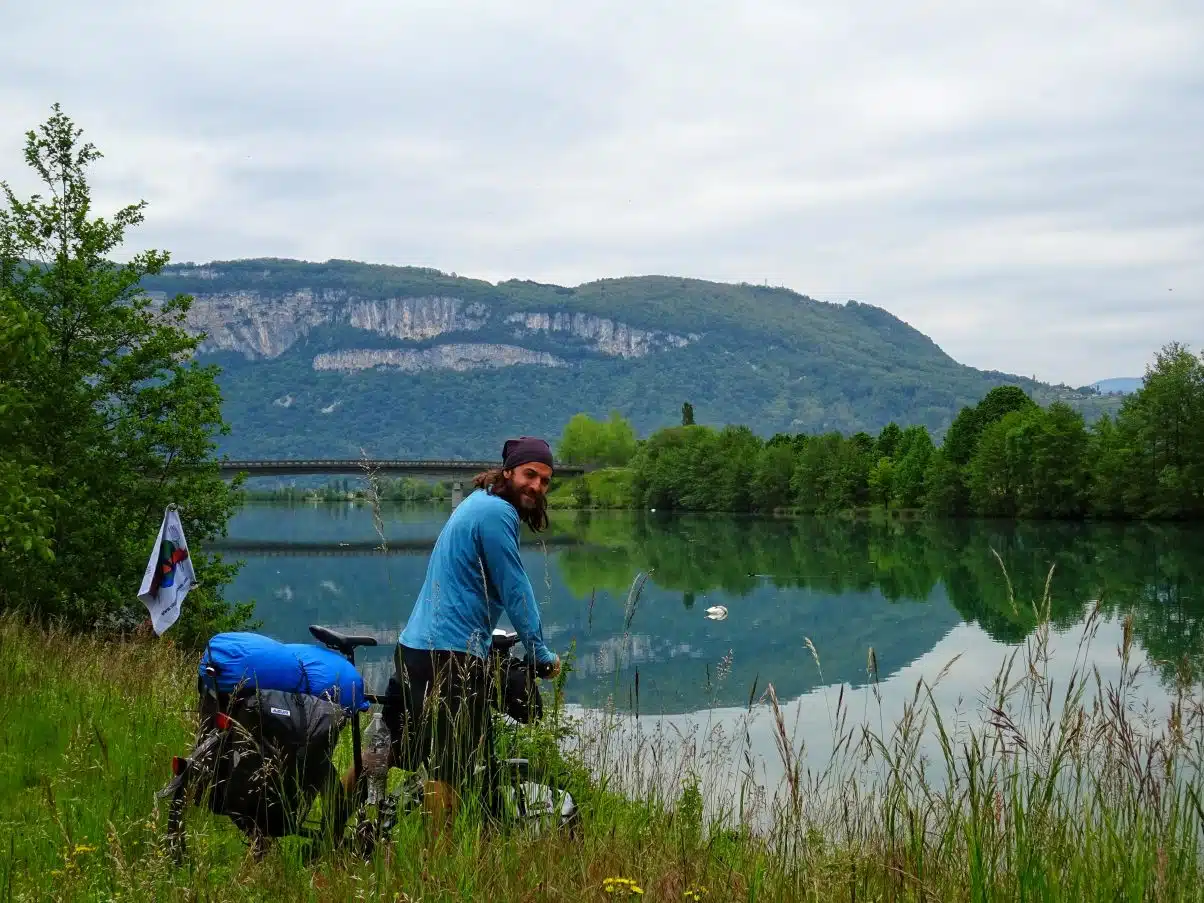 Level up
Then it happened… we reached cycle touring level 1.
You don't always know how or when you'll level up but once it happens, you know. As the miles were slowly but surely decreasing, Ruth started to die on us (always the let down). This is bad because we still had a way to go, the night was approaching and Ruth was our only form of navigation. We needed to act fast!
J got out the solar charger and strapped it to the front of his bike to power Ruth. Alas, we had energy, and navigation, whilst the the sun was shining, so in a mad dash we blazed through Switzerland before it set. Before long we were fast approaching the French border on the other side of Geneva. We had successfully charged our phone through the power of the sun whilst cycling across an entire country in an afternoon. Cycle touring level 1, woohoo! We'll let you know when we reach level 2…
Reaching civilisation and our new base
Arriving in Ferney-Voltaire and to the abode of our friend we were a little hesitant. She had told us only hours before she was really stressed due to her purse and passport being stolen; we weren't sure if two smelly, hungry cyclists were going to add to her stresses or be a welcomed sight. It was the latter and before long we were all sat round the dinner table drinking wine, eating food and making new friends.
Now back in the comfort of civilisation the stresses of the road seem so far away. Wondering where you're going to lay your head for the night or how you'll charge your GPS seems irrelevant when you have a roof over your head and a lock on your door. Even with the small stresses for us the outdoor life will always trump the comforts of indoor living. Camping in fields with birds and bugs is our idea of living and where we feel most at home.
For now we've swapped the tent for a room and the air beds for a mattress right on the border between Switzerland and France. This neck of the woods is perfectly nestled between the Alps and Jura mountains which are just ripe for exploring. We can't wait to clamber up as many peaks as we can before our blisters get the better of us!
Liked this article? You can find more tales from our bike journey here and if you want to find our latest posts straight away then sign up for our mailing list below!