Simple steps to cleaning and waterproofing hiking boots in less than 20 minutes
---
First things first: even the best waterproof walking boots, running shoes, trail runners etc. won't stay waterproof.
No matter how good they are, whether they're synthetic or leather, you will need to do some boot waterproofing to keep them at their best.
For vegan hiking boots or synthetic options, it's particularly important because the DWR waterproof membrane fades over time.
And this maintenance is well worth doing because nobody likes wet feet. Particularly on long, tough hikes or in colder conditions.
Rewaterproofing hiking boots should be done regularly if you're hitting the trails all the time. This saves finding out your shoes are leaking mid-hike on a snowy winters day…
Spending just 20 minutes doing some boot maintenance will save you time, money and some unpleasant outdoor experiences. It's also much more sustainable to give a boot a nice, full life!
In this article we'll be covering:
This article may contain affiliate links, they will never cost you more money but helps Veggie Vagabonds keep making content like this – thank you!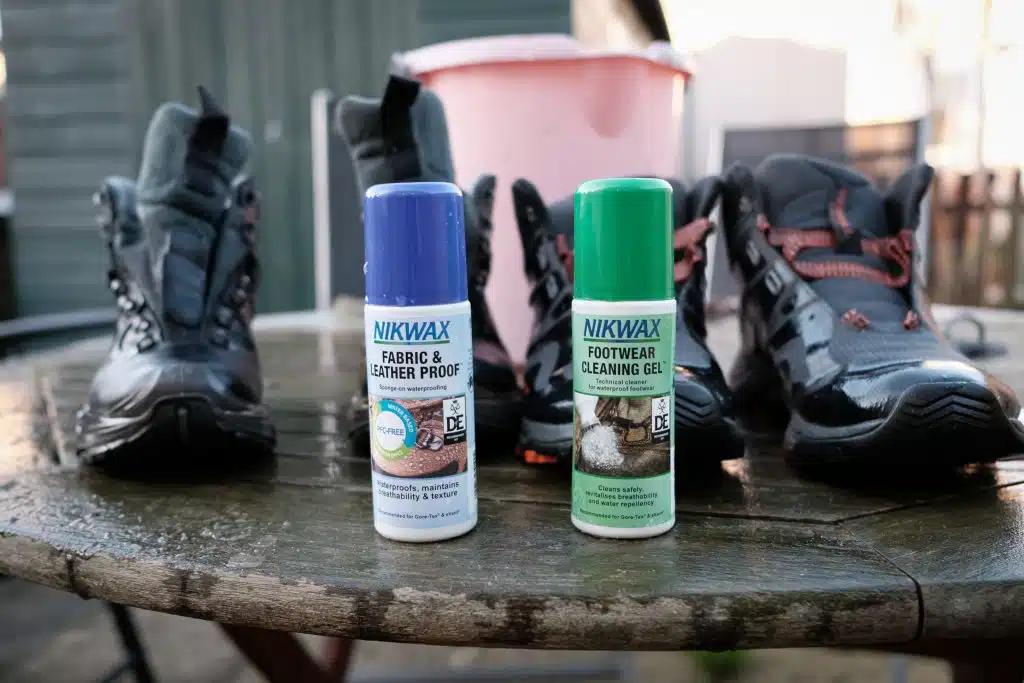 Waterproofing Gore-Tex Boots and Synthetic Options Vs. Waterproofing leather hiking boots
Though leather has a natural level of waterproofing, many of the materials used in synthetic boots do not. This means most vegan or synthetic boots use a waterproof membrane to keep you dry. The most popular example of this is a Gore-Tex membrane.
This membrane maintains breathability whilst adding a DWR layer, helping your boots shed water. Over time this layer fades and needs to be replenished or your feet will get wet. And that's why learning how to re-waterproof walking boots is real handy for DIY maintenance!
Though the cleaning process is similar, waterproofing Gore-Tex boots is different and requires specific products.
It's important not to add waterproofing wax for leather boots to synthetic or vegan options. This can be harmful to the waterproof membrane.
Why go for leather-free hiking boots?
Though leather hiking boots are most common, opting for synthetics can help avoid a lot of animal suffering. Rearing cows for food and clothing is a huge contributor to climate change, greenhouse gases and habitat loss. Not to mention killing millions of cows each year.
From a technical aspect, vegan hiking boots are often cheaper, lighter and don't stretch over time either.
What type of shoes can you rewaterproof and how often should you do it?
Any shoes with a waterproof membrane can be re-waterproofed. That means synthetic mountaineering boots, running shoes, trail runners etc. The process will re-apply the DWR waterproof coating to help them shed water.
It's important to note that if you have holes or leaks at the seams, waterproofing spray or treatment is unlikely to fix them. Then it's best to send them to a boot maintenance service or to the manufacturer.
How often should you rewaterproof hiking boots?
Personally, we think hiking boot waterproofing is best done at least every few months, for regular hikers. It's also definitely a good idea to do it at the beginning of the wet or rainy season. This way you can be nice and prepared!
Step 1: How to Clean Vegan Hiking Boots and Fabric Materials
A sustainable lifestyle teaches us to get the most use out of our gear. For a long life, cleaning hiking boots is crucial. And particularly synthetic boots.
Leather boots often just have one piece of flat material across the whole upper. Fabric boots, on the other hand, are often made from a variety of materials and mesh. This means they are more prone to getting gunky and clogged up.
Leaving your hiking boots dirty is not recommended, because it wears down the waterproof membrane and outer layers. At the very least, bang them out after muddy hikes. Then, when they're really mucky, give them a clean, just not too vigorously or too often.
If you're going to be waterproofing boots, make sure they're clean first!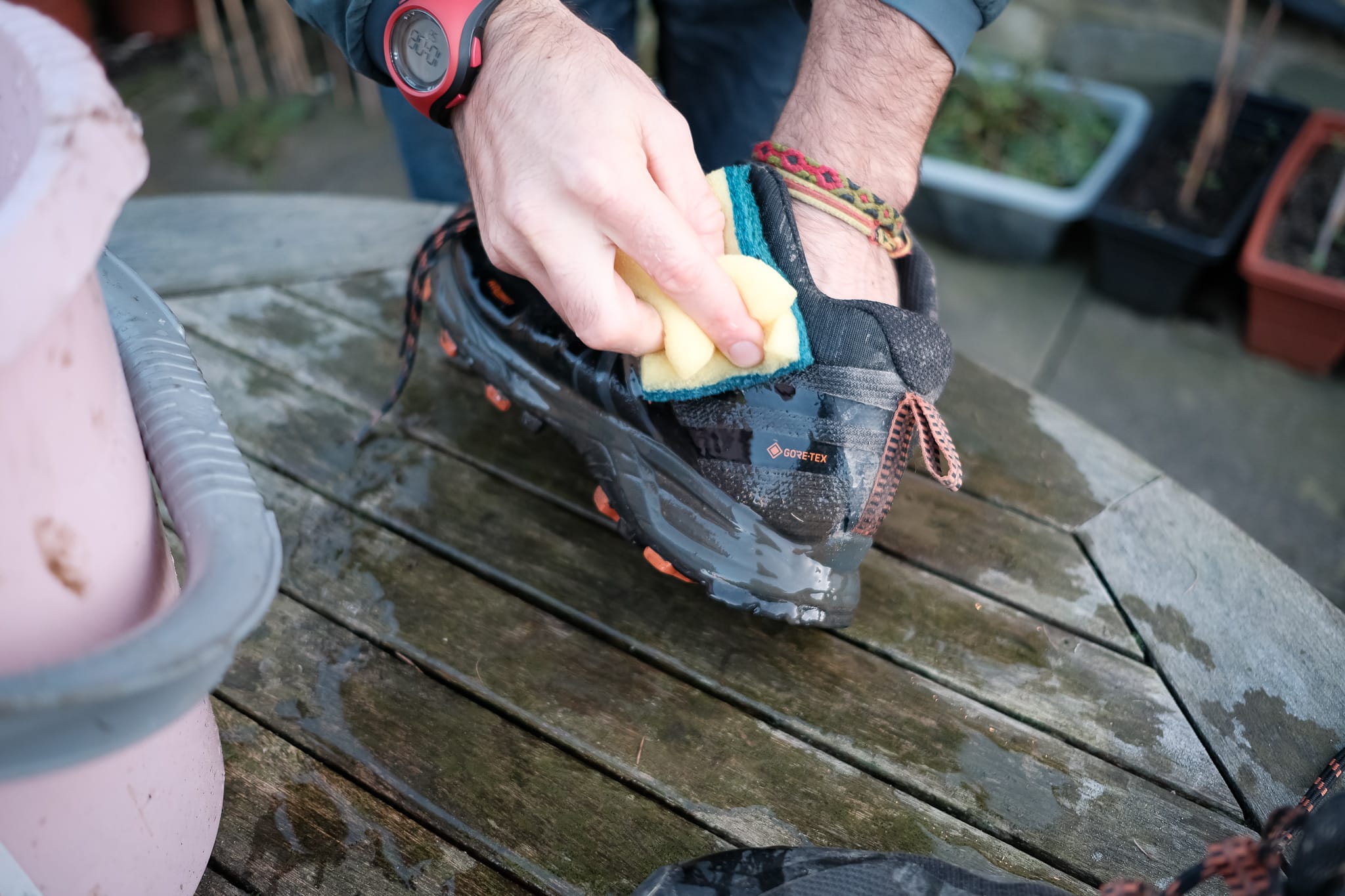 How to clean hiking boots
Things you need for cleaning synthetic hiking boots:
Toothbrush, vegetable brush, or gentle boot brush
Mild cleaning solution (warm water with dishwasher soap) or specialized hiking boot cleaner
If you're looking for a way to thoroughly clean your shoes, we use the Nikwax Footwear Cleaning Gel as the cleaning agent. It's designed to clean invisible dust particles on your shoes and prepare them for waterproofing.
Once you get your props, we find this is the best way to clean boots:
Bang out any easily-moved dirt
Remove laces and insoles (this can be a good time to give them a bit of a rinse with soapy water)

Use a brush to remove more stubborn dirt

Brush outsoles vigorously to remove all dirt
Stand over sink or bucket
Use running water, mild cleaning solution, or specialized cleaner on boots
Wash off excess solution and remaining dirt with running water
Dry off any excessive water with a towel or rag
Other tips that can come in handy:
Do not dry boots near a strong heat source (fireplace, radiator, campfire)
For quicker drying, stuff newspaper into the boots or use a fan
Always remove dirt from the outsoles. This also helps to stop transporting invasive species from one trail to another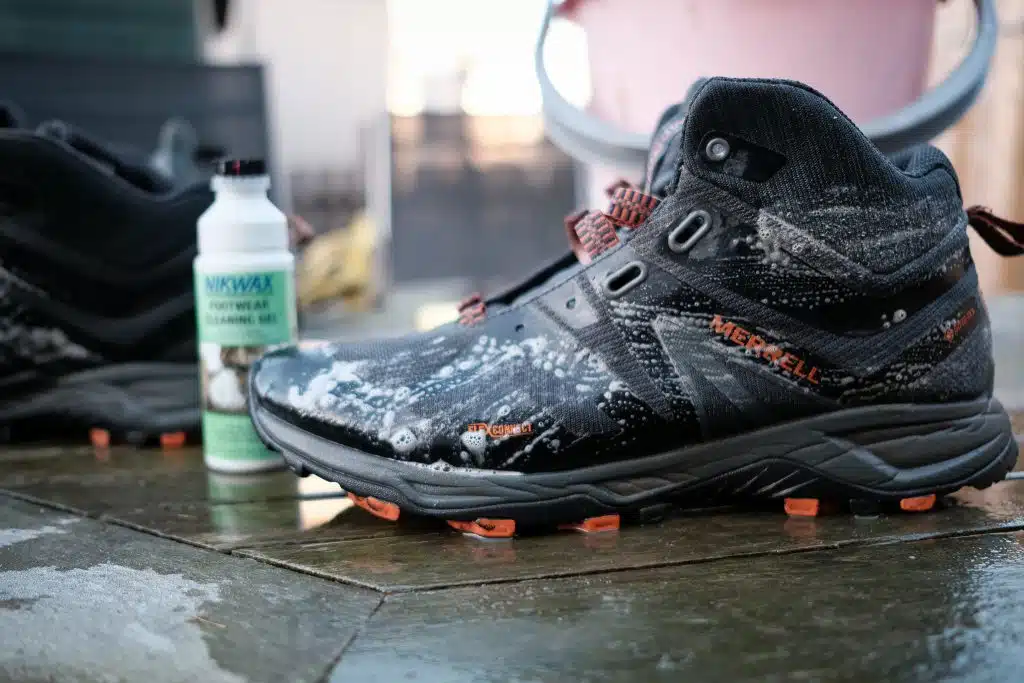 ---
Finding this guide to cleaning synthetic boots helpful? Sign up to our mailing list for lots more gear maintenance and ethical adventure content!
---
Step 2: Waterproofing Gore-Tex Hiking Boots or Boots With Synthetic/Fabric Materials
Now we've cleaned, it's onto re-waterproofing them.
What to Use When Waterproofing Hiking Boots
The waterproofing solution you use depends on the material of your boots. Always check the manufacturer's website to see what material your boot's outer layer is made of.
For most synthetic options, you can use a waterproofing spray for hiking boots. Nikwax Fabric and Leather Proof is the best option, which comes in a spray or sponge.
Though we're using the sponge version in the photos, the spray is most effective to get even coverage.
Cream or wax can sometimes be used, though this is primarily for leather boots. It can be hard to get even coverage on synthetic materials.
How to waterproof boots
For the actual waterproof, you will need:
Depending on the waterproofing spray you are using, instructions may differ slightly. For Nikwax Fabric and Leather Proof, follow the steps below:
Make sure your boots are cleaned using steps above and are still wet
Spray on generously from 5cm away or sponge on
After 2 minutes, wipe off excess liquid and allow to naturally dry.
Most waterproof synthetic hiking boots can be treated with Nikwax Fabric and Leather Proof, whether they have a Gore-Tex, BDry, or eVent membrane.
Many pairs of boots might have mixed materials e.g. some synthetic materials and also leather. You can still use the Fabric and Leather proof as it's designed to accommodate both.
Step 3: Synthetic Hiking Boots Aftercare
But that's not all! Giving your boots a long and fulfilling life doesn't stop with cleaning and waterproofing. Where you store them and how you use them during their lifetime is crucial for their longevity too.
Next up are a few tips on vegan hiking boot aftercare:
When you see your boot isn't wicking away moisture, it's time for a waterproof coating.
Never apply waterproofing agents to your boots without cleaning them beforehand.
Store your boots at room temperature and never in moist areas.
If mildew forms on your boot, use a water and vinegar solution and change their storage place.
Never leave your boots near a heat source, especially if it's a synthetic boot. This can damage the synthetic outer layer and adhesive.
Always focus on the materials above the boot's sole, since that part of your boot gets a lot of moisture.
Caring for your boots will allow you to use them for years. Don't forget this the next time you want to throw them into the attic or basement while they are dirty.
Gear maintenance is key to ethical adventures!
Your outdoor equipment has a big environmental impact and that means gear maintenance is key to protecting landscapes.
Make sure to give your boots the TLC they deserve and reapply waterproof coatings, rather than just buying new boots each season. See it as an investment and pick a pair you'll look after for years to come.
Here are some other resources you might find useful:
We now hope you know exactly how to clean and waterproof your vegan boots. Next step, lace 'em up and get out that door!