As Veggie Vagabonds approaches the ripe old age of… one year old, there is one questions that we've been asked a number of times over the space of the year (and I'm not talking about 'where do you get your protein from'). Whether it's from fellow travellers, foodies, friends or family we're often asked why we started a vegan travel blog – and it's a good question. So to mark our first birthday I thought I would fill you in on why we started a vegan travel blog and how Veggie Vagabonds came into existence.
'Hey, we went to the same school…'
To properly answer this I need to give you a bit of history, starting 5 years ago in a dodgy nightclub I (J) worked at in Sheffield, UK. I noticed Sarah, whom I hadn't met yet, standing at the bar and looking pretty cool. We had never met but I recognised her from our hometown (Cambridge, UK) and thought it was the perfect excuse to start a conversation.
After convincing her that we had been at the same school and I wasn't just a weirdo in a bar we hit it off. It wasn't a surprise as we shared all of the same passions in life; travelling, food, adventure (hopefully all three together!) and had a huge admiration for the beauty of the world. Within the space of a month we were pretty much connected at the hip. 
6 months after first meeting we moved in together and the seed for Veggie Vagabonds was planted (though it would take another few years for the leaves to sprout). As we both finished our time at university, studies were a sideline and our days were always planned around mealtimes and as many adventures as we could fit in. 
From conjuring up revolutionary feasts in the kitchen to climbing mountains in Wales and backpacking through Spain, we kept very busy whilst we were tied to the UK. Despite all of our mini trips and travels we knew that an adventure of epic proportions was in store!
Then something BIG happened
Whilst we were saving for the big trip a huge change came into our lives. I had been brought up a vegetarian and had never eaten meat and Sarah had made the decision to go vegetarian in her early teens. This lifestyle was chosen for both environmental and animal welfare reasons but we knew something was missing. The more we thought about it, and the more light that was shone on the diary industry, the more we realised that moving to a vegan lifestyle was the right thing to do. In our eyes a vegan diet was the easiest step to a more sustainable living and a step we thought was right to take. 
It definitely wasn't easy, particularly 4 years ago as the variety of vegan options was nothing like it is today. For two huge cheese and eggs lovers there weren't alternatives, it was just a straight cut out of your diet. It was hard. The first few months were spent 'trying to be vegan', or perhaps 'learning to be vegan', because you really did have to learn. All of the information, food alternatives and recipes we take for granted now were non-existent to us and it took quite some time to adjust. 
Fast forward a few months and we had our bags packed, new vegan morals intact, and a one way flight to Sri Lanka. Despite having all of the same interests and passions as now, the thought of creating a vegan travel blog had never crossed our minds – we just wanted to explore!
We landed in Sri Lanka and the country truly stole our hearts. 3 months were spent wandering every corner of the island and it blew us away. It was the people, the culture, the wildlife and most importantly the food. The food was out of this world, a bewildering selection of fresh, mouth-watering curries, exotic fruits, delicious breads and a lot of spice. And, there was vegan food galore!
Despite having travelled extensively before Sri Lanka was a learning curve for us – a time to discover what type of travellers we were. Obviously vegan food was a priority but we were also budget travellers that wanted to steer away from the beaten path, into nature and true culture. With all of this in mind we realised you couldn't rely on a guidebook and it was difficult to find reliable vegan travel information online.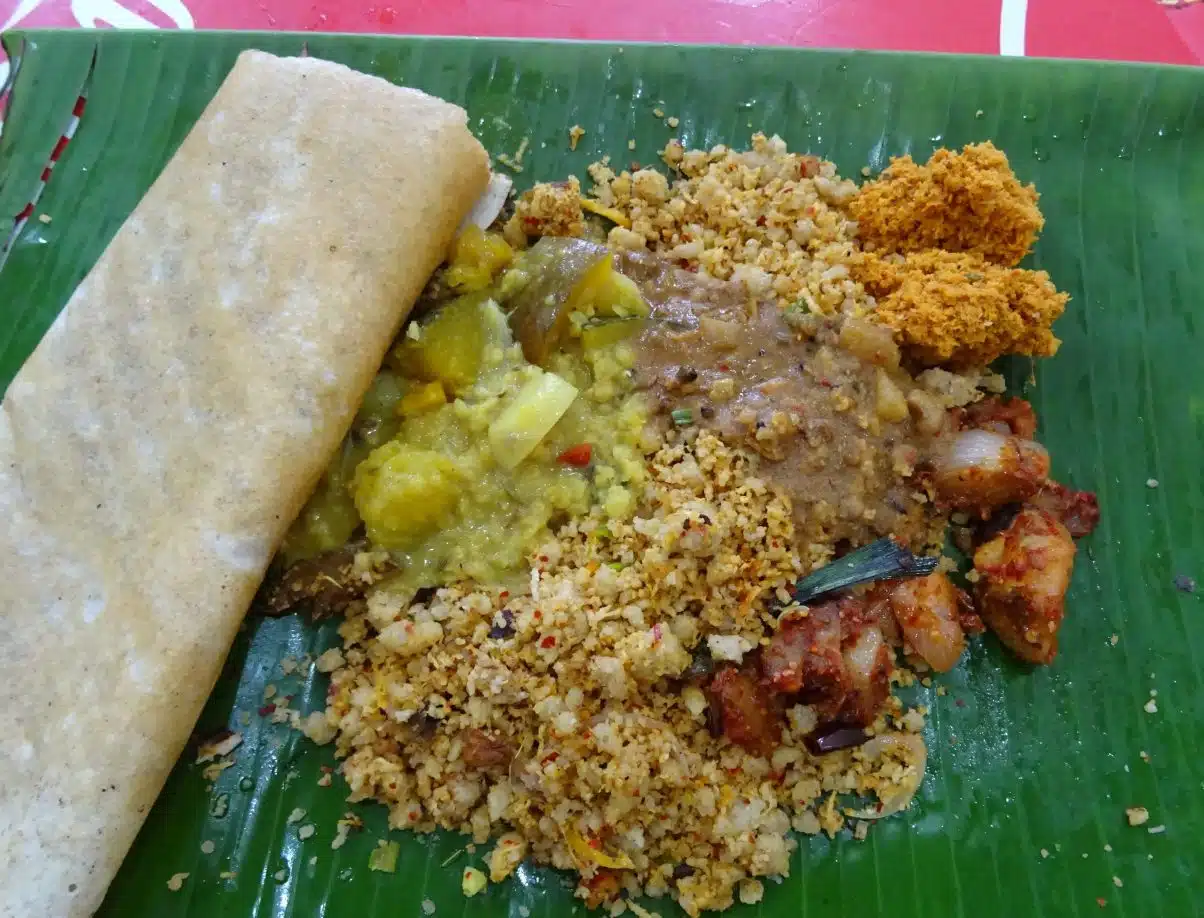 9 months further down the line, after hiking the volcanoes of Indonesia and discovering the cultures of Malaysia we were teaching English in Hanoi, Vietnam. Hanoi turned out to be one of the most exciting experiences of our lives – the culture literally slaps you in the face. The plan was to spend 9 months saving some hard cash and then embark on a motorbike trip from Hanoi to India.
As the travel slowed down and we settled in to earning some money there was time to reflect on our time so far in Asia. It had been incredibly hard to find good information about veganism abroad and our style of travelling. Could Indonesia be done as a vegan? Could Indonesia be done enjoyably as a vegan? Don't they eat dogs in Vietnam? Isn't there a cheaper way of getting to 'X'… there were always questions but not many ways of answering them. As a result we ended up just chancing our luck along the way and hoping for the best.
It turned out most travel information was geared towards 'top things to do' flashpackers even if it was advertised as 'off-the-beaten-track budget travel'. And there was a HUGE amount of misunderstanding around veganism. Many people, even long time vegans, thought certain countries or regions were completely off limits. Every non-vegan we met thought it was a diet of nuts and leaves – something they could never imagine trying. 
After saying this to friends and family they suggested we start a vegan travel blog so we could share our knowledge with like-minded people. We liked the idea but with no computer the thought was quickly swept aside and we focused on saving for our motorbike trip.
8 months into our 9 month saving period and everything was almost ready to go. We had worked and saved our little vegan socks off and our bank accounts were ready to let us back on the road, almost. 3 weeks before the next round of adventure disaster struck.
I received an email from my dad saying that my mum had become very unwell and was in hospital. They weren't sure what it was but she was in a critical condition. All of a sudden our world flipped upside down, we packed a few essentials into a rucksack and got on the next flight to England. 
Without going into too much detail we're very lucky to have my mum with us today. Despite months of tests we never found out what caused her illness but we knew it would be a long road to complete recover. How long this would take we didn't know, but it was something we would tackle together as a family. 
Now back in England for an uncertain amount of time we still couldn't stop thinking about travelling. Over the last 1.5 years in Asia we had built up a wealth of vegan travel knowledge and quickly became a point of information for friends and family. To get some essence of a travel fix we started contributing to vegan travel forums and groups online – that's when it clicked. We had our computers, we had the information overflowing from our minds and we wanted to share it. Shall we start a vegan travel blog?
With very little technical know-how, no grasp of web design and quite a strong dislike for social media it was an uncertain beginning. But, what we didn't have in these departments we made up for with our passion for vegan food and world travel. 
From the word go our aim was to create a community that would have a positive impact. In our eyes the world was such a incredibly beautiful, yet delicate place. The mission was to help others experience the wonders around them in a sustainable way. And, a vegan lifestyle was the first and best step towards this.
The vegan community had clearly grown since we'd been away. There was such a desire for recipes and resources and we wanted to help give it. The blog was created to showcase the beauty of a vegan lifestyle and show that you could take these morals to explore every inch of the world. To wander every continent, conquer every cuisine and climb every mountain.
Sarah was overflowing with plant based expertise and delicious recipes we'd picked up on our travels. I wanted to tell the world about the adventures they could find around the globe and how to experience them in a sustainable way. How was the best way to release this energy? Start a vegan travel blog,
And we called it Veggie Vagabonds!
12 months after writing our very first article everything has snowballed into what it is today. Slowly a beautiful community is developing and it's been amazing to reach out to like minded people all over the world. Sharing such awesome recipes and information, we hope, can help promote veganism and give others the information they need to be a happy, healthy vegan no matter where they are. 
The sustainable travel articles are written with passion and love, to help people uncover the wonders of the world and help preserve them at the same time. Our aim was to create a community with a positive impact and we're proud to say that it's happening!
Why We Started a Vegan Travel Blog
There is a long and exciting road ahead of us. If you told us 4 years ago we would start a vegan travel blog we wouldn't have believed it. Now it doesn't seem like anything else would be possible. With my mum, being the fighter that she is, recovering quicker than anyone expected it's now time for our next adventure.
In the summer we proved that two tree hugging vegans could complete one of the hardest outdoor challenges in the UK – the Three Peaks Challenge by Bike. Now it's time for something bigger. In February we embark on a overland cycling expedition from Cambridge to India. Obviously we're taking Veggie Vagabonds with us and the blog will be showing all of our adventures, proving that every country can be cycled, cuisine conquered and mountain climbed with a vegan diet!
We'd love it if you joined the adventure with us. Sign up to our newsletter or connect with us on social media to keep up to date with our journey and find all of our vegan travel information for the countries we explore!
Share me!
Get our latest articles, adventures and insider news by signing up below - you'll also receive our Ethical Adventure Planning Guide!