13 essential wild camping tips for an epic night under the stars
---
Are you a first-time wild camper, or are you just new to wild camping and picturing beautiful night skies deep into nature? That's precisely what wild camping is like, and even more.
It's the chance to get away from the hustle and bustle of life, to escape into the outdoors and camp under the night's sky. The opportunity to pitch where you roam, surrounded by the sound of bugs as you hunker down.
If you're a bit unsure of where to start or just want some tips ahead of you're next trip, you're in the right place. After countless wild nights, we've put together these wild camping tips and tricks on how to choose your camp, when to pitch and wild camping etiquette.
13 Tips for Wild Camping
Wild camping is an outdoor adventure that has been around for centuries, where one relies on themselves and whatever one can carry. It's the chance to get into the wilderness, away from civilisation and modern conveniences.
At its core, wild camping means pitching your tent or just the act of sleeping in a non-campsite terrain. Camping in the wild means peace and connection with the nature around you. Regardless of whether you're a hiker, bike tourer, rafter, or just your everyday camper, wild camping will offer you a glimpse into a new way of outdoor enjoyment.
First off: is wild camping legal?
In England and Wales, wild camping is technically illegal without the landowner's permission. Apart from Dartmoor and Scotland where it is legal.
Although it is a bit of a grey area. As long as if you're respectful and not seen, you can wild camp all over the UK.
In other parts of the world, the laws are a little different and there are lots of countries where wild camping is legal.
Wild Camping Tips for Beginners
Leave No Trace
As outdoor enthusiasts, the leave no trace policy is the first and most important of our wild camping tips. Leaving no trace means:
Clean up after yourself
Respect the local environment and wildlife
Camp and travel on durable surfaces
Be considerate of others
The main point of this idea is to leave nature intact, just like we have found it. This way the next visitors, as well as new generations, might see the same beauty as we do.
Do Your Research
Before setting out on your first wild camping adventure, make sure you do your research. This means you need to go prepared and know local customs and laws. This also includes research about where you are going and which trails you will take, and also research if you have any freshwater sources or villages for any restocking you might need.
Check the Weather
When you're out wild camping, you're at the mercy of the conditions. It's always best to keep your eye on the weather forecast to see what it's going to throw at you.
If there's any bad weather forecast, it's probably best to avoid camping on higher ground unless you're experienced and kitted out. Camping in rain, winds and storms is sometimes hard to avoid but checking the forecast will help you stay prepared.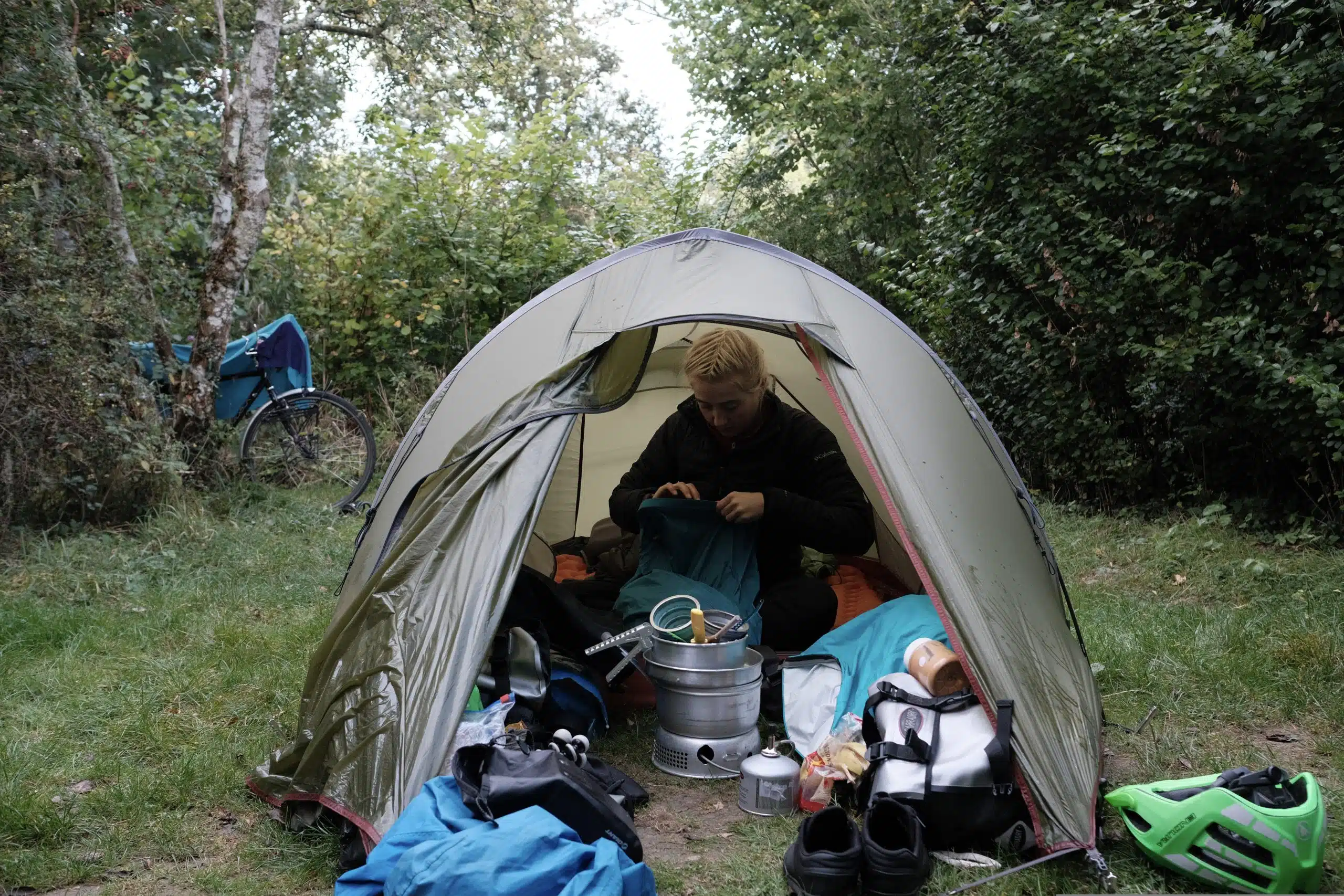 ---
Want more camping inspiration and ethical outdoor guides? Sign up for our newsletter to get our latest articles first
---
Travel Lightly
Wild camping means you need to live out of your backpack or panniers and sometimes be sneaky. For this, you will need a light pack, in which you can still fit a tent or bivy sack, sleeping bag, pad, food, first aid, and clothes.
Depending on where you're going and when what you take might differ. Our list of 49 camping essentials will make sure you don't overpack but still have all you need.
Choose Your Wild Camping Spot Wisely
A bad night's sleep can really set you up poorly for a day outdoors, so picking the right place to pitch is crucial:
Pitch on levelled ground
Avoid any rocks, plants or sticks
Away from any homes or buildings
A good distance from trails and paths
Somewhere with a good spot to pee or poop away from water sources
Our guide to picking the right wild camping spot does a deep dive into this topic. Because no one likes a grouchy camper.
Shy Away From Roads, Trails, And Privately Owned Land
As said above, you should keep away from all roads and trails. Also, avoid pitching on land that is obviously privately owned if there are buildings nearby.
Chances are you'll just be disturbed and even asked to move on. So for everyone's peace of mind stay out of eyeshot and you'll have a peaceful night with farmers blissfully unaware you were even there.
Out of sight, out of mind.
Look For Water Sources
Having the possibility of washing and doing the dishes without rationing water is a lifesaver in the wild. Just remember that other campers and wildlife will likely use the same water source.
In keeping with LNT principles, it's recommended you camp 60ft from a water source. That way you can reap the rewards of fresh water, without the risk of pollution.
Stay Only One Night
Out of courtesy, every wild camper should stay in their wild camping spot for only one night. If you leave your tent up during the day, you risk being caught.
Choose Your Toilet
Where you answer nature's call is important.
Peeing and pooping needs to be at least 60ft from a water source
Dig a cathole for number twos
Always take any toiler paper or sanitary products with you
Avoid spending a penny or dropping the kids off near trails, or where others are camped
Our guide to peeing and pooping outside covers all the bases of how to take care of business outside.
Arrive Late And Leave Early
Most wild campers pitch their tent late, or as the sun sets, and pack up and leave as early as possible. This way, you will maximise your own privacy and won't risk running into angry landowners with pitchforks.
Keep Noise At Minimum
This wild camping hack is quite obvious, and the main thought is that you shouldn't make a racket while camping anywhere. Leave the speaker at home, and enjoy the sounds of nature.
Consider What You'll Cook
Think about what you'll be cooking on your trip. If it's just an overnight trip, no-cook meals are a good option as they're minimal fuss.
If you're on a longer trip this may not be possible. One-pot meals or dehydrated meals are ideal for camping as they're easy and require less preparation.
Check out some of our vegan adventure food guides to help you plan for upcoming trips…
Tell Someone Where You're Going
A trusted person back home always needs to know where you're headed. You can tell your family, friends, neighbours, or post worker. The main thing is that they know in which region you are camping and what your stops or the final destination are.
That way if you get into trouble, there is someone back home to raise the alarm.
Ask for Permission
We've encountered many kind samaritans on our travels, who have welcomed us onto their land to pitch for the night. Maybe it's our weary faces, the bike touring stink about us or that they're nice people. You may be surprised how many people will welcome in a dishevelled camper.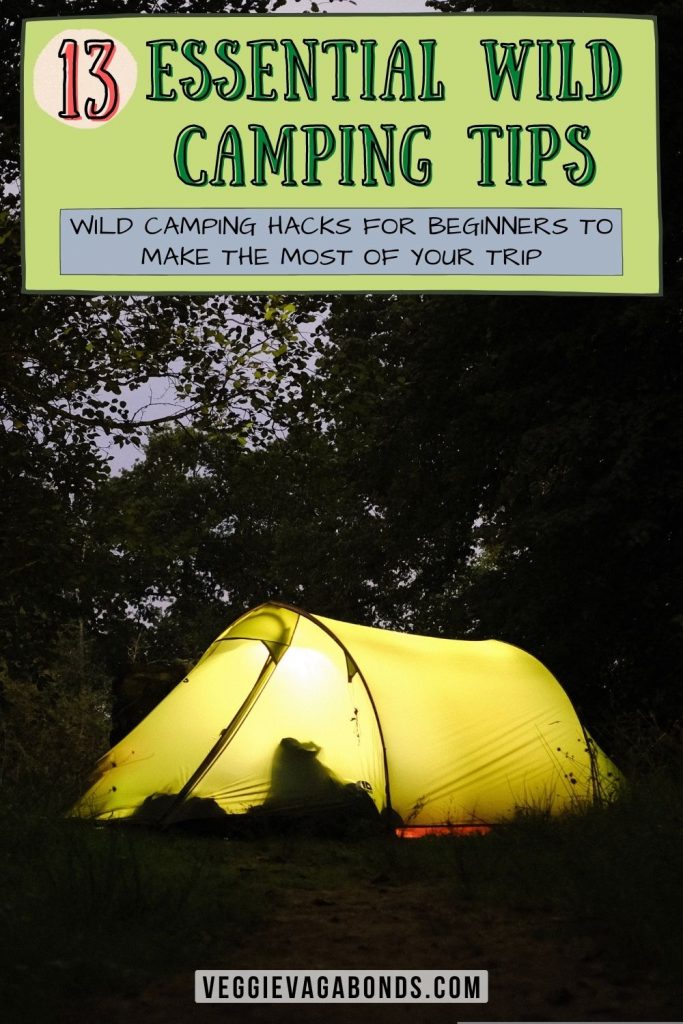 In the end, wild camping is all about enjoying the outdoors to the fullest capacity. Remember to keep safe, be respectful and enjoy your time outside.
Hopefully this article has helped give you a few pointers before your next wild camp. If you have any more questions then drop us a line, we're always happy to help wherever we can.
Until then, happy camping!