An honest and in-depth Will's vegan hiking boots review, to see how the WVSport Waterproof handled adventures in the field
---
I'd heard of Will's Vegan Shoes offering a wide range of vegan footwear but when they released hiking boots, I must admit, I was curious. I've only ever had hiking boots from outdoor brands, so was keen to see how the WVSport Waterproof Hiking Boots faired on wintery excursions in the North of England.
Could boots from a super sustainable and completely vegan company cut the mustard when the going got real tough?
After months of sodden hikes, snowy walks and general outdoor muckiness, they've truly experienced the best and worst of wintery UK hiking.
I won't spill the beans just yet, but I will say: If you're a vegan outdoor lover, you're in for a treat!
In this article you will find: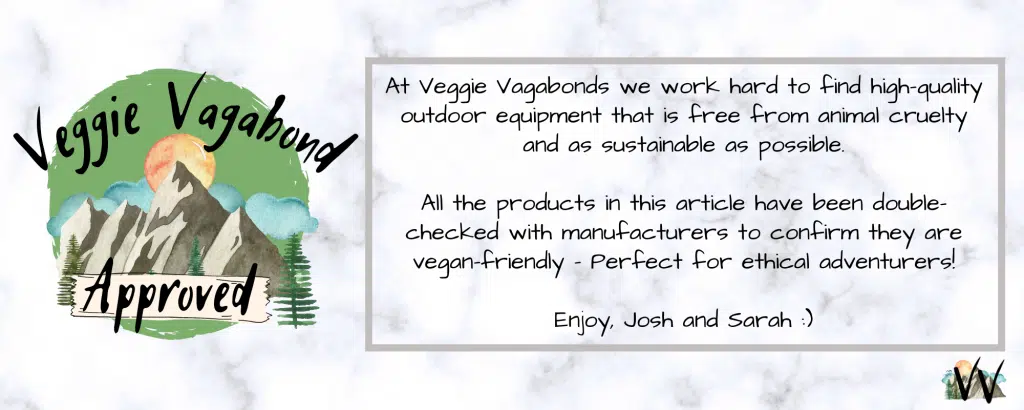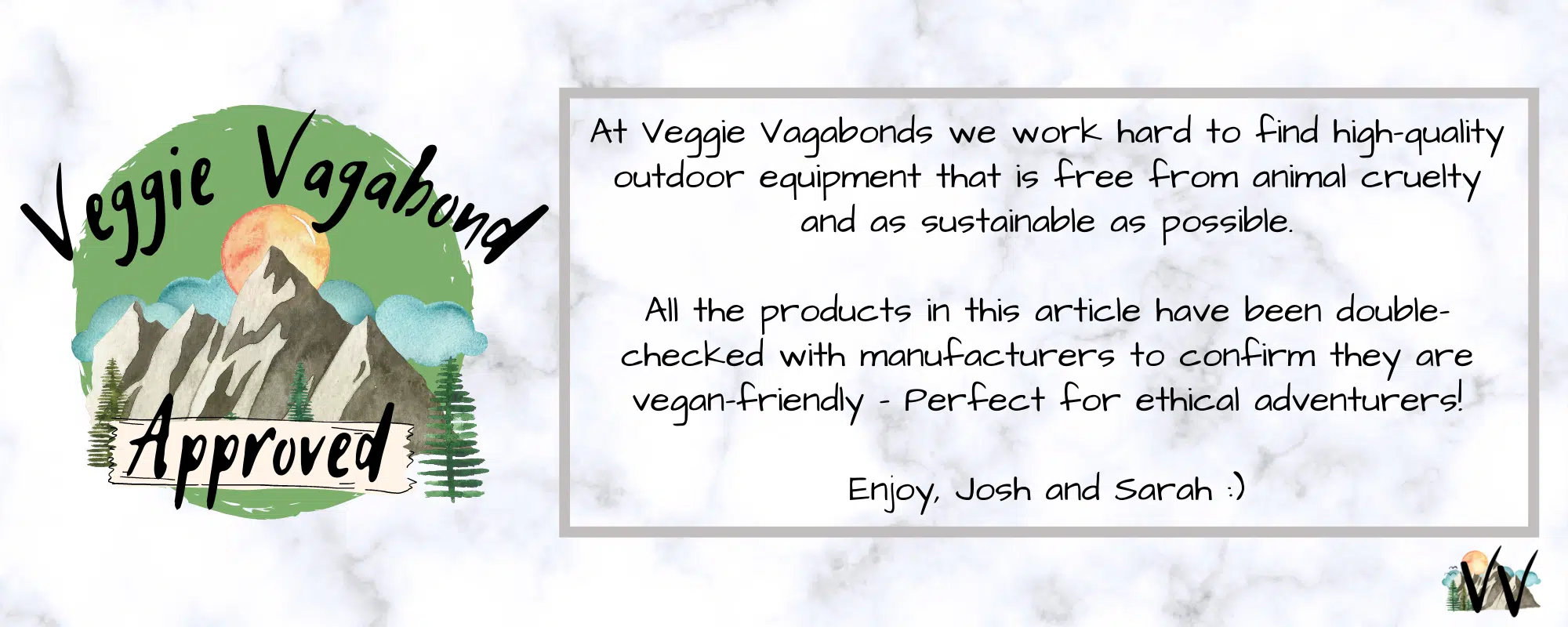 This article may contain affiliate links, they will never cost you more money but helps Veggie Vagabonds keep making content like this – thank you!
1. Will's WVSport Waterproof Hiking Boots in a nutshell
Intended use – Off-road, long distance hiking
Weight – 1.2kg for size 40
Width – Slightly wider to allow for thicker socks and your feet swelling when walking
Drop – 10mm
Lug depth – 0.8cm
Midsole – Thermoplastic rubber
Midesole stack height – 1.5cm
Sole – Vibram grip
Available in women's and men's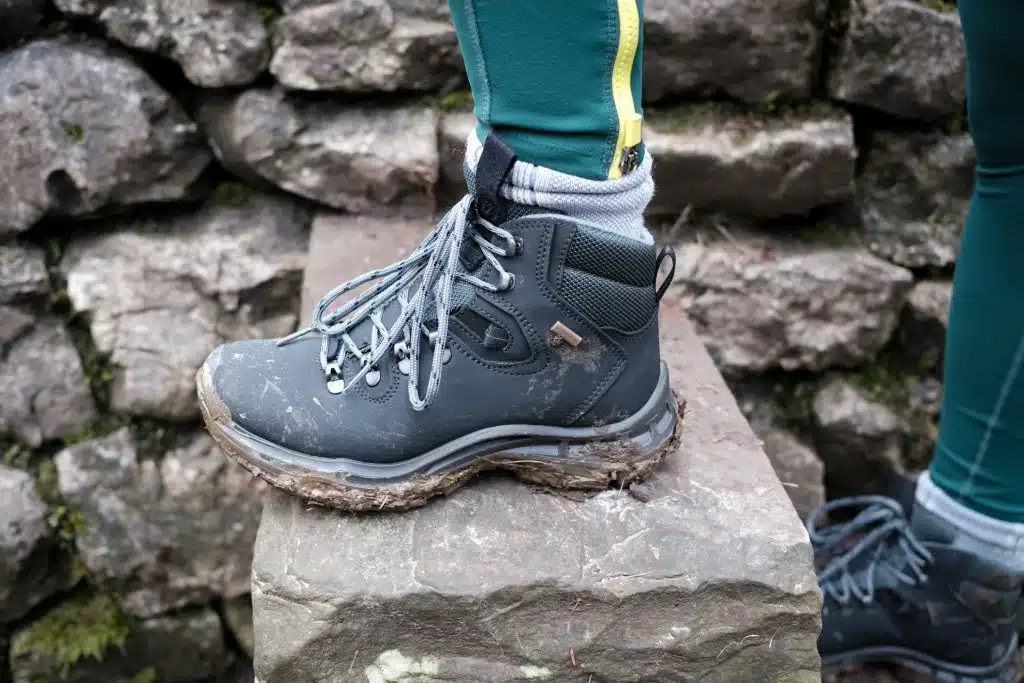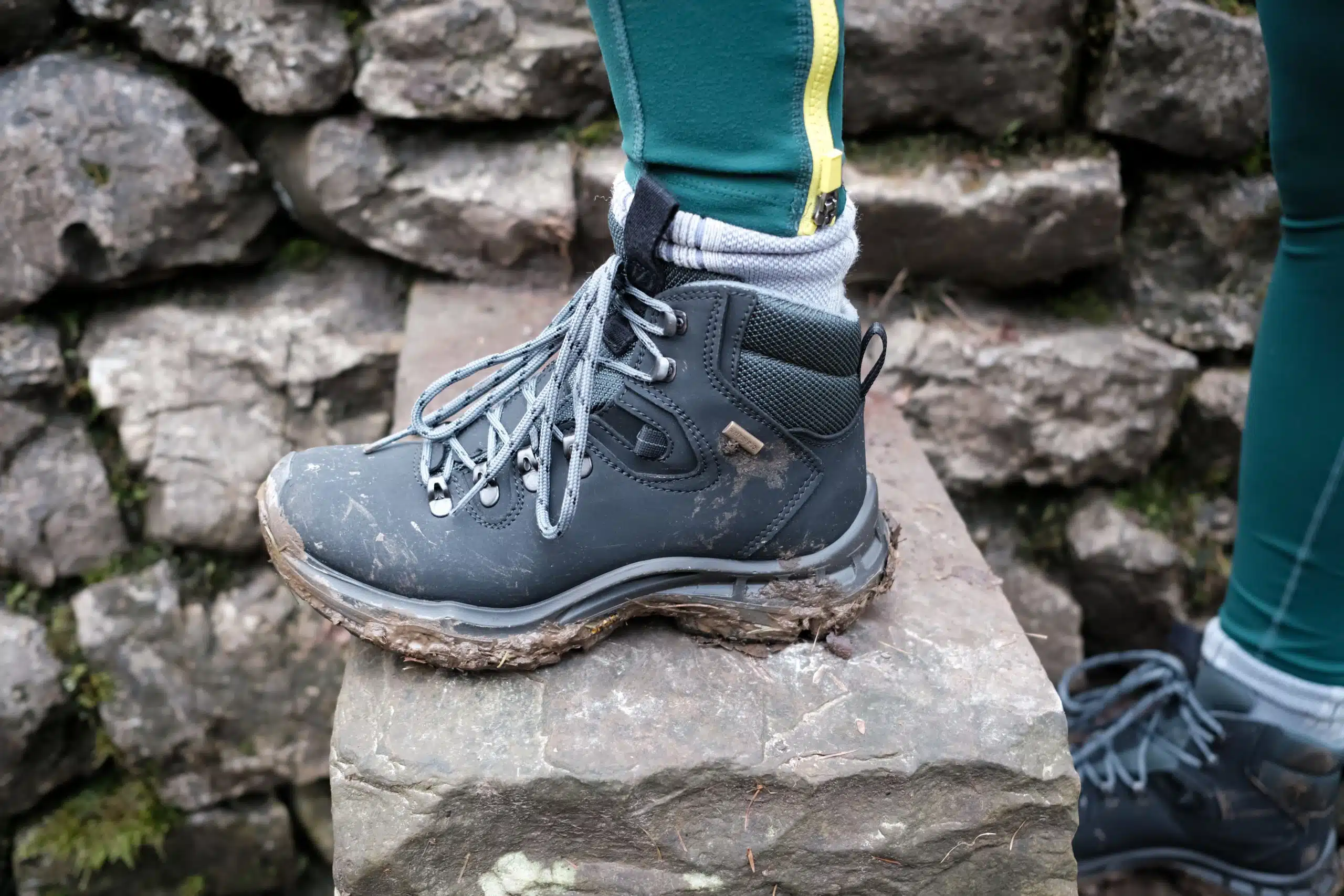 2. What do they say on the box?
Straight off the bat, these vegan hiking boots sound pretty impressive. Designed and produced to the epic backdrop of the Dolomites, Italy. They claim to be built for traction, stability comfort and durability in demanding terrains.
The uppers are made from Lyliane 3DMX and Cordura materials, which are hard-wearing and scuff-resistant. With a padded tongue and ankle support, along with removable cushioned insoles, these boots are made for all-day comfort.
The Vibram outsoles are hardy, with generous lugs and give sweet grip and traction on uneven terrains. They've also been welded to the uppers for extra durability.
The waterproof outer, seams and sealed tongue have been lab-tested to repel water yet still be breathable.
They can easily be taken on and off with the finger loops at the back, whilst the lace hooks allow them to be easily loosened and tightened.
Sounds pretty good right? Let's see how they do in the field
3. How I put them to the test
These boots have been put through their paces across the hills and moors of North Yorkshire through autumn and winter.
They've endured mud, bog, wet, snow, ice and the occasional splatting of peanut butter. Over hills, steep grass and rocky sections, tarmac and gravel. More than enough to put them to the test.
I've used them for 20-mile hikes over long distances, on back-to-back days, in some very wet conditions and also technical, rocky scrambles.
I'm of average build, with an average stride and UK size 5 feet. I have the size 5 women's WV Sport Waterproof Hiking Boot.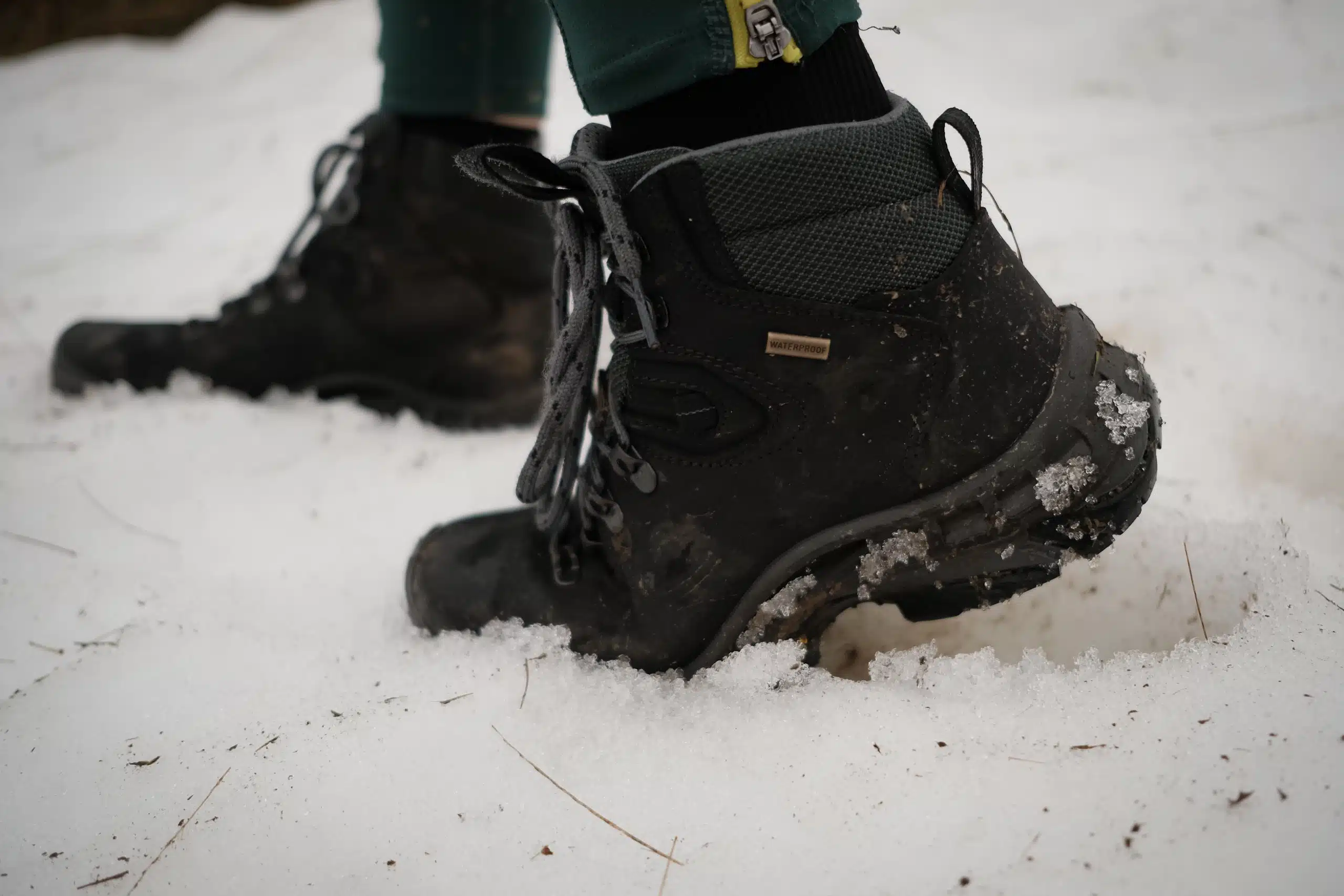 4. Field results
Grip, stability and ankle support 4/5
The Vibram soles certainly live up to the hype, holding their own even through thick, dense mud. They're able to grip on muddy uphill sections and felt secure on wet rock faces.
I've been impressed with how easily they shed mud also, which helps to stop you slipping from clumped-up shoes. A mucky and embarrassing experience I'm all too familiar with.
Although the traction is great, they don't offer great sensitivity to the terrain underfoot. It means that you can step on uneven terrain comfortably but you lack the nuance of feeling for more technical landscapes.
The padded upper and tongue are really comfortable, along with the long and secure laces that come up high, offering great ankle support. As a natural ankle-roller, I've found them to be really supportive.
Comfort and fit 4/5
Right away the WV Sport Hiking Boots felt comfortable and almost weightless to wear. All of Will's Vegan hiking boots are made using CAD design technology, that simulates different ways of walking for optimum comfort.
The removable insoles are made from recycled materials and offer support across the forefoot and midfoot. They feel very light and cushioned to walk in, not at all clumpy as some sturdy boots can be.
The lace hooks come up high on the ankle for support and can be loosened or tightened depending on the thickness of your socks. Lacing is quick and easy, without cutting off circulation to your toes.
I have had some rubbing on one of my heels, however, this is quite common as I have uneven feet so is probably down to my biology rather than the shoe.
Will's Vegan Shoes say their boots are sized a little larger to allow room for thicker walking socks, and swelling from your feet when walking. If you are in-between sizes, however, they recommend sizing up. I am a UK size 5 and have found them to fit well, having tried them with both thin socks and then another thicker pair on top for colder days.
Waterproofing, weatherproofing and breathability 4/5
The waterproofing on the WV Sport Boots has been enormously impressive. I've worn them for some very wet and extremely boggy hikes and they've kept my feet completely dry. Something that makes me feel very smug when J squelched along with soggy socks – sorry J!
Will's say their boots offer waterproof protection up to the top of the tongue and I'd say it's accurate. There have been points when water has almost enveloped the whole boot over the laces and there has been no penetration at all. They have also kept my feet warm even when wet and through snow.
Although I have found the boots to be mostly breathable, there has been the odd occasion when my feet have overheated. Nothing that has made them uncomfortably warm but just a little sweaty. An experience I'm not a stranger to when it comes to outdoor adventures!
---
Want more guides on vegan outdoor gear and ethical adventure content? Sign up for our newsletter to be the first in the know
---
Durability 5/5
These boots are made of tough stuff, even with all the hiking, clambering and mud squelching I've been doing, they've not been phased.
The Lyliane 3DMX and Cordura materials of the uppers are made to be scuff resistant and so far they've not had any marks. Having one large upper material, rather than lots of different components, normally helps to prolong the shoe's life and waterproofing. The uppers are also ballistically welded onto the outsoles and there have been no signs of wear despite all the miles they've walked.
The lace hooks are hard-wearing even when pulled tight and feel secure, not loosening over the course of the day.
Overall they seem pretty sturdy and I'm impressed. Ideal because when you're clambering up rock faces and trudging through mud, the last thing you want is your shoes letting you down.
Versatility 3.5/5
These boots keep your feet dry and warm on soggy adventures and are breathable enough for warmer days. However, I wouldn't recommend them as a summer boot as they would be too warm. A great 3-season vegan hiking boot that also fairs well enough when the temperatures drop or snow falls.
They are designed for traction and stability in difficult off-road terrain, which they excel in. As I mentioned though, they don't offer great sensitivity over technical sections.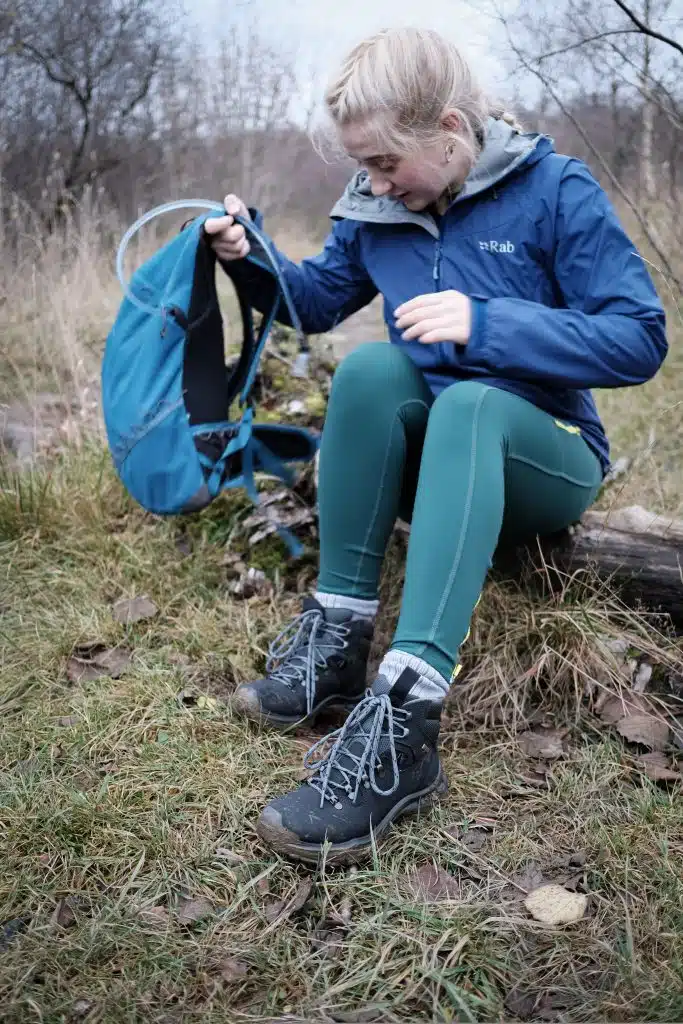 Weight 4/5
These aren't intended to be a super lightweight pair of boots weighing in at 1.2kg a pair in size 40. That is less than the average price on the market, however, there are lighter pairs on the market if that's what you're looking for.
They do feel pretty light to wear. They're not at all clumpy and the cushioned soles feel weightless underfoot.
Vegan and Green 5/5
By a country mile, Will's are one of the greenest and most vegan-friendly outdoor brands we've come across. All of Will's Vegan Shoes are made in Italy, in a photovoltaic plant, which means 70% of its power come from solar energy!
They're a 100% vegan company that can verify all of the products used in making their shoes are completely animal-free. This is a big deal, as often big companies have large supply chains and struggle to verify whether items are vegan. The fact that the folks at Will's can vouch for this is great for us ethical consumers.
As a company, they work under EU employment, discrimination and health & safety law, plus their factory has its own Charter of Human Responsibilities. All to ensure workers rights and their commitment as an employer. Great stuff Will's.
These boots are certified carbon-neutral and I was pleased when they arrived in completely plastic-free, recyclable packaging.
Overall a huge thumbs up from us when it comes to their green and vegan ethos!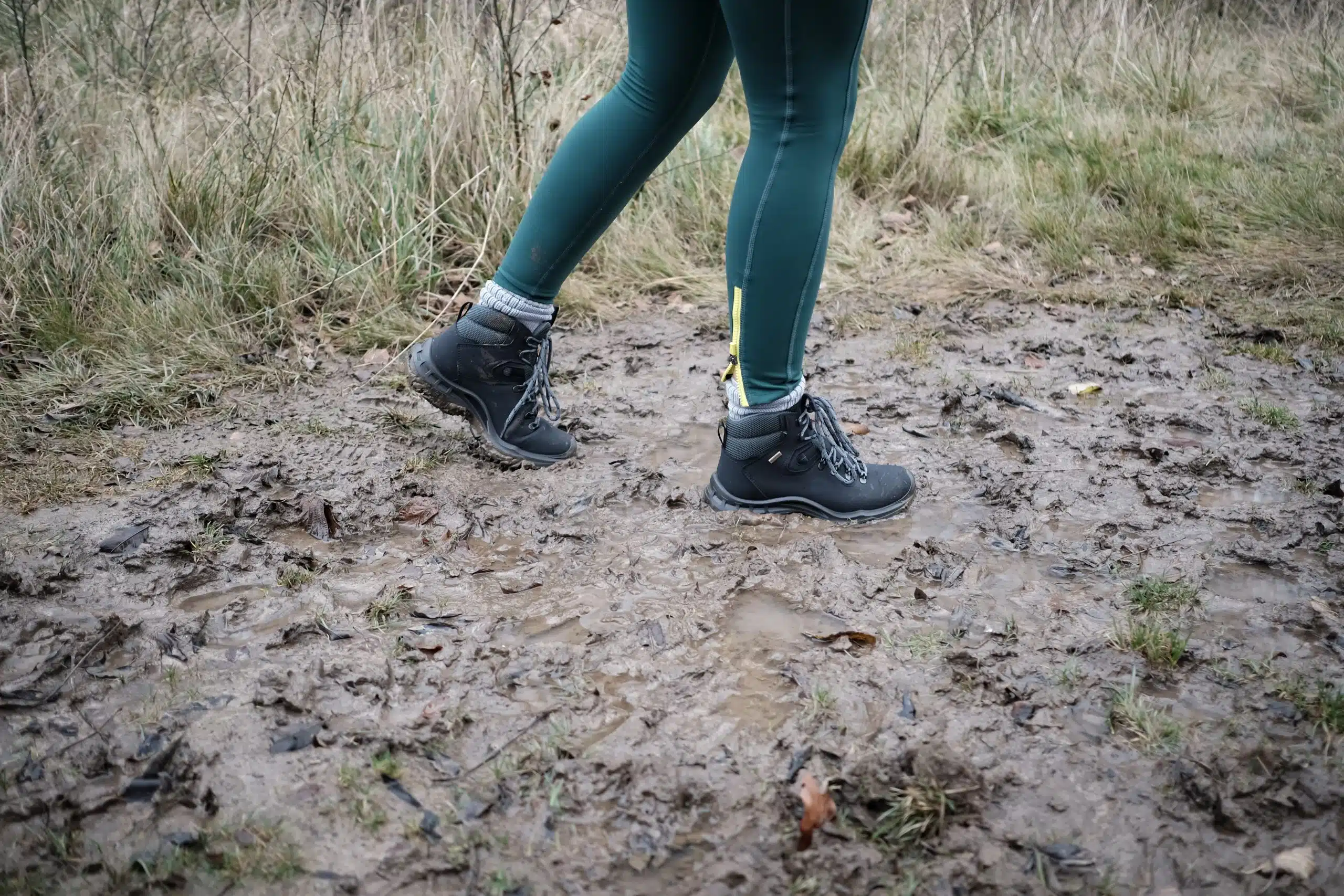 ---
---
Price 4/5
The price tag for these waterproof hiking boots is average of what you can expect to pay. A fair price for such an ethical company and a great pair of boots.
Take a peek at our WV Sport Sandals review for your summer adventures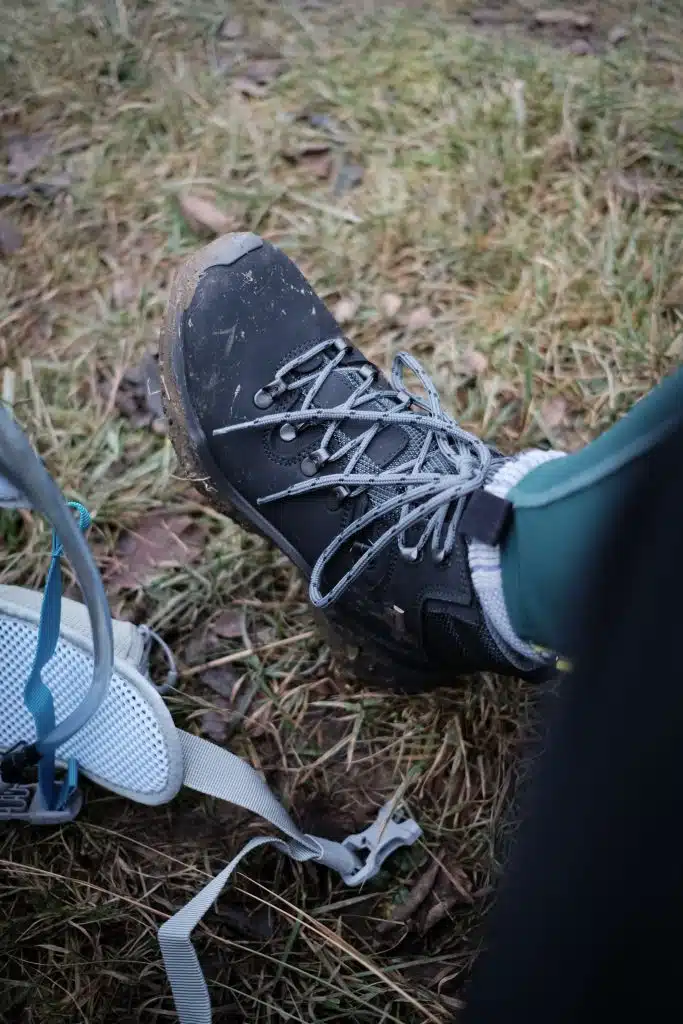 5. The Verdict
An impressive pair of vegan boots with impeccable waterproofing and grip for all-day comfort, from an ethical brand that stand by their morals.
Pros
Vegan and sustainable company
Impressive traction and grip
Comfortable and supportive
Cons
Only available in one design
Lacking sensitivity underfoot
6. Where to buy WV Sport Waterproof Hiking Boots
Will's Vegan Shoes deliver to the UK, Europe, USA, Canada, Australia, New Zealand and the rest of the world which they specify on their website.
7. FAQ's
Do Wills Vegan Shoes hiking boots run large?
Will's say their hiking boots size a little large to allow room for thicker hiking socks and swelling from your feet when walking. They recommend sizing up if you're in-between sizes.
Are Wills Vegan Shoes sustainable?
Wills Vegan Shoes are a 100% vegan company with an ethical ethos behind their business. Their products are carbon neutral and they have a high standard of workers rights.
Are WV Sport hiking boots waterproof?
Yes, they offer waterproof protection to the top of the tongue.