The outdoor action doesn't have to stop during the colder months – these winter hiking tips will help you hit the trail no matter the temperatures!
---
When winter arrives, you have two options: sit indoors killing time until the warmer months come OR kick back the duvet and embrace the frosted mountains, snowy woodlands and frozen lakes… I know which one I'll be choosing.
Sure, it's a little chillier but the key to winter hiking is to be prepared!
Just a little bit of extra knowledge and the right winter hiking gear is all you need to make the most of those frozen landscapes.
This guide covers all bases, with expert tips for cold weather hiking, how to plan your trip, essential packing lists, clothes to wear and safety precautions specifically for hiking during winter months.
Jump ahead to:
This article contains affiliate links. If you make purchases through these links we may make a small commission, this is never of any extra cost to you but helps support Veggie Vagabonds – thank you!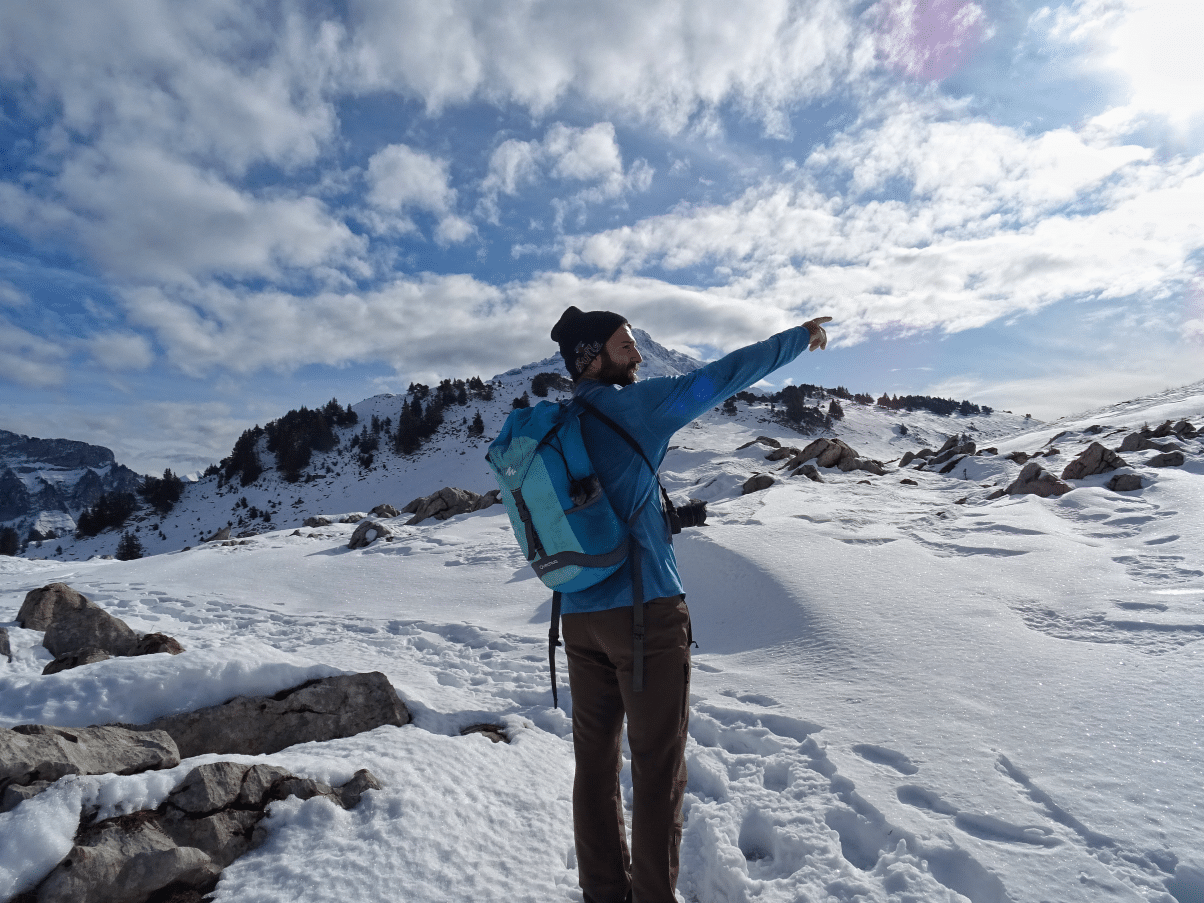 Why winter hiking is so darn fantastic?
Winter completely changes the landscape around you and your whole hiking experience. You quite often get the trail to yourself, with a winter walk showing you completely different wildlife and vegetation too.
Still, the highlight has to be hiking in the snow or a heavy frost. There's a beautiful calm to padding your way along the crunchy surface, particularly if you're the first one to break the track.
The cold temperatures bring frosted peaks and frozen lakes, icicle-laden ridges and snow-covered trees. Whether you're working hard on technical routes or traipsing around white woodlands, there's stillness in the air and only the sounds of your breath, movement and the elements around you. You feel part of the environment and it's unbeatable.
There really are so many awesome experiences that you can only find hiking in the winter so it's well worth the extra planning and consideration.
To experience this, you'll find all the tips for winter hiking you need further down!
1. Planning and considerations before your winter hike
Whether it's snowshoeing in French mountains or ambling through the Peak District, before you've even hit the trail, there are a few things you should consider.
1. Find safe winter hiking destinations and do your research. Just because you know an area to be good in the summer doesn't mean the same applies when hiking in winter. Landscapes can change especially if you're hiking in the snow or ice so keep safe and plan accordingly.
2. Don't pick a challenging or technical hike. Cold weather and icy conditions can be a hike much more difficult. Unless you're experienced with winter mountain skills, go for a hike you feel comfortable with.
2. Don't expect to hike as far or fast as you can in the summer. Winter and particularly snow hiking takes a lot more time and energy, so start small and leave early to make sure you're back before dark.
3. Tell someone where you're going. This way, if you do run into any trouble, help can get to you quicker.
5. Plan sheltered places to eat your lunch. Stopping for a rest in snowy or freezing conditions can be difficult. Incorporate places into your hike that are easy to top up on food and fluids. Chalets are perfect!
If you're new to hiking we 100% recommend you take a look at our Beginner's Guide or 10 Hiking Tips before heading out in the winter months!
6. Always remember to check the weather. And, if the conditions are too heavy then consider rescheduling. If you're unsure, call the local tourist board for accurate forecasts, advice and avalanche risks. It's better to be safe than sorry with winter hikes!
8. Take an experienced friend. If you're a newbie to winter hiking then take a buddy who is confident, listen to their advice and learn from them.
9. Think about how you're getting to the trail and back. Remember that seasonal conditions might block roads, cause diversions and winter public transport options can be limited. If you're driving watch for your car freezing and for all hikers – BRING SOMETHING WARM AND DRY FOR THE JOURNEY HOME!
10. Be extra vigilant about your winter hiking gear. It's really important to have reliable outdoor gear for winter. Make sure you have enough warmth and weather protection, also checking your equipment is fully working. Double-check you've got everything and maybe even buddy-check with fellow hikers.
11. Take extra winter clothing. In winter, it's always better to have it and not need it, than need it and not have it, particularly if you predict wet or cold conditions. Even something small like soggy soaks can be a real pain.
Enjoying these tips? Find plenty more outdoor resources and expert advice by signing up for our mailing list below!
2. What to wear hiking in the winter
Winter can bring freezing temperatures and this sometimes mean you'll be hiking in the snow or ice. For these conditions, wearing the right clothing is absolutely crucial to keeping you safe, warm and stop your extremities from feeling like they're going to fall off – or even falling off…
First and foremost, invest in the essential winter hiking gear. It's much better to spend more on the important bits and skimp on the rest.
You'll find loads of info on what to wear hiking in winter over on our Packing List, but we'll go over the basics here too:
Waterproof hiking boots, mountaineering boots specific winter boots – going for winter hiking boots over shoes will give you more warmth, protection from the element and better ankle support (handy for slippy surfaces).
Warm walking socks – best to go for high-ankle boot socks
Hiking trousers (hiking pants) – make sure they provide enough warmth but are also quick drying
Potentially waterproof trousers (pants) – these are good for keeping you dry and also warm. If it's going to be wet or snowy then they're a must. We wear these from Mountain Hardwear (UK men's & women's // US men's & women's)
Thermal/synthetic baselayer – something moisture-wicking and warm enough for your conditions. Our ones from Sub Sports are cheap and seriously warm (UK men's & women's / US men's & women's)
Synthetic midlayer – a great option would be a warm fleece for winter hiking or synthetic insulated jacket. The Arc'teryx Atom LT is amazing (UK men's & women's / US men's & women's) or check out our full review here.
Waterproof shell jacket – one of the most crucial parts to protect you from the elements – go for the best waterproof jacket possible, our choice is the Arc'teryx Zeta (UK & US)
Winter hiking coat – if you'd prefer a thicker outer layer, a coat can be a better option. Find more info in our Guide to Winter Outdoor Coats.
Gloves, hat & neckwarmer
Why all the synthetics? Synthetic materials are typically quick-drying and will stay warm even when wet (very important for winter hikes). They'll be vegan too!
Keep reading for more winter clothing tips and essentials!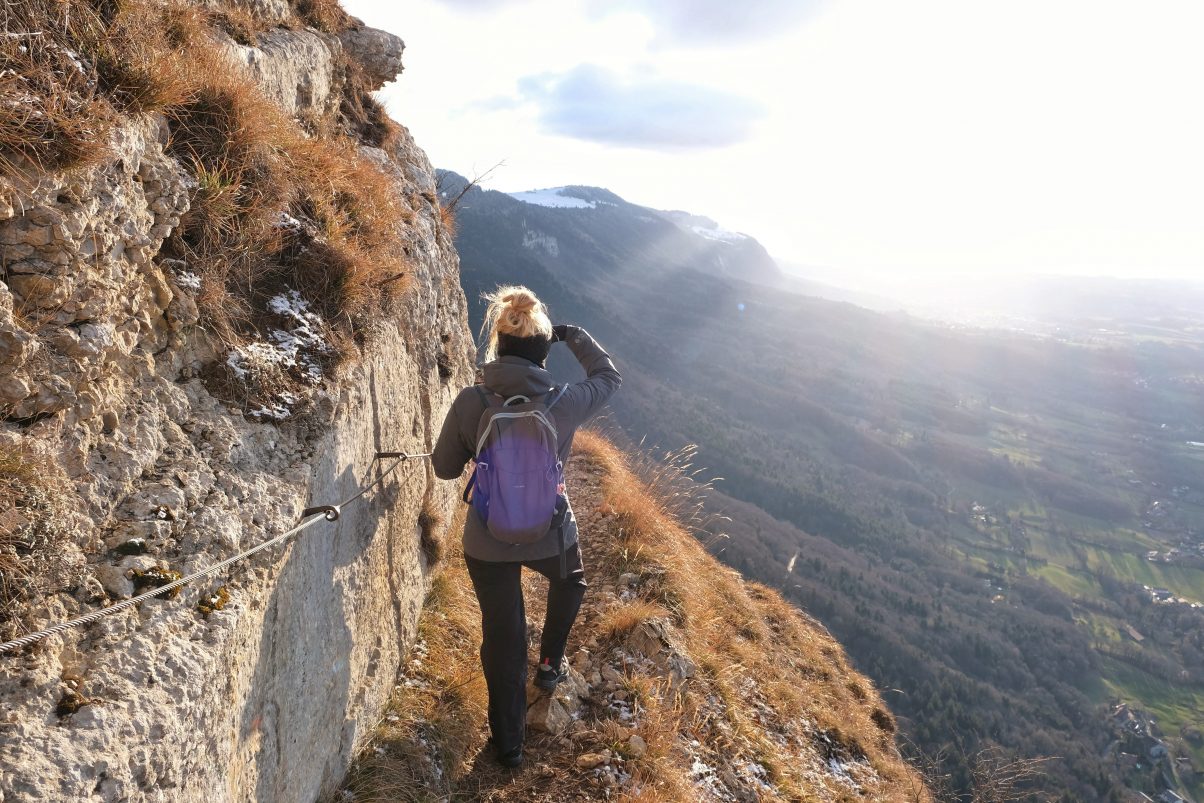 3. Layering tips for the winter
For cold conditions, you need to take a leaf out of Shrek's book and think of yourself like an onion. Layers are the key to really enjoy hiking in the cold. You can find a full breakdown in our Vegan Winter Clothing and Layering Guide, but here's the idea:
Basic layering should include (1 = first layer, then add):
Thermal baselayer – this can stop the need for excessive outer layers which can weigh you down
Wicking layer – a wicking baselayer will regulate your body temperature and help moisture away from your body – crucial for cold-weather hikes!
Insulating middle layer – this keeps air trapped close to your body and provides insulation. You can have multiple mid layers and a combination of fleeces and insulated jackets.
Waterproof outer layer/shell – if it's wet or you're hiking in the snow, a waterproof jacket and trousers will keep your other layers dry and protect you from the wind.
It can be better to add inner layers rather than adding one big layer on the outside. This gives you more flexibility and better regulation of your body temperature.
Top tip: don't neglect your hands, head and face! You'd be surprised how much additional warmth you can get by adding gloves, a hat and a neck warmer you can pull over exposed skin.
Think it's going to be wet? Our Guide to Hiking in the Rain has plenty of extra tips on staying dry, something which is pretty damn crucial through the winter!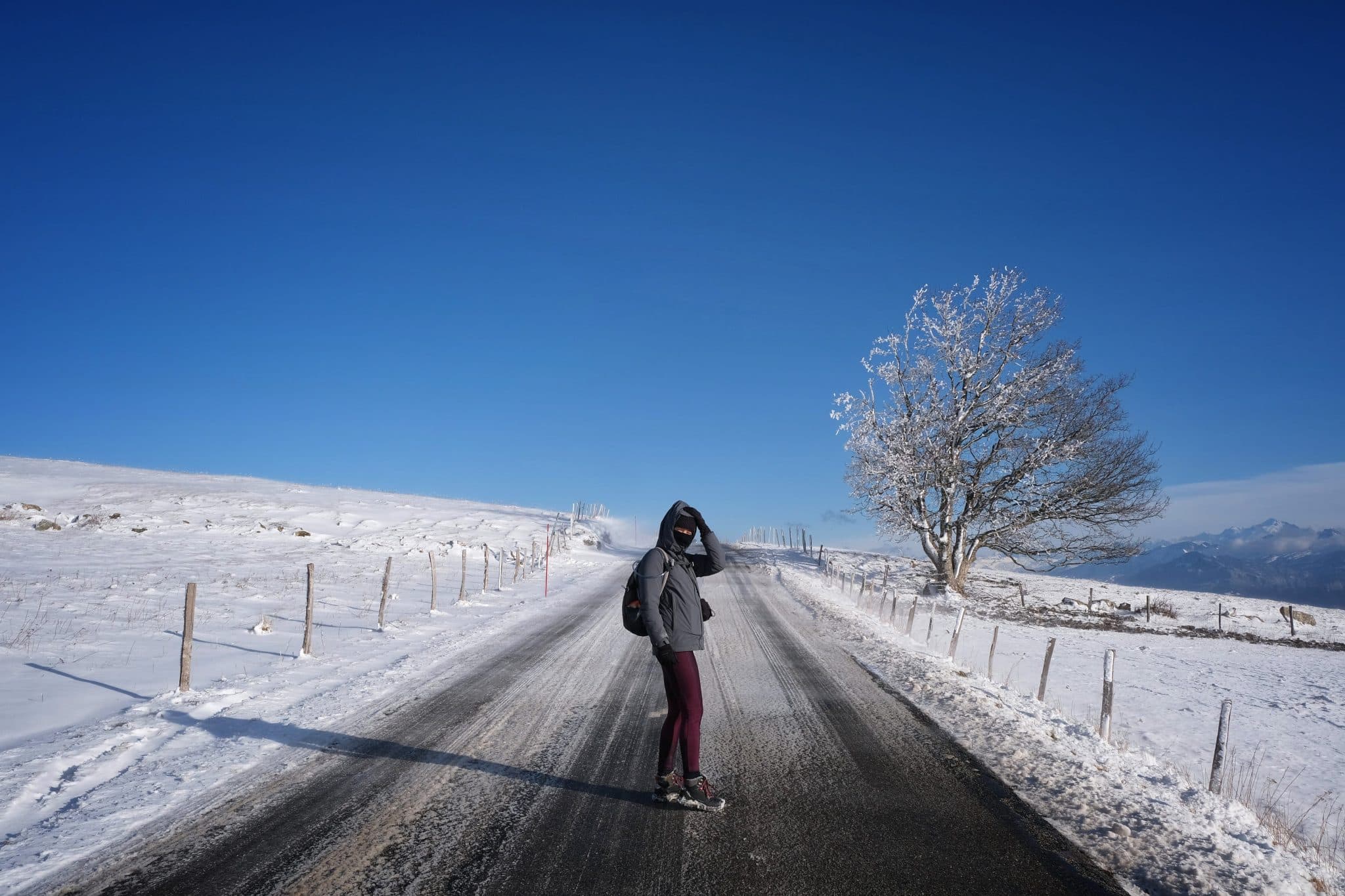 4. Extra winter hiking gear to consider
These are some extra things you should think about if you're going to be in the white stuff or alpine conditions.
Waterproof gaiters – if you're going to be hiking in snow or very wet conditions, these will stop you getting moisture into your shoes or wet hiking socks. We use cheap ones from Decathlon.
Snowshoes – essential snow hiking gear if it's heavy enough. BUT, hiking in snowshoes is hard work and only needed for thick, fresh snow so consider whether it's appropriate. Our TSL snowshoes have served us well (UK / US).
Crampons or micro spikes – trails can be covered in slippy snow or ice so crampons will give you traction. We recommend the Grivel G12 crampons (UK / US) and Yaktrax microspikes (UK / US).
Goggles – for harsh, wintery conditions, ski-style goggles can help with visibility and stop snow/rain/wind from going in your eyes.
Headtorch

– you'll be that bit more prepared for when nightfall creeps in

. Our Black Diamond Storm is great (UK / US).
Hiking poles– a good idea when the terrain can be slippery. Another option we've gone with Black Diamond (UK / US).
Sunglasses – if there is snow or ice, the sun's reflection can be EXTREMELY strong – sunglasses can be a godsend!
Hiking rucksack – something comfortable enough to carry all your hiking essentials and extras.
Looking for a great winter trip? Snowshoeing in Chamonix, France (that's where most of these photos were taken) was unforgettable and is home to some of the best winter hikes you'll find!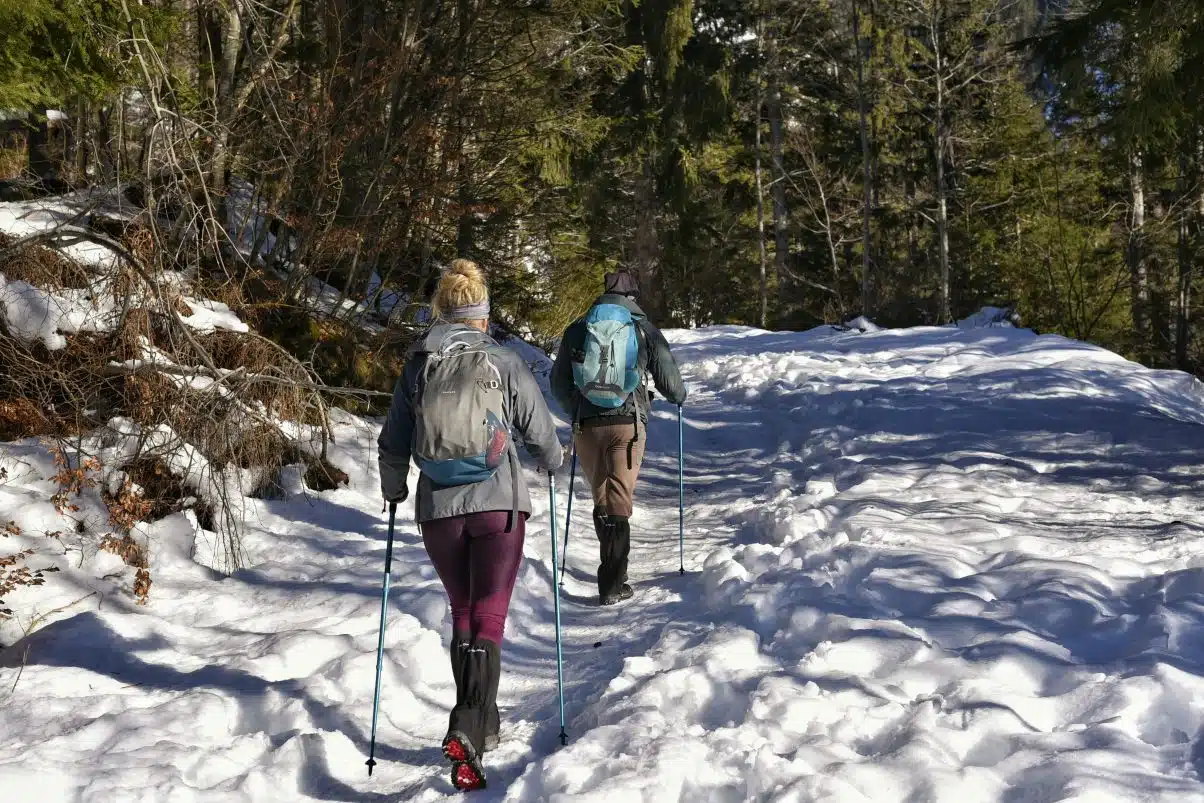 5. Tips for hiking food
Hiking during winter can burn a lot more energy than usual, plus freezing temperatures can affect not only what but how you eat.
In cold conditions, you should opt for a short lunch break to avoid being still for too long.
Bring on-the-go hiking snacks that you can eat quickly or even without stopping. Things such as flapjacks, dried fruit and trail mix are ideal for when you need a quick boost.
Our list of the Best Vegan Hiking Food has some great inspiration for the trail!
6. Staying hydrated
Even with cold weather hiking, hydration is of the utmost importance as you're still burning energy and sweating.
Water bladders may not be so practical if you're hiking in freezing temperatures as the tube can freeze completely. Instead, opt for a water bottle/flask, taking sips frequently as this will stop the water inside freezing.
Top tip: take a flask of hot tea or coffee! Sipping something hot will warm you up and you'll be glad for it in frosty surroundings.
7. Tips for multiday trips, backpacking and camping in winter
If you're planning an overnight trip then cooking in the tent can warm you up. On the downside, this can also cause water condensation to form and then freeze, so don't leave that stove running for too long!
Also, if you find yourself extremely cold at night, try chewing a mouthful of sweets just before bed. This helps your body generate heat as you digest the food, helping to keep you that little bit warmer till sunrise.
How to stop your water bottle freezing overnight? You can bring the bottle into your sleeping bag or bury it in the snow to help stop it freezing!
8. Winter safety tips
When you're in a frozen utopia of snow-draped trees and frosted peaks, it's easy to get lost in the moment. In these untamed landscapes, having your wits about you is key to avoid a nasty accident. These tips can help:
Make sure you bring all the winter hiking essentials and adequate clothing for the trail
Bring enough food and drink to keep your fluids topped up and energy high
Double-check your hiking packing list before leaving
Make sure to bring extra food, drink and layers
Keep local emergency numbers to hand, make sure someone knows your plans and keep a phone battery saved for emergencies
Be confident with your navigating and take backup methods e.g. map & compass PLUS a hiking GPS
Stay alert and watch the conditions for changes or daylight fading
Don't be afraid to turn back if the conditions change or you're not feeling confident – it's better to be safe than sorry!
Have a basic knowledge of cold-related illnesses and injuries – we've listed a few below…
Frostbite
Frostbite is the freezing of body tissue occurring most commonly in places like your ears, fingers and toes. Symptoms include:
Cold, pale and waxy skin

Tingling or numbness

Skin may feel soft if partially frozen or hard if fully frozen
Read more about the symptoms of frostbite and how to treat it here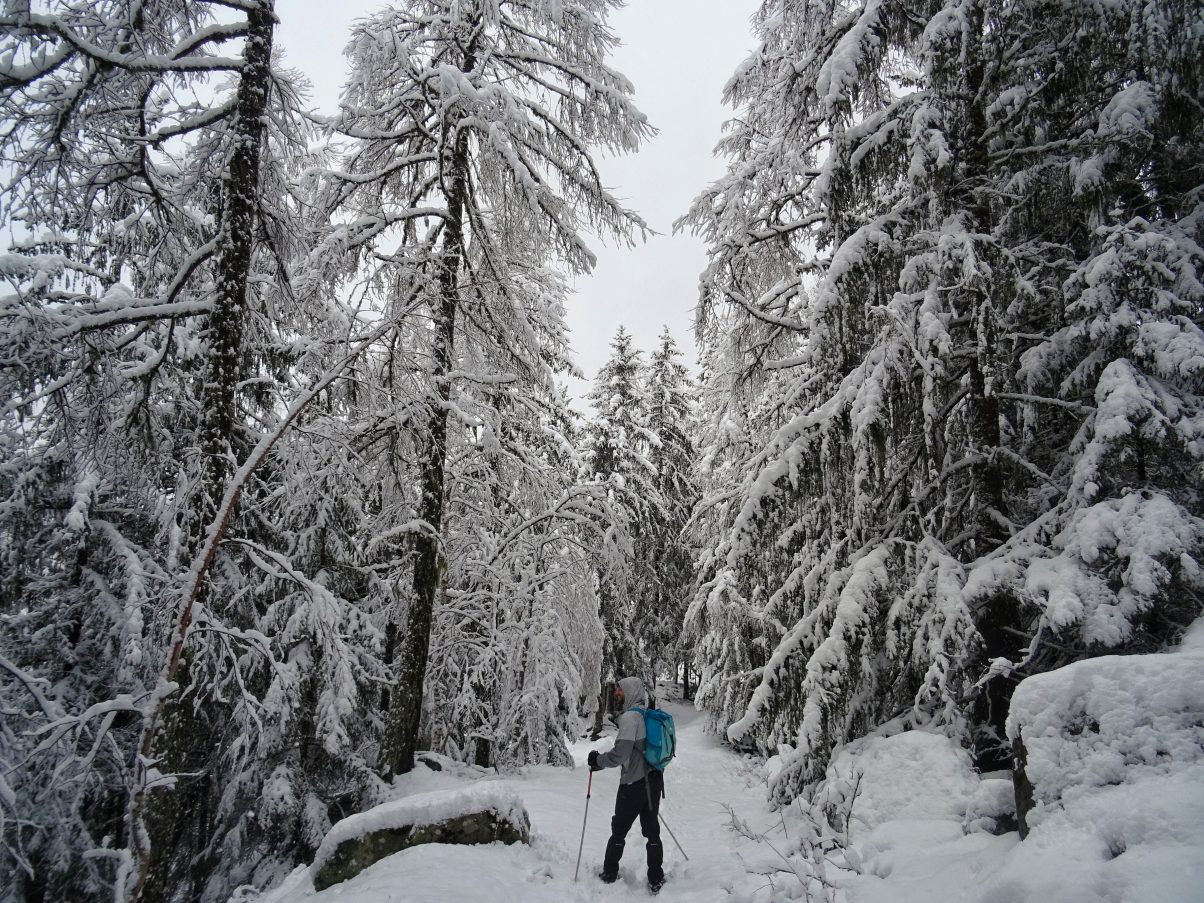 Hypothermia
Hypothermia is caused by your body's temperature dropping below normal. And, it's not always just from cold temperatures either, cold rain or exposure to a river can also cause hypothermia too. Symptoms include:
Shivering mildly up to intense shaking

Clumsiness (not being able to tie laces, walk properly, losing balance etc.)

Slow thinking or confusion at the milder end ranging to a heavy deterioration of mental state

In severe cases, shivering may stop due to energy depletion

Pulse may be undetectable
Find more about hypothermia here, and how to treat it
Sunburn
You may think that suncream would be the last thing to worry about hiking in the winter? Well, you'd be mistaken! The sun's rays can still cause a lot of damage, especially on your exposed face reflecting off the snow. Slap on the suncream to avoid any nasty burns whilst climbing up high!
And remember, if everything really does go tits up then don't be afraid to call mountain rescue!
All the Winter Hiking Tips You Need to Embrace the Colder Months
Hopefully, this guide answered any questions you had about winter hiking. Really, as long as you're prepared, getting out there in the colder temperatures is an incredible experience – well worth a few more layers and preparations!
If you do have any other questions, drop us a comment below. Until then, happy hiking!