Winter hiking tips to make the most of your adventures during the colder months and keep you warm on the trail
Winter has arrived and you have two options: you can either sit indoors killing time until the warmer months come or, you can kick back the duvet, embrace the beauty of this season and go explore some icy mountains, snowy woodlands and frozen lakes… I know which one I'll be choosing. Sure it's a little chillier outside but the key to winter hiking is to be prepared!
Getting out in the right clothing, with sensible gear and a little bit of knowledge is all you need to make the most of those wintery untouched landscapes. This list covers all bases from how to prepare, what to take and the safety precautions for when hiking during winter. Enabling you to get outside, and clamber up those snowy peaks without a moment's hesitation.
In this guide you will find:
This article contains affiliate links. If you make purchases through these links we may make a small commission, this is never of any extra cost to you but helps support Veggie Vagabonds – thank you!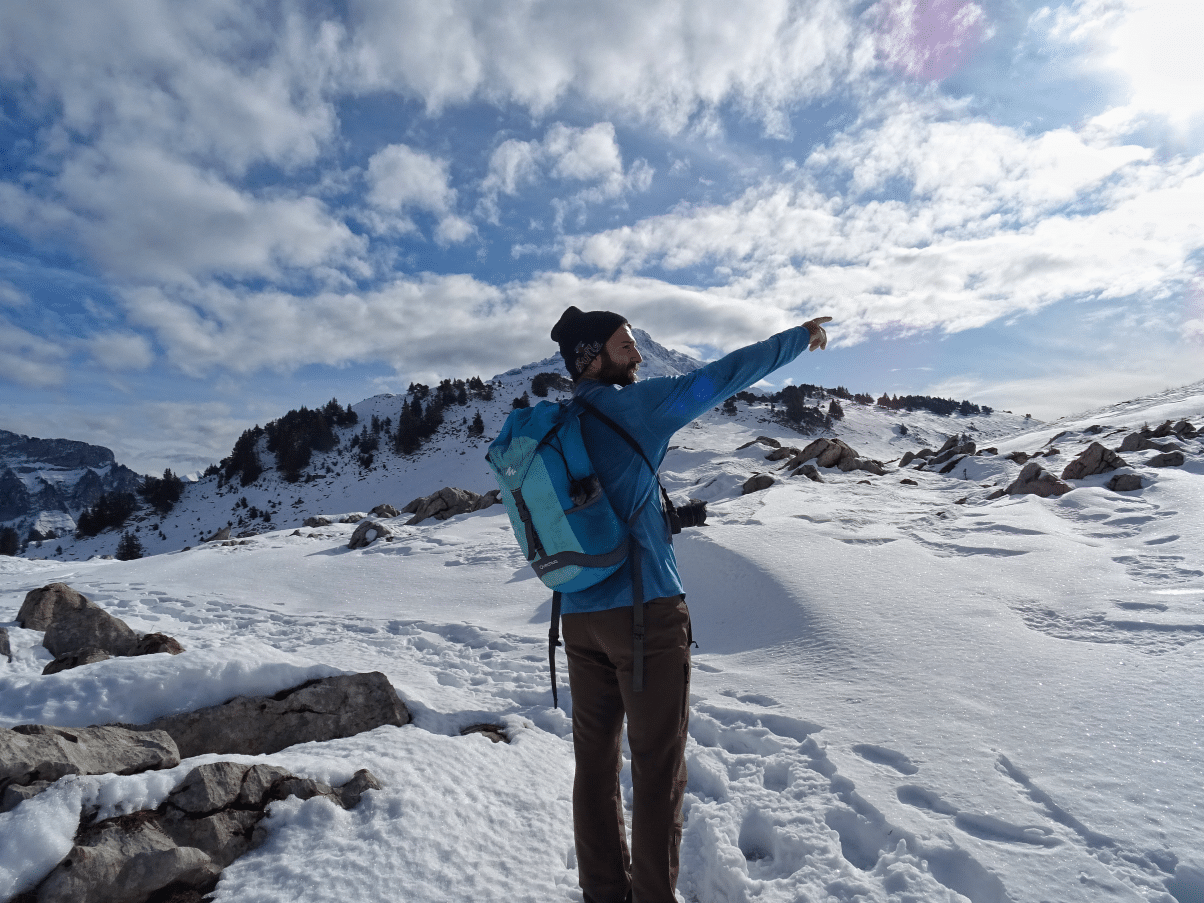 Why winter hiking is so darn fantastic
Depending on where you're from in the world winter can get kind of a bad press. For some, it's the opportunity to discover the same landscapes in a whole new way, ripe for exploring, however for some it's that cold time of year when you don't want to venture outside much.
Incorporating these tips into your winter hike will enable you to get out there with ease. Having spent winter in amongst the rugged surroundings of the Peak District, UK and the towering peaks of the French Alps, we can vouch that wintertime is so much more enjoyable when you appreciate the novelties of this time of year.
Winter hiking introduces the possibility of a whole new adventure, as you clamber up peaks with atmospheric skies and the sound of frosty grass crunching under your boot. The chance to witness snowfall atop your local peak, and stumble across frozen bodies of water from puddles to skid along and lakes to behold. There so much beauty dominating this time of yeat so don't let it pass you by.
Planning and considerations before your winter hike
Before you've even hit the trail, there are a few things to consider in the preparation process for a winter hike.
1. First and foremost think about finding winter hiking destinations, and do your research. Just because you know an area to be good in the summer doesn't mean the same applies when hiking in winter. Landscapes can change especially if you're hiking in the snow and ice, so doing your research will ensure the trail is accessible in the cooler months.
2. With that in mind, don't expect to hike as far or fast as you can in the summer. Start small and early, this ensures you are hiking within your ability. Plus, with shorter days this makes sure you're back before nightfall. It's not a good idea to be stranded on an icy mountain in the dark.
3. A good idea whenever you're heading out hiking is to tell someone where you're going. That way if you do run into any trouble help can get to you quicker which could avoid any difficult situations.
4. When hiking in winter pick a route with an uphill trail, this will get your blood pumping and keep you warm. You'll probably be stripping off layers before you're a mile in, but that's a good thing as you'll be putting them on as quickly as you took them off at the top.
5. When planning your hike consider places you can stop and warm your cockles like pubs or chalets, depending on where in the world you are. If you're going to be hiking in very snowy or freezing conditions stopping for a rest in the great outdoors is going to be near impossible. If there are places along the route you can easily make a pit-stop be sure to incorporate them into your hike.
6. Another biggie that is sometimes overlooked, is always remembering to check the weather. It may seem obvious but you'd be surprised how many people overlook this detail. Failing to check can be the difference between an enjoyable hike and a battle for survival. It may mean changing your plans, but not doing so could end up badly, so always proceed with caution. If you're unsure call the local tourist board for the area. They can give you advice on whether it's safe to hike, and if there is a risk of things like avalanches in the area.
7. Things can get hairy pretty quickly in the wild which can put you at great risk, so don't be afraid to turn back. It's always nice to achieve something you set out to do, like reaching the summit of the peak you've been clambering up, but sometimes the natural world has different plans.
This is especially true in winter when the weather can take a fierce turn, or the terrain can suddenly transform into a cliff face ice rink. In these situations be prepared to turn back. Live by the mantra it's better to be safe than sorry and don't be that wally trying to prove how cool they are. Make sure you know when to push on and that nature is always the boss.
8. If you're one of those wallies it's a good idea to take an experienced friend. I like to think that's why J has me (; But seriously if you're a newbie to winter hiking take a friend who's done it a few times before. Listen to their advice and learn from them. They're still alive after all their winter hikes for a reason.
9. Don't also assume that once you've finished your hike you're out of the woods, make sure you have a plan of how to get home. In the winter public transport can be sporadic and snowy conditions can affect roads so have a plan and a back-up to make sure you can get home safely. If you have driven to the trail also bear in mind that snowy conditions can result in your car freezing so again having a back-up is always advised.
10. Gear is always important but even more so when you're hiking in winter. Before you leave the house check that you have everything you need, then check again just to be sure. It's better to have it and not need it then need it and not have it.
11. If you predict wet and cold conditions it's not a bad idea to take a spare change of clothes. This will avoid soggy sock syndrome which is enough to put a dampener on any day.
Planning an adventure? Check out our guide!
What to wear hiking in the winter
Hiking during winter can mean freezing temperatures and sometimes even hiking in the snow. This means that wearing the right clothing is crucial to keep warm and stop your extremities from feeling like they're going to fall off – or even falling off…
First and foremost – invest in good quality gear. This means clothing made from the right materials to keep you comfortable on your hike. Materials such as cotton aren't good for hiking as moisture sticks to them. Look for wicking fabrics such as polyester which draws moisture away from the body keeping you from being a wet sweaty mess, which can be dangerous in cold climates.
Take a look at our packing for a day hike essentials, which includes all the necessities needed to hit the trail plus a specific section on what to wear hiking in the winter.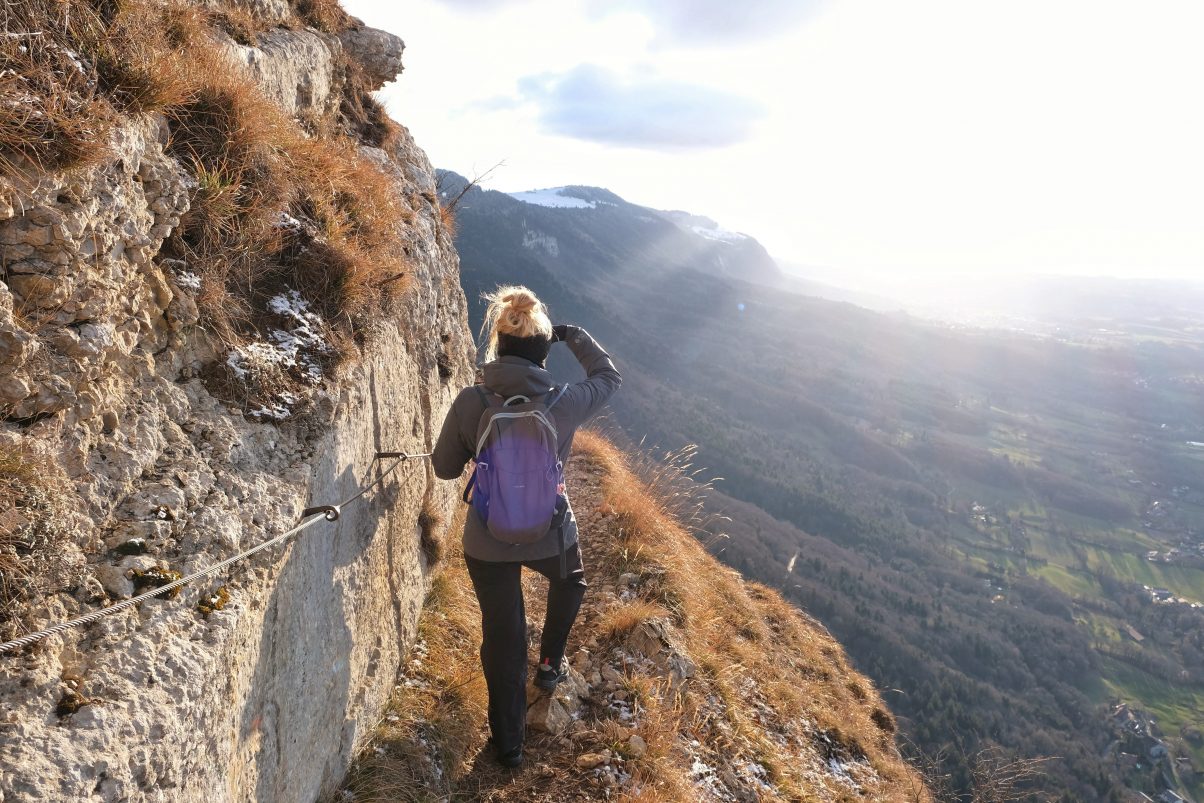 Buying quality gear then throwing it on willy-nilly won't suffice either. Here is where you need to take a leaf out of Shrek's book and think of yourself like an onion. That's right layering up is the key to hiking in winter.
Basic layering should include:
You can always add more inner layers if you're hiking in freezing temperatures, this will keep you warmer than adding one big layer on the outside. Plus being able to take off a layer at a time will enable you to regulate your temperature more easily.
Top tip: wear a hat or ear warmer. You lose a lot of heat from your head and putting on a cosy hat can be like adding another layer.
Winter hiking gear
Unlike in summer, hiking during winter requires a lot more gear. Freezing temperatures and icy terrain mean you can't just lace up your trainers and hit the trail. Don't let that put you off though. With just a few essentials, hiking in winter can be just as accessible.
Much like with clothing, investing in the right stuff here will benefit you on the trail. Sourcing quality gear that lasts means you'll stay comfortable and protected on the trail. This also benefits the environment, rather than getting a new jacket every season if the last one let you down.
A winter hike can vary from a soggy stroll in your local woods to an uphill climb in a blizzard so as I said before, checking the weather is crucial to ensure you're prepared. Know what you're in store for and pack accordingly to make the most of your winter hike.
Some essentials you might need are: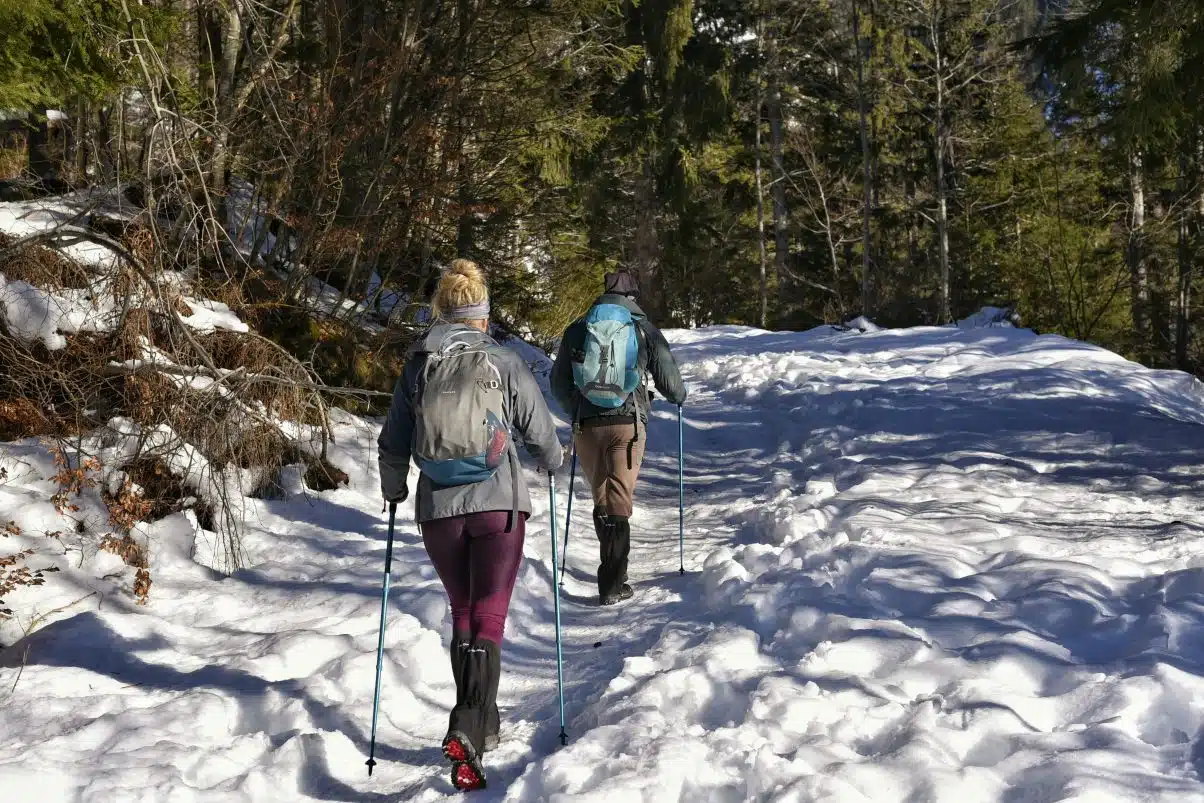 Hiking food and drink for hitting the trail in winter
Food and drink is your fuel when exploring in the great outdoors, so it's crucial you fill your tum with the right stuff. Hiking during winter can burn a lot more energy than usual, plus freezing temperatures can affect not only what but how you eat.
If you're hiking in snow then mountainside picnics are off the menu when lunchtime swings around. Instead, have a short lunch break to avoid being still for too long. In the cold, you need to keep your blood pumping to stay warm, having a short lunch will allow you to get moving again as soon as possible. If you need a little pick-me-up, make sure you bring snacks that you can eat without stopping. Things such as flapjacks, dried fruit and sweets are ideal for when you need a quick boost.
Check out our list of the best vegan hiking food if you need some more inspiration for your hike
Hiking in the winter may feel considerably cooler than in summer however, hydration is still of the utmost importance as you're burning energy and sweating still. That trusty water bladder may not be so practical though if you're hiking in freezing temperatures as the tube can after freeze completely. Instead, opt for a water bottle, taking sips frequently as this will stop the water inside freezing. Another top tip is to take a flask of hot tea or coffee. Sipping something hot will warm you up and you'll be glad of it in frosty surroundings.
If you're planning an overnight trip then cooking in the tent can warm you up. On the downside, this can also cause water condensation to form and then freeze, so don't leave that stove running for too long!
Also, if you find yourself extremely cold at night, try chewing a mouthful of sweets. This helps your body generate heat as you digest the food, helping to keep you that little bit warmer till sunrise.
Finally, once you're cocooned in your sleeping bag listening to the hum of the forest as you drop-off, be sure to store your water bottle upside down. This prevents the water from freezing inside top-down which can leave you reaching for snow to suck in the early hours.
Safety tips for hiking in winter
When you're lost in a utopia of snow-draped trees, surrounded by falling snow, scrambling over ice-covered rocks, it's easy to get lost in the moment. In these untamed landscapes, having your wits about you is key to avoid a nasty accident.
Start by leaving the house prepared with your first aid kit tucked securely into your hiking backpack. The first aid kit listed in the hiking packing list I mentioned above covers all the necessities including a foil blanket which is especially important in cooler climates.
It's also good to have a basic knowledge of cold-related illnesses and injuries so you can spot the signs early on, and avoid the conditions worsening.
Frostbite
Frostbite is the freezing of body tissue occurring most commonly in your extremities such as ears, fingers and toes. Symptoms include:
Cold, pale and waxy skin

Tingling or numbness

Skin may feel soft if partially frozen or hard if fully frozen
You can read more about the symptoms of frostbite and how to treat it here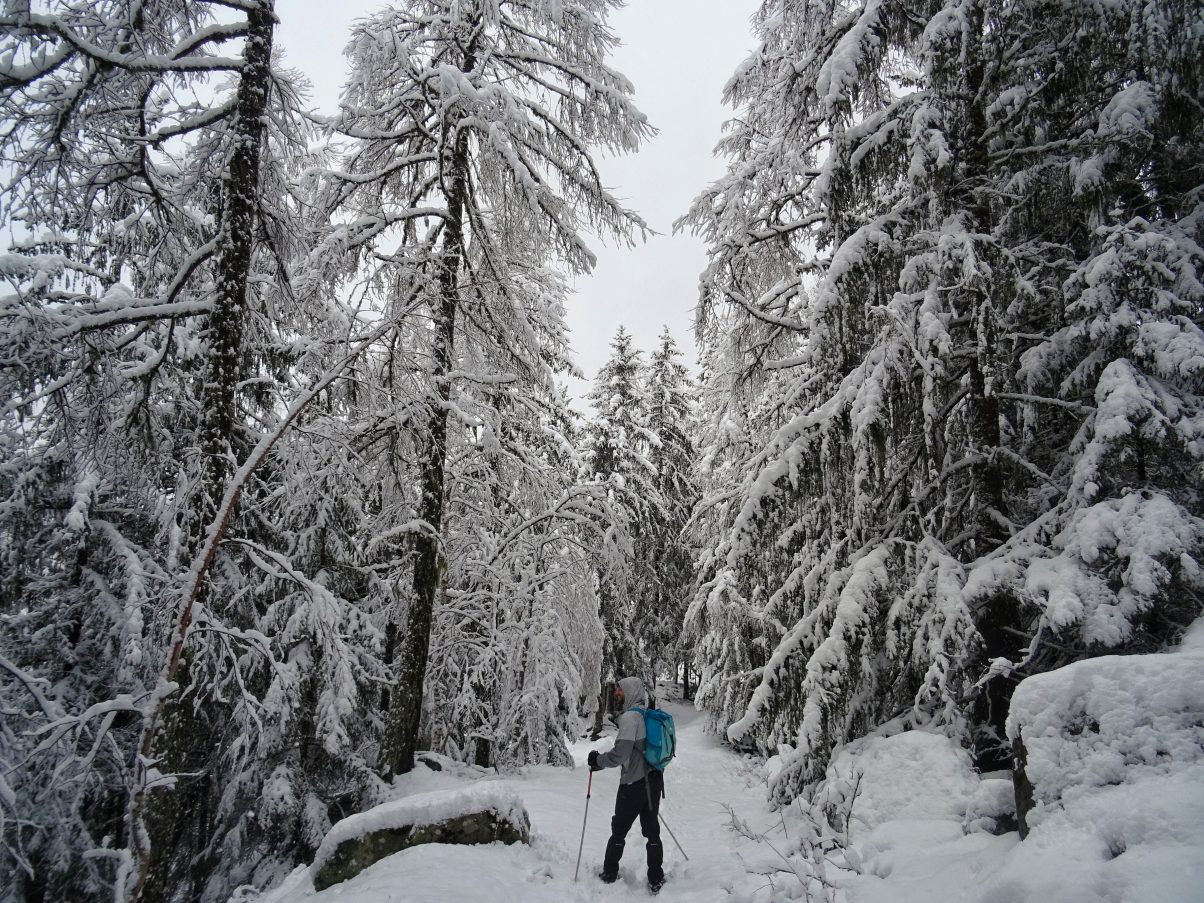 Hypothermia
Hypothermia is caused by your body's temperature dropping below normal and is not always caused by just cold temperatures. Cold rain or exposure to a river can also cause hypothermia. Symptoms include:
Shivering mildly up to intense shaking

Clumsiness, such as not being able to tie laces ranging to not being able to walk properly

Slow thinking or confusion at the milder end ranging to a further deterioration of mental state

In severe cases, shivering may stop due to energy depletion

Pulse may be undetectable
If you want you can read more about hypothermia here, and how to treat it
You may think that hiking in the winter will mean the last thing on your gear list is suncream. Well, you'd be mistaken! The sun rays can still burn in the winter especially on your exposed face reflecting off the snow. Slap on the suncream to avoid any nasty burns whilst climbing up high.
Remember, if everything goes tits up, call a local mountain rescue service for advice
Winter Hiking Tips for Avid Adventurers
Hopefully, this guide answers any questions you had about winter hiking and shows you that as long as you're prepared, getting out there during colder temperatures is actually pretty darn incredible. With stunning snow-dusted landscapes ripe for exploring use these tips to make the most of this season.
If you do have any other questions or have a tip of your own we've missed, drop us a comment below. Until then, happy hiking!
Keep exploring…
Hiking Tips for Beginners: 10 Steps Towards the Perfect Hike
The Best Vegan Insulated Jackets + Buyer's Guide
Peak District Walks: A Complete Guide to this Stunning UK National Park
Outdoor fanatic? Vegan adventurer? Nature lover? Sign up for our mailing list and you'll also get the Ethical Adventure Planning Guide!