My completely honest review of the Will's WVSport Oakes Vegan Trail Runners
---
So this is a slightly different review.
At Veggie Vagabonds we aim to share our favourite bits of vegan outdoor gear. Bits that we've tried, tested and loved.
Sarah has been so crazy about her pair of Will's Vegan Hiking Boots, I was SO excited to get my hands on these vegan trail runners from Will's. Particularly because they were developed by Fiona Oakes: a three-time world-record-holding trail running and passionate vegan activist.
Add this to heaps of rave reviews and I was seriously eager to take these vegan trainers for a spin.
But here's the thing… I didn't actually like them. And at the same time, I think they're one of the best vegan shoes I've found…
Keep reading and I'll explain exactly what I mean.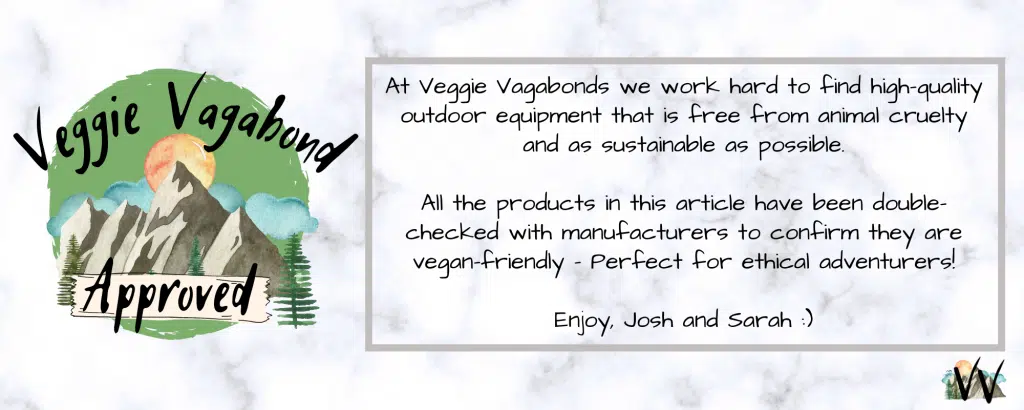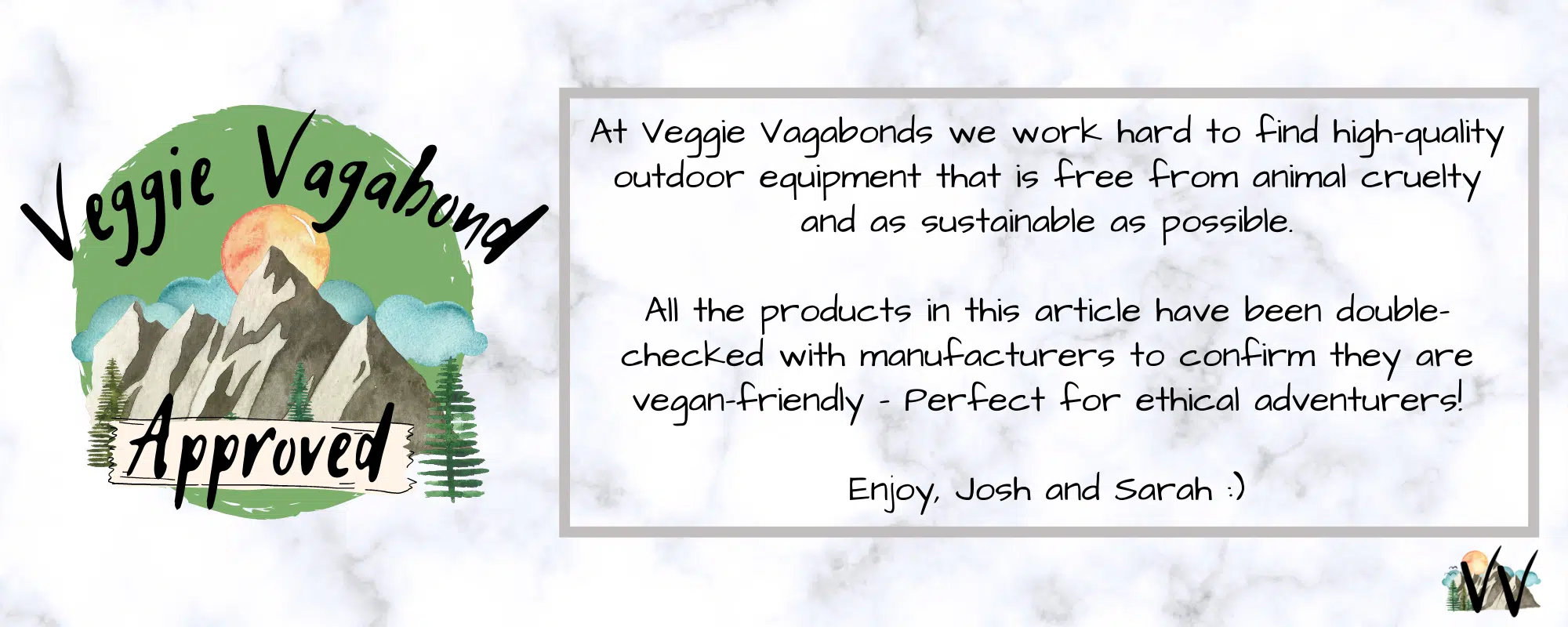 This product was sent to us to review by the manufacturer but the thoughts and opinions are completely our own. This article may also contain affiliate links.
Will's Vegan Store… a dream come true for vegan footwear
Will's Vegan Shoes are one of the early pioneers of completely vegan shoes and footwear.
Not only are all their products vegan-friendly, but since 2016 they've been a carbon-neutral company and use completely plastic-free packaging. They prioritise recycled materials, push to make their supply chain more eco-friendly and donate to lots of super important causes.
As well as doing lots of casual vegan shoes for men and women, they also have their WVSport Sustainable Activewear line, which had loads for us outdoor-loving vegans.
Seems almost too good to be true, right?
The question from us was: would their hiking boots be up to seriously tough hiking?
The answer was yes. Actually, they held up MUCH better than a lot of vegan hiking boots from the top outdoor brands.
Introducing the Oakes WVSport Cross Running Trainers
In a nutshell, these vegan trail running shoes have both men's and women's models, and are:
Designed for rugged trail running
Have Vibram injection outsoles with 5mm lugs
Ballistic welded uppers with Lyliane 3DMX abrasion-resistant materials
A speed lacing system
10mm drop
And, as mentioned above, they were designed by the queen of vegan running (and founder of Vegan Runners) Fiona Oakes.
SOLD.
---
Want more ethical gear guides and adventure content in your life? Sign up for our newsletter to get our latest posts and updates
---
Taking the Oakes Trail Runners running
Back when I first got the shoes, we were still living in North Yorkshire. I'd run 10-20 offroad miles in muddy, hilly and cold conditions. Most of the time it would be road to tarmac, then onto boggy fells.
I should also mention that my main running prior to this was the Inov-8 Terraultra G 270, a zero drop and slightly minimal running shoe which I'd done over a thousand miles in. And loved.
I first took the Oakes for the first spin on a local 10k muddy hill run in pretty atrocious conditions. And as much as I wanted to love them, I came back underwhelmed.
A few more runs later across different distances and terrains and I'd developed an opinion.
The Oakes just didn't suit me for running.
I'd gone from a 270g zero drop shoe to a much heavier option with a 10mm drop and just couldn't adjust to the transition. I felt heavy, bulky and less stable. On top of that, the huge change in drop was putting pressure on my knees and I found them too hot for warmer temperatures.
BUT!
Here's the thing, whilst I didn't enjoy them as a vegan running shoe, for different uses they KICK ASS!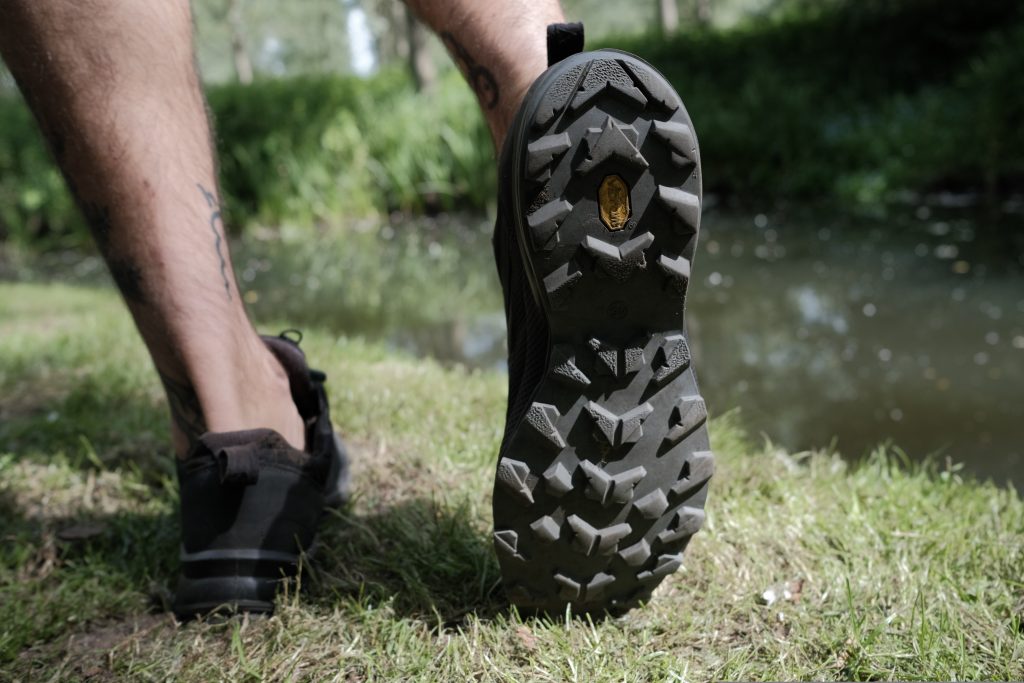 ---
---
Why I've still loved the WVSport Oakes Trail Runners
Thinking outside of the box, I started using the shoes as bikepacking, hiking and general adventure shoes, and I think this is where they shine.
Here's why:
Will's Shoes are built to such a high quality and are extremely durable, they're ideal for smashing about.
The lacing system is quick and easy to operate even with gloves.
They're seriously comfortable and the sole has enough rigidity to stop losing too much energy through the pedals.
The big lugs fit nicely into place on bike pedals but they're also rugged enough to kick ass for muddy hike-a-bike.
Though I found them too heavy for running, for mucky camping or bikepacking trips they're perfect. I used them for our winter Pennine Bridleway adventure – a week of cold, muddy and tough bike camping – and they excelled.
Both wild camping and hiking, these shoes have also been brilliant. I've worn them hard for months now, for biking, hiking, camping and DIY stuff too, and there are almost no signs of wear. Whilst they've not actually been used for many runs, they're now – by a country mile – my most worn pair of shoes.
Did I mention they look pretty smart too?
This means, and as much as I'd like to pretend I don't wear smelly shoes all day, I DO end up wearing them all the time. Inside, outside, into the wild and into town. Once the mud is wiped off, they fit in at the pub just as they would in the mud.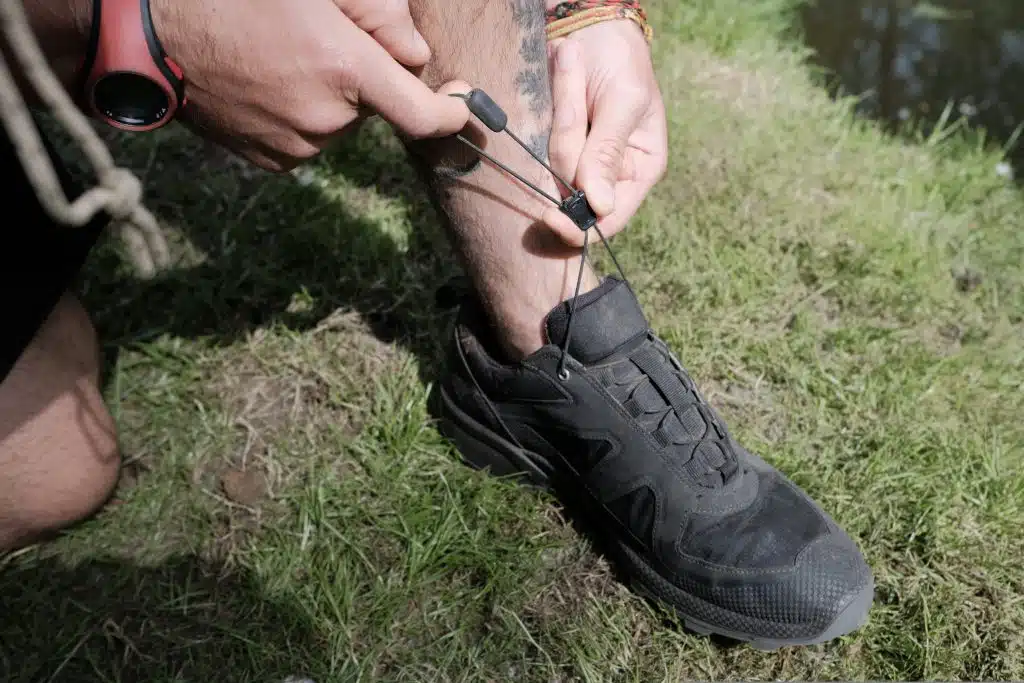 Should you buy the WVSport Vegan Trail Runners?
These shoes would be ace for:
Bikepacking/cycling trip where you'll spend a lot of time off the saddle or pushing
Backpacking trips in milder conditions
Travel shoes that are up to adventure
Being black and smart makes them pretty versatile. You could hike your way to a fancy dinner and still look the part.
I do think that they're suited to milder conditions though. With the solid build and durability, the ventilation isn't great and I think you'd get too hot in steamy summer conditions. Though for most stuff in the UK, I think you'd be alright.
With all this in mind, they'll be my primary shoe for our coming long-distance cycle tour. I need a do-it-all shoe that can be worn to cycle, hike, go into town, camp and generally put up with a battering. I think the WVSport Oakes ticks all the boxes!
Price and where to buy the WVSport Oakes Trainers
At the time of writing, these shoes are £97 on Will's official website, with a £3 carbon-neutral delivery in the UK, and almost global delivery options.
For less than £100, I think these shoes give you some serious bang for your buck. Nowadays, most vegan running shoes are £100+ and the additional versatility can save you money from buying other pairs for hiking/biking etc.
---