Hiking the Alps, Housing Scams and a Temporary Home
Our Journey Week 15
---
If there's one thing I've learned in life, it's to expect the unexpected. If you'd told me 6 months ago we'd be renting an apartment on the border of Switzerland and France for the summer I wouldn't have believed you. But, here we are, renting an apartment on the border of Switzerland and France, soaking up the culture, trying to save some money and, most importantly, hiking the Alps. Life is a funny thing but it's variety and spontaneity that keeps it exciting!
Homely feelings abroad
We always knew we would be spending a bit of time in this region. Beth, a good chum from home had spent the last few years working in Geneva and living just across the border. Sarah and Beth are childhood best friends, pretty much like sisters, so we planned to visit for a few weeks after finishing our Via Rhona cycle route from Lyon. Beth kindly offered us a spare room and once again we were sleeping in a bed rather than a tent.
Seeing faces from home is always beautiful no matter how long you've been away, it's a refreshing reminder of where you've come from and your roots. Beth lives in a small town called Ferney-Voltaire (yes, the original home of Voltaire) literally 2 km from the Swiss border, and though this was a new destination for us it still had a very homely feeling.
We met her housemates: Lucie, an energy-packed outdoors enthusiast who gave us the lowdown on hiking the Alps, and Simone, a warm and enthusiastic engineer working at CERN (the place with the Hadron Collider!). It felt like a big mismatched family almost immediately. Though everyone had job jobs (the type where you leave for at 8 am and come back far too late) our evenings were filled with delicious food, great wine and very amusing conversations.
The perfect base for hiking the Alps
With the house working during the day it was the perfect opportunity to explore our surroundings – we were blown away from day one. To one side of Ferney-Voltaire you have the imposing Jura mountains, to the other you have views of Switzerland, Lake Geneva and Mount Saleve. The real star of the show however is behind Geneva and you get the perfect view of the Alps, with Mont Blonc towering proud in the background. It captivated us straight away.
On our first hiking trip into the Jura we sat and just stared at the Alps for hours, fantasising at all the adventures less than an hour away. Our cycle back home was with the sun setting, downhill for 15 km, with the white peaks of the Alps directly in front of us. It was then we knew we'd be spending more than just a few weeks here.
We've been to plenty of incredible locations before, ripe with mountains and hiking trails but here seemed different. The thing that really captured me was how attainable it all was. We could literally jump on our bikes for a few hours and be slap bang in the middle of alpine hiking trails and mountain ranges. Turn it into a few day trip and we could cycle to Mont Blanc, hike the tallest peak in Europe and then cycle back. It was all bloody exciting.
During that cycle home we both shared the same animated feeling and when we got back sat down to formulate a plan. Beth had given us an insight into finding accommodation and work in Geneva and our bank accounts were definitely ready for a bit of TLC. We knew we'd be stopping to work at some points along the way to India and Geneva seemed like the perfect place.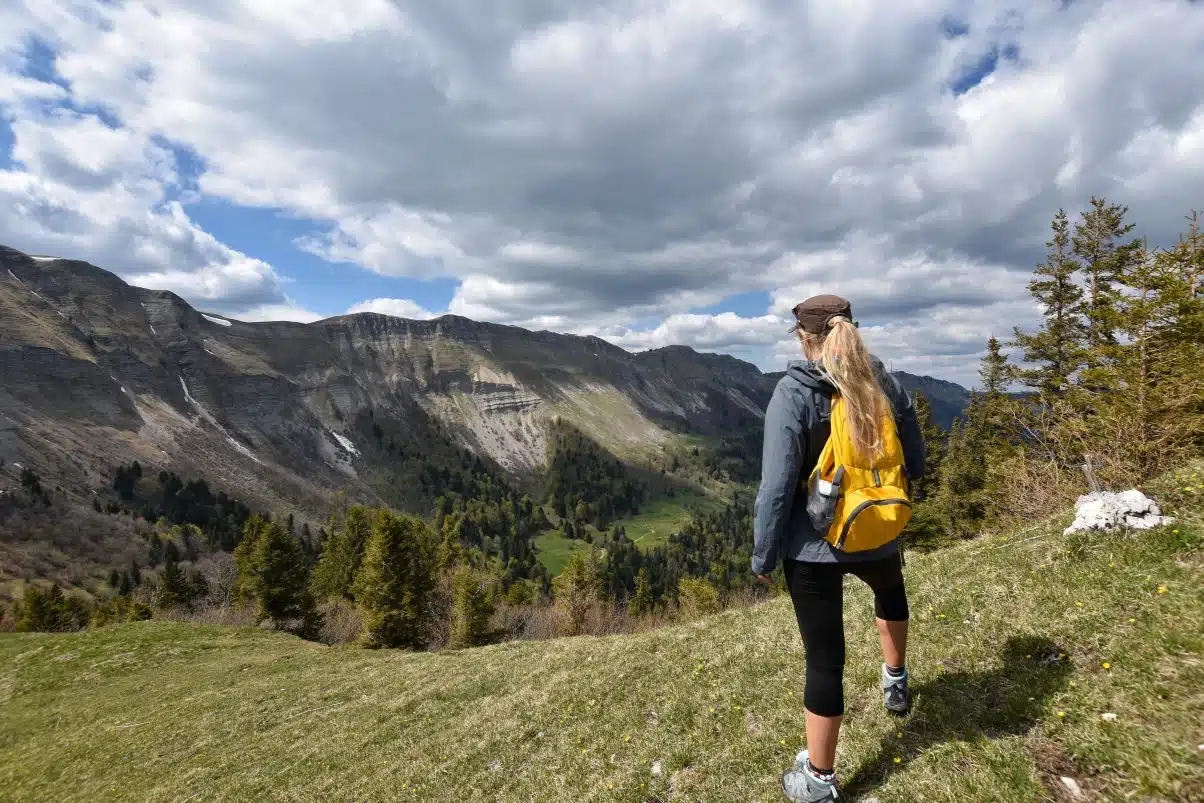 Housing scams and long cycles
Unfortunately, Geneva and the surrounding areas are by no means undiscovered. It turns out a lot of people have a similar idea to us and because of that finding an apartment ain't so easy. Our days outdoors exploring quickly turned to days in front of the computer looking for houses. With us being a couple looking to rent one room, not having local jobs and having a depressingly low budget meant our options were pretty slim.
Within 5 minutes of searching Ferney-Voltaire was crossed off as an option, it was nice but out of our price range. We started looking for other small towns close to the border and soon found a small city on the other side of Geneva called Annemasse, a 20 km cycle from Ferney-Voltaire. Turns out Annemasse doesn't have the best reputation but despite local friends advising against it we continued to look in the area. By this point we were still in Beth's spare room which meant every apartment viewing required a nearly 40 km journey through the centre of Geneva. Not enjoyable but a good way to stay in shape.
This is also the point we realised the area is rife with housing scams. When you see incredible penthouse photos and shockingly low prices, it may seem an obvious scam but at the time we were getting desperate and were very excited to have found a seemingly awesome deal. With 20/20 hindsight I can safely say, if it seems to good to be true then the apartment doesn't bloody exist, around Geneva at least.
We spent hours sending emails, translating from English to French and then French to English, with friendly 'landlords' who needed us to pay a month's rent and the deposit upfront before seeing the house. This happened with 3 different apartment ads. And for others we were given an address, agreed a viewing time, cycled 40 km all for the house to not exist or not be the one from the photos…
A temporary home from home
Altogether it was a mindbogglingly frustrating experience but after 2 weeks of searching, and hundreds of miles cycled, we now have an apartment. A beautiful apartment for a fairly reasonable price, in the centre of Annemasse, which I can confirm is pretty cool and doesn't deserve its bad reputation. With our base now sorted we'll both be working online to bring in the vegan bacon and putting our 4 years teaching experience to good use with some private English lessons.
Most importantly the apartment is only 3 miles from the Mount Saleve, the starting point for many fantastic hikes, climbing routes and a base for paragliding. There are also the Swiss and French Alps in our back garden…
Each week we're picking new hiking routes in the alps to explore the region and local mountains. We've also found a Geneva-based hiking group which leaves every Sunday to go hiking in Switzerland and find the most beautiful hikes in the Alps. You just contribute to petrol, make some friends and climb up mountains – perfect.


Cor, look at Mont Blanc, don't you just want to climb it!
Le Mole and exciting horizons
Last week we made our way to Le Mole, a perfectly triangular 2,000m peak between Geneva and the Alps (if you've visited Geneva it's the big pointy triangle in front of Mont blanc). At nearly 2,000m and a 50 km round cycle it would be a full day of action but pretty doable. Regrettably I made the amateur mistake of not looking at the altitude gain and whilst 50 km isn't too far it also had over 1,000m incline. Combined with the 30°c+ temperatures it was a killer. We definitely weren't ready for it and I don't think we've ever stopped so much over that short distance.
However hard the cycle the views from the top of Le Mole were worth every second of blood, sweat and tears. From the top we sat, took in our new mountainous neighbourhood and realised all the frustrations with housing scams, apartment searches and long commutes across the city were worth it to be living, temporarily, in such a fantastic place.
At the beginning of this trip, or actually at any point in life, if you had told me we'd be living next to the Alps and working in Geneva I never would have believed you. But, here we are, and whilst this may be only a very temporary stay it's already feeling like home.
Hiking the Alps, Housing Scams and a Temporary Home – Our Journey Week 15
Keep exploring
The Rest of Our Journey Series
Hiking Food for Adventure-Driven Vegans