The storms have gone, our muscles have adjusted and despite not being any closer to India the last two weeks have been a blast. This post is about our Féricy friends and Fontainebleau fun from the last two weeks of our England to India bike tour.
---
If you've read the first part to our journey you'll know our England to India tour started in suitably problematic fashion. The first 7 days were a constant battle with the elements and when you're fighting Storm Gareth it's unlikely you'll win. The beginning of any long-term, physically demanding trip is always hard work and it was an abrupt reintroduction to the world of saddle sores, crooked necks and constantly being on the move. Two weeks ago we arrived to the bouldering Mecca of Fontainebleau and the warm welcome of our first Work Away hosts: Hilde and Pete, and now those darker days seem a million miles away.
We're travelling in 'bases'
From the word go we knew we wouldn't be cycling straight from England to India. This is down to a number of things but primarily because we want see too many places to cycle a logical route and we're also pretty skint. Our solution has been to find 'bases' along the way where we could stay put for a while, explore the local area and try to scrape some pennies together in the online world. These 'bases' would be made up from Work Away placements, house sitting arrangements, friends with spare beds and any other people willing to let two smelly cyclists stay with them for an amount of time.
As soon as we knew our route would be crossing France we set our eyes on Fontainebleau. You may, or may not, know we are big lovers of bouldering and rock climbing – Fontainebleau is pretty much Disney Land for climbers. 400 miles into our trip, it seemed like the perfect first 'base' so we got searching on Work Away to see if we could find a host. After not too long we found Hilda and Pete and were immediately sold after reading their profile.
"Two crazy but loving dogs… we love to cook and are mainly vegetarian… we love it when our Work Away hosts cook their favourite dishes… we fully integrate Work Away people in our daily lives, share experiences and meals"
Sounds pretty good right?
We got in contact and agreed to exchange our culinary skills, green fingers and bike expertise for a 2.5 week stay in their amazing home in Féricy, on the edge of Fontainebleau.
Just over two weeks later and it's been a beautiful experience, one that we'll be sad to leave.
Although it's been a dream climbing the rocks of Fontainebleau the real highlight has been getting to know Hilde, Pete and the family. As promised in their profile we have been fully integrated into their lives and spend most of the day chatting and exchanging travel stories.
Pete's job as a botanist has taken him to many of the jungles around the world and as an anthropologist Hilde has spent time with some of the most remote tribes in the world. Whether it's chasing off burglars with frying pans in South Africa, wild pigs running through tents in Madagascar or escaping from riots on a motorbike, every moment has been filled with incredible stories. It's really wowed us and inspired us to fully pursue a life of creating adventures of our own.
On top of our new human friends we've also made a few of the furry variety. Benji and Maya are the two most lovable dogs, each with completely different but equally endearing personalities. Every morning they come to join us as we do a bit of work. Each evening, as we're drifting to sleep Ella the cat scratches on the door and spends the night by our feet.
Our Work Away duties have mainly been in the garden; digging new flower beds, planting trees and fighting roots. We've also spent our days walking Maya and Benji: the two wild dogs, chopping wood, and, with the dirt washed off our hands, cooking up a vegan storm in the kitchen.
A playground for climbers
Outside of Work Away duties we've tried to spend every spare moment climbing and bloody hell has it been good. All of the main climbing areas are right in the heart of Fontainebleau forest which makes the whole experience very natural and therapeutic. Whenever possible we've jumped on our bikes and peddled into the woods to spend the day on the rocks, armed with bags of walnuts and dates for energy.
Not only is the climbing out of this world, you're also surrounded by immense natural beauty. In quieter spots you can just close your eyes and listen to the breeze blowing through the trees and the birds singing in the sky. It really has been incredible and we could honestly spend an infinite amount of time discovering news parts of the forest, climbing and completely chilling out amongst the trees.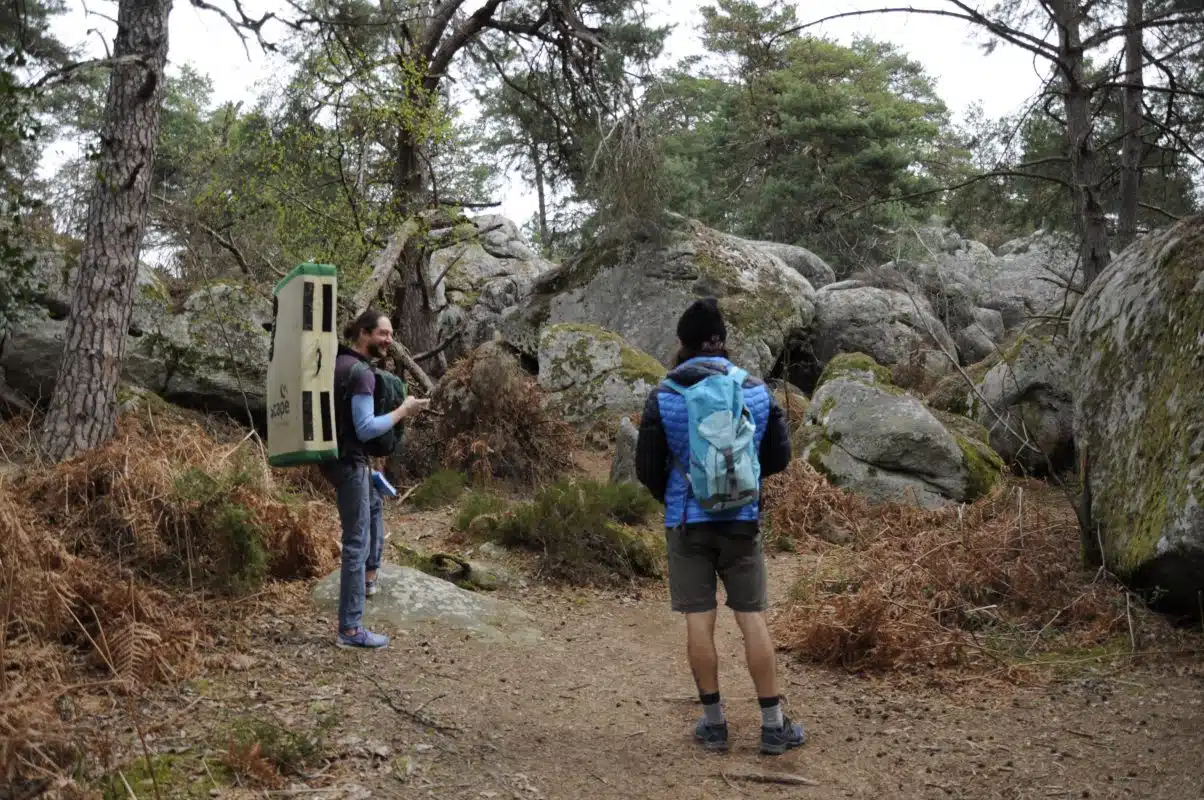 During these few weeks our schedules have been damn busy but completely filled with highlights. Outside of hanging out with Hilde and Pete and climbing we've caught up with our writing, worked on the blog and finally got to wander around with a camera. We had our first restaurant meal in France (not French food but some damn tasty Italian pizzas), drank champagne as the sun set in the forest, made friends with board game designers and had interesting run-ins with prostitutes in the woods.
*note* if you see women in red miniskirts hanging around the forest they're probably not lost…
As well as our first restaurant meal in France we also got to visit our first chateau. I'm not sure what we were expecting, maybe just a big fancy castle in the middle of the woods, but this one was ridiculous. The Chateau du Fontainebleau is one of the largest royal palaces in France, originally built in 1137, and filled, head to toe, in over-the-top luxury and splendour.
It really was a marvel to see, definitely not how we'd spend our money, but very interesting none-the-less. On the first Sunday of every month national monuments are free so it was well worth the free visit, even to just realise we quite enjoy living in a tent.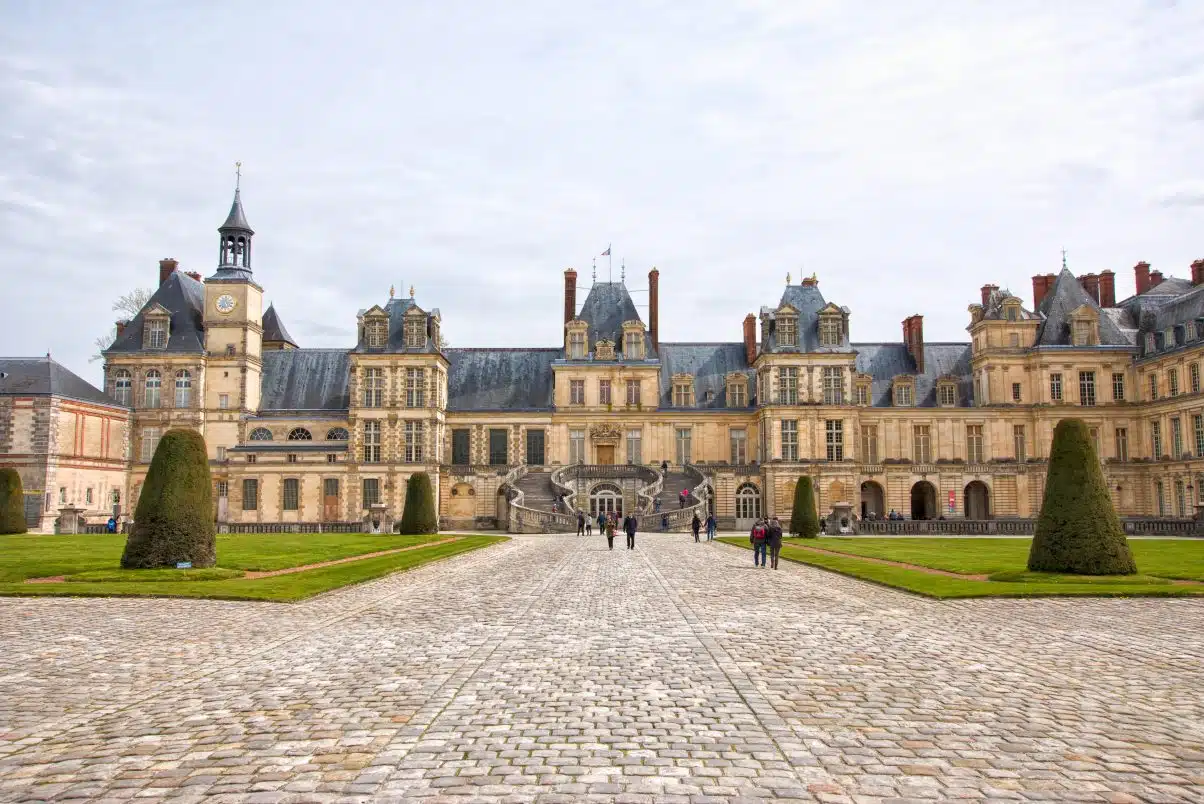 A village that time forgot
Over the two weeks we've fallen for Féricy: a stunning little village that almost feels like it's been forgotten by time. Despite the 600 residents there are no shops, bars or services, just a tiny post office, a small school (though we've never seen any children) and a church (though we've never seen any church-goers). Besides the occasional loud dog the streets are almost silent and empty. The houses are beautifully antiquated with crumbling walls and aged terracotta roofing, the likes people in England would probably pay a fortune to impersonate.
Though this may not be how someone would envisage a perfect town, for us it's been serene. Walking the dogs into the nearby woods, across streams and through the quite streets has been the best way to start and finish a day. And to top things off, when it gets to 5.30pm and the sun slowly starts to go down, each evening has been filled with a perfect auburn flare through the skies, filling the sleepy streets and magnifying the terracotta roofs.
The burden of itchy feet
After our first two weeks being so damn hard our stay with Hilda and Pete has been just the respite we needed. Even so, with the burden of having forever itchy feet, we're ready for our next stage of our expedition.
Tomorrow a good friend of ours comes to join us for a leg of our journey and we begin peddling towards Lyon. Our bikes are ready, we're feeling fresh, full of energy and completely eager for the adventures to come!
If you liked this article then you can follow the rest of our journey here, or subscribe to our newsletter below to get the latest stories from our adventures!