17 awesome free things to do in Hanoi that are completely free!
---
Travelling in Hanoi doesn't have to cost a fortune. As a matter of fact, you can have an incredible time without spending a penny. It might sound cliché but when travelling some of the best things in life really do come free and in Hanoi this couldn't be more true. If you want to immerse yourself in culture without blowing your budget then here's 17 awesome free things to do in Hanoi. Not cheap. Free. Completely free.
#1 Take a stroll around Hoan Kiem Lake
This had to be on the list. The lake is steeped in history and legends, playing a huge part in Hanoi culture. Completely free but vital to give you a unique and memorable experience to the city. It's one of the best places to people watch, with elderly couples walking hand in hand, midnight joggers working up a sweat and children speeding round in toy cars.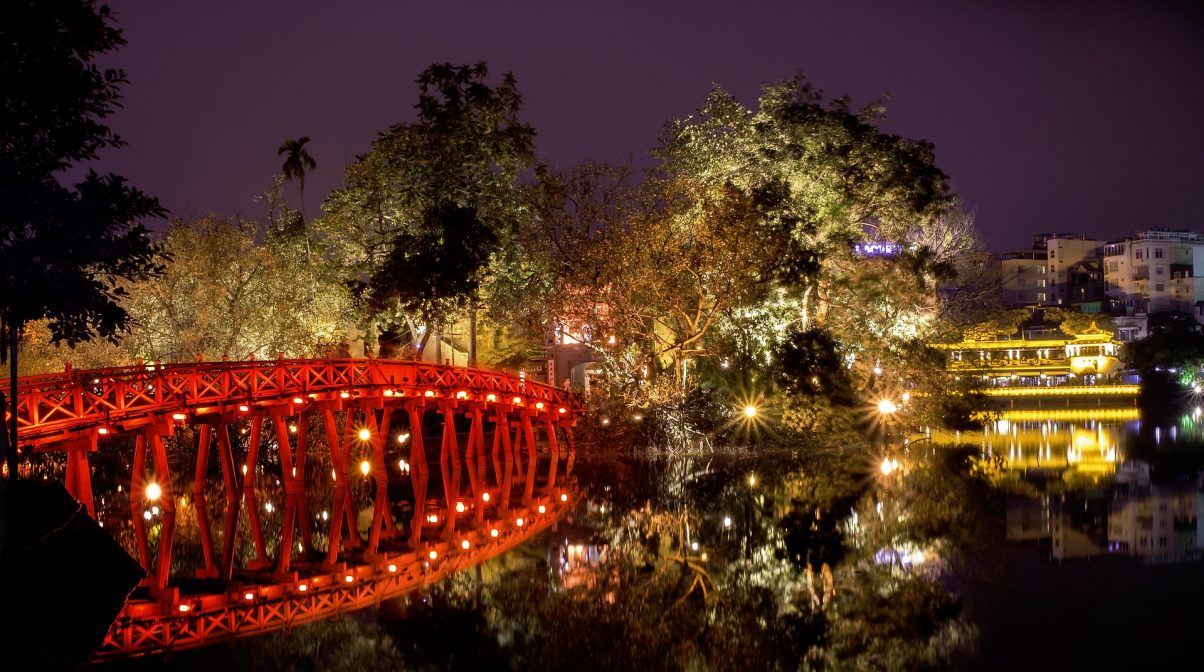 #2 Street performances and fun in the local parks
Did you know that zumba is a popular thing to do in Hanoi in the morning? And I mean 4 am in the morning to hefty trance music! Earlier on you can also see local musicians or groups of young performers dancing in the parks of Hanoi. Hoan Kiem is a good spot as is the Lenin memorial near the Vietnam Military History Museum.
Outdoor badminton and football games, salsa dancing, skateboarding, shuttle cock keep me up game (I don't know the name…) and roller skating are just some of the things you'll regularly see. People are generally happy for you to get involved so go get stuck in and make some friends.
#3 Check out the Hanoi Night Market
Every Friday, Saturday and Sunday the Old Quarter becomes alive with the Hanoi Night Market. Areas normally swarmed by mopeds are turned into pedestrian zones and filled with market stalls selling an incredible range of things. Like most markets in Asia, expect an amusing mix of intricate handicrafts, food, drinks and an abundance of counterfeit goods. Take a beer with you, keep an eye on your bag and you can spend all evening bumping along the market stalls!
For a little more about what to expect click here.
#4 Try and cross the road
This is an activity you'll have to do whether you like it or not. The question is, how well can you do it? Our top tip is to go with confidence and don't make any sharp movements. Another free and priceless activity is to watch other travellers try to cross the road…
#5 Ho Chi Minh Mausoleum
The remains of Uncle Ho (Ho Chi Minh) are kept here and although it costs to go in the mausoleum a walk outside can be just as rewarding. Immaculately dressed armed guards watch over the area and have an impressive changing of the guard routine. The gardens have 250 species of flower gathered from all corners of Vietnam and locals exercise on the long stretches of concrete. Expect pregnant women marching together, fit grandparents racing each other and a lot of early morning Tai Chi.
Want some inspiration for your travels around Vietnam? Check this out!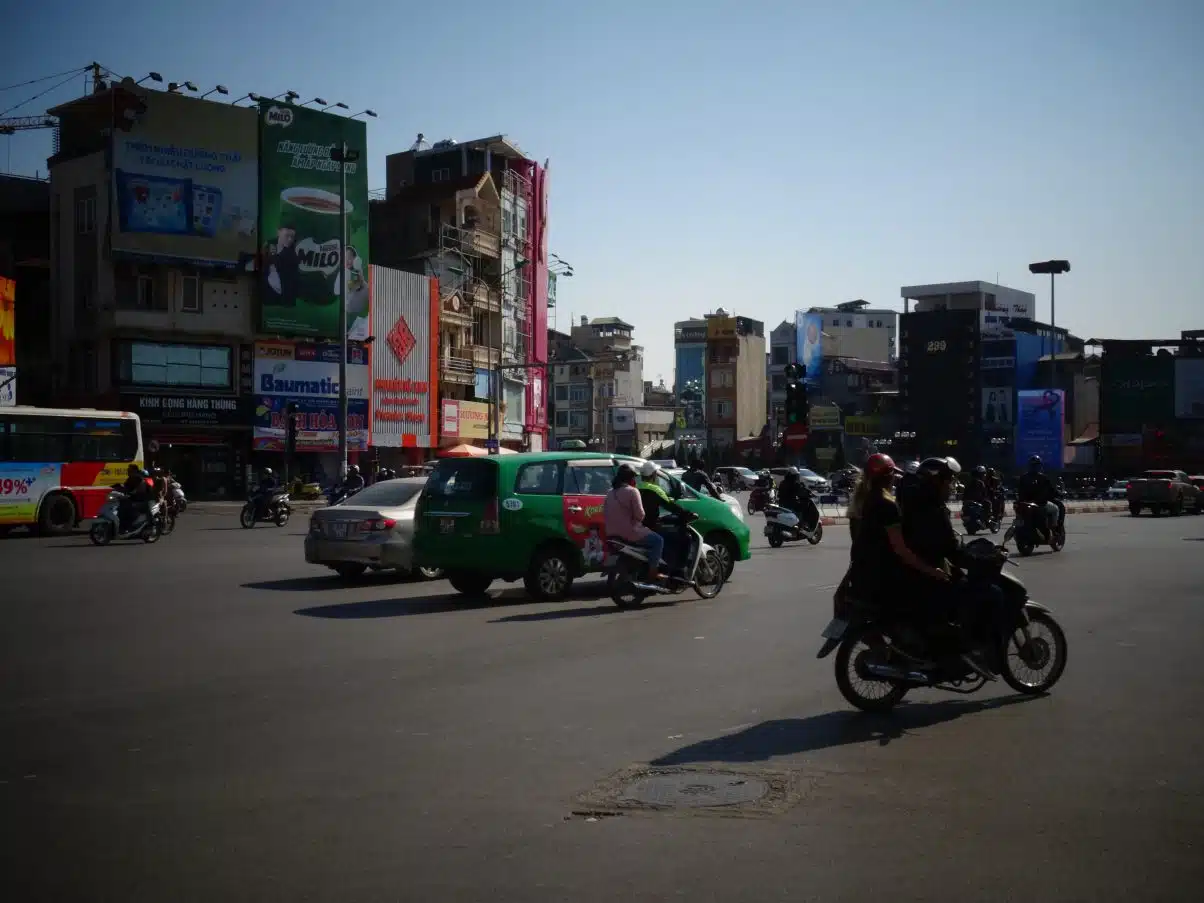 This 100 year old wrought iron bridge is iconic in Hanoi, having endured the Vietnam – American war. It's the perfect spot to watch the sun go down and you can pick up fresh fruit and veg from the sellers on the side of the road. Trains still use the bridge to cross the famous Red River and you can walk all the way along with incredible views. The bridge has seen better days, with some very dubious looking holes and missing nuts and bolts, so to those with a nervous disposition don't look down!
#7 Embrace your inner photographer
A combination of the architecture, people, culture and history means there's always incredible things to be captured in Hanoi. Vagabond through the streets and let your camera take the lead…
#8 Temples and pagodas everywhere
One of the highlights of Vietnam has to be the temples and Hanoi is no exception. This is definitely one of our favourite free things to do in Hanoi. On almost every street corner you'll find beautiful temples, varying from ancient to new, tiny to grand. All of them have their own special charm and you can watch the locals paying their respects. Here's a great list of pagodas in the near by vicinity.
#9 Take a pair of good shoes and walk around West Lake
Not as famous as Hoan Kiem but the biggest freshwater lake in Northern Vietnam and just as interesting. Sure it smells a little and has a lot of floating dead fish but a full walk around the lake is an amazing way to spend the day. The 10 mile loop is filled with temples, locals and some really cool cafés and bars. Obviously the beers aren't free (unless someone else is paying ;).
#10 Explore the Old Quarter day and night
This might not be original but there's a reason everyone suggests it as a free thing to do in Hanoi. Walking around the Old Quarter never lost its excitement after a year of living in the city. Every moment is different and you're sure to experience something new down every road. Our advice? Explore everywhere and get away from the main areas. Every street is filled with rich culture, sights, smells, tastes and encounters.
#11 Meet the locals
This should be the top of every list, free or not. What's travelling without meeting some of the locals? Plus, the Vietnamese know where it's at. If you get the opportunity have a drink with some locals you'll be in for an awesome experience. Watch out if they pull out the rice wine, you'll have a very sore head in the morning.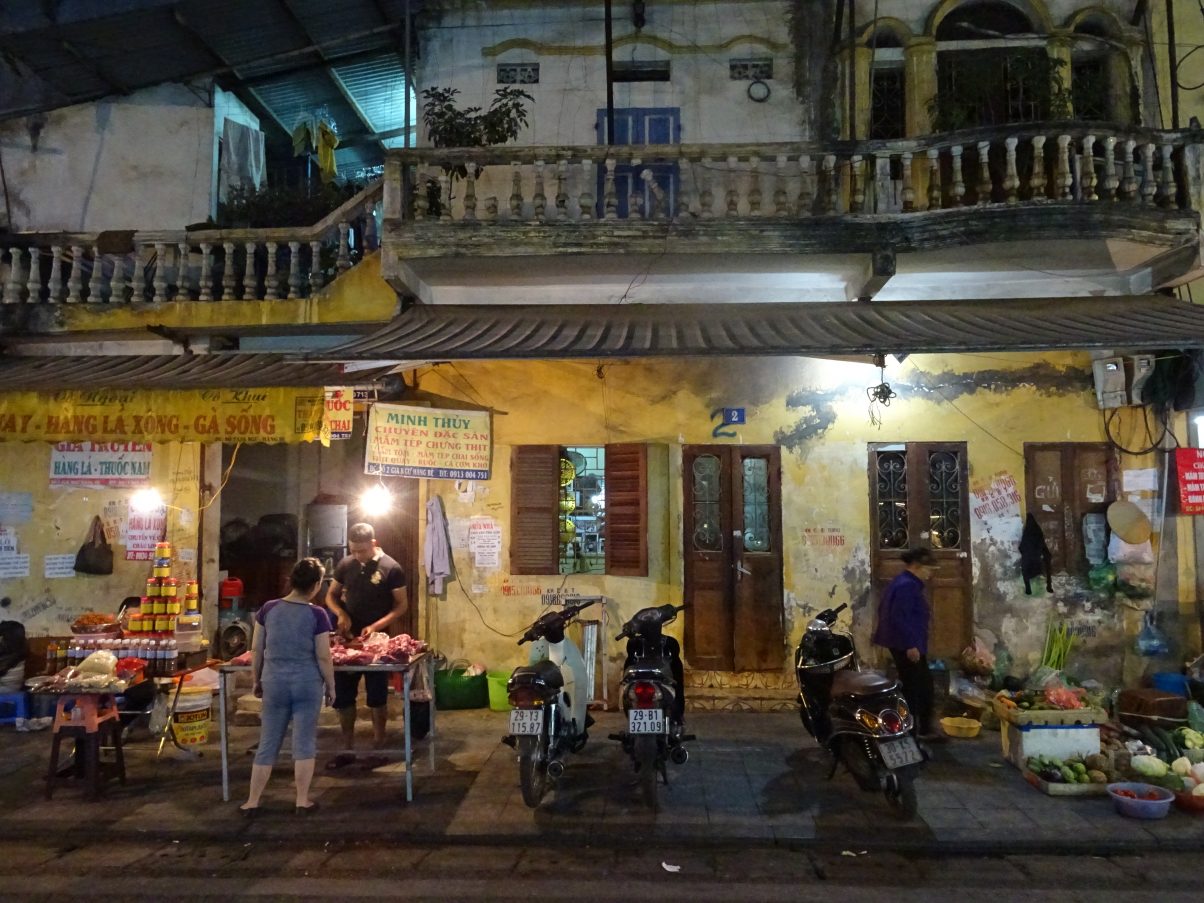 #12 Long Bien Market
If you want to experience a real Vietnamese fresh produce market in Hanoi then this is the place to come. It's busy, really busy and filled with heaps of produce you've probably never seen before. It also seems to be filled with people on motorbikes who want to run you over. Can you haggle, hand over money and sidestep a scooter all at the same time?
#13 Help English students around Hoan Kiem Lake
This is a touching experience you're bound to come across if you spend a Sunday afternoon around Hoan Kiem lake. Local students will walk around looking for English speakers to practice conversations with. It's a great way to meet the locals and get some insiders suggestions of what to do in Hanoi. It can also be quite hard to leave the keen English learners, so best think of an escape strategy before you go.
#14 Get haggling
Is this free? Whilst I guess you have to be willing to spend money to practice haggling it will save you money in the long run, so I thought I'd include it. Be aware that almost anything can be haggled in Hanoi. After a year the only thing we found you couldn't haggle was the visa stamp at immigration. As a tourist, likelihood is you're going to be overcharged (in any country), so that means you'll have a lot of people to practice on!
#15 Check out the French quarter and St. Josephs Cathedral
It's not just temples in Hanoi, St. Josephs Cathedral is pretty damn impressive too. Nestled away in the heart of the French Quarter, it's fascinating to read about the history and see the changes in architecture as you walk from street to street.


#16 Prepare for sensory overload at Quang Ba flower market
You'll be so glad if you find this place, especially as it's not on the main tourist trail, in my opinion it's the best of Hanoi. This is the HQ where all of the flowers are brought before they're taken to be sold around Hanoi. This outdoor market is open year round and doesn't get going until 2am, running the whole way through the night. It's a sensory overload of colours and smells with food hawkers selling local grub to keep you going.
#17 Try and buy something at Don Xuan market
This 4 storey market is the largest indoor market in Hanoi filled with everything under the sun. Our experience was that people didn't want to sell us anything. Literally, people wouldn't let us buy anything. Also if you went between 1 pm to 3 pm expect to see half of the workers sleeping on the comfy products. We learnt that the market is often used for bulk buying and some sellers weren't keen to sell individual things. None the less trying to buy something is an interesting free thing to do in Hanoi.
Ready to go? Check out some accommodation in Hanoi!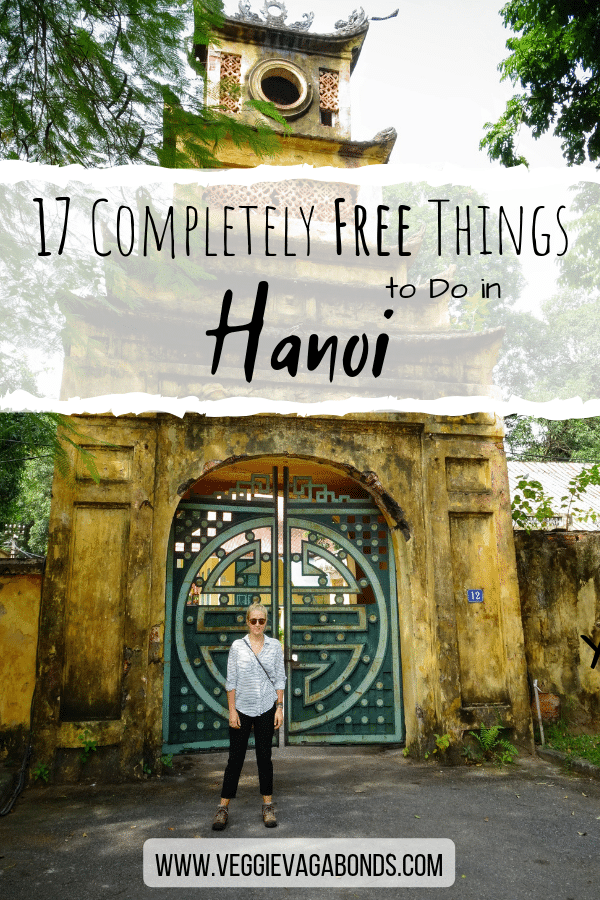 A Whole Bunch of Free Things to Do in Hanoi
Know of any other cool free things to do in Hanoi? Tell us in the comments below!
Keep exploring…
The Best Vegan Restaurants in Hanoi
A Guide to Travelling in Vietnam During Tet
How to Get a Vietnamese Visa Nice and Easy
Share me!