Cycling the Via Rhôna: Our Guide to Cycling Eurovelo 17 from the Mediterranean to Switzerland
---
Some cycle routes just get you from A to B and others blow you away – cycling the Via Rhôna will definitely blow you away. The newly constructed route takes you all the way from the warmth of the Mediterranean, along the Rhone River and all the way to Lake Geneva. Winding through some of the most fantastic scenery in France and Switzerland you'll find a perfect balance between relaxing natural areas and historic towns and culture.
This 815 km long cycle route is a recent addition to the Eurovelos and a great choice for solo cycle tourers, racers looking to put some miles under their belts or families wanting a relaxed cycling holiday. In this guide you'll find all the information you need to plan your trip along the Via Rhôna and if you need anymore info just reach out on the comments section at the bottom.
In a hurry? Jump to one of the following sections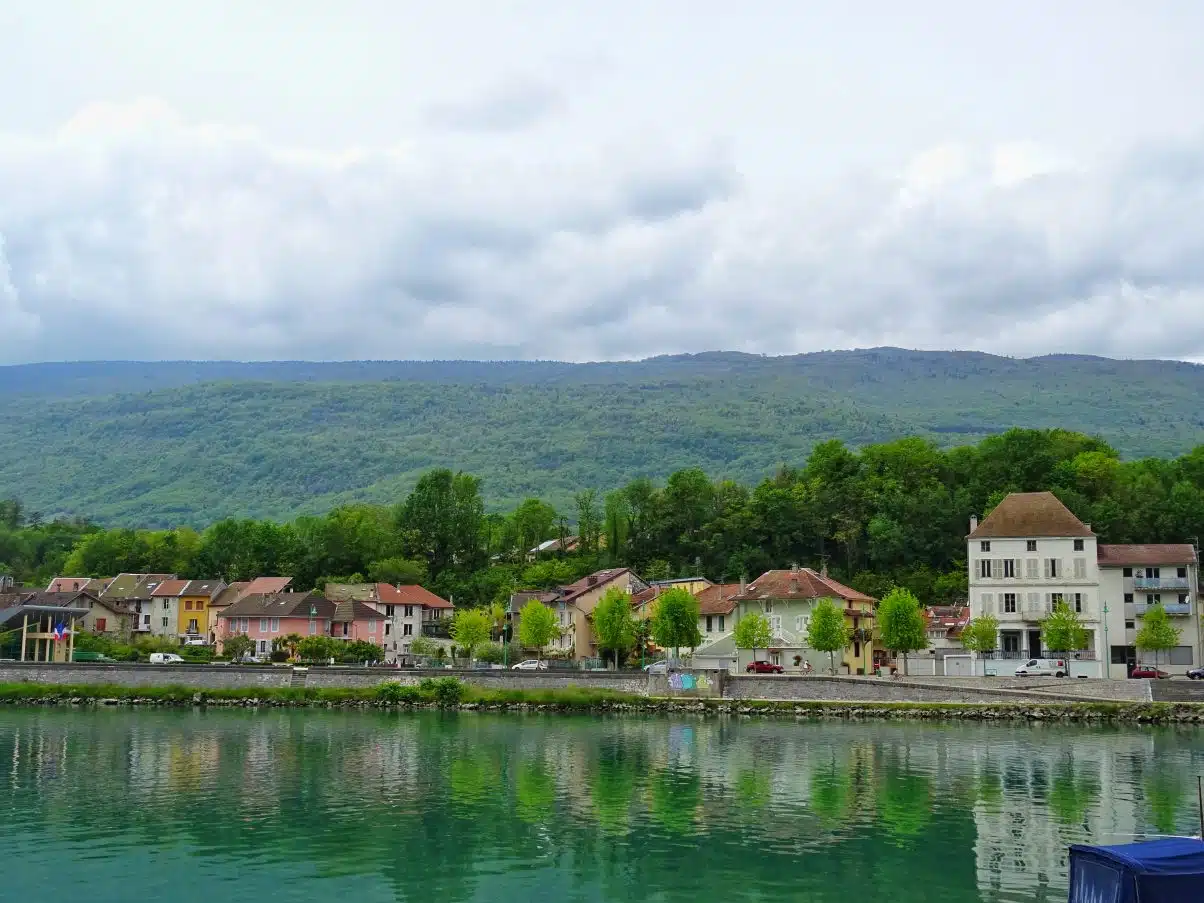 Via Rhona at a Glance
Distance: 815 km
Where: From Lake Geneva, Switzerland to the French Mediterranean coast near Montpelier
Time needed: Average of 9 days
Difficulty: Moderate – easily broken into sections
Altitude Gain: Almost all sections under 300m
Best time to go: Spring, summer and autumn but possible all year
Our time along the Via Rhona
In April and May 2019 we cycled along the Via Rhôna as part of our round-the-world cycle tour. Having spent 3 months cycling in France before the route, and loving the experience, the Via Rhôna was still the highlight. We followed from near Lyon, along the Rhône River all the way to Geneva and had beaming smiles on our faces the whole time.
Check out the section below to see why we loved it so much.
Why choose the Via Rhôna?
The scenery: it's immersive, varied and beautiful. You're travelling from the crystal blue waters of the Mediterranean, along vineyards and hilltop villages towards the stunning city of Lyon and then on towards emerald lakes, secluded waterfalls, alpine villages and the stunning Lake Geneva. Towards the end of the route you have the Alps and Mont Blanc in firm view, if that isn't motivation to push hard I don't know what is.
The ease of route: not needing to navigate for nearly 1,000 km really is a thing of beauty. For the most part the Via Rhôna is very well signposted, meaning you can just enjoy the route and not worry about GPS or maps. It also follows the Rhone River pretty closely so as long as you're near the water you know you're on track.
It's new and not overcrowded: the Via Rhôna is a new addition to the Eurovelos and is yet to be 100% completed. This makes the route relatively quiet and relaxing, so you will have other cyclists to say hello to but for a lot of the time you have the road to yourself.
Awesome road conditions (most of the time): for the most part the conditions are fantastic, with surfaces and signposting newly checked and in good condition. This opens up the route to road cyclists and means you don't have to worry about using the right bike and tyre types.
The Via Rhôna Route
The 815 km route closely follows the Rhône River through the heart of the Rhône-Alpes all the way from the Mediterranean Sea to Switzerland and Lake Geneva. As well as passing by some incredible natural areas you'll also visit a variety of historic towns and cities like Lyon, Vienne, Valence and Avignon. You can travel through at a quick pace or have more of a cultural experience stopping off at the different locations and learning their history.
It's also very possible to cut the route into sections. Many of the towns you pass through are well connected so you also have the option to join partway through the route. You can find more information on the Getting There and Away section below.
You can find a Via Rhôna cycle route map on the official website which is interactive and very useful for planning your trip, you can also download the GPX files here.
And, if the 815 km isn't long enough for you then the Via Rhôna connects directly to Eurovelo 15 and crosses over Eurovelo 8 and 5. There are also options to join the Mediterranean cycle route and plenty of other paths into the Ardeche and surrounding Rhône-Alpes region.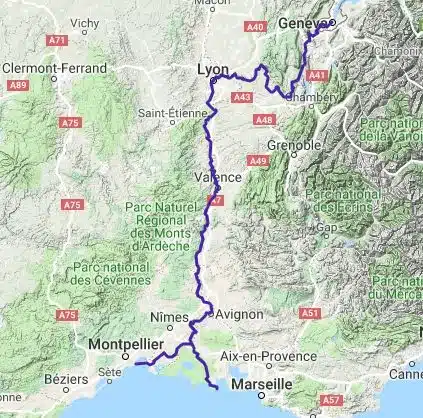 Development
Although it's not overly noticeable the Via Rhôna is still in development, with 87% completed and the rest due to finish by 2020.
Along 60% of the route you'll be travelling along greenways, specifically for cyclists and non-motorised transport. Smaller sections have bike paths on quiet roads and there are still a few breaks in the route which require you to join larger roads to meet back with the specified path. This is only in a few sections and doesn't really affect the route as a whole.
Have some questions about the Via Rhôna? Drop us a comment at the bottom!
Navigating
Navigating along the Via Rhôna is really pretty easy and you just need to look out for the signs shown in the photo below. Signs are normally found every few kilometres, pointing you in the right direction and also showing you nearby amenities.
Some of the section which don't yet have signposting are from the Swiss border to Seyssel and from Lyon to Givors.
As a large portion of journey follows the Rhône River as long as you stick close to the water you'll know you're going in roughly the right direction.
It's never good to rely on one source of navigation so try to have a backup for the less signposted sections. We use Guru Maps on a smart phone and have a cheap waterproof phone holder attaching it to the handlebars.
You will also pass numerous tourist information offices which will be able to give you detailed paper maps for all sections.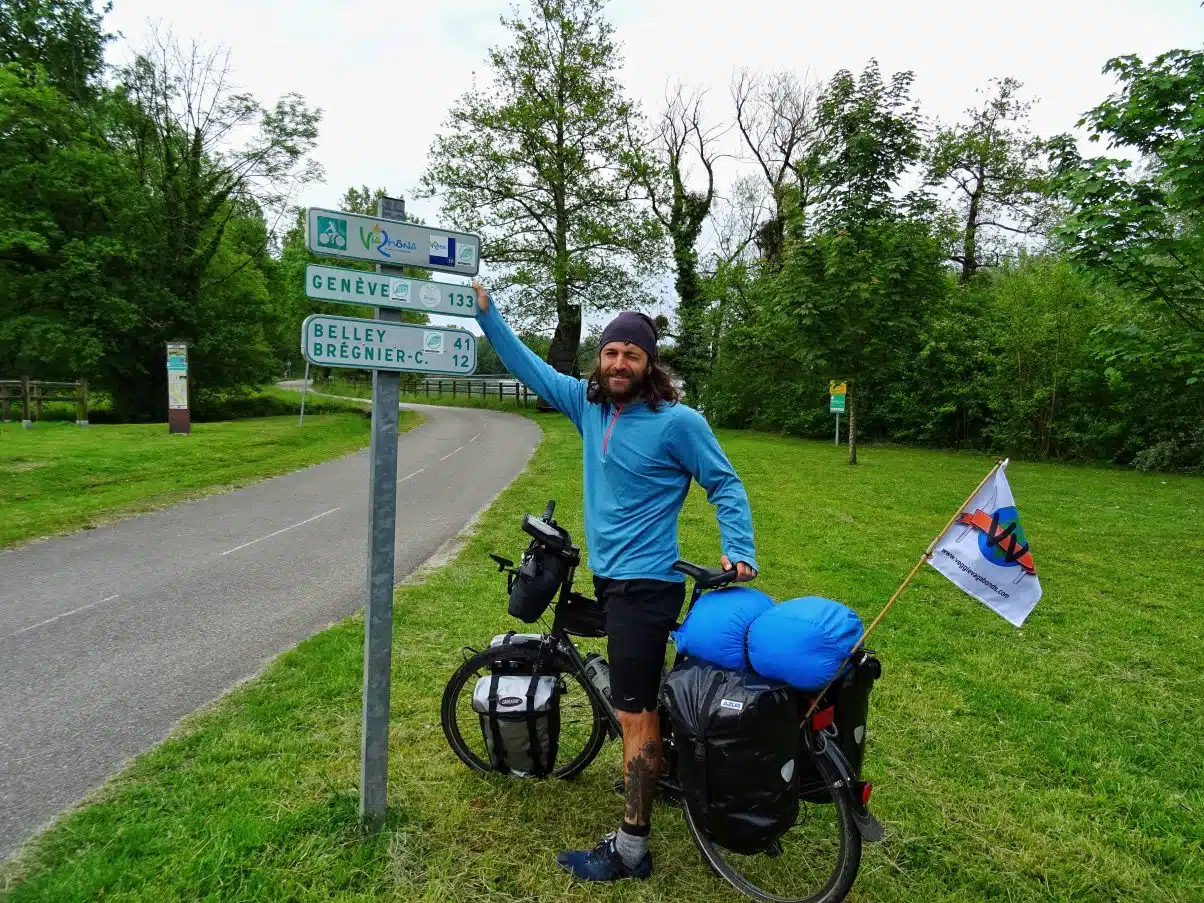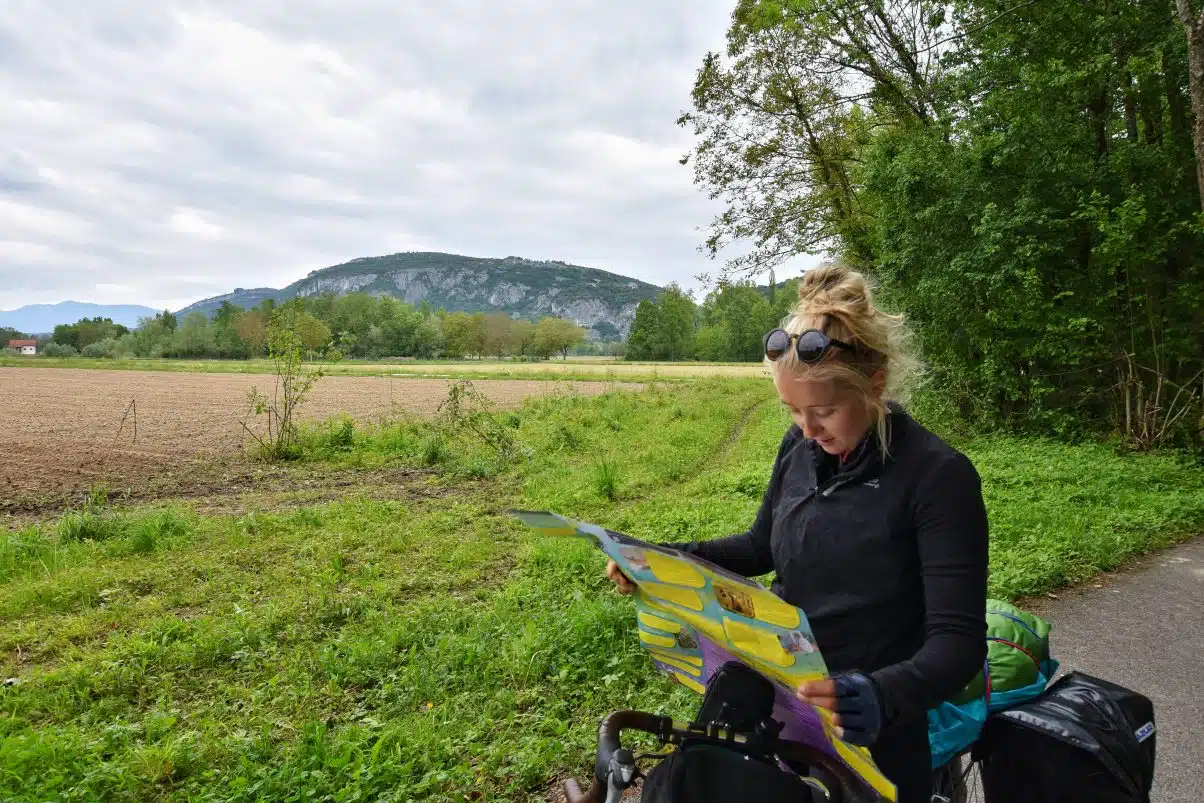 Via Rhôna Accommodation
There's a big variety of accommodation options along the route so it largely depends on what type of trip you're wanting to have. As mentioned some areas are more developed than others and may require planning ahead. Some of the main accommodation options are listed below.
Camping
There are convenient camping grounds close to all sections of the route, varying from cheap Municipal spots to pretty swanky affairs. A good resource for finding campsites is the Camping France website which has an interactive map so you can find areas close by.
Wild Camping
In the less developed parts you'll find plenty of spots for wild camping but it's not recommended in busier areas close to cities. Whilst it is technically illegal in our experience France has a relatively relaxed attitude towards wild campers, just make sure you're packed up before the sun comes up and leave no trace.
Warm Showers
Wow, Warm Showers is incredible in France. If you're not familiar with it, I'm not just talking about showers. Warm Showers is an online community of cycle tourers who offer to host other cyclists on their journeys. Quite regularly you'll be offered food and a beer but most importantly you meet some amazing people. It's an incredible experience and there are cycle hosts all the way along the Via Rhôna.
Hostels
In bigger cities and towns you'll be able to find a variety of bike friendly hostels. Hostel World tends to have the biggest selection of accommodation but there are also youth hostels dotted around.
Hotels and Guest Houses
You'll find hotels in more developed areas, booking.com has the biggest choice, and also Airbnbs along the route. If you want a more authentic feel you can stay with independent guest houses through Gites. These vary from small guest houses up to whole house rentals but can be found close to all sections of the cycle route. Generally run by locals, they're a good way of getting some local knowledge and an authentic feel.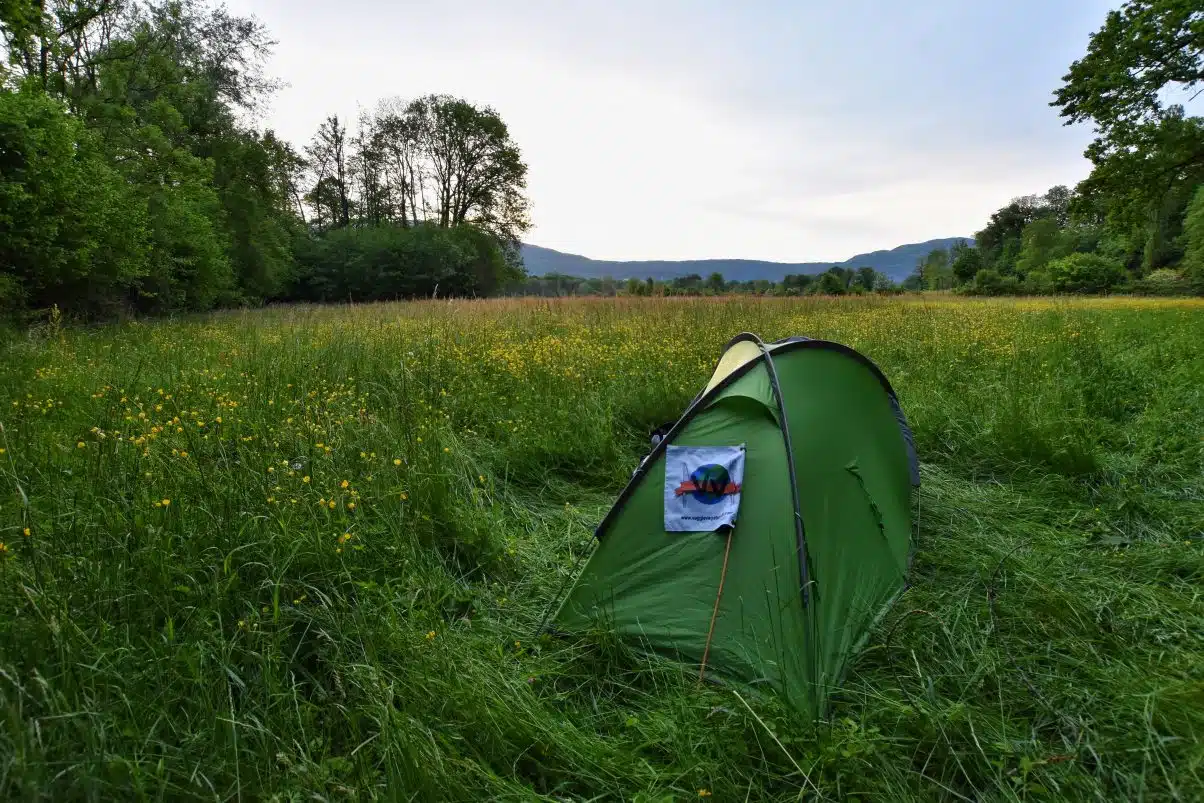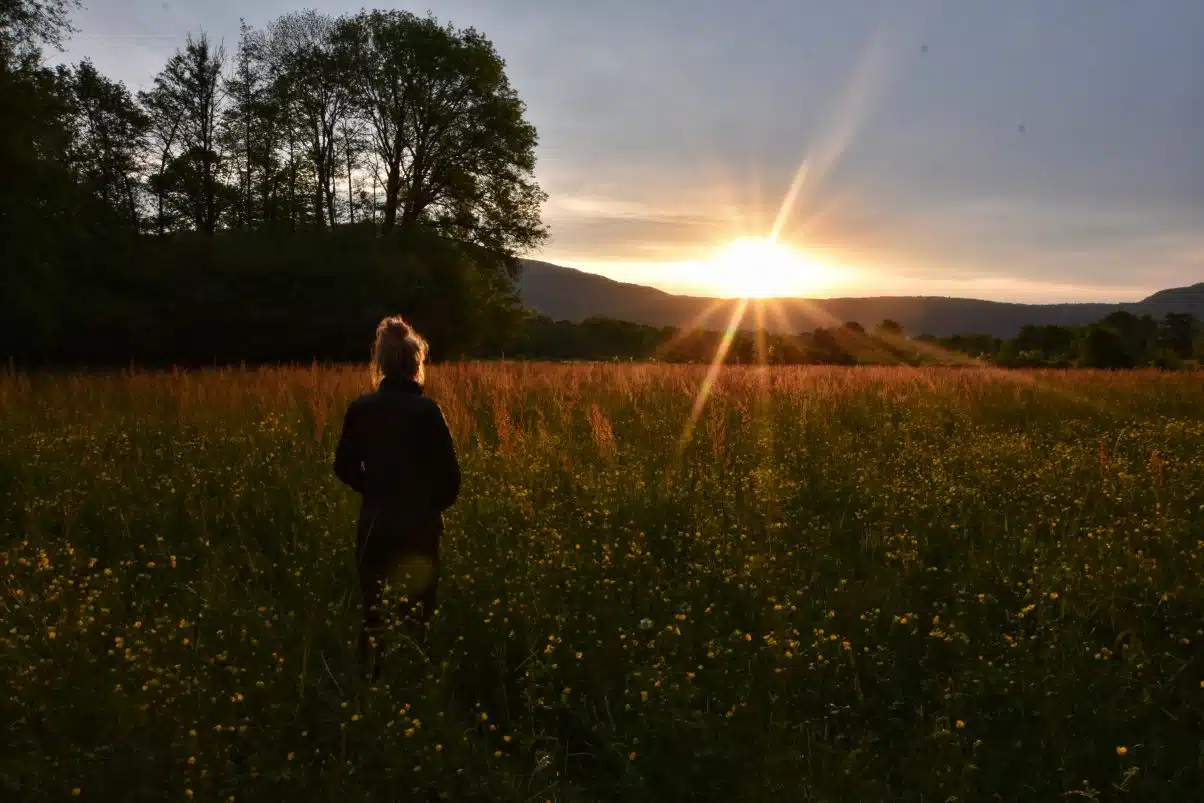 Food
As with accommodation, there is always food available but the variety depends on your location.
In the lesser developed parts you'll still find at least a small shop to pick up ingredients and bakeries every 10-15 km. Most areas with a campsite will have somewhere to buy food nearby and many campsites will also have a selections of snacks for sale.
If you're wild camping, as we were, it's best to plan your day around shops and supermarkets. Look for supermarkets further along the route on GPS so you can plan lunch and camping stops.
It's also possible to sample the gastronomic side to France as you'll be travelling through some culinary hotspots like Lyon. The route also passes some fantastic wine-growing regions where you'll find beautifully cheap bottles of wine, perfect to rest your muscles after a long day in the saddle!
Getting there and away
At whichever end you choose to start you'll find good connections and transport options. Starting in the South you can begin either in Montpelier or just outside of Marseilles, both of which have plenty of national and international transport hubs. From the northern side, Geneva has all the transport options you could need. Consider taking trains to your starting location as it's the most environmentally friendly option besides cycling!
Trains can be used to reach either of the starting points, or to begin at a different section along the way. The French regional TER trains have services to many locations along the Via Rhôna and most allow fully assembled bikes to be loaded on board.
It's also possible to take the high speed TGV trains however some services don't allow bikes or may require them to be dismantled.
READ MORE: Which do you think is the best way to travel, bike touring or backpacking?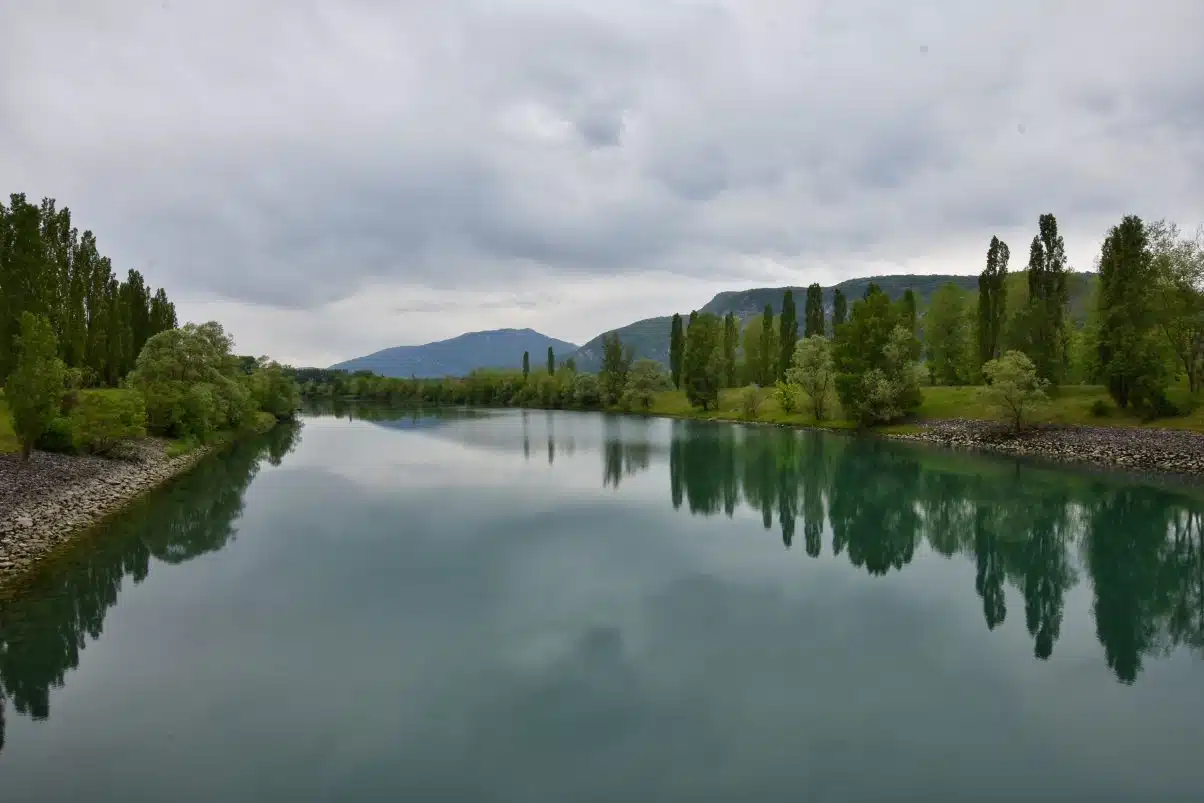 What to take
Bikes
Because of the great road conditions it makes the Via Rhôna accessible for a variety of different bike types. The vast majority of the route is along tarmac with small sections on dust and gravel and the occasional drops from curbs. This means you can't go too far wrong with bike choices but you definitely won't be needing a mountain bike.
If you're going for speed and aren't planning on camping then a road bike with thinner, slicker tyres will do just fine – you'll appreciate the speed. If you plan on camping and carrying a heavy load then go for something more comfortable. A touring or hybrid bike with 1.25 tyres on a 28″ wheel would be a good option.
For reference Sarah is riding a Ridgeback World Voyage with 1.25 tyres on 28″ wheels and felt her bike was ideally suited for the terrain considering the 30+ kg of gear we carry. I ride a Surly LHT with 1.75 tyres of 26″ wheels and felt pretty sluggish.
Gear
The rest of your gear will depend on whether you're camping and what time of year you'll be cycling. If you're interested here's a link to our complete bike touring packing list or our bikepacking gear list. You won't need all of this if you're just cycling the Via Rhôna but I would highly recommend the bike tools and the phone holder for GPS.
Have any questions about the route or have you done it yourself and have some useful tips? Tell us in the comments below!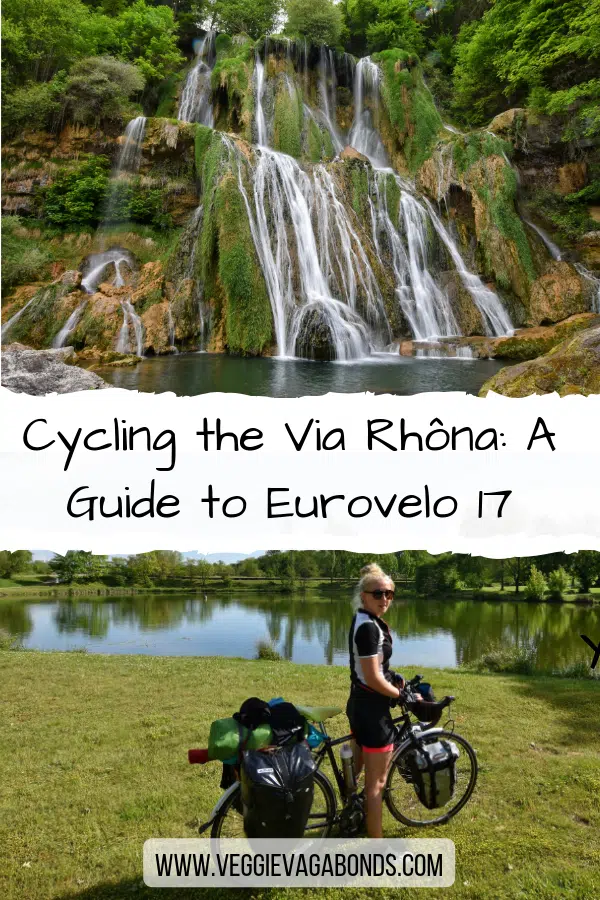 Cycling the Via Rhôna: A Guide to Eurovelo 17
Keep exploring…
The Cambridge to Ely Bike Route
We're Cycling from England to India!