We've bike toured and backpacked – we love them both – but which is the best way to travel?
---
Do you have a debate in your relationship or group of friends that you keep coming back to?
For us, that's definitely the bike touring vs backpacking debate: which is the best way to explore a country?
Oh, and we're talking about the travelling type of backpacking, not the hiking type. You know, big rucksack, straw hat, battered old hiking boots or sandals, a bunch of bracelets picked up along the road, tanned skin and a grin on their face… you know, backpackers!
Do we need to explain bike touring? Big bike strapped to the rafters with panniers and camping gear, weather-beaten smile with a wild look on their face, a bike frame filled with stickers from the last half a dozen countries and food stains on their top from the last half a dozen meals…
Over the years we've had some unforgettable backpacking experiences but can it trump the awesomeness of bike touring? And which is actually better to properly take in and discover a country or region?
Instead of this just being a personal debate whilst we're in the saddle or on a hiking trail, we thought we'd take it public!
Agree or disagree with us? Have extra pros and cons you'd add? Share your thoughts in the comments at the bottom!
This is Why We Love Backpacking
Backpacking… doesn't require as much gear
Besides the right clothes and a backpack, there's very little you actually need to go backpacking, making last-minute adventures super easy. Forget about an expensive bike, tools, heavy camping gear etc. just chuck some clothes in a pack and hit the road!
Backpacking… using public transport is quicker and filled with memorable experiences
Unless you're Chris Hoy, using public transport to get around on a backpacking trip is a hella lot quicker than cycling. Buses and trains are often a big part of a country's culture too, a place where you can meet some unforgettable characters.
Backpacking… is physically much easier
Jump on a 100-mile bus journey and you'll have the energy to go and explore as soon as you jump off. Finish a 100-mile cycle and it can be hard to do anything besides gobble as much food as physically possible and then crash out.
Backpacking… is way better for exploring developed areas
Arrive in a town or city and you can explore with your backpack on, or you can drop it off at your accommodation and then you're truly free. It also doesn't matter how busy somewhere is, you can always walk around and get transport in and out. If you're cycling, bigger cities can be dangerous for cyclists or even too busy to cycle through.
Backpacking… the right choice if you appreciate cleanliness
When you're spending the day bustin' balls cycling, dripping with sweat and traipsing through fields to find a camping spot you can become one mucky puppy. If you've got a high standard of hygiene then backpacking makes it easy to get that shower a day you know you want.
Backpacking… isn't as reliant on weather conditions
If you're catching a bus it doesn't matter if it's chucking it down outside, you can also be more flexible with the time of year you travel. With bike touring, spending the day cycling in poor conditions can be grim and whole regions might be un-cyclable during certain seasons.
Backpacking… can be a great chance to meet other travellers
Hostels have to be one of the easiest places in the world to make friends. Everyone's in a similar situation, everyone's got cool stories to tell of their travels – grab a beer and make some friends. This is quite a lot harder if you're cycling through the middle of nowhere.
Backpacking… doesn't require any skills
If you're physically able to survive in everyday life, chances are you've got all the skills you need for a backpacking trip. Just remember to keep your head on your shoulders!
Backpacking… is more varied
Backpacking trips can often end up more varied, as you're able to visit more destinations in a shorter space of time and it's easier to go on mini-trips along the way. Fancy going on a hiking trip? No problem at all. Want to rent a motorbike and drive to a mountain? Easy peasy.
For more adventure resources and outdoor inspiration, be sure to sign up for our mailing list below!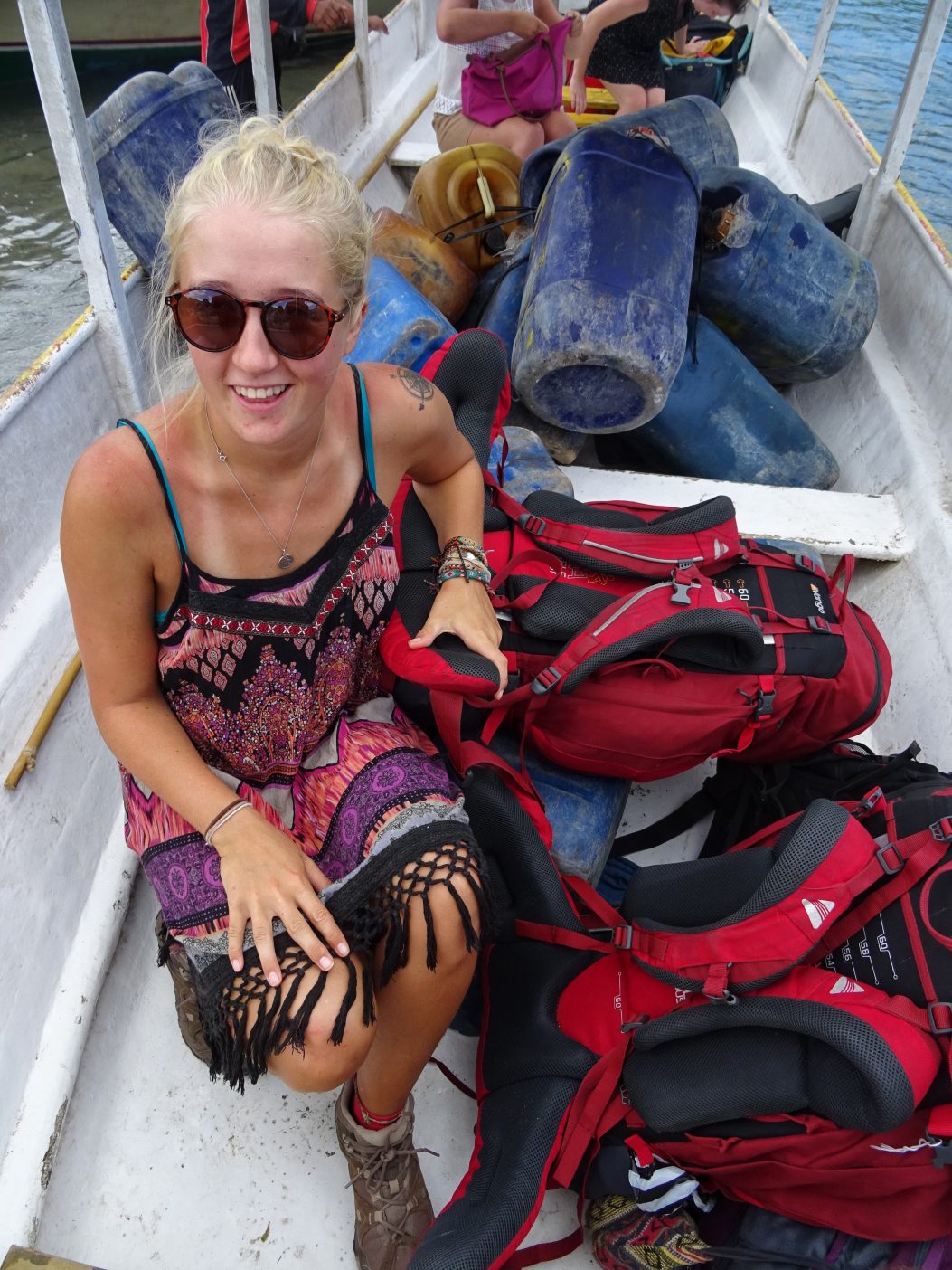 On the other hand…
Backpacking… means you're limited with how much you can carry – camping or outdoors might not be so easy
Let's face it, backpacks aren't that big and always carrying camping gear on your back is hard work. If you're planning just an outdoors trip then it's doable, but, carrying 15-20 kilos of additional camping gear through cities and urban areas is not fun.
Backpacking… means you're tied to public transport
Unless you'll be embracing hitchhiking, you're completely dependent on public transport. Yes, it is quicker but some countries have terrible transport systems which can limit the places you can visit. It can be very costly, and, despite it being a big part of the culture, spending the day crammed on an overbooked bus is not enjoyable.
Backpacking… generally means staying in tourist accommodation which can be expensive!
Hostels, guest houses and hotels are expensive. I don't know about you, but they're usually the biggest cost on our backpacking trips and are often terrible value for money. Yes, camping is possible, if you've got space to carry all the gear…
And This is why Bike Touring is Frickin' Awesome!
A quick note before we begin: bike touring doesn't necessarily mean camping the whole time whilst living off porridge and roadside snacks. With this being said, almost every tourer we've met has travelled with camping gear, and, as you're normally in more remote areas, accommodation and foods tends to be more basic.
Bike touring… gives the ultimate feeling of freedom
Getting away from the confines of public transport is the best way to really explore a country. Even in better-connected areas, you can still only get to the places everyone else is going. Bike touring makes you completely self-efficient and able to go anywhere that has a cyclable surface in front of it, even if nobody else seems to want to go there.
Bike touring… is damn cheap!
£15 a day could last you anywhere in the world, and, that's generous. Wild camping is free, camping is cheap, camp stove meals are a bargain and a lot of your other munch might just be ingredients you've picked up along the way and eaten en route. In France, roadside baguettes and fruit we've picked from trees have become a staple part of our diet. 
Bike touring… is eco-friendly
Such an important one: self-propelled transport is the most environmentally-friendly way to travel and is most likely carbon-negative. Travel is beyond great, just make sure you're looking after your surroundings.
Bike touring… is the best way to embrace the outdoors
You spend most of your time outside, sleeping under the stars, waking up and going to sleep with the sun, feeling the elements on your skin and getting completely absorbed in your surroundings. You really feel like you become part of the environment, rather than just travel through it. It's an awesome feeling!
Bike touring… feels amazing for your mind, body and soul
As you can probably imagine, cycling 50-100 miles every day is pretty damn good for your health but it also seems to fill your mind, body and soul with energy.
Bike touring… introduces you to an incredible community
Man, the cycling community are probably some of the warmest in the world. Cycle past a fellow tourer and prepare for a conversation as though you're long lost friends. Having mechanical issues by the side of the road? We've never been passed by cyclists without the offer for help. Online and cycle touring communities are bloody welcoming too. Any Q's you have, however expert or naive they may be, you'll likely receive honest, non-judgemental answers. And, don't get us started on Warm Showers, probably the best travel experience in the world!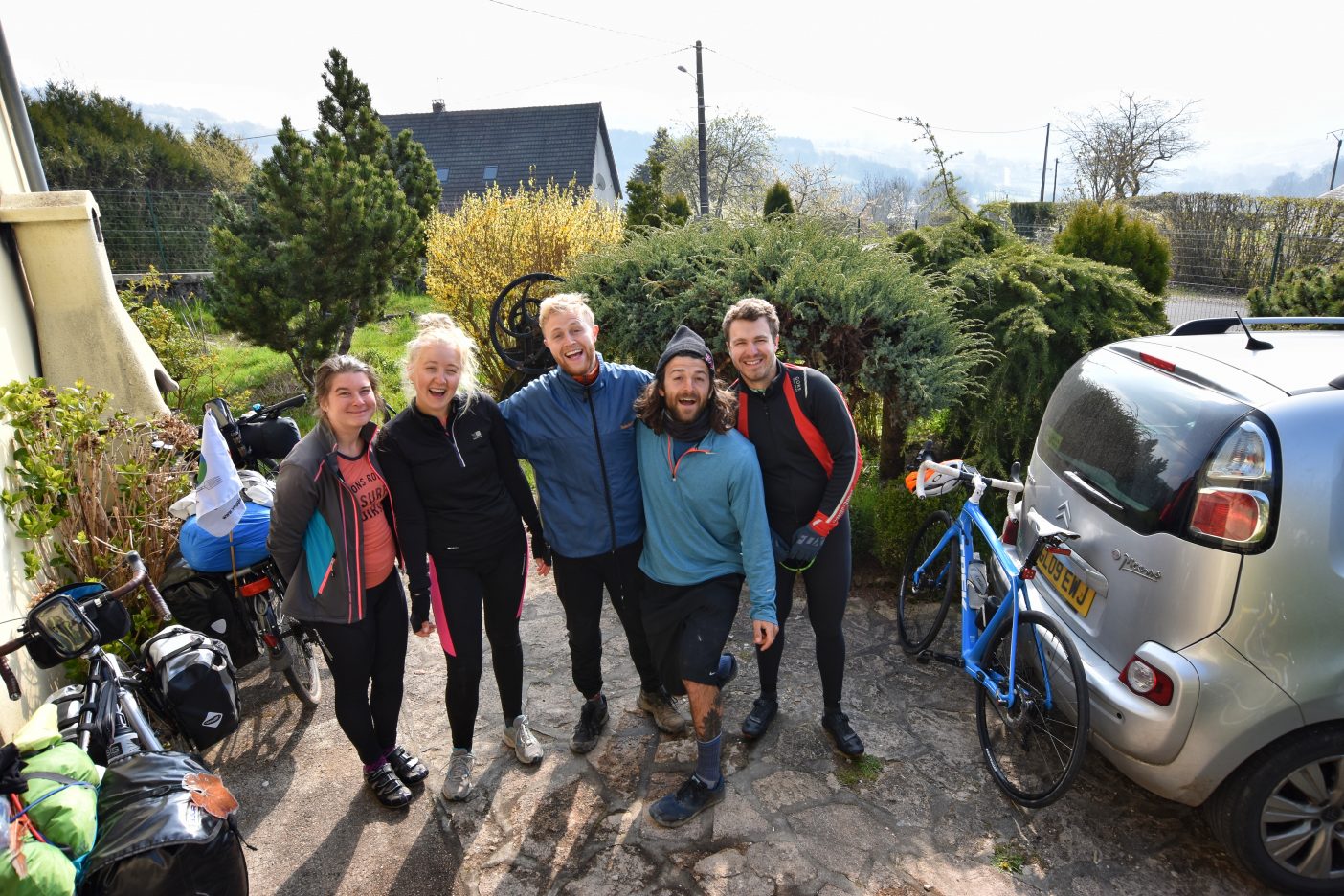 Bike touring… helps you appreciate the 'in-between bits'
Public transport takes you from A to B. When you're cycling touring you realise there's a lot of awesome stuff in between A and B. This gives you a truly unique insight to a country and culture, away from the tourist trail.
Bike touring… can bring some unbelievable hospitality
There's something about being on a bike in the middle of nowhere with a slightly bewildered look on your face and all of your possessions strapped to your bike that makes locals warm to you. You're so often met with mindblowing friendliness and hospitality, it really helps you see the beauty of humankind.
Bike touring… means you can carry more
We have around 150 litres carrying capacity, each! Camping gear, climbing and outdoors equipment, photography and electronics, clothes for a variety of conditions and uses… it all packs nicely in our panniers and opens up a whole lot more adventure possibilities. This would never be possible with a single backpack.
Bike touring… teaches you a hellofalotta skills
Spend a prolonged period of time outdoors and you'll learn skills which are pretty hard to match. Whether it's fixing a broken tent pole, learning how to repair a bike or even navigating and predicting weather conditions, it's all invaluable skills learned in the world's best classroom.
It's not all perfect…
Bike touring… means you're always tied to your bike and gear
This is a biggie: always having your stuff with you can be a nightmare. It can also make you feel pretty vulnerable in 'dodgy' areas. Yes, you can find accommodation or places to leave your bike and belongings but this is much harder than with backpacking.
Bike touring… can be hard work
For three main reasons: trying to tackle horrible conditions can be pretty grim (especially for prolonged periods of bad weather), bike touring does require more planning, and, if you're planning on taking on some altitude then prepare for sweat and an unquenchable appetite!
Bike touring… is pretty stressful in developed areas
You might disagree, but we find cycling through developed areas or cities reeeally stressful. Trying to cycle safely in traffic, on dodgy roads, with dangerous drivers and lots of pedestrians and then attempting to find accommodation that has a safe place for bikes… Sticking to the wild side is much easier!
Backpacking Vs. Bike Touring – the Verdict!
Both can be unforgettable adventures but which is the best way to explore a country?
The reason we're always coming back to this debate is, I guess, cos there's no solid answer: they're both better suited for different things.
Backpacking is awesome because you can travel long distances relatively easily, you're less dependent on the weather, cities and towns are easily enjoyed and you probably can have a more varied trip. It's definitely easier and requires less planning too. If you want to see famous sites, embrace local food and not be so smelly and hungry all the time – backpacking wins.
Cycle touring is an experience on its own, which then blends with your surroundings as you cycle through. To explore the wild, alternative and natural side of a country then cycle touring has got to take the crown. The feeling of freedom is unrivalled and it's a very wholesome way to explore. Can you beat the feeling of unzipping your tent to a stunning natural location, letting in the smells of the outdoors, the feeling of glorious weather and there not being a single soul for miles? We don't think so.
For us and the way we like to travel, bike touring suits us most, that's why we're cycling to India rather than overlanding with a backpack. We do seriously miss the flexibility of backpacking though, and being tied to your bikes is mind-numbingly frustrating sometimes.
Our solution? Now we travel with a backpack strapped to our bikes so we can blend the best of both worlds!
What do you think? Would you prefer to travel a country backpacking or bike touring? Any pros or cons you would add?