Bike touring gives you complete freedom to immerse yourself in your surroundings, experience a culture change and truly explore
---
The chance to explore with your senses, following your feet with complete freedom. Sounds like a real adventure right? Bike touring gives you complete autonomy over where you travel and for how long. Fancy a detour for a quick dip in that waterfall, something tangy and spicy tickles your taste buds, you've found the perfect perch to watch the sunset, all these experiences can be seized when cycle touring. Encounters that might otherwise be missed zooming past cities, countries and sometimes whole continents.
Bike touring is the perfect way to explore a region and to get there in the first place. We hadn't really considered cycling across the world but now we are, we'll never look back. It's given us the chance to really experience the culture of an area, change our route from the recommendations of locals and see so much of the natural world.
There's so much more! Check out the list and tell us if you've ever considered cycle touring and why you love it? 
You get an ultimate and complete sense of freedom
The flexibility to explore as you travel with complete freedom is second to none. Travelling in cars, buses, trains or planes means you completely bypass so much of a country or even a continent. Bike touring allows you to go wherever the urge takes you, whenever you want to.
The real essence of travelling is to truly experience a place, the sights, the locals, the food, the smells. You cannot have this experience when you zoom through whole regions, just to reach the next destination in your guide book.
The sense of freedom that comes from bike touring means your travels will also be far more relaxed. Without the time constraints of having to catch public transport, or arrive hours early to check-in. Plus there's no queues, no traffic or delays. It's just you and the road. You decide when you go and how far. If your journey takes a completely different route, no bother. You're a traveller after all and being in control of the saddle means you can explore whenever your heart desires or your senses lead you.
For us, some of our best adventures have been had this way: following the sound of prayer bells along a jungle path to join an evening puja in Sri Lanka, getting a waft of spicy curries and following the sent until we reach a vegan buffet feast… It's these by-chance experiences and encounters that make the travel experience.
You'll experience true hospitality and local life
This is reason alone to ditch the motor and put the pedal to the metal. Locals can really make or break a trip and how you view a country, with even small interactions staying with you and solidifying your impression of a place.
When cycling through Northern France we were welcomed in by a family who weren't cycle tourers themselves. In fact, they had never travelled by bike. Never the less they invited us in with open arms, preparing a home-cooked meal with vegetables they'd grown in their garden. As the night drew in we feasted on walnuts, preserved fruits and fresh teas, all from their garden. We shared stories of our travels as the family showed us around their bountiful plot of land which allowed them to be completely self-reliant.
They were very curious about our veganism and were keen to show us how they reared all their own animals and lived off the land. We all learnt a lot, exchanging ideas about the lifestyles we'd both chosen. For us, it was an enriching encounter, experiencing traditional home-cooking and gaining an insight into life in the French countryside. This insight would have been lost zooming through the whole region in a car or by train.
There is a whole reel of these encounters – being welcomed into locals' homes, sampling delicious new foods, engaging in conversations about the world and experiencing local life – all thanks to travelling by bike. With the addition of two wheels, strangers seem to sense a vulnerability in you, never hesitating to welcome you into their homes and lives with open arms. After an evening of good food and great company, you depart in the morning as friends.
Considering your first trip but not sure if it's the right thing for you or what to put on your cycle touring packing list?
Bike touring makes you bike savvy
It's very unlikely that you can travel for miles on your bicycle without experiencing any malfunctions. Even if you think you're the least resourceful person when it comes to bikes, you may just surprise yourself. When these malfunctions do unfortunately occur your intuition finds a way of kicking in and you'll discover changing an inner tube is easier than you think.
All this bike malarkey may seem daunting at first, which it is, however when you have to rely on your own skills and knowledge, survival mode kicks in. Speaking from experience, leaving it to the professionals always used to seem like a better idea. Life on the road, however, teaches you a lot about being self-sufficient. It also teaches you that labour costs a lot more than doing it yourself!
You'll respect and appreciate how magnificent the natural world is from your saddle
Travelling by bike allows you to spend the day outside immersed in your surroundings. As you leave the hustle and bustle of the city, taking to bike touring routes, you'll find yourself appreciating the great outdoors more than ever before.
The simplicity of following the road ahead with the sounds of nature accompanying your ride is hard to beat. Pedalling through woodlands and meandering through valleys helps you realise the feeling of being grounded in the great outdoors is one of the greatest things in the world.
You'll appreciate the shade of a tree when you stop to have lunch and the gentle breeze that cools you. The chance to soak in a stream at the end of the day will seem like paradise. Most of all finding a good spot to watch the sunset effortlessly makes all your cares simply slip away.
Cycle touring keeps you in tip-top shape
Surely it goes without saying that cycling is a great way to stay fit and healthy. After all, it's exercise as well as a mode of transport.
Cycling can lower your risk of developing heart disease or cancer, a recent study from the British Medical Journal has found. It's a awesome form of cardio, helps to build muscle and aid weight loss. Sounds like the usual upsides of exercise right?
Cycling is actually better than many other forms of exercise because it's low impact on your joints and muscles, which means you're less likely to develop an injury. Compared with long-distance runners who are 133% more likely to develop an injury, long-distance cyclists can look forward to a long life of cycle-based adventures – what a great way to get from A to B.
Freedom aside, cycling is a very practical means of transport
Okay, you're not going to somewhere as quickly as a train or plane but what's the rush?
Getting from the UK to Australia may involve some planning but anywhere in Europe can easily be visited on a bike. Europe boasts some of the most beautiful and accessible bike touring routes in the world. We particularly recommend the Via Rhona which runs from the Mediterranean in the South of France to Lake Geneva, Switzerland.
Not only are these routes incredibly scenic and beautiful experience, it's a very useful form of transport. You'll find designated paths taking you across whole continents. Plus when the terrain gets tough you can easily take your bike on a bus or a train. Allowing you to cover more ground in the long run, whilst keeping your bicycle are reaping the rewards.
Cycling also means you're able to ride on all types of roads. Of course, you can go on main roads with cars but also small country lanes, alongside streams and meander through valleys big vehicles otherwise can't. This means you can make the most of short cuts or enjoy the scenic route. You have the best of both worlds.
Fancy cycling along one of the highest roads in the world – the Pamir Highway!
You can witness the culture change as you cycle
The ability to see and feel a culture changing is something you just don't experience when flying. As you cycle you could notice the tarmac roads turn to dirt paths, supermarkets get replaced by locals fruit and vegetable sellers, the food might become spicier, the music may become more traditional, the language can become harder to pronounce. This is the essence of travel, feeling the culture shift even between one town to another.
Cycle touring is slow travel, unless of course you're Sean Conway, in which case it's as fast as you want it to be. The beauty of slow travel is the ability to intimately explore a place. Experiences such as exploring castle ruins, sampling some of the local eateries, foraging for fruit.
As you travel you'll be truly experiencing the world and meeting people. As a traveller you want to feast on local delicacies, experiences the hustle and bustle of the markets, dive straight into that magnificent waterfall, share stories with locals.
Want to know more about the logistics of cycle touring? This guide answers all your questions about getting in the saddle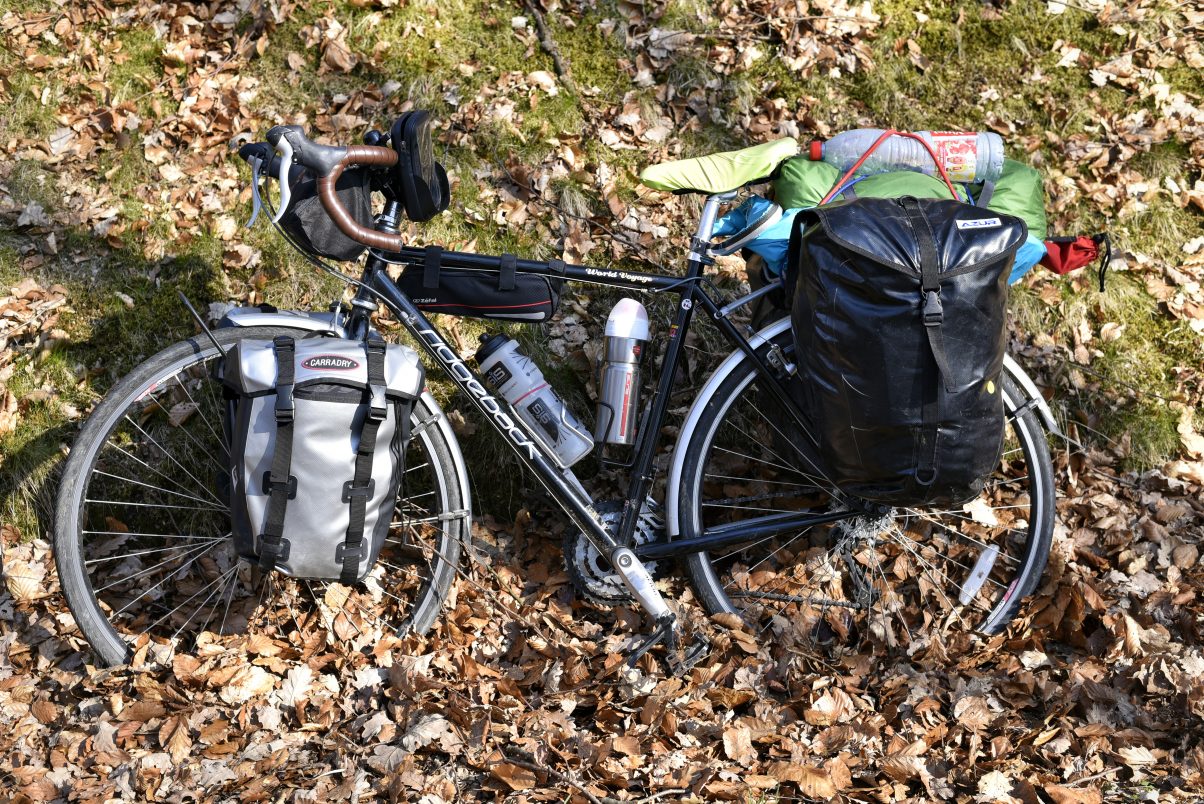 Cycle touring will make you enlightened
Ok, slight exaggeration. But, it will benefit your well-being and that's a fact. The combination of spending time outdoors and exercising is the best recipe for a healthy mind. It makes you happier, more productive and boosts your immune system. There's a ton of benefits that come from spending time in nature which you can read more about here.
This feeling that comes from spending time in the great outdoors, with just you and the road makes you feel in an almost meditative state. Depending on where you're pedalling it can be a very simple way of life. In less populated parts of the world, your needs are basic whilst the environment offers stunning views and often not much else. You become a lot more in tune with your body and your surroundings which will have you feeling wiser and more content than the Dali Lama.
READ MORE: Ladies, worried about saddle sore? Check this out!
Become a better adventurer from bike touring
Not only will you be more bike savvy, but you'll also be a better adventurer all round. You won't even need to try hard but before long you'll possess skills to rival Bear Grylls.
Life on the road will prepare you for the unpredictability of the great outdoors. You'll be able to navigate, have a whole repertoire of camping hacks such as fire-starting or how to pitch a tent in a hurry. You'll learn how to pick a good wild-camping spot and when to give up pedalling on a dirt road and just push. Most importantly of all though, you'll learn how to make delicious grub with what seems like hardly any ingredients at all.
The simplicity and at times uncertainty of spending time in the natural world will make you surprisingly resourceful. You'll find solutions to problems and you'll be a little more robust. Losing a piece of gear won't seem so bad when you find ways to make do without, getting a bit muddy will be all part of the experience. You may just surprise yourself how adaptable you are.
Cycle touring can be testing at times when the terrain is against you and the weather has decided to be mean to you all day. It's overcoming these hiccups and making the most of the adventure that will be overwhelmingly rewarding, having you feel like a true explorer.
Looking for a touring destination? What about the Hebridean Cycle Route?
Cycle touring will save the world
What, you think I'm exaggerating again? Well maybe just you taking to the saddle won't instantly save the planet but it will count towards it. Ditching the plane, train or motor for a bicycle will immensely reduce your carbon footprint thus protecting the natural world. I won't go on too much, but we decided to stop flying because of how damaging it is. Which you can read in more detail along with how exactly it's so damaging.
Cycling from one location to the next, plus exploring places on your bike, will instantly protect the environment. Just one simple change? Yep, just switching up your motorised mode of transport for a bicycle can really do such wonders. Plus people will be inspired by your journey, they'll wonder how far you've come and why you're cycling instead of flying or driving. Passing on this sustainable ethos will cause others to think about reducing their carbon footprint. A world with more cyclists is a better world after all.
10 Reasons Why You'll Dig Bike Touring
All sounds pretty incredible right? Because it is! Cycling really is one of the best ways to travel. It's the chance to immerse yourself in the places you go and people you meet. You're able to experience so much as you travel slowly.
Spending the day outdoors, surrounded by the natural world and learning to be resourceful feels like a real adventure. You don't need to have tons of skills or gear to give it a go. We didn't and we're just casually cycling to India!
This trip has taught us so much. We've long loved travelling, but since cycling we've really had the chance to experience peoples true hospitality and absorb ourselves in the great outdoors. Making these connections and taking recommendations has really altered our trip for the better. If you want to read more about our cycling expedition from England to India we have a ton of tips and stories from the road. If you want to know something specific or just want to say hey drop us a comment below! We especially love hearing about your trips and plans on two wheels.
If you liked 10 Reasons Why You'll Dig Cycle Touring then you might also want to check out
We're Cycling from England to India – No Emissions but Big Ambitions!
Bike Touring Vs. Backpacking: Which is the Ultimate Way to Travel