A complete guide to the Sous Dine hike, French Alps with all the information you need to prepare for the trail
---
The Sous Dine Hike is the perfect outdoors day trip close to Geneva with stunning views as you summit. The hike is upper-intermediate difficulty, with a few exposed sections that require some climbing aided by a metal cable and pegs (Via Ferrata). The hike begins in dense woodland, which then opens up to a meadow with magnificent views of the peaks ahead that you are about to summit.
As this is not a popular hiking desination it'snot uncommon to not see any other hikers on the trail. The whole area is breath-taking, with rugged cliffs draped in places with bright green alpine trees. It's not uncommon to see ibex on the trail, with the faint calming sound of cowbells in the distance.
From the top, you'll find incredible panoramic views of the Alps, Geneva and the Jura Mountains behind. Having made the ascent twice ourselves we recommend making the climb in the dryer conditions, as the exposed section can be slippery in the wet.
This article contains all you need to know to hike this stunning peak, including:
Why you'll love hiking Sous Dine

Hike details (ascent and descent)

How to get to Sous Dine

Accommodation nearby

Amenities to be found around the peak

What to pack hiking
If there's anything else you want to know, reach out to us in the comments or send us a message. We're more than happy to answer any questions and would love to know what you thought of the route.
Sous Dine Hike Details
Hiking Distance: 8 miles round trip
Hiking Duration: 4 – 6 hours 
Altitude: 2,004 meters 
Elevation gain: 832 meters 
Difficulty: Upper-intermediate. There are some exposed sections that are reinforced with bolts and a cable for climbing. These sections span less than 20 meters but do require climbing and careful footwork. Taking a harness and clip for small children is advised.
When to hike Sous Dine: Very weather dependent. In the Spring and Summer months it's easily accessible, however, after rainfall the sections that require climbing can become very slippery and pose a danger. After snowfall the trail is difficult to follow so hiking at this time is only advised for experienced mountaineers with skills to navigate.
Suitable for: Those who are semi-confident hikers comfortable hiking through steeper sections and parts that require some climbing. A harness and clip are advised for younger and less confident hikers on the sections that require climbing.
Make your time on the trail perfect with these hiking tips!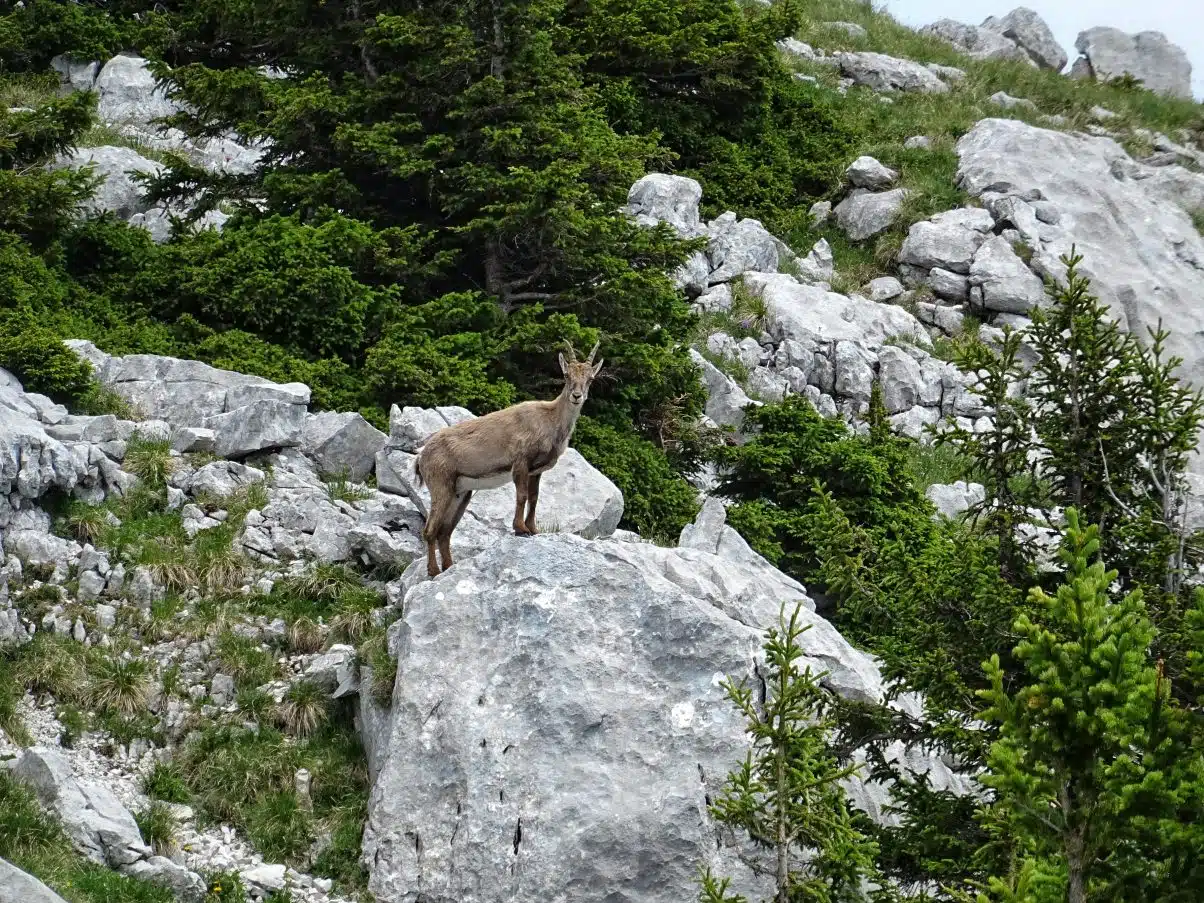 Why hike Sous Dine?
The Sous Dine Hike has some of the most breathtaking views you'll see in the French Alps. It's easily accessible, making it a perfect hike near Geneva for those who want to be surrounded by the natural world without having to travel too far.
The whole hike is beautiful but as you ascend the views become even better. From the ridge, you have serene panoramas for hundreds of miles, overlooking the surrounding snow-capped peaks and mountain ranges.
This hike is not an overly popular route which means you won't be met with hoards of other hikers – perfect if you want to get off the beaten track and immerse yourself in the outdoors world.
Sous Dine Ascent
From the back of Le Chesnet car park follow the trail leading towards the Chalet de Balme. The path is wide enough for cars as it's used to access the chalet, comprised of large stones underfoot. As you hike you're surrounded by forest which at times open up with views of the surrounding peaks. After 3/4 of a mile the path spilts, take the left-hand trail which will then shortly take you to a stream crossing. After 500m the path will split again and here you take the right-hand trail.
As you continue walking the trail opens up into a large grassy meadow with spectacular views of Sur Cou, Roche Parnel and Sous Dine peaks.
From here the trail leads South East towards the steep cliff of Roche Parnal. The grassy slopes lead towards a trodden trail that soon becomes steep on the right. This part of the trail leads to the section that requires some climbing. The cliffside is enforced with steel pegs for stepping on and a steel cable to hold as you climb. It's here a harness and clip are advised for less experienced hikers. Carefully cross the boulder to reach the Col du Cable, then follow the red markings towards Sous Dine which will be on your right-hand side.
Hardest part over!
From here the ascent takes you along the ridge towards Sous Dine's peak. There are at times some other sections that are secured with cables for climbing but these are not as steep or difficult as the first section.
Follow the red markers towards Point Sub Cena hiking over some small rocky outcrops. A cable aids your climb across an inclined slab. Continue along the trail to join the summit ridge where you will then arrive at a cross marking the top at 2003m.
As always, it's important to take a GPS or navigating system for your hike. We recommend using Maps.Me which has great coverage for the region. More navigating info further down.
Descent
From the summit, you can take the same route down or do a loop. I recommend doing the loop as variety is the spice of life after all!
From the cross at the summit follow the path west as it gradually descends into a wooded area. You will soon reach the top of Passage du Monthieu, from here there is a steep section where you may need to climb down, steadying yourself with your hands as you do. The path continues East with a thin section equipped with a cable to help steady yourself as you cross.
There are then various trails that lead down from here. Descend in the direction of Northeast where the trail will join back up with the meadow from where you started. From here take the same route down through the woods where you will eventually meet back with the car park.
Looking for another similar hike in the area? Check out this guide to hiking Le Mole with stunning panoramic views of the Alps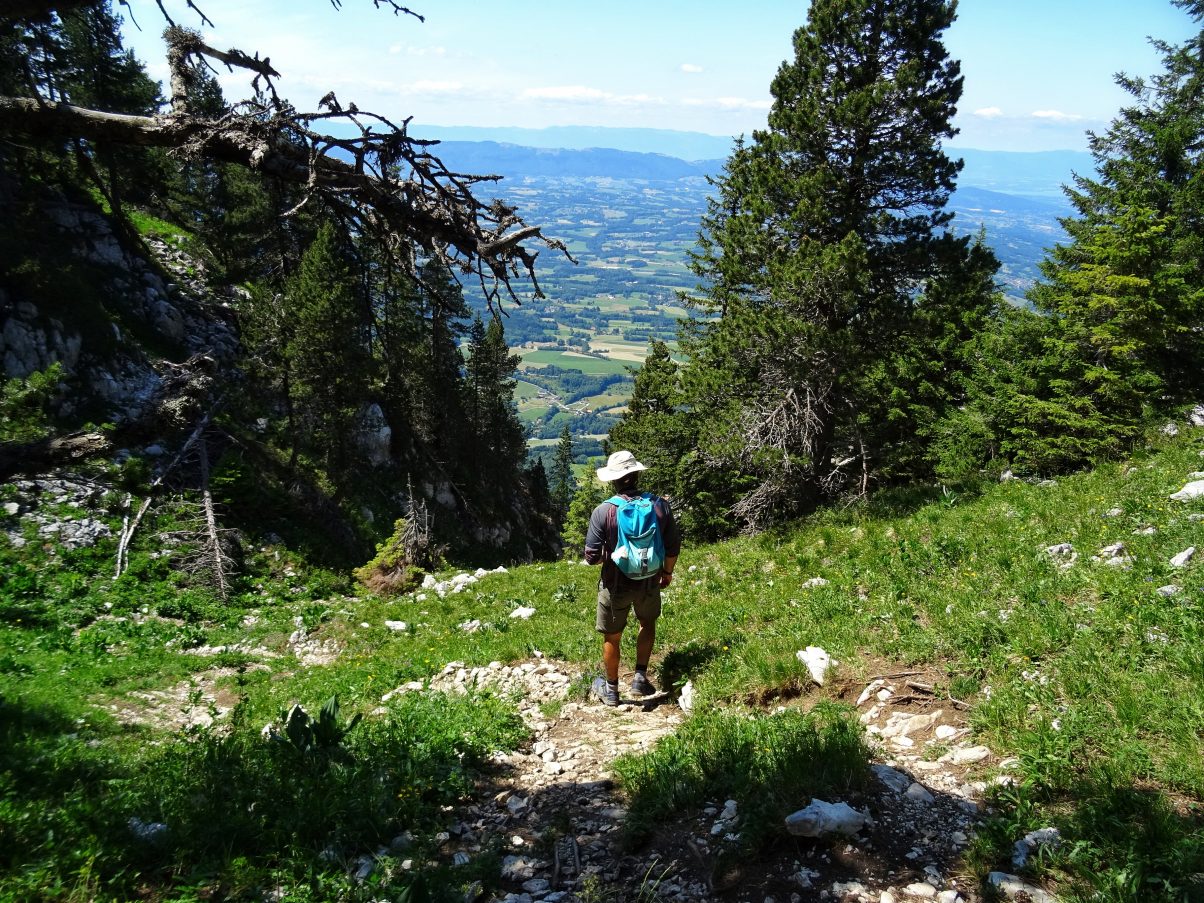 Getting to the Sous Dine Hike
Travelling by car
From La Roche-sur-Foron follow the D2 road towards La Fleuries. Continue following the D2 along Rue de Thorens until you reach Route d'Orange, where you take the left-hand turning towards Orange. Stay on Route d'Orange and you will see signs for Parking du Chesnet ahead. This is the public carpark where the hike starts.
Public transport to Sous Dine
Arriving by train or bus, travel to La Roche-sur-Foron. From here there are no buses that lead to Orange but hitching to the trailhead is an easy option. From our experience, locals are quite used to the hitch-hiking culture as the area is popular amongst hikers and public transport is not available. As always take care when hitch-hiking and we recommend travelling in pairs for safety.
Travelling via taxi
There are a few local taxi services as well which you can use to travel between La Roch-sur-Foron and the trail.
Taxi Rochois: +33 6 21 45 79 31
Car rental
If you're staying in the area a while you may want to rent a car. As I mentioned you're spoilt for choice with hiking trails in the surrounding area so renting a car is a great way to travel between hikes.
Europcar is a popular European car hire and the closest pick-up point is Geneva airport.
Arriving by bicycle
Scrapping a car of any sorts, you could also cycle. From La Roche-sur-Foron is possible however be forewarned that the cycle involves a 622m incline over 4.7 miles. The road is frequently used by cyclist so you will have some lycra-clad company, but I recommend taking the cycle easy to save energy for the hike. Altogether it combines to make a very tiring day. On the plus side though cycling down is a breeze, with stunning views as you zoom down the peak.
If you're going to be camping be sure to check out our camping packing guide too!
Accommodation
The surrounding Haute-Savoie region is a popular hiking destination, so you'll find a number of awesome accommodation options. Click here to find the best accommodation options for your trip.
Local amenities
The closest town is La Roche-sur-Foron which is a well-equipped with supermarkets and a bio shop where you can buy food and essentials for your hike.
There is also tourist information which can give you advice on hikes in the area and how to get around.
To avoid achy muscles post hike these simple hiking streches will keep you feeling agile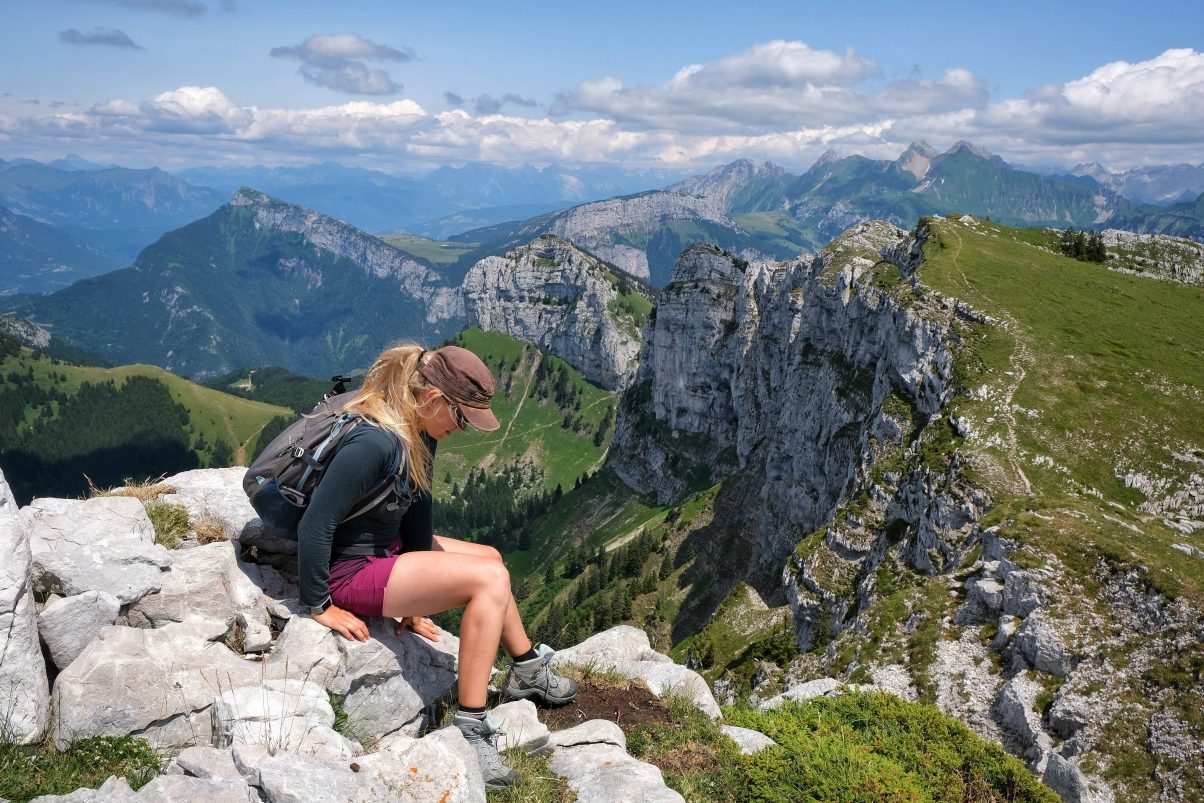 Your Hiking Packing List
Not sure what to take or what clothes to wear? You'll find lots of information on our Beginner's Guide to Hiking, or take a look at our Hiking Packing Guide, which includes:
Hiking essentials (the stuff you should always take with you)
Hiking clothes for summer and winter
Medical and safety gear
Food and water
Extra bits and sustainable considerations
And, if you're going to be hiking in warmer months make sure you read this guide!
Navigating
It is generally advised that when hiking you take a map and compass to navigate your way. The trail on the Sou Dine Hike is well-trodden and signposted so navigating in the summer is very straight forward.
You can use GPS maps such as Maps.Me as it's free and perfect for hiking in Europe.
During the winter months, conditions can be very harsh with plenty of snow and ice on the trail, especially the more exposed sections that require some skill and climbing. Hiking in this period is only advised for experienced hikers with the right gear, equipment and skills. You will need to have good navigation skills as visibility can be very low and it could be dangerous to hike without such abilities.
If you have any questions about the hike or have summited Sous Dine let us know in the comments below
Keep exploring…
A Guide to Hiking Le Môle – Stunning Panoramic Views of the Alps Close to Geneva
11 Epic Trails That Will Make You Want to Go Hiking in France