Cycling the Hebridean Way truly is the experience of a lifetime, this guide explains exactly how you can do it yourself!
---
Hiding in one of the farthest corners of Scotland are the Outer Hebrides, also known as the Western Islands, an archipelago consisting of 15 inhabited islands and hundreds of small islets and skerries. Thanks to their location at the edge of Atlantic Ocean, far from the busy life of the Scottish mainland, the Hebrides kept their remote character, unique culture and peaceful ambience.
As the population is sparse and mostly concentrated on Lewis and Harris, remaining islands offer quiet roads and stunning scenery – just perfect for cycling!
In 2016 the islands were recognised as a cyclists' paradise and the official Hebridean Way Cycling Route was launched. Since then, the islands attract scores of cyclists, keen to explore the route and witness the magical beauty of the Outer Hebrides.
In this guide, you'll find:
You'll also find some seriously useful cycling tips and places to see on the islands, including:
If you've got any further Q's make sure to drop us a comment below!
This article contains affiliate links. If you make purchases through these links we may make a small commission – this is never of any extra cost to you – but helps support Veggie Vagabonds, thank you!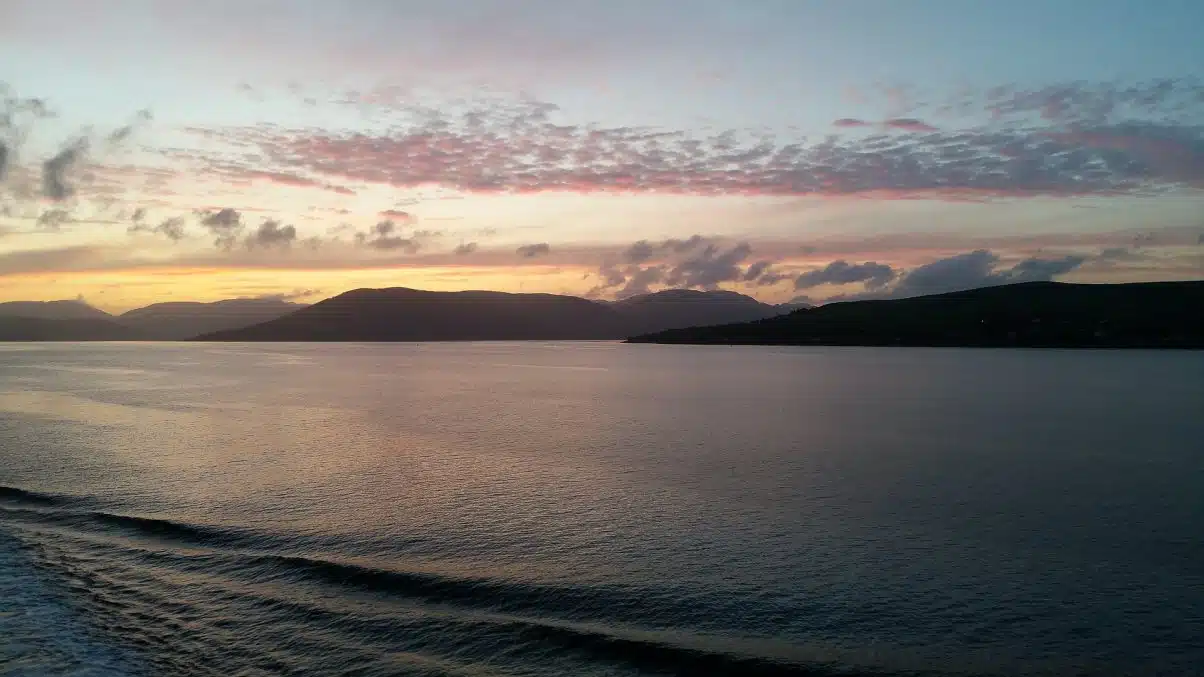 Hebride

an

Way Cycling Route

(National Cycling Route 780)

at a glance
Where:

the Outer Hebrides islands in northern Scotland.

Start

:

Vate

rsay

village (

Vatersay

island

)

Finish

:

Butt of Lewis (Lewis island)

Distance:

185 miles / 298 km

,

easily broken into sections

of your choice

.

Route partially marked.

Time needed:

5 – 7 days (usually 6 days)

Number of islands:

10

Number of ferry crossings

between the islands

:

2

(+2, getting to and away

from Outer Hebrides)

Difficulty:

Intermediate

(elevation gain

between 110 and 550

metres

)

Best time to go:

May to October

Accommodation

options

:

guest houses, h

ostels, campsites or check out our guide to wild camping – t

he choice is yours!
Important note: starting and finishing points are in remote locations, away from ferry terminals. Hence, remember this will add extra miles to the route: 13 miles from ferry harbour in Castlebay on Barra island to the starting point in Vatersay, and 29 miles from the finishing point at Butt of Lewis to ferry harbour in Stornoway on Lewis island. Find more information on the Getting There & Away section further down.
Our experience
cycling
the
Hebridean
Way
in Scotland
The idea of exploring the Hebridean cycle way had been lingering in our minds for some time, however we kept postponing the trip, unsure we were fit enough to endure a week on the saddle. Then a friend of ours casually mentioned she was considering cycling the route and together we decided to give it a go. That's how we came to the Other Hebrides and cycled the islands from the south to the north.
Before setting off from our home (Edinburgh) we prepared the itinerary and daily distances to cover, however, once on the islands, we learned that one has to be flexible and open-minded in relation to the plan.
As it turned out, our journey was greatly influenced by weather conditions; these are remote islands located at the edge of Atlantic Ocean, hence one can expect to experience all kinds of weather (from the serene to the truly wild!) within a period of 1 week… sometimes within 1 day actually!
We also quickly learned why the cycling route was marked from south to north. The majority of times the islands are battered by southerly wind, hence starting from Vatersay, cyclists are more likely to enjoy tailwind!
Nonetheless, exploring the Outer Hebrides archipelago in the saddle was an unforgettable experience and we loved every minute of it, despite the hardship of some sections. Cycling the Hebridean Way allowed us to fully appreciate the beauty of the islands and inspired us to seek other stunning cycling routes in Scotland.
Continue reading to find out why we loved cycling the Hebridean Way, and what to expect along the way!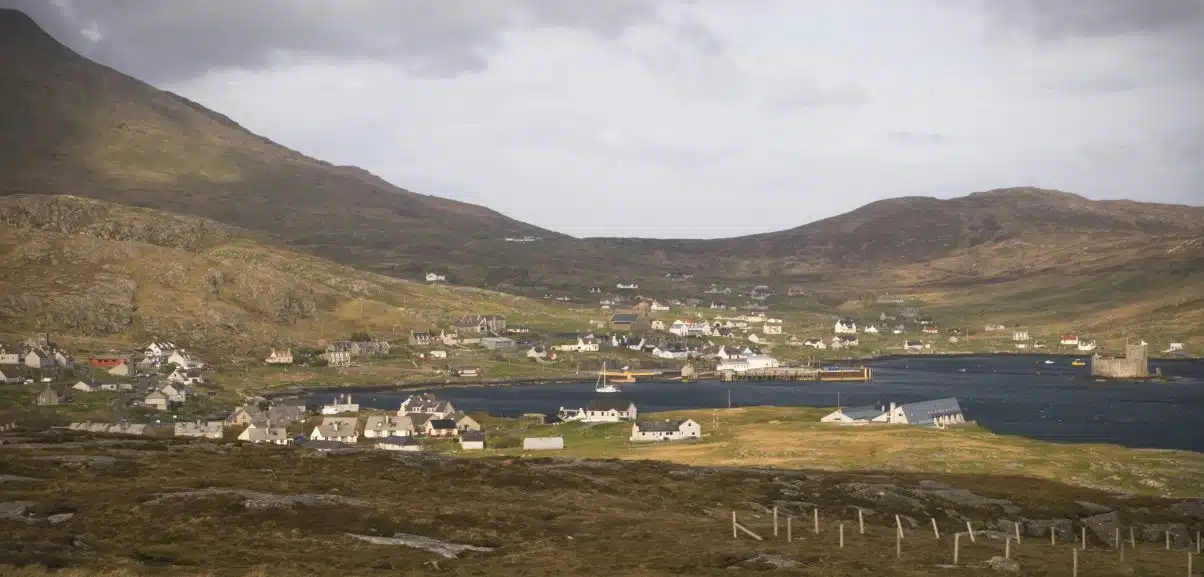 Your Guide to Cycling

the

Hebridean

Way
Islands: Vatersay and Barra
The Hebridean Way cycle begins in the centre of Vatersay village (near the Post Office) and follows the island's eastern shores to Barra. Once you reach Barra (by causeway) follow the quiet, western leg of road A888 to the ferry harbour in Ardmhor. Look out for stunning beaches along the way!
There is a regular ferry connection between Barra and the next island, Eriskay; crossing time approximately 40 minutes.
Distance: 13.5 miles / 22 km
Difficulty: easy (total elevation gain 110 metres)
What to see along the way: beaches of Vatersay, Castlebay village and stunning beaches near Borve on Barra island
For more bike-based resources and adventure inspiration, be sure to sign up for our mailing list below!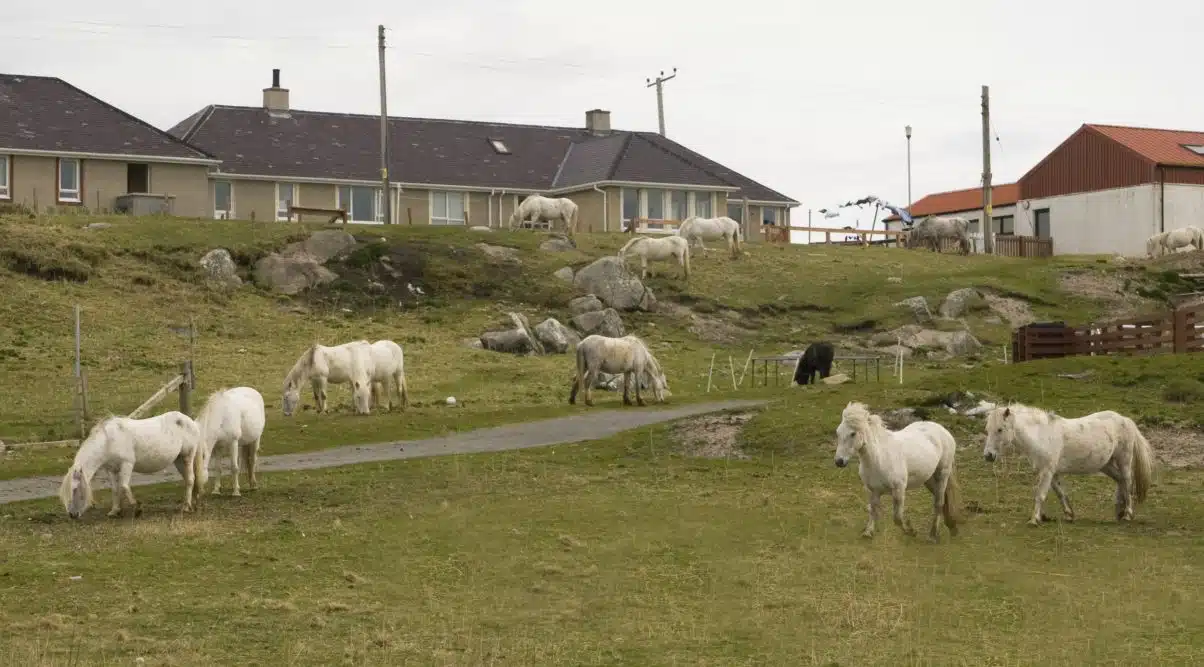 Islands: Eriskay and South Uist
Having landed on Eriskay, follow the main road towards the village. Despite being only a small island, Eriskay will enchant you with its beauty. Its main characteristics are small rough green hills, beautifully contrasting with turquoise seawater surrounding the island.
Eriskay is also home to wild ponies! You're very likely to see them along the way, prepare yourself to be surprised by the sight of white horses casually roaming amongst houses in Eriskay village! Keep in mind, though, 'the horses of Eriskay' are wild animals famed for their temperament, so don't approach them.
Past the Eriskay village, you'll already see the causeway which will take you to the next island, South Uist.
In a nutshell, South Uist is a rather long and narrow island, mostly flat. It's best known for stunning white sand beaches stretching along its western and northern shores. The beaches are pretty spectacular, especially as they run continuously for over 20 miles! The Outer Hebrides are known to be very safe, so if you'd like to explore some of its beaches, feel confident to leave your bike and belongings at the roadside.
Also, cycling along South Uist is a great experience. The road (A865) is good quality and very quiet. On your way, you'll pass several small settlements with typical Hebridean architecture. The next island, Benbecula, is connected to South Uist by a causeway.
Distance: 27 miles / 43 km
Difficulty: easy (total elevation gain 390 metres)
What to see along the way: wild horses of Eriskay, Howmore beach and hostel (typical Hebridean black house with thatched roof)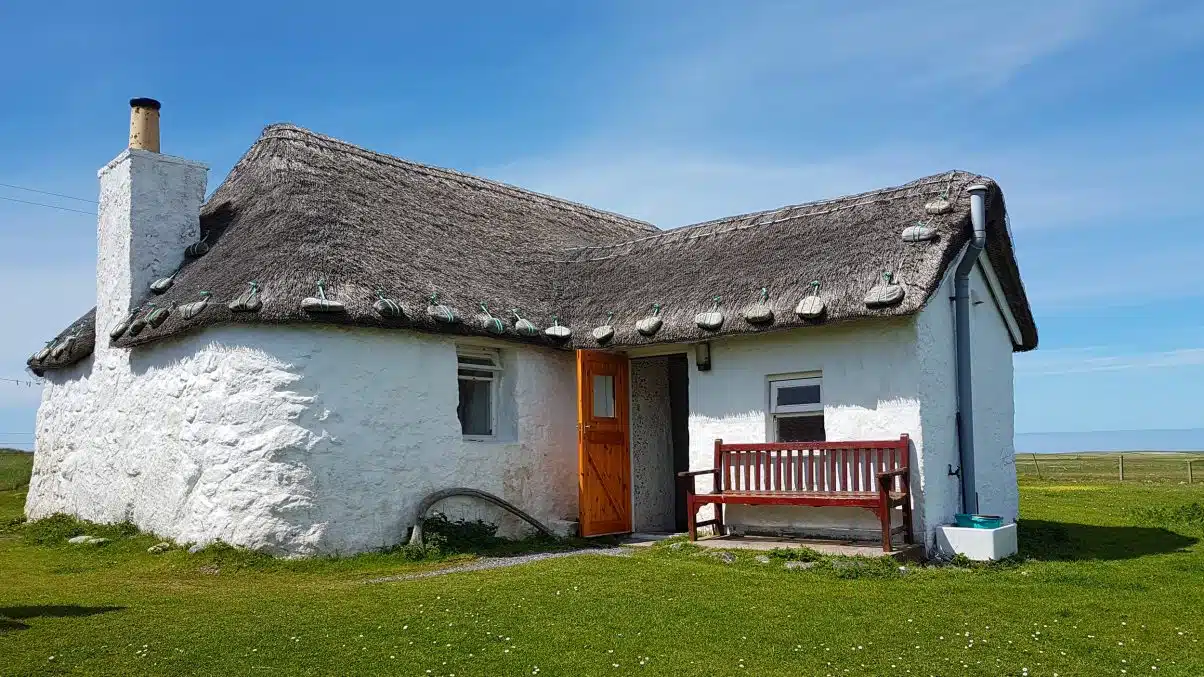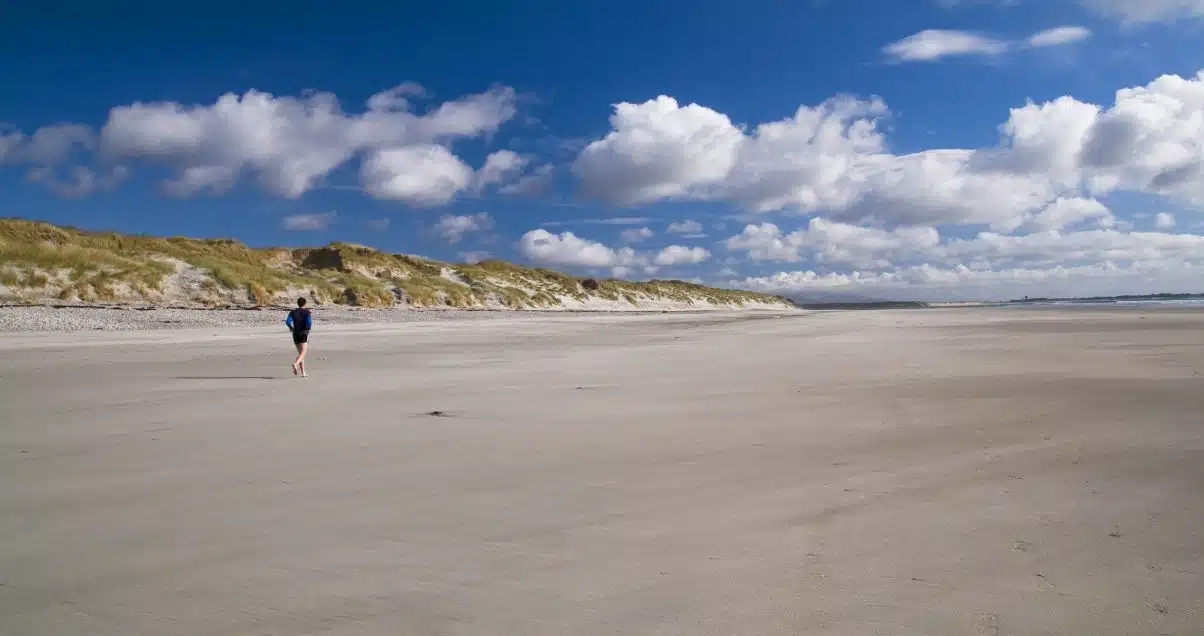 Islands: Benbecula, Grimsay, North Uist and Berneray
Benbecula is a small island, fitted tightly between the South and North Uist. It's pretty much flat, hence making for easy and enjoyable cycling. Sadly, you may find that Benbecula lacks in charm comparing to other islands. However, it's only a short distance, approximately 40 minutes ride to its top and a causeway to another small island – Grimsay.
Hebridean Cycling Way visits the tiny island of Grimsay only briefly, before reaching another causeway, taking you to North Uist.
North Uist is a very unique island. Its characteristic features are countless lochs and lochans (Scottish for lakes and ponds) dotting wild moorlands. Also, there are some spectacular beaches along its western and northern shores. These are unspoilt beaches with fine white sand, turquoise sea water, dunes. They're simply mind-blowing and offer great several-miles walks if you fancy one.
The cycling route follows 'western road' A865, which is virtually traffic-free although it passes a couple of small settlements. You will thoroughly enjoy this section of the National Cycling Route 780; it's very peaceful, with the views to small rough hills (or just bumps), lochans and ever-present sheep!
The next island, Berneray, is connected to North Uist by yet another causeway. Feel free to explore the island's beaches and villages.
To continue to the next island, Harris, take a ferry from Berneray to Leverburgh(regular service, approximately every 2 hours, crossing time 1 hour).
Distance: 37 miles / 60 km
Difficulty: easy (total elevation gain 100 metres)
What to see along the way: The Black Horse pub in Linaclate (Benbecula), Linaclate beach (Benbecula), beaches of North Uist: especially Carinish and Traigh Bhalaig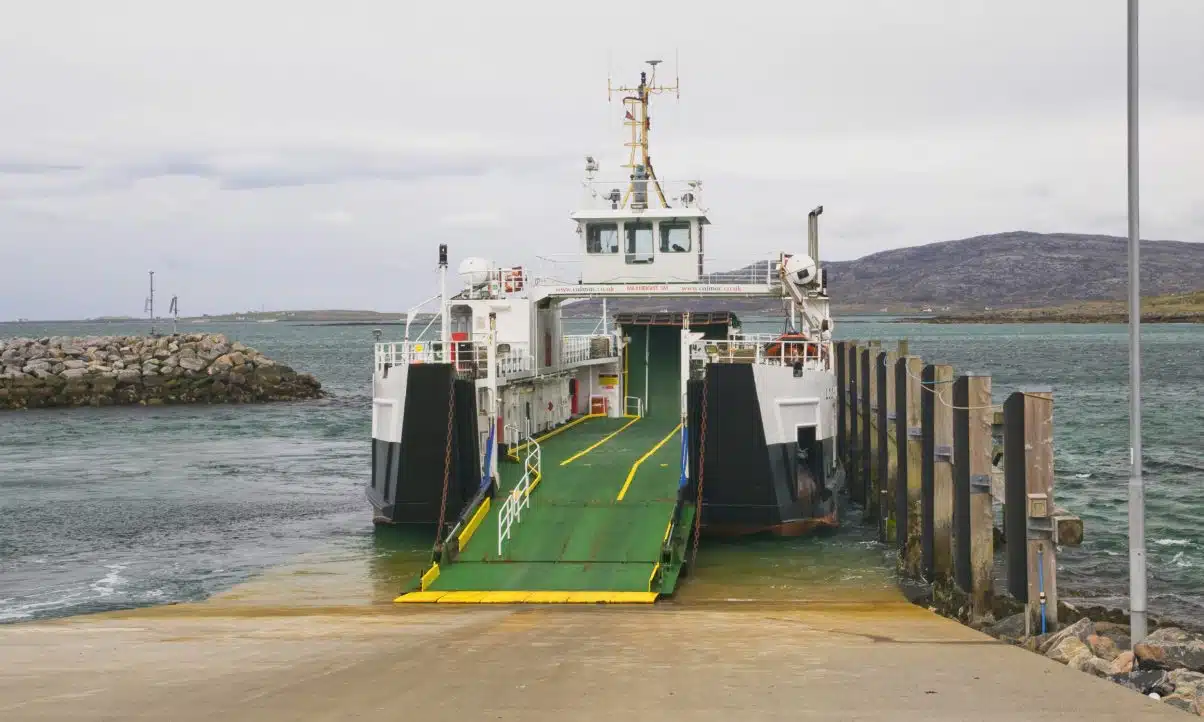 Check out our Eco Cycle Touring tips ahead of your trip, to help protect the places you ride
Island: Harris
Arriving to Leverburgh on the Isle Harris, you will instantly recognise a change in terrain; southern islands of the archipelago were mostly flat, however, Harris is famous for being hilly, so prepare yourself for several strenuous ascents.
The first landmark to pass while cycling in Harris are the unique mazes of marsh. Only 1 km further you'll come to the grand Scarista beach, the road follows its full length. The cycling route follows the A859 along western shores of Harris and is literally squeezed between stunning coastline and rugged hills. Soon you'll come to a viewpoint over Horgabost beach (another stunner!) and only a couple of kilometres further you'll be speechless again, looking down to sands of Luskintyre.
As soon as you pass the viewpoint to Luskintyre beach, the first hard ascent starts, followed by a fine 5 km downhill ride to Tarbert, the capital of Harris. The second ascent awaits you just past Tarbert, where the road A859 encircles the slopes of the highest mountain on Outer Hebrides, Clisham. Again, it's followed by an amazing 6 km downhill ride, with the most stunning views to the hills and lochs.
Distance: 34 miles / 55 km
Difficulty: hard (total elevation gain 550 metres)
What to see along the way: Scarista beach, Horgabost beach, Seilebost beach, view to Luskintyre sands, Tarbert, Clisham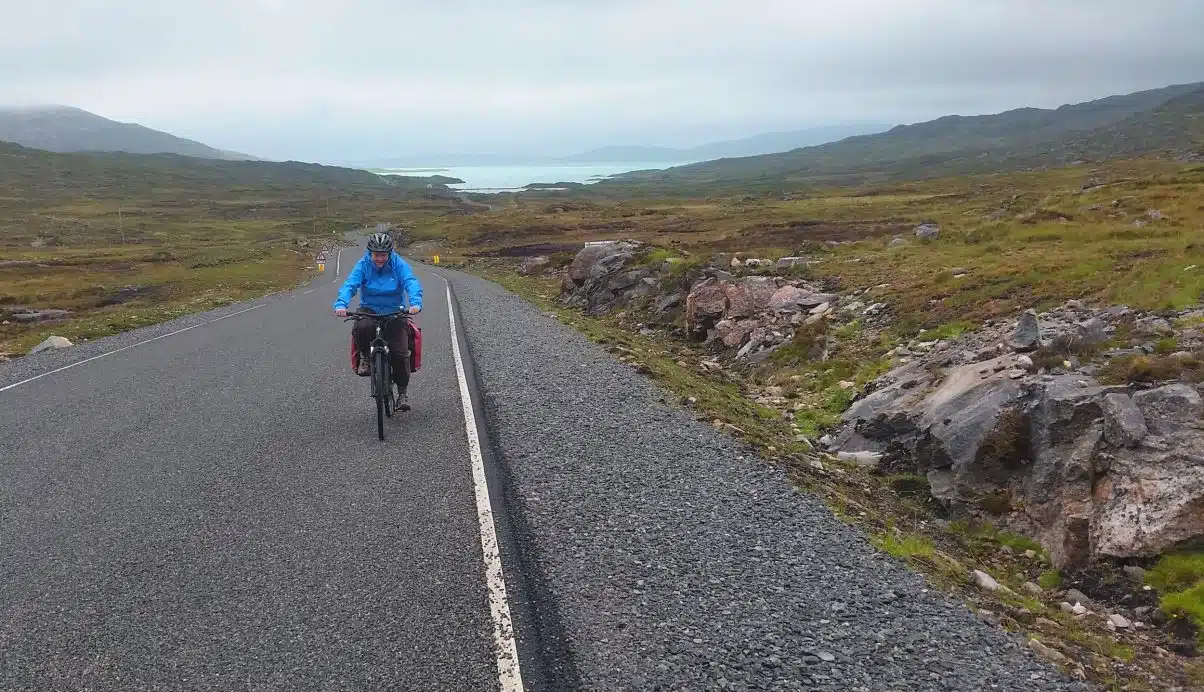 Island: Lewis
Despite Harris and Lewis being 'one chunk of land', the islands are distinguished by a dramatic change in landscape, with the border near Airda'Mhulaidh.
Having crossed to Lewis, you'll leave the strenuous ascents behind but will enter the world of rolling hills. For any cyclist, this means a lot of ups and downs.
The first prominent landmark along the way is the ancient stone ring at Callanish. Apart from exploring the island's rich history, at Callanish you can also enjoy cold drinks and homely food.
The Hebridean cycle route continues further along road A858 (which later changes into A857) and follows the western shores of Lewis.
The route to Butt of Lewis is almost completely straight, running through wild moorlands and wetlands, so you'll be totally at the mercy of the elements. Only a couple of kilometres before the grand finale of the Hebridean Way is a tiny settlement settled on cliffs, with a small harbour; we highly recommend exploring the coastline of Ness – they're simply stunning!
The final stretch of road between Ness and Butt of Lewis is a very narrow single track with virtually no traffic. A few kilometres away is the famous brown Lighthouse at the Butt of Lewis but you'll also find a fantastic wild camping spot just on the beach at Port Stroth.
Distance: 63 miles / 101 km
Difficulty: hard (total elevation gain 548 metres)
What to see along the way: standing stones of Callanish, Carloway, Ness, Butt of Lewis lighthouse
Congratulations, you have officially completed the Hebridean Way! But, there's still more to come…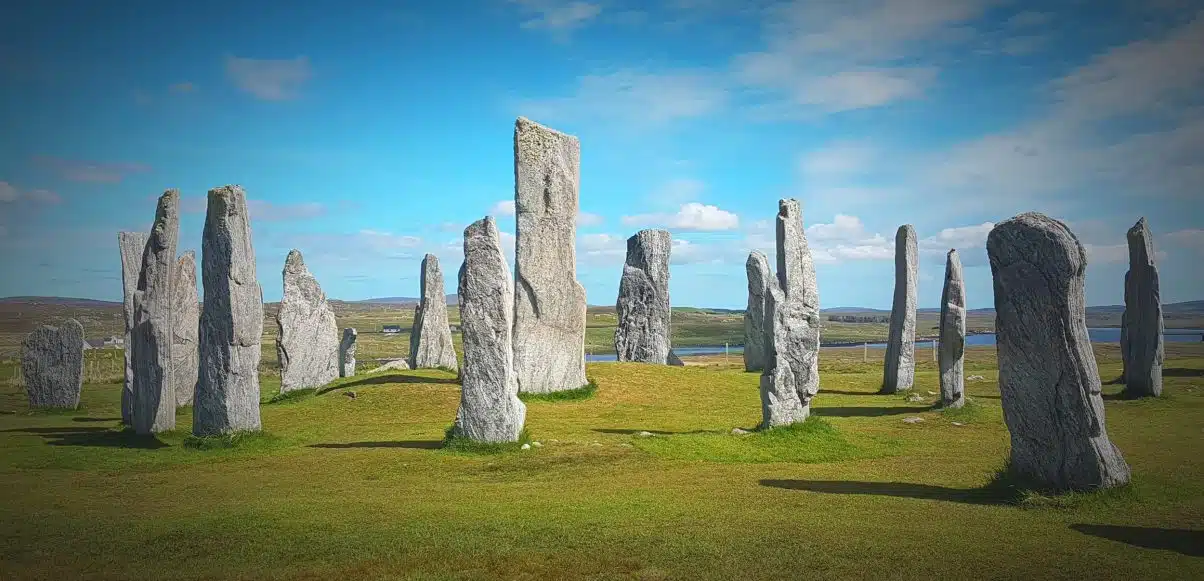 How to Get to the Hebridean Way
Visiting the Outer Hebrides by bike involves two ferry crossings and a couple of train journeys.
To get to Barra you have to take an Oban – Castlebay ferry, crossing time 5 hours.
To leave Lewis you have to take a Stornoway – Ullapool ferry, crossing time 2 hours.
You can find more information about ferries on the official website here.
Important notes about trains:
There is a direct train connection from Glasgow – Oban which runs regularly. If you're coming from another location in Scotland/UK, it's best to switch trains in Glasgow, as there aren't any direct trains to Oban from Edinburgh.
There is also no train line to Ullapool, hence returning home requires either cycling additional 30 miles (from Ullapool to train station in Garve) or pre-arranging a taxi to Garve or Inverness.
It is crucial to book the train in advance, as there are only 6 bike spaces on most Scottish trains.
Looking to compare transport costs? Check out the Trainline for discounted train fares, or, Omio which compares transport options to find the quickest and cheapest way for you
Hebridean Way Cycling Navigation
The Hebridean Way cycling route is only partially marked; you'll also struggle to see any signposts, apart from starting and finishing points. However, navigating in the Outer Hebrides archipelago is very easy, as the roads are sparse.
Most of the time, the cycling route follows main roads, very often these are the only through-roads on islands. During our trip, we simply used Google Maps for navigating; and didn't have to check the map more than once or twice a day anyway, so that was really easy.
Need a map for the region? Check out these from Ordnance Survey
Hebridean Way Cycle Route Accommodation Options
Depending on which type of accommodation you prefer, you can pick from numerous guest houses, hostels, campsites and wild camping spots along the cycling route.
Guest houses and lodges are located in almost every corner of the Outer Hebrides archipelago; whether you prefer humble B&Bs or more stylish, luxurious establishments.
There are a couple of hostels available along the Hebridean Way (Howmore, Tarbert, Scaladale Centre and Stornoway).
The Outer Hebrides offer a couple of small, family-run campsites, located in quiet rural areas. The ones to note are Linaclate campsite, Horgabost campsite and Eilean Fraoich campsite. Keep in mind that most campsites are open in the summer only. For more camping tips check out this post.
When picking a wild camping spot, keep in mind that your tent should not be seen from the nearest houses or the road. Finding such spots is relatively easy near the beaches, but can prove tricky if you're further inland; also the fields and private land are often fenced.
Looking for guest houses, hotels or B&Bs for your cycle? We'd advise looking on booking.com who have the biggest selection in the region
When to Cycle the Hebrides and What to Take
Due to its location on the edge of the Atlantic and as the route follows the coastline, the Hebridean weather can be unpredictable.
The best time to go is from May to October, as this is when you're most likely to have good conditions.
Here are some of the most important things you need to take for the cycle tour:
A comfortable bike suitable for medium distances on good quality roads
Waterproof panniers to hold all of your belongings (or take rain covers)
A helmet and good quality bike lights
Camping and cooking gear if you are planning on camping

Comfortable cycling clothing

Waterproof outer layers to protect you from potential wind and rain
Good water storage
Basic bike maintenance tools
For a comprehensive packing guide for the Hebrides, check out our bike touring packing list
Cycling the Hebridean Way – A Guide to the Stunning Scottish Cycling Route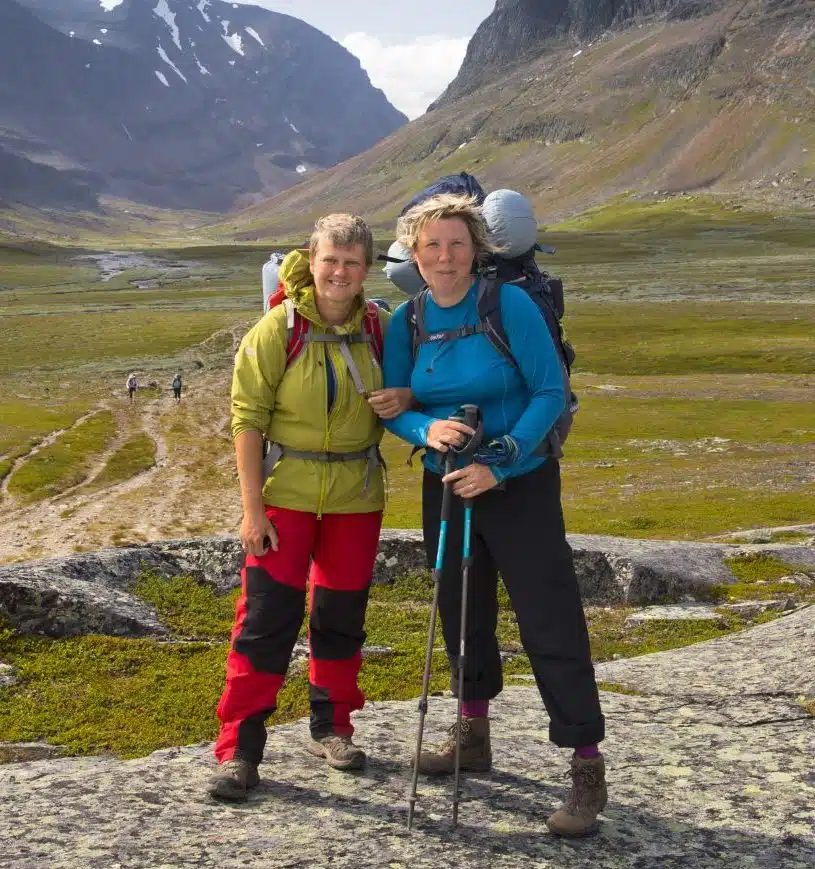 Stunning Outdoors is a website founded by Ela & Bea, two outdoor enthusiasts based in Scotland. They have hiked and climbed mountains since a young age, nowadays they have hundreds of summits on their account, explored in several European countries. They're also passionate about cycling in Scottish remote areas.
In 2018 Ela & Bea decided to take their love for the outdoors to the next level – they self-converted a van into a camper, both quit their jobs and drove into the unknown, beginning in Scandinavia. The journey still continues…