Practical and environmentally-friendly female hygiene tips for backpacking and camping trips from months on the road
---
I'm not gonna lie, I was a little hesitant to write this post.
Mostly because when it comes to personal care I'm pretty laid back… especially in the outdoors. What's more, I explore with a man who makes me feel that a morning routine of putting on deodorant is high maintenance.
But, if you're spending days in the outdoors, particularly spending multiple days camped out, it's important to stay on top of your personal hygiene. Not only will you avoid feeling gross but it will keep you safe and healthy, to focus on the adventure at hand.
For this article I found myself searching for vagina synonyms on the internet (anyone familiar with the word quim?). And in doing so, I realised that this is a bit of a taboo subject. But it shouldn't be. The great outdoors is for all, and our bodies power our adventures so we gotta keep them in good nick!
Periods are normal and front bums need a little TLC, just like man bits (though that's for another article). All of this is natural and these tips help you feel confident about keeping clean in the outdoors, from a girl who has got filthy and then clean and repeated that for months on end.
This article may contain affiliate links, they will never cost you more money but helps Veggie Vagabonds keep making content like this – thank you!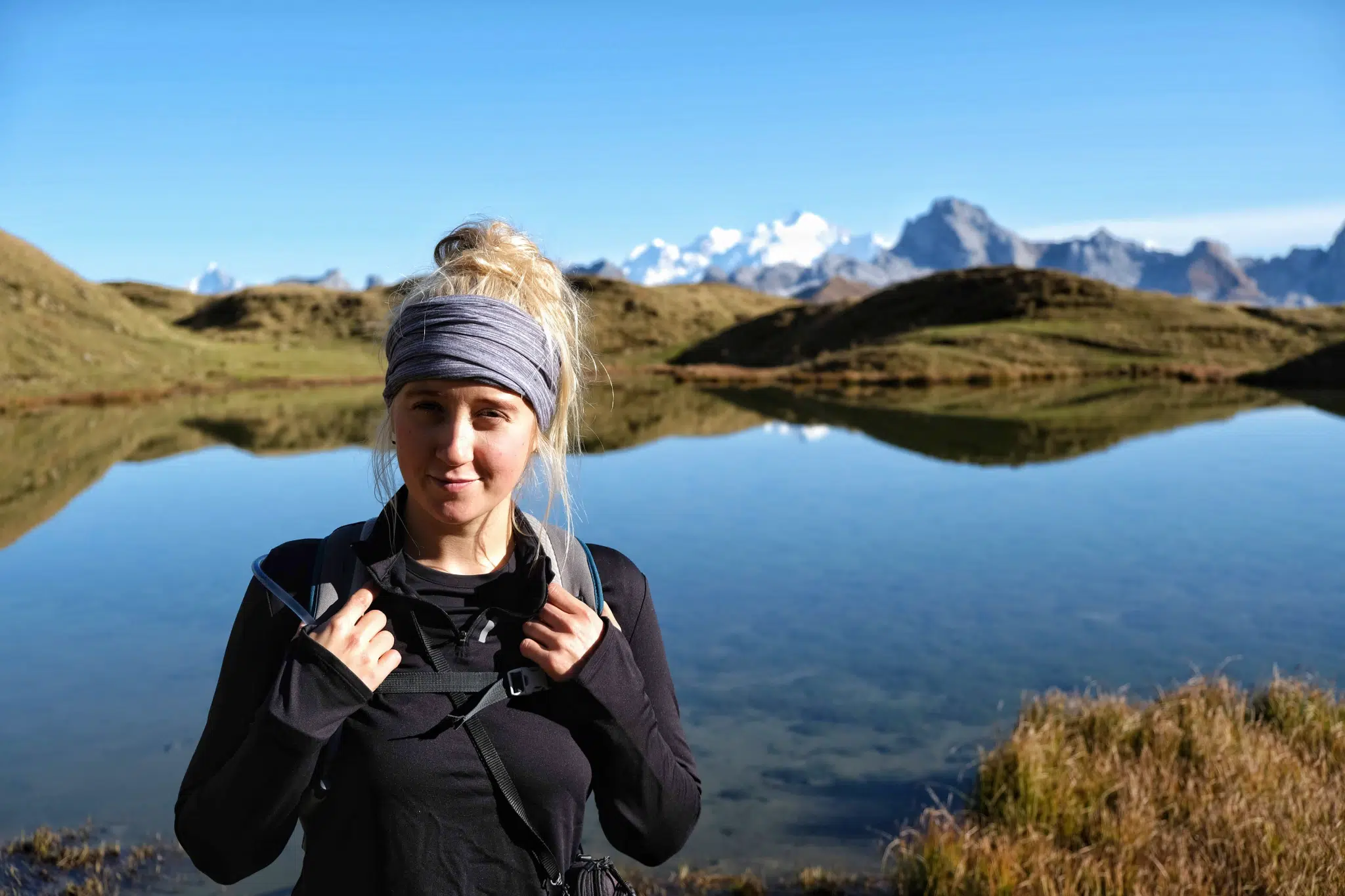 Why outdoor hygiene is important?
For your health, first off. But also to stop you being that stinky hiker everyone avoids.
Maintaining a certain level of hygiene will keep you healthy and comfortable whilst exploring. Although this is the case for everyone, female lady garden's are more vulnerable to things like yeast infections and UTIs (not something you want to be dealing with on a mountainside).
These good hygiene tips for females will help you avoid any nastiness and feel good when you're deep in the wilderness.
Peeing and pooping in the outdoors
This is one element that a lot of people feel wary of in the outdoors. Sure it can seem like new territory at first but once you get used to answering nature's call, you'll find yourself becoming a seasoned pro when it comes to taking care of business.
We wrote a whole guide to peeing and pooing outside, which covers all bases from squatting techniques to Leave No Trace Principles.
For those of us with a front bum, there are a few more things to consider in order to keep clean. For day hikes the drip-dry method is fine to use, as you'll be heading home to clean later. For multi-day adventures, however, you need to focus more on staying clean to avoid any of those nasty infections mentioned before.
Clean after you pee, whether this is with a pee rag or toilet paper. Then at the end of every day rinse your cloth and you can use a biodegradable wet wipe for backpacking down below. For even longer trips you may want to have a wash, so a bar of biodegradable soap is a good companion.
If you are using wipes just remember to take them away with you. I recommend biodegradable dog poop bags, as you can put all your waste inside and take it away to dispose of properly.
Also, don't hold it in – pee when you need to. Although it can be a little frustrating stopping to find the right place, it's worth it in the long run to avoid any UTIs.
Wear the right pants in the outdoors
Cotton is not a good material for the trial. It holds moisture so if you're sweating down below whilst wearing cotton pants, it's going to create some problems. Wear moisture-wicking underwear as it's quick-drying and breathable.
Depending on how long your outdoor trip will be, you can plan the right amount of undies. I recommended changing into another pair at night or even go commando to give your foo some time to breathe.
Pants are so lightweight, you can bring half a dozen pairs and they'll compress to less than the size of a tennis ball.
You can wear your pants inside out (this counts as a fresh pair) and as they're super quick-drying, you can easily rinse them with water and dry them to wear the following day. Either hang them from your bag or tent to dry.
If you want some tips on what else to wear on the hiking trail besides just your pants, check out our day hiking packing list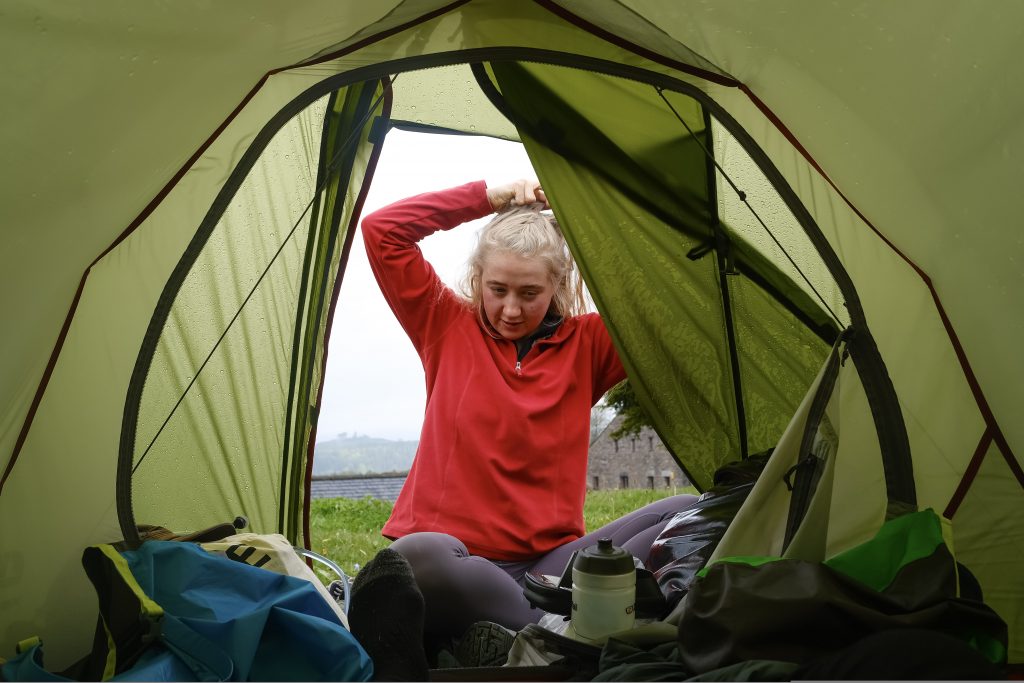 How to deal with your hair when camping
As someone with long hair that's prone to knotting, I have tried and tested countless ways to keep my hair manageable outside.
First and foremost, plats are the best hairstyle by a country mile. Buns aren't ideal as your hair will likely knott and they're problematic with hats or when sleeping.
I recommended one tight french plat as the best way to keep your hair manageable. It stops it from knotting, keeps it out of your face, plus you can sleep with it and even put a hat on top. If you do it really well, you can just leave the same plat for a couple of days – ideal. I never brush my hair apart from when washing it and have found that, when camping, you can just take out the old plat and redo another without the need to brush.
For longer trips dry shampoo helps to saves you from a greasy mop. If you're on a multi-week adventure then biodegradable shampoo and conditioner bars are awesome. Just be sure to wash at least 200 ft from a water source and don't dump soapy water in natural sources.
A hat is always a good way to make that bad hair disappear from view altogether. BUT, this will also add to grease-levels too.
Want more outdoor guides and tips to help you make the most of your trip? Sign up for our newsletter to get tons of adventure fodder straight to your inbox
Camping on your period
If your adventure happens to be at your time of the month, don't panic. I've been on the road for months at a time and as long as you're prepared, it's nothing to worry about.
It's important here to have good female hygiene and do what you're comfortable with. It's best not to stray too far from what you would use at home, whether that's pads, tampons or a menstrual cup.
Menstrual cups are great as they're zero-waste and you don't need to worry about carrying extras. Use a wipe down below to freshen up at the end of the day which you can keep in a little hygiene kit bag for convenience.
Also, remember to take any sanitary products away with you. Again I recommended those biodegradable poop bags.
Acne in the outdoors
Acne is something I experience and it can be a little more challenging whilst adventuring.
The best thing you can do is not deviate too much from your usual routine. This may not always be possible when you're trying to go super lightweight but decanting products into smaller tubs is a great hack.
I always clean my hands and wipe my face at night to get the grime off from the day, then splash some fresh water on my face if possible. I'll then apply my skincare products before hunkering down.
Breakouts happen and the chances are, when you're kicking up dust getting covered in mud, they're more likely. But, the great thing about the mountains is they don't care how many spots you're sporting. The chances are neither does your adventure buddy. Speaking from experience, the best thing to do is to stick to the basics of your skincare routine, then enjoy the view.
Wearing make-up on the trail
I personally never wear much if any make-up, however, I have in the past. Of course it's completely personal choice but I would recommend keeping it minimal. When you're sweaty, not much of it will likely stay put and it can be stifling to have a heavy layer of make-up whilst outside.
Keep it simple and you'll feel a lot fresher come the end of the day.
Deodorant for camping trips
Despite the high maintenance looks J gives me for applying deodorant, for the majority of people, it's essential to beat that hiker funk. Although an amount of odour is a given when you're exploring, it helps to keep the worst of it at bay.
Opt for a natural roll on as they're more compact and eco-friendly than spray options.
Keep your body and feet clean on the trail
There's not much that's more refreshing than a good dip at the end of the day. It sleuths away some of the dirt from and any bacteria with it.
If a full-body dip isn't possible, submerging your feet for 5-10 minutes will relieve some of the pressure from a day exploring. Be sure to dry your feet completely as this can lead to infections and let them breathe if possible. I recommend a fresh pair of socks for the night also, make them thick to keep your toes warm at night.
If possible, try to dry what you can for the following day. Not only does it keep you feeling good, but it also avoids any nasty infections or skin irritations.
Hopefully these tips will help you to feel good on your next trip. If you have any questions don't hesitate to drop me a line below. After countless miles on the trail and multiple months in the saddle, if you've got Q's on female hygiene whilst travelling, just fire away!