A Rab women's Downpour Plus jacket review – it's hailed as a sustainable and versatile waterproof – here's how it tested in the field
---
A good waterproof jacket is an essential bit of kit for getting outside. But because what you get up too often changes, you need a waterproof that can adapt to what you do. Enter the Rab Downpour Plus jacket for soggy escapades.
Rab says it's a versatile and sustainable mountain-focused jacket ideal for hill walking. Made from recycled materials, it's built for movement with its long arm length and pit zips for extra ventilation. It features a helmet-compatible hood and flexible polymer brim which is one of its best features.
The Rab Downpour has sealed seams and a fleece-lined chin guide for comfort. It's waterproof, lightweight and breathable. So it sounds like it's ready for some wet weather adventures.
Over the past 5 months, I've been putting this rain jacket through its paces. Not only hill walking and wild camping but on the bike also, to see how it fairs as a budget-friendly but high-quality women's waterproof jacket. Here's what I have to say about it.
This article may contain affiliate links, they will never cost you more money but helps Veggie Vagabonds keep making content like this – thank you!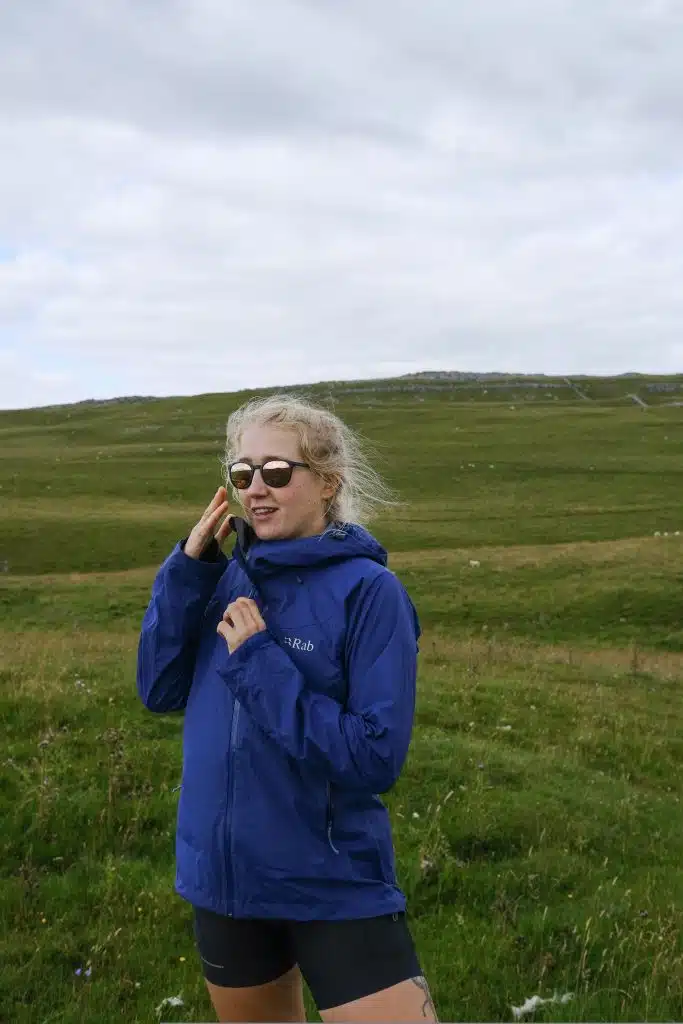 Rab Women's Downpour Plus in a Nutshell
Intended use – hiking and hill walking
Weight – 330 grams //10.4 ouncs
Fit – regular
Fabric layers – 2.5
Material – Pertex Shield+, nylon face fabric, recycled polyamide with polyurethane laminate
Waterproof – yes, with fully taped seams
How I tested the Rab Downpour Plus
I have been testing the Rab Downpour Plus through a very soggy spring and summer in North Yorkshire. It's accompanied me on many hikes, cycles and camping trips, into The Yorkshire Dales National Park, Lakes and Northern Scotland.
Conditions have varied massively (as they do in the North), from mild days with a sprinkling of rain to torrential downpours, bitter colds and surprisingly hot afternoons. Here's how it held up.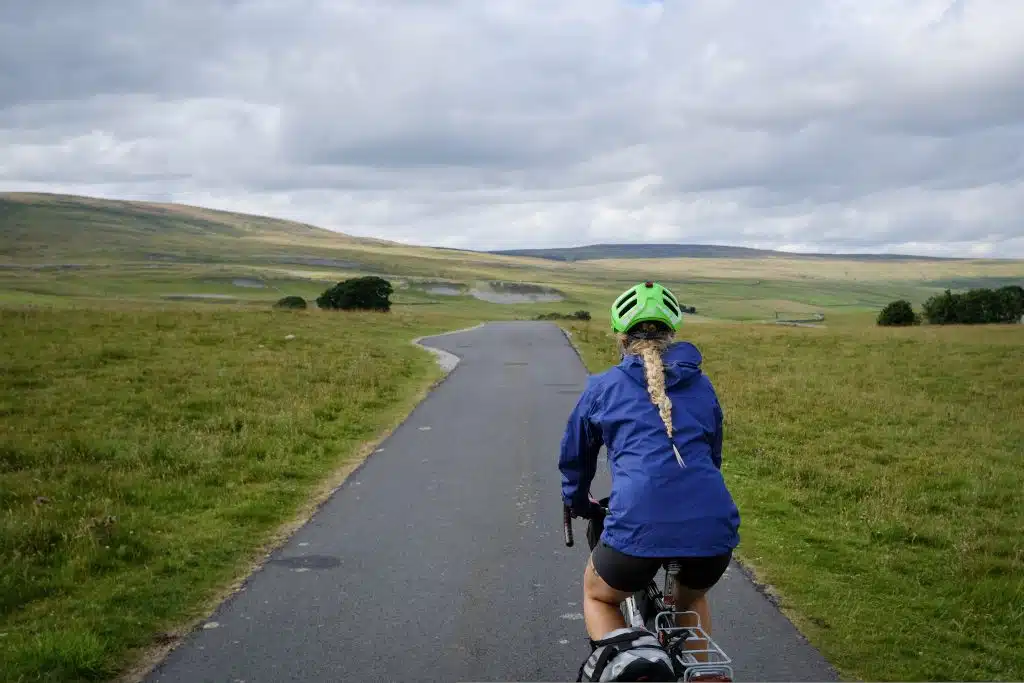 If you want more sustainable and vegan gear reviews, plus inspiring adventure fodder straight to your inbox, sign up here
Waterproofing 5/5
In the five months, I have been extremely impressed with how the waterproofing on this jacket has faired. It has kept me completely dry even in some very miserable weather and heavy rains.
The helmet-compatible hood is pretty spacious, which is something I appreciate as you're able to fit it over a hat and a helmet if necessary. The flexible polymer brim inside means the rim can be shaped around your face to stop rain from getting in your eyes. The dual adjustments on either side and the back also mean you can tighten it to fit your head snuggly. Something that comes in handy on a windy day.
The high neck is also a great feature for keeping you dry, whilst the fleece lining means it doesn't feel uncomfortable on your face and chin. Great to keep you dry and warm in the wet.
Breathability 4/5
Despite pretty awesome waterproofing, the Rab Downpour is breathable when working up a bit of a sweat. The AquaGuard® pit zips are pretty long at 11 inches giving great breathability when you need some extra ventilation.
Although it's marketed as a lightweight jacket, I've found it to be thicker than some. At 330 grams it's a middle-range in terms of weight, so I wouldn't recommend it for very strenuous activity if you're expecting warmer conditions.
For more outdoor gear reviews and adventure resources, be sure to sign up for our mailing list below!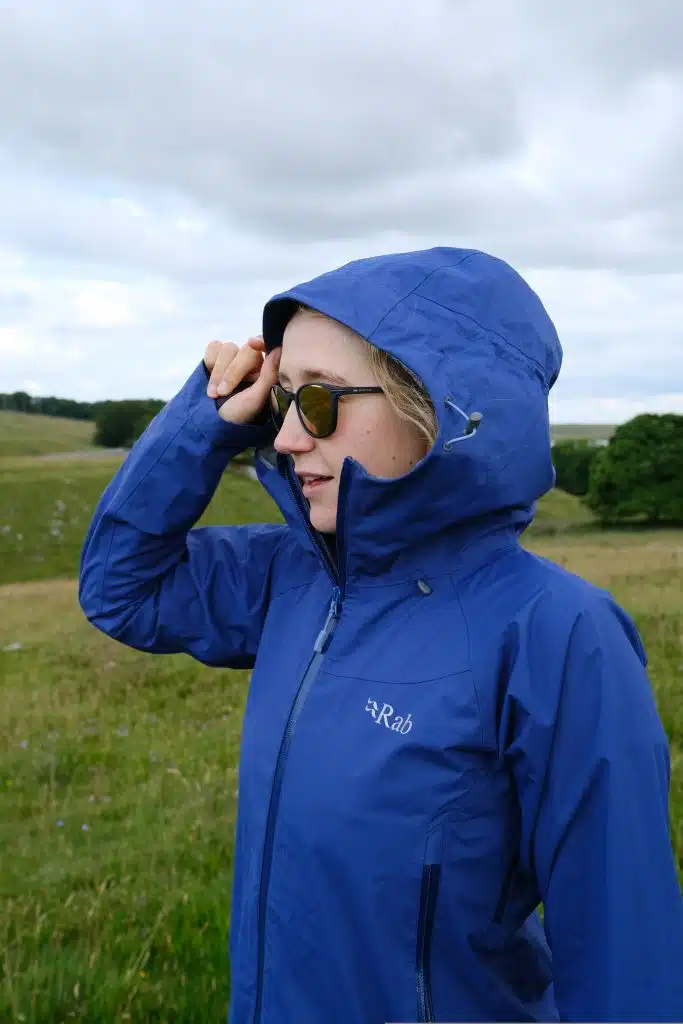 Comfort 4/5
When choosing an outer layer I always size up so I can fit multiple layers underneath if needed. I usually take a top size 10 but got this rain jacket in a size 12.
It's pretty spacious, allowing plenty of movement. I can fit several layers underneath, including an insulated jacket, however, it's not baggy when worn over one layer. The long arms mean your movement isn't constrained, whilst the velcro wrists allow them to be tightened and shortened to stop rain running in.
The two roomy pockets are great and you can actually fit things in them! Something I found to be lacking in some women's jackets…
The drop hem, which is the drop from the front to the back is pretty long, helping to keep you warm and dry. Plus, the dual adjustments for the bottom of the jacket are attached to the hem, which makes it easy to fasten.
My main issue is with the zip. It's nicely waterproof and seems durable but is very difficult to zip up/down with one hand. It's not a crux, but you do come across plenty of points outside when stopping to use both hands is impractical.
Overall I find it to be a really comfortable waterproof. I appreciate the extra room so I can layer up and still feel able to scramble about hiking or pitching the tent.
Durability 4/5
The Rab Downpour Plus jacket is made with ripstop material which, in the 2 years I've been testing it has lived up to its name. The seams and construction of the jacket are of high quality, with no signs of wear.
Some people have questioned whether they think it's that durable, however, in the time I've been testing it's not let me down and has kept me dry on many occasions.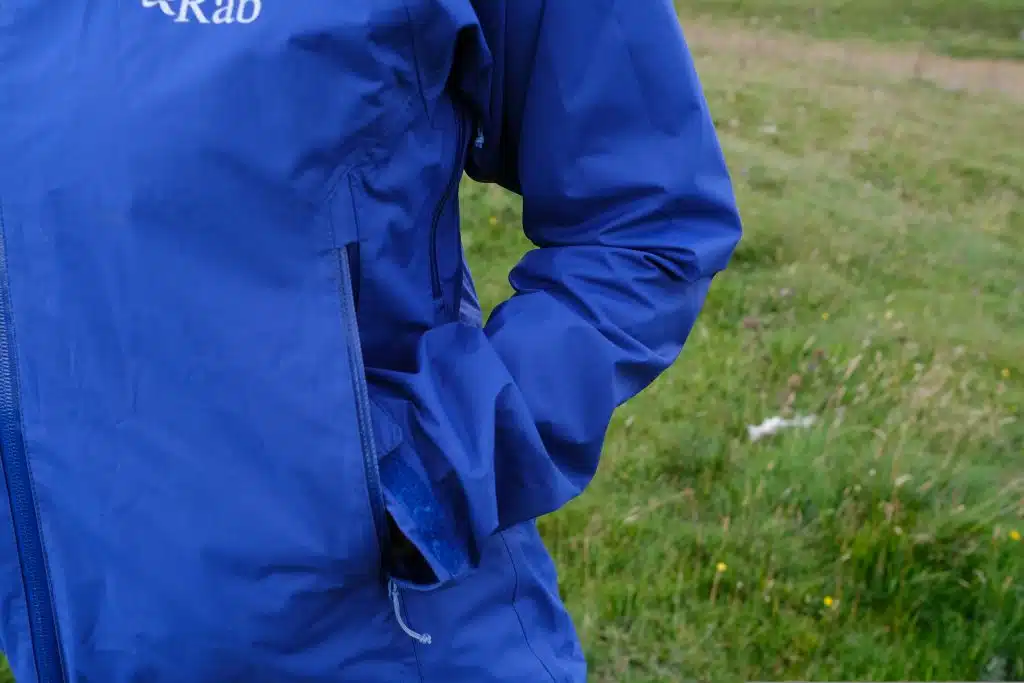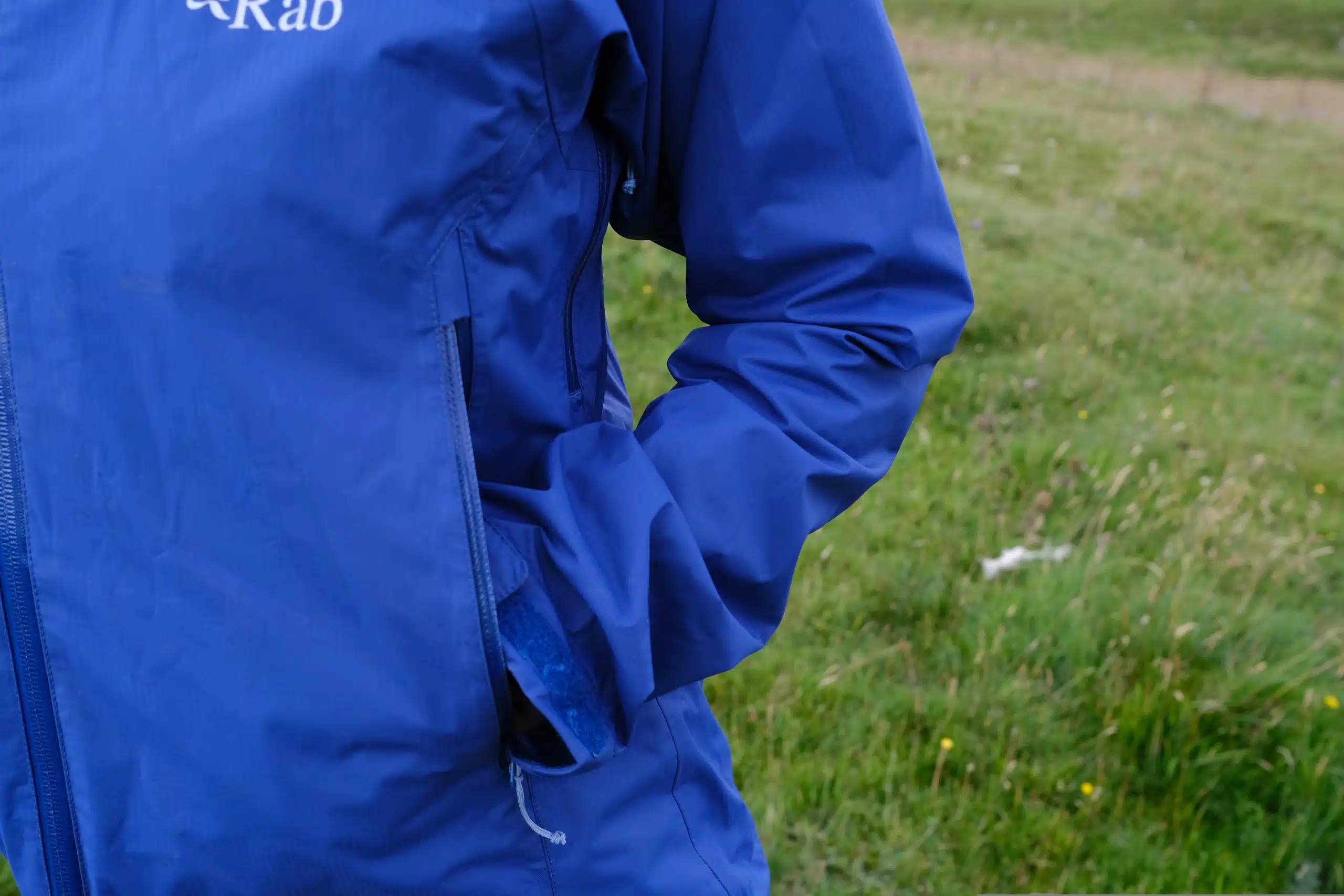 Weight and Packability 3/5
At 330 grams or 10.4 ounces, it's at the heavier end of the lightweight scale.
Those roomy pockets also double up as a stuff sack for the coat. It's a little bit of a squeeze to get it in and it doesn't pack down tiny so isn't the sort of lightweight jacket you can fling in your bag easily.
Value and pricing 4/5
Priced as a lower to middle-range rain jacket the Rab Downpour seems fair for this jacket. It's not a super technical waterproof as it's not designed for vigorous adventure. It does tick that most important box of keeping you dry and it's a comfortable spacious option.
If you want a jacket that will keep you dry on weekend escapades this is a good option, however, if you're looking for something lightweight there are lighter options out there.
Sustainability 3.5/5
The Downpour Plus is made from recycled 2.5L Pertex Shield® fabric, which Rab state is light, soft and highly breathable.
As a company, 34% of Rab's materials used were recycled which is 10 times more than the previous year. Rab also hopes that at least 50% of their material used will contain 100% recycled or renewable material by 2030, which is great news.
---
---
The Verdict 4/5
A practical and comfortable rain jacket that doesn't let you down when the heavens open. Ideal for wet weather excursions. The only real qualm is the zipper.
Pros
Impressive waterproofing
Large hood with dual adjustments
Made with recycled materials
Well priced
Cons
Lighter rain jackets on the market
Doesn't stuff down small once inside pocket
Tricky zupper
Where to buy Rab women's downpour jacket