Finding the right plant-based snacks for the outdoors can be hard work but what about vegan protein bars? We took a look at the Protein Works Vegan Protein Crunkie to see if it fits the bill!
---
For us, the perfect vegan hiking snack is cost-effective and finds a balance between good taste, good nutritional breakdown and good ingredients. Finding the right thing can be hard work. You've got all your traditional vegan whole foods and products like dried fruit, bananas, nuts etc but now there are lots of other options on the market.
We're always on the lookout for the perfect plant-based outdoors fuel and after speaking with you guys it sounds like you are too.
Whilst we regularly use a variety of different vegan hiking bars, there are now lots of vegan protein products on the market too: can they work for the great outdoors and keep you going on the trail? This weekend we put the Protein Works Protein Crunkie to the test on a pretty gruelling 25 km hike. Are vegan protein bars a good option or should you stick to your dried fruit and nuts?
If you've got your own favourite hiking snack or bar you'd recommend then share in the comments at the bottom!
This article may contain affiliate links, meaning if you make a purchase through these links we can make a small commission. This is never of any extra cost to you and helps keeps Veggie Vagabonds running.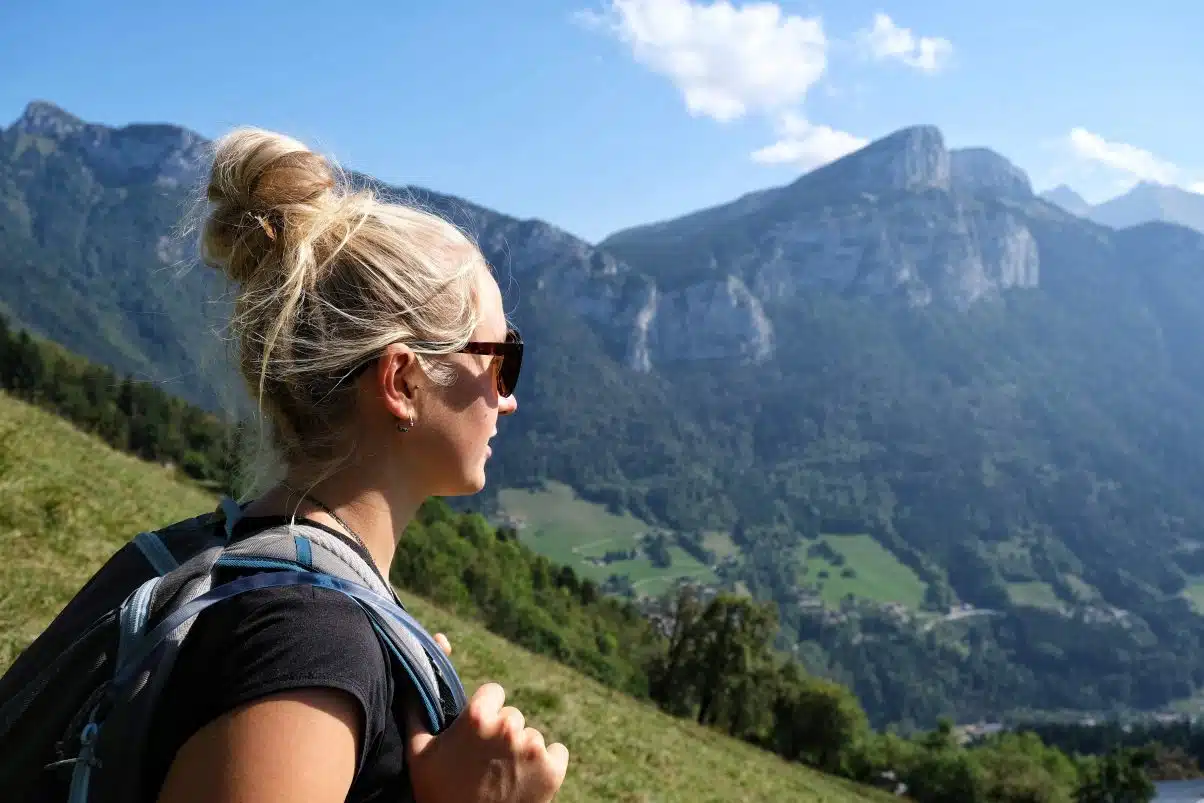 Product: Protein Works Protein Crunkies
These vegan protein bars are relatively new and seem to be very popular – it's what initially drew us to them. Besides lots of good reviews, they've got a pretty impressive nutritional breakdown which made us think 'hey, these could be a good hiking snack'.
In their own words, the Protein Crunkies are a 'high-energy vegan protein bar… like the swiss army knife of nutrition', designed to have high protein, high fibre, low gi, healthy fats and of course are vegan-friendly. This all does sound mighty useful, especially for on-the-go energy in the wilderness.
Though they're sold as protein bars (soy protein) they contain a mix of slow-release carbohydrates, sugars, protein and calories – all the things needed for a hiking snack. They're also small, light and robust enough to be carried regardless of your activity. Everything looked good on the tin but how did they manage on the trail?
Want to hit the trail? Check out our beginner's guide to hiking
Taste: light, tasty natural flavours but slightly dry
Currently, there are three flavours: coconut & apricot melee, apple & cinnamon collision, and cranberry & goji hubbub. We tried 'em all, it was a hard hike…
Taste-wise, we thought these bars were pretty good. All three flavours come with a chocolate coating on the bottom, a crunchy top of oats and their unique ingredients. Each had its own distinct taste and Protein Works have done well to give them enough flavour to look forward to but without being overly rich or sweet.
Personally, when we're working up a sweat, whether it's hiking, climbing, cycling etc. our ideal snack isn't too flavoursome otherwise it can leave you feeling queasy. For something which has these nutrients the bars are light, go down nicely and don't leave you feeling heavy.
The main thing which stood is that none of the flavours tasted artificial. The apple, in particular, tasted as though you'd just chomped on the real fruit. The same can be said for the chocolate and we were glad it didn't have that artificially-sweetened taste many vegan chocolates do.
Out of the three flavours, coconut & apricot was our personal fave – we love anything with coconut – followed by apple & cinnamon.
Whilst we did like the flavours, the texture and consistency weren't quite as good – the bars were a little dry and chewy. However, this was at the midway point of a punishing hike in nearly 30°C, even our oranges tasted dry.
If you fancy making you're on vegan hiking snack, why not try making our energy balls!
Nutritional breakdown: pretty well packed with all the things you want, perhaps more calories though if you're after lots of energy?
For its size, the Crunkies pack a good, healthy punch. The bars from other brands are quite a lot larger and heavier but gram for gram these guys are for sure competitive.
One bar has 10g of protein, 168 calories, 21g carbohydrates and 6g of fibre.
Comparing this against other vegan protein bars in the UK and other popular vegan hiking foods it makes it a great option. Other bars may contain more protein but we find them too rich, heavy and with much higher saturated fat and sugar. Per 100g the Crunkies have a similar carb content to bananas and you're getting roughly the same protein as you would from nuts.
Personally I would've liked more calories to keep you going on a hard day. For me, as long as saturates and sugars are low, the more calories the better. None-the-less, I think Bulk Powders have none a pretty good job for a smaller bar. Not everyone wants a monster bar with thousands of carbs and calories.
If you're looking for whole vegan hiking foods and snacks then take a look here!
| | | |
| --- | --- | --- |
| Coconut & Apricot | Per 100g | Per 45g Crunkie |
| Energy (kJ) | 1568 | 706 |
| Energy (kcal) | 374 | 168 |
| Fat (g) | 8.0 | 3.6 |
| of which Saturates (g) | 5.0 | 2.3 |
| Carbohydrates (g) | 47.0 | 21.1 |
| of which Sugars (g) | 10.0 | 4.5 |
| Fibre (g) | 14.1 | 6.4 |
| Protein (g) | 23.0 | 10.4 |
| Salt (g) | 0.60 | 0.27 |
Ingredients
Soy protein is top choice for us vegans as it contains all the amino acids and can have a high protein content without overloading on carbohydrates. The oats and natural fruits are also great for low Gi carbohydrates, being slow release and helping you through a day in the outdoors.
It would be awesome if it didn't use palm oil but unfortunately this is common practice for most larger brands.
There are actually plenty of awesome vegan protein sources – check out our guide!
Ingredients (coconut & apricot melee)

Isolated Soy Protein – 21%
(Emulsifier (Soya Lecithin)
Oats – 18%
Dark Chocolate Flavour Coating – 13%
(Sweeteners, (Isomalt, Sucralose), Palm Oil, Cocoa Powder, Emulsifier (Soya Lecithin))
Corn Fibre
Chicory Root Fibre
Apricots – 8%
(Apricots, Sunflower Oil, Preservative Sulphur Dioxide)
Glucose Syrup
Raw Coconut Chips – 5%
Humectant
(Vegetable Glycerol)
Rice Crispies – 2%
(Rice Flour, Rice Bran, Sugar, Rice Extract)
Maple Syrup
Flavourings
Thickener
(Acacia Gum)
Sunflower Lecithin
Cost: £1.50 a bar (£17.99 for a box of 12)
Currently, the Protein Crunkies are available at the Protein Works website and they deliver to the UK and Mainland Europe.
At the time of writing a box of 12 bars was priced at £17.99 (£1.50 per bar) with 15% off their vegan protein products – find the most recent offers at The Protein Works here.
For us, £1.50 a bar is a reasonable price, and it's cheaper per bar than most similar products.
Nutritionally you're getting the equivalent of a banana, a handful of nuts and some raisins in a small, convenient packet. It makes them quite a cost-effective option which is also non-perishable.
Vegan protein bars for the outdoors?
As mentioned before, we tested these guys out on a pretty tough day hike, in 30°C temperatures. They weren't used as a meal replacement but rather for a quick on-the-go snack that could be had whilst hiking to get us to our next destination. Overall I'd say they did the job perfectly.
Interestingly, I think they do a better job as a hiking snack than a vegan protein bar. There are other vegan protein bars which contain more protein, but for hiking, with the good nutrient breakdown and digestibility, they're awesome for the wilderness.
They did give a noticeable amount of sustained energy but didn't leave you feeling too full or bloated. The flavours weren't overpowering and you didn't feel dehydrated or clogged up either. This made them good for gobbling down whilst on the move and washing down with some water.
As I mentioned earlier, nutritionally you're getting the equivalent of a banana, a handful of nuts and some raisins, but the bars are seriously lightweight, easily stored and non-perishable. They're not big enough for a meal, with fewer calories than some other energy-specific bars, but you're getting quite a lot more protein and fibre.
For us, they'd be a welcome addition to any outdoors trip and with the higher protein content, they'd be good for the end of the day or on multi-day adventures.
Are vegan protein bars good for outdoors energy? Yes, with the added protein boost!
Now you've got the fuel, you just need the adventure – check out these incredible hiking trails!
Overall product verdict – a tasty little product that packs a lot of versatile power!
Overall I would definitely recommend these for your adventure kit or outdoors lunch box.
I wouldn't choose them for a tasty sweet snack but that's probably their strong point: the bars are light, tasty, easy to get down and nutrient-packed – exactly what you need in the outdoors.
I'd particularly recommend these as an energy source whilst you're moving. There's no need to stop and you'll feel light and functional afterwards, just get chomping and carry on with your adventure!
Have you tried the Protein Crunkies or have any other vegan hiking snacks you recommend? Tell us in the comments below 🙂
Keep exploring…