Want to travel the world with a happy, healthy vegan lifestyle? These vegan travel tips will help you make the most of every country and its cuisine without compromising on your morals!
---
Panicking about where your next meal is gonna come from is probably one of the worst experiences in the world. Especially when you're in a different country; your tummy is rumbling but you don't know the culture, you don't know the food and besides 'two beers please' you don't know the language. We've all been there and it's not a nice place to be.
As a vegan traveller you can easily avoid situations like this.
Vegan or vegetarian travel can be made so much easier, no matter where you are. Over the years we're learnt that every country has a huge variety of plant based options, you just need to learn how to find them. These vegan travel tips will help you do just that; seek out all the beautiful plant-based food possible and make the most of your adventures too!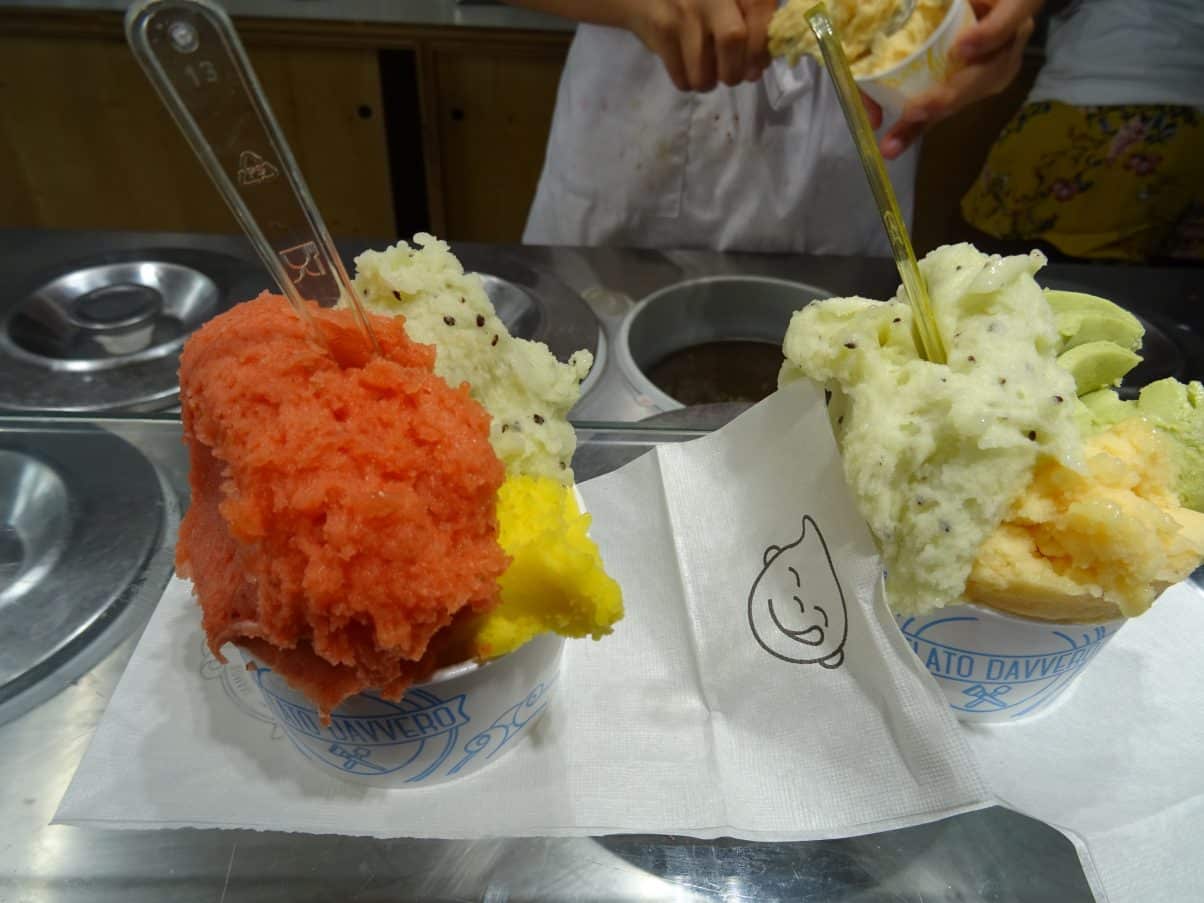 Vegan Travel Tips for Before You Go
Do some research on the food and culture
Eating vegan whilst travelling can be made so much easier by doing a bit of research before. Are there traditional foods which are good/bad for vegans? Are you travelling during a holiday when food is harder to find? Is there a famous vegan cafe around the corner? Answer all the important questions before and it will make your whole experience more rewarding.
Make the most of the internet and vegan apps
To help you do this research there's now a plethora of websites, communities and apps which can help you prepare for your vegan voyage.
Happy Cow is a vegan restaurant app and website, with listings and reviews for eateries all over the world. Facebook groups like Vegan Meetups, Vegan Travel and Vegan Travel and Couchsurfing all are filled with information and friendly faces.
You can also find plenty of knowledge in Reddit communities like this one and Thorntree (Lonely Planet Travel Forums). These are all the perfect places to find answers to any of your vegan concerns.
Write a checklist of food to try and where to find it
Now you've done your research and you've found all of the best things to eat and where to find them, make a list. It's sucks when you leave a country and realise you forgot to try a few some famous dishes, this way you won't miss out.
Learn the local lingo – probably the most important vegan travel tip!
Many problems for vegan travellers are down to a breakdown in communication. Try and learn some of the language before so you can explain your dietary needs. Better yet, write them down to show eateries and avoid issues with pronunciation.
To help with the language you can also use apps like Vegan Passport from the Vegan Society or this free PDF which has phrase cards in 75+ different languages that you can print off.
Stay somewhere with a kitchen
You'll always be able find vegan ingredients in shops and markets so if local eateries don't have many ethical options then you can utilise the kitchen and make food yourself. This way you'll know you have a source of tasty vegan food and it'll probably be cheaper than eating out. If you're looking for some kitchen inspiration then you can check out some of our worldly recipes – they're pretty banging!
Tell your accommodation vegans be coming!
This way they can have a whole vegan party awaiting your arrival!
Perhaps not to this level but there's nothing worse than coming down to a complimentary breakfast and only finding ham, cheese slices and croissants. If you're paying for food make sure you get it. Tell your accommodation in advance so they can make some ethical arrangements.
Surf with vegans
Couch surfing is such an incredible experience and a great way to travel. You can search for vegan hosts in destinations all over the world. Vegan hosts can give you all the insider's knowledge you'll need and it's quite common to make delicious meals together!
Don't let a reputation put you off a country
'But you're vegan, there's no way you could survive there', said the meat-eater. Don't listen.
Vegan travel is possible anywhere so don't let a country's reputation put you off an incredible trip. Vietnam has a terrible reputation for vegans but Hanoi turned out to have one of the biggest and best selections of vegan restaurants we've found. Find out for yourself and prove the reputation wrong.
Vegan toiletries may be difficult to find abroad – take them with you!
It can be hard to find vegan cosmetics and toiletries in the best of countries. When you're travelling to far-flung locations take things with you so you don't get caught out.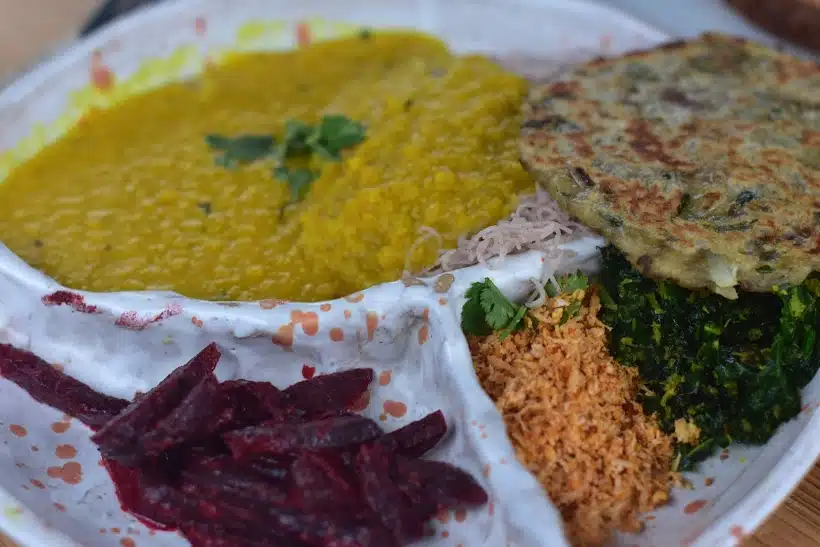 Vegan Travel Tips for When You're Travelling
Don't be afraid to ask
Whether you're buying ingredients in a market or a meal in a restaurants you need to be willing to ask questions. This is really important so you don't end up with the wrong food or things that contain animal products. It also stops food being wasted and you going hungry after ordering the wrong thing.
Besides the food it's also a good chance to speak with the locals and potentially make some new friends!
Carry high energy foods to snack on
Forget vegan travel tips this is probably the ultimate life tip: always carry snacks!
Long journeys, connections, hikes, remote areas, bottomless appetites, you name it, have some vegan snacks in your bag to get you through the day. Things like nuts and dried fruits are readily available in most countries, they're cheap and will give you plenty of energy to keep you going until your next meal.
Carry food boxes
Let's face it, in some countries you're not always going to be surrounded by vegan options. Take food boxes with you so you can carry some vegan snacks or even a pack-up lunch. If you find an awesome vegan spot why not get one portion for now and one for later?
Plan ahead
Think about what you're going to be doing for the day and if there's likely to be the right food for you. If you'll be in a big city scope out where the tastiest vegan food is likely to be. If you're going to be active all day without food nearby then take some snacks with you.
Wondering what are the best countries for veggie travellers?
Don't always expect to find 'vegan' dishes…
In many countries there might be lots of tasty food available but it might not be called 'vegan'. Most western countries understand the term vegan but in many other parts you'll be met with blank expressions and conversations like this;
You – do you have anything vegan?
Waiter – how about the chicken soup
You – I don't eat eat chicken
Waiter – how about the fish pie?
You – fish isn't vegan
Waiter – omelette?
You can see where this is going. You might need to explain all of the things you don't eat but this can sometimes be quicker than trying to explain the concept of veganism.
Take alternatives for street food and made-to-order eateries
Street food can be a huge part of travelling and is often made to order but is sometimes let down by a single animal product. Unfortunately this regularly happens with things being fried in butter or adding fish sauce to EVERYTHING in parts of South East Asia.
Why not take an alternative ingredient for the chef to use? We used to travel with a bottle of our favourite soy sauce in Vietnam so street food vendors could use it instead of fish sauce.
Might seem odd but you'll be happy when you get to try all the local street food options!
Think about your own morals
Everyone's concept of veganism is different and so are their motives. If you know you don't want any of your food touching anything that has touched meat then stick to your guns and plan accordingly. If you find a bit of meat if your food are you happy to take it out or would you like a new dish?
Sometimes we might make a decision quickly and then end up questioning it for the rest of the day. Think about your morals before you go away and it could save you having negative experiences.
Get out of your comfort zone
Travelling is the perfect chance to get out of your comfort zone. If there's limited vegan options in the country you're travelling then you might have to get adventurous with the food options available. This might mean trying foods you always thought you disliked. Remember the broccoli you've hated since you were a kid? This might be the time to realise you love it now!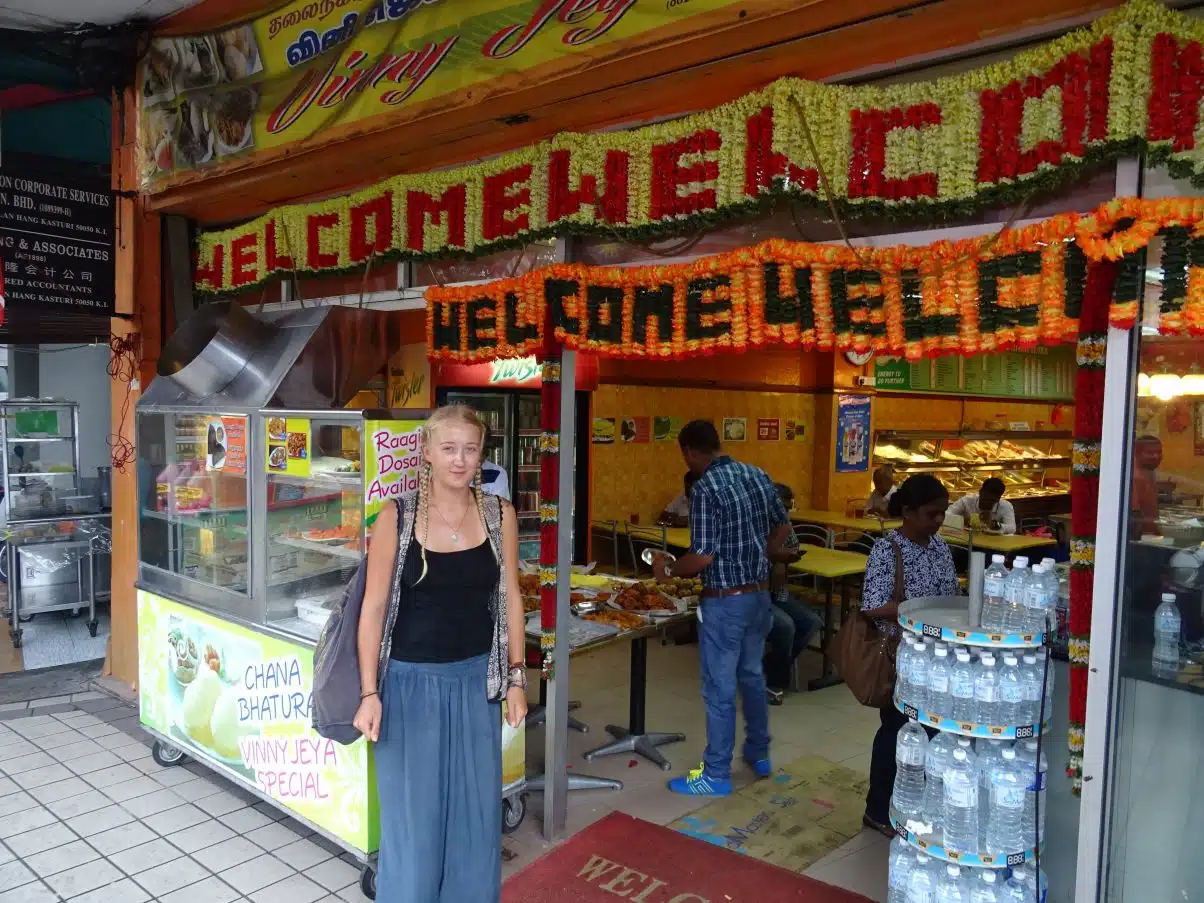 Use your language cards, notes, apps etc.
Although it can be amusing playing charades with a chef and trying to recite some local language with a terrible accent it can also sometimes mean you get food you don't want. Carry the language cards/app/notes and it can make things a whole lot easier.
Remember to stay healthy
In some developing destinations finding wholesome food may be difficult for anyone . This might mean indulging on as much healthy grub as possible when you get the chance or by taking mult-vitamins with you, just make sure you stay healthy.
Try to embrace local food
Nowadays many of the big cities around the world are filled with so many vegan restaurants you're truly spoilt for choice. You're visiting Indonesia but do you want to eat vegan pizza, sushi or Mexican? Sometimes we get so excited by vegan options you forget about the traditional local foods. This is why a checklist is great to make sure you've tried everything you want to try.
Don't panic!
We get it, you're starving, everyone around seems to be stuffing their faces, you can't find any vegan options. DON'T PANIC, you will get your grub. Follow the steps above and before you know it you'll be munching on something delicious.
A Whole Bunch of Vegan Travel Tips
Do you have any other vegan travel tips? Tell us in the comments below to share it with other ethical travellers!