12 months and 1,000 miles later here are some of our highlights in photos
---
Just over a whole year has passed since we first left UK soil cycling towards India. There's been a whole bunch of adventures and misadventures in between that time so we thought now would be the ideal moment for some reflection.
After cycling just over 1,000 miles, consuming countless baguettes, befriending lots of new faces and experiencing some absolute wonders of natural beauty, it's been a pretty damn good year.
Taking the time to really sift through all the snaps of snow-capped peaks, rugged mountain ranges, crystal lakes, meandering valleys and blurry outtakes made me realise how crazy it has all been (something I wouldn't have taken the time to appreciate had it not been for writing this article).
Taking the time to really take heed of where you've been and what you've achieved can have such an overwhelmingly positive impact. In these times of uncertainty and grief, moments like these can immensely improve your mental wellbeing, which is always a good thing. Try it for yourself and let it inspire you for future adventures. Something we could all use a bit of through these difficult times.
I couldn't list all our magnificent experiences over the past 12 months, or this article would be insanely long, so here's a snippet of some of our most notable moments over the past 12 months!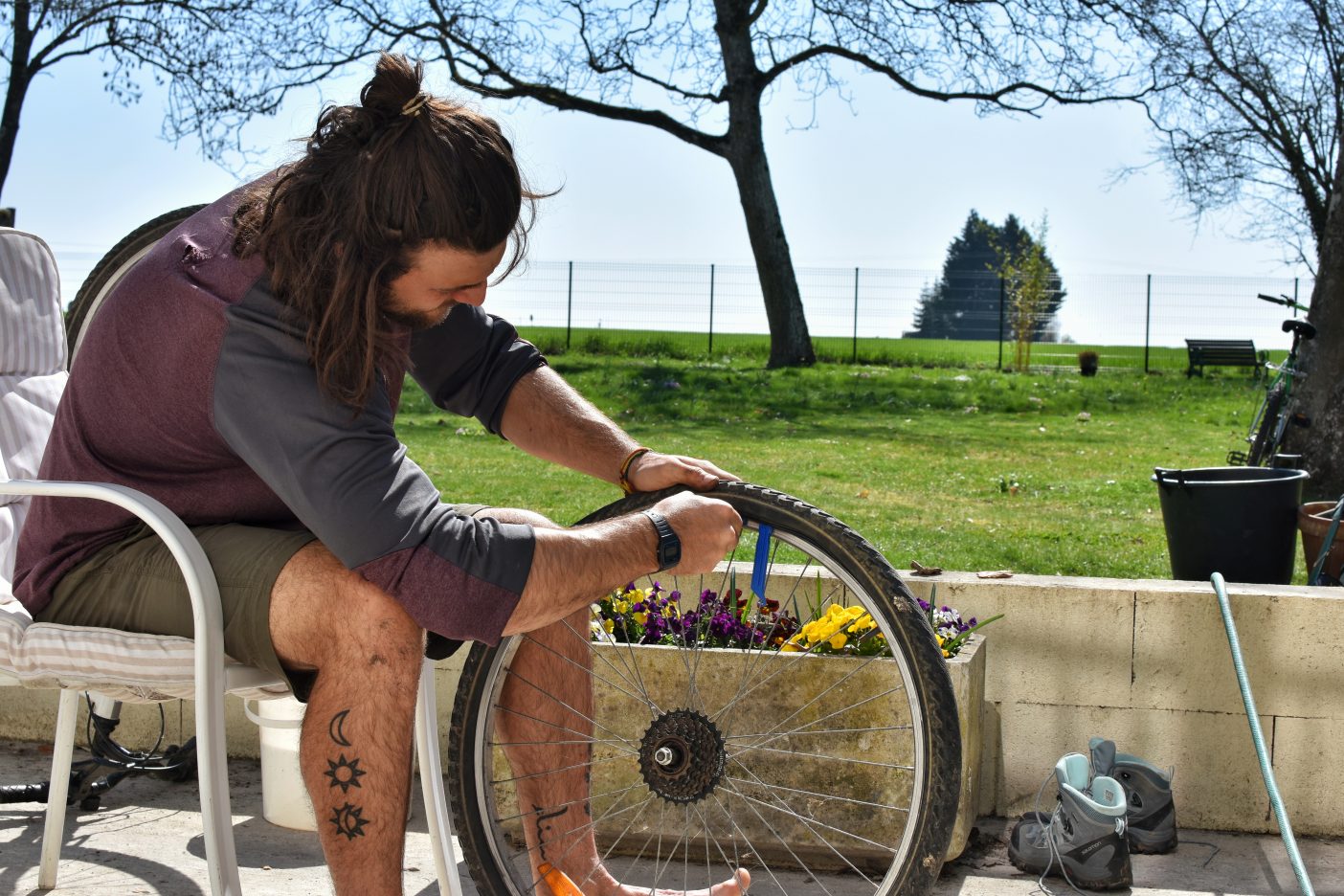 New friends and bouldering in Fontainbleau, France – March 2019
After cycling from England to France and battling Storm Gareth, we began our first Work Away experience in Fericy, just 40km from Paris – boy did it set the bar high. The highlight of our month was being welcomed into the home of Pete and Hilde, along with their daughter Hannah, dogs Miya and Benji, plus the cats (whose names we can't remember but that doesn't mean we love them any less).
Our days were spent working on the vegetable patch, chopping wood and sharing tales of adventure over hearty meals. All spare time was filled with trips to the Fontainebleau Forest and hours of rock climbing.
We grew very fond of our friends and life in Fericy. When it was time to leave it felt like we were saying goodbye to family and lifelong friends.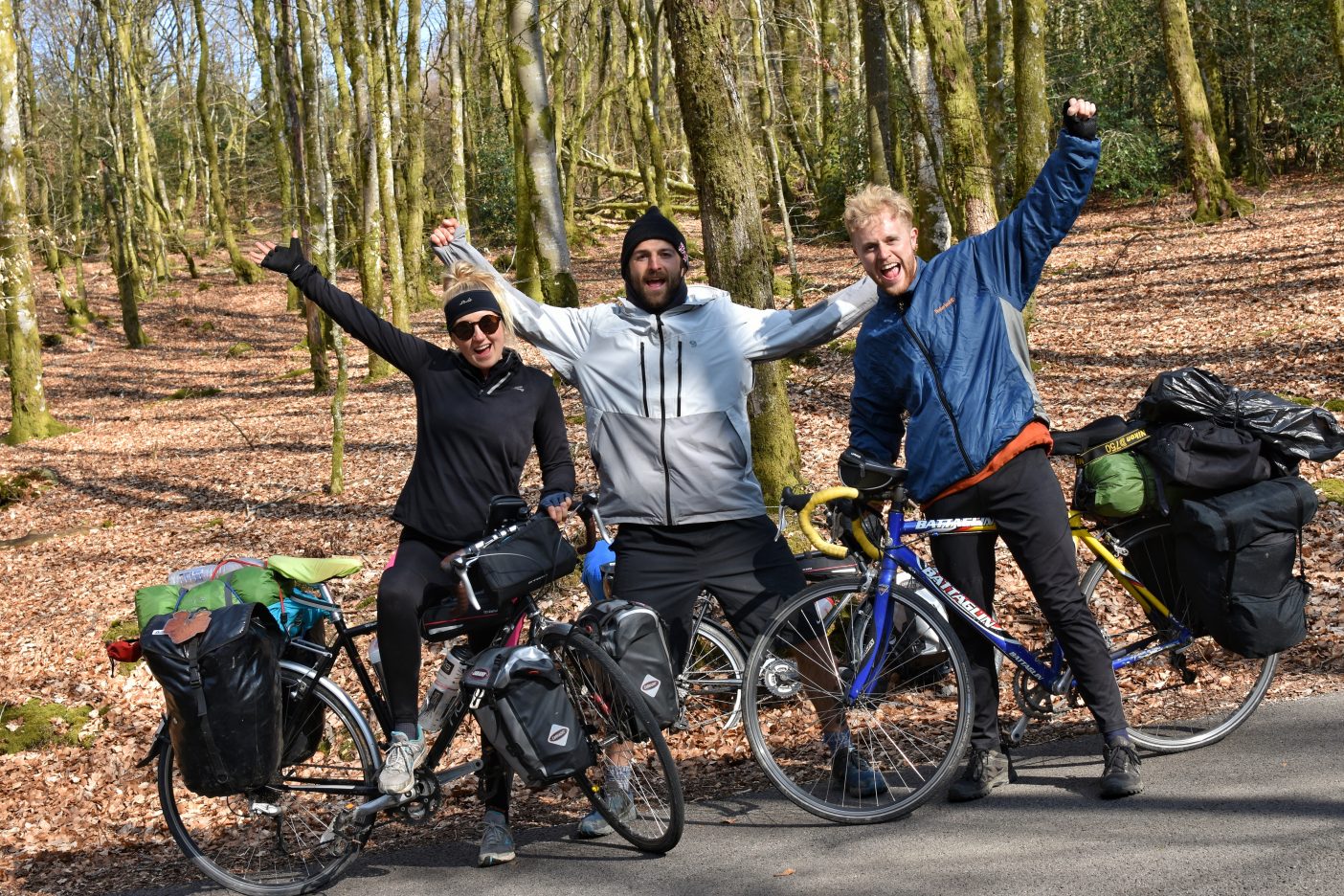 Our best friend from home joined us for the next leg to Lyon – April 2019
With Ed joining us to pedal through the French countryside, we not only got a new cycle companion but also our own personal photographer (thanks Ed). It was certainly an adventure cycling up mountains that seemed to keep going up but never down, and camping in -5°C, which confirmed that Ed's gear certainly wasn't up to the test.
I had to hold my tongue on a few occasions when things got a bit hairy. Like getting completely lost whilst pushing our bikes uphill through dense, muddy mountain bike terrain, whilst Josh and Ed debated who knew the right way. This all added to the thrill of the journey. We saw the best of the French countryside and ate some epic picnics, all made that much better by the addition of a friendly face.
House sitting in Lyon – May 2019
It's not often we grow fond of cities, however, Lyon stole our hearts as soon as we arrived. This quirky urban sprawl had character and charm around every corner, with so much art and individuality, not to mention friendly locals. We spent a month here house-sitting for some friends and their feline friend, Tommy. This gave us the chance to feast on veg from the local French markets and recuperate some energy, as we planned the next stages of our cycle route.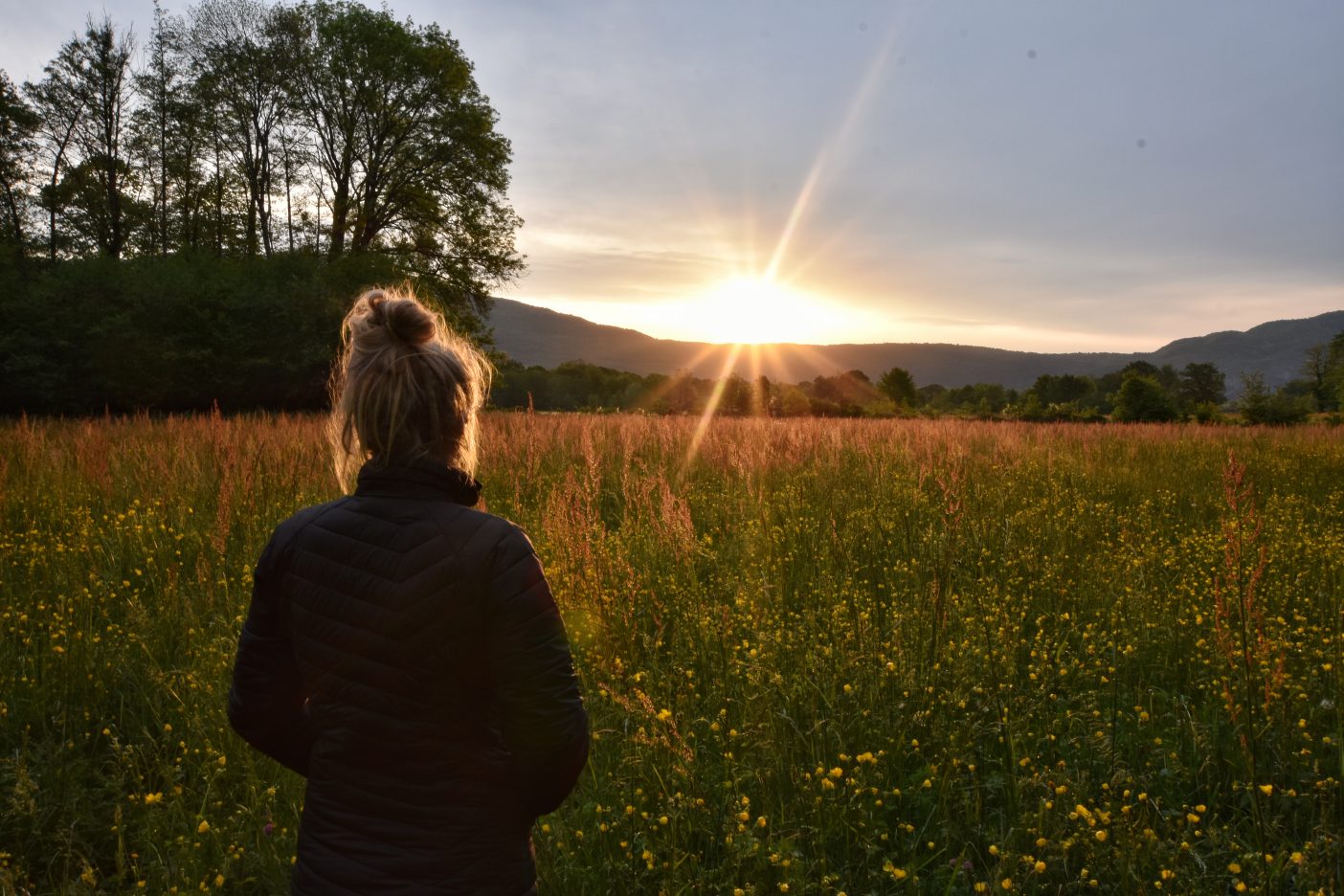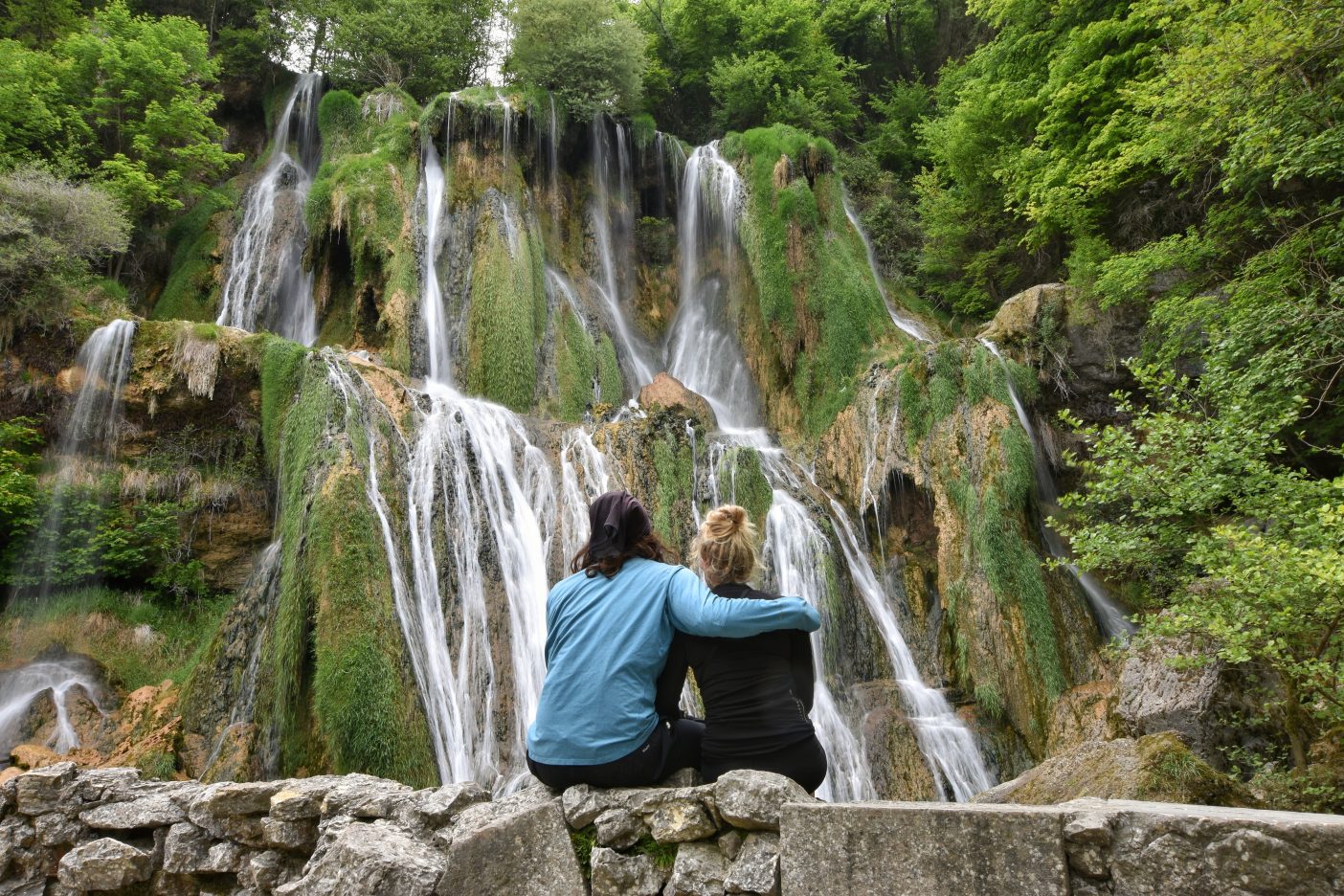 Cycling the Via Rhona – June 2019
On leaving Lyon we took the advice of two locals and followed the Via Rhona to our next checkpoint just outside of the Swiss border. We'd never considered making a conscious effort to follow a cycle route in the past, thinking we'd just choose the quickest route. Cycling the Via Rhone, however, completely changed our outlook on bike touring and how we travel.
The whole route meandered through valleys following the Rhone river, with imposing mountains on either side and raw landscapes stretched out before us. We free-camped in wild fields of buttercups, spending the whole day outside with only the sounds of the birds and bugs to be heard. This experience convinced us that, although they may not be the most direct, taking a cycle path is much more enjoyable than navigating the frenzy of traffic and bustle of cities. What's more, we had some cracking picnic stops too.
July 2019 – Exploring the French Alps
Arriving to Ferney-Voltaire, France, we stayed with Beth, an old friend from home, but had no idea how much this region had to offer. Spoilt for choice, it wasn't long before we pedalled into the mountains, albeit naive to how gruelling the ascents would be from the saddle.
Our first real taste of this stunning region was hiking Le Mole, after a strenuous 25km uphill cycle in the heat. The thought of climbing up further beneath humid skies and rising temperatures seemed exhausting, however, the view from the top made it all worthwhile. Complete panoramic views of snow-capped peaks dominated the skyline. Month-Blanc stood right in our eye line and we were utterly speechless at the powerful peaks before us, eager to venture further and higher into the French Alps.
The whole month of July was spent hiking, climbing and swimming in some of the mindblowing landscapes we've ever seen.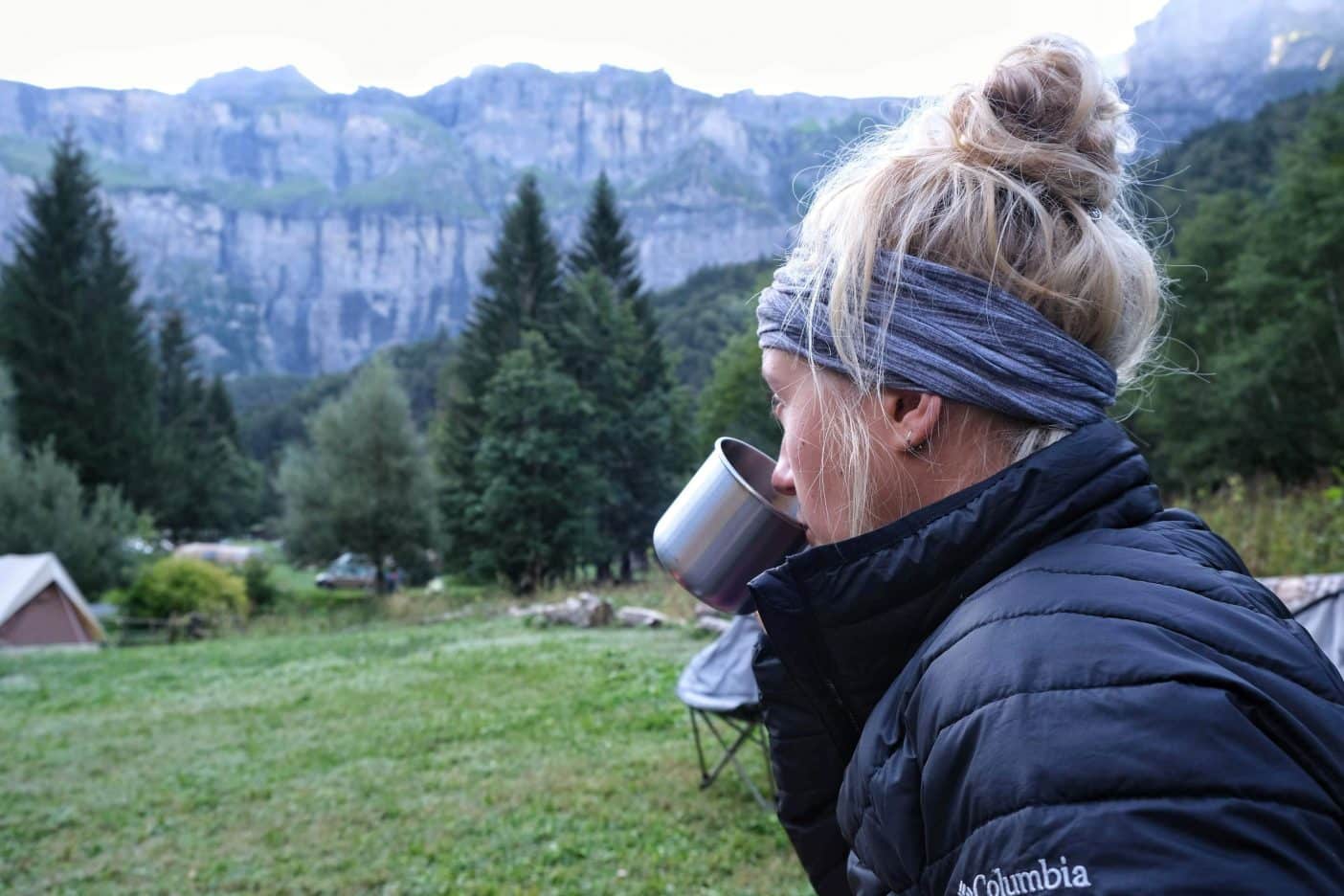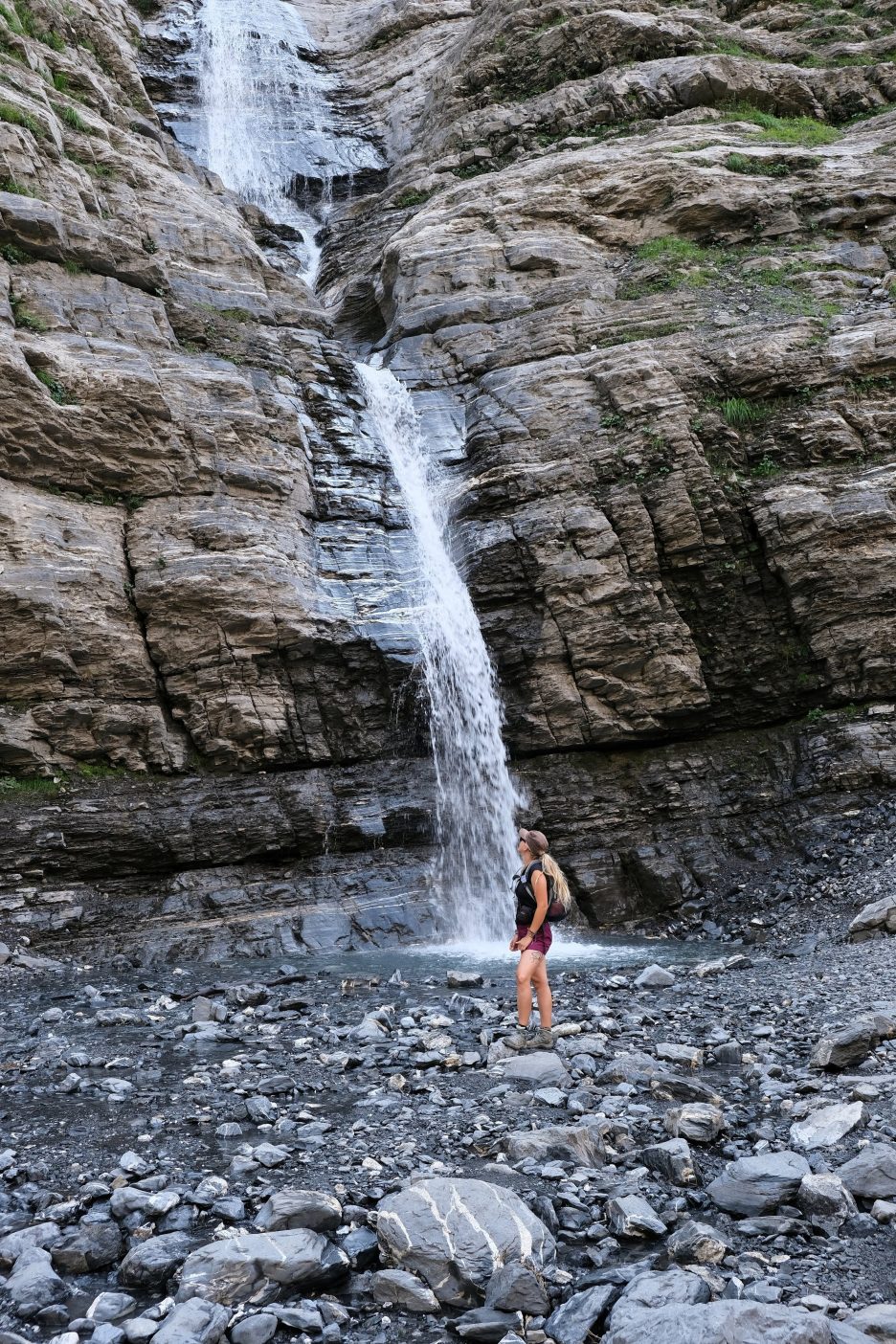 Sixt-fer-a-Cheval – August 2019
Much like the previous month, August was spent exploring the many trails and mountains of the French Alps, but the overall highlight has to be Sixt-fer-a-Cheval.
J planned the whole trip as a birthday treat for me but neither of us had much of an idea of what to expect. This natural amphitheatre turned out to be one of the largest in Europe and its carved-out valley was dotted with meandering streams fed from gushing waterfalls. The water sources fell from rugged peaks surrounding the entire hollow and the whole landscape was enveloped with wildflowers and foliage. All of this gave life to the hundreds of butterflies and wild goats roaming the area.
With the array of trails along the valley and up the gigantic peaks, 4 days really wasn't long enough to explore this crazy destination.
September 2019 – Resourceful planning
What the French Alps has in natural beauty, it lacks in public transport. Summer was drawing to a close and getting further and exploring farther became more and more challenging. The poor local connections meant we had to get pretty damn creative with our trail planning.
After a failed attempt of hiking to Lac de Lessy, an inspiring alpine lake in the Aravis Massif, we felt a little disheartened about our chances of exploring. This misadventure had resulted in us navigating our way for hours through unbearably dense woodland at an unforgiving gradient and helping each other over barbed wire and electric fences.
Determined not to be defeated, we took to the drawing board and found some unforgettable trails that weren't dependent on public transport. It reinforced our desire to be self-reliant and pushed us to delve further into the realm of human-powered adventures.
Lac de Peyre – October 2019
Our second attempt to hike Lac de Lessy resulted in an unexpected discovery of Lac de Peyre. We'd intended to hitch a ride to the Lac de Lessy trailhead but were dropped off at the wrong place. Deciding this hike might be nice anyway, we made the ascent unaware of the wonders that awaited us.
After reaching the summit, the rawness of the landscape against the blue skies, with Mont Blanc once again making an appearance on the horizon, left a serious impression. We spent hours at the summit exploring the surrounding ridge walks and basking in the autumn sunshine. Some things certainly happen for a reason and maybe there were higher powers at work preventing us from hiking Lac de Lessy!
November 2019 – Le Lanfonnet hike
The very beginning of the winter season and our first group hike up Le Lanfonnet made us giddy with excitement for more snowy exploration. Everyone in our group had expected a little snow, but, as we reached the summit and the trail became hard to spot, we found ourselves trudging through waist-high snow with nothing but low-ankle shoes. By the end, we resorted to a snowball fight and fits of laughter as it became apparent climbing any higher would not be possible.
Coming from the UK where colder months are usually wished away for warmer weather, this new experience left us hungry to embrace these new snowy landscapes.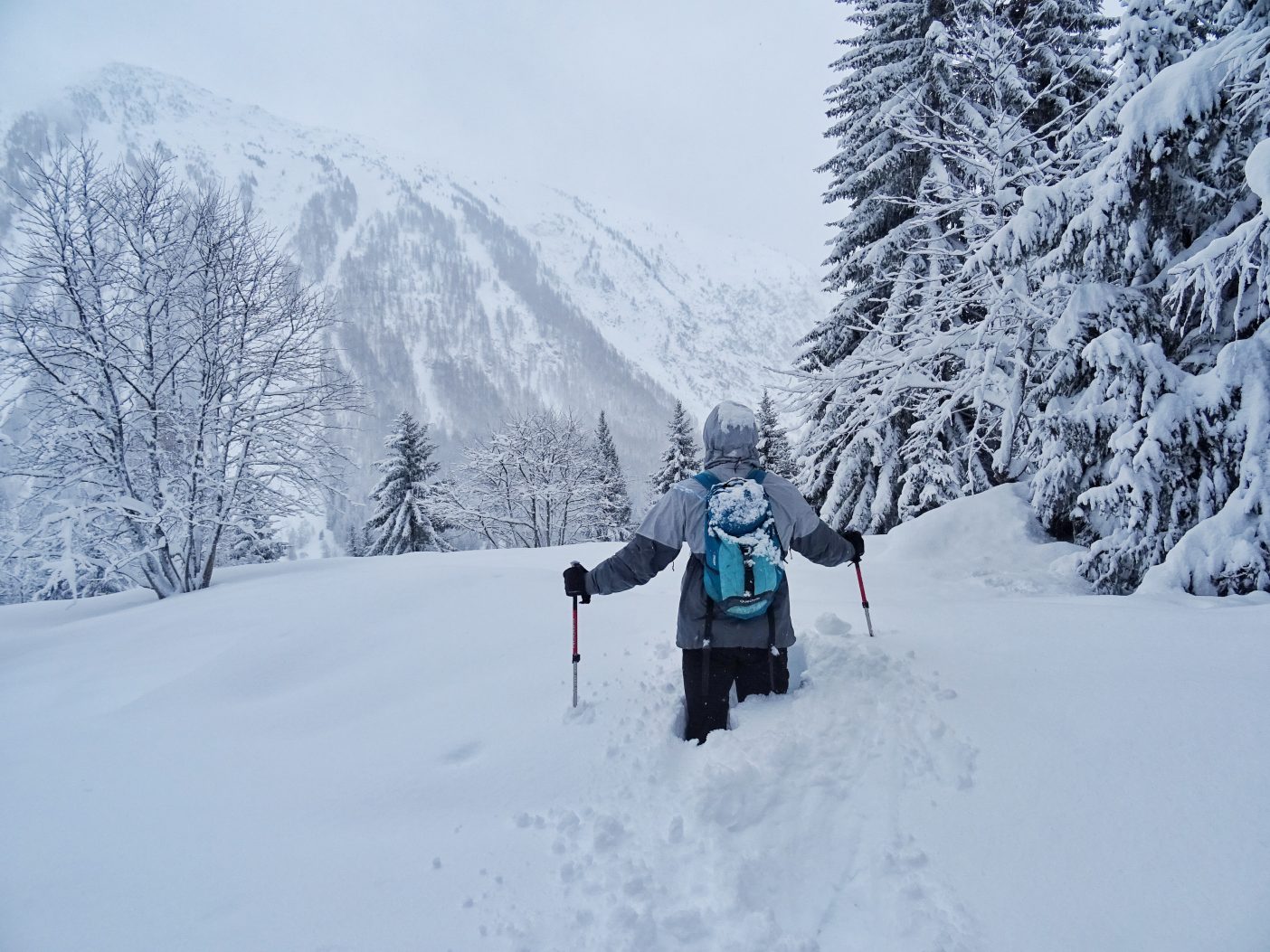 December 2019 – Snowshoeing in Chamonix, French Alps
Exploring Chamonix in winter had been top of our list since arriving in the region. Once the train was booked and our bags packed, it was hard to control our excitement as the humble mountain train chugged through the valley towards the famous alpine town.
There hadn't been snow for weeks, and, at first, our hopes of exploring a wintery wonderland seemed crushed. The second morning that all changed when a thick blanket of snow covered the whole region and put snowshoeing back on the menu.
We took a mountain train further into the valley and the changing landscapes became covered with thicker and thicker snow as we gained altitude. Stepping out from the train, we quickly became immersed in the solitude of the woods, gliding up through the canopy of snow-enveloped trees, with little to no visibility – an exhilarating feeling. The whole experience was invigorating and made us once winter-sceptics now converts to chilly adventures.
Over the course of the year we also got featured as one of the top 100 Travel Blogs – take peep!
A wintery tour of the Alps – January 2020
With Ed coming to visit again, we made the most of his driving licence and rented a car. Having been limited to places reachable by public transport, hitching or cycling, a car now meant the world was our oyster.
Hiking up to the frozen Lac Vert and finding a perfect lunch stop with sweeping views of the Mont Blanc massif; discovering the frozen utopia of Lac de Taney: a vast frozen lake surrounded by icicle-covered evergreens and a flaming mulled wine in a nearby inn; wheel-spinning and moments of panic in icy alpine car parks…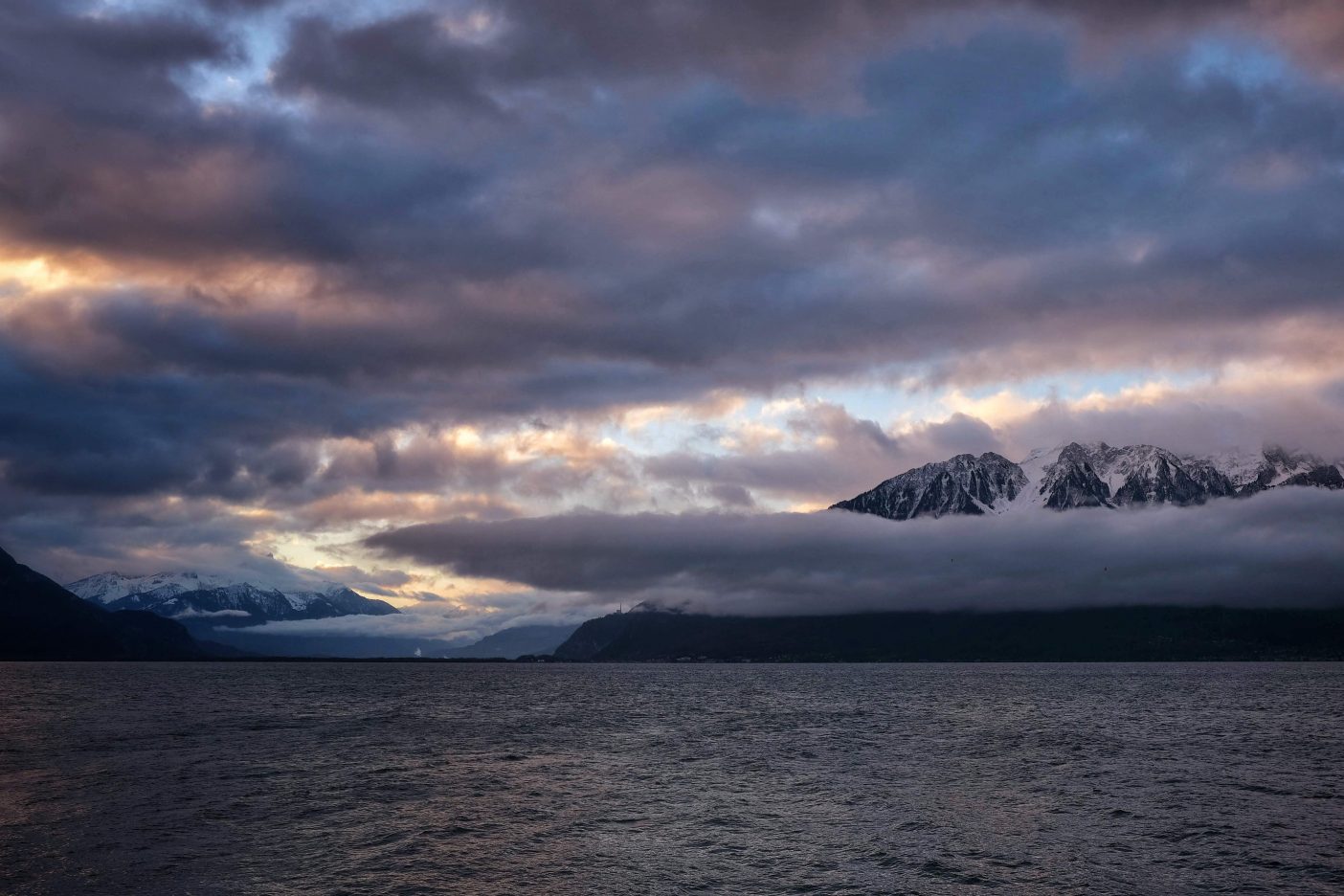 Lessons from nature – February 2020
Our first (and hopefully last) experience with mountain rescue occurred after getting caught in a white-out atop the Jura Mountains. I won't lie, the whole ordeal was pretty darn scary but we learnt a lot and have vowed to always approach mountains with a bit more caution.
With our Jura Mountain hike ending abruptly, we still had plenty of days set aside for an adventure. In a last-minute decision, we swapped our backpacks for panniers and set off to cycle the Tour du Leman. Unfortunately, this didn't go quite according to plan either but we completed the 200-km route none the less.
One last hike up our local peak – March 2020
Unfortunately, we weren't to know our last hike up Saleve really would be our last hike for a while. Having to leave France abruptly amid the coronavirus epidemic meant we had to return home to the UK.
Poetically, this was the first mountain we hiked in the region making our time go full circle. It also gave us the chance to observe the landscape changing from season to season as Saleve often became a place of solace from the hustle and bustle, offering a bit of respite in nature from all the stresses of life.
Photo Highlights from 12 Months of Adventure
It's been an incredible year full of adventure and misadventure. It's all taught us a lot and we can safely say each journey has inspired us to do more and venture further. Our plans to be back on the road are shelved for now, but only momentarily. Once the borders are open and travel is safe again we plan to load up our panniers once again heading east.
For now the is to aim to take inspiration from past adventures, planning our next journey just over the horizon and squeezing in the odd trip here and there when it's possible in the UK.
Do you feel inspired by your past experiences? Are you using this time to plan experiences of the future? Tell us in the comments below!
Keep exploring…