Now, more than ever, is the time to discover the local adventures around you and ditch those carbon-chugging flights, we think it'll be the best thing you do – here's why…
---
How many of you can say you've really explored your home country? If you have then great but I'll bet many of you have ventured more in foreign countries than your own doorstep? And, I'll be the first to admit, we were the same. Up until 2017 we would have much prefered flying to the other side of the world in search of an adventure than discovering what was already right in front of us. I'll be honest, we didn't even think there were real adventures to be had close to home…
Then, in 2017, something big changed and we've never looked back.
After realising the environmental impacts of flying we decided to give up planes completely and make the natural world a priority (we'll get more into that a bit later). This was with no intention of settling down or to pause our adventuring. Hell no. This was at a time when we had a particular crazy urge for adrenaline and exploration. Instead, we decided to make the most of all the possibilities we had on our doorstep, and, it was the greatest decision ever.
2 years later, now having left the UK on around the world cycle trip, we look back on our home with so much more respect, admiration, and with a cheeky little grin from all the good times had. We sing the UK's praises to other travellers and list off a whole reel of experiences and destinations they should check out. This would never have happened if we had kept flying. Ditching flying and embracing local adventures was the best thing we could've done, and, we think it'll be the same for you too.
We'd love to know what you think about ditching flying and embracing local adventures! Drop us a comment at the bottom and tell us what you think!
The Carbon Footprint of Flying
Until relatively recently the real environmental impacts of flying haven't been completely understood. Now, it's coming to light exactly how bad these carbon-chugging planes really are – it's not a pretty sight.
This is all coming at a seriously critical point in history too.
The environment is being damaged nearly beyond the point of repair and, unfortunately, a lot of it is our fault. Though there are many reasons why this is happening a huge factor is from the carbon dioxide (C02) in our atmosphere. It contributes to global warming and is destroying the habitats we need and love.
It's widely agreed that personal carbon footprints – the amount of C02 produced from someone's lifestyle – should be much less than 5,000 kg of C02 for a whole year (the actual target from the UK government is to bring this to lower than 1,200 kg). One long-haul return flight can use more than 6,000 kg of C02. Can you see the problem here?
This means, no matter how sustainably you might travel, you can't counteract the damage from the initial flight. Yes, going vegan is also a great eco step but stopping, or at least cutting down on flying, is another way forward.
For short-haul trips full cars, buses and trains produce sometimes as little as 10% of the emissions compared to planes. At a point where the natural world really needs our help, it's time to start choosing the sustainable option. And, that's where the adventures can begin!
Click here to find out more about the impacts of planes, why we ditched flying and why you should think about it too
What do you mean by a local adventure?
It doesn't have to be on your doorstep, we're not suggesting you go camping in your neighbour's garden, but it's something which doesn't require a huge amount of travelling.
If you're in the UK this could mean taking the train to the coastline (did you know nobody lives more than 70 miles from the sea in the UK?), if you're in the US this could be exploring your closest national park, in Europe you could even cross the border without having to travel for too long. It also doesn't have to be something outdoor-based, that's just what we love the most, you'll find more suggestions further down.
Your local adventure could be overnight, for a weekend, or why not take a whole month to really explore your home country? Pick somewhere you might have ignored before and look at it with fresh eyes, through the eyes of a traveller – you might be surprised what you find!
Reasons you'll love embracing local adventures
You'll surprise yourself and find pride in your local surroundings
There's nothing more rewarding than discovering an awesome experience close to home. Whether it's something you've known about for some time but never done, or a place you didn't even know existed. Finding all your local treasures will give you a newfound respect and pride for things you may have overlooked before.
Learn about local culture and surroundings
Did you know there was a national park so close to your house? Did you realise the cultural differences you could experience with only a few hours travelling? No matter where you live we'll bet you can find enough exciting possibilities to ditch flights for good.
Save money
Flights cost a huge amount, especially if you're going during the holidays, and you might need to shell out money for clothes suited to a different climate. Plan your next trip closer to home rather than flying abroad and see how much money you can save.
Less planning + less travel time + flexibility = less stress
Forget about weight restrictions, getting to the airport on time, check-in security and delays. Local adventures can require much less planning, you won't spend the day cooped up travelling and you'll have more flexibility to change your plans. And, most importantly, let's not forget about pets – who doesn't want to take their dog on a hiking trip?
This all means you'll likely be able to plan exciting adventures more often and it'll be less of a headache.
You'll be supporting local communities
Besides all the awesome things it can do for you it will also be great for the local economy. Money aside, it'll strengthen community ties and you could make new friends that are easy to visit.
Better for environment
A local adventure is the most sustainable adventure you could have, protecting it for future generations. Find out how to make it as sustainable as possible further down.
How to find local adventures
Depending on your local area you could start searching in two different ways.
1. Planning based on your local area
This might be the whole country, your state/county, or even your neighbouring countries. Once you've decided the area you have to play with you get can searching with local guidebooks, tourist information centres or forums and resources online.
Local guidebooks can be a super convenient way to find information about a whole country and region. Buy one for your local area and I'll promise there will be possibilities you never knew existed. We bought a Lonely Planet for the UK and it blew our mind how much there was within a cycle or a bus ride or if we jumped on a train it opened up a world of adventures.
Tourist information centres are awesome because you can ask questions and get advice about your trip. You don't have to visit in person you could just call and ask questions, for example about hiking trails, cycle paths or any other activities (it doesn't have to be outdoors!).
Forums and resources online are where you can find some of the most detailed and up-to-date information about an area. You'll also be able to find first-person perspectives and reviews. A great place to start would be from local tourist information websites or government resources. You can then look for blogs on the local area (this one's great for outdoor pursuits in Europe) for more suggestions and then even join groups, like this UK Hiking group, for extra tips and recommendations.
Using local maps or GPS is probably our favourite way to discover the adventures around you and works particularly well if you're looking for outdoor pursuits. Take a look on a map, GPS or app like Maps.Me to find local points of interests. You can then search for national parks, waterfalls, hiking trails, lakes and mountains etc, all things you could base your trip around.
Looking for an adventure with little planning, maybe it's your first time? This guide to accessible adventures is perfect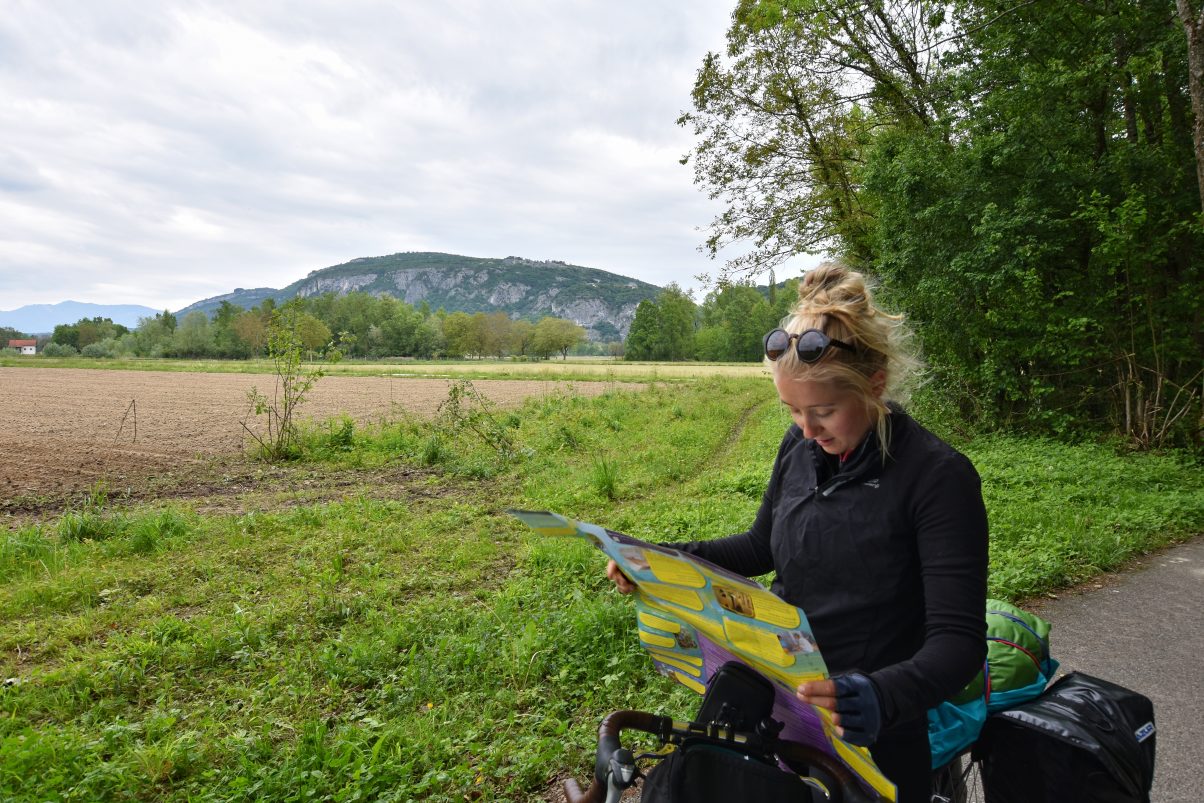 2. Planning based on an activity or interest
If you know there's a particular activity you want to do or try then base your local adventure around it. Thanks to the wonders of the internet you can easily search for 'your activity + near me to find all the local opportunities. This could be 'tourist attractions near me', 'camping near me', 'national parks near me', think of what you'd like to do most and get planning.
If you're thinking of hiking you'll find extra information about planning hiking trips here and if you're camping you might want to check out our packing list
Need some local adventure ideas?
Maybe you're not sure what you'd like to do and need some inspiration? Take a look at some of the ideas below. We'll bet you'll find each one of them is possible without leaving the country…
Plan a cycle tour straight from your front door to a national park then explore the national park

Find the furthest place you get a train to in one day and go

Think of your favourite local food and discover where and how it's made

Take an outdoors course or discover a new activity

Try Geocaching or create a scavenger hunt

Close your eyes, point to somewhere on a map and go there

Paddleboard along your closest river to find its source

Find your closest castle, maybe you could even spend the night there?

Climb a nearby mountain or even try and climb the biggest one in your region or country

Spend a weekend making a den or treehouse with the kids (why not build a cabin for yourself?)

See how far you can hike (or hitchhike) in a week, then get a train back

Why not try a sailing trip?
Thinking of something big? Check out our Adventure Planning Steps!
Make your local adventure as sustainable as possible
As soon as you take flying out of the equation your adventure will become a whole lot more sustainable but there are extra things you can do.
With public transport, trains are the most sustainable options, followed by buses

If you're driving try to fill the car and think about liftsharing with companies like Blablacar

Once you arrive, see if you can rent bikes to get around or take bikes with you

Try and go engine free – cycling, hiking, boating etc are the most sustainable ways you can travel

Take cutlery with you to avoid plastic waste

Try to shop local when you arrive

Leave no trace whilst you're in the outdoors

Find responsible camping spots

Reuse, recycle or compost your waste
You can find more sustainable travel tips here
Keep exploring…
The Complete Bike Touring Packing List
Begin Your Own Accessible Adventures
What Ethical Adventures Means to Us & Why it Should Mean the World to You