Looking for an adaptable performance climbing shoe that doesn't scrimp on comfort? Check out our Evolv Supra Review!
---
Evolv climbing shoes have long been on our radar thanks to their diverse range, build quality and impressive vegan-friendly certifications.
Coming straight from a lockdown-induced climbing hiatus, it was bloody brilliant to get some Evolv Supras on my feet and test them out on the gnarly gritstone Yorkshire offers.
Keep reading to find out if these really are some of the best rock climbing shoes for edging and performance that won't bring tears to your eyes as you break them in…
Jump ahead to…
This article may contain affiliate links, they will never cost you more money but helps Veggie Vagabonds keep making content like this – thank you!
The Evolv Supra: what does it say on the box?
These Evolv climbing shoes are marketed as versatile and advanced, with great edging abilities, tough rubber and a stiff sole.
Moderate climbing shoes aimed for sport and bouldering, slightly downturned to keep you anchored on overhangs and still feeling confident on slabs.
Despite being a performance shoe, Evolv claims they don't compromise on comfort.
These guys are slightly less aggressive than the Evolv Shaman but are more performance-focused than the Evolv Kronos.
Evolv Supra features
| | |
| --- | --- |
| Weight | 539g (pair) |
| Fit & Style | Slight downturn & cambering, slight asymmetry, moderate volume |
| Gender | Unisex |
| Closure | 3x Velcro straps |
| Upper | Synthetic synthratek VX upper |
| Midsole | MX-P: 1.6mm full length |
| Rubber | 4.2mm TRAX High Friction rubber |
| Use | Performance sport climbing and bouldering |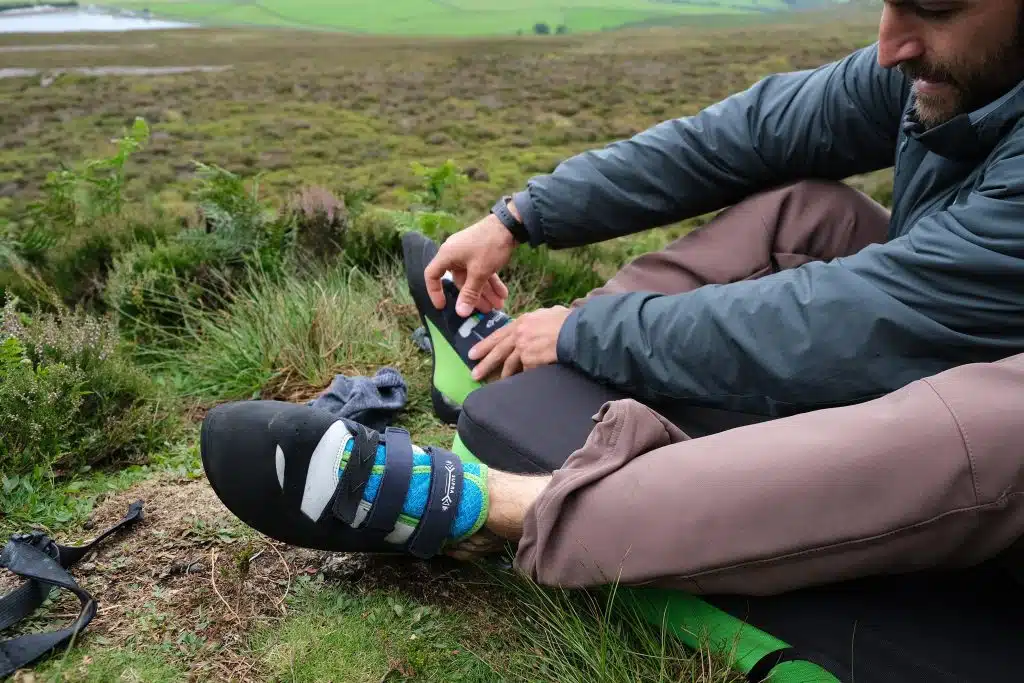 Evolv Supra sizing: Should you go bigger, smaller or stay the same?
Evolv general sizing seems to have changed somewhat over the years but a trusty source advised me:
Go for your UK street size for a comfortable fit or half a size smaller for performance
With the lockdown pausing all things climbing related I went for my street shoe size which was a wise choice. For everything but super precise footwork, they've been ace whilst still being mighty comfy. I also found the volume pretty nice for standard-width feet. Keep reading below for a detailed lowdown.
We're constantly releasing more outdoor gear reviews and sharing neat vegan adventure gear. Sign up for the newsletter to get it fresh along with tips, advice and discounts!
Supra results from the rock!
1 – Edging and precision 8/10
Evolv touts these to be some of the best shoes for climbing on crimpy edges, so this seems like a good place to start.
With a slight downturn, firm sole and TRAX High Friction Rubber the Supra are pretty awesome for edging. The cambering of the shoe and the high-tension heel rand drive power through your toes but it's far from uncomfortable. This is all helped by the Evolv 'love bump' which slightly arches your toes down and gives you a lot of control on tiny footholds.
The toe isn't too sharp either. Personally I prefer rock climbing shoes like this which are more rounded, giving more confidence adjusting your feet on horrible foot placements.
Overall edging and precision are pretty sweet, though I wouldn't say quite as good compared to shoes like the Anasazi Blancos. BUT, I did opt for a more comfortable fit… maybe with half a size smaller it would be stiffer competition?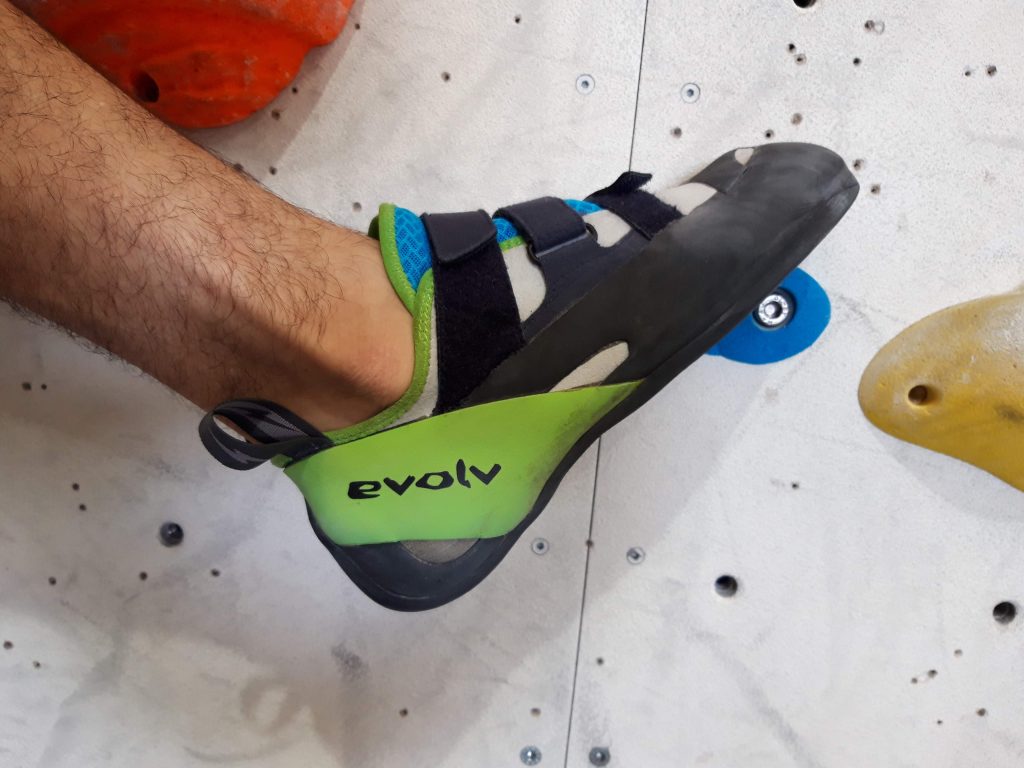 2. Hooks & heels 7.5/10
Toe hooks are a treat. The stiff upper material offers protection and the additional rubber across the toe gives impressive traction.
The high rand tension shapes a nice ball to your heel cup with little dead space and makes for pretty precise heel hooking. I didn't feel as confident as some other shoes but I think again this might have been improved going for a smaller performance fit.
3. Sensitivity 6.5/10
These rock shoes aren't designed to be particularly sensitive but considering I think they do an alright job. Despite the thick sole there's plenty of feeling for delicate foot placements and knowing when your toe hits a sweet spot. Very useful for minuscule gritstone placements that are almost invisible!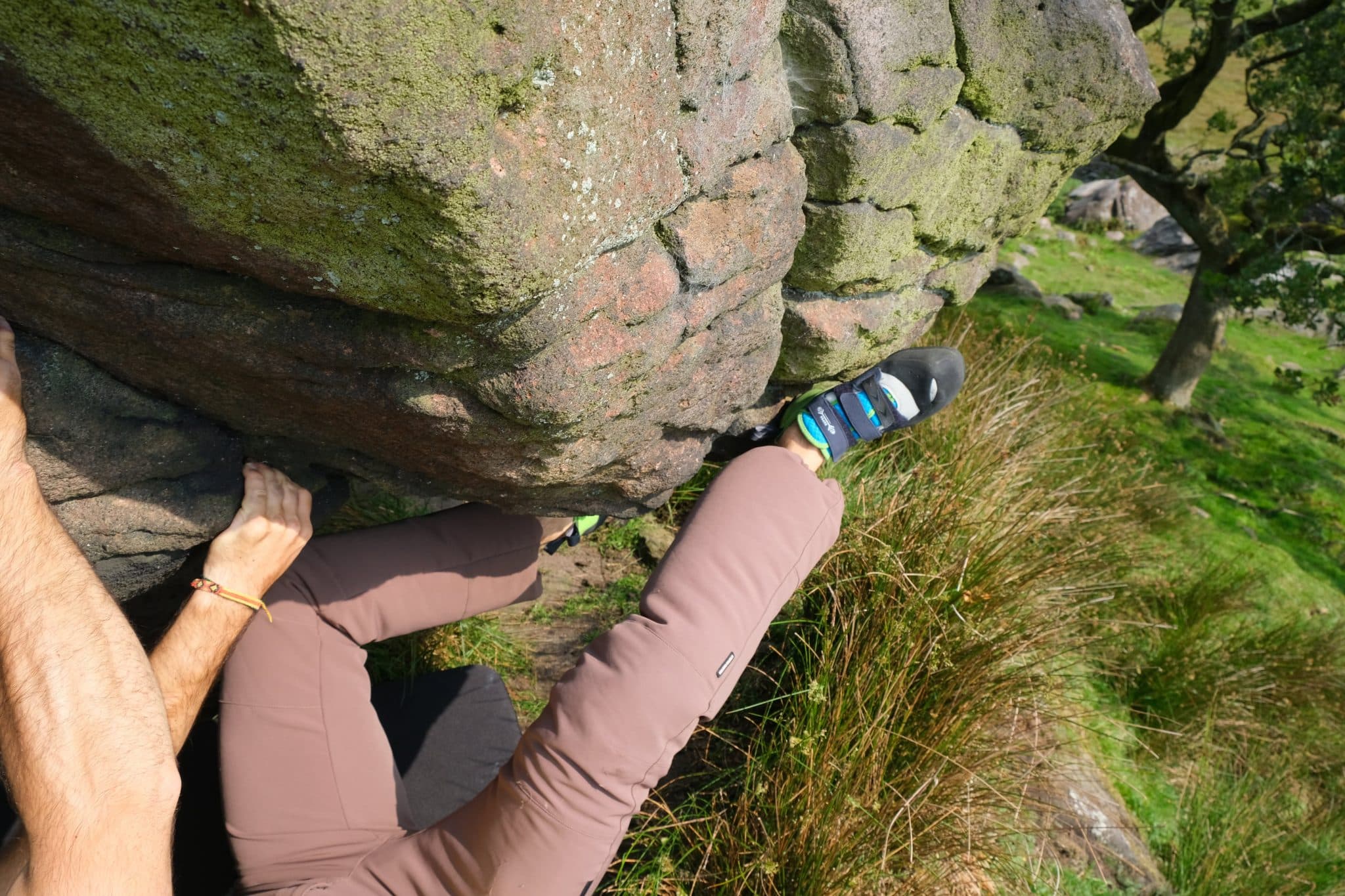 4. Comfort 9.5/10
This is an area the Supras really kick ass! Albeit I did go for a more comfortable fit but I've never tried a pair of performance-focused shoes which were so nice straight from the box. There was virtually no break-in time and could be used for the whole first session.
Evolv has the pretty sweet combination of the 'love bump' complimented with their knuckle box/toe box. This allows your big toe to stay in its natural position and gives the rest of your toes respite without creating dead space. More power less pain. You can really notice this and it doesn't 'feel' like a performance shoe.
On top of this, the inner is super comfy whilst the split tongue and velcro make them a breeze to get on and off.
Altogether, they're comfy enough to wear in between climbs and easily for longer sport climbing routes. For a performance shoe, this aspect is mighty impressive.
5. Versatility 9.5/10
With the Supra's features, build and comfort it has wicked versatility.
The tough rubber is durable for nasty gritstone batterings but also nice and sticky indoors. It's definitely suited to both indoor and outdoor climbing.
Evolv market this for both bouldering and sport, which I think is right. The edging capabilities are ace but the slight downturn also makes them strong on overhangs.
Despite the firm sole I also found smearing fine on awkward slabs and nervy high foot top-outs trying to flex more rubber onto the rock.
Because of the comfort it opens up the shoes to a real broad range of people, from serious shredders pushing grades to newer climbers wanting something more technical.
6. Green points: vegan ☑ // eco-friendly ❌
First off, Evolv are one of the few climbing shoe brands that explicitly certify their products as vegan-friendly. None of this 'we can't guarantee 100%' mumbo jumbo. Top marks in our book!
Re. sustainability: unfortunately there's no explicit info on Evolv's website or mention of ethical practices/materials. Definitely something to work on. But, the shoes can be resoled which is positive and saves buying new.
Vegan climber? Our Vegan Climbing Shoe Guide has heaps more tips for finding the right gear and our Ethical Outdoor Clothing Guide has lots of info on finding eco-friendly outdoor equipment
How much do Evolv Supras cost?
At the time of writing these ranged from roughly £90 to £120 across the different available outdoor stores. It's a mid to higher-end shoe but considering the versatility, I think it's pretty fair and competitive with other brands.
Any points to improve on?
With its promise of amazing edge capabilities, I didn't find they blew me away. They were really good, but I didn't get the 'holy sh*t, how am I standing on that moment'. If you've gone smaller and it does improve this aspect I'd be interested to know.
I mentioned the sustainability. Though recycled/post-consumer materials are still not common in climbing shoes, this would be very cool to see this introduced into Evolv climbing gear.
And, if I'm really picking: I'd like it if the split tongue was designed to be folded one way or the other. As it is, it can be folded either way and my simple mind always hesitates when I'm strapping them up, cold and pumped from Yorkshire climbing. I need these decisions made for me!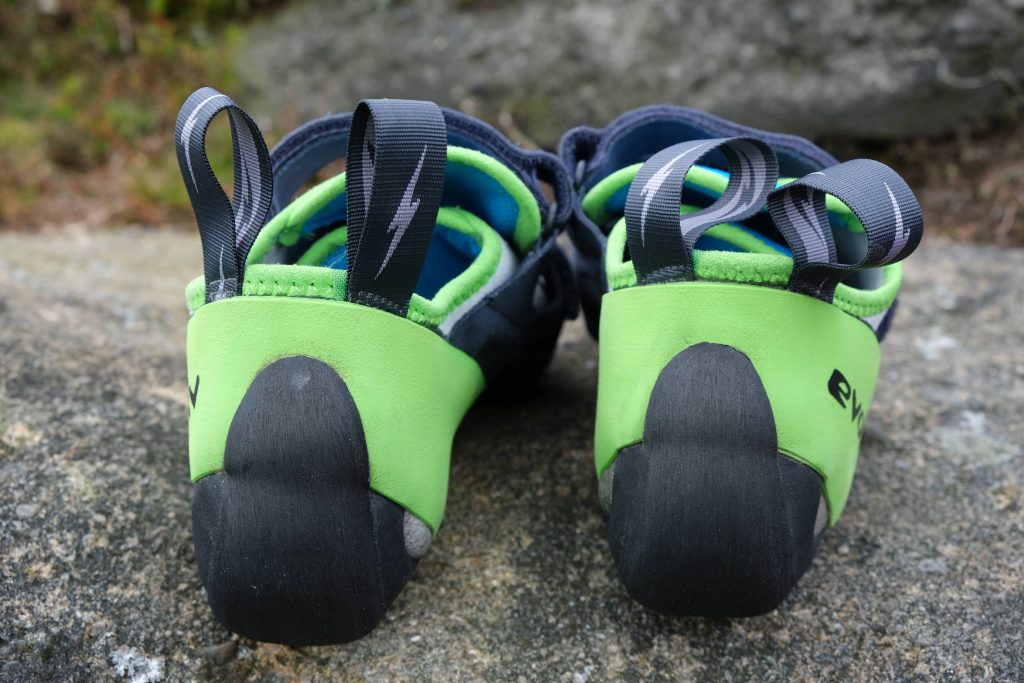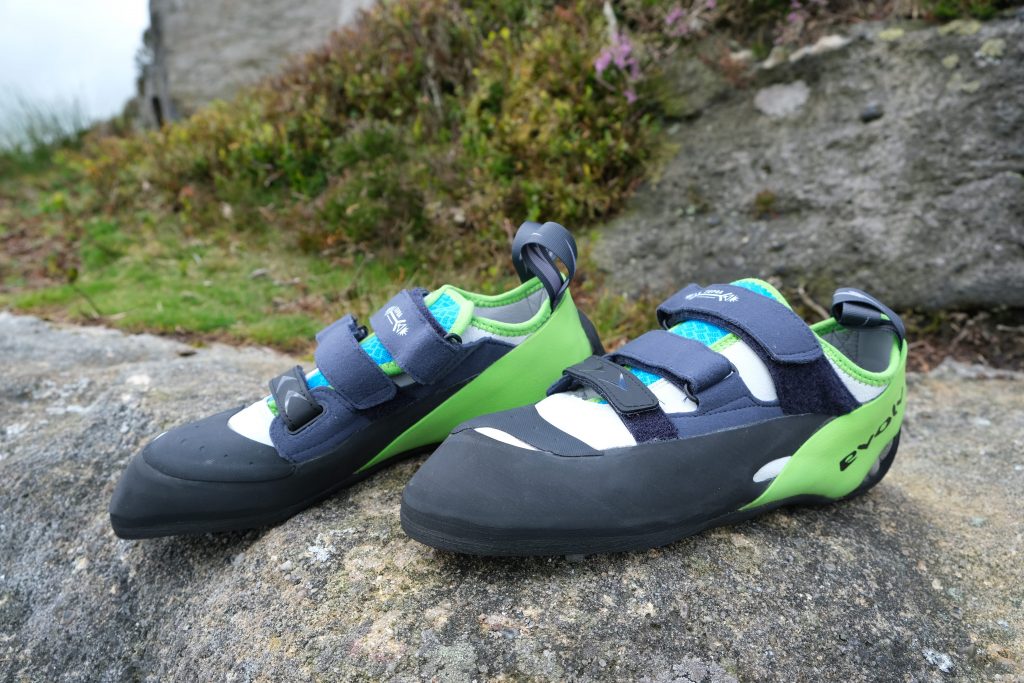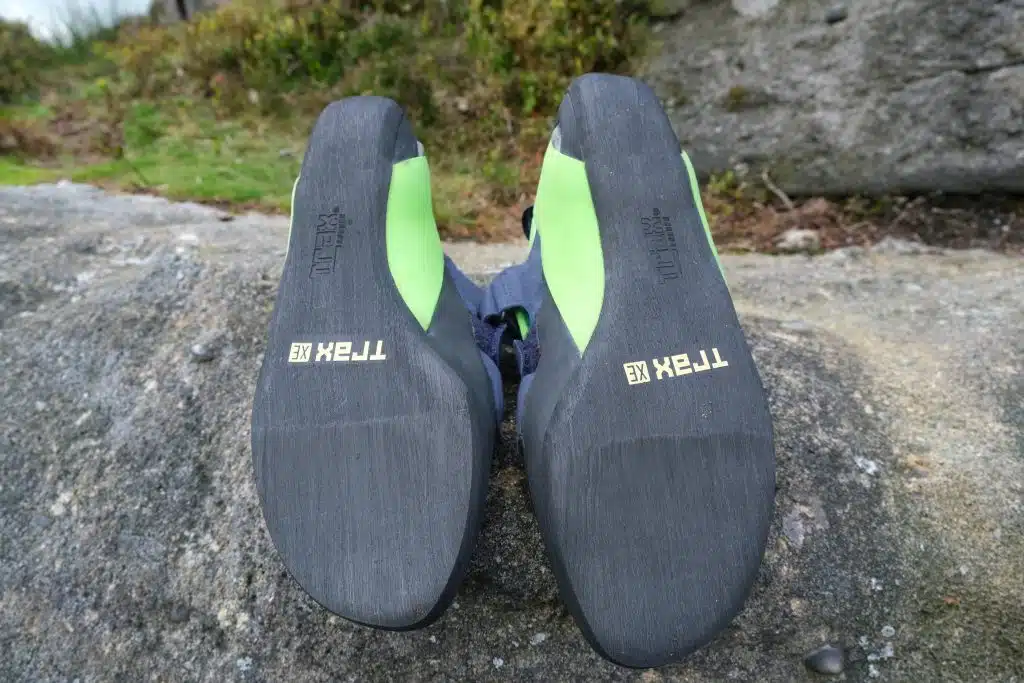 Evolv Supra Review Verdict…
I'm seriously big fans of these shoes, given the power and technicality they offer without busting your feet. Can't all high-end climbing shoes be this comfy from the box?!?!
The versatility makes them tough contenders too. If you've got average-width feet and want something to climb hard with, these Supras would be a smart addition to your kit that will likely get lots of action.
I'd be interested to try a half size down and see if they can really take the crown for edging monsters. Still, I dig the option of having a more comfortable option half a size up that still kicks ass.
Toe hooking, edges, comfort and power are all aspects which stood out. I'm a big fan!
Rock Results
1 – Edging and precision 8/10
2. Hooks & heels 7.5/10
3. Sensitivity 6.5/10
4. Comfort 9.5/10
5. Versatility 9.5/10
6. Green points: vegan ☑ // eco-friendly ❌
Overall: 86/100
Where to buy Evolv Supras
Available in half sizes and they're unisex, so don't worry about looking for women's or men's Supras. You can pick these up easily in the UK, across Europe and in North America too.
Evolv Supra Review – An Honest Climbing Shoe Review
Whether you're looking for your first pair of serious bouldering shoes, something to up the edge sport climbing or a comfortable indoor climbing shoe that you can still shred in, the Supras are likely going to be a good option for you.
They ain't designed for crack climbing, serious overhangs or trad climbing and they're not the best climbing shoe for beginners but for pretty much everything else I'd highly recommend 'em!