Mental training, melting glaciers and some groundbreaking sends – an Ethical Adventures Interview with Hazel Findlay
---
The first time we saw of Hazel Findlay was a video of her climbing Once Upon a Time in the South West back in 2011, it's a video we'll never forget. To those of you who haven't seen it or know of the climb, Once Upon a Time in the South West meanders up a startling piece of rock on the Devon coastline. On this rugged, rocky cliffside the waves crash in, pounding and rumbling as they pull back out; it sets a very ominous landscape for one of the most iconic climbs in the UK.
Hazel starts her ascent on this completely flat, blank-looking rockface. From a distance, and even up close, it looks completely impossible. An unapologetically featureless slab, with tiny, crumbling holds strewn here and there. Hazel points out: "the first half of the route you get loads of gear, but it's all just a bit shit really. Sometimes you put one in you just kind of chuckle to yourself, that's just hilariously shit, why are you even bothering"
"Hopefully something will hold… it's probably best to just not fall".
There's this crazy atmosphere to the video, with the waves ripping in and out and a very bitter looking British sky, whilst Hazel approaches a long, drawn-out section along this terribly crimpy and technical route. With a long fall below her, an ageing handhold rips from the wall and her body jerks away from the wall.
Seeming almost unphased, Hazel navigates the remaining 10 metres and becomes the first women to climb what has been described as "one of the hardest and scariest trad climbs in Britain". Until Hazel, no women had ever climbed an e9: a climbing grade meaning pretty damn hard but really, really scary.
This accomplishment gained her the reputation of an absolute crusher, with the calmest head and nerves of steel. Alex Honnold said he has "never seen another woman climb as well as Hazel on scary terrain".
Since watching this video we've been massive fans of Hazel, because of her unbelievable ability but also her enviable mindset, relaxed approach and calm composure. Watch her climbing thousands of feet from the ground, making nails moves and only protected by iffy gear and you could mistake her for being at the very first quickdraw.
It was awesome to get a chance to fire some questions her way and find out about the fascinating new podcast she has started: The Curious Climber. Find out more below!
"Being brave or being courageous is really just a matter of how much you want to do something. If you don't want to do something that much then you won't be brave enough to do it. If you really want to do something then you will be brave enough to do it"
Hazel Findlay
You started climbing at a pretty young age, was there a specific point you knew you wanted to be a professional climber?
I didn't really believe I could be a pro-climber until people started telling me how good I was. I just climbed with my friends and I had no point of reference.
You've got heaps of notable climbs under your belt, is there a particular one that has been the most meaningful to you?
Probably the one I just did in Yosemite: Magic Line. For me, this was a real test of keeping my head during a difficult process to climb the hardest thing I've ever climbed.
In November 2019, Hazel climbing Magic Line in Yosemite National Park. It's considered one of the hardest crack climbs in the world and Hazel is one of the tiny elite to have climbed it lead. She described it as the "hardest and most beautiful line" she has ever tried. Find out more on her BMC interview.
It seems like you put a big emphasis on mental training in climbing, how big a factor do you think this is compared to the physical aspect?
I think mental training is totally undervalued and ignored. We all we know how variable our climbing can be depending on our psychology. Why not train our minds like we train our bodies?
READ MORE: How to Find Vegan-Friendly Climbing Shoes // Evolv Supra Review: the perfect balance between performance & comfort!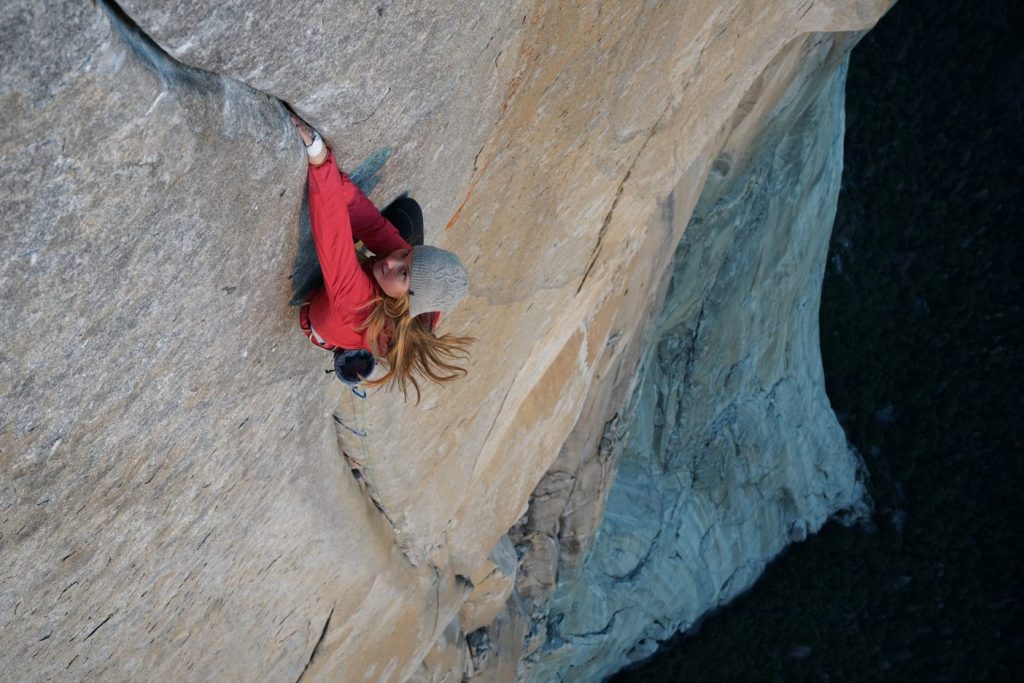 If people feel held back by nerves or fears whilst climbing or in the outdoors, what would be your biggest piece of advice?
Start to engage in mental training. Start to notice what happens in your mind and body. Read books. Talk to people. Find a mental training coach. And be holistic about it. You cannot separate your mind as a climber from the mind you carry with you into other areas of your life.
Increasingly we're seeing the impacts of climate change around the world, are there any areas you've specifically noticed this in the climbing world?
In the Alps, it is impossible to ignore the state of the melting glaciers.
Are there any tips climbers could use to have a more positive impact on the environment?
I have a huge carbon footprint because I fly so much so it's pretty hypocritical for me to give advice. I have chosen my work over minimising my impact. However, don't let the good get in the way of the perfect. Offset your flights if you do want to fly and support initiatives like solar aid who not only try to slow climate change but also help improve the quality of people's lives now.
2019 was a seriously impressive year for you, climbing your hardest grade yet, what's on the horizon for 2020?
I'm really not sure yet but I'm pretty motivated to make my coaching a priority and further expand it beyond the world of climbing.
Want to focus on your mindset and mental strength on the wall? Hazel runs mental training coaching, workshops and retreats!
Quickfire Questions!
If you were reincarnated as an animal, what would you want to be?
Probably a monkey or a dolphin.
Most inspirational person for you?
What would be your karaoke song?
None, I can't sing if my life depended on it.
Dream job (besides pro climber)?
Coach (my second job).
Early mornings or late nights?
Late nights but not partying.
Hazel Findlay: A Mini Ethical Adventures Interview Vol. 2
Want more from Hazel? Her new podcast series, The Curious Climber, really is awesome and so fascinating, with episodes joined by Beth Rodden, Nina Williams and plenty of other inspiring adventurers.
Keep exploring…