A reasonably-priced pair of waterproof trousers that ace the weather test and are impressively eco-friendly. Check out the full Rab Downpour Eco Pants review below
---
It's always a smart idea to have a reliable pair of waterproof trousers in your bag if you're heading into questionable conditions.
The right pair will be comfortable, durable and lightweight, protecting you from the elements whilst not being too sweat-inducing.
At Veggie Vagabonds, we always like to focus on protecting these outdoor realms and so sustainability is a big issue too.
The Rab Downpour Eco Pants seem to tick a lot of these boxes.
We picked up a pair to see if they really cut the mustard for ethical adventures!
Jump ahead to:
This article may contain affiliate links, they will never cost you more money but helps Veggie Vagabonds keep making content like this – thank you!
The Rab Downpour Eco Waterproof Pants overview
The Downpour Eco Pants are lightweight 2.5 layer Pertex waterproof trousers, designed to be easily pulled on once the heavens open.
They're aimed at casual to experienced walkers and hikers, with a special focus on sustainability. You'll find 100% recycled polyester and fluorocarbon-free DWR treatment (more info below).
At £60, they're competitively priced and are intended for 3-season use. Both men's and women's waterproof trouser models are available.
Price: £60
Weight: 225g
Best for: 3 season walking, hiking and general outdoor use
Features: 2.5 layer Pertex Revolve waterproofing, 50 denier polyester, drawcord adjustable hem, knee-length YKK side zip with storm guard, eco-friendly materials
Waterproofing: HH: 20,000mm/ MVTR: 20,000 g/m2/24 hrs (explained below)
Gender: male and female options
Sustainability and waterproof outdoor gear
Whilst sustainability applies to all bits of gear, it's particularly important for waterproof clothing e.g. waterproof walking trousers, jackets, ponchos etc.
Nowadays, most waterproofs use a Durable Waterproof Repellant finish (DWR) which helps falling rain bead and fall off the clothing. It's crucial to keep you dry. Unfortunately, DWR waterproofing often uses perfluorocarbon (PFC) which is notoriously bad for the environment and particularly water sources.
To avoid contributing to this, look for PFC-free rain pants, jackets and gear. The Downpour Eco Pants are PFC-free and use recycled materials – good work Rab!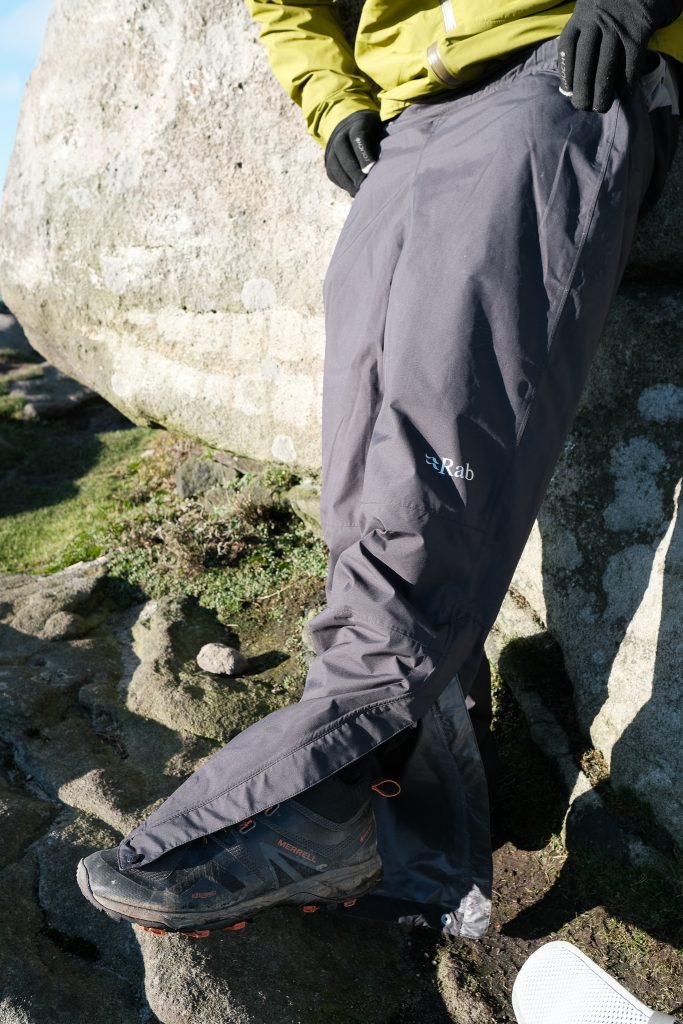 The Rab Downpour Eco Pants and me
As with most gear, I've ended up testing these trousers for more uses than they were probably intended.
From casual woodland walks through autumn, to overnight bikepacking trips in heavy downpours. The most vigorous testing was during a hiking trip to the Lake District, with 40mph winds, extremely heavy rains and storm warnings. At higher altitudes, it was wild and the rain was penetrating.
Though we've not had many cold days just yet, they've been used from just above freezing to 15°C.
I tested a Men's Large with regular leg length.
---
---
Results from the field
1. Waterproofing 5/5
We'll start with the most important bit: how waterproof are they?
I've worn them in light rain and showers all the way up to extremely heavy downpours. So far I've been nothing but impressed.
During my trip to the Lakes, a storm passed over with very high winds and driving rain. These budget-friendly Rab waterproof pants kept me bone dry for a good 6 hours of hiking
I've had a few very rainy cycles too – which are normally a solid test for waterproof trousers – and they've been great.
It's not to say they're perfect, but for a lower-end pair of waterproofs, I think they're ace.
How is it keeping you dry?
It uses 2.5-layer Pertex Shield Revolve waterproof material which has better waterproofing than 1-layer options but is lighter than 3-layer rain jackets and trousers.
And here's some of the waterproofing rating explained…
The Rab Downpour Eco trousers have a Hydrostatic Head (HH) of 20,000mm, which refers to how much water pressure would be needed to penetrate the material e.g. how much rain before you get you wet.
It's generally recommended that a HH of at least 15,000mm is needed for heavy rain. At 20,000mm, the Eco Pants hold up very well, and it's worth noting this rating matches some of Rab's more expensive waterproof hiking pants too.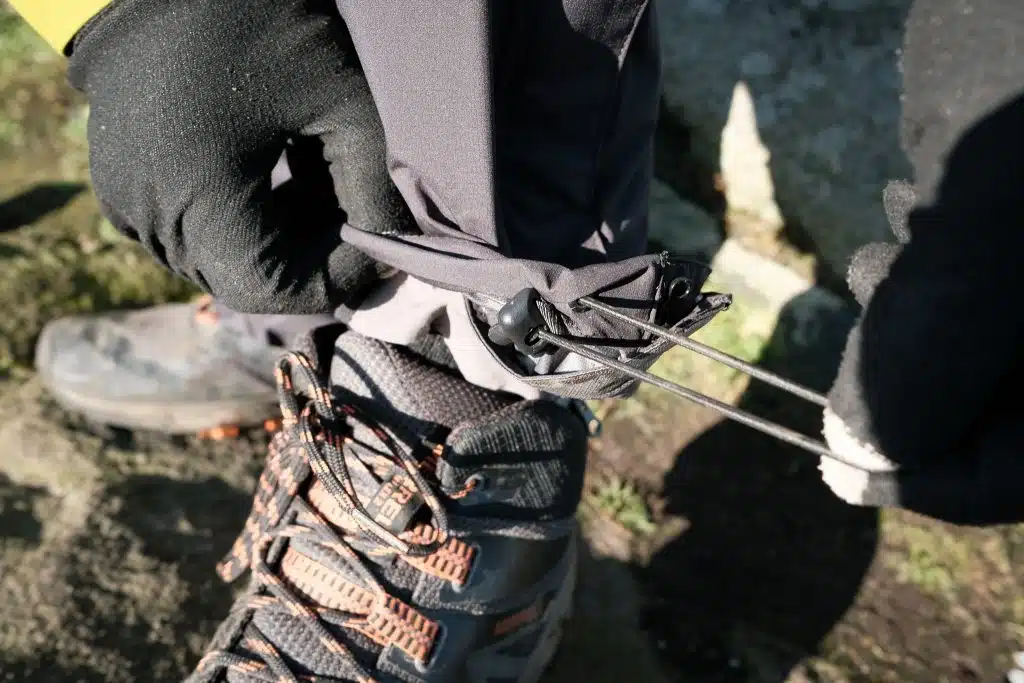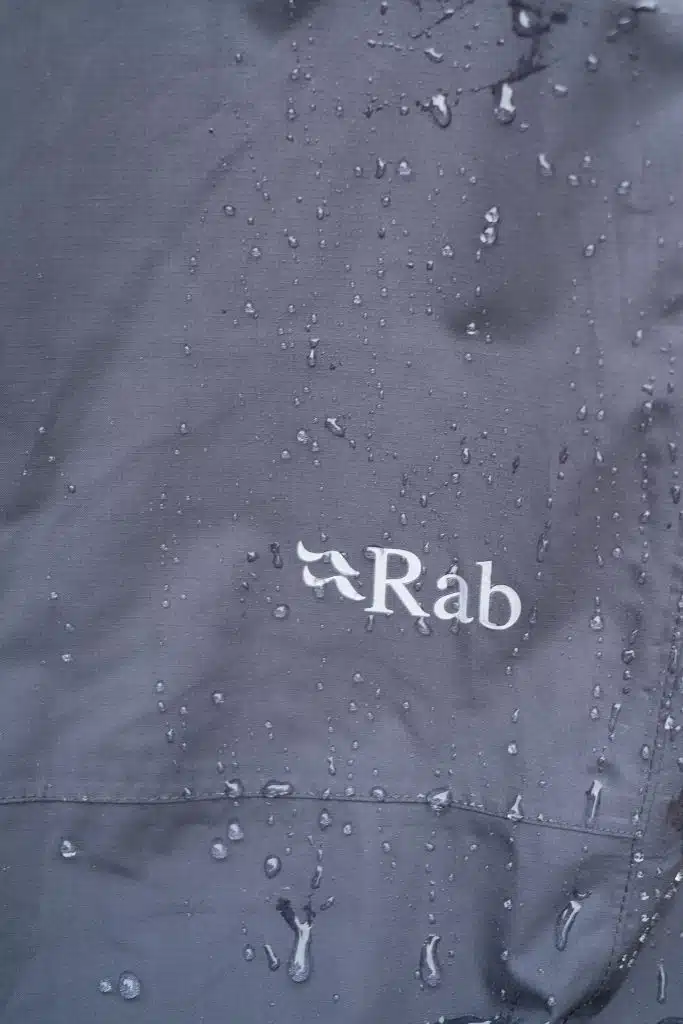 2. Comfort and mobility 3.5/5
For a non-stretchy pair of trousers, I found they give okay mobility for standard hiking, walking and also for bikepacking trips.
When it came to more technical hikes or scrambling, there is some restriction with large leg movements, particularly with thicker trousers underneath. With a straight, non-fitted design and without articulated knees, if you're planning on climbing or mountaineering, they probably won't allow the movement you need.
I also found the legs a little narrow when trying to pull them on whilst wearing hiking boots. There are knee-length side zips but I still found it a bit tight.
Both the inside and outside have a soft feel and are not plasticky like some trousers. With them on, they don't get overly clammy or stick to your skin once the temperatures increase.
The Rab Downpour Waterproof Pants come in S, M, L, XL and XXL with short, regular and long leg length options. I'm 6ft 1″ with a 34″ waist, quite chunky legs and backside. The L with a regular leg length fit me very well.
3. Breathability 4/5
The breathability was another impressive feature. During the storm I experienced in the Lakes, the temperatures weren't too high, I was moving fast and climbing to peaks. The temperatures were roughly 12°C and increased to above 15°C when I dropped down in altitude.
With heavy rain all day, I kept the rain pants over regular hiking trousers and gaiters, covering about 20km. Though I had to take mid-layers off my top half, my legs didn't overheat. This is saying something because I run hot and sweat easily!
Overall, the breathability is pretty spot on.
A look at the science…
The Rab Downpour Eco Waterproof Pant has a Moisture Vapour Transmission Rate (MVTR) of 20,000 g/m2/24 hrs. This is how much water vapour can pass through the material from inside out.
Basically, when you sweat it produces condensation and water vapour. This is a measure of how much vapour can escape, increasing the trousers breathability.
It's recommended to have an MVTR of 15,000 for high-exertion activities, like hiking or mountaineering. At 20,000, the Downpour Eco Pants excel.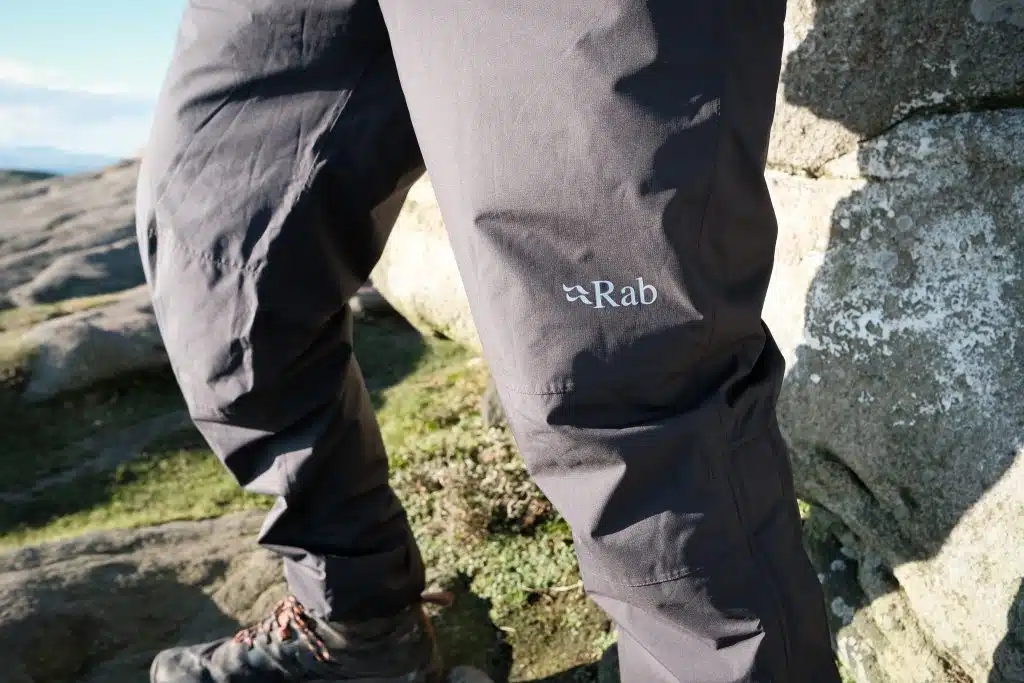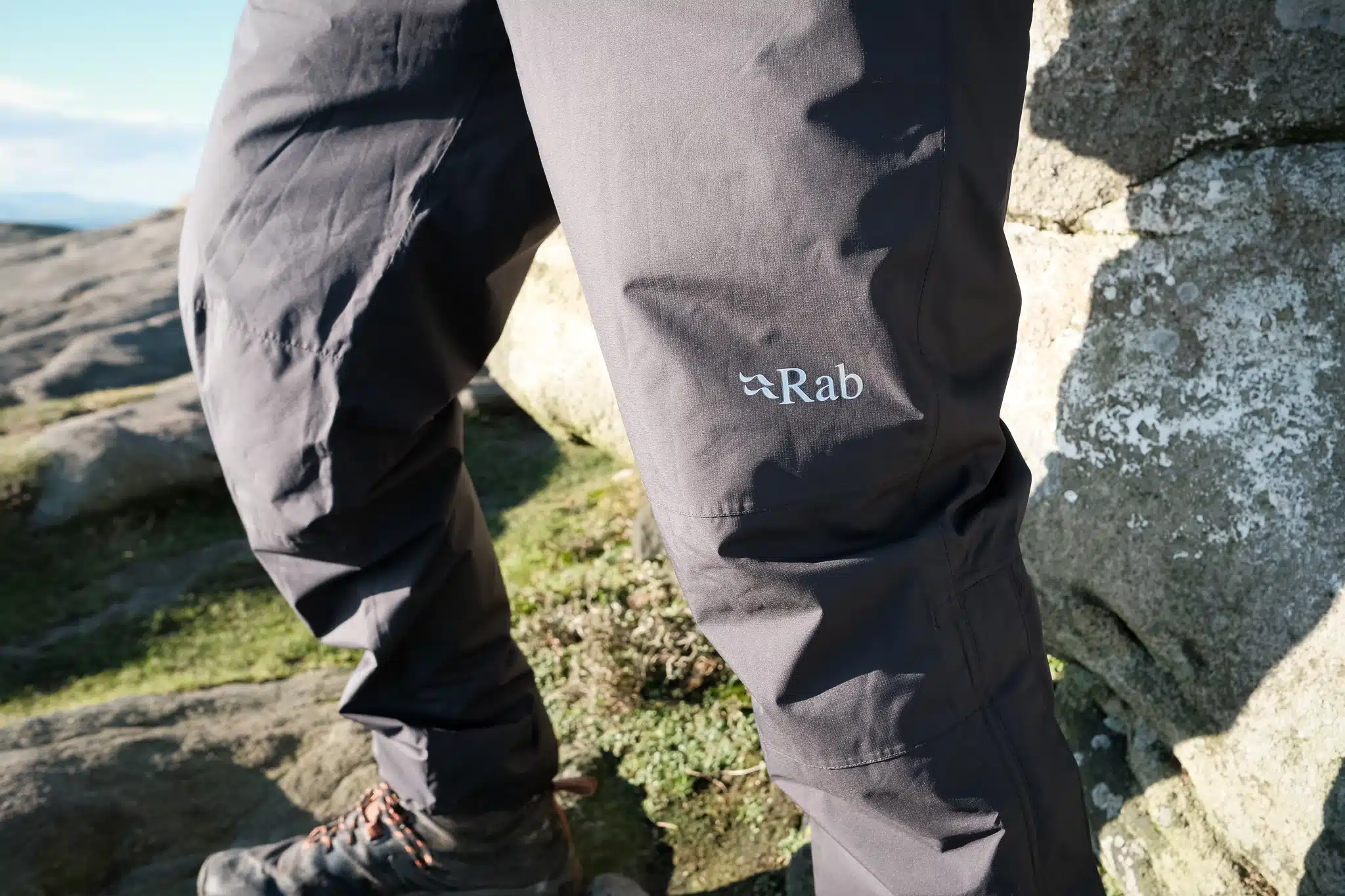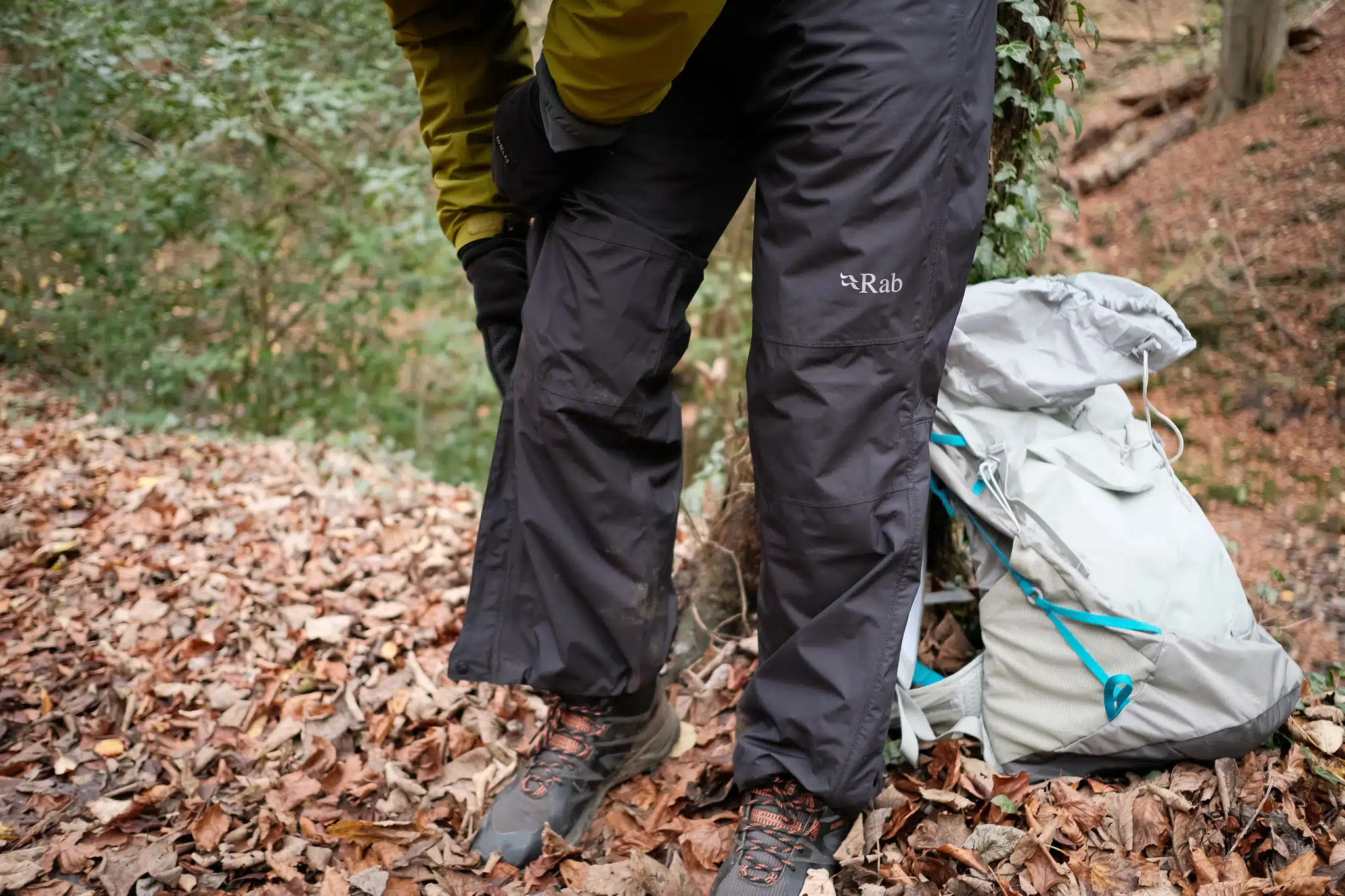 4. Pack size and weight 4/5
At 225g, these are very lightweight waterproof trousers and some of the lightest hiking-focused options you'll find from Rab or other brands. Rolled up and stowed in your bag, they're not that much bigger than a large banana!
5. Durability 3/5
Though I haven't experienced any issues with durability yet, it's something worth looking at.
To keep the weight down, the 20 Denier material is thin and there is no additional material to reinforce highly-worn areas like knees, crotch and seat etc. Without an articulated knee, it also means this area could wear over time.
It doesn't mean it will be a problem, and the trousers have obviously been designed with weight in mind, but it is something to look out for.
I wouldn't use them for heavy scrambling on rough crags, but for everything else, you're good to go.
---
If you want our latest gear reviews and guides, sign up for our newsletter to get them straight to your inbox
---
6. Features 3.5/5
These are quite simple waterproofs, with enough features for everyday hiking and walking.
Besides the impressive waterproof and sustainable materials, you've got a knee-length side zip for easier access when pulling on outside, with adjustable hems on the ankles and waist. It makes for easy adjustments when you're on the trail.
Some higher-end Rab waterproof trousers feature reinforced materials, articulated knees, pockets, whole-leg zipping, 3-layer Gore-Tex waterproofing etc. but, they all come at much higher costs and weight.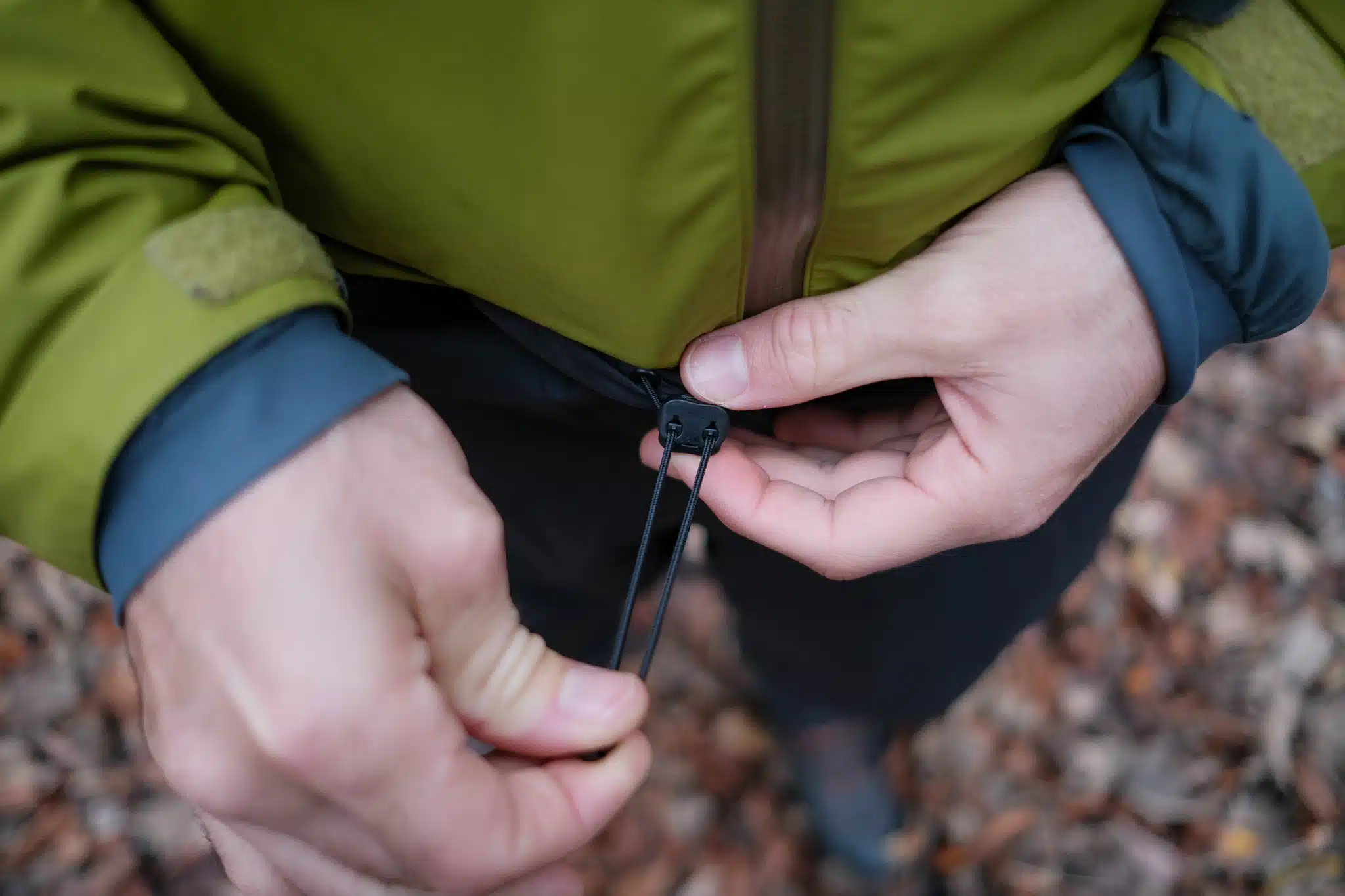 7. Uses 4/5
With their weight and quality, these Rab rain trousers are well worth keeping in your bag for a variety of adventures.
I'd say they excel for 3-season walking and hiking, from easy strolls to higher-intensity peak climbing. Wet camping trips, backpacking, dog walks etc. the Downpour Eco will do nicely.
Because of the impressive weight and breathability, they're definitely suited to milder conditions or as a summer backup to keep with you, just in case. Once temperatures drop into the minuses or if you're going to be mountaineering, it's worth going for a thicker, potentially 3-layer, option.
For cycling, I'll be using them through the winter for bikepacking trips. If you have larger legs or will be wearing thicker layers underneath, I'd recommend going a size up to give you a bit more space.
The durability and flexibility mean they might not appeal to mountaineers or technical hikers, but that's also not who they're aimed at.
8. Green 4.5/5
It uses a 100% recycled polyester outer and membrane, with the Pertex Revolve fabric. Not only is this great for reusing materials, but it also means the trousers can be completely recycled once their life is up. Awesome when adventure products and brands help support the circular economy!
Rab is a Climate Neutral Company and also part of the Fair Wear Foundation. Topping it off, the PFC-Free DWR finish helps to minimise environmental and water pollution.
All in all, Rab have done a brilliant job of creating eco-friendly waterproof trousers that really tick the boxes. If they were produced in the UK rather than Bangladesh, I'd have given 5/5.
9. Cost 4.5/5
At £60ish, the Rab Downpour Eco waterproof trousers are very competitively priced and compete with many more expensive models when it comes to performance. Within their own range, they feature technology from some of the higher-end trousers, like the more expensive Rab Downpour Plus pants, and have a waterproof rating that can match mountaineering options.
From the big outdoor brands, these are some of the cheapest waterproof trousers available for their quality.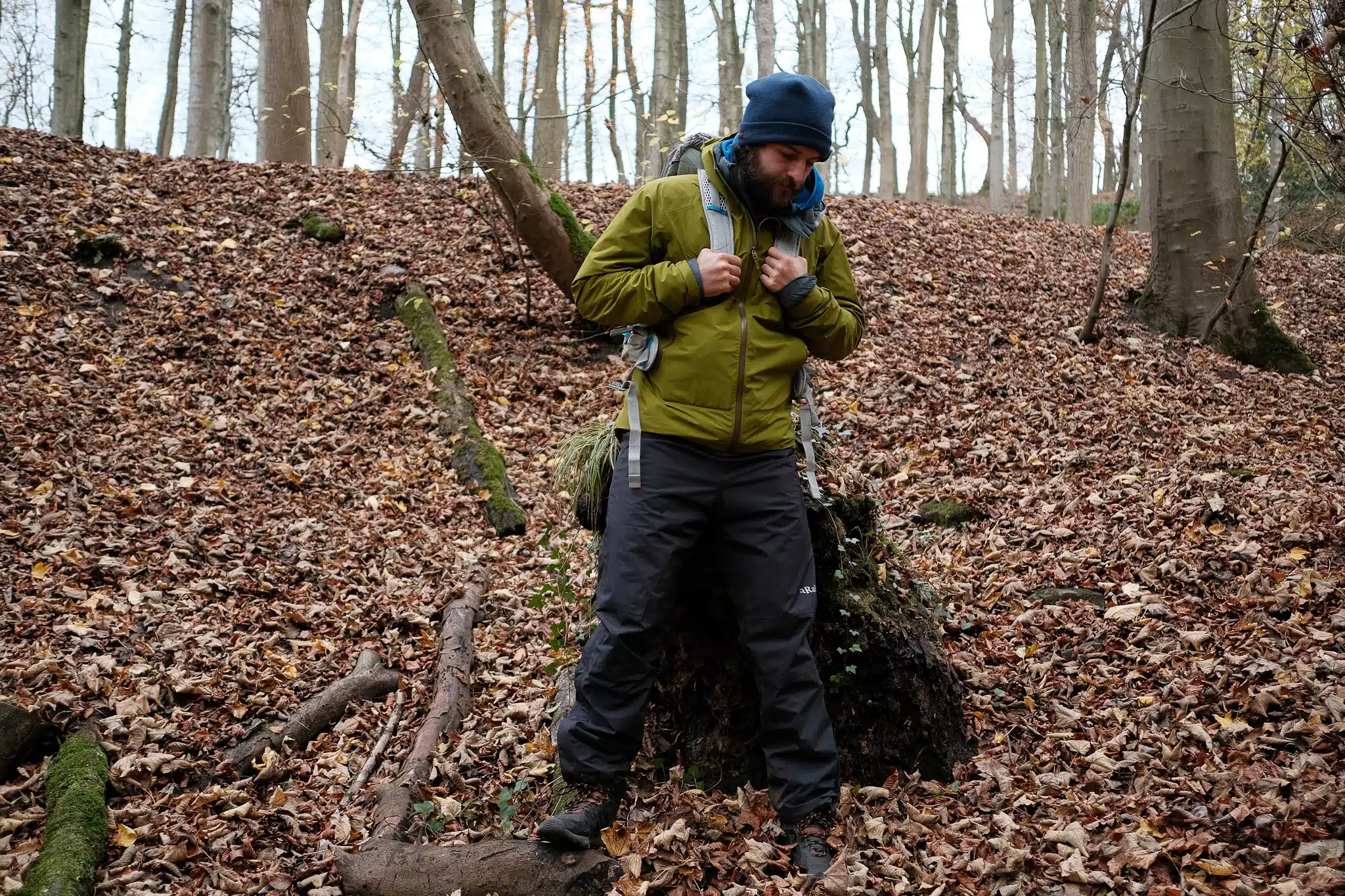 Overall impressions: things we dig & areas for improvement
For the price, they're top-notch for 3-season use. I think they're perfect as comfortable waterproof hiking trousers, with breathability that's impressive enough to wear in a variety of conditions. And, at such a small size, they're definitely worth just stowing in your bag for a rainy day.
A sweet option for casual walks with enough performance for tougher hiking trips too.
Pros
Lightweight
Highly breathable
Afforadble
Very comfortable
Super sustainable
Cons
Moveability could improve
Not ideal for winter use
No pockets
Durability could be an issue
Where to compare prices and buy?
Men's Rab Downpour Eco Waterproof Pants
Women's Rab Downpour Eco Waterproof Pants