Creamy and spicy vegan satay noodles recipe that's easy to create on the camp stove
---
Since peanut butter entered my world all those moons ago, it's become a firm staple of my diet. Especially when it comes to camping trips.
It's pretty amazing stuff as it can accompany sweet and savoury, it's packable, packed with goodness and it's darn tasty!
When it comes to camping dinners, we like to mix it up. There are a few signature meals that we have time and time again. But, variety is the spice of life after all and the same applies when cooking from the camp stove. So, peanut butter is a great addition to mix up meals on the road.
This vegan satay noodles recipe is one of those signature meals that makes an appearance again and again. Spicing things up from the camp stove and injecting some deliciousness come nightfall.
The Ideal Tofu Satay Noodles for the Camp Stove
The reason this recipe makes an appearance so often on camping trips is that it's so good. These peanut satay noodles are:
Creamy
Spicy
Salty
Easy to make
Insanely delicious
Textured
Packed with good stuff
It's tasty and warms you from the inside. Which is exactly what you want after a day in the outdoors.
---
Want more adventure food guides and recipes? Sign up for our newsletter to get the latest in all our ethical adventure content
---
How to Make Vegan Satay Noodles
This recipe uses only 10 ingredients and can be made in only 15 minutes. Super quick and easy, so you spend less time cooking and more time scoffing.
For short trips, I premake portions of sauce to take. It saves on bringing big bottles of sauces and means the satay sauce can just be added to the camping pot.
If you're on a long trip or car camping, you may take the individual sauce ingredients and add them as you cook which will also work.
To make the sauce combine the: peanut butter, sriracha, soy sauce, sesame oil, maple and garlic powder. Give it a good mix to fully combine and then you have your satay sauce.
1. Begin by boiling the rice noodles. Rice noodles are ideal as they're thin and are quick to cook, therefore using less fuel. They're super light and can take a battering in your bag. Sure they may break a bit but they still taste as good and the nests tend to hold up okay in a bag or pannier.
Once they're almost cooked, drain them and set them to one side whilst you prepare the other ingredients.
2. Next fry off the mushrooms for roughly three minutes. If you've brought your sesame oil separately you can use this to fry the veg, otherwise a little of the sauce mixture and some water will work.
3. Then add the pepper and tofu and fry for 5 minutes. Stir occasionally to stop them from sticking to the pan. You can always add more sauce if this begins to happen.
4. Once the mushrooms are almost cooked, add the noodles and remaining sauce, then stir to fully combine.
5. Allow the mushrooms to cook completely and distribute the sauce amongst the noodles and veg. Once fully combined in saucy goodness, it's ready to serve.
6. If you have fresh lime then give it a good squirt before tucking in.
Tips for Making this Satay Noodle Recipe
These peanut noodles are always a winner with campers as it's wholesome and tasty. Of course, you can also make this recipe at home as an easy meal that packs some flavour.
For shorter trips, make the peanut sauce at home. That way when it comes to dinner you can just plonk it in and save carrying all those ingredients with you. Small plastic containers that are typically for cosmetics are ideal. You can buy 150ml bottles and use them for premade sauce mixes on the trail.
Don't have pepper or mushrooms? Not a problem! Use what veg you have to hand as it all gets smothered in that delicious sauce and tastes delicious. It's good to opt for quick-cook veg and things that can be eaten a little al dente: green beans, mangetout, courgette, baby corn to save time cooking and fuel.
If tofu is hard to come by on the road, you can sub it for chickpeas as they also work just as well.
If rice noodles aren't available you can always sub them for any type of noodles but check the packet instructions as thicker ones will take longer and use more fuel.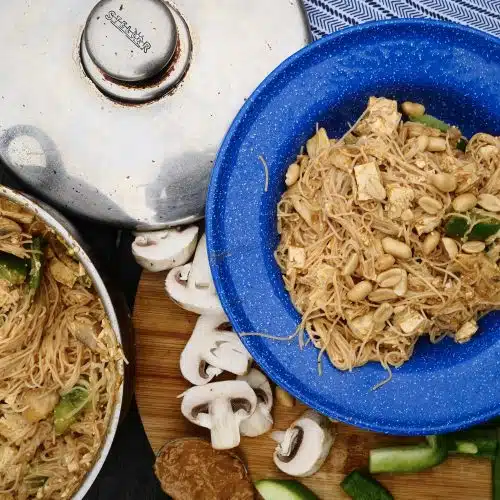 Vegan Satay Noodles
Creamy and delicious vegan satay noodles recipe easy with only 10 ingredients and ideal for the camp stove
Ingredients
Satay Peanut Sauce
2

tbsp

peanut butter

1

tbsp

sriracha sauce

2

tbsp

soy sauce

2

tbsp

sesame oil

1

tsp

maple syrup

1 ½

tsp

garlic powder
Reamining Ingredients
2

nests

rice noodles

150

grams

mushrooms

1

pepper

280

grams

block of firm tofu
Optional Extras
½

Lime

– juice squeezed on to serve

1

tsp

chilli flakes
Instructions
Begin by mixing all the sauce ingredients together. You can do this before a trip and take with you to add to the camping pot or before preparing the remaining ingredients.

Boil the rice noodles until they're almost cooked. This should take about 5 minutes. Then drain the noodles and set to one side.

Next fry off the mushrooms with a little sesame oil or if you made your pre made sauce, a little of that and some water. Cook for about 3 minutes.

Then add the peppers and tofu and cook for about 5 minutes.

Finally, add the noodles and remaining sauce. Stir to fully combine the ingredients and the sauce.

Then servce with a good squeeze of lime and the chilli flakes if you're using them and tuck in
Nutrition
Calories:
398
kcal
Carbohydrates:
18
g
Protein:
21
g
Fat:
29
g
Saturated Fat:
4
g
Polyunsaturated Fat:
12
g
Monounsaturated Fat:
12
g
Sodium:
1294
mg
Potassium:
457
mg
Fiber:
4
g
Sugar:
7
g
Vitamin A:
323
IU
Vitamin C:
11
mg
Calcium:
206
mg
Iron:
3
mg