It's safe to say our first cycle tour wasn't the smoothest ride…
---
On a very warm Easter, 5+ years ago, Sarah and I were preparing for our very first cycle tour.
I'd come up with the overenthusiastic idea of attempting the UK Three Peaks Challenge by Bike and we'd decided it probably deserved a trial run.
We borrowed old touring gear from family, picked up some dusty panniers from eBay and sourced a variety of luminous cycle clothing from charity shops. Everything you could need.
I mapped out a vague 4-day loop across the east coast of the UK (though it ended up being 6 days) and we hit the road, fresh-faced and with virtually no touring knowledge.
Since that fateful tour, we've successfully completed bike-based challenges, cycled continents and ridden thousands and thousands of miles. All enough for us to look back with perfect 20/20 hindsight.
These are 13 things we wished we'd known before pedalling off on our first tour!
This article may contain affiliate links, they will never cost you more money but helps Veggie Vagabonds keep making content like this – thank you!
You can never have too much vaseline…
Oh boy, the pain and chaffing this could have avoided.
Saddle sore is definitely one of those things you completely underestimate until it strikes you down, red-raw and teary-eyed.
Vaseline has always been our go-to skin-related product, and, though we did bring the remnants of a tub, it was DEFINITELY not enough for the chaffing we encountered.
(I say we, it was Sarah).
It's better to have it and not need it… is not always the right approach
For first trips, it's easy to overcompensate and try and pack for every scenario. When fellow cyclists and campers saw us, most thought we'd cycled across continents or were planning to.
For our 5-day, 3-400 mile trip, we had 4 overflowing panniers each, saddle and bar bags. For any situation that might arise, we were proudly kitted out.
In hindsight, though it was much more intensive training for our 3 Peaks Challenge, barely any of it even came out of the panniers. But, as onlookers pointed out, at least we looked the part…
Don't assume you can 'just cycle' from A to B
Having grown up in the super cycle-friendly city of Cambridge, UK, we'd always thought you could just find cycle routes connecting any two places. And with the wonders of GPS, what could go wrong?
For the first 2/3 of the trip, this method worked out fine. For the last third, it really didn't.
The climax was on the final day when our GPS very quickly led us to an A-road which it turns out didn't exist anymore. There were buildings where the road should've been.
A painfully sandy track was the next option, winding for hours into the woods. We eventually turned back and ended up taking a 30+ mile diversion, zig-zagging over 100 miles through tiny villages before we finally made it home.
Get more cycling and outdoor content straight to your inbox!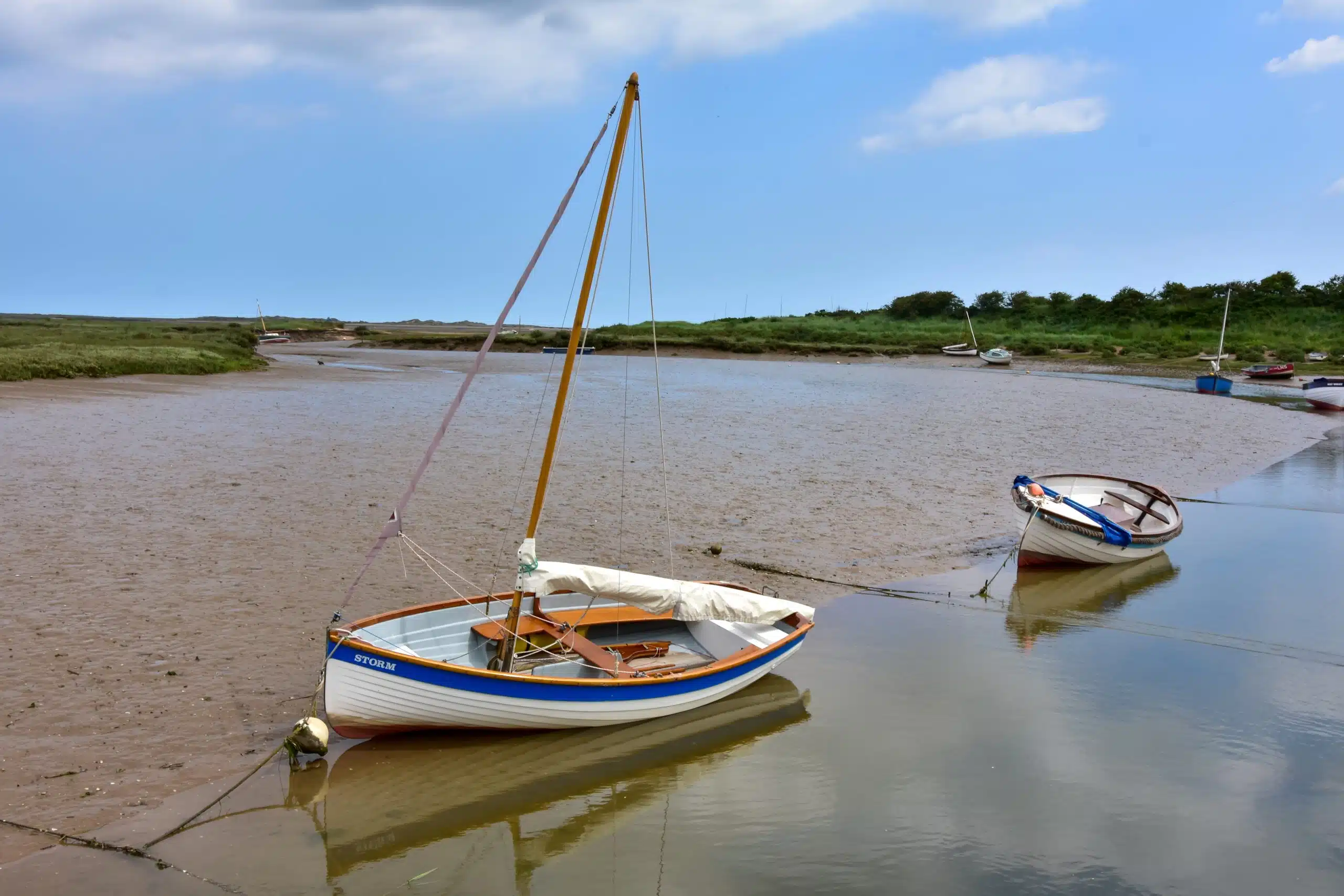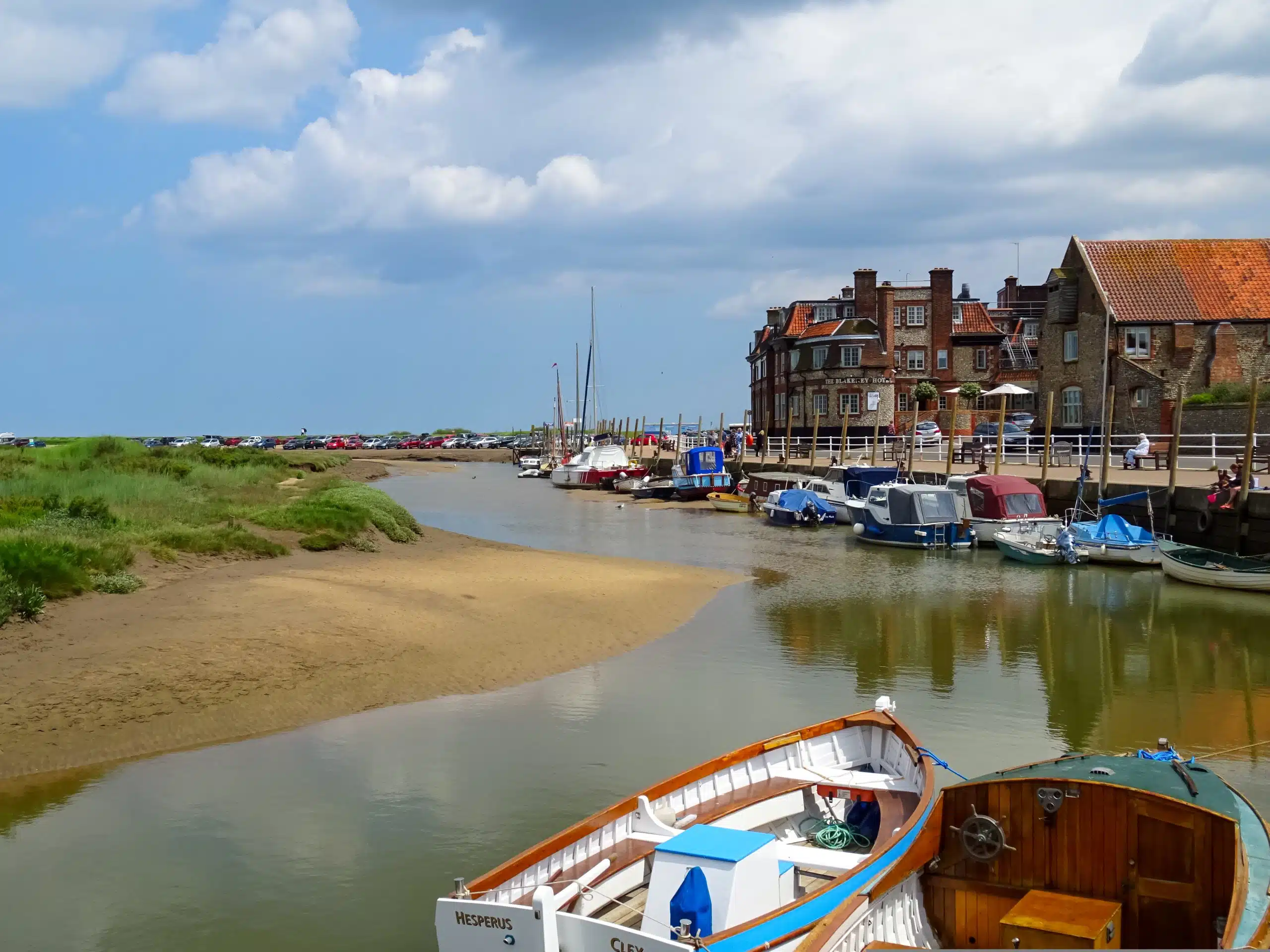 Beautiful places make you slower. So do panniers. And a number of other things…
Though it was our first tour, we were both more than comfortable on two wheels. Sarah had completed centurion rides and I was a bike courier at the time – almost pros!
80 miles a day seemed easily manageable (we regularly did this on day-rides) and it was assumed the total route would take 4 days.
It took us 6.
Turns out storms, hangovers, heavy panniers and stopping to take photos every 5 minutes really slows you down.
Lesson learned. Always allocate more time than you expect!
Think about your pre-cycling nutrition!
Our final evening probably wasn't the best prep for what turned out to be a gruelling 100+ mile ride in scorching temperatures the next day.
Right next to the campsite was a brewery which, purely out of "coincidence", was having its monthly open evening the night we were there.
By open evening, I mean having dozens of cask ales, beers and ciders to drink by the pint, along with live music and street food. It was pretty awesome.
Having spent nearly a week cycling for 8+ hours each day and barely eating, we ended up drunk as skunks within 5 minutes. All food stalls sold out and before we knew it, it was 2 am, we were hammered and there was no food around.
With a little drunken intuition, we realised a takeaway might deliver to the campsite, which they did (thank you Namaste Village!). And, they also gave you 50% off your order if you spent more than £30. So we ordered £30 worth of Indian food. Between the two of us.
By 3 am we were sat on a field in complete darkness, eating huge quantities of curry and hiccuping a lot.
We woke in the morning after 3 hours of sleep, horrendously hungover and filled with half-price curry.
I hope nobody has to experience feeling as rough as we did along that 100-mile cycle the following day.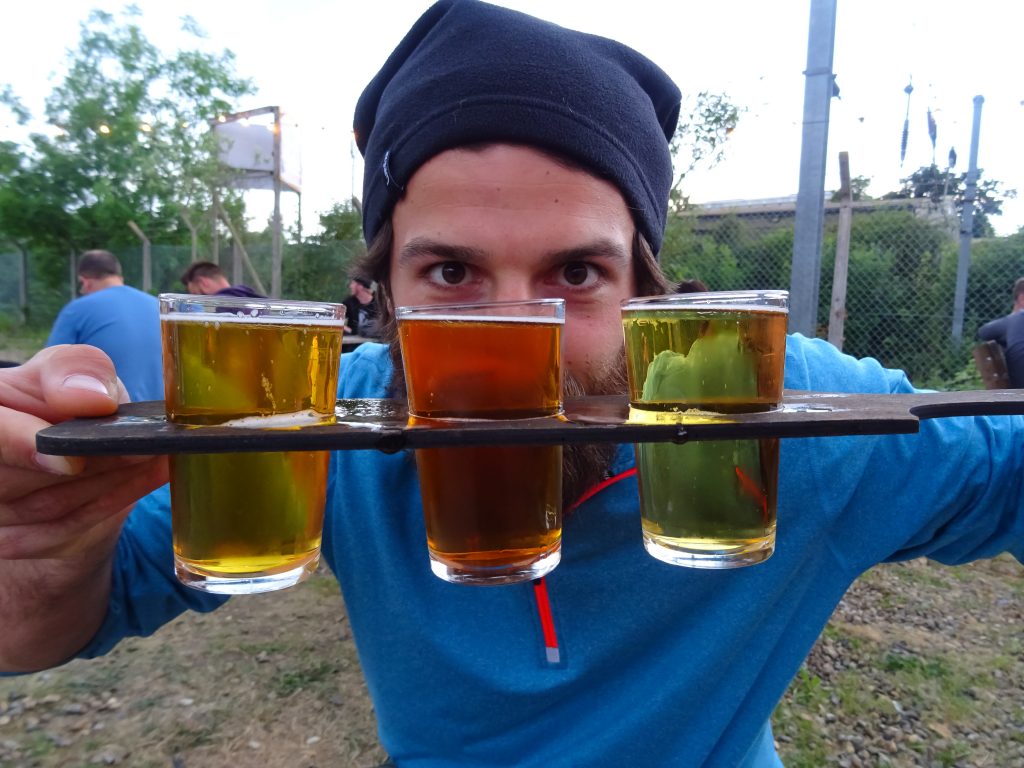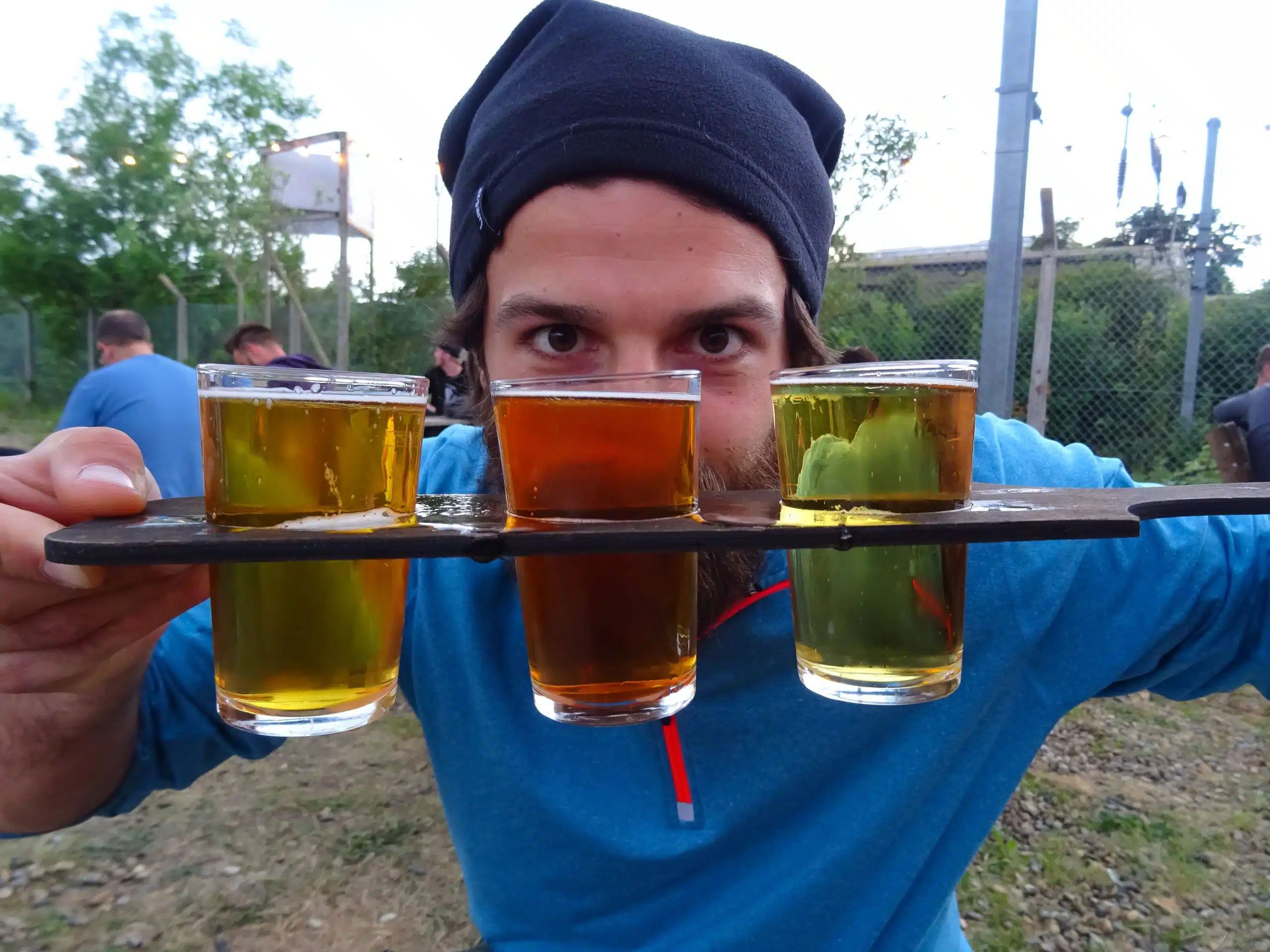 Have easily accessible snacks
On the topic of food: beer and curry isn't the best approach but having easily accessible energy snacks is.
Every time we needed some energy, it turned into a 20-minute pitstop, rummaging to the bottom of panniers in search of grub.
This is where a handlebar or saddle bag comes in handy, and you can load it with lots of vegan energy snacks.
We also tried to carry all of our food for the trip from the starting line. DEFINITELY not necessary as we cycled by shops every few hours.
Picking the right camping food will help you carry less weight, get cooked up quickly and stay filled with the right nutrients.
Invest in the right gear
I'll be honest, a cycle touring packing list can be pretty expansive. On this first tour, we had no idea what to prioritise and just ended up going for the cheapest option for everything. Wrong move.
For things like clothing and camping cookware, we find it fine to go budget, other things are really worth investing in. It'll cut down on weight and generally make the tour more enjoyable.
Some of these things are:
Obviously, a good bicycle is REAL important
The right saddle (Sarah learnt the hard way… literally)
Decent waterproof panniers (for this tour we had 2 okay panniers, the rest were almost falling off the bike)
A lightweight sleeping bag that's warm enough for your conditions
A sleeping pad (light enough but tough against punctures)
The right bicycle repair tools
Wind sucks
This is probably different for every tourer, but for us, the worst weather condition is wind (second only to ice, if we even ride at all).
We can cycle through the rain all day and shrug it off. If it's cold adding layers is pretty simple. In the heat you do need ample water but at least you get a tan.
Touring in the wind is hell, and, once you've pitched your tent (if you manage to) you've got a long night ahead.
For the first two days of this tour we up against a big storm which sent 40-50 mph winds our way. We were dodging falling trees, struggling to stay standing and having to push HARD cycling downhill with headwinds. It felt like we'd been through a tumble dryer at the end of each day.
LESSON: If you see a storm forecast and you're flexible with time, push the trip back a few days and enjoy the ride!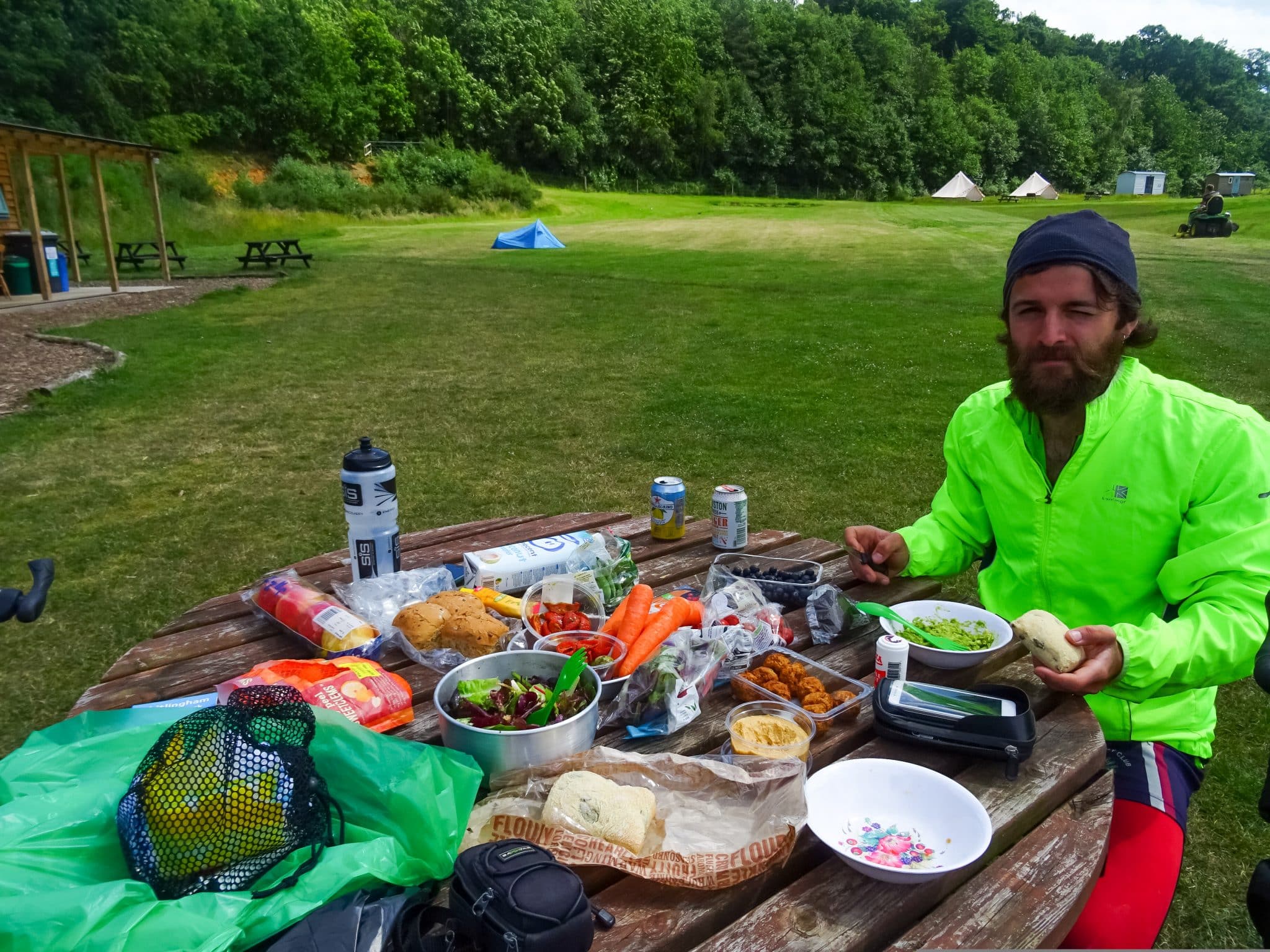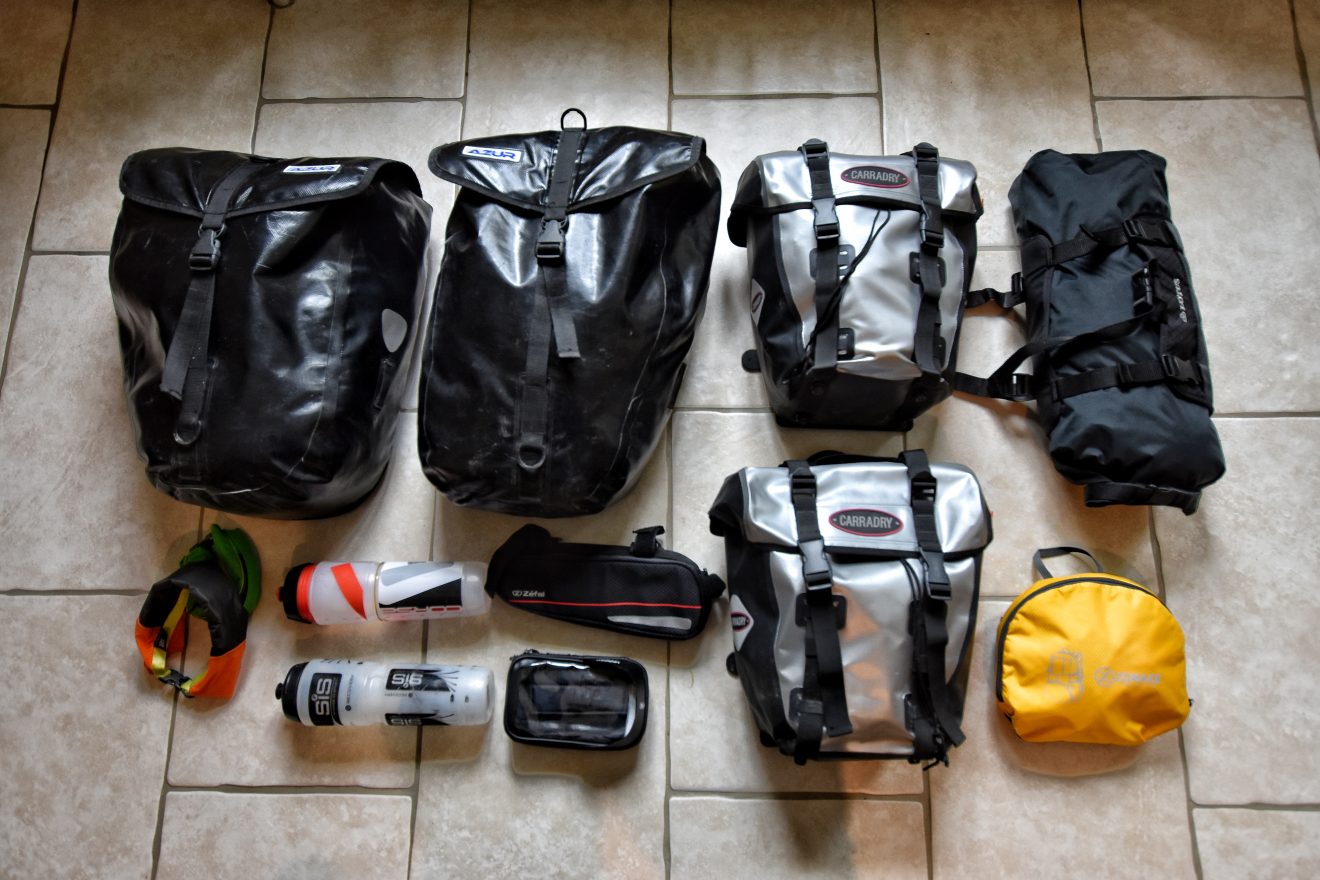 For short trips, you don't need heaps of tools
For this short cycle, I'd taken enough bike tools, spares and repair equipment to start my own mobile workshop.
In our 6 days, do you know how many tools I used? Two. The bike pump and an Allen key set.
I'm not saying you shouldn't take spares and other bits, but, if you're cycling through populated areas and will be home in less than a week, spare inner tubes, brake cables and brake pads are a bit excessive.
Pump your bike tires up at the beginning of the day, not the end
Jesus, this one took us quite a long time to adopt.
The number of times we'd check our tyre pressure AFTER struggling all day is pretty bonkers.
Check it in the morning, you won't regret it.
The better the wild camping spot, the better you'll sleep
Our first wild camping spots were pretty ridiculous. Sure, it's harder to tell at night, but one spot was practically in someone's garden and another turned out to be part of a private fishing lake on a Saturday night. We were woken before the sun had risen by lots of angry Sunday morning fishermen…
Pick a better wild camping spot, it's more respectful to others and you'll get a more relaxed night's sleep!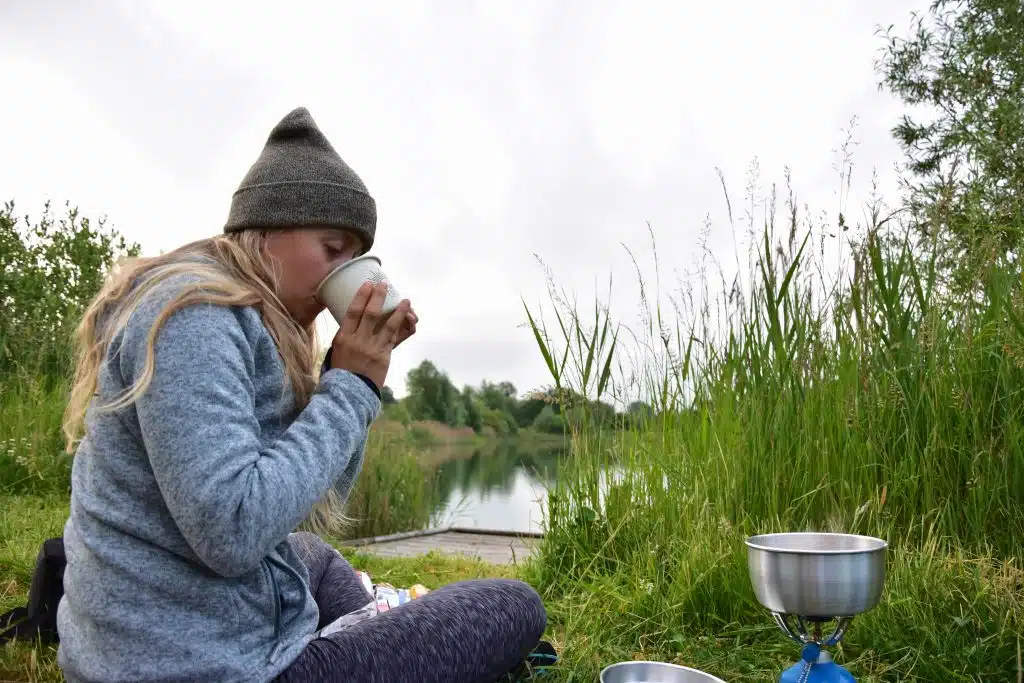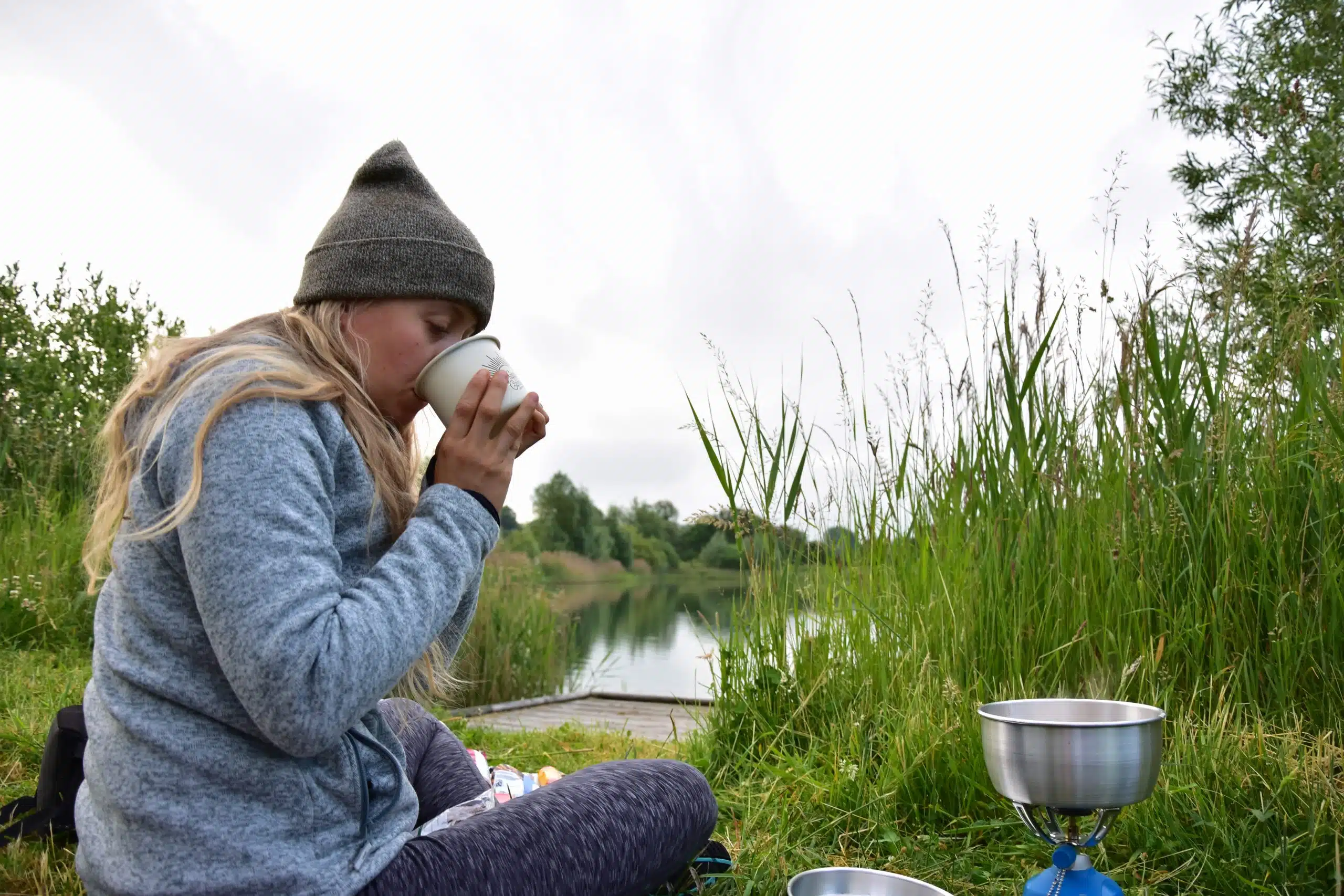 Sunglasses aren't just for sun
Bloody hell, are all bugs on a kamikaze mission for your eyeballs when you jump on a bike or what?
Back before this first tour, I thought sunglasses were just for sunny days and looking 'cool' in nightclubs… turns out they're also really helpful for keeping ecosystems out of your eyes, particularly in warmer months.
Believe me, when you're shooting downhill with a car swinging round to overtake, the last thing you want is a big fly attempting to make love to your eyeball.
Be flexible
Sure, there's a kick to pushing hard and keeping to a strict schedule but it can turn the tour into a blur of sweat, aching, riding, camping and trying to gorge enough calories.
When you're on the road, so many amazing opportunities arise and it's gutting turning them down. One of our biggest regrets from our Three Peaks cycle was rushing past so many beautiful places too.
If you can, go with a flexible schedule and absorb yourself in the ride. If we'd done that for this first tour, at the very least, we wouldn't have put ourselves through a 100+ mile cycle with steaming hangovers and dodgy bellies!
Did you learn any particularly notable lessons from your first bike tours? Share your story in the comments at the bottom!