8 of the most awe-inspiring women in adventure throughout history and their legacies
---
We've come a long way from when women were left out of history books, their achievements lost in time, and barely a chance of persuing a life of adventure.
Today we look back and recognise the remarkable feats some of these incredible women have accomplished, securing them as true lady trailblazers of their time. These are 10 inspiring women in adventure who have defied social expectations and shadows of doubt, pushing the boundaries and carving out high-octane lives that will enthral some and terrify others.
Grandma Gatewood a.k.a Emma Rowena Caldwell Gatewood
Although the name Grandma Gatewood is renowned amongst hikers, she's not so well known outside the hiking realm.
Born in 1887 to a family with 15 siblings, her early life was dominated by abuse and hard labour. Gatewood married at 19, going on to have 11 children with a husband that would beat her almost to death on some occasions. Later in life, Gatewood befriended the local mayor who gave her a place to live and granted her a divorce, unusual for the times.
Leading a life free from abuse, Gatewood found herself reading a National Geographic magazine in the early 1950s. She read a story about the Appalachian Trail and recalls how accessible the article made the trail sound. If you're not familiar with the Appalachian Trail, it spans 2,200 miles crossing from South to North of the USA, with an elevation gain of 515,000 feet. Nowadays, with plenty more amenities and information, less than 20% of the seasoned hikers that take on the trail complete it. It's no easy feat, despite Gatewood's initial perception.
In 1954, at the age of 66, Gatewood set off to hike the trail but after a few days got lost, ran out of food and was convinced to go home by local rangers. Undeterred, Gatewood set off the following year, in her mind a little more prepared. She wore tennis shoes and flung a homemade denim bag over her shoulder.
Gatewood had imagined staying in log cabins every night, however, this couldn't be further from the truth. She ended up making a bed of leaves at night, or heat stones on the fire when it was cold, relying on the kindness of strangers for food.
Despite having no hiking experience before this, Gatewood managed to survive the elements and the bears. Then at the age of 67, after 146 days, Gatewood became the first women ever to hike the trail. The feat inspired her and she continued hiking until she passed away, also raising money to make the trail better equipped for other hikers. What a badass grandma!
Gertrude Emily Benham
Born in London in 1867, Gertrude Emily Benham started climbing mountains as a youth and continued to do so her whole life.
Often travelling alone, Gertrude summited over 300 mountains in her lifetime, climbing a mountain on almost every continent. Benham was the first woman to summit Mount Kilimanjaro, after traversing Africa on foot! She was also the first to summit Truda Peaks, one of the summits of Mount Rogers in Glacier National Park in Canada, which is named after her.
Behman travelled mostly overland, by foot train and steamship. She can list seven trips around the world which is pretty extraordinary, especially for a woman exploring in the late 1800s.
Benham would draw as she travelled with her drawings later being used to map the countries she visited. In 1935, Benham set off on her last journey around the world. Three years into the trip at the age of 71, Benham passed away and was buried at sea off the coast of West Africa.
---
Planning a hike of your own? Check out some of our guides to help you hit the trail
---
Annie Smith Peck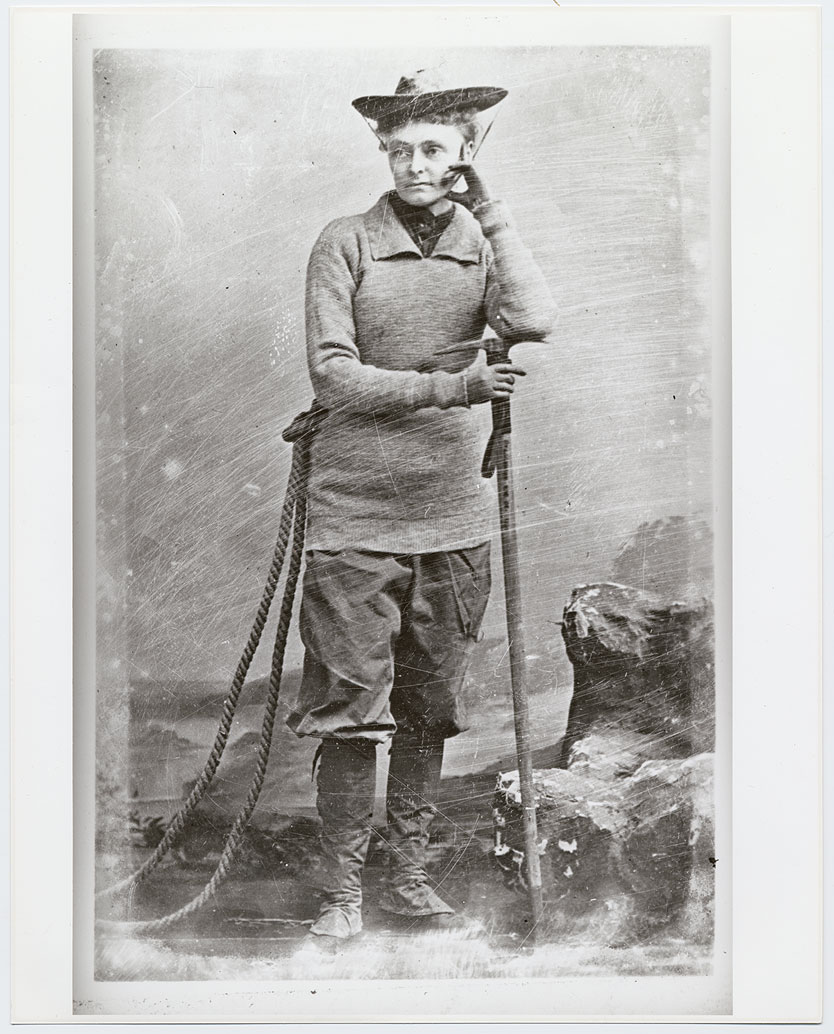 Annie Smith Peck was very aware of the social constraints limiting her life choices. She was born in the 1850s but decided they wouldn't stop her from pursuing her passions in life.
In 1885 Peck developed a love for mountaineering and started building up a wealth of summits under her belt:
Mount Shasta, USA 4,380m in 1888.
In 1885 she hiked Matterhorn in Switzerland 4,478m.
Pico de Orizaba and Popocatepetl, Mexico 5,610m in 1897 at the time this was the highest accent in the Americas made by a woman.
In 1903 she ventured to Argentina looking for a mountain taller than 6,960m and hiked Aconcagua.
In 1908, at the age of 58, Peck and her team were the first to climb the peak of the 6,768m, Huascaran in Peru. The peak was named Cumbre Ana Peck in honour of her.
Despite all these epic achievements, it was Peck's attire of a long tunic, baggy trousers and long boots that caused a stir and got people talking about women's place in society. Peck was a suffragist, championing womens' rights and Pan-Americanism, later going on to write books encouraging people to travel.
For more adventure inspiration and outdoor resources, be sure to sign up for our mailing list below!
Krystyna Chojnowska-Liskiewicz
Born in 1936 in Poland, Krystyna Chojnowska-Liskiewicz is an engineer and sailor. She became known as a national hero when in 1978 she became the first women to sail solo around the world.
Chojnowska-Liskiewicz set sail from the Canary Islands in February 1976 returning 401 days later in April 1978. She crossed the Atlantic Ocean to Barbados, then through the Caribbean Sea to the Panama Canal and the Pacific Ocean. She then sailed to Tahiti, Australia and to the Indian Ocean. After sailing past Cape of Good Hope she sailed North and back to the Canary Island where she gained notoriety for her incredible journey. The whole voyage was 31,166 nautical miles (57,719km).
On completing the challenge, she also became the first women to sail the clipper route (a historical trading route) and eastbound and south of the three great capes (the three major capes of the continents in the Southern oceans).
We got the chance to sit down with two modern-day female adventurers to talk about their incredible endeavours. Check out our interviews with Hazel Findlay and Fiona Oakes for more adrenaline fodder.
Elizabeth Coleman a.k.a Bessie
Born in 1892 in Texas, Bessie, a black American, attended a segregated school but would have her term interrupted every year to be forced into working the cotton fields.
At the age of 23, Bessie was inspired by tales of pilots in WW1 and decided to make it her life's mission to fly a plane. She started working a second job, learnt French and moved to France to learn how to fly (black people and women weren't allowed to fly in the USA). She spent years in Europe learning to fly, becoming the first female black pilot in the world.
Bessie was clearly made of grit and determination, as she defined the restrictions enforced upon her. She returned to the USA and performed stunts in shows, taking the public by storm and inspiring the nation. Bessie had dreams of opening a flying school for black women but sadly would never achieve this dream, as she was killed due to a faulty engine in her plane at the age of 34.
Junko Tabei
Junko Tabei first experienced mountaineering as a child, then stopped. She was reunited with her passion after joining a university mountaineering group where she was often accused of husband-hunting.
Rather than being dissuaded, Tabei started the first all-women climbing club in Japan. The group trained, climbing Mt. Fuji in Japan and Annapurna in Nepal. In the 1970s the group was on fire and made plans to summit the tallest mountain in the world – Mt. Everest.
But this wouldn't be an easy feat as the expedition is a costly endeavour. The lack of funds led the group to get creative and develop some of their own waterproof equipment from recycled materials. Eco-warriors ahead of their time!
Then, in 1975, the group arrived in Katmandu and began their ascent. Things were made more challenging when the camp was hit by an avalanche that injured Tabei. After a few days of recovery they carried on, and on May 16th 1975, Junko Tabei made history becoming the first woman to reach the Everest summit.
---
---
Juliette Gordon Low
Growing up in the mid-1800s, Julliette spent many hours alone amongst the trees. After the death of Low's husband in her 30's, she started a personal journey that led her to a life of freedom.
Low became one of the first women to learn how to fly a plane, just eight years after the Wright Brothers' first flight. She went on to meet Lord Robert Baden Powell, founder of the Boy Scouts. Low then found the Girl Scouts in Great Britain and Girl Guides in the USA.
Through Low's supreme efforts the organization has supported young women and girls, providing opportunities, experiences, and encouraging leadership skills. Including for me as I joined as a child gaining my knot badge and baking badge alongside other skills, which have supported my exploration as an outdoor lover.
Dervla Murphy
Saving my personal champion until last: Dervla Murphy. Although all of the women on this list have carved a place for themselves in history as incredible adventurers, Murphy has inspired me more than anyone.
Growing up in Ireland, at the age of 10 Murphy was given her first bike and a second-hand atlas. It was soon after this birthday, perched on a hill, that her dream to cycle to India was born.
Murphy left school at the age of 14 to care for her disabled mother, then in 1961 Murphy's father died and her mother passed away one year later.
I had been brought up to understand that material possessions and physical comfort should never be confused with success, achievement and security.

Dervla Murphy
In 1963 Murphy set off on her mammoth journey completely unassisted, with little knowledge of what awaited her. This was at a time before the internet and detailed travel books when women were expected to raise a family at home.
Dervla relied on the kindness and hospitality of locals as she travelled. I won't give too much away but, although Murphy received some incredible hospitality, the trip was not without its difficulties. Her book Full Tilt: Ireland to India with a Bicycle accounts the whole story and Murphy's interactions along the way.
Murphy set off for her first trip to Africa in 1966, where she walked from Eritrea to Ethiopia with a pack mule. Later in life, Murphy gave birth to her daughter Rachel, who she travelled with to India, Baltistan, Peru, Madagascar and Cameroon. Murphy has written about her adventures, travelling alone as a female and with her daughter.
In her writing's Murphy comments on being anti-globalization, is a critic of NATO, the World Bank, the International Monetary Fund and the WTO. She also speaks about her views on climate change and nuclear power. She has received some criticism for the "political stuff" but this has never phased her.
My view is that I have these things I want to say and I don't really care if it spoils a pure travel book

Dervla Murphy
Born into a world with certain expectations for women and classes, Murphy defied all of these and instead led the life she chose to. Murphy has led a truly remarkable existence and was a big inspiration for our bike tour from England to India. Travelling mostly overland, she has explored far-flung places, embracing people and cultures as she goes. She also gives great travel and life advice that I plan to live by.
Choose your country, use guidebooks to identify the areas most frequented by foreigners – and then go in the opposite direction.

Dervla Murphy