This vegan Portuguese honey, almond and orange cake is zesty, delicious and bursting with flavour. The recipe is based on a Portuguese classic that has been popular for generations and with good reason. Using no refined sugars this cake instead uses agave nectar and fresh oranges for sweetness giving it a sharp, authentic taste. The result is a truly sublime vegan twist on an amazingly traditional Portuguese cake.
As with most of our recipes this Portuguese vegan cake was inspired by our travels. In Portugal we were constantly surrounded by delicious looking food but realised that Portugal is a land filled with avid fish, meat and dairy eaters. Fed up of missing out on regional specialities and traditional dishes we thought something had to change. So, we put our culinary caps on and came up with this deliciously moreish Portuguese vegan cake!
Looking for a vegan protein powder?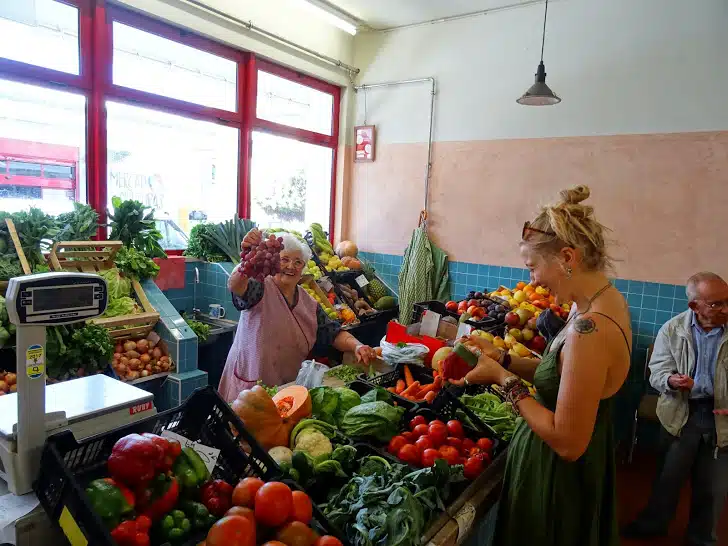 Some Portuguese vegan cake history


(because it's always nice to know about what you're eating!)



During the 15th century monks and nuns paved the way for confectionery throughout Portugal. Surprisingly these holy folk were commonly paid by the poor with chickens and eggs. To starch their laundry they would use egg whites which meant a lot of leftover egg yolks. With a bit of creativity and a lot of time on their hands they conjured up an array of recipes to use up all the eggy leftovers. These recipes have grown world renown and have been enjoyed for centuries but unfortunately not by us vegans.
The authors of Fabrico Próprio: The Design of Portuguese Semi-Industrial Confectionery, described "These places of faith and seclusion were often true laboratories of creation, where the religious dedicated themselves to rescuing old recipes, or to testing new ingredients from all over the world."
Heading into the outdoors? Check out these vegan hiking shoes
With so many convents in Portugal, the variety of sweet treats was abundant and enjoyed across the country. Traditionally the main ingredients would be egg yolks and sugar with flour, nuts, cinnamon, vanilla, coconut and other spices that Portugal enjoyed because of trade and colonial ties.
When the Portuguese first brought sweet oranges over from India and China they were very expensive and only a luxury enjoyed by the rich. As time went on and sweet oranges became more widely available they were combined with original religious recipes creating the honey, almond and orange cake we know today.
Portuguese Vegan Honey, Almond and Orange Cake
Now as interesting as this may be it's not much use to us vegans. To be blunt, Portuguese food is not "vegan friendly", nor has it ever been and this recipe traditionally contains eggs. Never ones to miss out on a tasty treat here at Veggie Vagabonds HQ we've devised a super scrummy Portuguese vegan cake that is zesty, gooey and scrumptious.
This cake uses no refined sugar and instead uses agave nectar and orange for sweetness. I think it's that much better using naturally sweet ingredients rather than processed sugar. This is also the first recipe on the blog that uses ground flax seed as an egg replacement. I've always been put off by the price tag but decided to try something new as it's very good for you. The end result was a success – I am a convert and look forward to many more recipes with flax eggs. If you're not sure where to buy flax seeds locally you can pick them up on Amazon here
.
So give this classic Portuguese vegan cake a go and let us know what you think in the comments and #veggievagabonds on social media.
Know where to find vegan protein sources?
Portuguese Vegan Honey, Almond and Orange Cake Recipe
Serves: 8 – 10 slices

Preparation time: 30 minutes 

Baking time: 1 hour
Ingredients;
250g plain flour
100g ground almonds
4 teaspoons of baking powder
1/2 teaspoon of salt
5 tablespoons of ground flax seeds
10 tablespoons of water
1 cup agave nectar
The rind and juice of 3 oranges
Icing sugar to dust
Method;
1. Grease a baking tin, roughly 20cm, and preheat the oven to 160 degrees.
2. Make the flax eggs by mixing the ground flax seeds with the water and leave to set for about 10 minutes.
3. Whisk the flour, ground almonds, baking powder and salt until evenly combined.
4. Once the flax eggs have set whisk with the agave nectar, then add the orange zest and juice.
5. Fold the wet mixture into the dry mixture until fully combined.
6. Pour the mixture into the baking tin and bake for one hour or until golden and a toothpick comes out clean. 
If you're looking for a whisk this is the simple one we use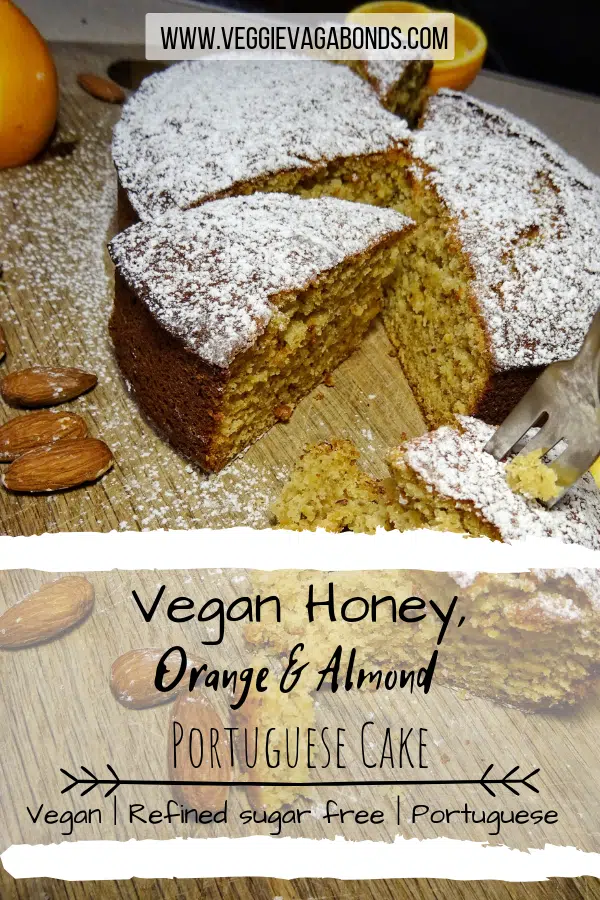 Portuguese Vegan Honey, Almond and Orange cake
Keep exploring…
Vegan Hiking Food for Adventure-Driven Herbivores
Peneda-Gerês National Park: A Hiker's Paradise
Get our latest articles, adventures and insider news by signing up below - you'll also receive our Ethical Adventure Planning Guide!