This vegan flapjack recipe is insanely delicious, super simple and the perfect munch for your next adventure
---
Clambering up mountain peaks? Putting the pedal to the metal? Spending a night under the stars? Whatever you may be doing, having the right fuel for you adventure is crucial and will keep you in tip-top shape for conquering the great outdoors. Whether you're an adventure enthusiast and complete newbies (in which case, welcome!), this vegan flapjack recipe is the ideal grub for your epic days in the wild.
As self-confessed outdoors fanatics we've had many adventures with the right nom, a few with the wrong nom and unfortunately one or two with no nom at all. After which, we definitely know which one we'd prefer. A little preparation goes a long way when you're in the wilderness, so planning your snacks is a good idea, especially if you're on a multi-day excursion or want to pack light.
If you are new to the outdoor world, take a peak at our guide to hiking for beginners and these sustainable hiking tips to get you started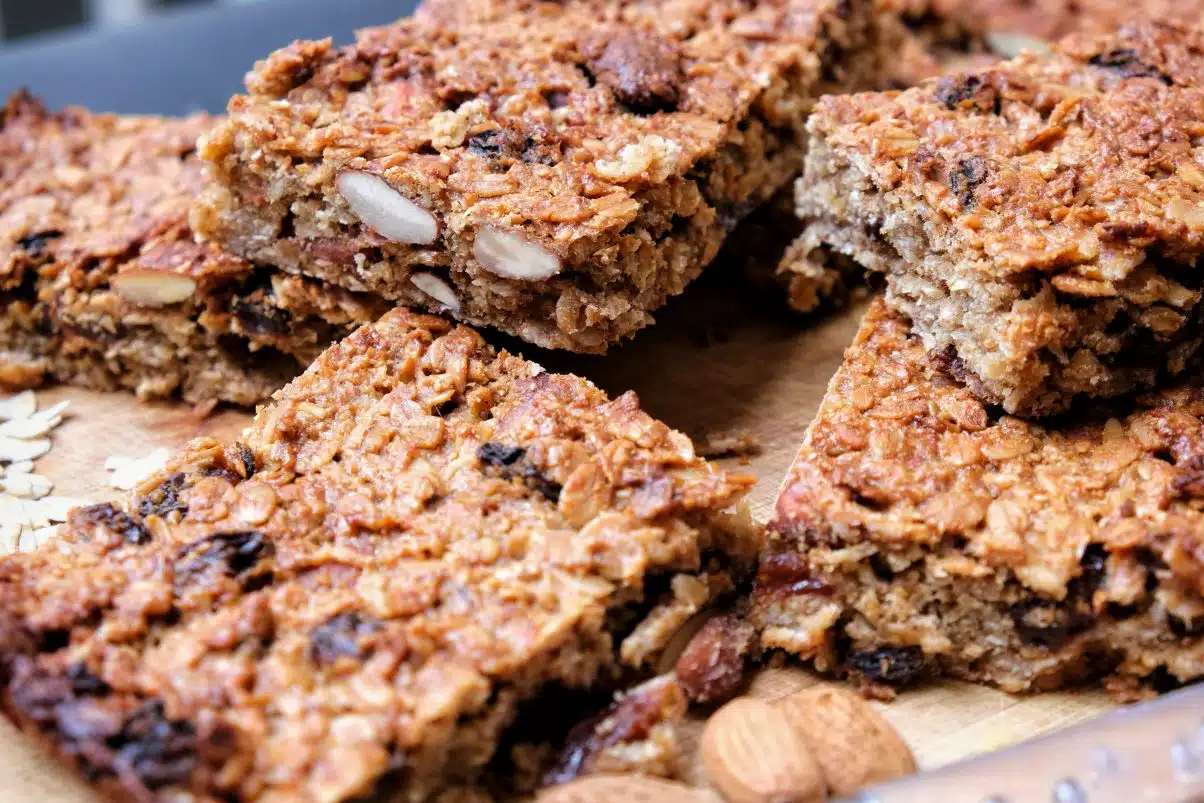 "Nothing worth doing was ever easy"
As you're on this page, it's likely your idea of fun is trudging up to some distant summit, absorbed in nature, dripping with sweat, red-faced and panting all whilst having the time of your life. Seeing a weekend or a gap in your schedule as the opportunity to immerse yourself in the natural world. Just like us.
Still, no matter how inspiring or jaw-dropping your surroundings may be, there comes a point when your stomach starts to float, your head spin and you crave some energy to get you to the top. That's what this vegan flapjack recipe is for. Crammed full with all the fuel you need whilst being pretty damn tasty!
Banana and peanut butter have long been a match made in heaven, full of protein and slow-release energy, perfect for the outdoors. We've also got almonds and oats for a double whammy of protein, to help your muscles recover. Along with the addition of raisins on top makes these flapjacks all that more delicious whilst adding another dose of energy to your system.
Sounds pretty good right? All that goodness packed into a delicious vegan flapjack. Not only are these bad boys the perfect energy fuel, but they also taste bloody fantastic. As I said the combination of banana and peanut butter is a culinary triumph, jam-packed with oats, agave, raisins and almonds then baked making every mouthful a scrumptious, sweet treat.
Want some more vegan grub inspo for your trip? Check out this list of the best vegan hiking food plus what to pack when you're backpacking as a vegan.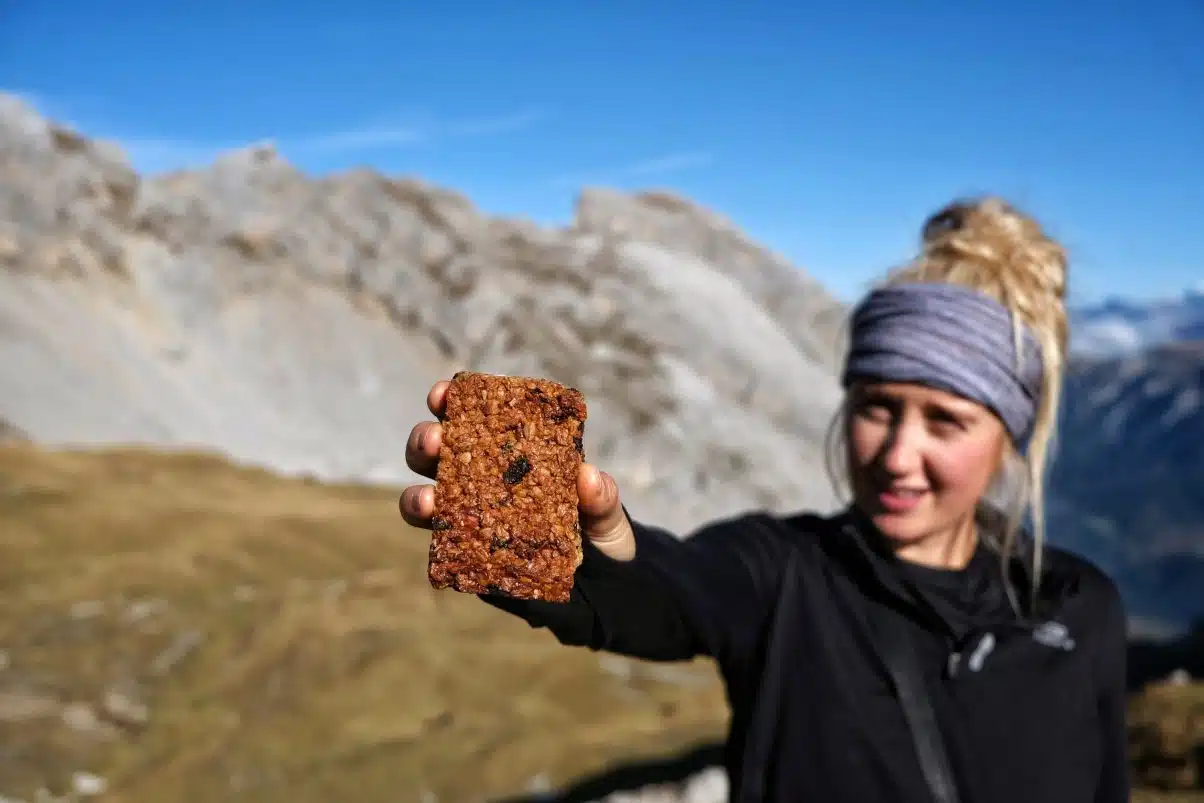 This recipe is super easy to whip up with only 10 ingredients, all of which you'll probably already have at home. There's no vegan intricacies or fiddly bits either so you can whip it up when you're strapped for time the night before hitting the peaks. I always like to make a big batch so there's plenty for a long day or multi-day trip, plus some extra to keep for a mid-week boost.
These vegan flapjacks can take a bit of a battering in your rucksack, but if you want to keep them from crumbling too much I suggest something to keep them in. These stainless steel containers are ideal as they're airtight, no plastic in sight plus you can use them to keep camping leftovers in whilst on the trail.
So what are you waiting for? These vegan flapjacks are the ideal snack for your next trip and are so simple to make. Get baking and throw them in your back before hitting the road and boy will you be glad you did. Let me know what you think of the recipe in the comments below and share your creations with us on social media!
Felling super peckish or planning a multi-day excursion? These vegan energy balls or gluten-free strawberry oat bars are great snacks for the outdoors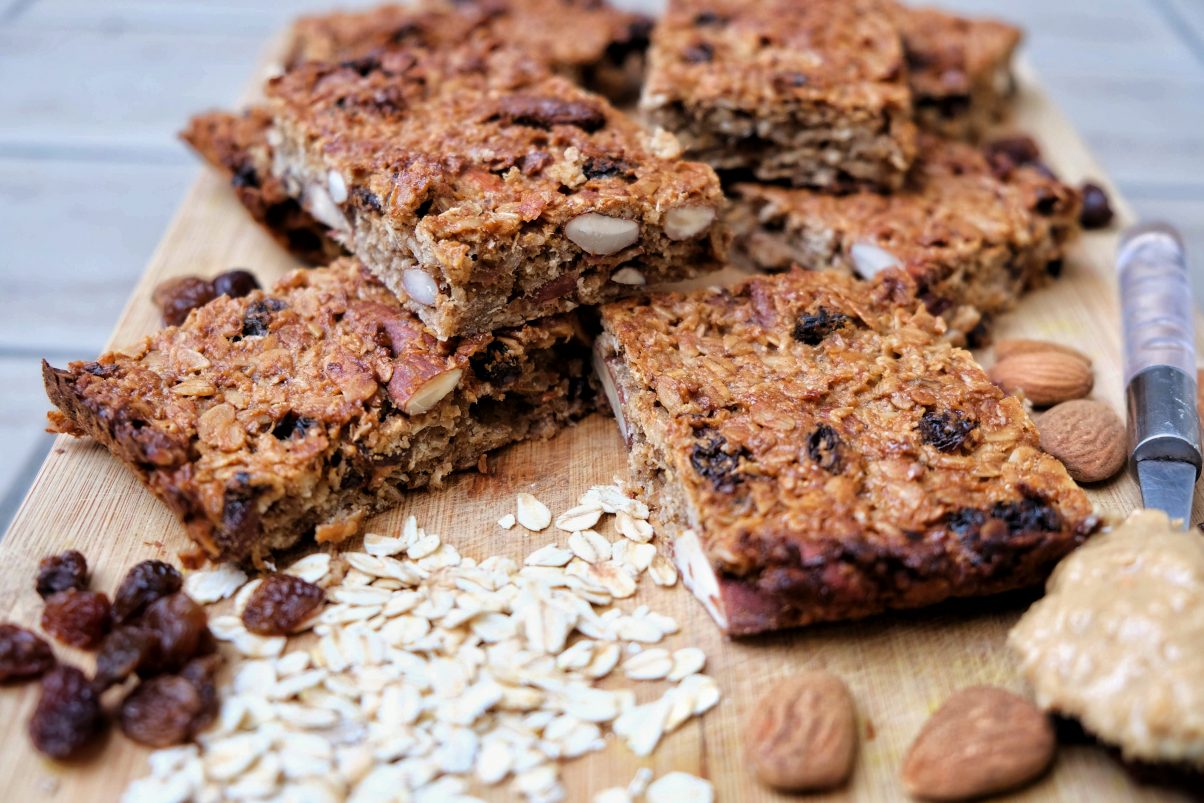 The Perfect Vegan Flapjack Recipe for the Outdoors Recipe
Preparation time: 10 minutes

Baking time: 30 minutes

Serves: 10 healthy sized flapjacks
Ingredients:
3 ripe bananas
270 grams of oats
4 heaped tablespoons of peanut butter – Protein Works peanut butter is the best because its made from only peanuts meaning it's so creamy and delicious
5 tablespoons of agave nectar
2 teaspoons of cinnamon
4 generous tablespoons of vegan butter or margarine
2 pinches of salt
5 tablespoons of sugar
100 grams of almonds
a large handful of raisins
Method:
Preheat the oven to 160°.

On a low-medium heat, melt the peanut butter, margarine, agave, cinnamon and salt.

Whilst that melts in a separate bowl combine the oats, sugar, and almonds. Then mash the banana thoroughly and add to the oats mixture.

Once the butter mixture has melted stir into the oats and banana mixture and fully combine.

Line a baking trap with baking paper and bake in the oven for about 30 minutes or until your flapjacks go a deep brown colour on top.

Once baked allow to cool before cutting, then have a taste. Your flapjacks should keep for one week in an airtight container.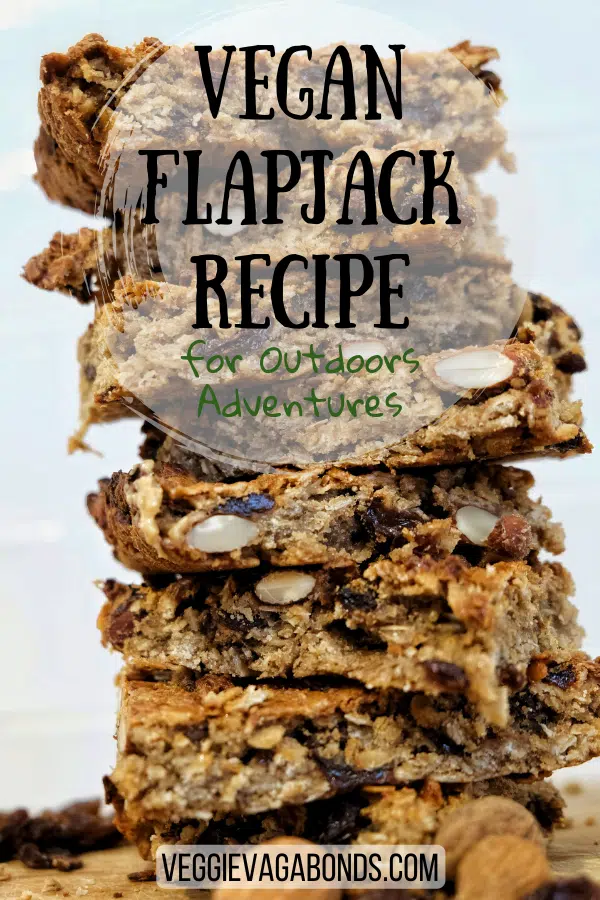 The Perfect Vegan Flapjack Recipe for the Outdoors
Keep exploring…