An honest Sawyer Squeeze review after backpacking, bike touring and testing in the great outdoors
---
For multi-day trips or journeys into the wild, a personal filtration system is an essential bit of kit to keep you exploring. Being able to filter and drink water straight from the source means you can really get off the beaten track, topping up when you find rivers, streams or similar.
After a good 6 months of testing, the Sawyer Squeeze has been pretty awesome for our adventures. It's not without faults but It's lightweight and compact, simple to use and incredibly versatile. Keep reading to find out more!
This article may contain affiliate links, they will never cost you more money but helps Veggie Vagabonds keep making content like this – thank you!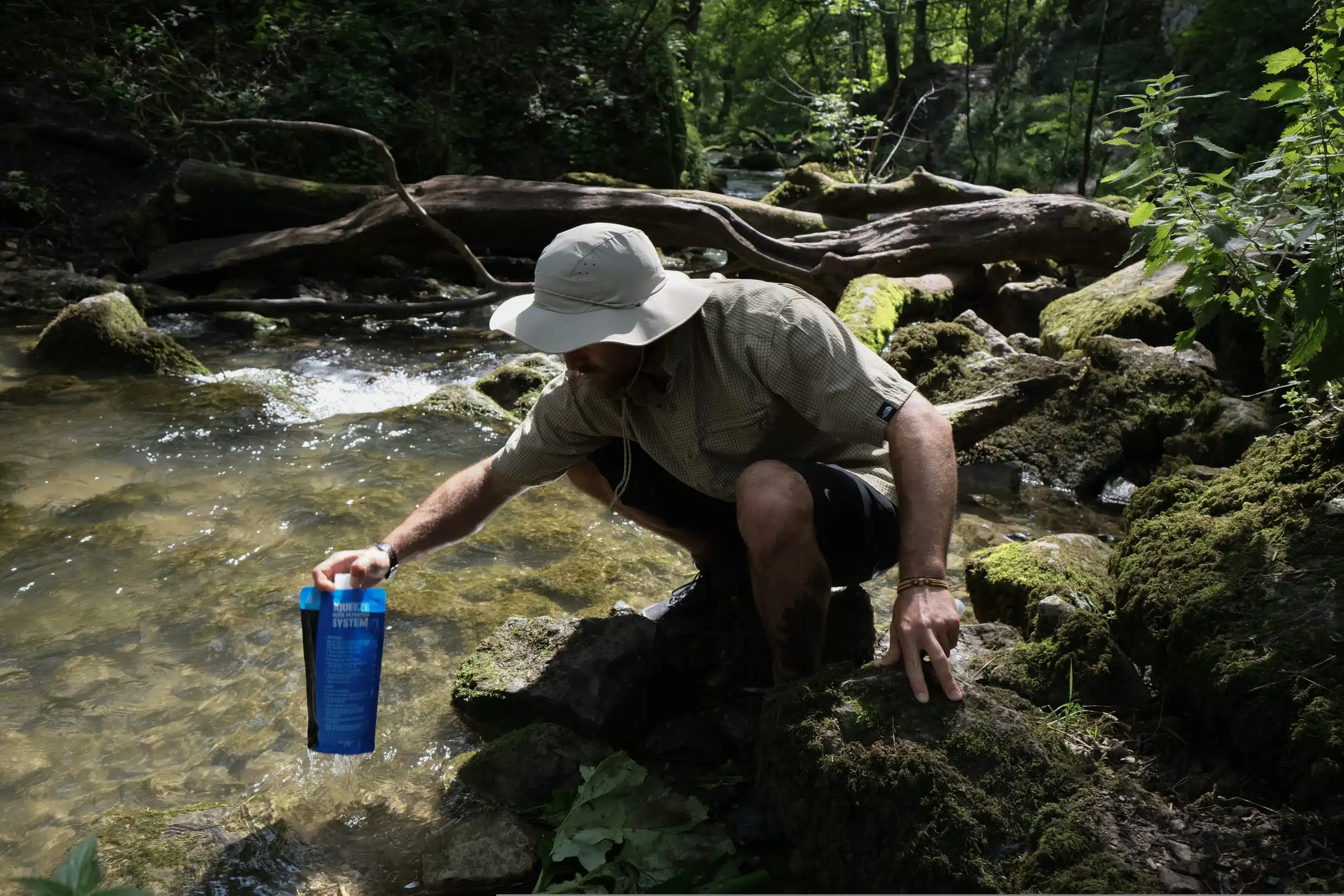 What it says on the tin
Weight – 85g or 162g for the entire kit
Size – 12.7 x 5 cm
Filter Medium – hollow-fibre membrane
Sawyer says their squeeze water filtration system removes 99.9% of all bacteria and 100% of all microplastics. Making it ideal for backpacking, camping, travel or emergencies all with a lifetime warranty.
This is also GREAT from a sustainable perspective, as it helps you cut down on bottled water plastic waste.
Sounds ideal for longer trips where amenities aren't going to be easy to come by or exploring further afield. But let's see how it does in the field.
A word on water safety in the outdoors
The Sawyer Squeeze is a water filtration system which means it can filter most bacteria and all microplastics. However, it isn't a water purification device which means doesn't remove waterborne viruses or heavy metals. This means you need to check the water regulations where you are travelling to and you may need additional water purification methods, such as tablets.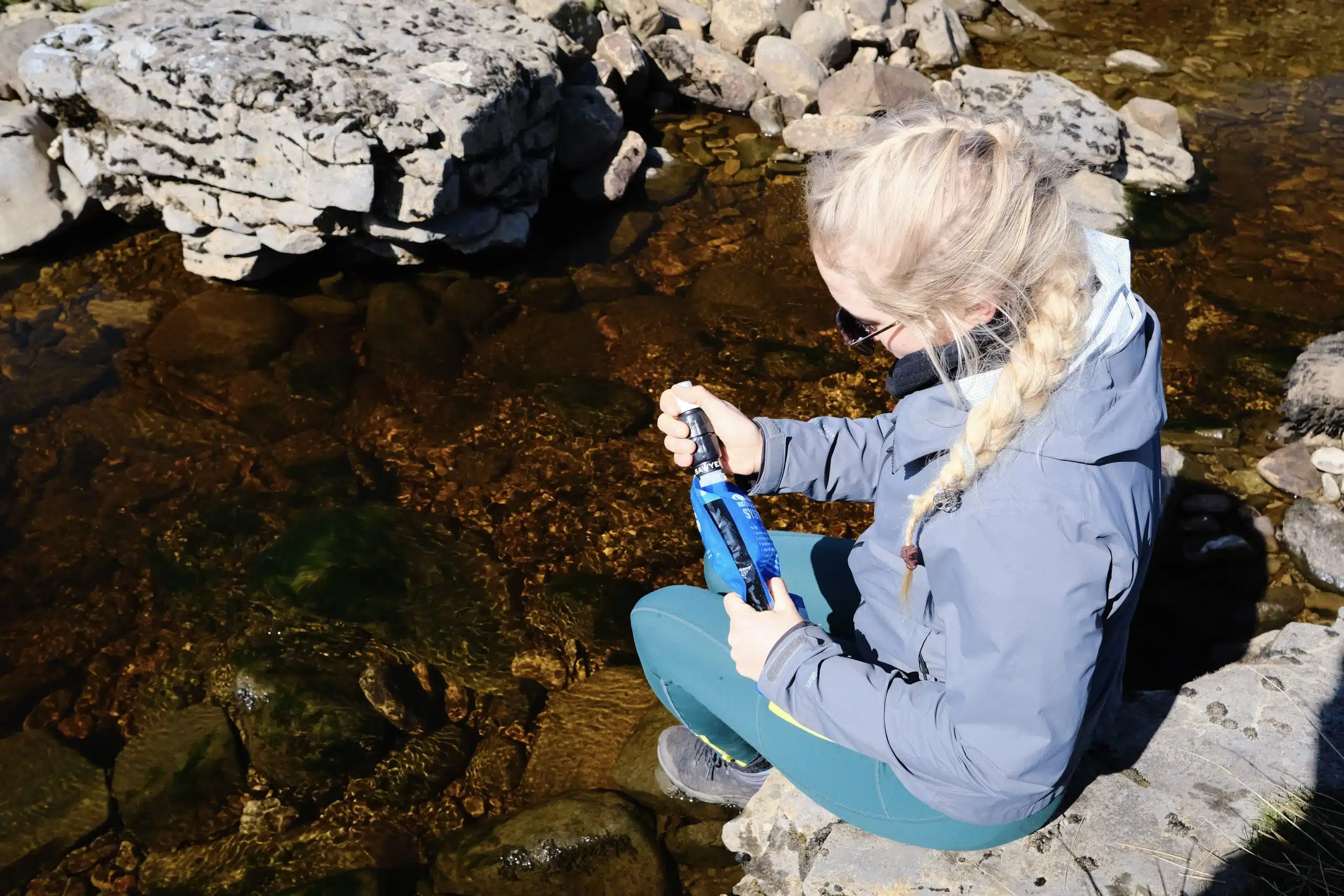 Want more ethical outdoor content straight to your inbox? Sign up for our newsletter to get all our guides and tips for sustainable adventures
How we used the Sawyer Squeeze
We have used the Squeeze in France and the UK in rivers and streams when on multi-day trips. Over many miles hiked and cycled, it's kept us healthy and hydrated from some questionable sources.
Ease of use and filtering 4/5
There are a few components to the Sawyer squeeze filter and you may not need them all for every trip.
The filter itself has a built-in sports cap and lid which keeps dirt off a treat, plus avoids any leakages. You also get the 1 litre squeeze bag which is made from durable thick plastic and screws onto the filter top.
Along with the filter and bag, you also get a syringe that you can use to back-flush the filter and clean it easily. This is ideal for longer backpacking trips when you want to use the filter multiple times and it's simply done. It also comes which a mesh bag to carry everything in, pretty convenient.
To use, fill the squeeze bag with water from your source. We found this easiest in faster flowing, deep water. Then screw on the filter top and squeeze the water from the bag (you see now where they came up with the name!).
You can drink straight from the device or squeeze into your hydration bladder and be on your merry way.
We found that you need to squeeze quite firmly to get the water through the filter, which requires a bit of elbow grease. In our testing, the full 1-litre bag of water takes roughly 2-3 minutes to completely filter.
I recommend using one each if you're trying to move quickly.
The bag is a good size to be able to get your hands around to squeeze, which allows the water to flow fairly quickly.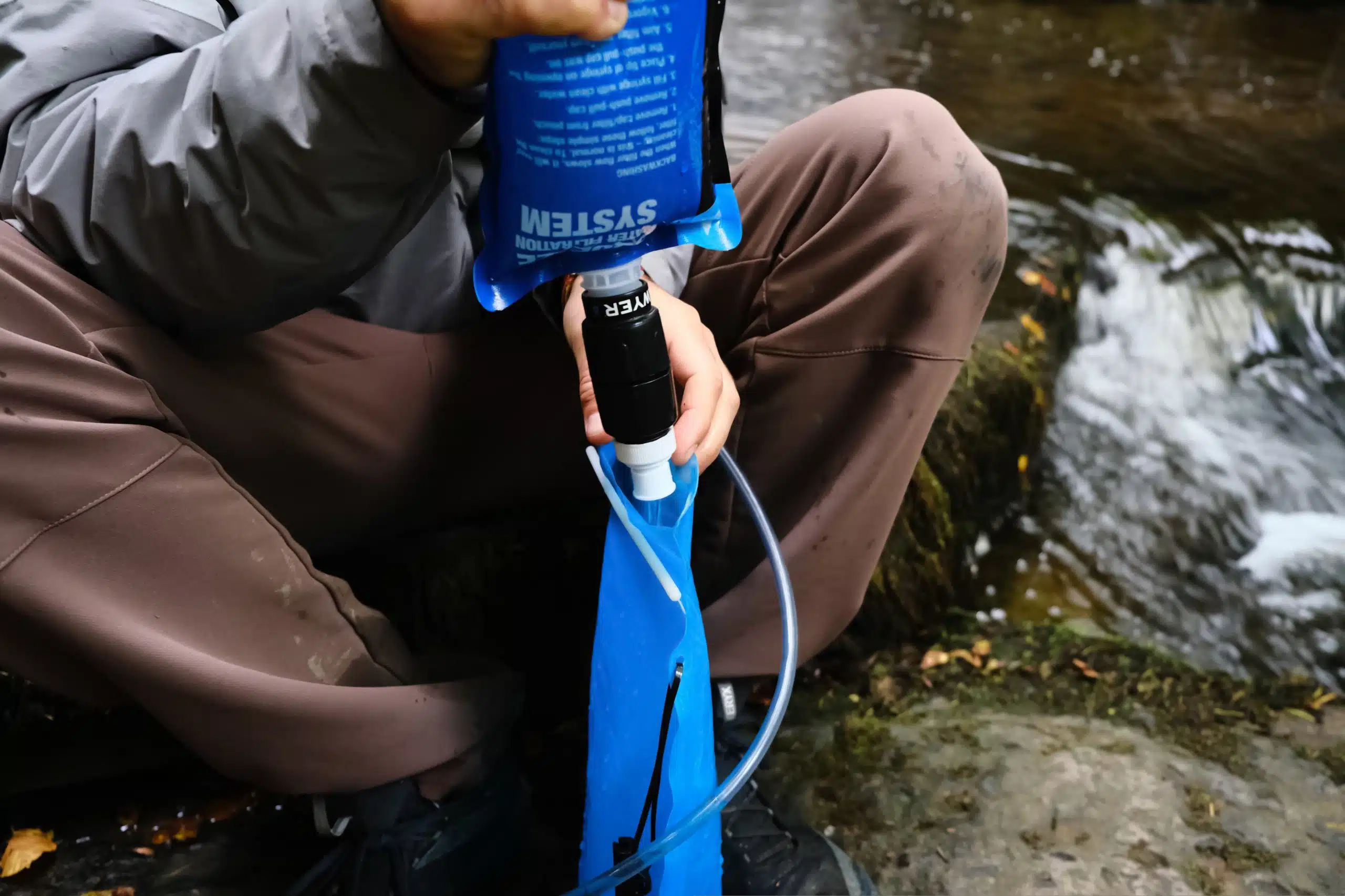 Versatility 4/5
You can drink straight from the filter with the bag attached. You can also squeeze the contents through the filter to fill a bladder or water bottle, which is what we often do.
The screw filter top is incredibly versatile and can be attached to the majority of screw-top plastic bottles also.
Sawyer also sells an adaptor that allows you to attach the filter device to your water bladder. This bypasses any time spent squeezing your water through the filter, as you can just fill up your bladder from a stream and drink filtered water as you hike.
All in all, it's pretty damn versatile!
Durability on the trail 3/5
Being able to rely on your filtration system is crucial. You want reassurance that it's going to keep you healthy and give you the confidence to keep pushing on ahead. We have found it to be reliable time and time again.
The Sawyer water filter bag has become creased quite quickly, but the thick plastic material feels like it's holding up well, particularly as it's been folded pretty haphazardly in our bags…
When you purchase the Sawyer water filter you get extra bags, which allows you to switch out the old bags when they have lived a good life.
You are also given a spare O-ring, which is the device in the bottom of the filter that allows it to screw tightly onto the bag or a bottle. This is given as some users reported faults with the sealing, but this is not something we experienced. We do carry the extra O-ring, just in case.
We also always carry the syringe with us on trips to clean the filter on the trail and use it over and over in the outdoors. These extra bits are pretty small and easy to carry, to keep the filter in top nick.
You can find everything else we pack for a day hiking here, to help you prepare for your next adventure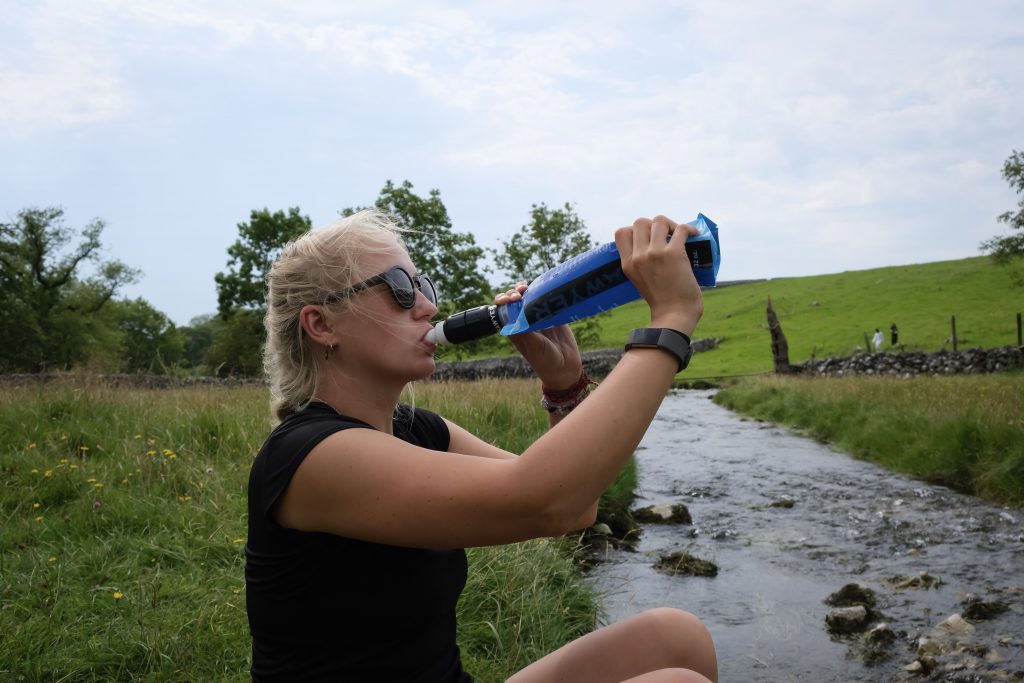 ---
Check out these resources to help you prepare for your next adventure…
---
Weight and Size 4/5
Even with all the extra bits for maintenance, the Sawyer Squeeze is super lightweight at only 162 grams. With the mesh bag, it's incredibly compact, keeping all the extra bits together.
I keep mine in the top of my pack or panniers for easy access in the outdoors.
Cost and Value 4/5
The Squeeze filter is reasonably priced and at the lower end of the spectrum for filters. We think it's definitely worth the money in terms of quality, practicality and sustainability.
You can buy the Sawyer Squeeze filter on the links below:
The Sawyer squeeze has proven it's up for the challenge of keeping us hydrated and healthy on big multi-day trips and gruelling day-long epics.
It's incredibly versatile and lightweight, so ideal for trips that lead you off the beaten track. Once you find yourself a water source to collect water, the fast flow rate means you can be hydrated almost in minutes.
All in all, it's reliable and easy to use time and time again – top marks from us two!