With an adventurous vegan lifestyle, is vegan protein powder the right option for you?
"Where do you get your protein from?"
Yes, this is a sentence we've grown to hate as vegans but it's an important one for everyone; particularly if you're filling your days with adventure and outdoor pursuits.
As one of the most crucial building blocks in our diet, it really is important to make sure you're getting the right amount. For us vegans, there are fewer protein sources available, so it requires more planning, careful shopping and a lot of time. Plus, unless you're happy chomping pulses straight from the can it gets bloody expensive.
Vegan protein powder can be the quickest, cheapest and easiest option.
In this article we'll be sharing our favourite vegan protein powder and why the taste, mixability, digestability, ingredients and cost make it better than the rest.
It's generally thought the average person needs to consume 0.8 grams of protein per kilogram of body weight. If you're a particularly active person or an athlete this number can rise to between 1.2-1.4 grams. That means for an 80 kg person (average male weight in the UK) they need to consume around 60 grams of protein a day. That's a lot of pulses.
Bringing in the vegan protein powder
Vegans seem curious of protein powders and it's a hot topic which people think are best. Over the years we've tried a huge variety of products from all the popular brands but have quite often been disappointed. Eventually we found the Complete Vegan Blend from Bulk Powders which ticked all the boxes. Don't be put off by the name, in our opinion it's the best vegan protein powder on the market.
Why do we need all this protein?
Forget about Arnold Schwarzenegger, whether you're a elite level climber, a weekend runner or a couch potato, we all need protein, vegan or not.  Our hair and nails are made mostly of protein, we need it to build and repair our bodies and it's crazy important for hormones and enzymes. Not to mention protein keeps you feeling full and filled with energy to help you through your day. Pretty important right?
Sure, it's best to get your protein from a balance diet but that's not always so easy. For us, the quickest, easiest and cheapest way to make sure we're getting enough protein is with protein powder in the morning. We add a scoop to a breakfast smoothie which keeps our energy levels high and helps our body recover from whatever crazy things we've been doing. It also means we don't have to worry about trying to fit in as much protein throughout the day.
What is a 'Complete Vegan blend'?
Unlike other protein brands the Complete Vegan Blend is high in protein, carbohydrates and calories. Many other vegan protein powders are low in carbs which isn't great.  
"Wait, aren't carbohydrates and calories bad for you?"
Fad diets and the media have done a great job of convincing people that carbohydrates and calories are bad for you. They're not (click here to find out why). You need a good level of both to get you through the day with a smile on your face. This protein powder is filled with friendly types of protein, carbohydrates and calories that will noticeably help you. It's been the perfect solution to bulk up our breakfasts. 
So why is it so good?
We're pretty critical when it comes to our nutrition, so we've broken it down into sections;
Taste
It's tastes really good! We think the chocolate peanut is best, not overly sweet and not too rich. We won't lie, it's not as good as some vegetarian protein powders but it comes damn close. We either put it into a smoothie or mix with Alpro's unsweetened almond milk and it comes out great. Even mixing just with water has a nice taste which isn't overwhelming.
Mixability
This is one of the biggest problems not just with vegan but all protein powders. Many brands are dry, grainy and have a lumpy consistency no matter how hard you shake them (is it meant to be part of the training?). The Complete Gainer has a nice smooth texture and you won't break a sweat trying to mix it.
Digestability
One of the unfortunate side effects of many protein powders is indigestion. From bloating, to cramps and trapped wind… fortunately we don't experience this with the Complete Vegan Blend. Their enzyme complex makes it very easy to break down with no unpleasant side effects. Both our families have also tried it and were coming back for more!
Ingredients
Pea Protein Isolate, Brown Rice Protein, Quinoa Flour, Fat-Reduced Cocoa Powder (Chocolate Peanut), Flavouring, Emulsifier (Sunflower Lecithin), Natural Colouring (Beetroot Red – Strawberry), Thickener (Xanthan Gum), Natural Sweetener (Stevia), Citric Acid, DigeZyme® Enzyme Complex (Amylase, Protease, Cellulase, Lactase, Lipase).
Nutrition
per 35g Serving
per 100g
Energy kJ/Kcal
555/131
1585/375
Fat
of which saturates
1.3g
0.25g
3.8g
0.7g
Carbohydrates
of which sugars
7.28g
0.46g
20.8g
1.3g
Fibre
1.33g
3.8g
Protein
21.84g
62.4g
Salt
0.53g
1.5g
It's definitely got the best nutritional breakdown we've found for vegan protein powders. Nice high levels of protein, calories and carbohydrates with lower salt, saturated fat and sugar than most other vegan protein powders. It's also soya free, only uses natural ingredients and has nice low GI carbohydrates. All together it makes using the powder a guilt free experience as you're getting all the right things without the wrong things.
Cost
The protein companies are clever: their prices chop and change, however when this article was written 1kg of the protein powder was £19.99. This works out to about 70p a serving, which is lower than other companies and you're definitely getting more bang for your buck.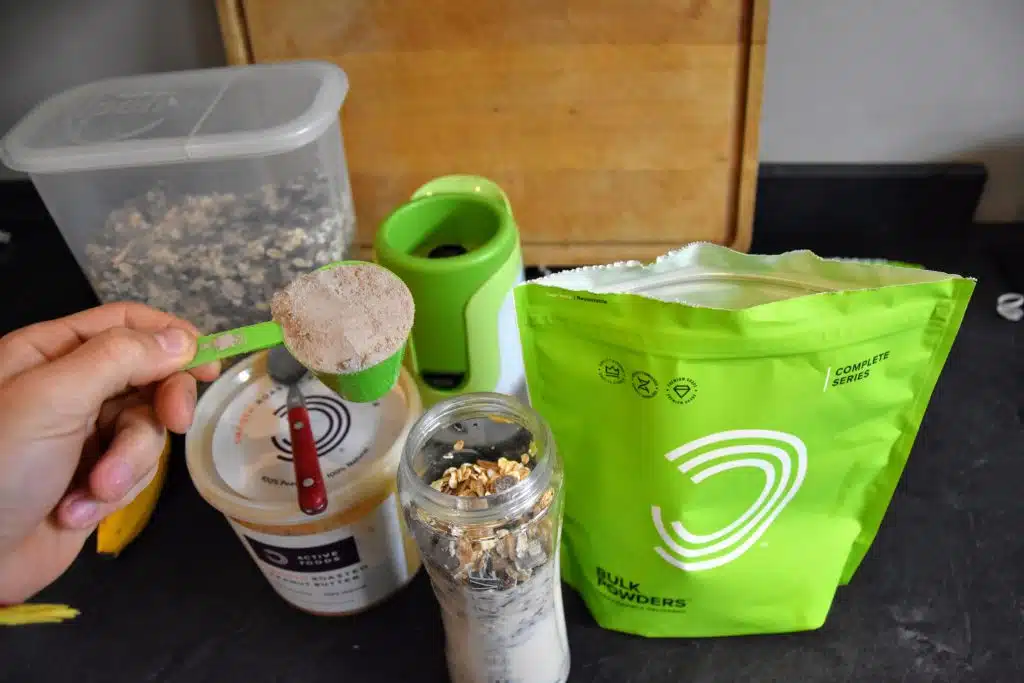 So why is it better then other vegan protein powders?
The Complete Vegan Blend is a great all rounder. It ticks all of the boxes but we particularly love the taste, mixability and ingredients. It doesn't have the powdery taste a lot of others have and it's super easy to mix without ending up clumpy. Because of the calorie and carbohydrate content you're noticeably fuller for the day. Other powders are so low in energy that although your protein levels may be high, you're still hungry and more likely to spend money on other foods. 
Is there anything bad about it?
In complete honesty other vegan protein powders may have been better in one aspect but were let down by other things like taste, cost, digestibility etc. Overall it's definitely our go-to vegan protein powder plus they're super speedy with delivery and often have free delivery promotions and product discounts.  
If we're being super picky, maybe it would be nice to have other flavours? We really like the chocolate flavour but sometimes it's nice to have other options as we weren't as keen on the strawberry taste. 
Looking for the Best Vegan Protein Powder?
Overall we think the Complete Vegan Blend ticks all of the boxes. It's affordable, has great nutritional content and is pretty damn tasty. We're more than happy to recommend it to people wanting to maintain high levels of protein alongside a healthy diet, vegan or not.
If you have any questions or want some advice about vegan protein powders or sports nutrition then please contact us or leave a comment below. We're not professionals but with a lifetime of vegan and veggie experience in sports we're happy to share our knowledge!
Keep exploring…
Your Guide to Vitamin B12 in a Vegan Diet
A Whole Bunch of Reasons a Vegan Diet Sucks
Share me!
Outdoor fanatic? Vegan adventurer? Nature lover? Sign up for our mailing list and you'll also get the Ethical Adventure Planning Guide!