Everything you need to perfectly plan for the Havasupai Falls Hike, Arizona
---
Most people have heard of the Grand Canyon, after all, it is one of the seven natural wonders of the world. But, there's another even more spectacular hike not far from the Grand Canyon as the crow flies that's absolutely worth your time. It features aquamarine falls spilling from bright red rock and a canyon that lights up in a range of colours too beautiful to believe. This is what the Havasupai Falls hike offers you.
Learn everything you need to know about Havasupai hiking options, including how to get reservations, where to stay, and what to expect. This is a once-in-a-lifetime experience and one you don't want to miss when you visit Arizona!
Keep reading to find (or jump ahead)
1. Havasupai Falls hike overview
Distance

: 10 miles (16 km) each way to the campground (8 miles (12.8 km) to Supai)

Time: 4 to 6 hours each way (but permit requires 2 night stay)
Difficulty: moderate
Starting point: Hualapai Hilltop trailhead, Supai, AZ
Ending point: Havasupai Campground, Supai, AZ
* This is for the main Havasupai hike but there are more waterfalls to see. From Mooney Falls to Beaver Falls is another 3 miles (4.8 km) and it's definitely worth adding it on. Keep reading for more info below!
2. Where are the Havasupai Falls?
Havasu Canyon, where the Havasupai Falls are, is part of the Grand Canyon, with the Colorado River creating these epic waterfalls. It's around a four-and-a-half-hour drive from Phoenix, the capital of Arizona, which has a large international airport that's easy to get to. There are a lot of fun things to do in Phoenix, so it's worth spending at least a couple of days to explore the city.
The area you travel through belongs to the Havasupai Native American Indian tribe. They are the guardians of the canyon and the land is considered sacred.
Havasupai means "people of the blue-green waters," named after the most special feature of the canyon: the turquoise falls. When you hike Havasu Canyon, you are hiking through the Havasupai Indian Reservation with the tribe's approval. Please be sure to respect both the land and the people who live there.
The hike to the falls is considered moderate-to-difficult as you will navigate steep switchbacks into the canyon. The remainder of the hike is easy, walking through the silty riverbed to the Supai village.
The hike is eight miles from the trailhead to the village and two more miles to the main waterfalls, Havasu Falls and Mooney Falls. However, you can hike a bit further to see more waterfalls as well.
3. Is it Havasupai or Havasu?
The name for this hike and area can sometimes interchange, so let's clear things up!
The trail takes you into the Havasupai Indian Reservation and the people of this area are the Havasupai tribe.
Within the Havasupai Indian Reservation is the Havasu Canyon, home to Supai village, Havasu Creek, Havasu Falls (the famous tall one) and a bunch of other beautiful waterfalls (New Navajo Falls, Fifty Foot Falls, Mooney Falls & Beaver Falls).
Collectively, these waterfalls are called the Havasupai Falls.
Confusingly, the hike may be called the Havasupai Falls Hike, Havasupai Canyon hike, Havasu Falls Trail, Havasu Creek Hike or something similar. So, if you hear a fellow hiker using a different name, don't worry, you're still on the right trail!
4. Getting a Havasu Falls permit
In order to enter the Havasu Canyon Native American lands, you must secure a permit. More than 20,000 people do this hike every year and getting a permit is not easy.
Permits are available from February to November and go on sale on the Havasupai Reservations website starting on February 1st at 8 a.m. Be warned, they sell out very quickly. The system is now online but the website goes down sometimes given the high volume of people who hit it in such a short time. Keep trying, it's worth it!
The first step is to complete a profile and it's a good idea to do this before you try to secure a permit. Choose several date options before you log in as you may not get your first option. You have the choice to also book the campground when you reserve your permit and it's a good idea to do so.
5. When is the best time to visit Havasu Falls?
The Havasupai hike is very popular and the area has very varied weather conditions throughout the year.
Winter to spring (February to May) – cooler temperatures and fewer visitors though it may be too cold to swim
Summer (June to August) – hot temperatures, more bugs, lots of visitors and monsoon but good for swimming
Autumn (September to November) – much the same as February to May
NOTE: monsoon can bring very heavy rainfall and the canyon is prone to flash floods. Though, as long as you set up camp on higher ground away from the creek, you should be fine to go during this time.
Get more adventure content straight to your inbox by signing up for our mailing list!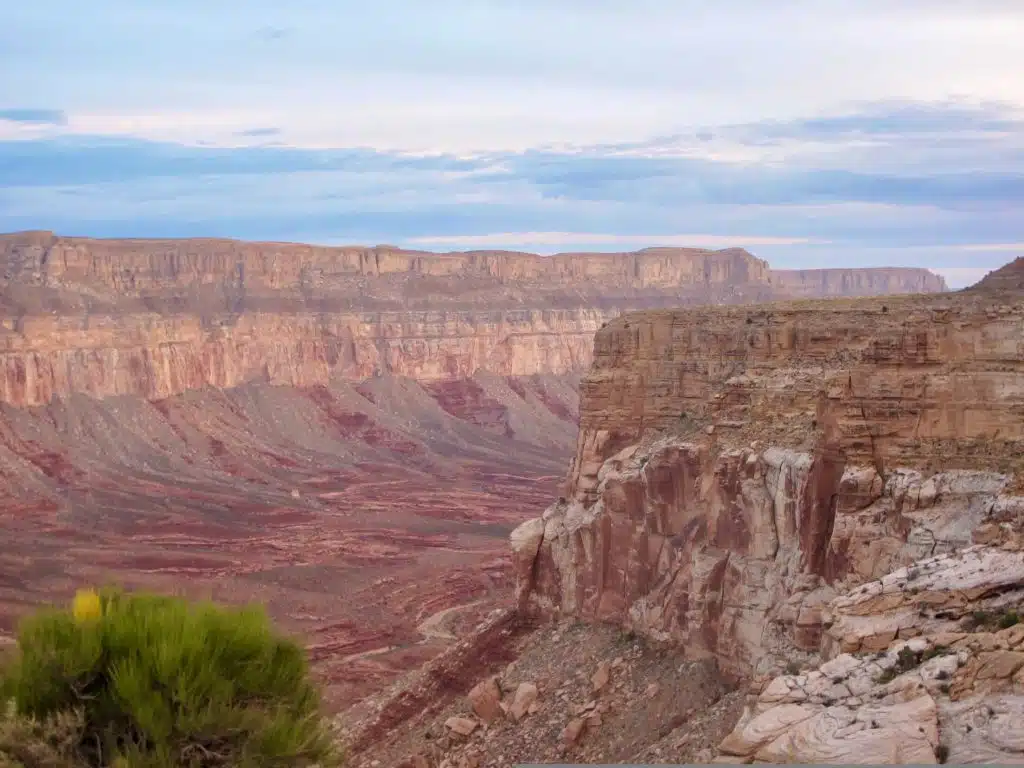 6. What should you bring on the Havasupai Canyon hike?
You are required to stay over at least one night when doing this hike. If you stay at the campground, your reservation is for two nights (or more). You do have the option to stay at the lodge in the Supai Village, but why would you? It's incredible to be near the falls in the campground!
If you camp, the only facilities available are a few composting toilets and a small spout of drinkable water that is supplied by a spring which comes out of a small metal pipe in a rock. You will need to bring everything else. This includes:
A place to sleep (tent or hammock)
Hiking clothes and footwear (for footwear, bring hiking shoes and something to wear to the falls like water shoes as the rocks are slick.)
Food and means to cook if needed (jetboil or something similar)
Plenty of water
Some people bring inflatable pool floats to use in the water, which you can also use to sleep on. There are plenty of trees for you to hang a hammock and to get shade in the hotter months.
Our Complete Guide to Hiking for Beginners has plenty more tips for new hikers
7. Where to stay before the hike
Havasu Canyon is in a very remote part of Arizona. Once you get to the canyon, you're blissfully off the grid—no cell service and no street lights. You're in a rugged area in all its glory.
The Havasupai trailhead, Hualapai Hilltop, is an hour-and-a-half from the next nearest town, Peach Springs. From there, you drive a dirt road, Indian Road 18, which only has some scattered private homes.
There are sometimes farm animals walking along it and there are no street lights. You'll want to be sure you have everything you need before you leave Peach Springs.
You can stay in Peach Springs, or a better idea is to stay at the trailhead. There is a large parking lot there with some portable toilets. You can set up a tent towards the back of the lot or sleep in your car. Think of it as practice!
New to camping? Check out our Camping Packing List or our First-Timer's Tips
It's best to get started early before the canyon heats up as it does during most times of the year. You will not want to be on the road from Peach Springs in the dark if you can avoid it. Cell phone service is patchy along IR18 and it's not heavily traveled.
8. The hike to Havasu Falls
You'll find more details below but the basics starting from the trailhead are:
Hike down into the canyon floor and to Supai village (8 miles)
From Supai village to the campsite (2 miles)
Then to Havasupai Falls with more waterfall hiking options
Wake early to take advantage of the cooler morning before things start to heat up. And, if you get an early start, you'll get to watch the canyon come alive when the sun lights it up. You'll see stunning shades of violet, indigo, and rust!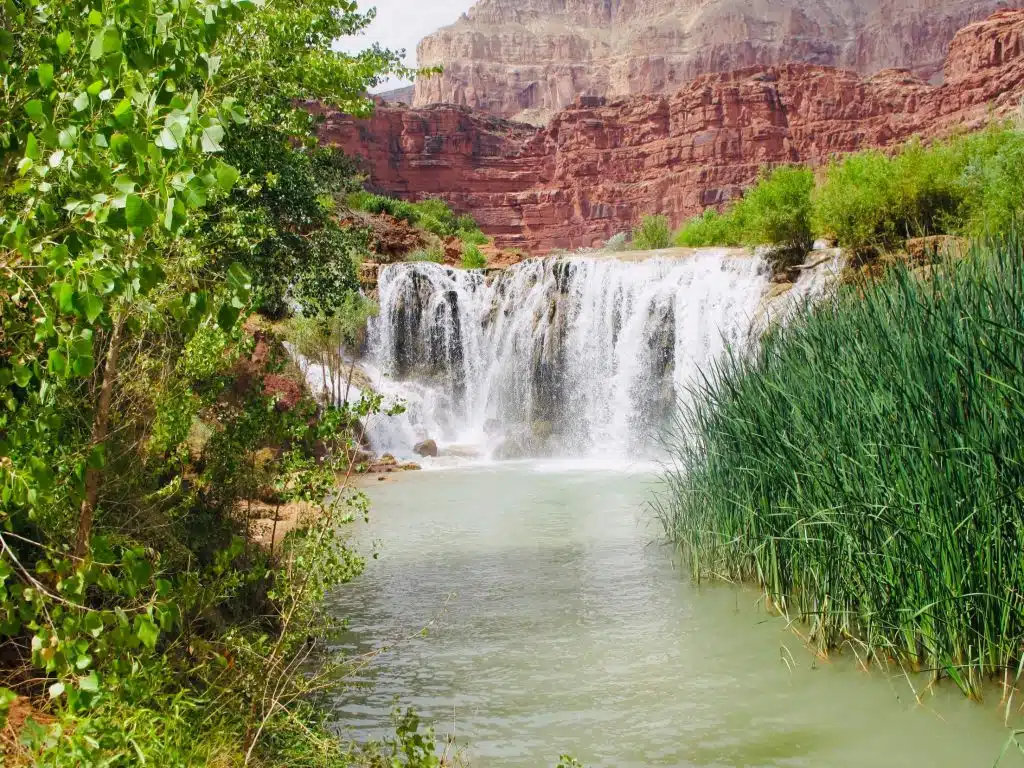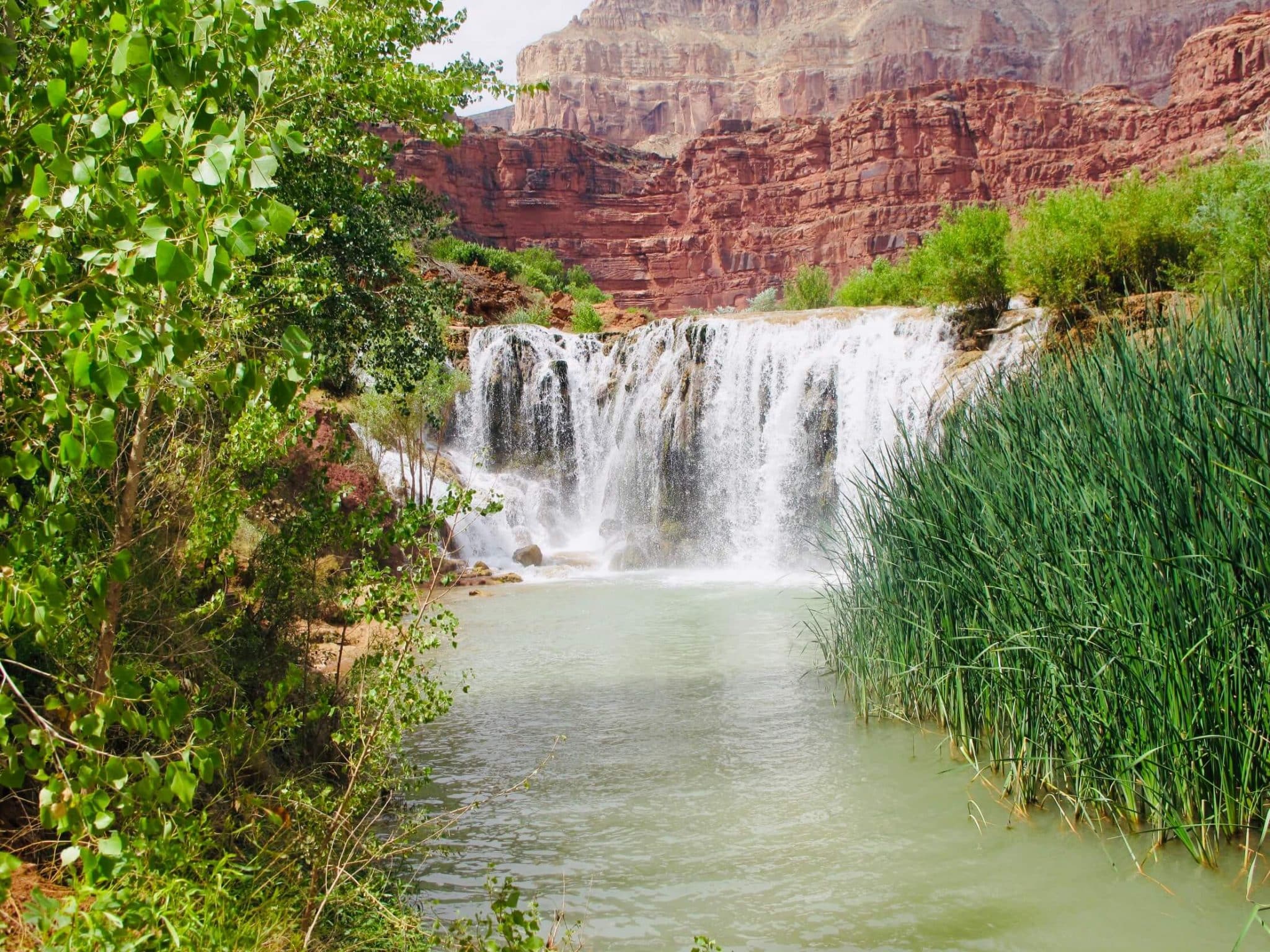 The hike down
The Havasupai trail begins descending to the canyon floor and it's easy to navigate but the switchbacks are steep. It takes around an hour to get to the canyon floor, or possibly more, depending on your pace. Take your time and enjoy the stunning kaleidoscope of colors you'll see.
Be careful of the horses and donkeys as they are often running loose. They generally provide enough room on the switchbacks but make sure you give them plenty. When you're in the bottom of the canyon, you'll hear them well before you see them and it's a good idea to move off to the side.
Havasu Canyon Floor
Once you finish the switchbacks, the canyon is very silty with a lot of loose rocks. It can be challenging to walk on. There are a lot of gorgeous rock formations to check out and if you leave early enough, some of the hike will be shaded by the canyon walls.
This is the longest stretch so pace yourself. When you start hearing flowing water and seeing pops of turquoise blue, you're nearing the village. There are a couple of areas where you can catch a glimpse of what you're in for with some small streams coming off the creek.
READ MORE: Find more exciting outdoor pursuits inspiration here!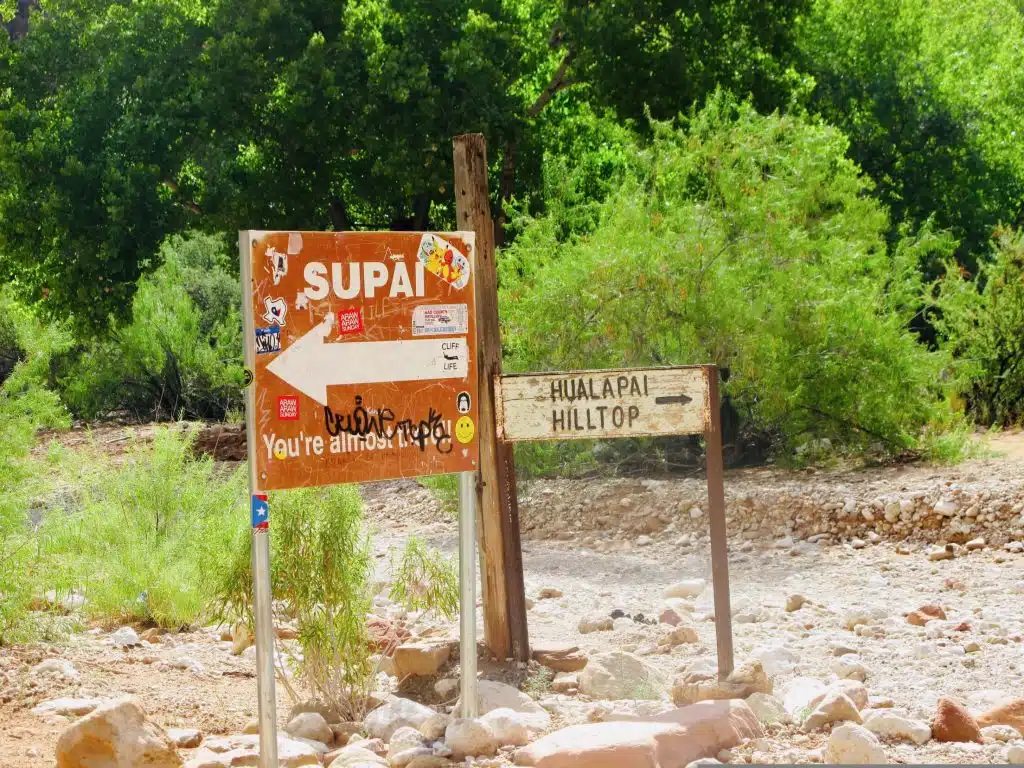 Supai Village
The Native American village is very modest. You'll find a small store, a restaurant, a school, the lodge, some homes, and a few other buildings.
You are not allowed to take pictures in the village of the people or the buildings, so please be respectful.
Stop at the tourist office to check-in, and they'll give you a wristband and a tent tag. You can fill up your water bottle with a spigot near the office.
You'll also see a helicopter pad that is used by the tribe. People are allowed to fly on it if there is space (the locals get seats first) and it's used for emergencies as well.
From the village, you only have two miles left to get to the campground. You'll see the New Navajo Falls and Fifty Foot Falls on the way. They are much smaller than what you'll see in the campground but they are beautiful with the same blue-green colour.
The Havasupai Falls campground & waterfalls
You have one more fairly steep descent to get to the campground. Once there you can choose any open spot to pitch your tent or set up your hammock.
If you're visiting from late June through August during the monsoon season, you'll want to choose a spot on high ground well away from the water. You'll see the toilets straight ahead and to the left, not far from the falls. The water spigot is a little further back on the left.
To your right is the incredible Havasu Falls. This waterfall is almost 100 feet high (30 meters) so take a moment to appreciate how spectacular it is!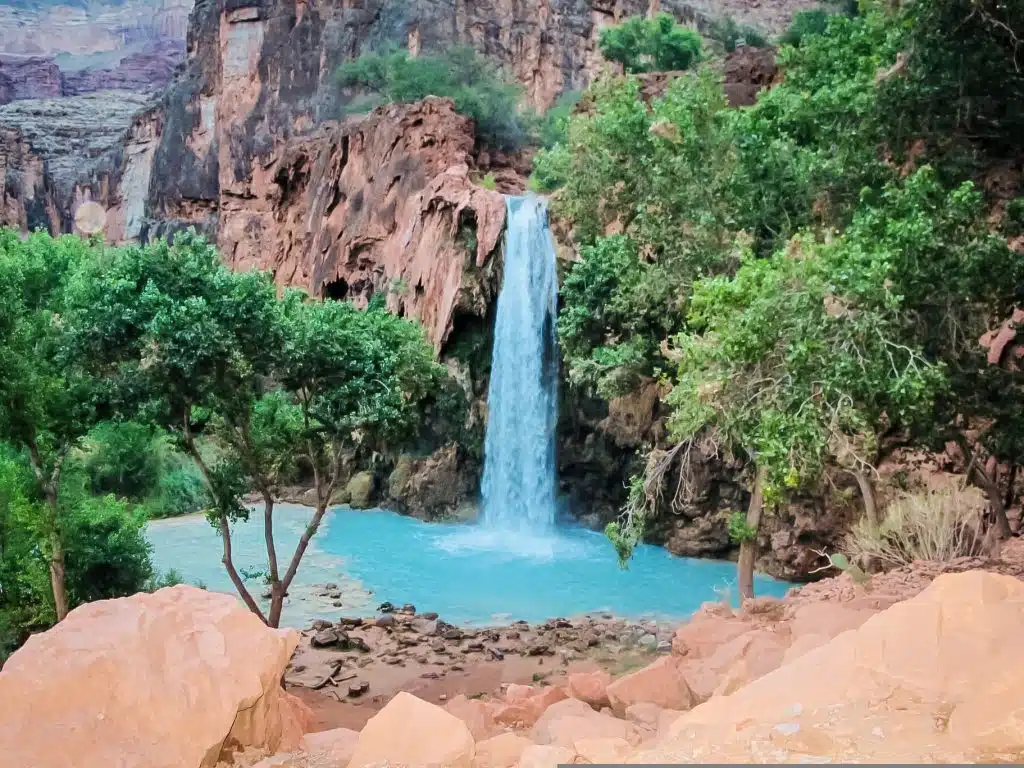 Mooney Falls and Beaver Falls
Once you've set up camp and explored the area around Havasu Falls, check out Mooney Falls. It's around a half a mile further into the campground. There are some amazing viewpoints above the falls.
If you are feeling adventurous, climb down past the sign that says "Proceed at your own risk." You'll climb through some narrow areas in the rocks, then down ladders bolted into the rock wall and an area with uneven toe holds carved into the rocks. For your efforts, this waterfall is breathtaking.
Beaver Falls is a couple of miles further. You'll cross Havasu Creek several times, walking over a 2×4 plank and a slotted "bridge." The path is windy and not always well marked. Beaver Falls doesn't have the height of Havasu and Mooney falls but it's quite beautiful and the area is much less crowded.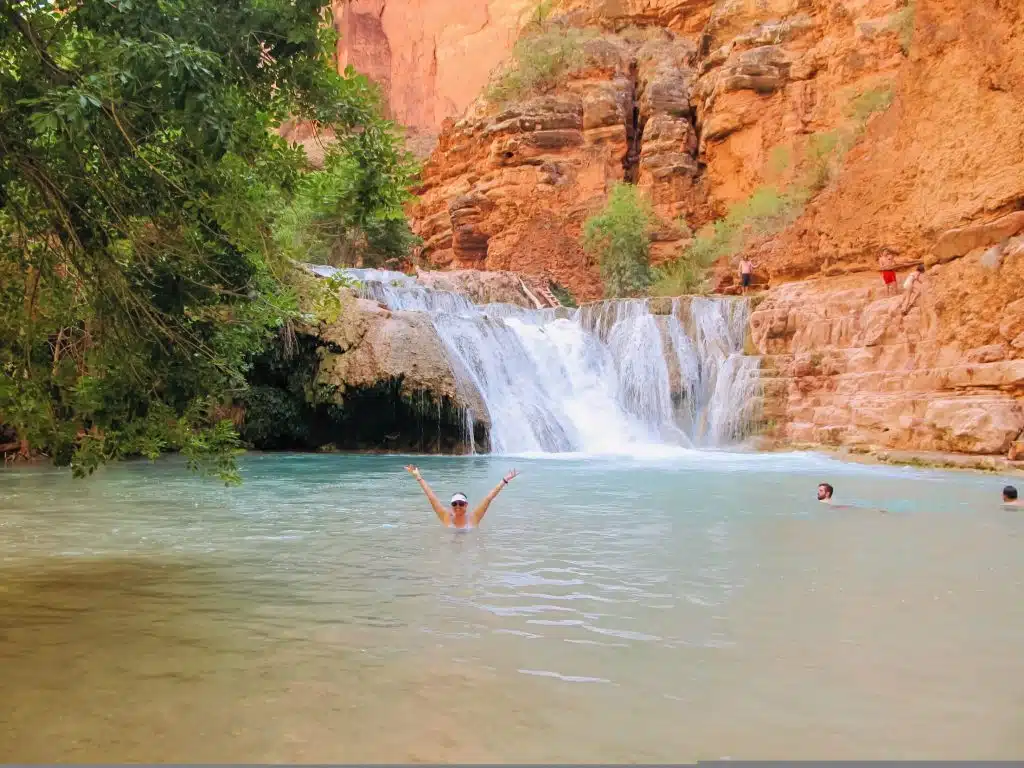 The return hike
As you might expect, the climb up the Havasu Canyon switchbacks is more challenging than climbing down. Not only due to the steepness but also because you're in full sun for most of the way. It's a good idea to get started as early as possible as it'll be a couple of hours before you ascend.
Make sure you bring plenty of water and are well hydrated for this trip. You can fill up again in the Supai Village before you proceed. You don't need to check out, simply follow the trail right back the way you came.
Once you get to the top, enjoy the views and be sure to tell those starting their hike how amazing an adventure it is. Hiking Havasupai Canyon to the falls is a once-in-a-lifetime experience and though it's not on the tourist track in Arizona, it's one of the most beautiful places you will ever see!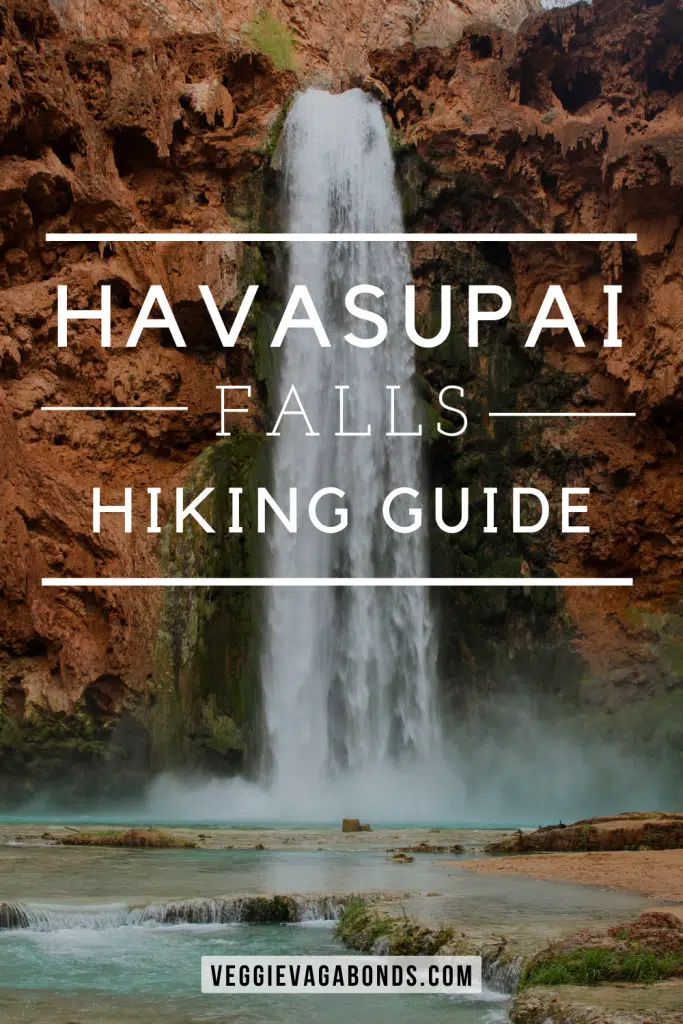 The Havasupai Falls Hike: the Most Beautiful Hike in Arizona
A guest post from Sam at My Flying Leap
Sam is a travel-obsessed animal lover with big plans to travel the world with her dog. When she's not blogging about her travel adventures at My Flying Leap, you can find her volunteering with her pet-therapy cat and dog, on the top of a mountain, or enjoying a glass of bold red wine planning for her next trip.