Hiking in good weather is old news, what you really want to do is go for a hike in the rain – here's why…
---
In Easter of 2020, we moved to North Yorkshire. What an incredible place it is but my god does it rain.
It rains for days and weeks on end, and then when you see a little glimmer of hope on the weather forecast, it continues to rain just a little bit more.
For us hiking fanatics, this means you've got to embrace the wet weather. Leaving the hiking boots off for a clear day will just result in your outdoor passions collecting dust.
Yes, you do need a little more planning and preparation for a hike in the rain but our experience in the neck of the woods has taught us it's DEFINITELY worth it!
Nowadays, when we see storm clouds brewing or a rainstorm on the forecast, we can't wait to hit the trail. These are 15 reasons why…
This article may contain affiliate links, they will never cost you more money but helps Veggie Vagabonds keep making content like this – thank you!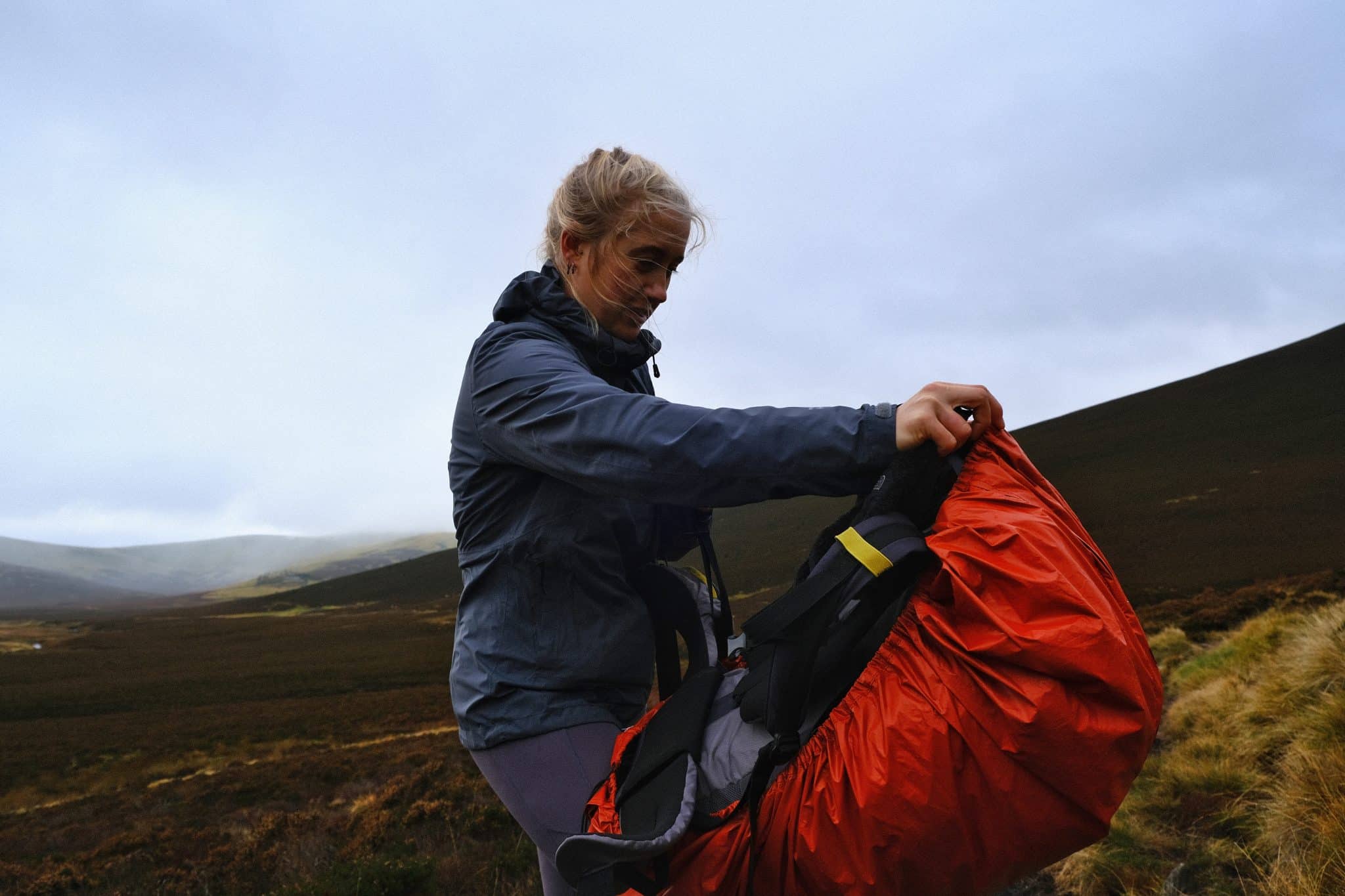 16 Reasons Why Going for a Hike in the Rain Rocks
Before we get into things, to properly embrace the wet weather there are a few tips, tactics and bits of gear that make it a hell of a lot easier. You can find our complete Guide to Hiking in the Rain here, with all the info you need!
1. You see your surroundings in a whole new light
Rain completely changes the landscape around you. It's surprising how different a hike you've done in dry weather might feel when the heavens open, giving local trails a new lease of life.
You can wait for some rainy weather, pick a nearby route and go explore it from a whole new perspective.
2. The rain scares others away
Rain clears trails like gas clears an elevator. For the fortunate few who do stick it out, you'll quite likely get the trail to yourself and boy is it worth it.
3. You can't beat the solitude
It's not just the empty trails, the rain brings about a special kind of solitude in natural areas, particular in more enclosed places like woodlands.
It turns into a really sensory experience, you get absorbed in your surroundings and feel like you're worlds away.
4. Feeling stressed?
Listening to the sound of rain can be massively therapeutic and it's proven to alleviate anxiety So, if you've had a tough week or a long day at work, going for a walk in the rain can be just the remedy.
For more adventure inspiration and outdoor guides, be sure to sign up for our mailing list below!
5. Exciting conditions and awesome views
Rains can bring heavy winds, dark clouds and stormy weather. These might sound like disadvantages for hiking but they do make for some amazing skyscapes and jaw-dropping shows of mother nature.
On our most recent hike, we went from grey drizzle to bright blue skies and fluffy white clouds, then to torrential rain, hail and biting winds, and finally to the most awesome sunset firing up the landscape. And this was all in the space of a few hours. Wouldn't get that on a dry day.
6. The perfect chance to test your outdoor gear
If you're a gear freak like us, heading out in heavy rain is a sweet chance to test out bits of waterproof hiking gear and different equipment combinations.
I've recently started using the Arc'teryx Zeta (UK / USA) and what a sweet rain jacket it is. Any signs of rain and I'm straight out the door seeing how much of a drenching it can handle.
7. Colours become much more vibrant
All the moisture brings plants and vegetation to life, adding so much colour to your surroundings. The greens, blues and browns of woodlands or rolling hills are magnified and the shimmering surfaces flashing all around are a treat.
8. Rain can be great for wildlife spotting
Sure, some animals might go into hiding when it starts to pour but it can be a good opportunity to see others. Birds might seek cover in woodlands or vegetated areas and the rain muffles your sounds.
Whilst hiking the Cumbria Way, we were in a woodland breaking camp in the morning whilst the rain was pouring. About 20 metres away two deer slowly wandered right past us, oblivious thanks to the loud crashing of rain softening our racket.
9. You can also spot the elusive… DOUBLE RAINBOW!
We can't be the only ones who get REALLY excited when we spot rainbows along the trail? And, if the conditions are just right, you might even get a double!!
10. Ever heard of the Petrichor phenomenon?
Love that smell of rain after it's been dry for a while? Well, you're not the only one. The Petrichor phenomenon is that amazing smell and fresh feeling after new rain because of chemicals released from the wet ecosystem.
11. Rain clears the air
If the air feels cleaner when it's raining, that's because it probably is. Rain droplets clear pollen and tiny pollutants in the air, that's why it feels so good when you take in a deep breath on your rainy hike. If you live in a big city, even going for a walk in the rain around your local park can be just the breath of fresh air you need.
12. A natural cleanse
Though it can seem natural to seek shelter and try and stay dry, rainwater and humidity are also great for your hair and skin. Nature's remedy!
13. Waterfalls will be in full glory
It's pretty amazing how waterfalls which are gentle trickles in the summer months become gushing torrents after heavy rains. And you can't beat a good waterfall along a hiking trail!
14. Your pins will appreciate a hike in the rain
Because of the slippy surfaces, your body uses stabiliser muscles to give you grip and stop you from skidding around. It's actually a great workout that can burn more calories than just hiking the route dry.
15. The comedy value
Let's be honest, these stabiliser muscles aren't always the most reliable. If there are ascents and descents on a muddy trail, there's a good chance you might see your chums fall over in the mud which is comedy gold.
WARNING: you're just as likely to end up on your arse as they are!
16. You feel like you deserve a good pint at the end
Can you beat the feeling of getting back from a long, wet and windy hike, putting your feet up and having a brew somewhere warm? Man, half the reason I hike is just so I can enjoy a well-deserved tipple at the end!
Do you think there are any more benefits to hiking in the rain? Tell us in the comments!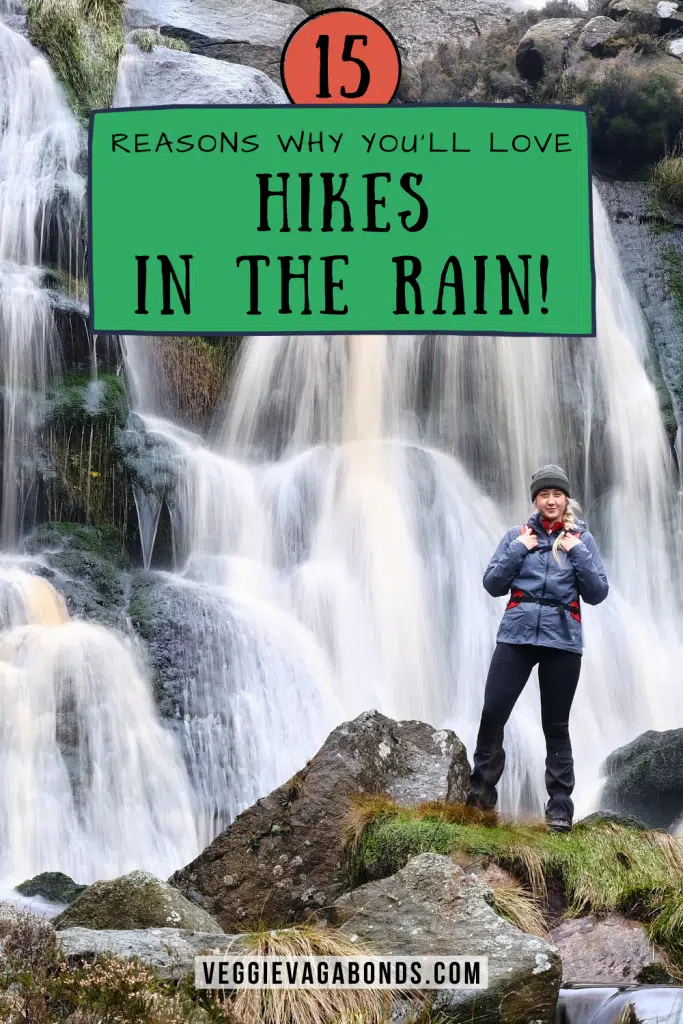 16 Reasons Why Going for a Hike in the Rain Rocks
There are so many other massive differences and subtle nuances you'll experience hitting the trail when the heavens are opening – you gotta get out and find them for yourself!