Looking for eco-friendly gifts that will keep the adventurers in your life happy and the environment too?
---
Whether it's for holidays or birthdays, rewards or celebrations, everyone loves receiving gifts and most of us love giving them too. Fortunately, for us outdoor lovers, there's a list of gifts longer than the Appalachian Trail that would put a smile on our weather-beaten faces so you've got plenty to choose from.
Whether it's last-minute gifts that won't be used, expensive presents with a huge carbon footprint or cheap items that fall apart after one use… even with best intentions, loving gifts can produce a lot of waste and harsh environmental consequences.
The solution is: opt for eco-friendly gifts!
The best gifts for hikers and outdoor lovers will be ones that embrace ethical adventures and protect the environments they're exploring.
Keep reading this green gift guide to find:
This article may contain affiliate links, they will never cost you more money but helps Veggie Vagabonds keep making content like this – thank you!
Why choose eco gifts?
As you're here, I'll assume either you want to have a more positive impact or the person you're looking for does. Gifts are powerful things. Some can be a waste of time, money, and materials whilst others can bring about greatness.
Buying good quality, long-lasting and ethical gifts will not only be better for the environment, they can inspire ethical adventures – and that's really important.
At Veggie Vagabonds we think the first step to sustainability is getting outside, embracing the outdoors and learning to appreciate them. These sustainable gifts inspire exactly that.
Find out why we think ethical adventures can save the world here!
10 Considerations for more environmentally friendly gifts
Do they need it/will they use it?

Can you trade in old items or have them fixed?

Check you're getting 100% right size and product so it doesn't need to be returned

Buying second-hand gifts are just as awesome!

Buy the best quality things that will last

Opt for more sustainable items or brands that are closer to home and won't require long-distance international postage

When shopping in person bring your own reusable bags

Try and travel to the shops sustainably – cycling or public transport is great

Don't choose next day delivery, opt for minimal packaging and wrap them in recycled materials – old newspaper is great

Not all presents have to be physical – check out our waste-free gifts at the bottom!
Want to know whether in store or online shopping is more eco-friendly?
30+ Eco-Friendly Gifts Ideas!
Below you'll find friendly gifts that are 100% vegan, embrace fairtrade, recycled materials and eco-initiatives. Hikers, climbers, campers or any outdoors people will love 'em. Make sure you get to the bottom to check out the zero waste gifts ideas too!
Part 1. Budget gift ideas (gifts less than £20)
Topographic maps
Anyone else get really excited about maps? If you know your loved one is planning a trip in the future, a topographic map is a great eco-friendly gift. Scale is important, 1:24,000 (1 inch shows 2,000ft) is good for planning hiking routes whilst 1:100,000 or 1:250,000 is good for planning cycle routes, waterways or roads.
You'll find great maps for the UK by the Ordnance Survey which also show campsites, youth hostels and pubs!
In the US, National Geographic also has a big selection of topographic maps for national parks and famous trails.
Flint Sticks
Not only are flint sticks great survival tools in the outdoors, they can help you use less lighter fluid when sparking up your camp stove. Obviously, this is only a small amount but every little helps. You can also entertain yourself for hours trying to make a fire from scratch! Click here for UK and here for America.
Eco-friendly sunscreens
Did you know that some sunscreens can be really harmful to marine ecosystems? That means, when you jump in a lake at the end of a hard day backpacking or have a refreshing dip in the sea along a cycle tour, the chemicals in your sunscreen can be causing a whole host of problems.
You can find plenty of nice options on Etsy. This eco-friendly sunscreen is waterproof, handmade and nasty-free, so you can jump in that water with an easy conscience!
Climbing brush and recycled c
halk bag
A climbing brush will not only help you with friction, it'll also help you climb in a more sustainable way. If there are small bits of dirt or grit on your feet or on the holds, climbing without brushing them off can speed up the erosion of the stone – nobody wants that!
This vegan climbing brush from Sublime is made from sustainable materials and these recycled chalk bags from FinchClimbing and Trekbeautiful are also perfect gifts for climbers.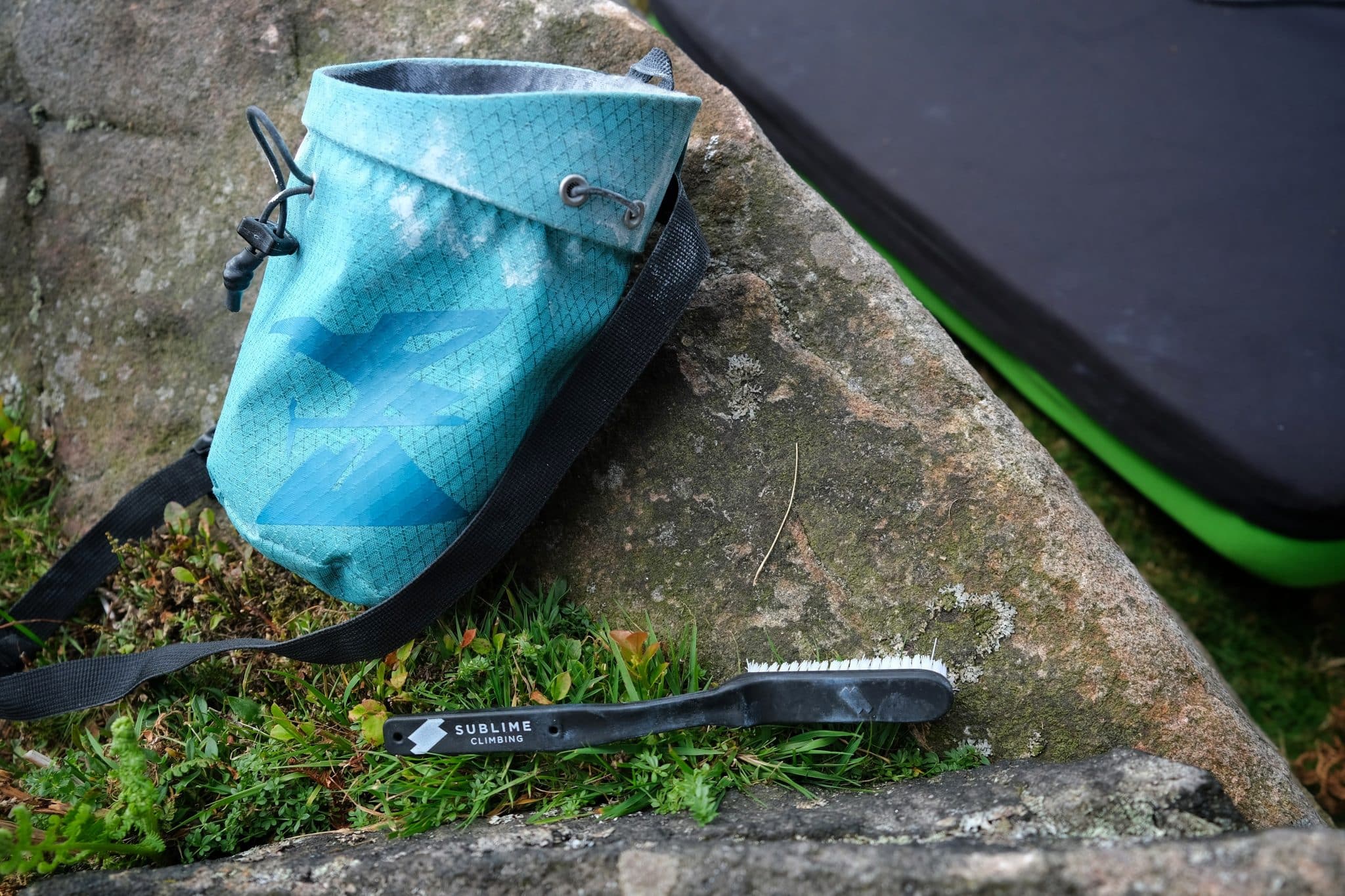 Deet-free insect repellant
Deet is actually a pretty nasty chemical which is toxic to birds, fish and aquatic invertebrates. You can keep your loved ones from being gobbled up by all the mozzies with eco-friendly insect repellant instead. This one is popular in the US whilst Lifesystems is a great option in the UK.
Bicycle puncture repair kit
Do you have a cycle tourer in your life? Replacing inner tubes with every puncture is real wasteful, get them a puncture repair kit so they can reuse them. A great idea if you're looking for cheap eco-friendly gifts!
Ethical pee cloth
For girls in the outdoors, it ain't so easy going for a pee. Not only do they have to worry about squatting on nettles, the toilet paper can be hard to dispose of, annoying to bring and bad for the environment.
These pee clothes are made from soft, eco-friendly materials which are odour free and antibacterial materials. You can find some great handmade pee clothes on Etsy or the Kula Cloth America is seriously popular.
Bin bags/rubbish bags for hiking
This bag from Sea to Summit is made from lightweight waterproof material and can be used to store rubbish when you're hiking or in the wild. It's easy to clean so you don't have to throw away bin bags each time and can be easily attached to a rucksack or bike pannier. Find them in the UK here and in America here.
Maybe this could inspire your own trail clean up?
Reusable cutlery set
This is an ideal present for hikers who are waste-conscious and like to eat (sounds like us!). Having a reusable cutlery set means you won't end up wasting single-use plastic cutlery and are always ready to nom. A metal set will be long-lasting and can be used for camping trips too. Find them in the UK here and US here.
For more ethical adventure inspiration and outdoor resources, be sure to sign up for our mailing list below!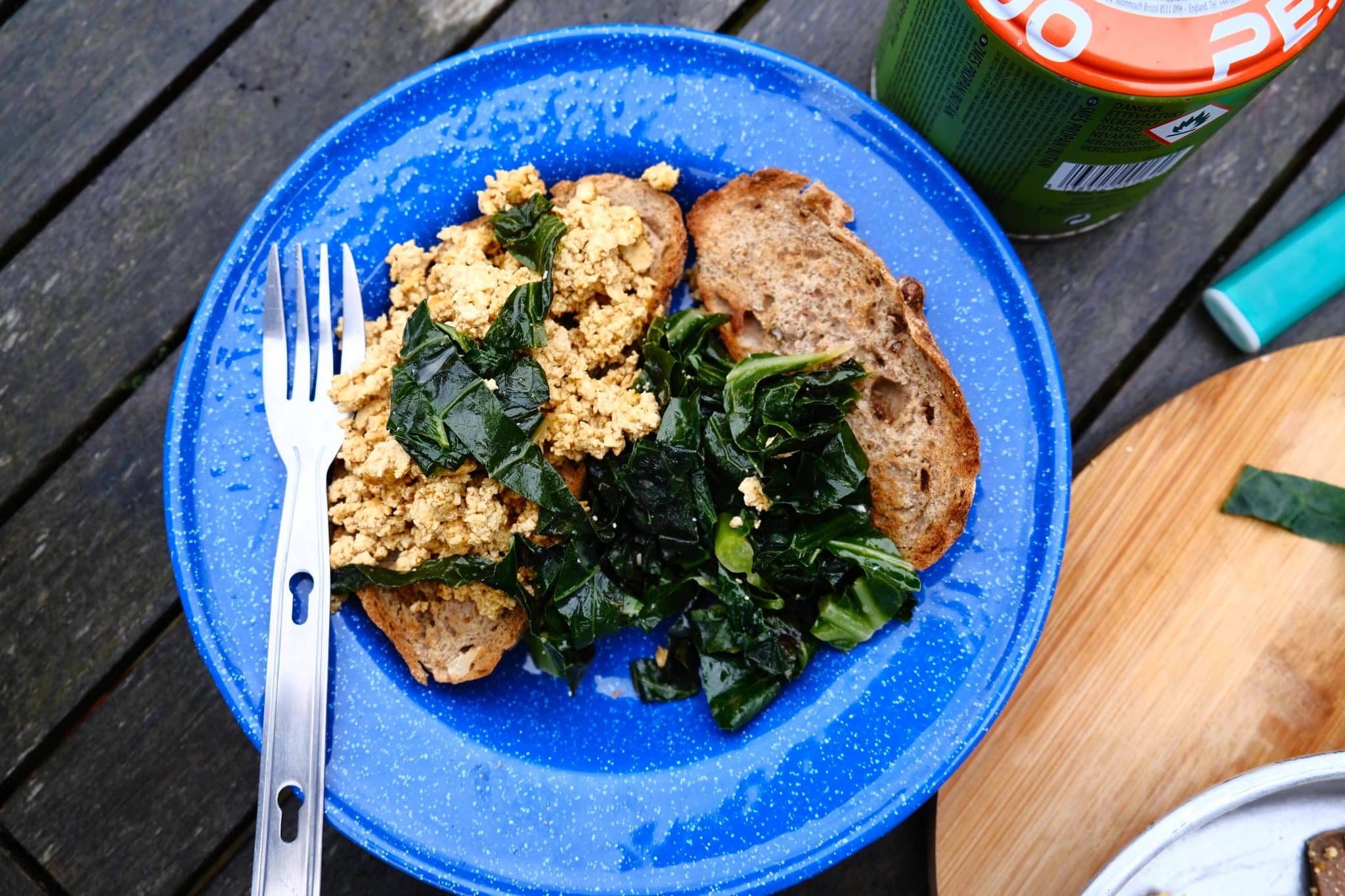 Biodegradable soap and shampoo bars
You can easily limit your plastic waste in the outdoors by opting for soap and shampoo bars. These soap and shampoo bars are 100% vegan, organic and nasty-free, they also come without plastic packaging. It's nice knowing they're handmade and independent so your money will be going to a friendly face 🙂
Important: even if soaps are biodegradeable they still shouldn't be used for washing in natural water sources, it encourages bacterias to build up!
Dog lead and harness from recycled climbing rope
If you like taking your dogs along the trail or to days at the crag, this is a really cool handmade gift idea. This doggy gear is made by Scavenger in Sheffield UK, all from recycled climbing ropes. You'll also find a bunch of other cool ethical climbing and outdoor gear on their site – check 'em out!
Some awesome upcycled gifts by Scavenger
Part 2. Mid-range present ideas (gifts less than £50)
Solar Charger
A solar charger can keep your electricals charged in the outdoors with completely natural, renewable energy, and, having a phone or GPS with battery is also super important for safety! We use this one from Decathlon and have been surprised how well it works, even on days with little sunlight.
Eco-friendly flasks
Whether you're buying bottles of water for hiking trips or grabbing a coffee on the way to the climbing wall, this can create a lot of single-use waste. An eco-friendly flask is a great solution, they keep cold liquids cold and hot liquids hot, with some impressive environmental initiatives.
Ocean Bottle is a UK-based company where every purchase funds 1,000 plastic bottles to be cleared from the sea, it's fully recyclable and looks pretty damn cool.
The eco-friendly flasks from Tree Tribe are also a great sustainable option as they're 100% plastic-free, and with each bottle bought a tree is planted. They've already planted nearly half a million trees!
Did you know sanitary products have a huge environmental impact? The average women will use 11,000 in a lifetime and they take on average 500 years to degrade. These menstrual cups eliminate this and you won't get caught short out in the wild, making them sweet gifts for day hikers, backpackers or campers.
Water filtration system
Whilst it is made from plastic, the Sawyer Water Filter can filter up to 100,000 gallons of water before it needs to be replaced. For outdoor adventurers this one of the most sustainable ways to stay hydrated and makes for a great hiking present. Find it in the UK here or America here.
Part 3. The 'I Wish You Were My Friend' Sustainable Gift Ideas (the expensive ones…)
Eco-friendly outdoor clothing and camping gear
For an outdoor lover, you can't go wrong with adventure clothing or camping gifts, just make sure it's something they need. The outdoor essentials listed below are the main things you need for a variety of outdoor pursuits and will always be warmly received:
Although there are plenty of sustainable outdoor brands out there, there are a few which are doing seriously great things.
Vaude is absolutely revolutionising the world of ethical outdoors gear. Many of their products use completely recycled, responsibly sourced materials of the highest quality. A few great ideas from Vaude:
---
Patagonia are an iconic outdoor brand who put such a huge emphasis on the environment and ethical working conditions. Their products are world-class and would make for the perfect hiking gifts or outdoor presents. Some particularly cool items are:
---
Marmot – a really great choice for ethical camping gear, with many options of recycled vegan sleeping bags and top-class tents. Some of our favourites are:
Weekend Bee are one of the first outdoor retailers to just stock eco-friendly outdoor brands.
Tentree – a seriously cool casual outdoors clothing brand. They're a B-certified corporation who make clothing from recycled materials and plant trees with every purchase you make. They're already planted over 500,000 million!
You can find Vaude, Patagonia, Marmot and other sustainable outdoor products on:
Alpine Trek / REI / Cotswolds / Snow and Rock / Backcountry
Or, if you want to buy gifts for specific outdoor pursuits you might like to check out: Hiking Packing List, Bike Touring Packing List, Camping Packing list, or take a peep at our complete Guide to Ethical Outdoor Gear
Part 4. Super Eco-Friendly Gift Ideas (almost waste-free)
A donation
The perfect gift for environmentalists who have everything they need. It's 100% waste-free and could put a big smile on many peoples' faces. Check out some of these charities if you're in need some inspiration.
Interrail pass
Train travel is much more environmentally friendly than flying and can make for a great overland trip. With interrail passes being very flexible and connecting all of Europe, your damn lucky recipient can plan their own ethical adventure!
Annual memberships that inspire adventure
Memberships can make super cool adventure gifts that will encourage more time spent outside. Some ideas could be a British Mountaineering Council membership, a US National Parks Pass or a UK National Trust Card.
Any outdoors lover is going to love an outdoors trip. Not only will it be waste and packaging-free but it's also a good bonding experience that you can get planning together during the holiday season or on a special day. How about a bouldering holiday in Fontainebleau?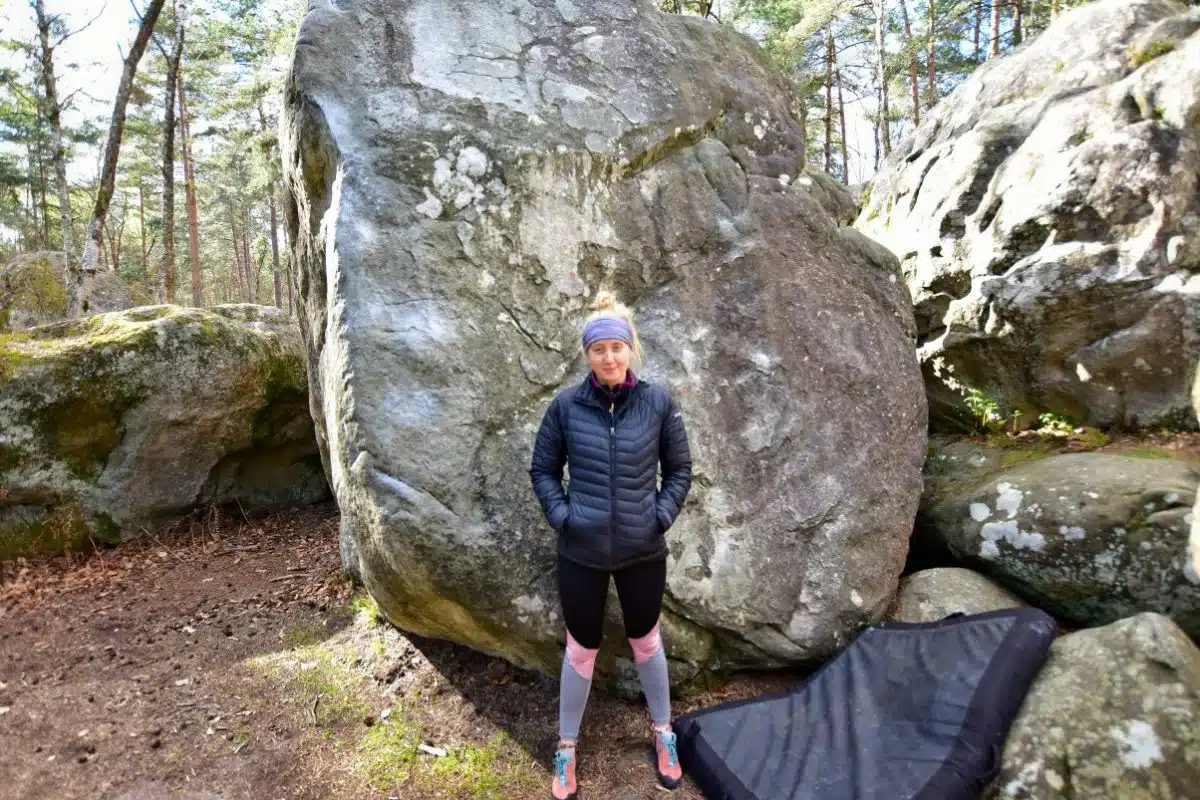 Outdoor pursuit class
Outdoor courses make unique and useful gifts for adventure seekers. Learn winter skills in cairngorms, take outdoor workshops in North America with REI or start training for mountain first aid!
Experiences
Experience gifts are another way you can avoid packaging and have a great time. Our tip: find something you'll both love and get a ticket for two!
Stream something inspirational online
If you fancy a lowkey day, why not stream a film online that can inspire outdoor pursuits? It's great for a rainy day, can be written on an 'I O U' card and is free from waste. We definitely recommend watching Reel Rock (crazy mountain-based epicness!!!) or any of these climbing films and documentaries.
Digital Gift cards
This is a great green gift idea because the lucky recipient can choose exactly what they want. Go for a digital one and then it truly is a waste-free gift.
Are there any other eco-friendly gifts you would love to receive? Drop us a comment and tell us what!
Eco-Friendly Gifts for Hikers and Adventurers
Birthdays, holidays and celebrations aren't about giving the biggest, flashiest, most expensive gift, they're about giving something that makes a difference and inspires change – these 20+ outdoor gift ideas do exactly that!
They'll encourage time spent outside in nature and are responsibly sourced, two crucial steps towards eco-friendly lifestyles. Keep in mind the 10 ethical considerations and opt for adventurous gifts on these special days!