The joys that come from spending nights outside and 16 reasons why you should go wild camping
---
There isn't much that trumps a wild night under the stars. If you enjoy spending time outside, wild camping is the ultimate way to get further into those landscapes.
You can explore with fewer plans, as you can pitch wherever you choose and it's the opportunity to really immerse yourself in the nature around you. Dropping off under the light of the moon and rising to the sun, with no interference from the stresses of everyday life. It's a magical experience.
There can, however, be a few misconceptions surrounding wild camping. That you need to be an expert in survival and have all the kit but this couldn't be farther from the truth.
Wild camping has massively transformed the time we spend outside and made the whole experience a lot more adventurous and rich. It's made trips more nature-focused and taught us so much along the way. There are tons of reasons to go wild camping so here's just 16 and some of the joys that come with it.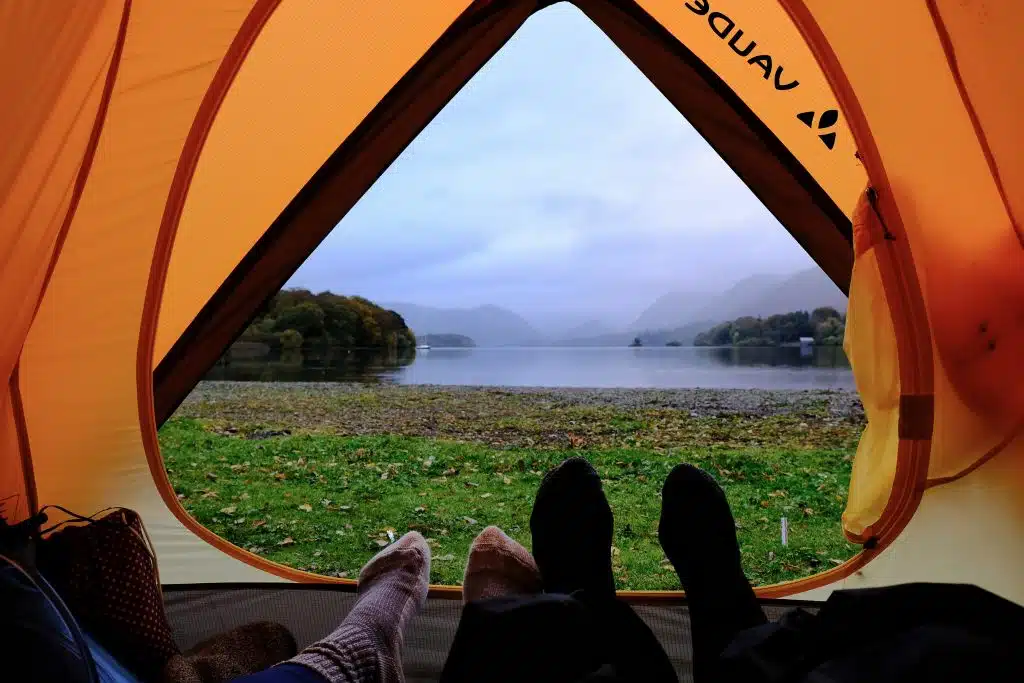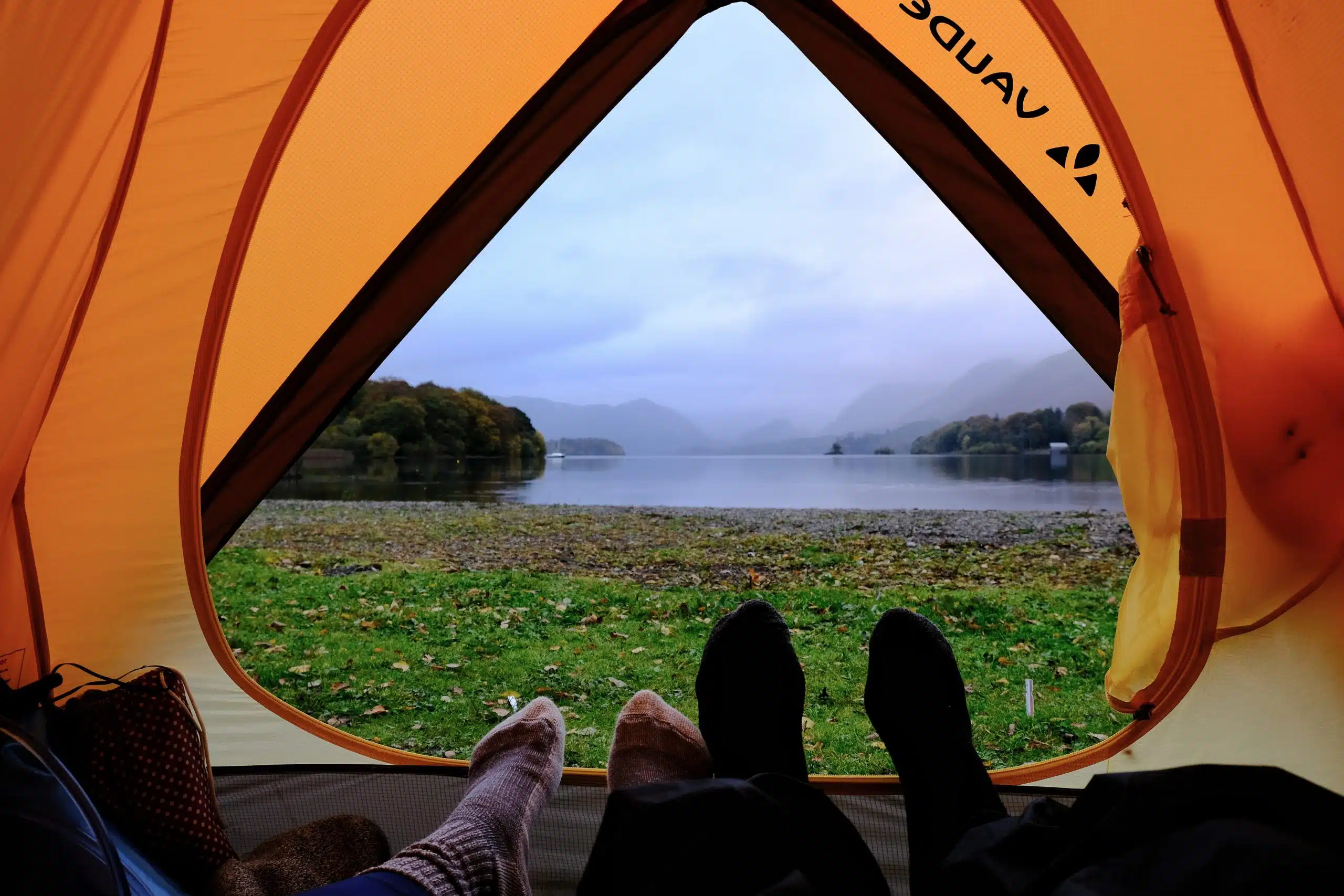 16 Reasons to Go Wild Camping and the Joys That Come From Spending a Night Outside
1. You Get To Spend Time in Incredible Surroundings
You can lay your head almost anywhere your heart desires when you're not limited to just pitching up at campsites. If you're respectful of places and practice Leave No Trace, you can camp nearly wherever you roam.
This was one of the reasons that really inspired us to start wild camping. Spending time hiking and cycling through some breath-taking places would be awesome but having to move on the find a campsite would feel like we were missing out.
Wild camping is the chance to hunker down away from civilisation, completely immersed in natural surroundings. You can camp on hills, in valleys, on the beach or by a lake. It's really up to you!
It's the chance to cook up dinner watching the sun set over the sea or enjoy your morning brew from your tent atop a mountain. Let your imagination run wild, just like the surroundings you're camped in.
2. It's the Chance to Disconnect From Life's Stresses
In today's world, it's never been harder to switch off. We all carry around tiny computers that are constantly pinging with emails, to-do lists and news updates. We live in a fast-paced world where there's constant pressure to consume and information bombarding our senses.
Wild camping is the chance to escape all of that. Technology becomes less important and your priorities shift completely. You'll be captivated by your surroundings and the only decision you need to make is what to have for dinner.
Depending on where you camp, you may not even have any phone signal. Making it the ultimate way to disconnect and just focus on the adventure at hand.
3. You Get To See the Night' Sky With No Light Pollution
Nowadays living in cities and towns, it's rare we get to see the real beauty of the night's sky. Wild camping away from buildings and street lamps is a chance to see into outer space, a sight we usually miss
We've been lucky enough to witness meteor showers and see supermoons light up a landscape when wild camping.
4. Camping in the Wild is the Chance to Learn New Skills
If a life in the outdoors is still new to you, wild camping is a great way to develop your skills. Getting stuck in whilst on a trip is the best way to learn and gain experience in nature.
You'll develop knowledge on what to look out for when picking a wild camping spot to get the most out of your trip. You may develop your camp stove cooking and skills in lighting a fire. There's so much to learn when the world is your playground. And, if you don't know it all right away, that's okay.
The best way to pick something up is to try it for yourself. If you pick a bad spot to camp, you'll be sure not to make that mistake again.
---
Looking for more adventure ideas and tips in your life? Sign up for our newsletter to get our latest articles and updates
---
5. Wild Camping is Good for Your Physical and Mental Health
Studies have shown that spending time in nature can benefit your physical and mental health in so many ways.
Getting outside and moving your body will improve your fitness levels and immune system. You'll improve your strength, cardiovascular system and flexibility just by moving about in the outdoors. It's also the chance to get a good dose of Vitamin D.
Time in nature has also been found to have a positive impact on people's mental health. It can make you more productive, decrease levels of depression and anxiety, as well as make you feel happier.
A night or several spent sleeping outside can help to keep you fit and happy. So grab that tent and head for the hills.
6. Take Care of Business in Beautiful Settings
One of the best things about going wild camping is the chance to pee and poop as nature intended.
Unlike when hiking, when anyone could spot you squatting off the trail, wild camping is the chance to really get into a landscape. You're far away from prying eyes and potential onlookers. It's the chance to drop your kegs and take care of business, all whilst admiring the natural surroundings you find yourself in.
Just remember to take any toilet paper away with you and dispose of it properly.
7. Wild Camping is Cheap
There's a bit of a myth surrounding wild camping that you need to have the skills of Bear Grylls and the camping gear to rival an arctic expedition. This isn't the case.
Sure lots of hight-tec gear is great but it's not essential to spend a night outside. All you really need is a shelter, such as a tent, hammock, bivy or tarp. Then a sleeping bag and maybe a pad. That's it. From this base, if you want to cook you can bring a stove and other creature comforts but you really don't need much to get started.
Wild camping is also a cheaper alternative to camping. Over the past two years, campsite prices in the UK have skyrocketed as it's become more popular. Wild camping is the cheaper alternative with a more natural toilet and is less crowded, sounds idyllic to me.
8. It's the Chance to Spend Quality Time With the People You Love
Switching off from the hustle and bustle of life is the chance to spend quality time with your adventure chums. You and your partner can completely immerse yourself in your surroundings, tell jokes, share stories and enjoy each other's company with no interruptions.
Without the distraction of modern life and phones beeping every five minutes, you can have quality conversations and soak up the joys of wild camping.
9. Camping in the Wild the Chance to Be at One With Nature
Sleeping outside in the wild is the best way to connect with the natural world. It's the chance to really absorb the places you're camping in.
You get to witness the day turn to night, then hunker down with the sounds of the bugs outside your tent. Then watch the sunrise and feel it warming your skin as it moves higher in the sky. It's the chance to smell wet trees as it rains and feel invigorated by a chilly morning dip.
Not much compares to it and it really puts the world into perspective.
10. Food Tates Better When Eaten Outside
Camping in nature means you get to eat breakfast, lunch and dinner outside, which makes food taste a whole better!
Rising from your tent and sipping your morning coffee with a view of the valley below is one of the best reasons to go wild camping. It's an awesome way to start the day and feel invigorated for a day of adventuring. Similarly, hunkering down with a warming bowl of curry around the camp stove and sharing stories of the day is such a bonding moment.
Food cooked on the fire tastes better and it's a great way to get your whole camping crew involved in creating a delicious camping feast.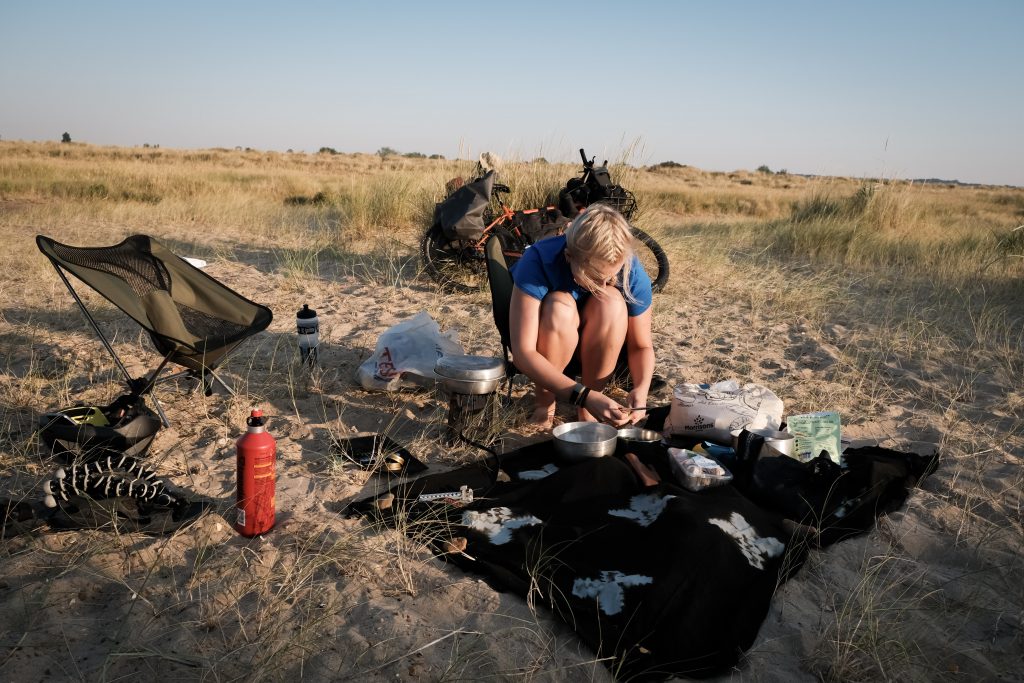 11. Going Wild Camping Is a Great Way to Reset Your Body Clock
Found yourself in a bit of an unhealthy sleep pattern, wild camping is a great way to reset your body clock.
Whatever you get up to in the outdoors it can be tiring, so come nightfall, you'll find yourself yearning for a bit of shut-eye. Spending the day outside will mean that you'll naturally begin to feel tired as night encroaches. Then come morning, you'll find yourself waking up as the sun hits your tent.
After a few nights on a wild camping trip, you may find yourself rising and falling with the sun. It's a great way to reset that sleep cycle and get the rest you need.
12. You Get to Meet Some Cool People
If you're wild camping and travelling through a landscape, chances are you're going to find other like-minded people who are into the same activities as you.
If forking out for overpriced drinks in a sweaty club isn't your thing. But camping under the stars and morning swims is, then by doing what you love, you're more like to find your tribe with the same likes.
---
---
13. It Gives You an Appreciation for Nature
Spending time wild camping give you a huge sense of appreciation for the natural world. You realise the delicate balance of our ecosystem and all that depends on it.
You get to spend time around trees older than some countries and sleep in valleys carved by glaciers thousands of years ago. It can make you feel really small taking into account how mighty mamma nature is and all that depends on a healthy planet.
14. Develop You Bond and Relationship with Your Adventure Chum
Wild camping is a good way to REALLY get to know someone. There may be hardships on your trip and working through those issues can tell you a lot about how you and your partner work together.
It's a great way to bond, making happy moments and experience funny encounters together. There's bound to be a mixture of positive and negative events that could bring you closer to your camping partner and make the whole experience one to remember.
15. Anyone Can Wild Camp
As I mentioned before, you need very little to get started. As long as you have a shelter and a sleeping bag, you can head off for a camp tonight.
Wild camping isn't just for those who can start a fire with their bare hand or erect a shelter from a piece of wood. It doesn't have to be a mammoth adventure but rather a night outside up your local hill.
Start small and build up to bigger, bader adventures. My advice is just to get out there and give it a go. They'll always be reasons why you shouldn't but once you've done it once, you may find yourself hooked.
16. Wild Camping Makes You Appreciate What's Truly Important in Life
All that time spent in the outdoors switched off from day-to-day life makes you realise what's really important to you. When your focus for the day shifts to just what you need to stay alive such as food, water and where you'll pitch, you discover how little you can live without.
All those splurges society tells us that we need become irrelevant. What's important is what's in front of you and the quality of life you're getting from just being outside. You may discover how little you can live without, which may surprise you.