Our Ride for the Wild Q&A where we answer your questions about cycling 2,00 miles to all 15 UK National Parks
---
Back in September 2021, we set off on a 2,000-mile trip attempting to cycle to all 15 UK National Parks, in one continuous loop, unassisted. We named the trip, Ride for the Wild.
It was an epic adventure and one that raised a lot of questions about the logistics, hardships and highlights. We decided the best way to answer your questions and give an insight into the behind the scenes of our trip, we'd compile a Q&A video.
You can watch the full video by clicking the link or keep scrolling to read your questions and our answers!
Ride for the Wild Q&A: Answering Your Questions
Q.1 What inspired the trip?
Well, before the Coronavirus hit we were cycling from the UK to India. We made it about 1,000 miles in and were in the French Alps. However, when the virus hit we had to come back to the UK.
We've travelled loads between us around the world but realised when coming back to the UK we'd not seen much at all of our home countries. In fact, less than half of the UK National Parks.
So, we decided to change that and thought we'd incorporate an awesome way to raise money for charity whilst doing it. That's when we plotted this continuous loop to try al get to all 15 of the UK National Parks, whilst raising money for Trees for Life.
We also wanted too also highlight the beauty on our doorstep that can often be overlooked. We thought if we could overlook it, maybe others do too.
And, we wanted to highlight how easy these places are to access. Okay, you might not do a continuous 2,000-mile loop to them all. But, in a lot of places you've got about three national parks in a 40-mile radius. You can cycle to them.
It's not just the national parks, there are Areas of Oustanding Natural Beauty and some pretty awesome bits in between. And who knows maybe even inspire some adventures at home.
Q.2 How did you plan your route and navigate?
Definitely a question for J as he's the navigation guy.
The route planning was quite hard. It took quite a long time and we had many different drafts of routes. We knew we could only get 30 days off work and with a vague potting we worked out it would be about 2,000-miles.
We're not pro cyclists at all so we knew that was the maximum we could do. We wanted to take a direct route as much as possible, whilst tying in all the national parks.
We also wanted to avoid any crazily busy roads, which is hard to know if you've not cycled those parts before. Some A roads are okay, some A roads really aren't, some B roads are also not good as well.
We wanted to make it as direct as possible, avoiding mountainous areas (just for this trip) if we could. Also, we tried to stay on tarmac, because as soon as you're off-road, it becomes harder. As fun as it is, it's definitely harder.
We looked at paper maps to get a rough idea, then mapped out the route on Ride with GPS. I mapped the route on the desktop version and then downloaded it onto my phone. That way the GPX file is on your phone, which I mounted on the handlebars.
Check out our article on Ride for the Wuld Trip Deatils: 30 days, 2,000 miles, 15 UK National Parks and Zero Emissions for all the nitty gritty of the trip
Q.3 How did you decide where to camp?
Well because time was of the essence, it was really just whatever was the most convenient. Sometimes we'd wild camp, sometimes pitch in campsites. It really just depended on where we ended up at the end of the day.
We knew roughly every day we'd cycle 60-miles, so a few miles before the end of the day we'd see if there was a campsite in the area or somewhere we could camp easily. It really was just about convenience rather than finding the perfect place.
Nothing was planned before, as we thought it could always change. We could've plotted every place to camp but we decided against that idea. We thought some days we may cycle further and we didn't want to be hindered by the camp spot. Plus some days we may not hit that distance. So we just decided to wing it and it worked!
Sometimes we had some nice campsites, sometimes some terrible ones. Sometimes we had the most incredible wild camping spots and sometimes we had some horrendous ones. That was the nature of the trip and we sort of expected it to go that way.
---
Want to get updates on our adventures and outdoor resources straight to your inbox, sign up for our newsletter to be the first to get our latest content
---
Q.4 Did you have any moments you wanted to quit?
Sarah: There were never moments I wanted to quit. There were moments I thought, this isn't going to work, we're not going to be able to do this. Especially when I got my injury and we had to take days out to go to the hospital and the pain was excruciating.
But I never wanted to quit, I wanted to continue. If we didn't have the time restrictions, I would've liked to have some time out and continued. It was tough and hard but never moments when I wanted to stop.
Josh: It was really tough and… *Spoiler alter* it took over 40 days to finish it and doing it for such a long time was very draining. There weren't any huge points of despair. It was long, drawn-out and gruelling.
Like Sarah, there were never points that I wanted to quit. But there was a definite moment of why am I doing this?!
It was the section I cycled on my own through Wales, it completely destroyed me. It was the hardest part of the trip and I was almost fainting on the side of the road. I camped in the middle of nowhere, having done four gruelling days back to back. There was such heavy and bad weather and I just felt destroyed. Like a shell of a person just questioning, why am I doing this?
Not the trip but the speed at which I was doing it. Questioning why am I doing this so fat. But no points wanting to quit.
Instead just WHY?!?!
Q.5 Did you find being vegan held you back at all?
I would say no, not at all. Especially in the UK, it's very easy to find vegan food. In some places, it's easier than in others because convenience was a big factor when it came to getting food.
It had to be nutritious, quick-cooking, lightweight, small and calorie-dense.
I think the Ride for the Wild video didn't pick this up much, but almost every single meal we cook ourselves. Having cycle toured and backpacked for years, you get to know the sorts of foods that work.
The foods that are good for cooking on a camp stove, provide energy and foods that pack well.
Our method was to buy the food for the day at the beginning of the day. We'd have lunch which would be something bread-based with jam and peanut butter, nuts, seeds, fruit and malt loaf.
Then dinner would be made on the camp stove: a sauce, a carb, a protein and veg. From here we'd know which things would work better, for example, pasta takes ages to cook so we'd opt for couscous instead.
Breakfast was always porridge which would be calorie-dense packed with seeds, dried fruit, powders and peanut butter.
Doing it over such a long period of time, you do need to be eating quite good food. On a weekend trip, you can just smash it on junk food to keep your calorie count up. But for us, over a month, we found we needed to eat decent food. It's your fuel after all, so you need to feel good about what you're eating!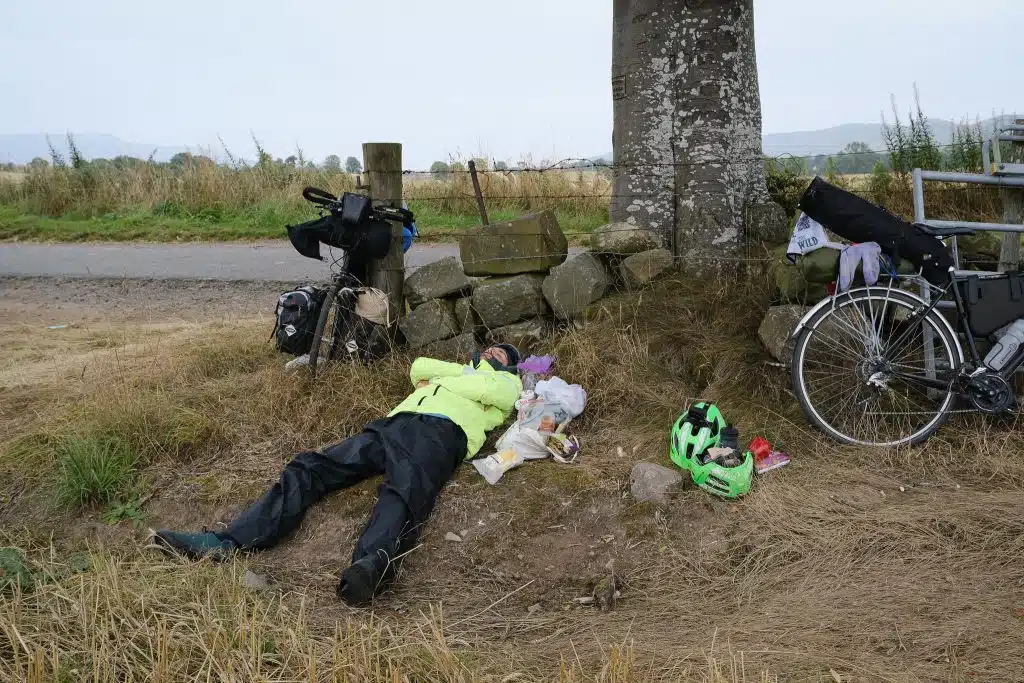 Q.6 How did you fund the trip and your adventurous lifestyle?
It's all funded by us and the trip really wasn't that expensive at all. Particularly if you're wild camping and we spent very little a day on food. So it wasn't that expensive as a trip.
We both worked a hell of a lot beforehand to save up for it. Plus, having the website means we were able to schedule work beforehand so we could effectively still be releasing work, whilst we were on the trip. Which is one of the ways we fund our adventurous lifestyle as well.
We also had some trip sponsors who didn't give us money but gear towards the trip. We ambassador for Vango who gave us most of our sleeping gear. Cotswold Outdoors gave us our green helmets. Also, Pedalcell gave us our rim dynamo which meant we were able to power our electronics and mapping device.
It was just a lot of planning to ensure it was a cheap trip.
Then we just had to work our butts off when we got back. I think the key is, that all the things we do are very low expense. Everything is pretty much human-powered. We only have to pay for trains every now and again.
Over the years we've built up all our outdoor equipment. Once you have a good tent, it should last you years, so then you don't need to buy a new one, the same with any gear. Maintaining it all properly means it'll live even longer and be cheaper in the long run.
Most importantly that's our main priority. We cook a lot at home and then spend money on outdoor gear. There are main outgoings. We also like pints but not a lavish pint, just a nice pint at the end of a long cycle.
The key is that we make the outdoors a priority. If you're gonna spend money, spend it on a bike and beer.
Q.7 Any tips for someone wanting to do a first-time bike tour?
So many but the first is to prioritise your bike and your sleeping set-up. As long as you're going in okay conditions, you want to make sure your bike is okay to cycle on.
Your bike is key because if you're on a tour, you're going to be spending most of your time in the saddle. That means it definitely needs to be comfortable.
Check out our Bike Packing Gear List for Our 2,000-Mile Challenge Ride we took on the trip for some inspiration
Don't try and do too much too soon. Even if you do a lot of road cycling, touring is very different. Especially when you're loaded up, getting on and off the bike. So for your first trip keep it enjoyable. A comfortable distance at a comfortable pace.
That way you can take in what you're experiencing. If you're smashing the miles you won't be able to soak up the experience as much.
It's key to accept that things are probably going to go wrong. Some elements will so it's important to not take it too badly when or if it does. Realistically your first few tours are going to be a learning curve.
Also, I'd recommend going in slightly warmer temperatures so you can enjoy it more at first. Cold trips are harsher and a bit more of an experience. Whereas in the warm it makes the whole trip a lot easier and enjoyable.
We have loads of tips and resources on the website. Plus, we love answering any questions or helping in any way we can so reach out to us if you have any questions.
---
---
Q.8 Was it difficult living in a tent together and did you argue?
On the whole, we argue very little and potentially we argue even less on outdoor trips. With these sorts of trips, they're hard, you rely on each other we've also been doing them for years together. You come to realise that you have to work together. If you're shouting or getting short with each other, it doesn't help anything.
That's not to say things don't get tense and difficult. Sometimes there may be an obstacle and you may find yourself being frustrated with the obstacle that has arisen. You come to learn that arguing with your partner isn't going to help that situation. It's coming together and thinking, okay how do we tackle this as a team? As that'll make it a lot easier to overcome than if you get annoyed.
I think the lifestyle that we have has taught us that working together means these issues are overcome quicker and more easily.
So, fortunately, not much arguing at all. If there was, we probably wouldn't do as many trips. The tent is quite a confined space, so it's quite difficult to have time apart. You can't really send one person to the naughty corner.
Q.9 What were the top three moments of the trip?
So that's one each and then a joint one.
Sarah: Well I don't know if this counts as a moment but I guess spending such a prolonged period outside. I really enjoyed just moving through the landscapes and being outside the whole time. Camping, cooking outside, rising and falling with the sun, meeting people and encountering wildlife.
It makes you so much more in tune with your surroundings. It makes life a lot simpler as well but in a beautiful way. It gave us such natural energy.
Josh: For me, it was the last national park, the Peak District, from where I had only 100-miles to go.
After training for the challenge for well over 6 months and it being the place that I really fell in love with the outdoors it was pretty special. Finishing there, at the end of a massive climb up Ringalow Road, on this beautiful day, meant so much.
I was overcome with euphoria and emotions. I was so excited to see this lump of stone on the side of the road marking the national park I kissed it. These drivers going past must've thought wow he's been let out of the looney bin for the day.
The part that both of us really enjoyed the most was Snowdonia National Park and all of North Wales. Which is interesting because that's also where everything started to go wrong. Injuries, problems with gear and the rain came in force after 2 weeks of clear skies. The hills were really gruelling, so it was difficult.
It was the landscape that stole our hearts. It is so immense and so beautiful. Plus the people are some of the warmest, loveliest people we met on the trip. It felt like you were meeting relatives, all these communities were just so welcoming.
Lynn, Ian and Paul, you welcomed us in, got us drunk first and let us sleep in your garden, you guys were incredible. There were also loads of other experiences like that in Wales. We are eternally grateful for all your hospitality.
If anyone wants a bike packing location, then Wales is the place. I'd say stick to off-road things because the drivers are a bit crazy. But Wales, you are a special, special place.
Q.10 Do you have any big challenges or trips planned for the future?
Yes! I hope all our lives are crammed with challenges and trips.
In the immediate future, we have just finished the Pennine Bridleway, which is the longest continuous off-road route in the UK. There's so much stuff I could tell you about it. It was unbelievable. I'm just putting together a video of it all now, so you will be able to see everything in the next few weeks hopefully.
Off the back of that, the next big trip is that we're going to continue cycling east towards India. You can't see in this video but we are currently surrounded by packing boxes, as we got asked to leave our house by the landlord. That means we're moving out, back to our hometown for a month, selling everything we have and then heading off on a trip to cycle around the world.
Before we go…
One thing that has been amazing since we released the video for Ride for the Wild, is that the donations to Trees for Life are going up again. They're an incredibly worthwhile charity doing so much wonderful work in the highlands. Including reintroducing biodiversity, community integration, really just doing incredible stuff.
The fundraising page is still open so if you would like to donate and you can that would be fantastic!
And, a huge thank you to everyone for your support, before during and after. It's been amazing to have that support, it makes it feel so worthwhile. Some people have been saying it's inspired trips of their own as well, which is one of the most important things and makes us feel so happy.
This is the first video of many to come so if you enjoyed it and want to stay in the loop with our cycles and adventures then subscribe to see all the next videos.
Unfortunately, we can't make this video hours long so if you have any further questions, drop us a comment or an email and we'd be happy to answer what we can.
Happy riding guys!