Some details and progress for our coming charity cycling challenge!
---
Man, September seems to be creeping up on us horrifyingly quickly.
Since we first announced our Ride for the Wild challenge, we've had plenty more time to train, plan and prepare. So now I thought it would be cool to do an update with trip details, rather than just saying "we're going to cycle 2,000 miles to every UK national park in 30 days".
Firstly, because I think it'll be a nice way to document this crazy ordeal. Secondly, because it could be helpful to other folks planning outdoor challenges or trips. And thirdly, by putting this all in writing, I'm hoping it could also help me think of any crucial things we might be forgetting…
So here we go! Make sure to drop us a comment or message if you've got any Q's or want some more info.
This article may contain affiliate links, they will never cost you more money but helps Veggie Vagabonds keep making content like this – thank you!
1. What exactly are we doing?
In September Sarah and I will be attempting to cycle 2,000 miles to all 15 UK national parks in 30 days. It'll be done unaided, emission-free and we'll be camping along the way.
We're hoping it can help raise awareness of our wild and natural lands in the UK and also raise money for a brilliant rewilding charity, Trees for Life, who are doing absolutely incredible stuff in the Scottish Highlands.
You can check out our fundraising campaign or this post for more info on the inspiration behind the ride.
2. Our Route
I guess this is one of the most important aspects of the trip. And, whilst it is pretty vital, it's also not something we've completely confirmed, besides the general order of the parks and the direction of the ride.
We've decided to do it this way round (image below), primarily to try and get the best conditions. The 30-day challenge will begin in September and we'll be riding till the end of the month. This means that we could get a nice late summer with warm conditions but it could also get pretty cold.
Northern Scotland is where we're likely to experience the harshest weather and so it seems safest to complete this section as early as possible.
We considered starting by going into the Peaks, then Wales, the South and then finishing in Scotland, but the Highlands can be FREEZING come October. The warmer the conditions, the less gear we have to take and the lighter our load.
In terms of routing, we've done the initial planning on Ride With GPS. Whilst I think it has pretty good navigating tools, it definitely doesn't plot the most direct journey. Riding 65+ miles a day is going to be at the cusp of our ability so the route needs to be as direct as possible. At the same time, we want to experience nature's finest and don't fancy feeling intimidated by loony cars the whole time. Gotta find a balance!
We're also in two minds about how specifically to research the route. Do we go with the flow, following the route and camping/shopping at places we find along the way? Or do we plot the places along our journey?
In some ways, being more regimented can be a headache, particularly if it means pushing harder than your body is willing to give. But, it can also majorly suck when you can't find food or camping spots… another thing to decide in the next month!
3. The terrain and elevation
As fun as off-road cycling is, we're trying our damn hardest to make sure we stick to tarmac. There's no way we'll make 65 miles a day if a big proportion is on mixed terrain. Our bikes won't cut it, or our bodies. So tarmac it is. However, this is another element that will require lots of careful planning to get it right over thousands of miles.
In terms of altitude, we'll be cycling through some of the hilliest parts of the UK. North Wales, the Cairngorms, the Lakes, the Dales, the Pennines… jeez. It's making my legs ache just thinking about it.
We'll also be cycling across London, the South and the Fens, which are obscenely flat.
The average across the 30 days is 3,200ft altitude gained a day. Which, considering the fens are almost perfectly flat, means that some days are going to be agonisingly steep.
In our training over the last months, inadvertently we've ended up on some of North England's most brutal ascents… as good training as it is, for the challenge we'll aim to avoid any notorious climbs and add on a few miles diversion.
On the flatter side, towards the end of the trip, we'll be cycling through the tabletop fenlands and can make up any lost time there.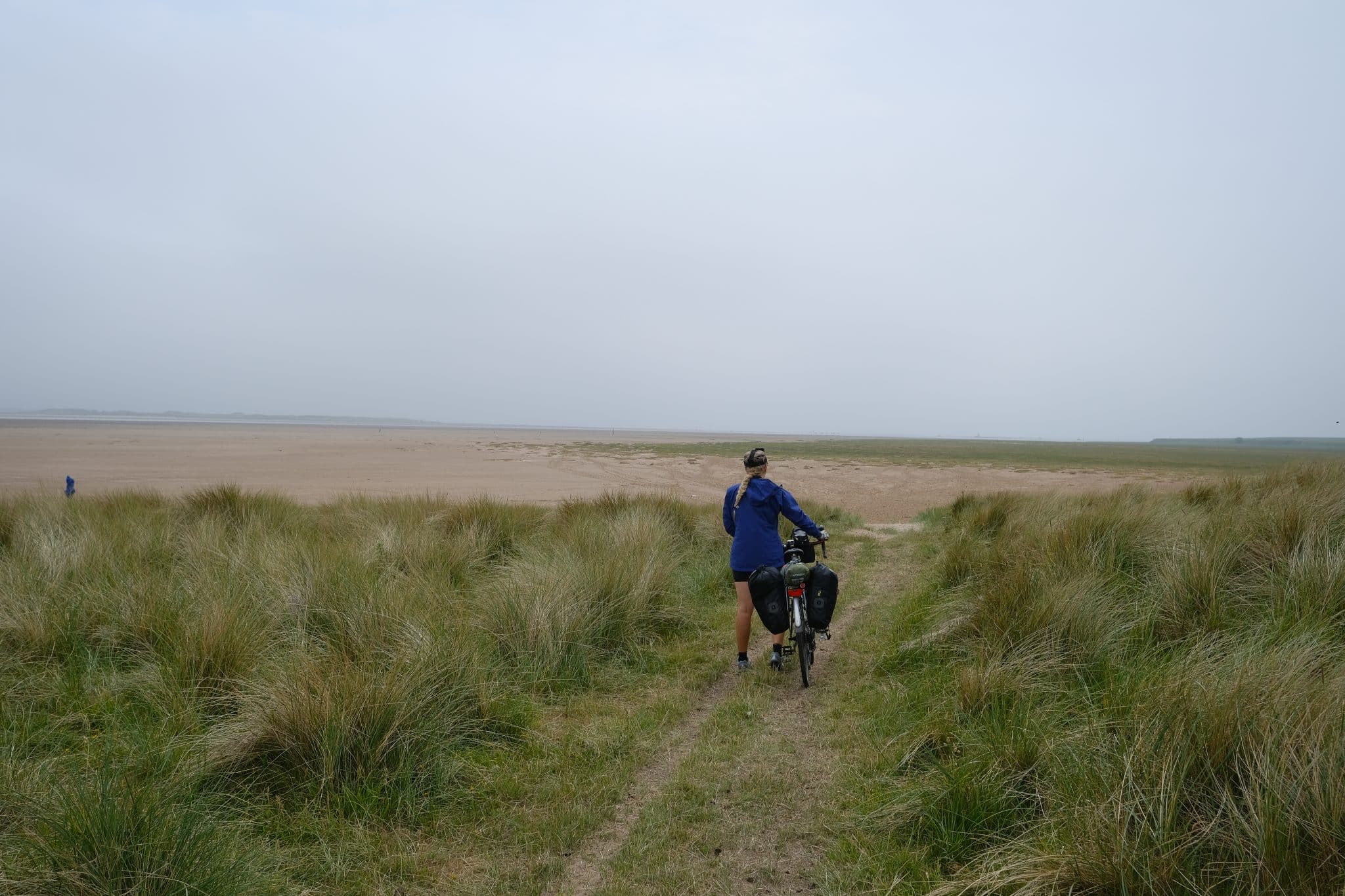 4. Timing and distances
In order to complete the ride in 30 days, we'll need to cycle about 65 miles a day. Though, we're still in two minds whether to try and cycle a longer distance each day to give us time for a day off in the middle.
Over the summer we've been trying to work on a steady pace, covering 15 miles every two hours. In flatter regions this will be more, but 15 miles is the baseline we'd need to cycle.
This means we can peddle for 2 hours and have a break, another 2-hour cycle, have lunch, 2-hour cycle, another break and then slowly finish the remainder for the day. In September, sunset is 7.30 pm roughly and we'll do our best not to cycle in darkness.
From training over the summer, it's clear the best approach is not to ride 'hard' but to cycle a consistently fast-ish pace that's comfortable for the day, going super easy on hills and making up time on flats.
There was the idea to set a distance to cover each day depending on the elevation, but I think it would be better to just listen to our bodies and cycle whatever, between 60 and 70 miles, feels right. Our training should make sure that the 'comfortable' distance is roughly 60 miles in the hills and 70 miles flat.
5. Navigating
Up until this point we've been using Ride With GPS on our phone, but it's seeming less likely this will happen for the trip. It's great for shorter day rides but it's very battery-depleting and has a habit of making my phone overheat.
So, we're currently testing out different mobile GPS options that are compatible with GPX files. We're also considering a bike computer. The latter would be the best option but it comes at a price. So, if any bike computer manufacturers are reading this and fancy sponsoring our ride, we'd be mighty grateful!
6. Bikes and setup
This is another aspect which has caused us quite a few headaches. And, at the time of writing this, both our bikes are waiting to be repaired/modified.
For the ride, we need to ride fast, carrying gear and with the most comfort. That's definitely a spectrum and you've gotta decided which side you'd prefer swing to.
In the end, and with finances not on our side, we've stuck to our trusty touring bikes, fine-tuning them to run as smoothly as possible
Betty (my bike)
Surly Long Haul Trucker
26″ wheels with 1.5″ Schwalbe Marathon Plus tyres
Butterfly handlebars
3×9 Shimano Sora gearset with 11-36 cassette
My pannier setup
2x 10l carradice panniers on the rear rack
1x back rack bag
8l frame bag
10l handlebar bag w. camera holder
Small tool bag
Pedalcell rim dynamo
Roger (Sarah's bike)
Ridgeback World Voyage
700c wheels with 1.25″ Schwalbe Marathon Plus tyres
Drop handlebars
3×8 Shimano Deore gearset (though this is getting changed out)
Sarah's pannier setup (will be adjusting!)
2x 20l panniers on rear rack
handlebar bag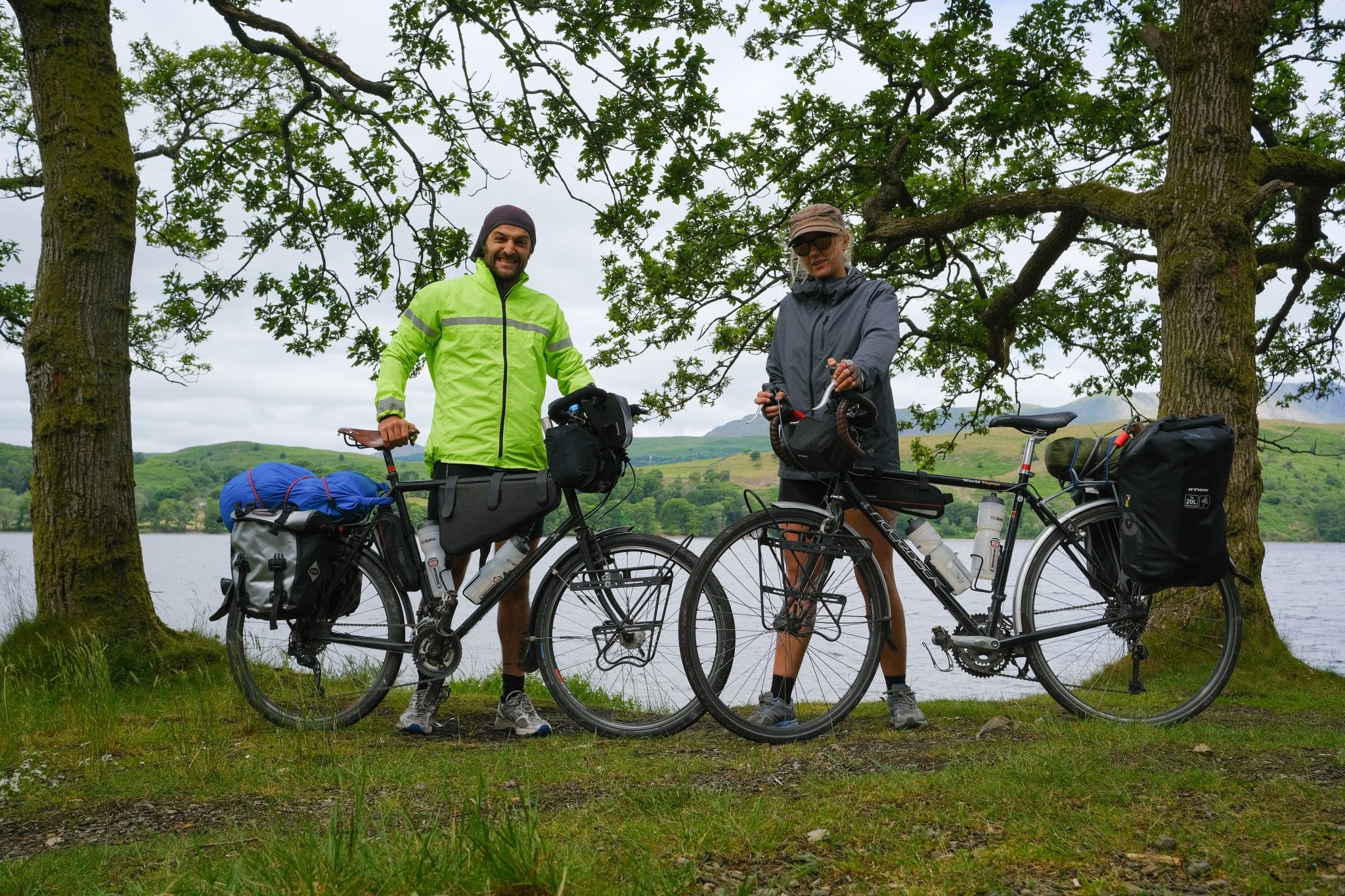 7. Gear and packing list
This is one of the aspects we're most content with (I hope that doesn't jinx it…).
We'll be travelling as light as possible but also have to prepare for all likely eventualities with the weather.
Our rough packing list is detailed as follows.
Clothing
2x socks
1x cycle trousers
1x cycle shorts
1x lightweight shorts
1x waterproof trousers
1x thermal trousers
2x cycle jerseys
1x midlayer sports top
1x waterproof cycle waterproof jacket
1x thermal top
1x fleece

Buff
Thermal buff
Beanie
Gloves
Waterproof gloves
Wateproof head gaiter
Waterproof overshoes
PJ top, bottoms and socks
Camping gear
Tent – Vango Xenon UL 2p (1.9kg)
Sleeping pad – Vango Aotrom sleeping pad (290g)
Sleeping bag – Vango Ultralite Pro 100 (800g)
Sleeping pillow – Trekology inflatable camping pillow (150g)
Cooking gear
Trangia 25-1 GB (900g)
Collapsible cup and bowl
Sporks
Gas
Tools and Extras
Survival bag (compass, flint sticks, lighter, foil blankets, whistle etc.)
Sawyer water filter + water purifying tablets
3L water bladder
Bike tools (allen key set, puncture repair kit, small wrench, adaptible screwdriver)
Spare inner tube
Bike pump
Zip cables
Bike lights
Microfibre towel
Endura Luminite helmet
Wallet
Facemask
Phone holder
Medical items, toothbrush etc.
Electronics
Fuji Xt-30 mirrorless camera
GoPro 9 Hero 9
24,000 mAh powerbank
Chargers
Memory cards
Tripod
We're super glad to be installing a Pedalcell rim dynamo which will keep all these guys charged.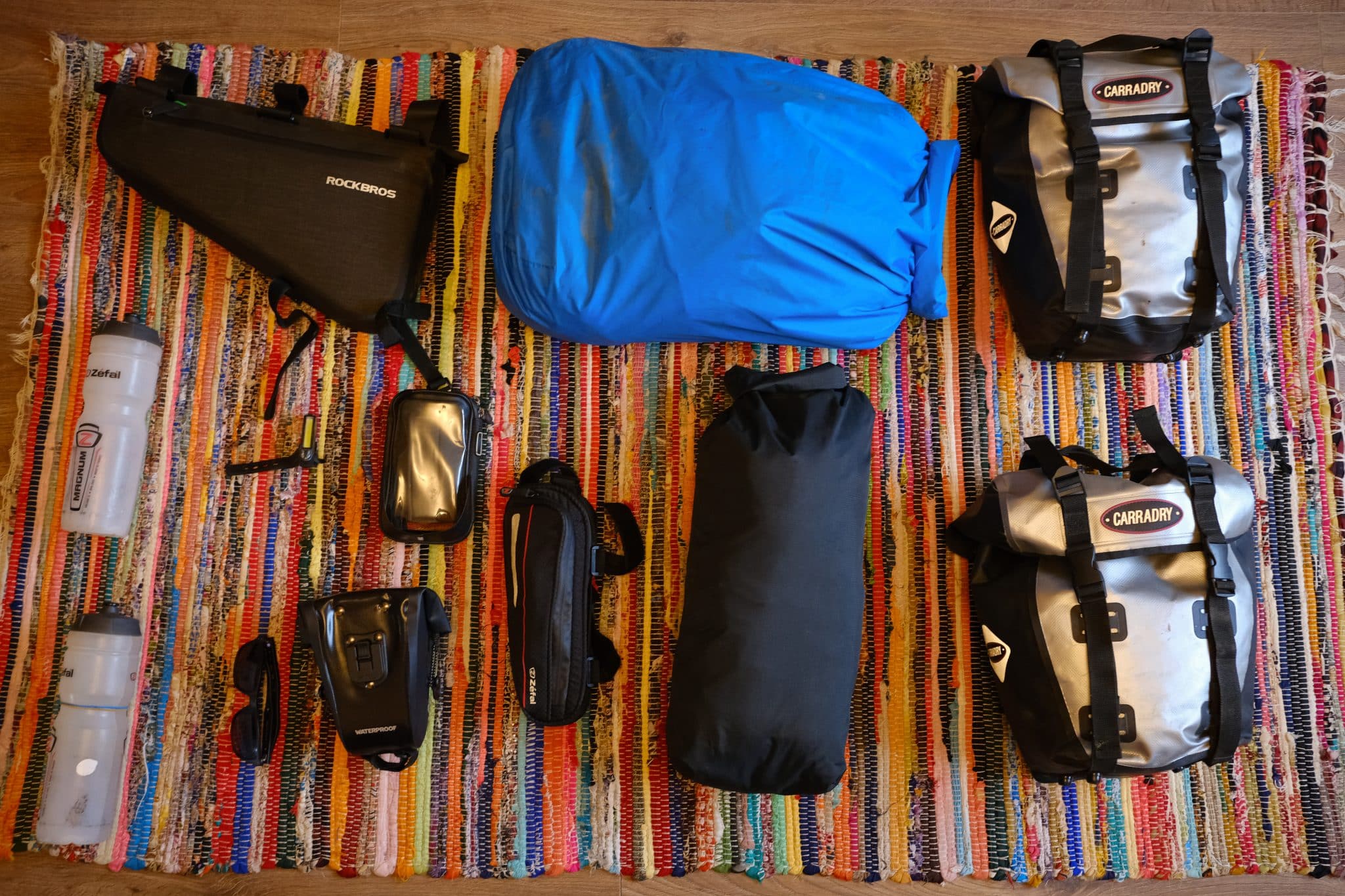 8. Food and water
Our favourite bit!
Very early on, we realised that completing this challenge and not being in an awful state afterwards would come down to the right nutrition.
Even on easy tours, our metabolism and appetites go through the roof. In September, we'll be burning 3/4,000 calories a day… without fueling properly we'll be tearing bits of each other off.
We took an 'anything goes' approach to food at the start, just focusing on getting loads of carbs and calories. However, as we eat pretty healthy normally, just scoffing vegan cookies and doughnuts had us feeling gross after multiple days.
So, we've tried to whittle it down to include as many calories and carbs as possible but still with a decent amount of fresh food, fruit and veg.
To do this, it's been best to pick up the day's food at the first shop available on the route. Though we carry heavier weight for the day, it's been easier than navigate off course, particularly when we're hangry later on.
This way, we know we've got the right grub for the day and can also pick up lots of reduced fresh food to gobble up.
When riding we aim to eat every 2 hours, normally something like this:
Breakfast – power porridge (oats, seeds, raisins, protein powder, peanut butter)
Snack 1 – peanut butter and jam on Soreen or wholemeal rolls, dried fruit, fruit, nuts, energy bars
Lunch – a bigger snack with more carbs/rolls/wraps filled with pulses, fruits, nuts and seeds
Snack 2 – same as snack 1
Evening munch – varies most evenings but usually containing a can of pulses, couscous and sauce with vegetables or anything we found reduced on our morning shop
All foods are plant-based, simple to pick up along the way, easily stored and as sustainable as possible. Cutting down plastic waste is proving hard and we're still testing out options that create less waste.
On top of this, we also have some backup energy gels, meal replacement protein powder and are partial to the odd portion of chips too.
We'll be publishing a whole article on vegan cycle touring food next week to share lots more tips!
Keeping hydrated
With COVID, this has actually been a ball ache.
We both take 2x 1-litre water bottles and a 3-litre water bladder each. But finding places to fill up has been hard, particularly going through rural areas.
As we're wild camping most of the time, it gets to the evening when a lot of places are closed but we need lots of water for dinner/breakfast/hydration. Lots of public toilets are shut and people, generally, have seemed less willing to help because of hygiene (which we understand).
It's involved lots of door knocking and many coffee shops who will give us a glass of water but won't want to fill our bottles/bladder.
Though the water filter is useful on backpacking trips, for the most part, we don't cycle by many streams that we could easily access.
To find out how we get along on this crazy ride, be sure to sign up for our mailing list below!
9. Camping
For the duration of the trip we'll be camping and wild camping (though, if we meet any welcoming cycle hosts en route, we won't say no 😉
Alongside finding food and water, this is honestly one of the most difficult/tiring aspects of the trip.
We seem to have a habit of spending the day cycling through lovely areas, then, when it comes to evening, we hit the urban sprawl and camping spots disappear. After a tough day, when you're hungry and shattered, this seems to take the most out of us, mentally and physically.
Our tactic is to just go for the easiest option when we've finished riding. If there's a convenient campsite then great. If it's easier to wild camp then we'll wild camp. Though, outside of popular outdoor areas, this has meant lots of dubious wild camping spots and less than good nights' sleeps.
We will aim to find a campsite every 4th or 5th night. This will allow us to wash our clothes in the bathroom, have a shower and just generally refresh. Something which will be pretty crucial over a 30-day trip.
In September however, finding open campsites might be hard going though…
Ideally, we'd go on lots of week or two-week training cycles… but that ain't possible for many obvious reasons.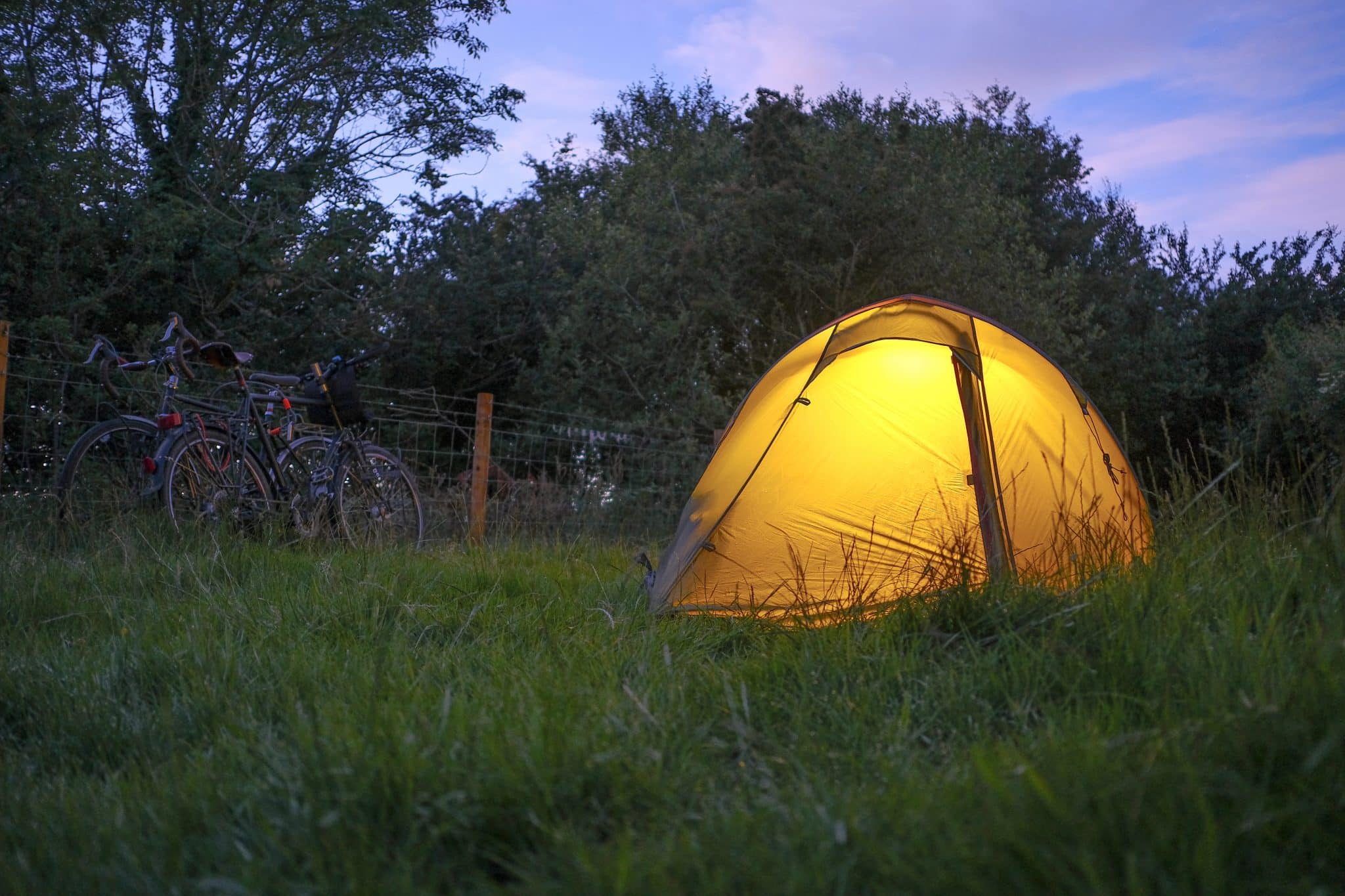 10. Training
Both Sarah and I are far from pro cyclists. This has meant that the right training and preparation is key to pulling the challenge out of the bag.
Instead, we've been doing shorter multi-day and one-day rides with a harder intensity. Living in North Yorkshire is ace as we can absolutely cream ourselves on some epic climbs and push ourselves to breaking point. Then, we keep active on the off-days to try an emulate longer stints back to back.
In honesty, it's bloody hard fitting it all in with work and not feeling like a zombie. Right now it's literally: eat, sleep, cycle, repeat.
The key is to get our muscles, joints, tendons and bones strong enough for 65 hilly miles to feel a breeze, for day after day in the saddle to feel comfortable and for our weighted bikes to feel no extra effort.
Physically, I think the riding is well within reach. The difficult aspect is combining that with logistical issues of doing it unsupported, needing to find food, water and places to get a good night's sleep.
11. Injuries
Both Sarah and I have niggly injuries.
I can get dodgy knees. Sarah gets voracious saddle sore.
But we've developed tekkers to stop them from happening.
And both of us are pretty strict with stretching each morning and evening to ward off any other cracks in the seams.
12. The weather
We are praying to the weather gods for a good September!
When we completed the UK Three Peaks Challenge by Bike, Storm Ali ripped through the UK. When we left to cycle to India, another storm smashed us for the first week too.
For this challenge, we need to cycle each day regardless of the weather, so any kind of storm or shitty weather will throw a mighty spanner in the works.
We're fine in heat. Snow is unlikely besides Northern Scotland. Rain is fine for maintaining pace, but it's pretty demoralising when it drags on. Soggy touring gear ain't fun, it makes food stops tricky and can also mean stretching is pretty hard.
But it's winds that could really slow us and grind us down physically.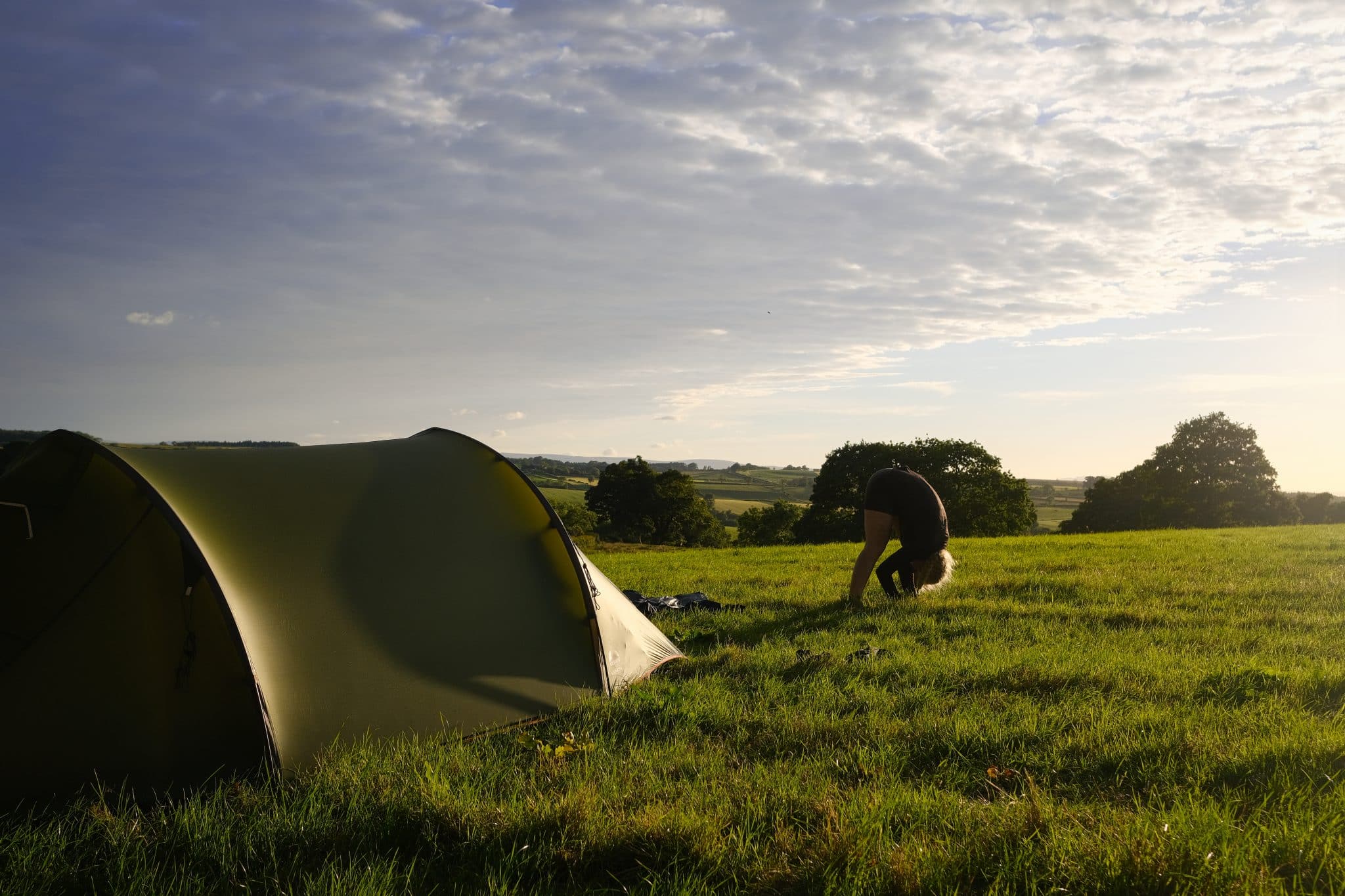 13. How hard is it going to be?
When we first announced the challenge, we thought it would be hard but accomplishable.
About 8 weeks ago, we had a few bad training rides and thought there was no hope in hell we could pull it off.
Then, recently, we got back from a tough 4-day cycle shortly followed by a 6-day cycle and feel that it's physically possible, but that it'll break us down mentally.
Cycling 65 miles a day will be physically demanding, but with the right training, it becomes easier. Our bodies are slowly getting strong enough for the battering and we're confident in the planned bikes/gear setup.
If we cycle at a good pace and get the right breaks, nutrition, stretching, sleep and have the right mental approach etc. the riding isn't feeling too daunting. In that respect, both Sarah and I can't wait to get on our bikes and ride around the UK!
Most of the difficulty is off the bike. Finding places to sleep, food and water.
At the end of a hard day's ride, you need these elements to be as easy as possible so you can cook a nutritious meal and get a good night's sleep to recover for the following days. But, all too often, we find ourselves cycling lots of additional miles in search of food and water, then ending up wild camping in dodgy places.
This aspect really runs you down. Physically and mentally.
When this happens for multiple days, it starts to make the actual cycling much harder. We'll have less mental and physical strength, will be more prone to injury and teamwork goes to pot.
It also makes it damn unenjoyable.
Hopefully we can iron out all of these issues over the next 45 days so they don't cause a problem come September.
14. Fundraising
We wanted to help raise awareness of the wild and natural places we all have around us. Because they're damn important. Not only are they vital for our survival as human beings, but they are also an absolutely mind-blowing source of wonder, adventure and inspiration.
The outdoors changed our lives so we want to give something back. It really would be a dark, depressing world if we don't work to protect the natural spaces that brighten souls and lift our spirits.
In the UK, 60% of our wildlife species are on the decline and any true wilderness has virtually ceased to exist. And why are trees so important? Woodlands are our most biodiverse habitats and one of our greatest fights against climate change, but, in the UK, we have fewer woodlands on average than virtually all other European countries.
Trees for Life are a rewilding charity doing brilliant work in the Scottish Highlands. Their tree replantation projects, biodiversity programs and wildlife reintroduction schemes are having such a positive impact and we'd like to give them all the help we can!
---
---
15. Sponsors
It's awesome to have got some sponsors for the ride. Though we're raising money for a charity, we wouldn't be able to afford the ride if it wasn't for these awesome teams helping us with gear and support – thanks guys!
Vango
We've been ambassadors for Vango since spring and honestly think their camping gear is the best value for money you'll find. It's making our ride a hell of a lot more comfortable!
Cotswold Outdoors
The awesome team at Cotswold Outdoors have given us two ace helmets to keep us safe on the ride. Huge thanks for keeping our noggins intact! They have a sweet outdoor range and are also constantly increasing their cycling department so definitely check it out.
Pedalcell
Pedalcell will literally be powering the trip, keeping our electronics alive so we can navigate, communicate and document the trip. In August we'll be receiving their rim dynamo and we can't wait to check it out.
Vegan Society
Whilst the Vegan Society isn't sponsoring the trip, I wanted to give a shout out anyway. As you might know, we're proudly plant-powered and the Vegan Society has been hugely helpful with our fundraising efforts, sharing lots of tips, advice and just generally being great. Thanks!
A few months later… the Ride for the Wild film is now out!
Wanna see how it all unfolded, all the twists, turns, highs and lows? Check out the video below or the Ride for the Wild post here.
Or you can check out the photo journals pt. 1 and pt. 2.
Drops us a comment at the bottom for more info, if you fancy sharing some advice or even just saying hello!