What's the best way of experiencing the natural wonders of the UK? Cycling to all the UK national parks seemed like a good idea!
---
In September 2021, Sarah and I set off on what would turn out to be one of the greatest adventures of our lives.
A 2,000-mile self-supported bike ride through England, Scotland and Wales to all the 15 UK national parks.
40 days of camping, surrounded by nature, rising and falling with the sun. It was muddy; it was smelly; it was exhausting. It was also the most sensationally inspiring thing we've ever done. Beautiful and brutal in equal measures, we like to say.
And besides just to embark on the ride of a lifetime, we wanted to help show the wonders of our natural landscapes, whilst raising money for a good cause. We're real chuffed to have raised more than £2,000 for Trees for Life (and the fundraising page is still open if you'd like to contribute!).
This is part two of our photo journey, carrying on from when we passed the 1,000-mile mark and crossed back from Wales into England. If you've not already, I'd definitely recommend checking out part one first, to give ya a bit more context.
And onto the adventure!
Ride for the Wild in Photos – Part Two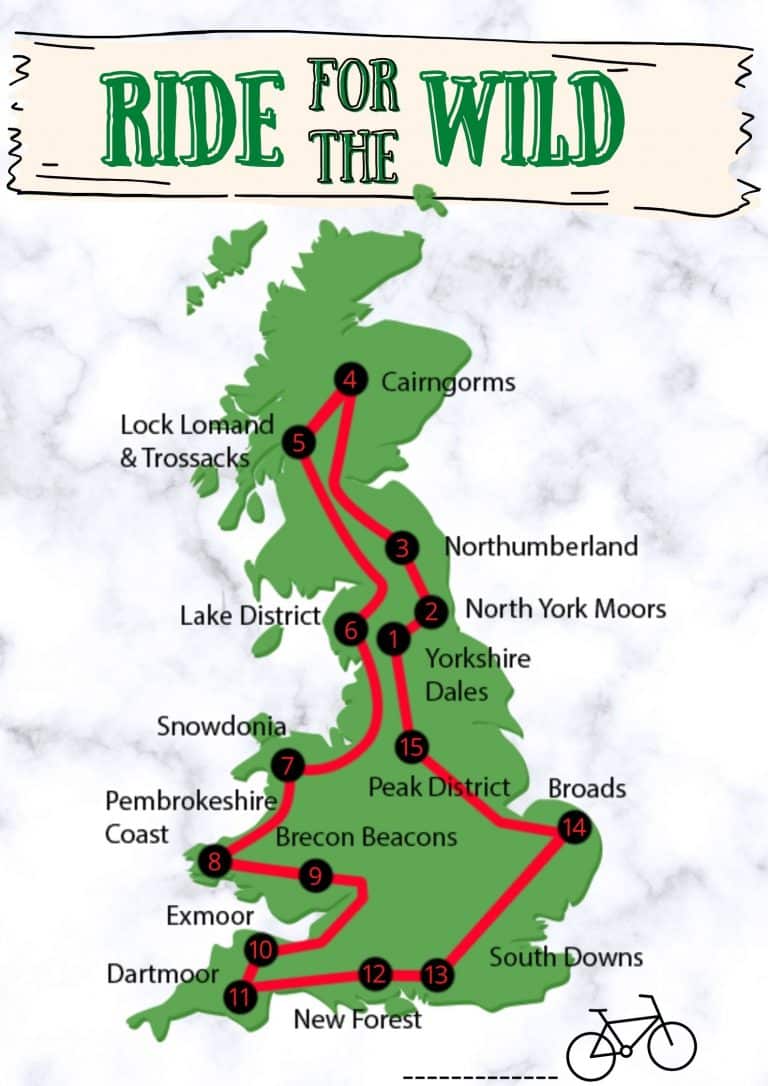 Having just crossed over the Severn Bridge from Wales and back into England, it was a really poignant part of the journey.
We had another 1,000 miles to cycle but Sarah was still on a course of antibiotics and wasn't completely recovered from voracious saddle sore. And, despite keeping on track for the first two weeks, injuries, foul weather and unforgiving Welsh hills had put us way behind schedule.
Now, there was no way we'd reach the finish line in 30 days, our original target.
After 3 weeks of pushing our bodies to their limits – and our bodies crumpling – we knew it was time to take it down a gear.
We had our first leisurely morning and decided to forget our 60-mile daily target and make sure we stayed injury-free. That morning we took our time, went and foraged some blackberries and ate porridge in the sunshine.
Now back in England, the landscape levelled out, as we cycled towards Bristol. But, as we got close to the edge of the city, disaster struck. The freehub on Sarah's bike wheel broke, making it unrideable.
Fortunately, we were only a few miles from a bunch of seriously helpful bike shops. It was damn lucky they had space to make the repairs that day. We ended up with a new rear wheel, a few other little fixes and some new bike lights.
Bikes fixed. Bank balance now damaged.
After a big delay, we got out of the city and headed towards the Mendip Hills AONB. This viewpoint was one of the first times we just sat, admired our surroundings and weren't rushed. It felt damn good.
Rolling further south we found almost fen-like flats, which were so warmly received after the smashing we got in the Welsh mountains. It led us all the way to Glastonbury, filled with its hippie delights and new-age wonders. It was hard not to spend all our money in the vegan shop!
In this part of the world we could also pick up most fruit and veg from local farms and roadside honesty boxes – nice!
We got ace weather and found some very conveniently placed campsites. One evening we even saw a badger – the first live one we've ever seen – run across our path with a cracking sunset in the background… the riding was as sweet as could be.
The next day, we cycled through the Quantock Hills AONB and it ended up being one of the highlights of the trip.
It was a stiff cycle, climbing from the heathland up into the woodland, but oh so worth it. We sat and had our lunch, shaded by thick trees, and shared the views with a half dozen wild ponies (who tried to eat our lunch). Birds of prey flew overhead, a deer danced past and the whole landscape felt alive with nature. It was blissful.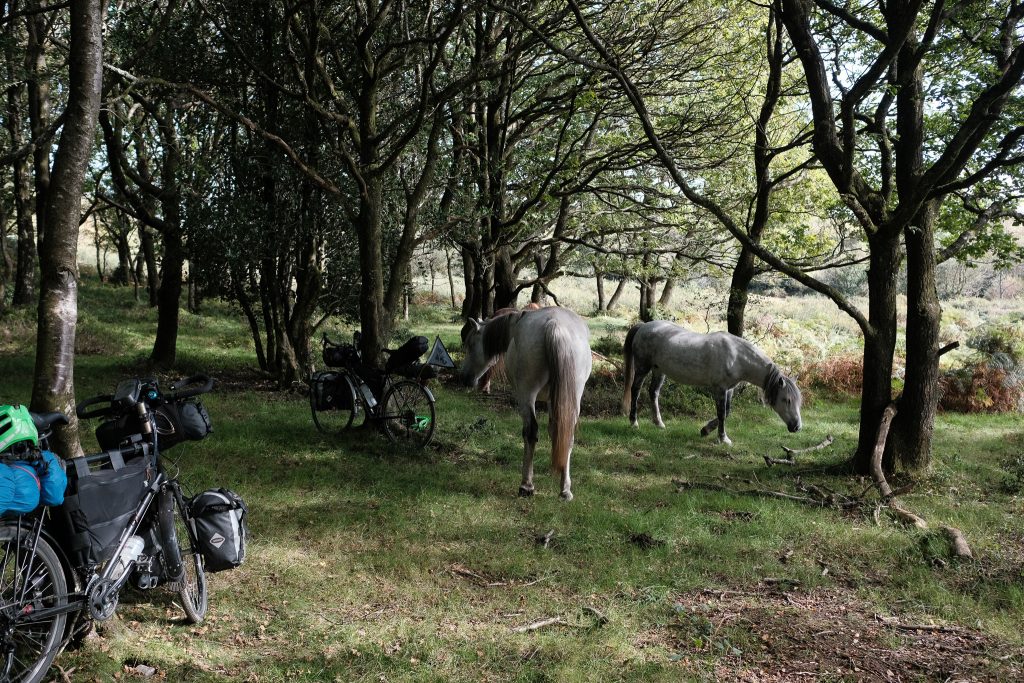 It all felt particularly amazing because we took our time and could absorb it. Before, we'd have only taken a 20-minute pitstop to scoff some food, potentially adjust our kit and then head off to hammer the tarmac again. Even our hour-long lunch didn't do the place justice.
Before long we made it to national park number 10: Exmoor. We knew the road would be heading south to Devon soon but there was no way we were leaving Somerset without trying some locally-produced cider!
We shot past an orchard on a big downhill and hammered on the brakes to sample some of the local produce.
Strong Somerset cider enjoyed in the sunshine and from a hammock… ahh, absolutely perfect.
Though, on empty stomachs, it went straight to our heads and the next few miles were pretty wobbly.
As the day started to close in, we were in a dense green valley but surrounded by farmer's fields. It took us a LONG time to find a decent wild camping spot that would keep us hidden. But the searching paid off.
---
Want more adventure fodder and adventure inspiration? Sign up for our newsletter to get our latest articles
---
The next day, we shot south from Exmoor and entered into Dartmoor. But, making our way into the park wasn't so easy.
Our GPS had taken us onto small dirt track roads between farmer's fields, in the middle of nowhere. In front of us popped a big tractor with a farmer saying we couldn't go ahead…
After a few minutes of confused conversation, he told us the road was private and owned by his family. We'd have to take a big diversion back uphill and find a different route into the park. All maps and navigation apps said it was a public road… we get the feeling they were just trying to snatch up land and access rights. This was the only time something like this happened in our 40-days of riding.
Finally, we found our way into the park and came across a cracking – albeit slightly strange – campsite, kitted out with wendy houses, rope swings, tree houses and hidden dens.
Hitting the South Coast, the riding was pretty straightforward as we headed through Exeter further east.
We got onto the coastline and enjoyed some clear weather with sea views.
In our adventures, we rarely spend much time by the coast, so it was really nice to take in some British seaside as we pedalled towards Bournemouth.
This is also the point in the adventure when I started to crash. I'd been cycling every day for almost 30 days, and, though we'd cut down the miles and the terrain was much easier, my body was starting to rebel.
I couldn't shake the tiredness or lethargy. My motivation was drained. Each mile seemed like a struggle and as soon as we stopped I wanted to sleep. I ended up having power naps nearly every lunch stop.
Interestingly, there was a noticeable cultural shift in this southern part of the UK. Up until this point in the journey, we'd been blown away by the unbelievable kindness, hospitality and interest in our ride. We didn't get the same vibe here.
When people had seen us two before, two grubby-faced, smelly bikers, eating their lunch under a bus shelter, the reaction was bafflement, amusement and intrigue. Here, it felt like apprehension and disapproval. It didn't phase us much but was interesting to notice.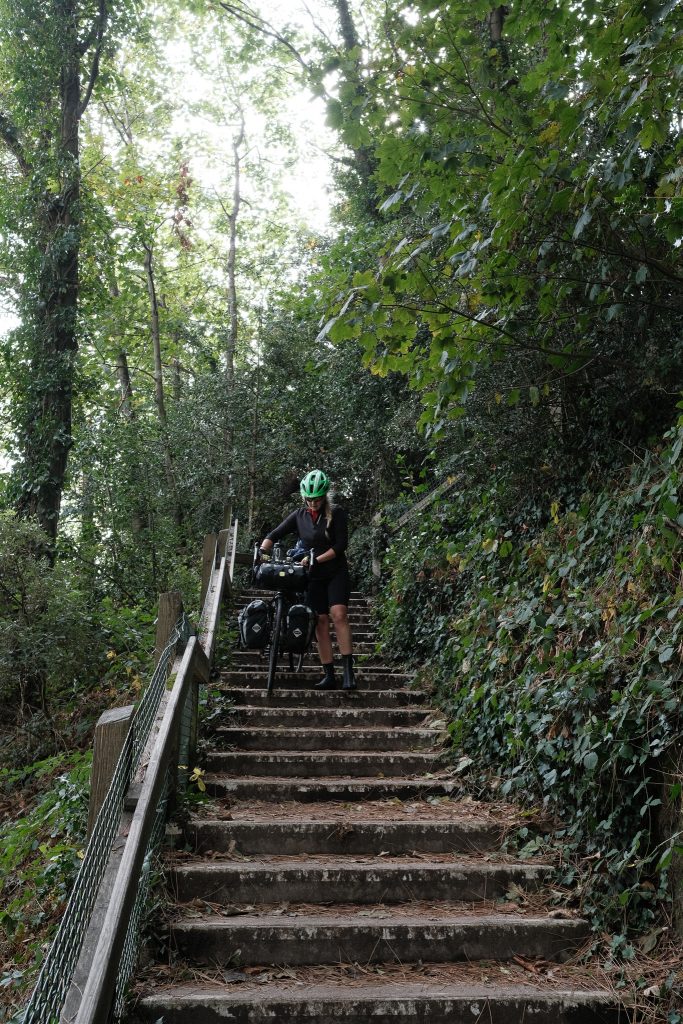 Our route pulled away from the coast and took us to New Forest, national park number 11. This place seemed like such a brilliant place to get offroad and explore on bikes. Even with our slightly more relaxed schedule, it was gutting just taking a busy road the whole way through the park. We'll definitely return for a bikepacking adventure!
After cruising through Southampton and getting caught in the wildest rainstorm ever (keep your eyes peeled for the video!) we made it to the South Downs National Park. We bumped into a bunch of hikers doing the South Downs way and spent some good time chatting about adventures.
This was a weird part of the trip because we knew Sarah would be heading home from London. With the injuries and setbacks, it wasn't possible for her to get the whole way around and get back in time for work deadlines. This was another reason why we'd aimed for the 30-day goal.
It really sucked. After a whole summer of training and so much preparation, knowing we wouldn't be crossing the finish line together was a massive blow.
---
---
We had our last day riding into London. It was one of the craziest sections of the trip. Having spent the last 18 months living in sleepy Skipton and getting used to secluded, rural lanes, hitting the big, bad streets of London almost blew us away (and had us nearly knocked off the bikes on a number of occasions).
Even in all the hustle and bustle of the big smoke, we found solace in Richmond Park and said hello to the deer.
We deconstructed our bikes the next morning and loaded all the extra gear onto my bike. Then Sarah jumped on the train home. Man, I can't explain how shitty it was to part ways. But I guess that's adventure – you don't know how things are going to turn out.
Coming away from London, now alone, I tore through Epping Forest and was determined to put some miles behind me. With only 500 miles to go and the flattest section of the challenge ahead, the finish line started coming into sight.
I ripped out 75 miles each day along the East of England but it was some STRANGE riding. The Fens are so unbelievably flat and I spent nearly 200 miles crisscrossing through remote farmer's fields. Such a barren part of the world, with all wilderness stripped and barely a soul in sight.
Seriously sour weather added to the experience too. The days were getting shorter and the weather colder. 40 mph winds and heavy rains absolutely battered me, and with such a flat landscape, there was no seeking any shelter. But, I had a good reason to keep motivated.
Just after making it to the Norfolk Broads National Park (number 14!), I planned to meet my mum, dad and brother.
What with lockdown and living hundreds of miles away, I can't see family half as much as I'd like to. It was beautiful to catch up with them and it put a hella lotta wind in my sails for the final stretch.
The weather didn't get any better, with rivers banks almost flooding as I followed National Cycle Route 1 to Lincoln. My route went offroad for miles and the woodland I'd planned to camp in seemed damn precarious with trees dropping like flies to the wind.
Eventually, I took refuge in a pub garden.
The final few days of riding were surreal. With just one final national park to reach, I'd planned to pass through Sheffield and catch up with the city I'd fallen in love with after my 6-year residency.
After some damn nostalgic pedalling, I rode past my old house and onto Ringinglow Road: a long, drawn-out climb that would take me right into the Peaks.
At about 3 pm, after 39 days of riding and on an absolutely perfect afternoon, I reached the Peak District National Park, the 15th and final park, with its sign by the side of the road.
Such an overwhelming wave of happiness and euphoria washed over me. I'd be lying if I didn't say a few tears came to the eye too.
After so many gruelling months of training, cramming in every free moment with hill sessions and weighted practice runs, then 39 breathtaking but brutally hard days, finally reaching that national park felt like the best thing in the world. Every ounce of hard work felt so damn worth it.
I sat by the national park sign for a good half an hour, laughing to myself, with a beaming grin from ear to ear. I got some very funny looks from passing cyclists!
To mark the occasion, I stopped by the Yorkshire Bridge Inn for a pint and some grub. Two pints of Guinness later, and having scoffed a delicious vegan burger, a pack of peanuts and an incredible slice of vegan cheesecake, I was off in search of my final wild camping spot. Once again, I was a little bit wobbly.
It took some time to find a decent spot, but eventually I pitched up with the sun setting behind my final resting spot.
The last day was a blur. The route was hard and took me through hilly moorland towns. I saw Skipton pointed to on the top of a trig point and knew I was close. I just had to get past Huddersfield, join the Leeds and Liverpool canal and I could follow it all the way home.
Then, as I crossed through Huddersfield, something beautiful happened. I was sitting outside a busy car garage scoffing my peanut butter and jam sandwiches in the middle of the city. I switched on my phone wifi and saw that we'd hit our £2,000 fundraising target. On the final day, it felt like a dream come true. I was sat by the side of the road, covered in crumbs and peanut butter, laughing to myself and with a wild smile on my face.
Before I knew it I was back on my local canal, leading virtually to my back garden. I took my time and embraced the final afternoon of riding.
"Looks like you've been on a long cycle" a passing canal boat owner said. I told him I'd just cycled 2,000 miles to every national park in the UK and he was blown away. It felt really good.
Interestingly, as soon as I was back on familiar territory and no longer needing to navigate, it felt like I was just returning from a day ride. It didn't feel like I'd spent the last 40 days cycling for 9+ hours every day, or that I'd gone from top to toe of the UK.
I finished the final few miles, reminiscing on all the highs and lows the epic journey had produced, feeling proud that I'd made it around and hit the fundraising target.
At home, Sarah was waiting with a bottle of champagne, some craft beers and a cracking vegan roast. Reuniting felt brilliant and, even if things didn't work out as planned, we crossed the finish line together.
Back home, I was very aware that 'normal' life was lurking around the corner, which I didn't like. So we spent the evening eating, drinking and fantasizing about future adventures.
Our Ride for the Wild challenge was – without a doubt – the hardest thing we've ever done. But, despite all the blood, sweat and tears, stresses, injuries and accidents, we wouldn't change it for the world. Perhaps minus the saddle sore…
Spending all day, every day outside, surrounded by nature and exploring our home country's most incredible natural locations… we really feel damn privileged to have experienced so much of this wonderful island on our bicycles.
And as hard as it was, instead of exhausting us, these 40 days filled us with energy and inspiration. It confirmed that life is best when it's on the road, that this world is too damn amazing not to be explored and that we need to fight to protect the landscapes which make it so damn special.
And on that note…
If you enjoyed this photo journey, or if you've been following our challenge through the months, we'd love it if you take a look at our fundraising campaign.
After 2,000 miles, it's clear as day that the natural wonders we have around us are slipping away, wildlife is disappearing and wilderness shrinking. Trees for Life are fighting to change that and they deserve all the help we can give them.
All proceeds of our fundraising campaign go directly to them – please take a look at the link below!
The Ride for the Wild films is now out!
Wanna see how it all unfolded, all the twists, turns, highs and lows? Check out the video below or the Ride for the Wild post here.