Our honest Will's Vegan Dock Boots review, of the insulated winter version that's one of Will's Vegan Store's most popular shoes
---
Will's Vegan Store has redesigned one of its flagship shoes, ready for winter. The insulated dock boot is designed to be adaptable, going on and offroad as you do. Whilst being warm and comfortable.
Its cosy interior, good tread and water repellency are made to withstand chilly conditions. All the while looking great and being carbon-neutral.
Although we spend a lot of our time on the trails, we do at times venture to the pavement. I wanted to see how these boots held up with my varied lifestyle through winter.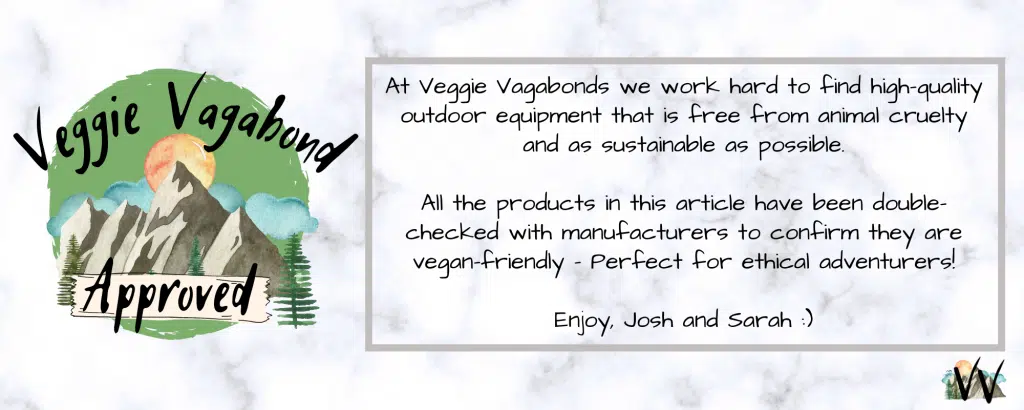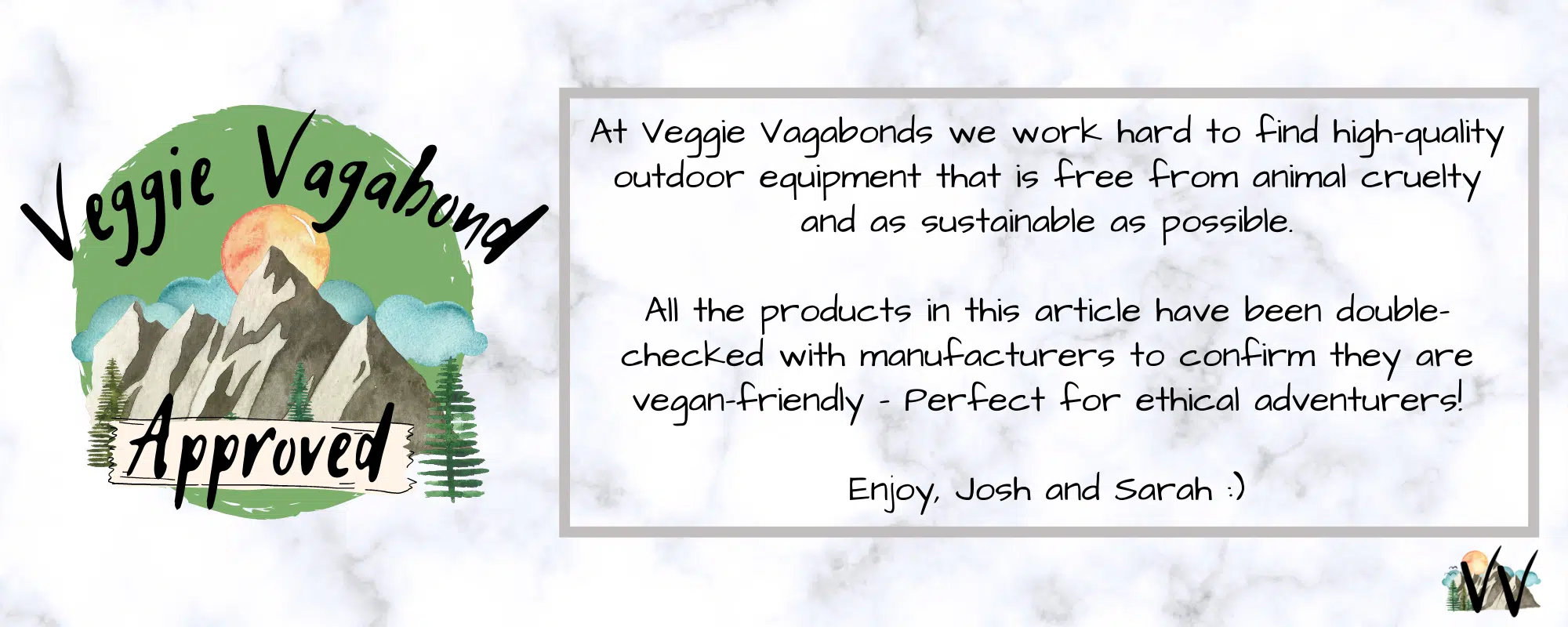 This article may contain affiliate links, they will never cost you more money but helps Veggie Vagabonds keep making content like this – thank you!
What Do They Say on the Box
Will's Vegan Store Dock Boots are one of their most popular shoes and the insulated version is made to keep you toasty through the wintery months.
Wills' says you can get stuff done in these boots, as they're great for stomping about offroad and around town too.
They've got sturdy ankle support and extra-strong laces to support you wherever you roam. The outsole has a deep tread for great grip. Whilst the uppers are made from vegan suede or vegan leather with 69% biobased content, depending on which option you choose.
These boots are water-resistant and designed for winter conditions with their insulated lining.
They're carbon-neutral and 100% vegan from a completely vegan brand.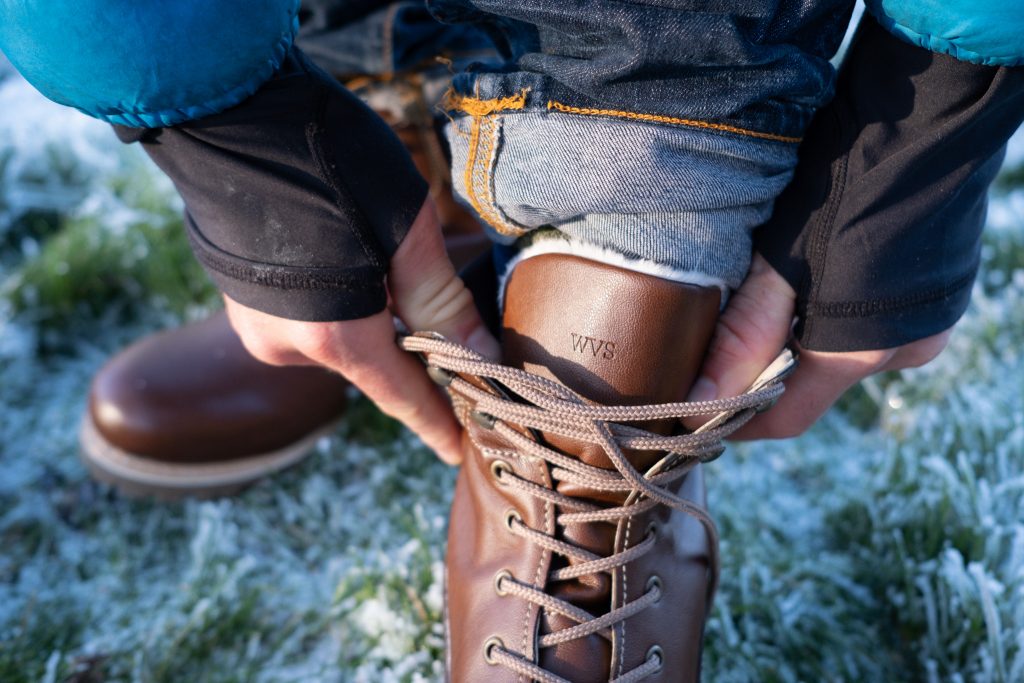 How I Tested the Will's Insulated Vegan Dock Boots
Although these boots aren't designed as technical winter outdoor boots, I've been putting them to the test through some very wintery conditions.
I've worn them to explore the icy and lightly snowy conditions of the Northern Lakes. They've accompanied me on frosty morning walks and over some pretty icy terrain. I've worn them in temperatures below freezing to highs of 6 degrees Celcius.
---
After more honest, reliable vegan gear guides and reviews? Sign up for our newsletter to get our latest posts first
---
For the warmer months of the years, check out our WV Sport Sandals review
Will's Vegan Store Insulated Dock Boots Review
Comfort & Warmth 4/5
Looking at these dock boots, they look pretty comfy. You can see the cushioned insulation peeping out of the top, inviting your feet in. And they feel as soft as they look.
The boots are doubled-lined with Primaloft insulation made from 90% recycled content. Plus a thick vegan fur lining made from recycled polyurethane (PU) and recycled Rigid Polyurethane (RPU), lining the whole interior.
The insulation makes them super warm which I have found them to be, wearing them in temperatures below zero. Will's say these boots can be worn in temperatures as low as -22 to 15 degrees Celcius. Which is pretty cold, although I've not tested them in temperatures as low as this.
These are high boots which I was a little unsure about as I'm not used to this style of shoe. I have found them extremely comfortable and supportive though. The padded collar offers support and can be loosed to offer more movement.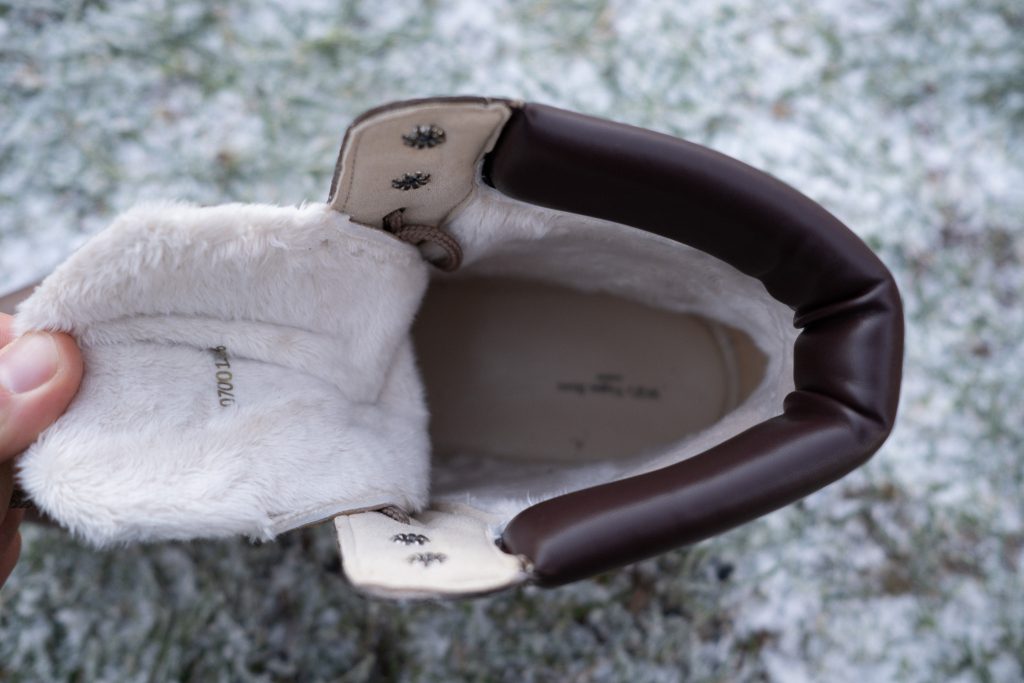 Movement & Breathability 3.5/5
The uppers are made from vegan Italian leather with 69% biobased content. At first, I thought it seemed quite rigid but on wearing them, they have a good amount of flex and feel supple.
Wills says these boots are breathable and I have found them to keep my feet at a good temperature. However, I haven't tested them in warm temperatures so am uncertain how breathable they would be in temperatures up to 15 degrees Celcius.
The high ankle is supportive but not constraining as the laces can be loosened to offer more movement.
I do a lot of cycling casually as well as on the trails and have found they feel a little clumpy on the bike. They are great for walking but don't feel as nimble whilst pedalling.
---
---
Stability & Durability 4/5
For a casual boot, the tread and thick lugs offer great support on some uneven terrain.
The outsoles are made from Thermoplastic rubbers with recycled content. They're squishy but grippy, giving comfort underfoot for longer walks.
As with most Will's products we've tried, they feel sturdy and well-made. The welding and constriction appear superior, to create a pair of boots that'll last.
The laces are made from extra-strong recycled polyester that fasten to the top of the shoe with hocks.
These are however not technical boots, so check out our Will's Waterproof Hiking Boot review, if you're after something a little more adventurous.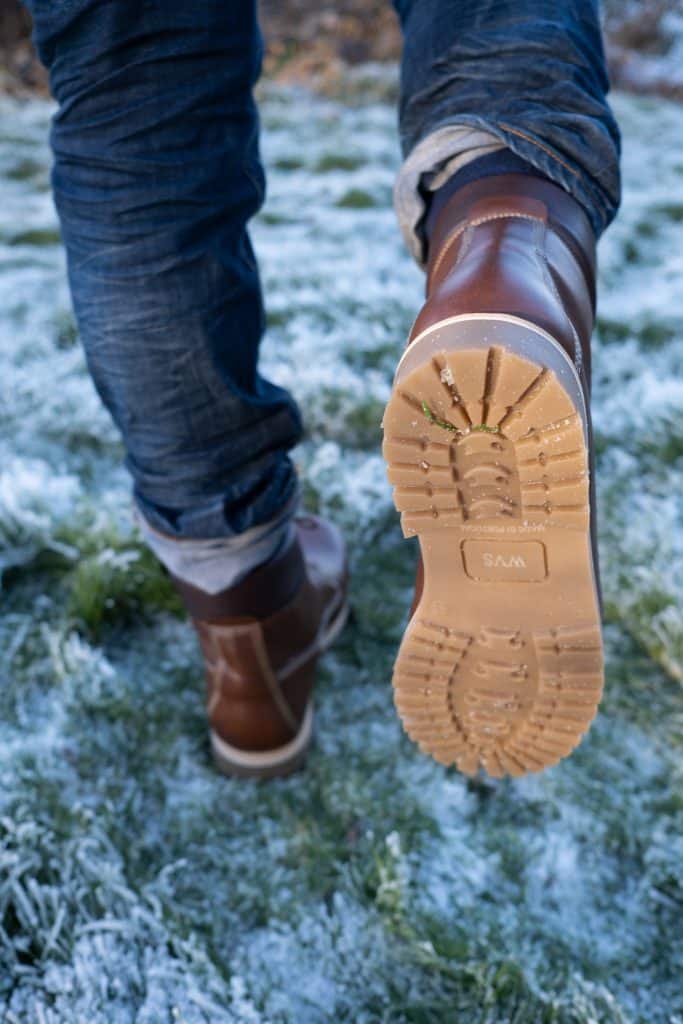 Ethics & Sustainability 5/5
When it comes to being green and vegan, Will's is by far one of the most ethical companies we've come across.
They're a 100% vegan company, which means they can verify all their products are animal and cruelty-free. A huge thumbs up from us and something other, larger companies struggle to verify.
On top of that, they operate under EU employment, discrimination and health & safety laws. As a company, they have its own human right charter to ensure workers' rights throughout.
These vegan winter boots are carbon-neutral and arrive in plastic-free, recyclable packaging.
Will's Vegan Store also has a recycling initiative, through which you can send them your old shoes when they wear out so they can be recycled into new uppers and outsoles. A great initiative contributing to the circular economy.
Extras 4.5/5
Design 4/5 – These dock boots come in tan or black vegan leather, plus grey suede.
Water repellency 3/5 – Although these boots are water-resistant, they are not waterproof so are not built for downpours or thick snow.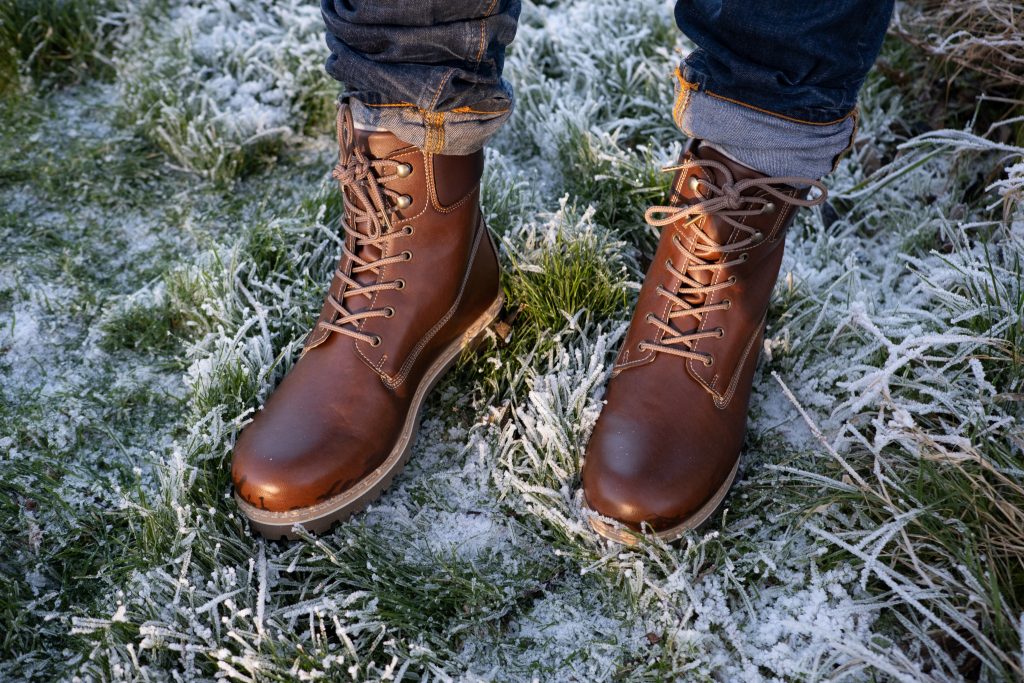 Price 4/5
The price tag for these insulated dock boots is average of what you'd expect to pay for a casual outdoor boot. I think coming from a green and ethical company, this is a fair price.
The Verdict
These are a really comfortable and warm pair of winter boots. They look great and feel sturdy on varied terrain.
Pros
Warm and comfortable
Look great with a choice of design
Green and vegan company
Cons
Not waterproof
The high ankle may not be suited for all
Where to Buy Will's Vegan Winter Insulated Dock Boots
You can buy the insulated Dock Boots directly from Will's Vegan Store website. There you can also find information about where they ship to around the world.