Helping you find sustainable and vegan alternatives to leather, down, wool & fur
---
A huge portion of the clothing and outdoor equipment available today uses animal-derived materials.
Things like hiking boots, insulated jackets, sleeping bags, socks, coats and gloves are commonly made using wool, leather, down and fur.
These are animal-derived materials e.g. animal skin or fur.
Their use contributes to the death and suffering of billions of animals every year, along with massive environmental damage. And it's unnecessary because, now, there are plenty of ethical alternatives which kick ass.
So, whether you're already a vegan, an outdoorsy nature-lover or just someone who wants to find more cruelty-free clothing, we hope this article can help. We'll be looking at eco-friendly and vegan alternatives to wool, down, leather and fur. And as outdoor lovers, we'll also be diving into specific options to use outside.
As always, if you've got any questions or want more advice, just drop us a comment at the bottom!
This article may contain affiliate links, they will never cost you more money but helps Veggie Vagabonds keep making content like this – thank you!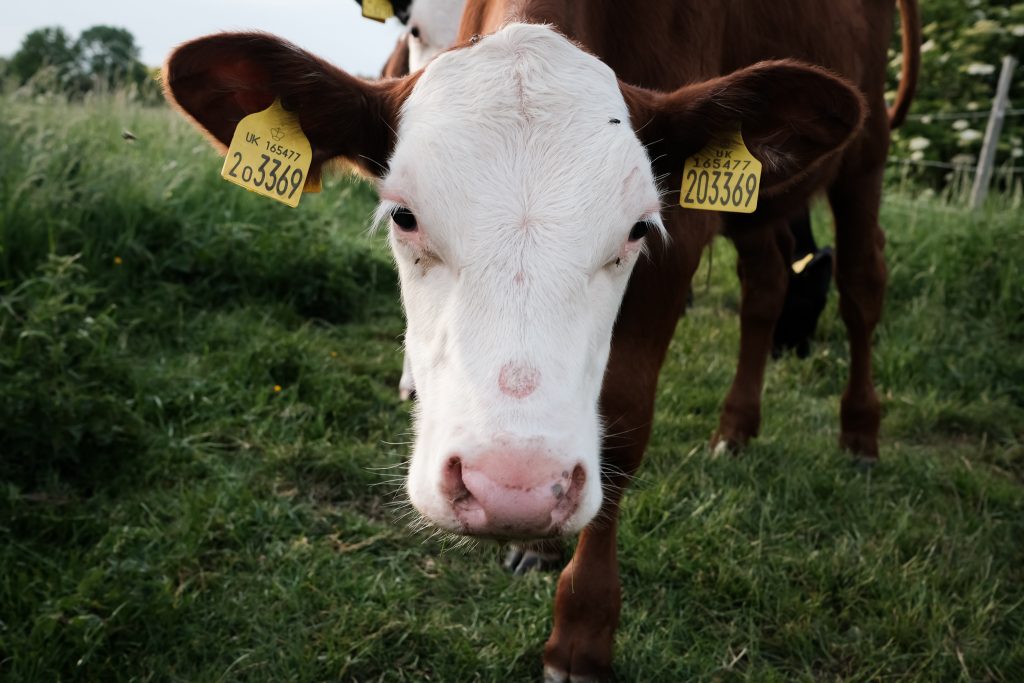 Vegan Alternatives to Leather
What is leather? The skin taken from animals including cows, sheep, goats, pigs and horses
What's leather used for? Footwear, gloves, waterproof outerwear like hats and coats
Why is leather bad? 1 billion animals killed a year, huge environmental impact and often human exploitation in manufacturing
Since the rise in veganism there are now lots of new and innovative plant-based leather materials available. In things like vegan hiking boots and trainers, many outdoor brands also opt for synthetic mesh or plastic-based materials as they offer many of the same qualities as leather.
Leather alternatives for vegans
Mesh (polyester) – when it comes to things like hiking boots, many options use a polyester mesh material instead of leather. This might also be combined with waterproofing, like Gore-Tex. It has the benefit of being lightweight and breathable however it is not particularly durable.
Microfiber leather – this is a microfiber fabric with a PU coating that highly resembles regular leather. It's lightweight and more durable than mesh but not as breathable.
Lorica – Lorica is a microporous leather alternative made from thin microfiber layers. It's fairly soft and breathable, being used by Altberg vegan hiking boots.
PU (Polyurethane) and PVC – a plastic coating given to materials to give a leather-like finish. These materials are both cheap and widely-found but have pretty harsh environmental implications.
Vegetan – another synthetic leather option which is becoming more popular. It has similar properties to Lorica and is nearly 70% more biodegradable than PU and PVC.
Plus many more surprising vegan-leather substitutes, like cork, pineapple, mushroom and coconut!
Vegan Alternatives to Down
What is down? The plucked plumage and insulating feathers from birds, like ducks and geese
What's down used for? Insulated jackets, sleeping bags, gloves, coats, bedding and winter items
Down is most commonly found in winter outdoor garments, like sleeping bags, insulated jackets, gloves and coats. All important for time outside in the cold, but, fortunately, there are loads of awesome cruelty-free down alternatives. Very often they out-perform birds' feathers thanks to continuing to insulate once wet, whilst down doesn't.
Synthetic insulation is often polyester-based, however, lots of brands used recycled materials which are also easier to biodegrade. All in all, helping to make down-free options more environmentally friendly.
Down alternatives for vegans
Primaloft – first produced by the US Army, this is a light and compressible material which provides a lot of insulation. Their eco options are made using 70% recycled materials.
3M Thinsulate – quite a fine and lightweight material which is normally cheaper than other insulation types. Their Featherless technology is designed to specifically mimic down.
Thermal R – an insulation type which is particularly good for transferring moisture away from skin. It has been developed by outdoor brand Marmot. Lots of recycled options.
Coreloft – a short-staple fibre that is highly efficient in trapping and storing heat. It's used by Arc'teryx and in our favour synthetic insulated jacket, the Atom LT.
Polartec – one of the first brands to create biodegradable fleece and completely innovative in the synthetic insulation market. Many different insulation products to suit different climates and clothing types.
---
Finding this article useful? You'll find plenty more ethical clothing guides and tips by signing up to our newsletter!
---
Vegan Alternatives to Wool
What is wool? The fur taken from sheep but sometimes goats, alpaca and rabbits too
What's wool used for? Socks, gloves, hats, thermal insulation and merino clothing
Why is wool bad? Causes the death and suffering of millions of sheep plus the environmental impact of sheep grazing and habitat loss
I'll be honest, this is one material type which is yet to have a big range of high-quality and sustainable alternatives. Wool is quite a unique material that is hard to replicate.
Merino wool is something that is very commonly used for outdoor socks, baselayers and winter items as it insulates when wet and is good at wicking moisture away from the skin. Currently, most vegan alternatives to merino wool are polyester-based or use a synthetic blend, common in things like vegan hiking socks.
At Veggie Vagabonds we're constantly searching and exploring new products, so if you know of any good options make sure to let us know!
Wool alternatives for vegans
Tencel and lyocell – produced from sustainably-sourced wood. It's used in many t-shirts and lighter-weight socks, is easily recycled a good sustainable option.
Nylon, Fleece, Polyester & Acrylic – these are plastic-based materials that may be constructed in different ways to maintain heat and insulate efficiently. For example, fibre pile is made from polyester fibres which are woven into a pile to trap heat and wick moisture. This is commonly found in winter fleece layers. Options like Thermolite and Polartec utilise these materials, often using recycled products in the process.
Repreve & rPet – with so much plastic being used around the world, and most synthetic layers being plastic-based, this gives great opportunity for recycling and the circular economy. Both Repreve and rPet use recycled plastic materials to make synthetic insulation.
Coolmax – a popular synthetic-based material used in lighter-weight hiking socks, notably by Bridgedale and Darn Tough.
---
---
Vegan Alternatives to Fur
What is fur? The hair taken from a wide range of animals, including fox, mink, rabbit and coyotes
What is fur used for? Often used in the trim of hoods or soft clothing interior
Why is fur bad? Millions of animals are killed each year specifically for their fur. Many types of fur are now illegal because of this.
Nowadays, fur is becoming less and less common. This is mostly due to public outcry towards the cruel practices and has meant many types of fur are banned across the globe.
Unlike some other materials, nowadays fur is more of a visual clothing component and has less practical uses. For this reason, many of the vegan fur alternatives are relatively simple synthetic materials.
Fur alternatives for vegans
Faux fur – faux fur is typically the blanket term used to describe all vegan fur alternatives. Normally it is a blended fabric of acrylic and polyester fibres.
KOBA – this is the first ever bio-based faux fur, being 30% plant-based with Sorona synthetic fibres. It is completely vegan and much more sustainable than regular faux fur.
A little note on synthetic materials
We always think it's good to give a balanced argument so you can make your own decision.
The majority of the vegan alternatives to wool, down, fur and leather are synthetic. These are manufactured materials that are quite often petrol-based. The use of fossil fuels has a heavy environmental impact and synthetic materials are also, typically, harder to biodegrade.
For this reason, we think it's important to remember that just because something is vegan and animal-friendly, doesn't mean it's always Earth-friendly.
The best option is to move away from animal products but to always shop sensibly, picking green items carefully and supporting ethical clothing brands too.
It is brilliant to see such a big increase in sustainable synthetic clothing, utilising recycled materials and becoming more biodegradable. Our guide to Sustainable Outdoor Gear dives into this a lot deeper if you want to take a read.
We hope you enjoyed this article and it's helped you find some cruelty-free clothing options. Remember, just drop us a comment below if you've got any Qs!