What we take in our backpacking cook set for whipping up a plant-based storm multi-day trips
---
One of the most important elements of any trip is a stove and outdoor cooking system. Food always plays a big part in what we do outside. And the process of cooking up breakfast with the sunrise, or hunkering down to dinner is a cherished part of adventures.
Over the years, we've tried different stoves of all shapes, sizes and fuel sources. What works best 100% depends on the type of trip you're having.
After multiple outings and camps, we've found our ultimate backpacking cook set. It contains all we need to conjure up some scrummy backpacking grub on multi-day trips but it light, reliable and compact enough to fling into our bags.
Here's a look into our ultimate backpacking cookware set for two.
This article may contain affiliate links, they will never cost you more money but helps Veggie Vagabonds keep making content like this – thank you!
Before we tuck in…
The ideal stove will depend on the type of trip you're having and how long for.
This is our ideal stove for mini adventures into the hills, in the UK. Trips that span anything from one night to seven, with food resupplies on route.
This is important to note as this isn't a lightweight option. We take this stove to enjoy the process of cooking knowing we won't need to carry more than a day or two's worth of food.
We love the process of cooking a meal at the end of the day so take a slightly larger stove and cook system, with a few extras that can be omitted for more long-term trips. This cook system works for us as it allows us to use whole ingredients to prepare delicious meals throughout a trip.
Our Two-Person Stove for Multi-Day Trips
As big foodies, the size of our stove is crucial. We like to prepare camping recipes on the stove rather than opting for shop-bought dehydrated meals that just require you to boil water.
We use the Trangia 27 stove as it's big enough to cook up some mini feasts on backpacking trips, whilst also being small enough to carry in your rucksack. It has all you need to cook up some grub from the tent and you can fit your whole cook system inside it. This has been a great space-saving hack.
We've used a lot of Trangia products over the years and continue to come back to them as they're reliable and practical. Trangia makes its products with the planet in mind, prioritising sustainable practices and building stoves that are made to last. Their stoves are made from 50% recycled aluminium, whilst their factory is powered by renewable energy.
The Trangia 27 comes with:
Two pans
A lid that doubles as a frying pan
A windshield
Handle
Strap
And a choice of stoves either spirits or gas burner
We tend to use the spirit burner as it's small and we've found it easier and lighter to carry methylated spirits than a gas canister. Methylated spirits also have a carbon footprint that's 6 times smaller than gas, making it the greener choice.
To carry the methylated spirits, on overnight trips we just fill the stove and place it inside a zip-lock bag in the Trangia. For slightly longer trips we fill a 100ml cosmetic bottle that we bring along to top up the stove when needed.
Camping meals for us can get kinda mucky. We use whole ingredients, sauces and seasonings. So you wouldn't want to use the pot that you made a curry in for your morning porridge, without washing it first. Because this isn't always possible we bring two pots with us on every trip.
A big reason for carrying the whole Trangia 27 stove rather than the spirit burner and smaller stove options is the ease of use. The windshield is one of the most effective and efficient we've found. This means you can easily prepare meals hassle-free, as it's sturdy and preserves fuel for multi-day trips.
Shop Trangia 27-1 Stove:
---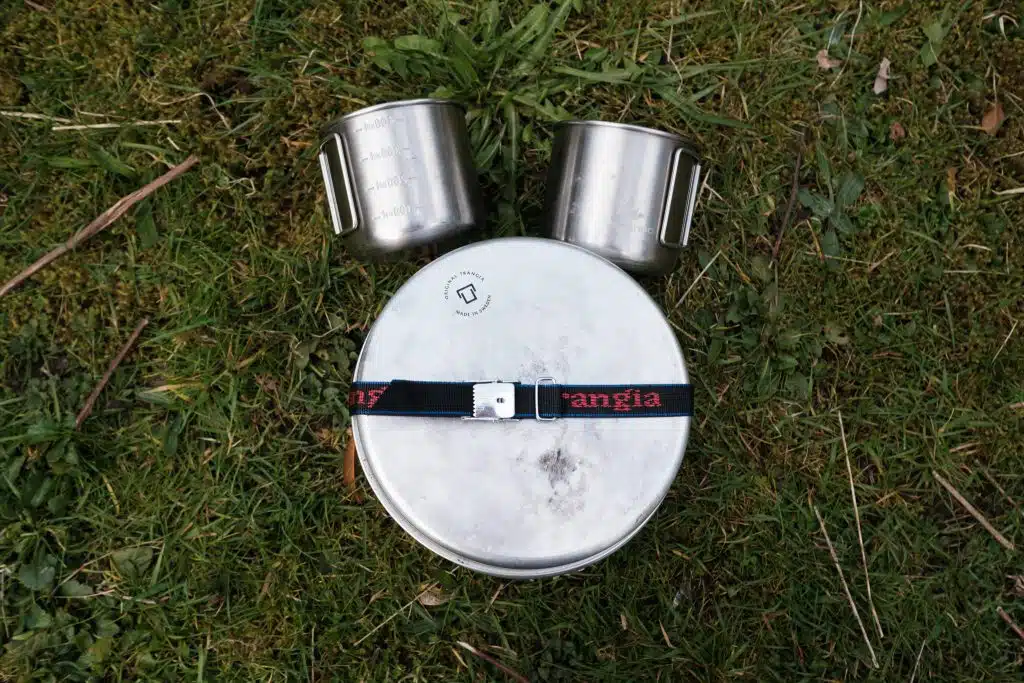 Bowls
I won't lie, this one has been a bit of a headache to find. Because the width and depth of the stove isn't that large, it's been hard to find two bowls that easily fit inside each other and the stove.
For our Trangia 25-1 we found two MSR Alpine Nesting bowls that fit perfectly and so we've been on the hunt for a similar but smaller version for the Trangia 27-1.
One of the main reasons we take bowls along with the cooking pots is that J isn't great at sharing food. Plus he hoovers up meals, so I can struggle to get a look in. I can get mighty hangry if I'm not well fed.
As I've said, meals are a big feature of trips as we like to get comfy with a bowl of dinner so having our own bowls makes that a lot easier. It also helps when cooking bigger meals to have a different pot to whisk up some instant mash or soak couscous.
We use two of the Alpkit Myti bowls, which don't fit inside each perfectly (like the MSR bowls) but they do fit with all the other cook set elements.
They have a 300ml capacity and are made from titanium weighing only 40 grams, making them a great lightweight option.
---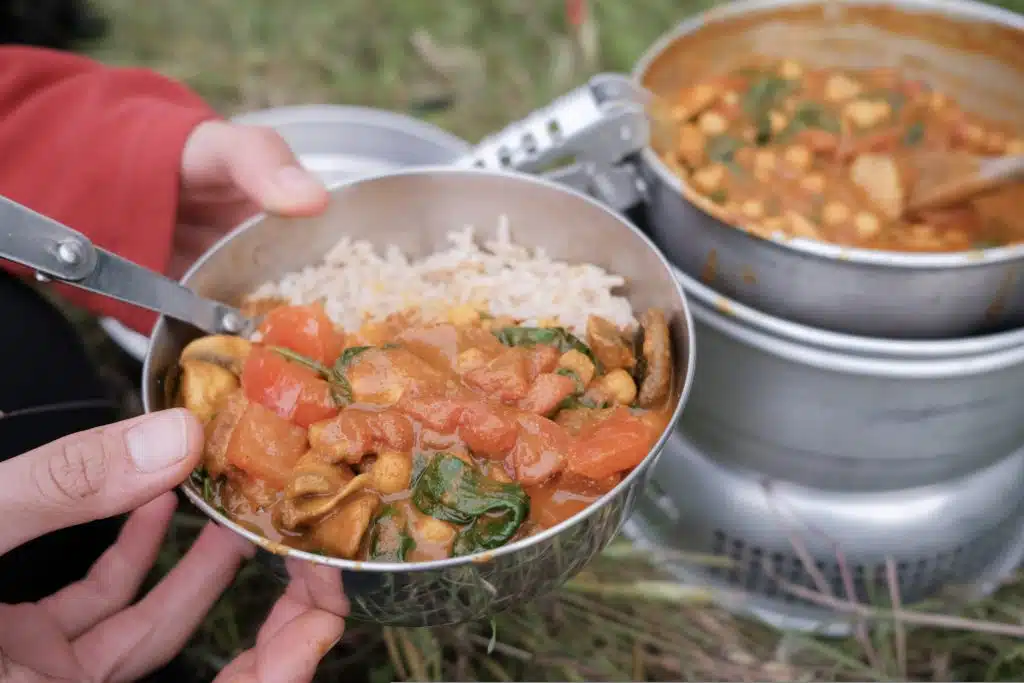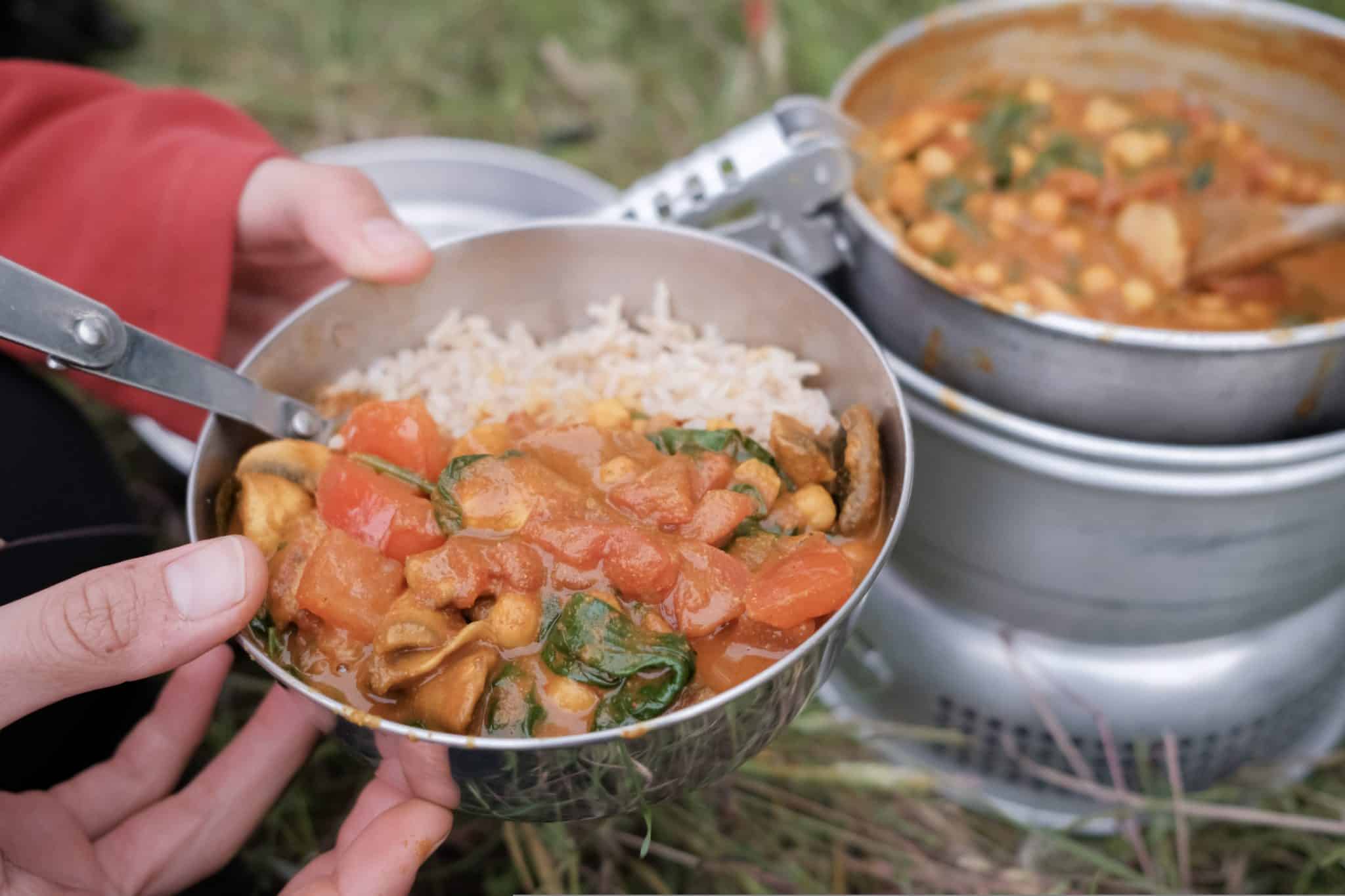 ---
If you're looking for more adventure fodder and outdoor guides, sign up for our newsletter to get our latest posts
---
Camping Cooking Utensils
We try to keep our kit as light as possible, so take the bare minimum when it comes to camp cooking utensils.
Our backpacking cook set has:
A wooden spoon with a sawn-down handle to fit in the pot
Two folding sporks
Mate spoon for drinking loose-leaf tea
---
Knife
As we like to make camping meals with whole ingredients, including veggies and fruits, a knife is essential.
We use the Gerber Paraframe mini knife as it's small and compact enough to fit in our cook setup but gets the job done preparing dinner. It's 5.25 inches and weighs 45 grams. This also means that it's legal to carry in the UK.
The only downside is that the folding blade and hollow handle can build up with grime, so it's a bit more work to keep clean than a solid knife.
For mucky adventures, a wooden-handled knife is not great for cooking as it can build up gunk easily or get mouldy if it's left unwashed insed the cooking pot. Which is one of the main reasons we opted for a metal knife.
Camping Mugs
Whether it's for a morning brew or whisking up some gravy granules, our mugs make a regular appearance on trips.
J is partial to a mug of green tea in the morning and me a coffee. We use 400ml Decathlon stainless steel mugs that have a folding handle to pack down a little easier into our rucksacks.
These don't fit in the Trangia so we tend to shove things inside the mug when packing them or attach them to the outside of our rucksack.
---
Coffee Maker
I think good coffee is much like good bread: once you've tried the good stuff, it's difficult to go back to the pants stuff.
Therefore I appreciate a good coffee in the morning and have found the best way to have a good brew whilst not carrying too much is an Aeropress.
It's compact and all the components fit inside the mug, which makes it easy to pack for trips, measuring L 12cm x H 9cm x W 9cm. It's pretty easy to use and there's little waste except the filter paper and coffee grounds.
---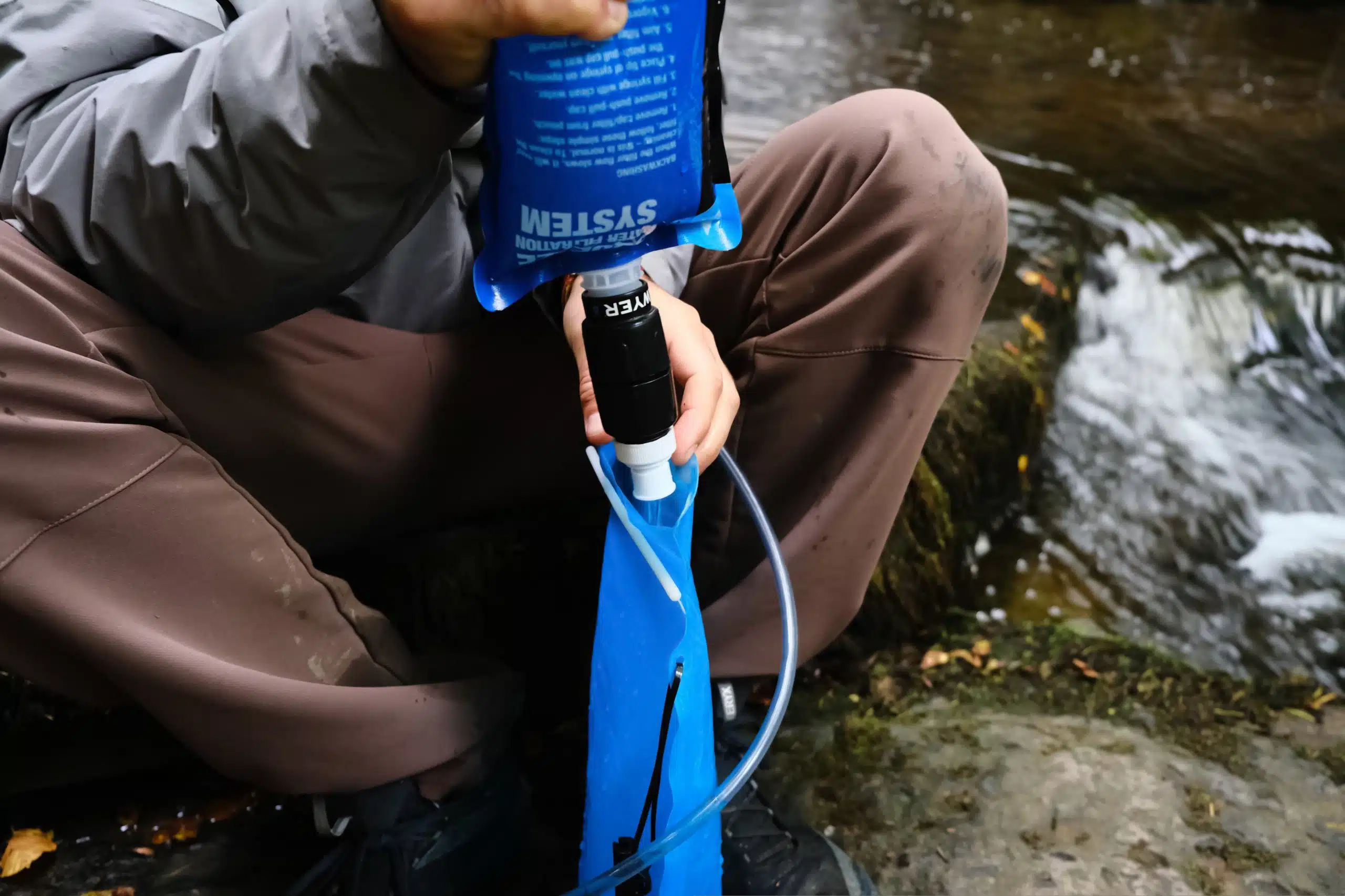 ---
---
Water Filter
To filter water safely on trips we use the Sawyer Squeeze water filter. Again it's quite compact and light, making it a good option for backpacking trips.
It weighs only 85 grams for the filter or 162 grams for the entire kit and is 12.7 x 5 cm. It's easy to use in streams, rivers and other fresh bodies of water by filling a vessel and squeezing the water through the screw-on filter.
This doesn't fit inside the Trangia but we often leave it in a pocket in our rucksack, especially in the summer when we need to replenish water more frequently.
---
Extras
A few extras that we pack in our hiking cooking set:
Biodegradable dish soap, sponge and lightweight tea towel – for washing and drying the mucky pots ahead of the next mealtime. We try to always opt for biodegradable soap as the chemicals in other soaps can cause a lot of harm to water sources and wildlife.
Lighter and flint stick – the lighter for ease of use and the flint stuck is for those just-in-case times. We put these in a plastic zip-lock bag inside the Trangia to keep them dry.
3-litre water bladder – we've found this to be the best way to carry a large amount of water in our rucksack. Enough for drinking, cooking and carrying in case water resupplies are hard to come by.
Dry bag for dirty pots – after cooking up a storm it's not always possible to wash pots immediately. Putting them in a dry bag means they can be packed away until it's possible to wash them without getting your gear dirty. The dry bag is then easily rinsed or wiped clean. Having the same bag that you continue to use is a lot less wasteful than using a plastic bag that rips and will likely be thrown away after a use or two.
Small chopping board – to prepare food we pack in a small chopping board. In the past, we had used the Trangia lid but this made it susceptible to being scratched so now we carry a board to chop veggies.