Easy and tasty vegan camping dinners for adventuring herbivores to make on the camp stove
---
Although breakfast may be the most important meal of the day, I've always found dinner is the most enjoyable, especially when camping.
Sure breakfast sets you up for the day but dinner is where the magic happens. You can flop at the campsite and tuck into a big bowl of grub, soaking up the day's antics. Dinner is the chance to eat to your heart's content because all the miles are done for the day and only your tent awaits.
You can scoff and replenish your body after a heavy day of sweating and exerting yourself. It's the chance to gobble down some salt and not worry about feeling a bit too full. All whilst taking in your surroundings and the inspiring day you've had reaching camp.
That's why dinner is so great and why we're going to get into some of the best vegan camping dinners! Plant-based feasts made for the camp stove and to be eaten outside.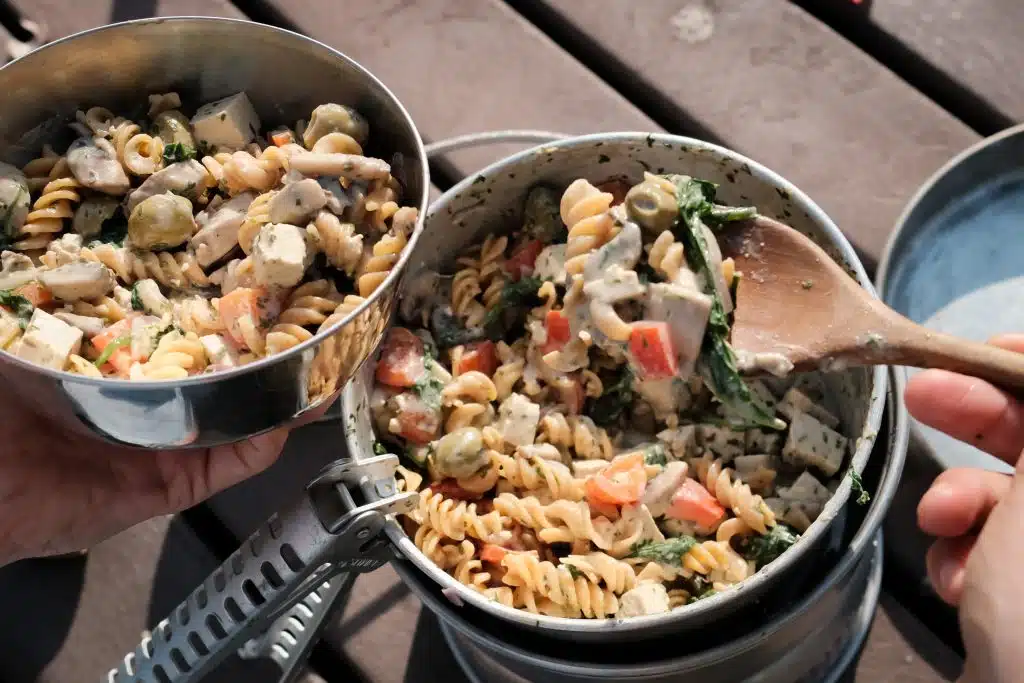 Things to Consider When Making Plant-Based Camping Meals
When making vegan camping meals, there are a few things to consider.
Not all recipes will work on the camp stove and there are some important elements meals should contain to keep your body fuelled for the next day's antics.
In order to make the most out of your day outside and still get your fill from dinner you want recipes to be:
Easy to make with straightforward steps
Nutritious
Easily adaptable and customisable in case some ingredients need to be substituted
Delicious
Require as little prep and washing up as possible
Versatile
Easily packed ingredients
Although ease and adaptability of recipes is key when cooking outside, ensuring your meals are full of goodness is just as important.
Food gives you fuel to keep to explore and enjoy the miles ahead, so, your meals need to be nutritionally balanced to keep you feeling tip-top.
Nutritious camping meals should contain:
It may seem like a lot to remember, but once you have a few camping food recipes in your repertoire, you're set for adventure. You can then tweak them to suit your taste and to what ingredients are at hand.
Knowing the basic elements each meal needs will help you to get creative around the camp stove and conjure up your own camping feasts.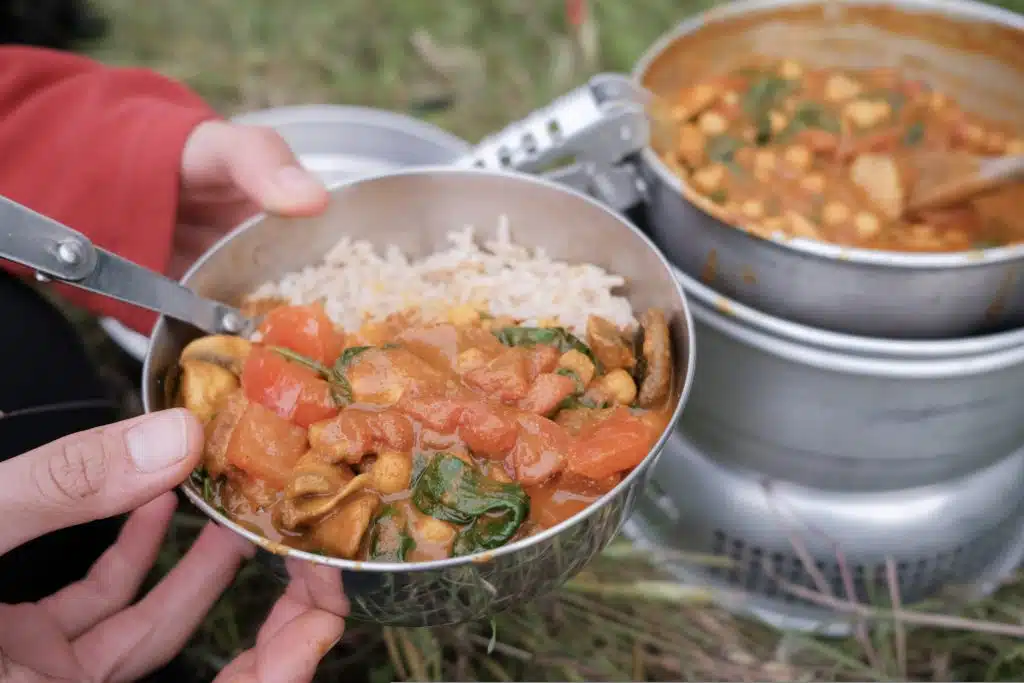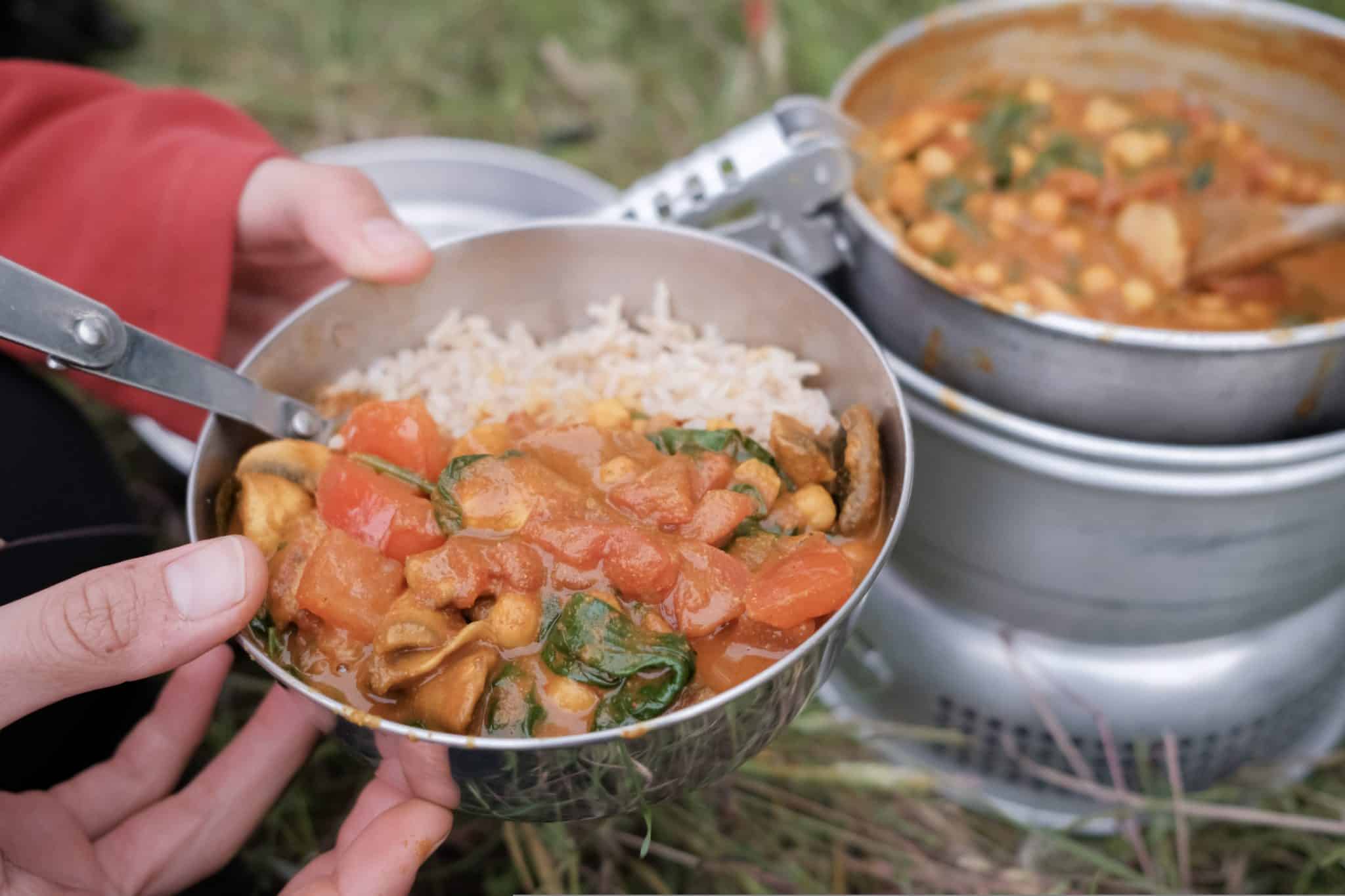 Vegan Camping Recipes & Ideas
Here are some of our favourite vegan camping recipes, all ideal for the camp stove and insanely delicious.
They're tried and tested by us on countless trips from the tent. These plant-based recipes are made to be eaten outside and nourish you from the inside. All are perfect for the camp stove, with minimal faff and maximum taste.
This creamy and tomatoey chickpea curry is always a roaring success on any trip. It's a marriage of chopped tomatoes and coconut milk for the base with a velvety finish.
It's packed with spices and you can turn up the heat by adding more chillies to warm your cockles as the night draws in. It has a good amount of protein and energy packed in along with some goodness from the addition of mushrooms and spinach. We love it served with rice and piping hot.
Chilli is one of the classic campfire recipes after a sweaty day in the hills. The key to any chilli is the spice mix, which can elevate a humble can of chopped tomatoes into a culinary triumph.
We recommend mixing up a spice mix before a trip, that way you don't have to faff about when camping. You can then simply chuck it into the pot, along with all your ingredients, and kick back with a brew. If you're on a longer trip you can double or triple your spice mix so you can have this dish again and again. Which, after you've tried it, I bet you'll be eager to do!
You can have this chilli with all the works, like guacamole and tortilla chips, or keep it simple and whack it in a tortilla wrap, then tuck in.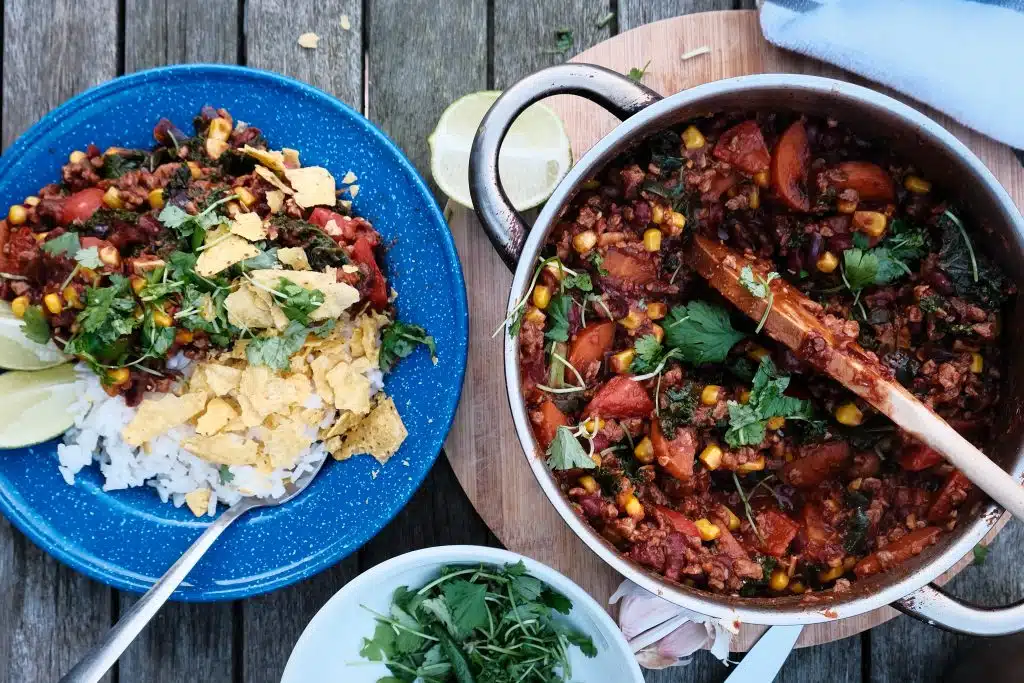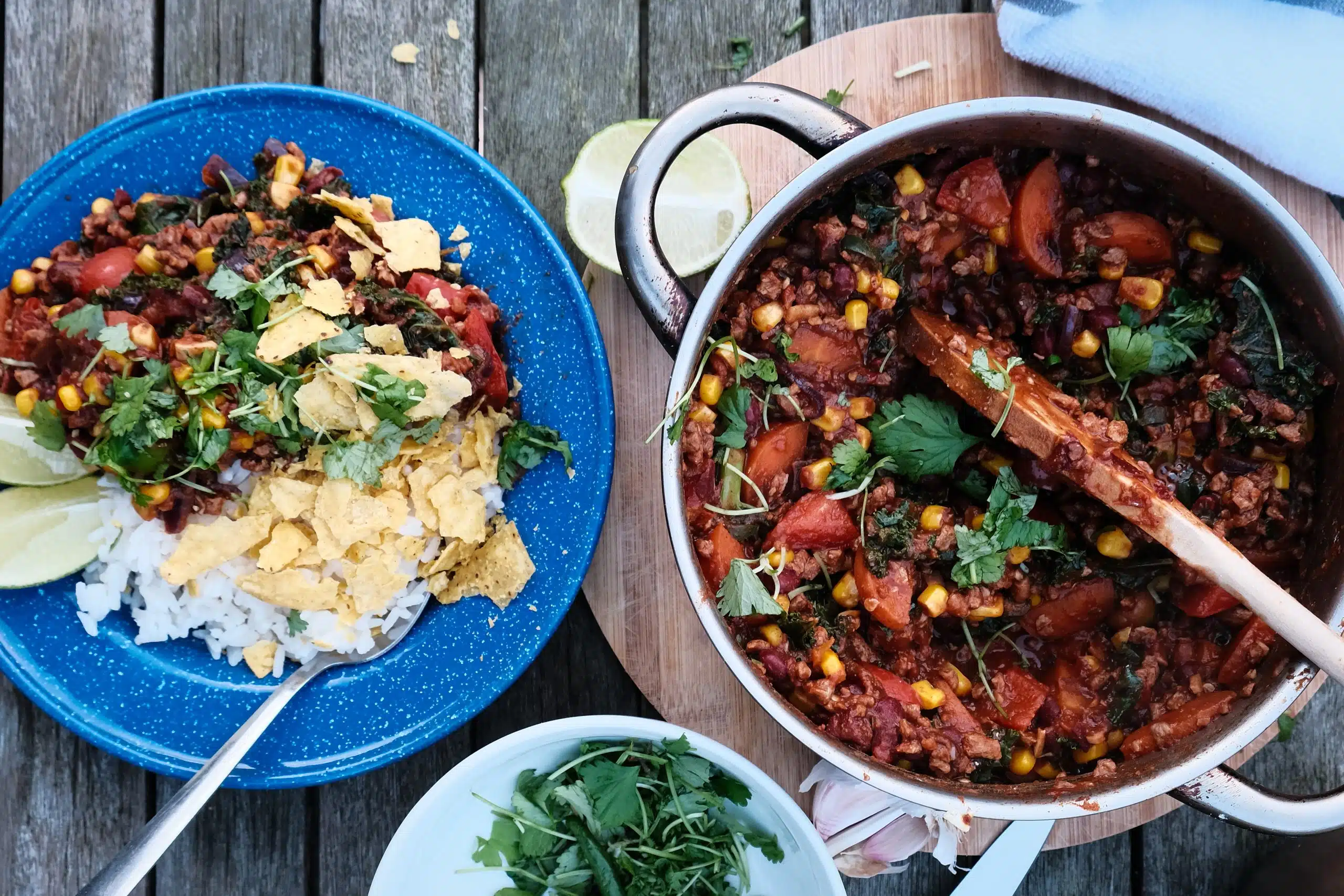 When you're in the mood for something a little more indulgent from the camp stove, this creamy lentil pasta is just the ticket. It's mouth-wateringly tasty with a creamy base and cheesy undertones. Plus, lots of garlic for good measure.
It's deceptively decadent and downright tasty, plus it has a good serving of protein with the lentil pasta and tofu.
This colourful one-pot recipe is the ideal end-of-day meal when you want something tasty with minimal effort. It's an amalgamation of flavours and spices, coming together in one tasty bowl.
It has a good dose of carbs and energy to fuel your next day's adventures and plenty of protein too.
As it's a one-pot recipe, it also means less washing up so you can focus on the adventure at hand.
---
Wanna get your hands on more adventure food recipes and guides? Sign up for our newsletter to get our latest posts
---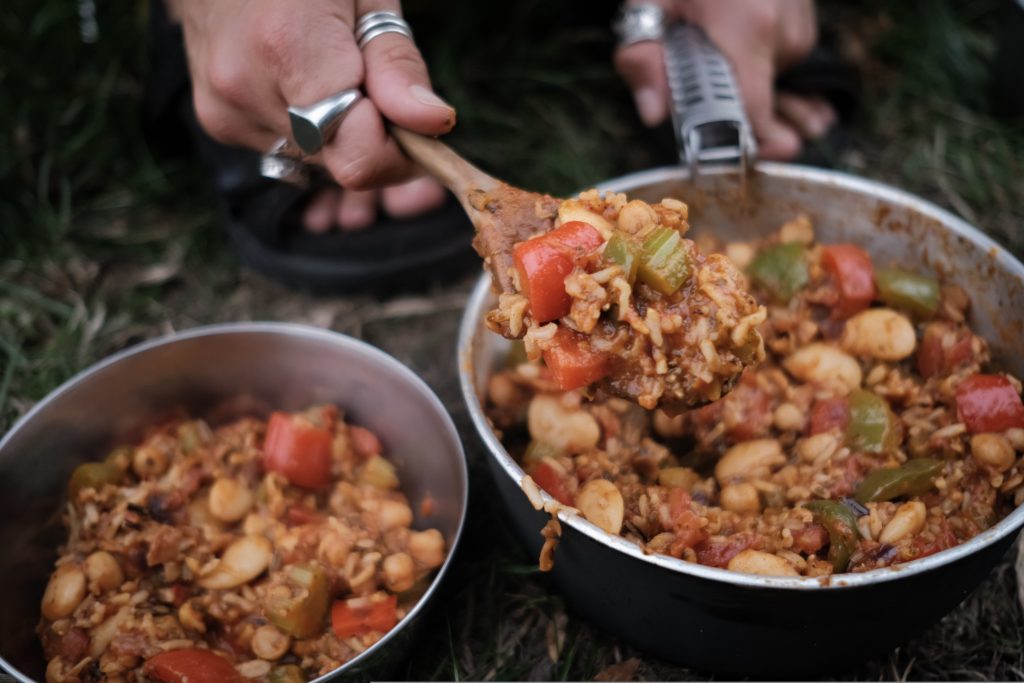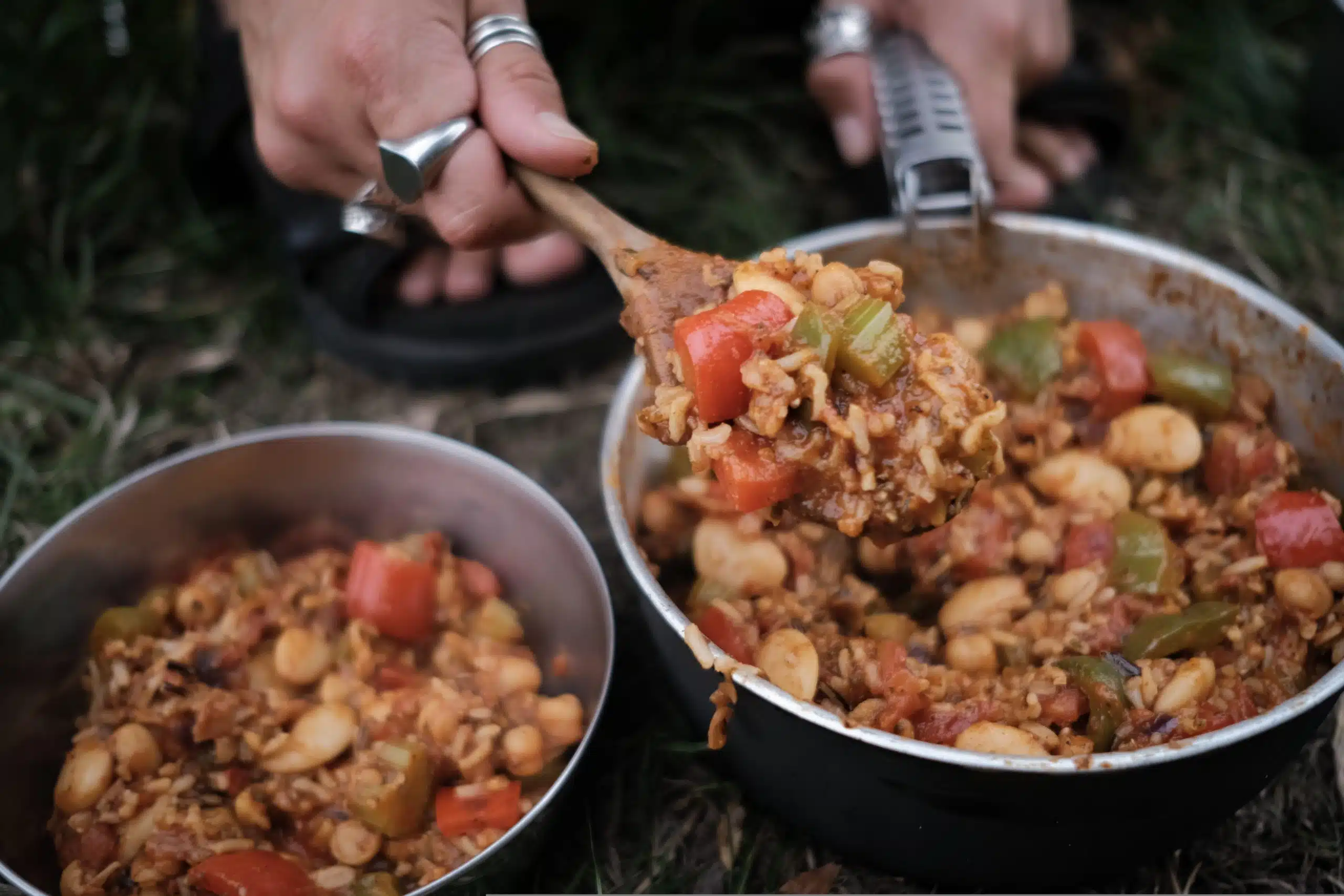 Our peanut curry recipe is one of those dishes that sounds like it wouldn't work but damn does it. If you ever need a reason to bring extra peanut butter on a trip, this recipe is it.
This is another one of those camping meals that remixes a can of chopped toms into a taste sensation. It's packed with flavour and the peanut butter adds a rich depth to the whole dish. The chickpeas, mushrooms and spinach add some nutrients and it's great mopped up with bread.
When there are a lot of hungry tums around, these vegan campfire tacos are the ideal recipe to whip out and satisfy the masses. They're hearty and moreish, packed with just what your body needs after a day outside.
The sweet potato and black bean chilli has tons of energy and flavour. Crammed into a taco with a good dollop of guacamole and sprinkling of cheese makes for a winning dish all around. They're handheld and customisable, making them a wicked accompaniment for a beverage in the other hand.
Peanut butter makes another appearance on this list, this time in this salty and spicy satay noodle recipe. This dish is super simple to conjure up with minimal faff.
It's a super tasty dish, with protein and texture, that's easy to gobble down. The peanut butter adds creaminess to the dish along with some salt and spice. Can't get your hands on mushrooms and peppers? No sweat, you can easily customise the veg depending on what you have available.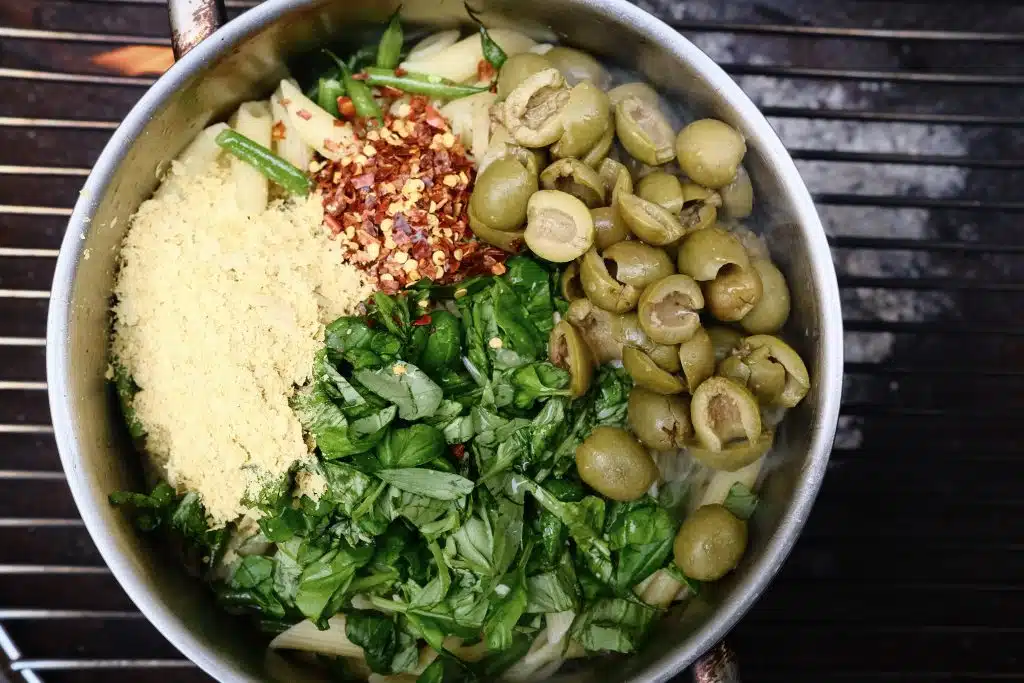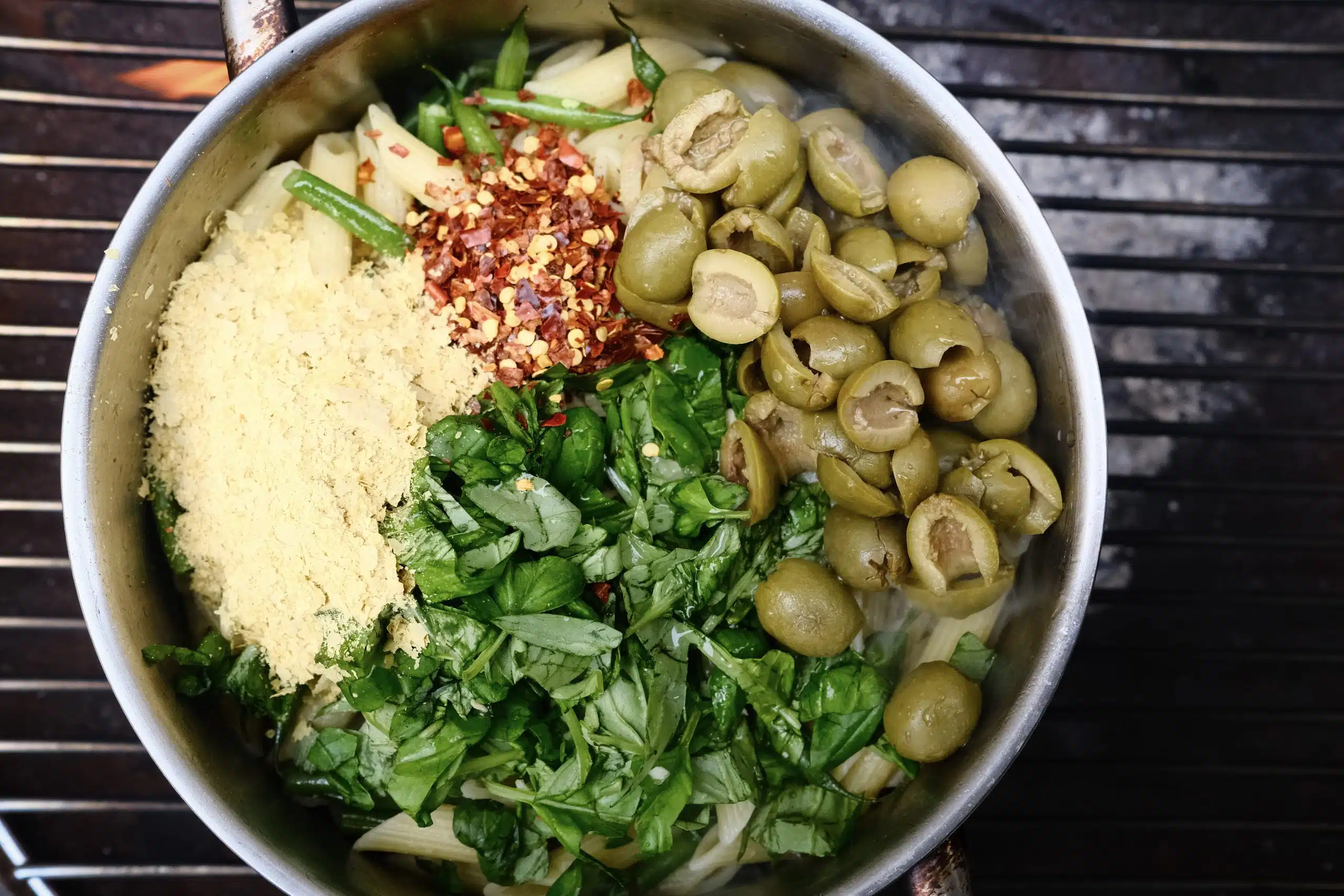 Pasta can be a bit contested on the camp stove. J thinks it takes too long to cook, I think it's worth the effort and fuel. Sure pasta can take a while to cook so isn't advisable when cooking on a small stove. But, if you're cooking over a campfire, it's a great option with lots of refreshing flavours.
This lemon pasta dish is simple and zingy. It uses fresh ingredients with plenty of taste. It's a wholesome dish for when you fancy something minimal faff and fresh-tasting.
A staple recipe on the camp stove for us, this dahl is a favourite of ours time and time again. It's a one-pot recipe that is super easy to create.
This dahl is one of those dishes that makes your tummy feel happy. It's creamy and flavourful with spiced undertones and delicious served hot. The lentils give this dish a good amount of protein and nutrients along with the mushrooms and kale, it's packed with good stuff.
---
Keep exploring…
Tasty & Useful Cooking Tips for Meals Outside
---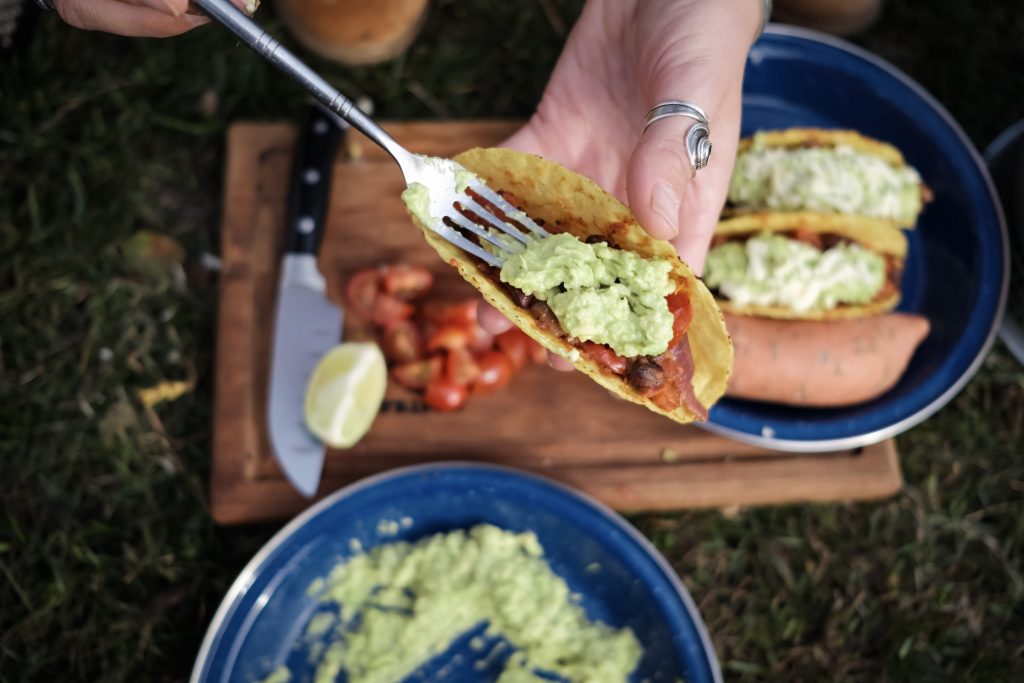 When you're in the mood to get a little creative around the campfire, this chickpea flour omelette is just the ticket. This recipe is versatile as it works great as a camping breakfast idea or for dinner.
It's a protein and nutrient-rich dish with tons of flavour and not heavy on your tum. It's a great recipe to use up leftover bits of veg and turn them into a delicious dinner to have around the campfire.
Miso Noodles
A warming and bubbling dish to have on chilly nights from the tent. This recipe is salty, scrummy and a little lighter on your belly if you're after something less heavy.
The broth base is flavoured with miso paste and chilli, perfect to slurp up with slippery salty noodles, tofu and veg. This recipe is an easy one to throw together when you're feeling dazed from a day of hill climbing. It's also ideal for those cooler nights as you can cradle the bowl and warm up as you gobble it down.
We've not added the full recipe yet so this is the run-down.
Ingredients (serves 2):
2 nests of rice noodles
1 stock cube
2 tbsp miso paste
1 chilli
3 tofu sheets
handful of mushrooms
1 pepper
handful of dried seaweed
Method:
Begin by boiling the water in a pan, then add your miso paste, stock cube and chilli.
Whilst that cooks, chop your pepper and mushrooms (the smaller they are the quicker they'll cook), then add them to the pan.
Followed by your seaweed and tofu sheets after about 3 minutes.
Let that cook for another 5 minutes, stirring occasionally, then add your nests of noodles.
Once the noodles are cooked, consume whilst it's hot.